Bathroom ideas on a budget: tips and tricks to help you save money
8 brilliant budget bathroom makeover ideas
Despite what many people think, it's possible to achieve a brand-new look for your bathroom and stay on budget. With some creative thinking, you can refresh your bathroom on any sized budget. The key is research and seeking advice from those in the know – whether that be a tradesperson, store employee, or online resource. Keep reading to discover our top tips on how to revamp your bathroom on a budget.
1. Add affordable accessories
2. Declutter your space
3. Give the walls a lick of paint
4. DIY bathroom wall panelling
5. Upcycling your furniture
6. Replace old flooring
7. Upgrade fixtures and fittings
8. Trust the experts with a refurb
1. Add affordable accessories
Many people think that transforming your bathroom means completely renovating it. You don't need to rip out your old bathroom and replace it with all new furniture to give it a makeover. It's true what they say - it's all in the little details - and you can transform your space with just a few small changes.
Switching up your bathroom accessories can make a huge difference to the overall look and feel of your bathroom. Upgrade your standard bathroom accessories to sleek black replacements to achieve a cool, contemporary vibe in your space. Alternatively, opt for the GoodHome Cervia bathroom accessory range if you're a lover of natural materials and a beautifuly boho aesthetic.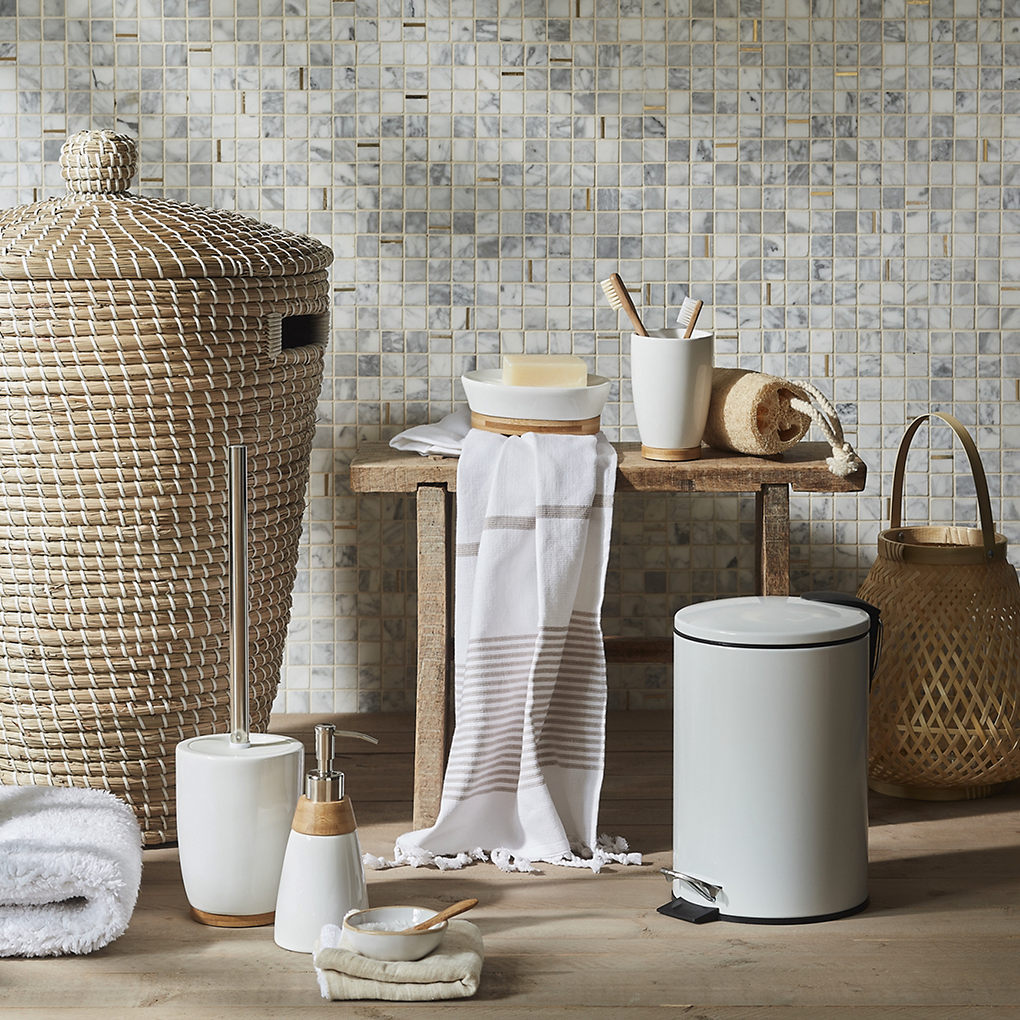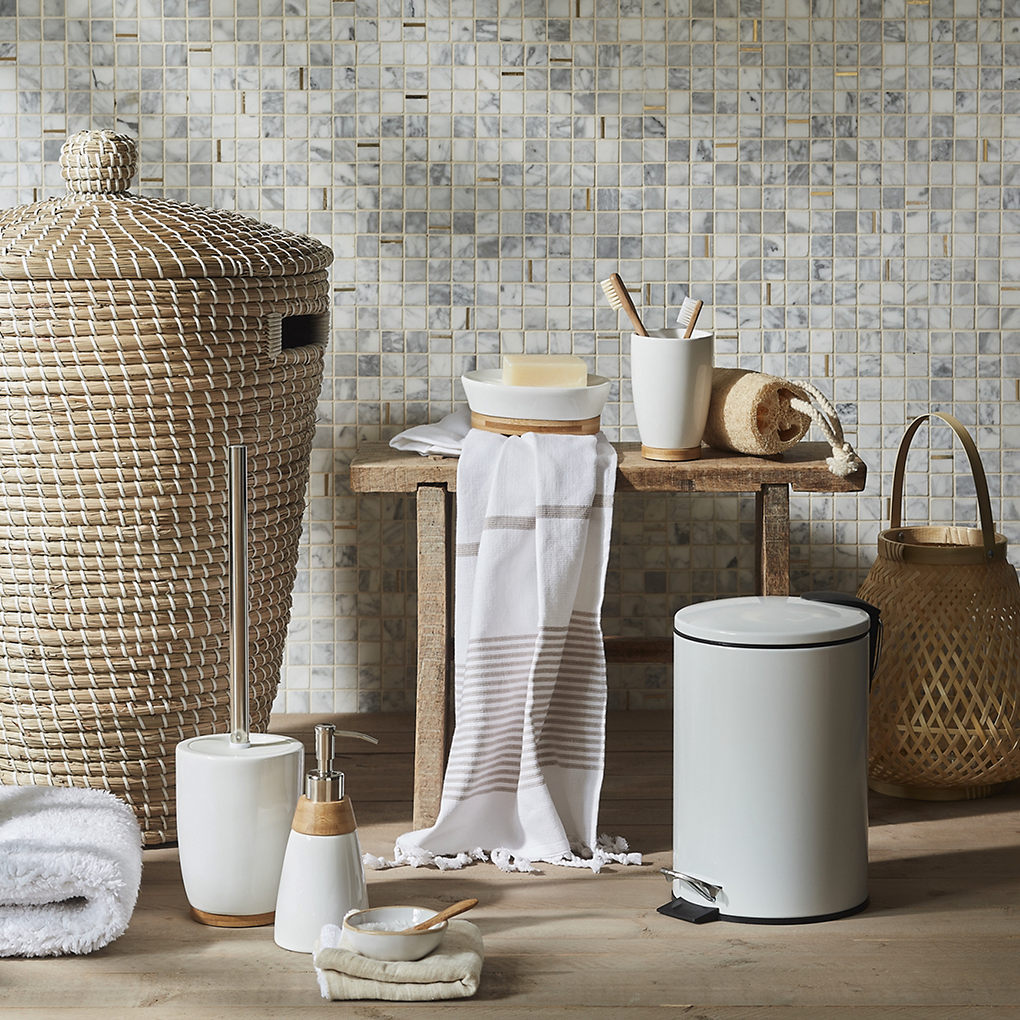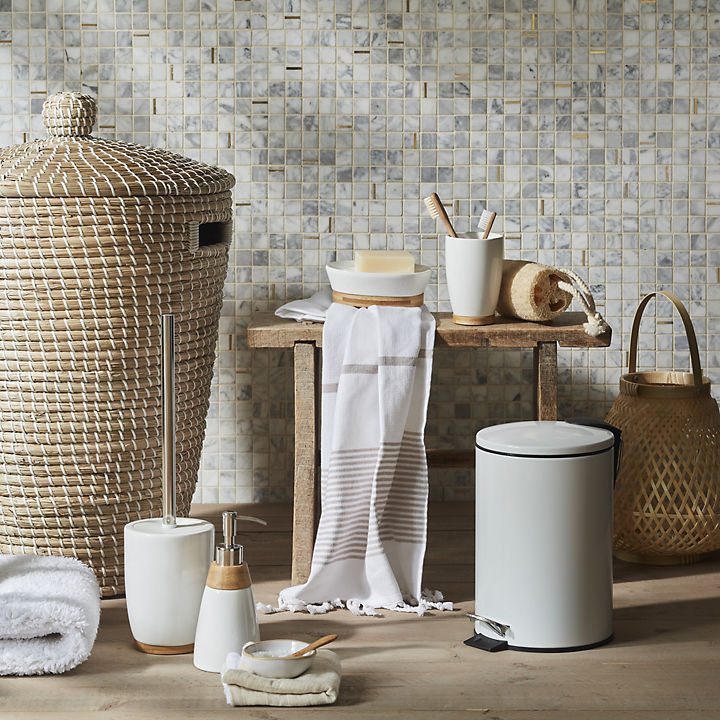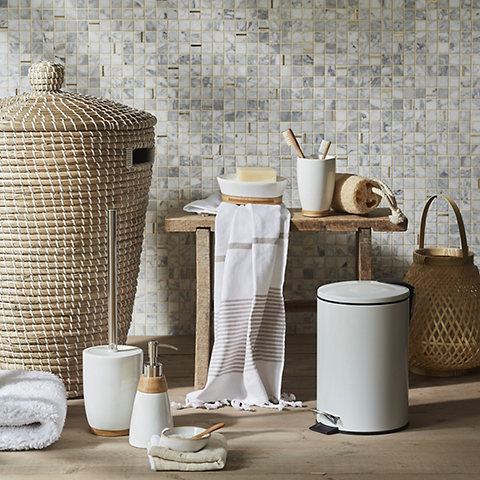 2. Declutter your space
Sometimes a quick spring clean is all your space needs to look refreshed and revived. Removing clutter like old shampoo bottles and children's toys will instantly create the look of a more serene, minimalist space. Plus, decluttering is a super cost-effective way to transform your bathroom! Top tip: use stylish seagrass baskets to store toiletries, such as toilet roll, and cupboards for more unsightly objects.
Ready for a spring clean? Discover our top bathroom decluttering tips in our simple guide to tidying your home.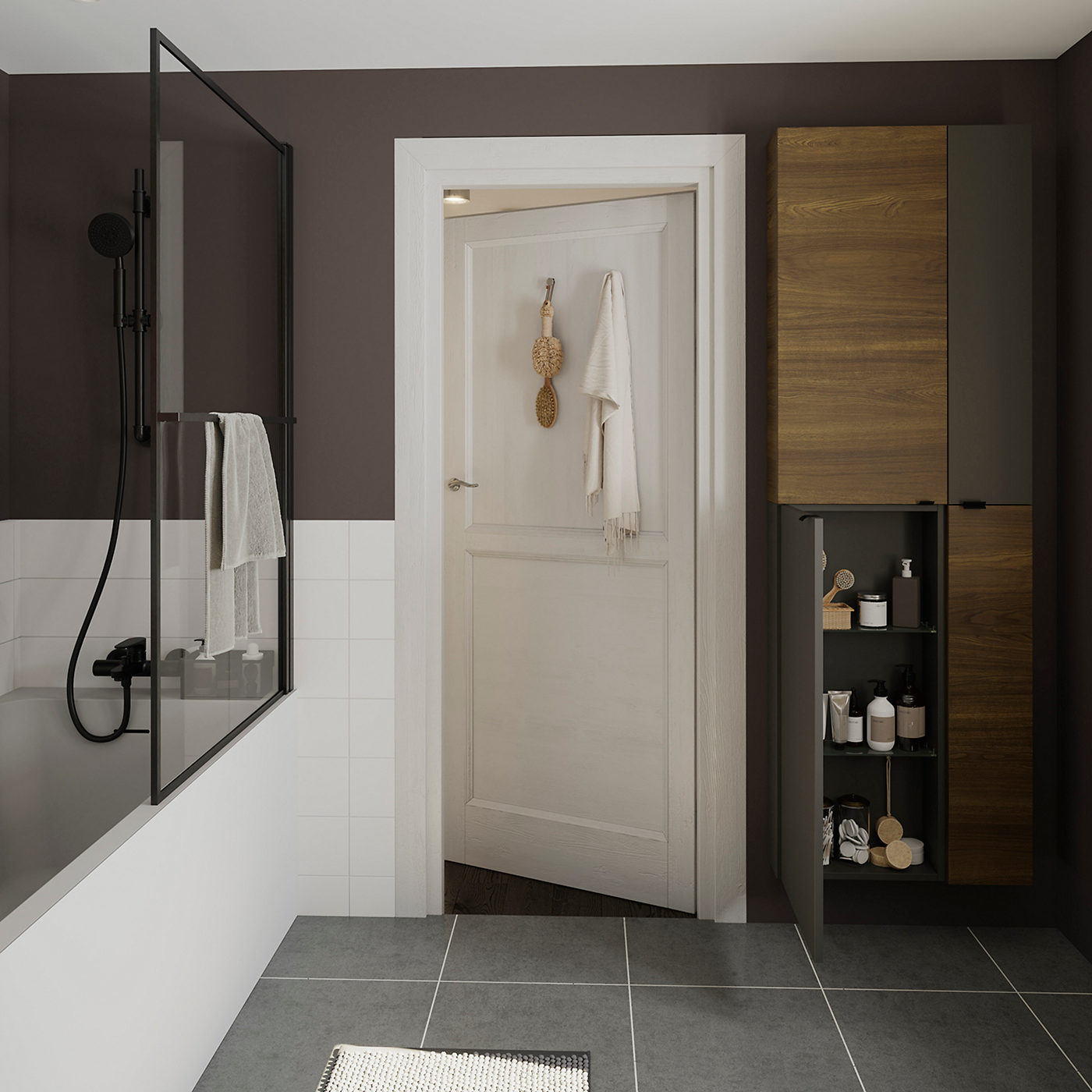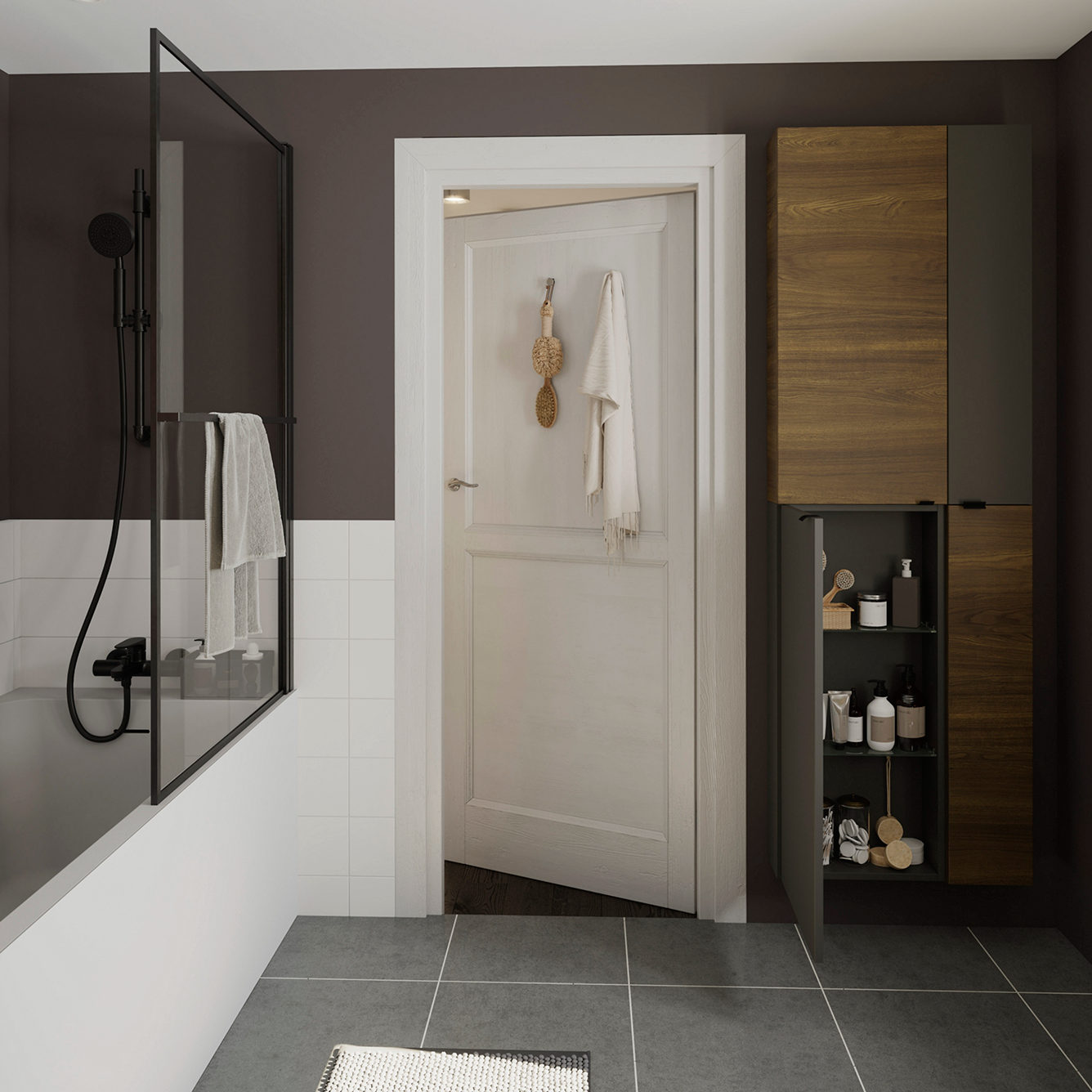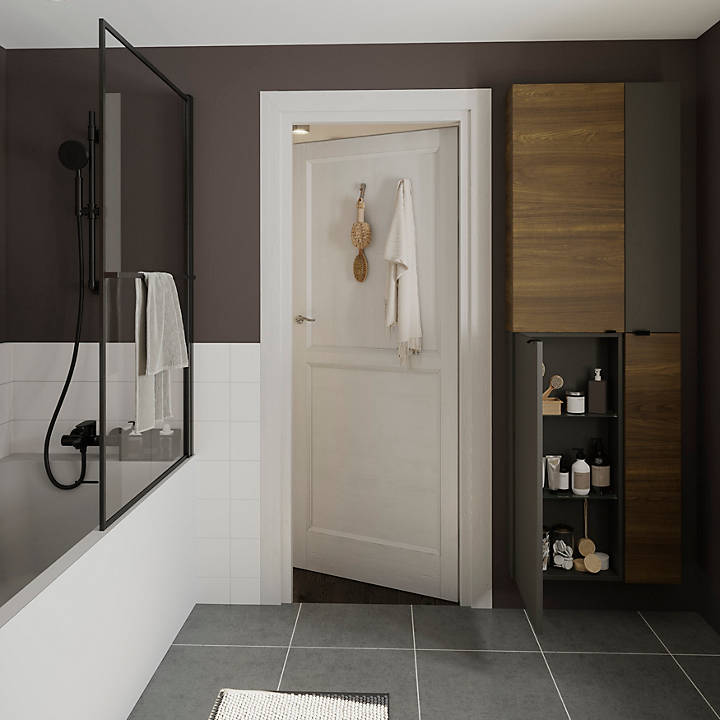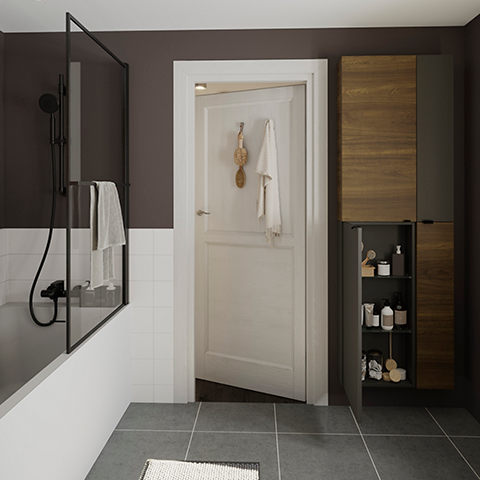 3. Give the walls a lick of paint
Paint is an easy way to give your bathroom a new lease of life without breaking the bank. News flash: gone are the days of plain white bathroom walls - 2023 is the year of colour and character. Whether you're into muted pastels or vibrant contrasts, adding a dash of colour will revitalise your bathroom.
This gorgeous muted blue GoodHome bathroom paint is a budget-friendly way to add heaps of character to your bathroom space. Don't forget to buy paint that's specifically for bathroom use. Bathroom paint is water repellent, meaning it won't get ruined from bath and shower splashes, unlike standard paint.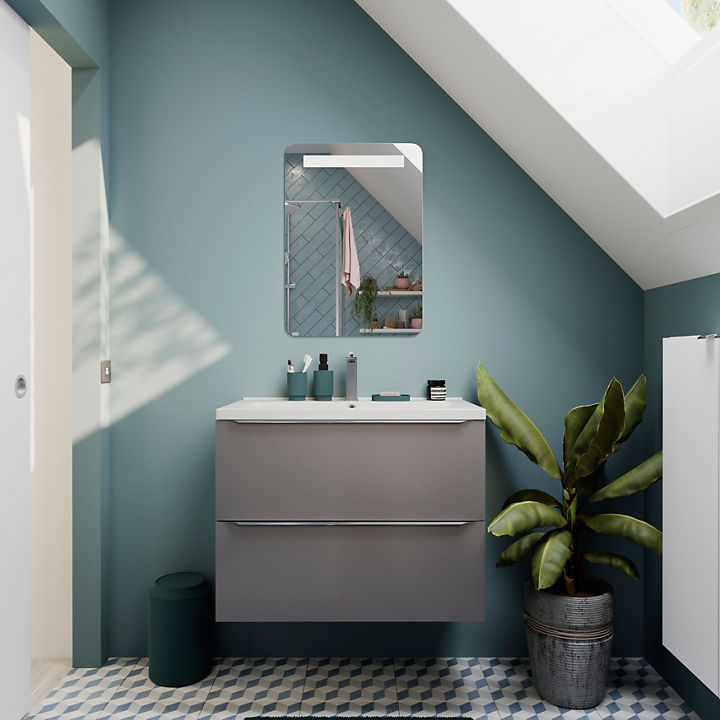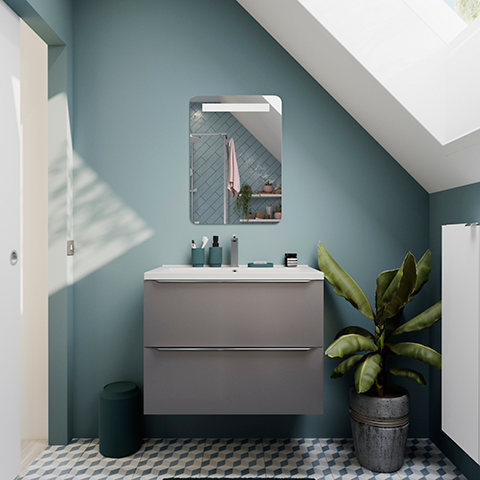 4. Try your hand at DIY bathroom panelling
MDF panelling has become one of the most popular DIY trends in recent months and we can see why: it's super easy to do, it looks super chic, and it's super affordable. Half-height shiplap panelling can transform your bathroom into a nautical haven and takes only a few steps to complete. Alternatively, slatted wall panelling is ideal if you're looking to achieve a simple Scandinavian vibe.
Ready to create your very own perfect panelling? Even DIY novices can achieve a professional panelled look with the help of our handy wall panelling guide.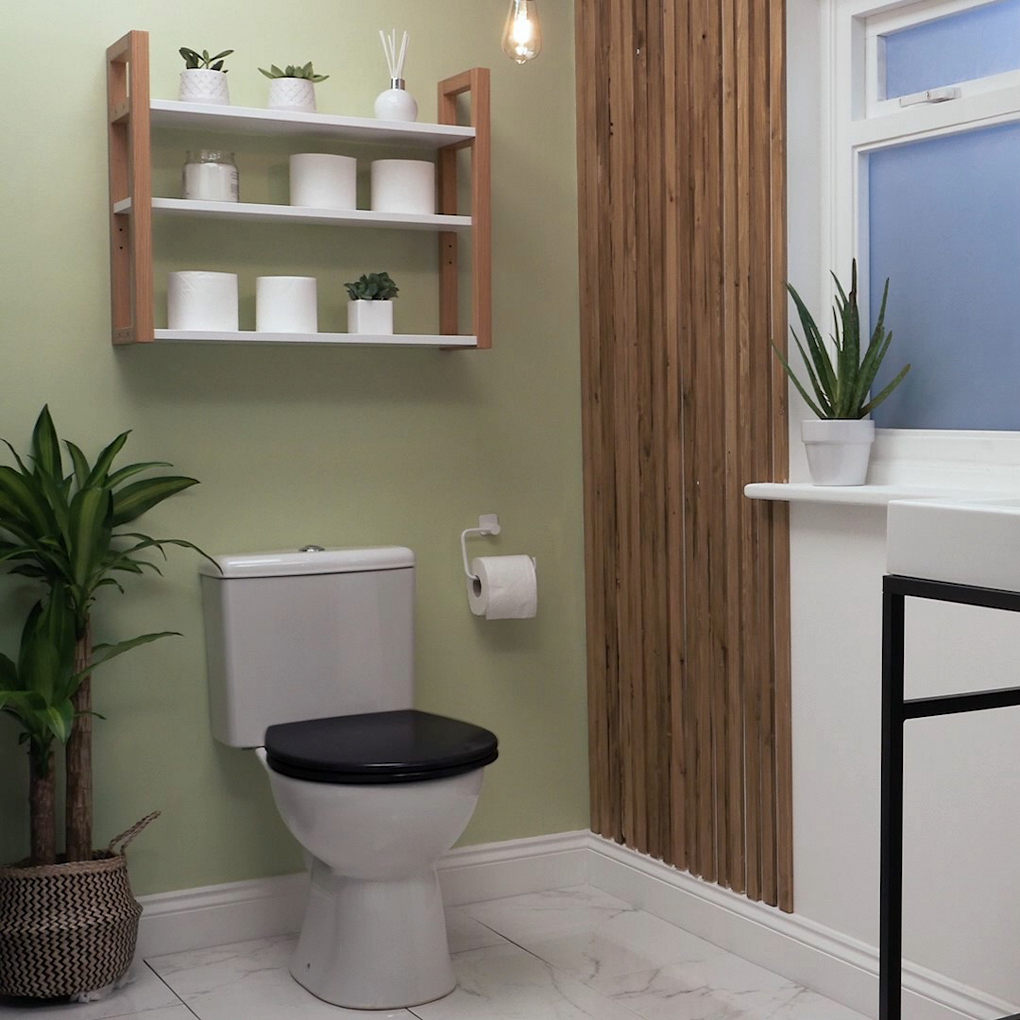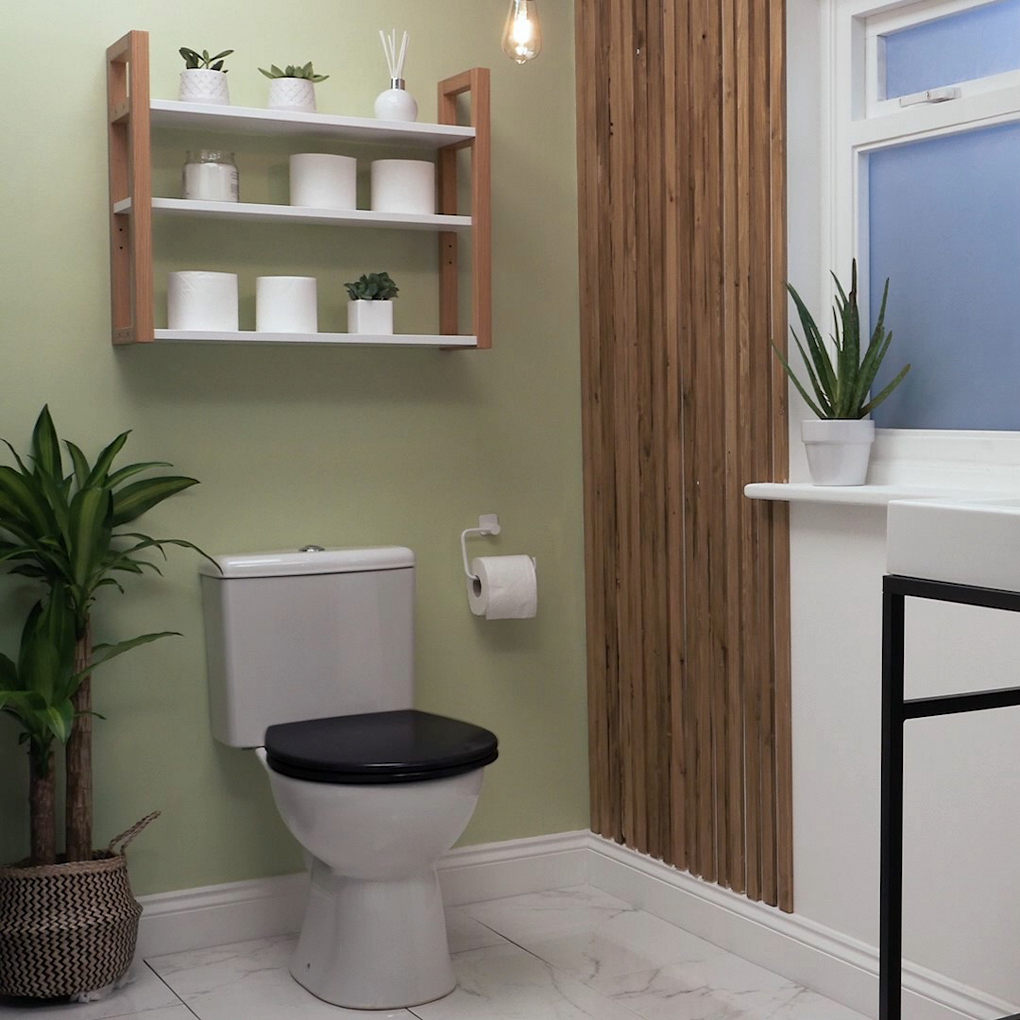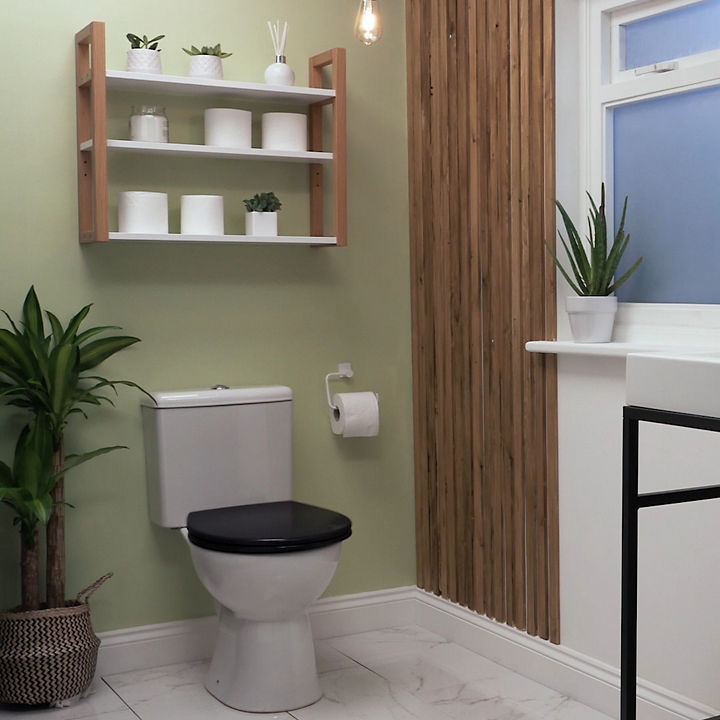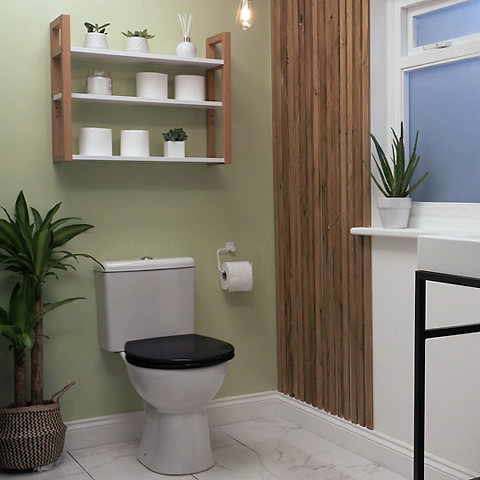 5. Upcycle your bathroom furniture
Replacing your bathroom furniture, such as bathroom cabinets, vanity units, and storage cupboards, can be costly. Why not try upcycling your current bathroom furniture to give your bathroom a new and improved look? You heard it here first: navy blue bathrooms are in this season. Opt for our GoodHome Antibes matt furniture paint to refresh your tired bathroom furniture.
Want to know more about the steps of upcycling? Discover all you need to know about how to upcycle your bathroom furniture by reading our upcycling guides.
6. Replace your old flooring
Did you know that flooring is one of the first things that people notice when they enter a room? Our eyes naturally direct towards the floor when walking, so your flooring can really make or break a space. Having old, tired flooring can ruin the look of an otherwise pleasant bathroom, whereas having sleek new flooring can really make all the difference.
New flooring doesn't have to be expensive. Laminate flooring is a versatile and resilient type of flooring that looks high-end without costing a fortune. Transform your bathroom from boring and bland to country-meets-modern chic with this Quick-step Aquanto Oak effect flooring. If tiles are more your thing, we're loving the urban jungle vibe of these grey concrete tiles.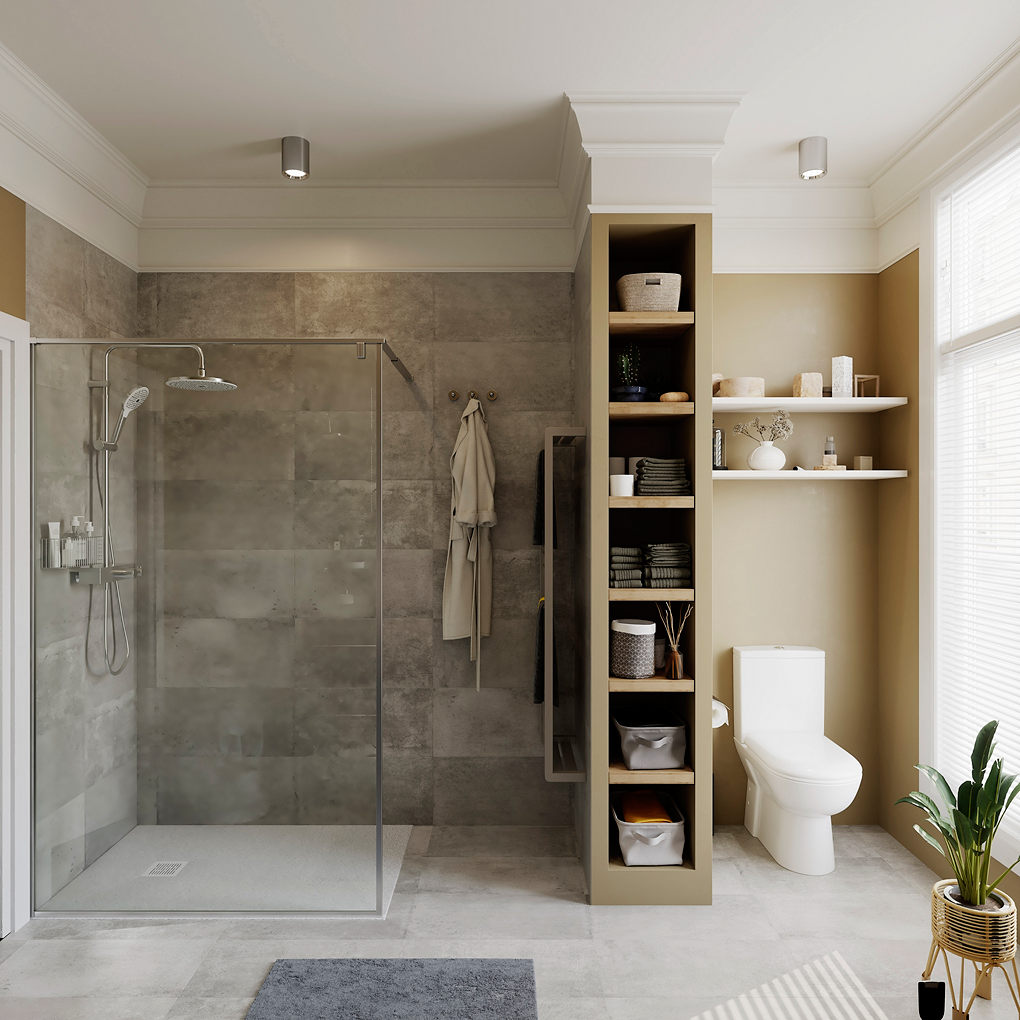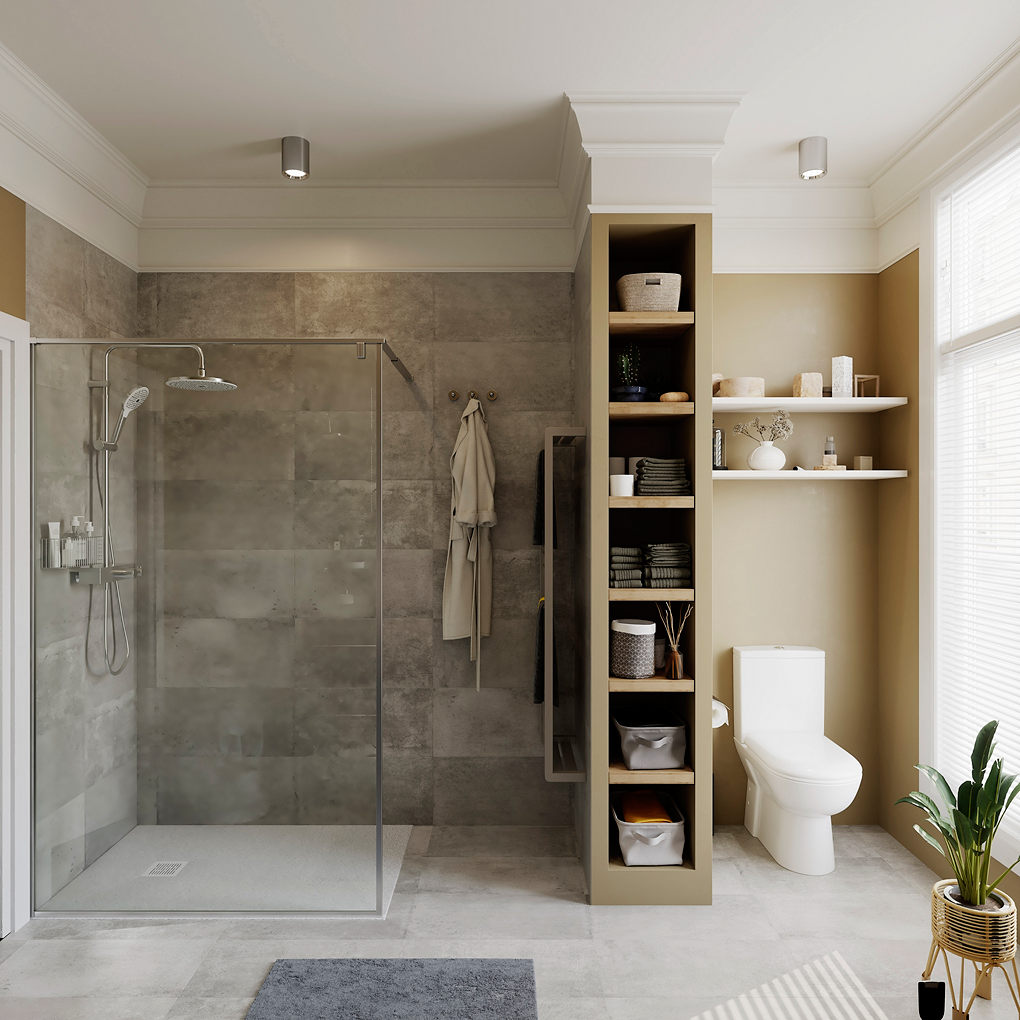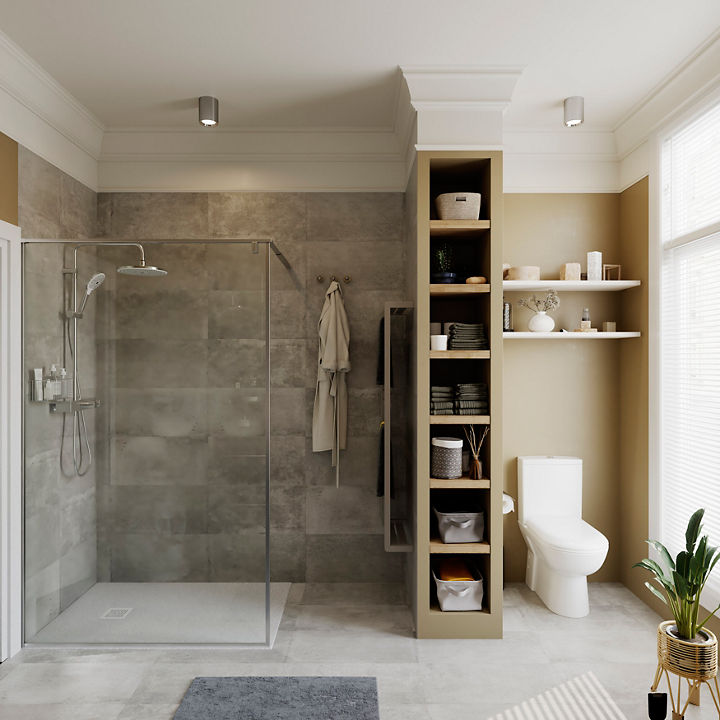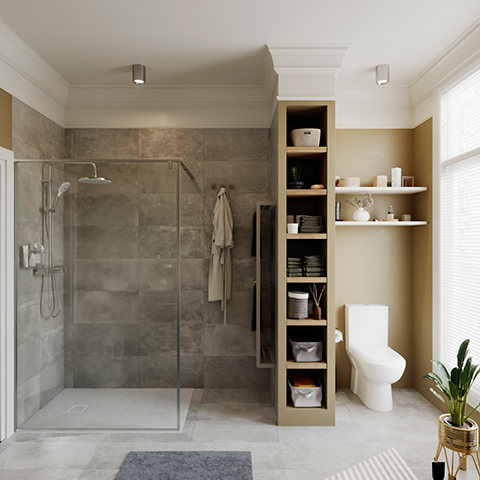 7. Upgrade fixtures and fittings
Is your shower head looking a little tired? Taps looking lacklustre? Upgrading your fixtures and fittings will make all the difference to your bathroom aesthetic - and can be achieved on a budget. Whether you've got an electric shower or mixer shower, there are plenty of affordable options when it comes to upgrading.
Our GoodHome Cavally black shower kit is both affordable and bang on trend. Pair with black bathroom taps and a black illuminated mirror for an impressive industrial style bathroom.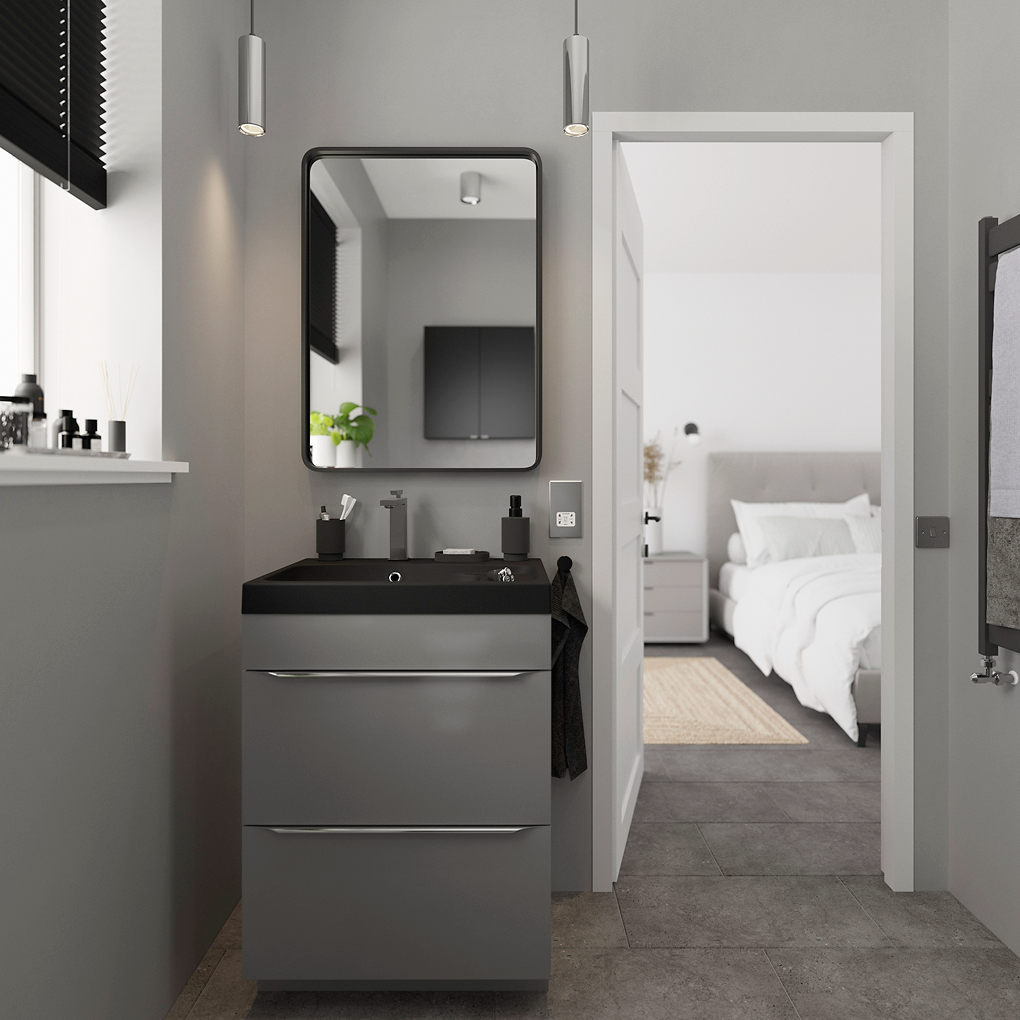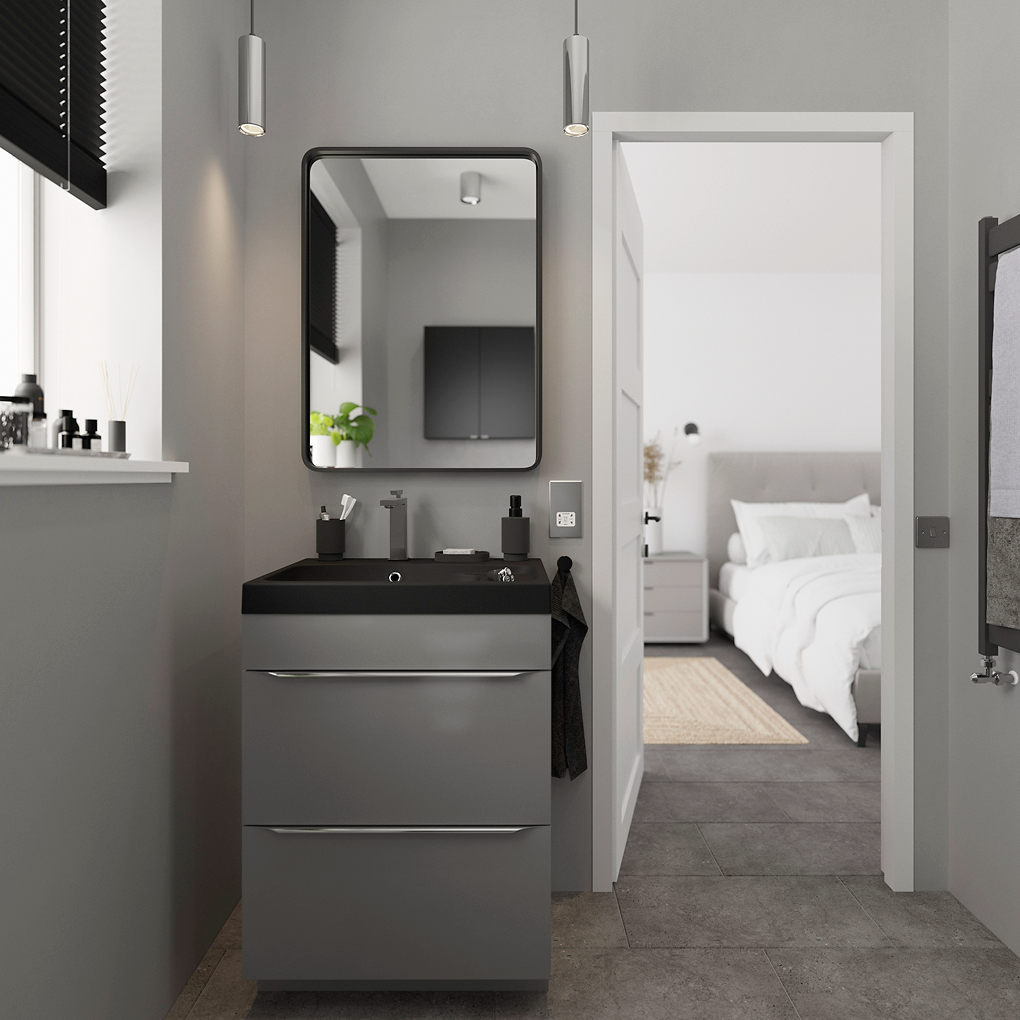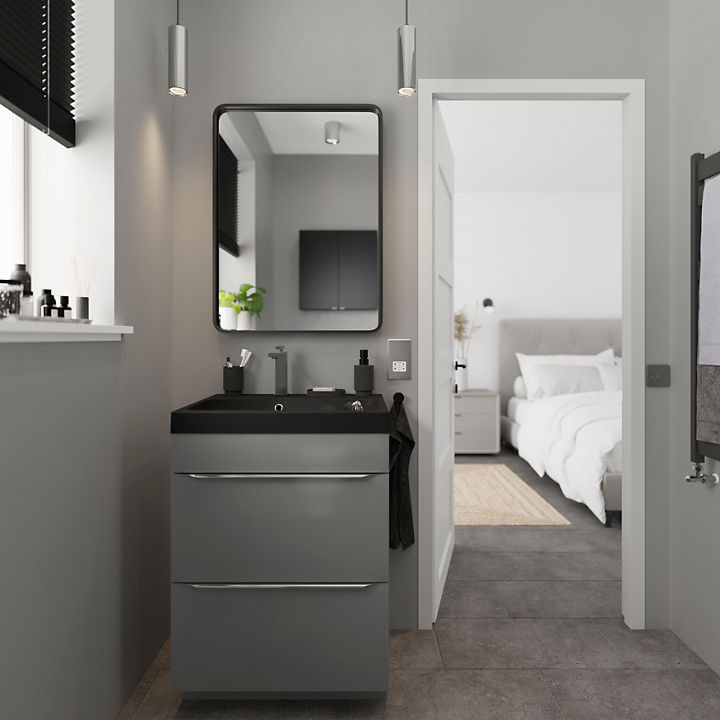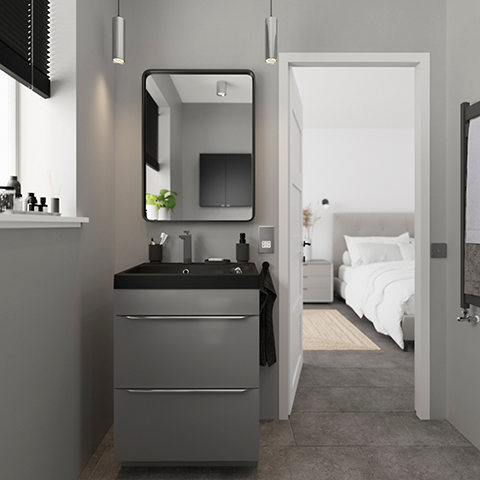 8. Trust the experts with a refurb
Painting the walls, updating the flooring, and buying new accessories can all have an instant impact without flushing the funds away. On the other hand, if you are considering a full renovation, careful planning with the help of an expert can help you save money as they can provide a clear plan to base your budget on.
If you want to refurbish your space without the help of an expert, be sure to plan ahead and use budgeting tools to ensure you don't go overbudget. Book a free planning appointment with one of our experts today to find out how much you could save on your bathroom refresh.