Who says it can't be mighty?
Minimal space doesn't mean having to settle for a gloomy kitchen. You may think that your small kitchen is the problem, however, the real problem is not utilising the space you do have. Make smart decisions about your kitchen layout, appliances, and storage options. No longer will you fear those dreaded three words: what's for dinner?
With our tips and innovative products you can create the illusion of space and have the freedom to be creative in the kitchen. There might even be space for a celebratory cartwheel. No? Okay, we may have got a little carried away…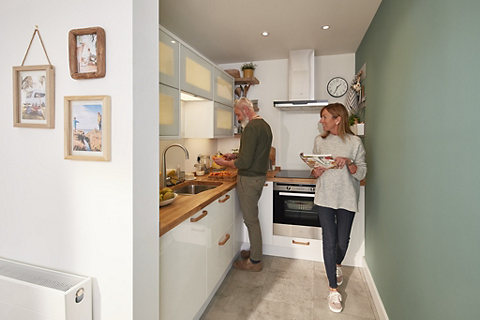 Streamlined to trick the mind
Choose a kitchen design with smooth lines and a gloss finish, such as our Stevia range. Reflective surfaces help create the impression of space, allowing you to move more freely around the kitchen.
For even more space, choose handle-less cabinets, or ones that have integrated handles, like our Garcinia range. Not only do they look ultra-sleek and stylish, they'll also stop you from knocking yourself on knobs or handles. Browse all of our fitted kitchens.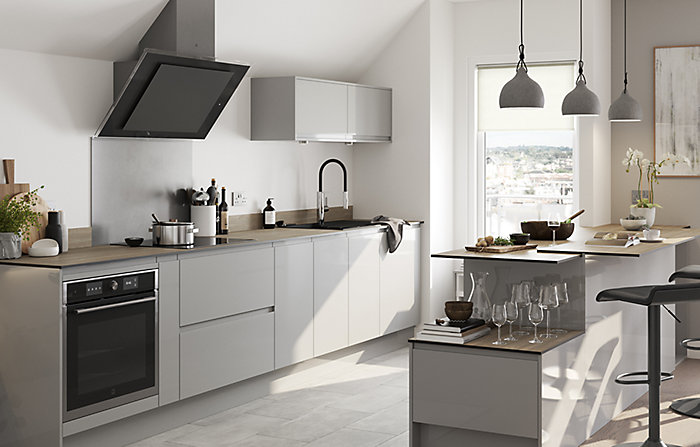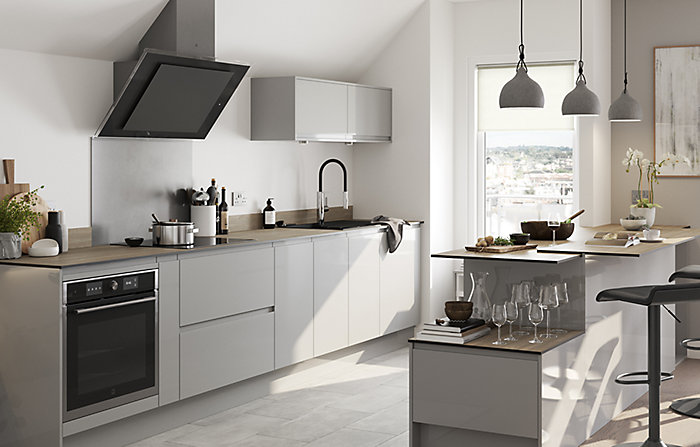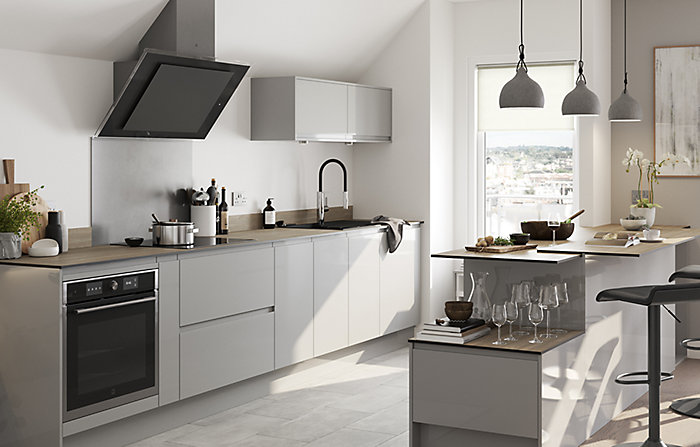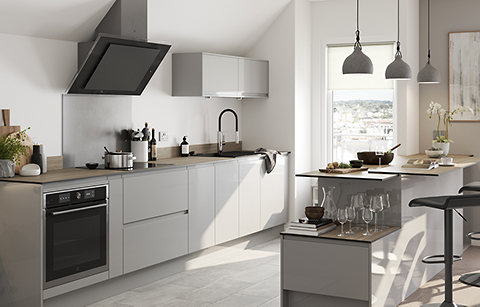 It's all in the design
If your space is limited, it's important to consider the layout and design of your kitchen. A breakfast bar or a small island made of base cabinets with an overhang makes a good alternative to a dining table. Add a couple of stackable bar stools and voila, you've got somewhere to eat with the family.
For a small kitchen, we recommend a galley or pullman layout. Find out more about kitchen layouts by reading our article: Finding the perfect kitchen to suit your room shape. Don't forget to use the "working triangle" theory when designing your kitchen – your fridge, oven and sink should be clustered together for easy access.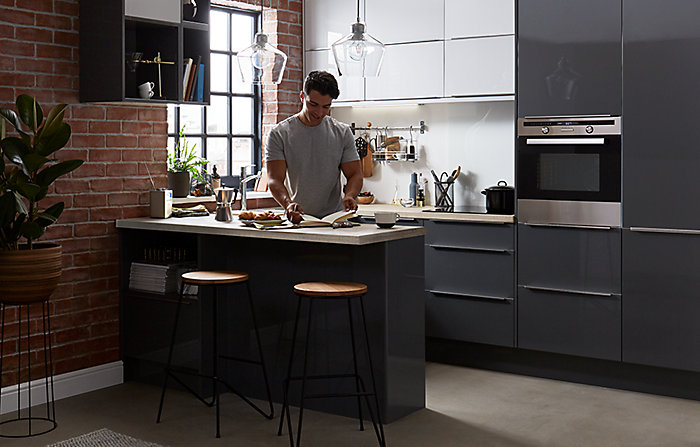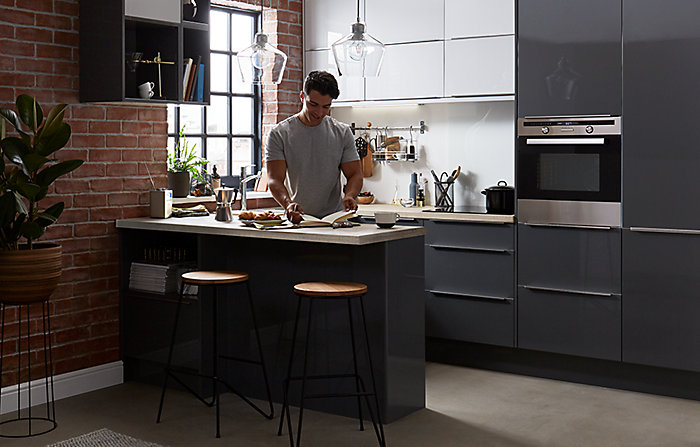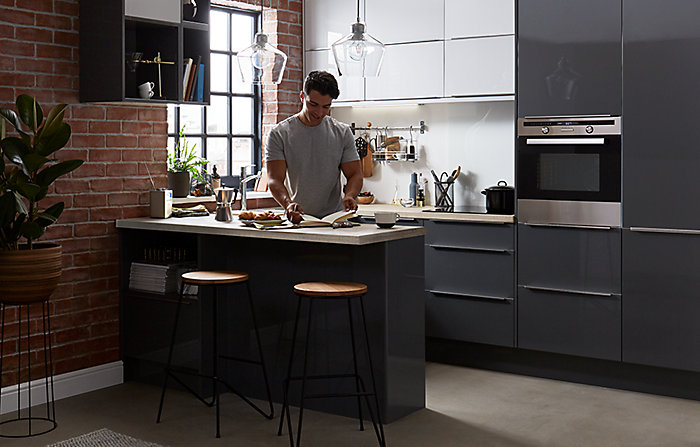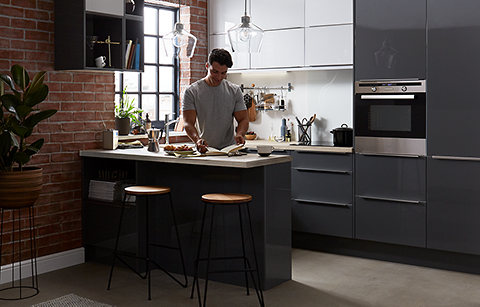 Save space with a single bowl sink
Single bowl sinks allow for much more room on the worktop. Our state-of-the-art Romesco smart space sinks are ideal for creating a space-efficient and multifunctional work area.
It comes with a whole host of features, such as an extra wide and deep bowl, integrated accessories and a dual ledge rim design. It even has a reversible drying rack to increase drainer space, and layered accessories to make food prep easier than ever.
Our Romesco smart space sinks are available in 1 bowl, 1 bowl with drainer or as a 1.5 bowl option to cater for all kitchen requirements. Why not pair with the Cooke & Lewis Zanthe side lever mixer tap? It has a swivel spout, helping you do the dishes no matter the size of your sink, and an anti-limescale spout that rubs clean!
Consider your storage
Neatly tuck your food, waste and cooking utensils away using integrated storage and bins. Our Vigote internal pull-out bin allows you to hide your rubbish from dinner guests, or from greedy pets. It keeps any nasty smells at bay too.
With Soto drawers you can also create storage towers of different heights or configurations– it's essentially a cabinet filled with internal drawers, offering a huge amount of storage that you can tailor to meet your needs. We also have a nifty plinth drawer to help you make use of the unused space below your cabinets.
Your worktop space is precious – it should be reserved for food prep only. Keep clutter off the worktop counter with our Pecel magnetic storage range. It makes use of traditionally unused space between the worktop and wall cabinets and helps keep utensils and kitchen sundries within arm's reach and off the counter.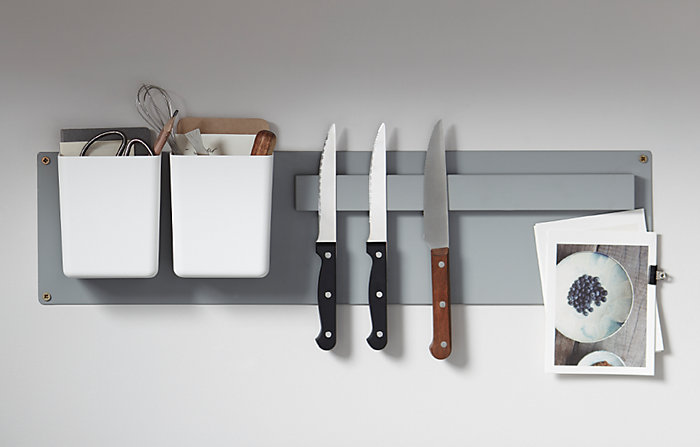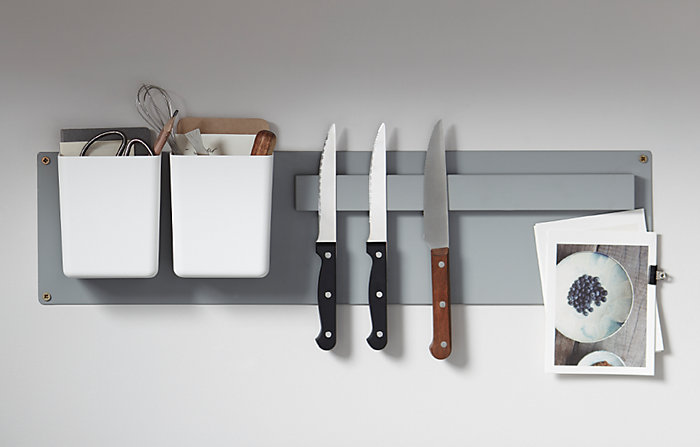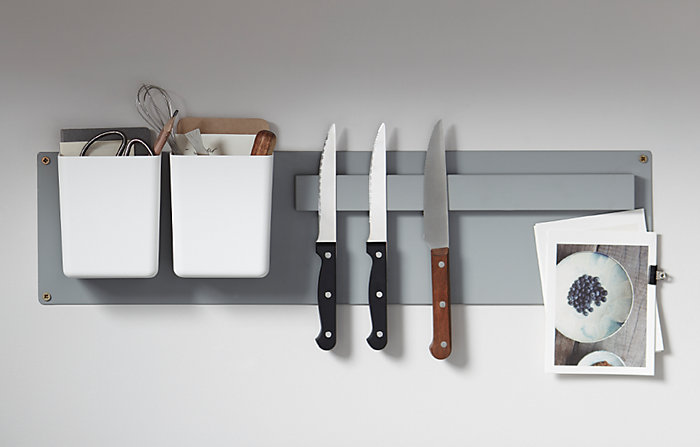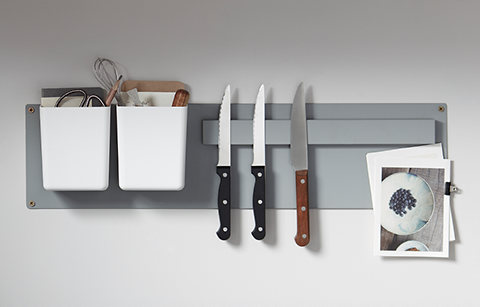 Clever appliances
Shop around for space-saving multipurpose appliances, such as the GoodHome Bamia compact oven microwave which has the functionality of an oven and microwave, all in a compact space.
We sell a range of smart appliances that will keep things running smoothly in your kitchen, all whilst reducing energy costs. Choose from smart dishwashers and fridges to Wi-Fi connectable cooker hoods.
Neat tricks
There are lots of little changes that will make a big impact – leaving you with a more open and spacious kitchen. If you have crockery that you only use for fancy dinner parties, store them out of the way in boxes on top of cabinets. If you haven't got anywhere to keep dining chairs, use foldable dining chairs and hang them on the wall when not in use.
Instead of trying to cram everything into cabinets, why not use open shelving or drawers for ultimate space efficiency? Drawers help maximise the amount of usable space and can reduce the amount of wall cabinets you need.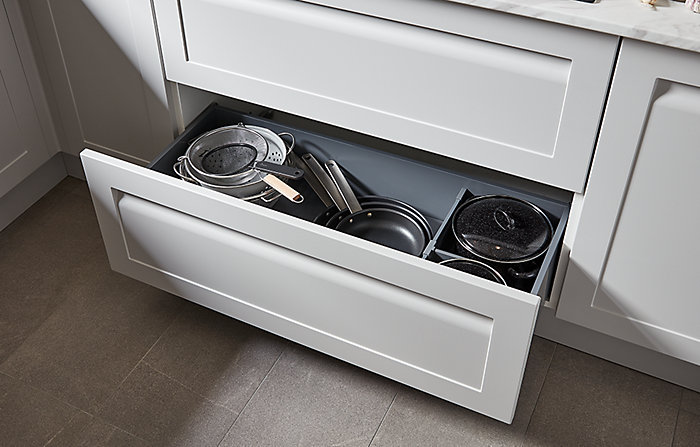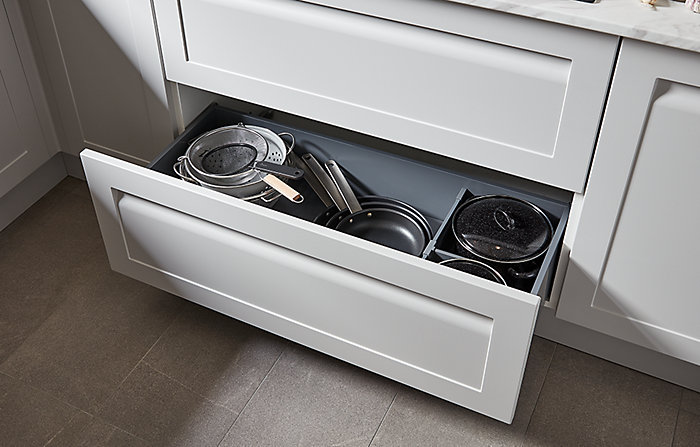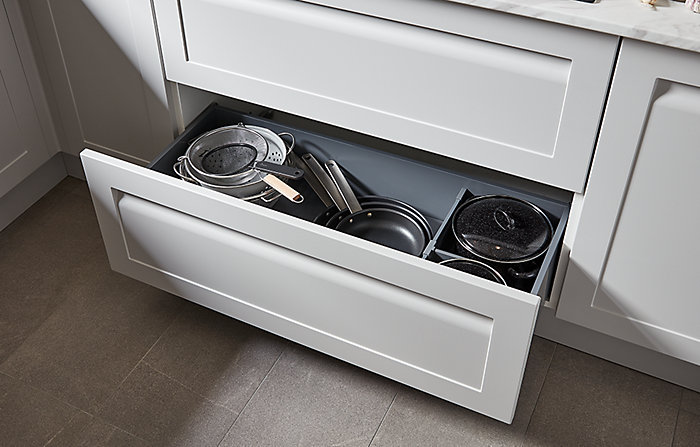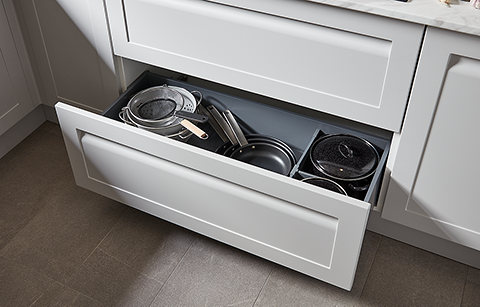 These small kitchen ideas prove that you don't need a big kitchen to have a functional space. By choosing certain storage options or using integrated handles, you can instantly open up your kitchen space.
If you're designing a new kitchen and aren't sure where to start, be sure to check out our article, 4 steps to planning a new kitchen, it's full of inspirational ideas for planning a kitchen, whether it's a new kitchen or a renovation project – we've got the knowledge to help you get started.