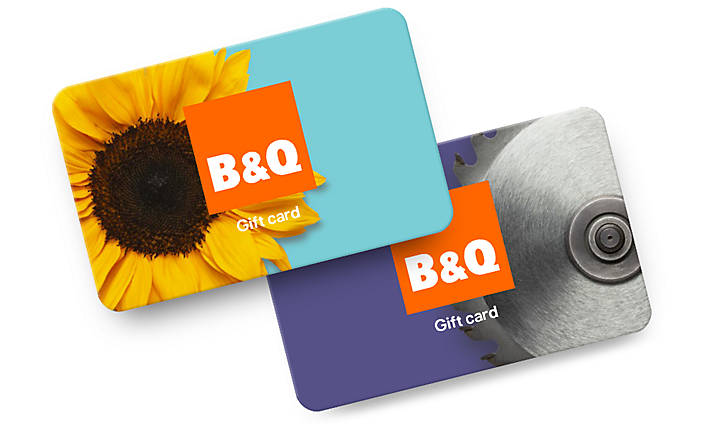 B&Q Gift cards
We know how hard it can be to choose the perfect gift. With a B&Q Gift card you can help someone create a home to be proud of.
Encourage a loved one to grow their dream garden, start a DIY project, or furnish their home to their hearts content. Go on, make their day with a B&Q Gift card. They can be used on diy.ie or in store, we're not fussy.
Have a scroll to find out more, or check your Gift card balance to see how much you have left to spend.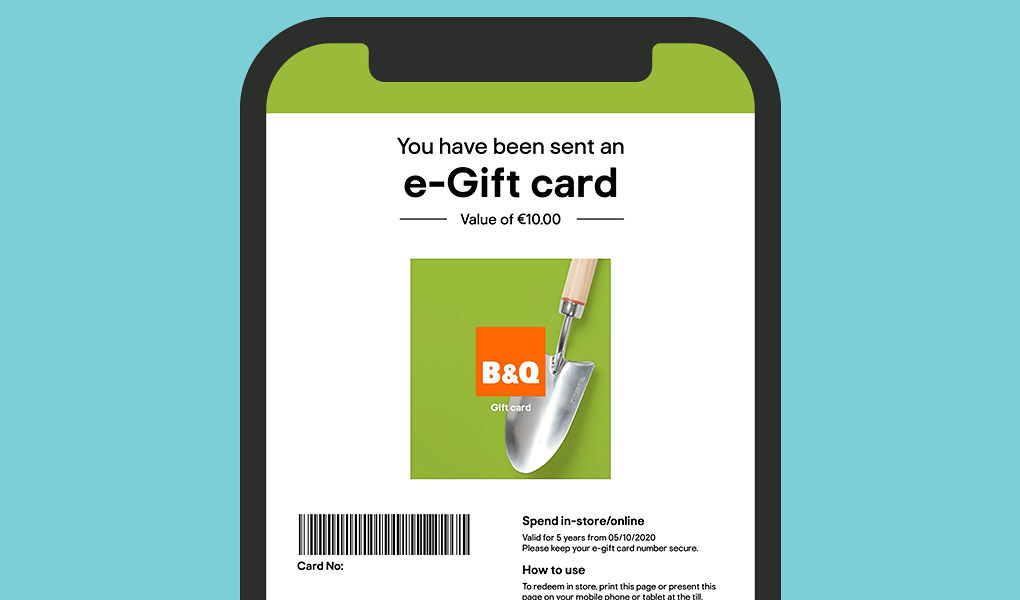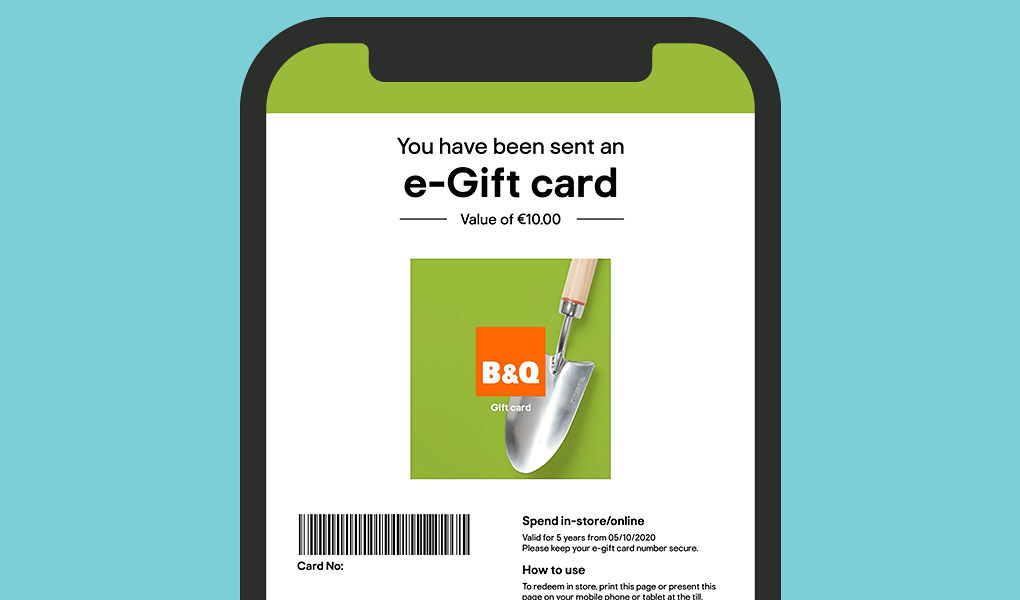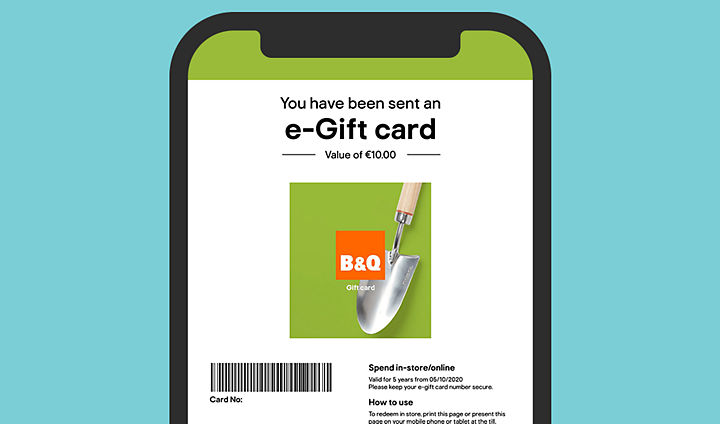 Instant e-Gift cards for any occasion
Buy an e-Gift card online for delivery to your recipients mailbox within seconds (UK and Ireland). Personalise your message to suit any occasion, and choose the exact date and time that you'd like it to arrive.
Gift cards delivered to their door
Put a smile on their face with a Gift card delivered straight to their door. Take your pick from a variety of designs, write a personalised message, and choose a date that suits them. Order online for quick and easy delivery (UK and Ireland).
Corporate Gift cards
Whether you're looking to motivate your employees, say thank you to your customers or reward and recognise an individual, you can do it, with a B&Q Corporate Gift card.
---
B&Q Gift cards can be used as full or part payment for any products purchased from B&Q stores in the Republic of Ireland, or on our website.
A Gift card can't be used for purchases from B&Q call centres or in B&Q stores outside of the Republic of Ireland, including B&Q stores in Jersey or Guernsey.
---
If your purchase total is greater than the value on your B&Q Gift card, you can use your Gift card and then pay the outstanding balance using your debit or credit card.
---
B&Q Gift cards and B&Q e-Gift cards loaded with credit in  Euros (€) can be used when shopping on diy.ie.
We're currently unable to accept gift cards loaded with Pound Sterling (£), B&Q Decorating Cards and selected Corporate Gift Cards online. If you're not sure, check the back of your Gift card - card numbers beginning 50450756655 can't be redeemed online.
---
You don't need to spend your full Gift card balance at once. You can pay using a Gift card online or in store, and any remaining balance will remain available for future purchases at diy.ie or at any of our Irish stores.
---
B&Q Gift cards can be ordered for delivery to your home, B&Q e-Gift cards are delivered within seconds by email.
B&Q Gift cards and e-Gift cards can be purchased from our Gift Cards page.
---
Still can't find what you're looking for? Read more B&Q Gift card FAQs here.