Make the most of a compact space with these small bathroom design ideas
Size isn't everything when it comes to bathrooms. Choosing options that make your room feel lighter and brighter, as well as fixtures and fittings which have multiple uses can make a huge difference to how any bathroom functions and feels.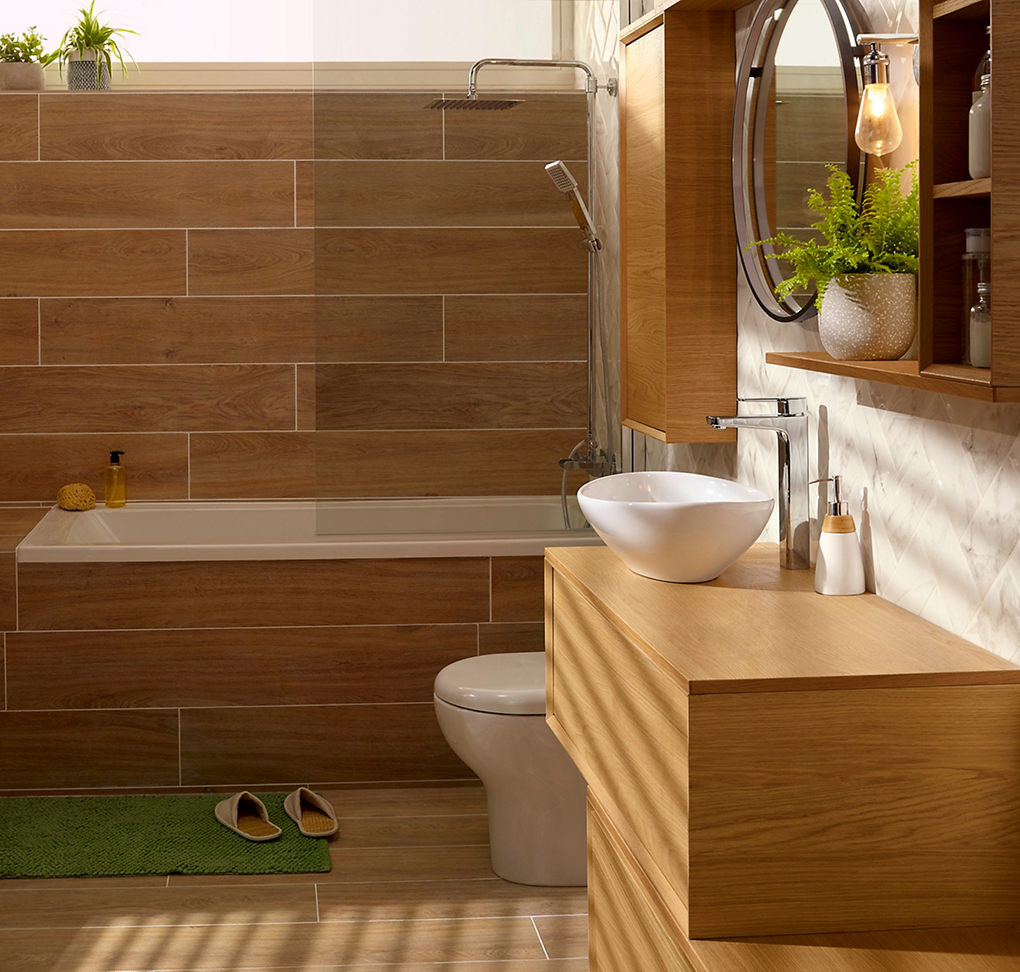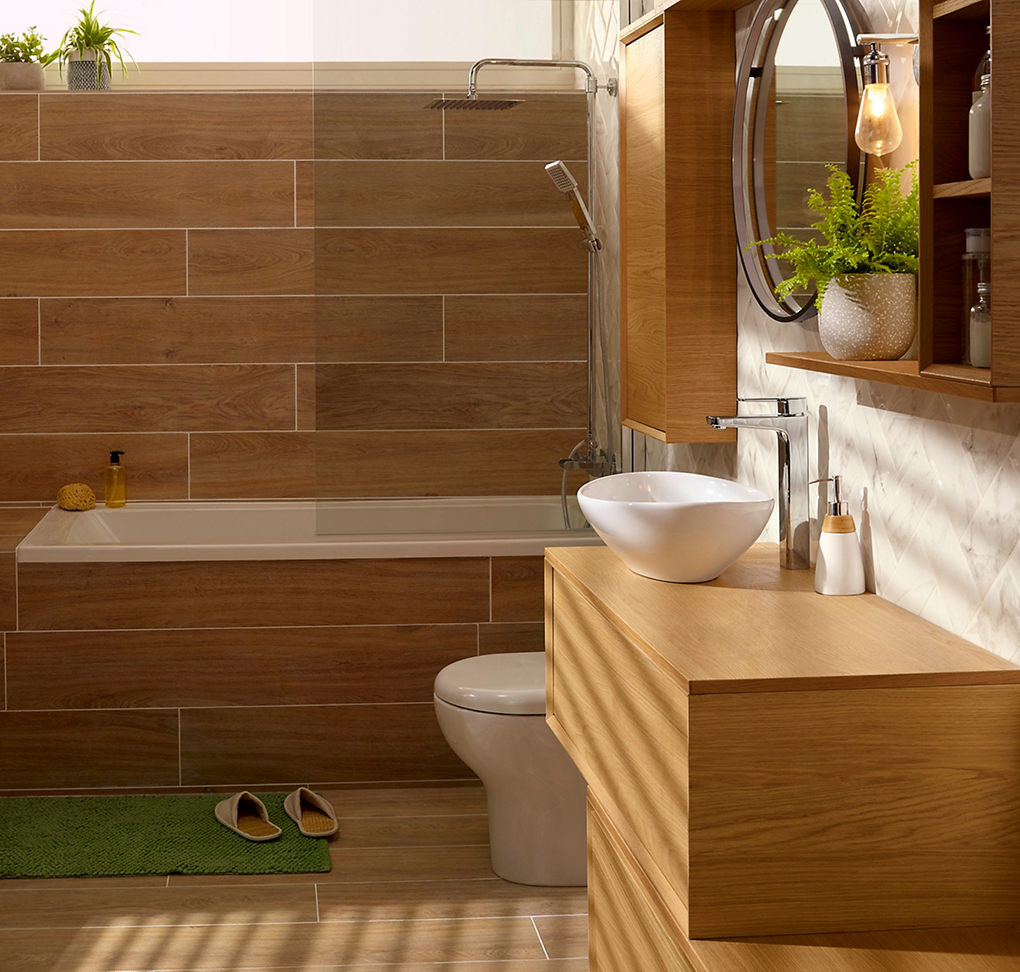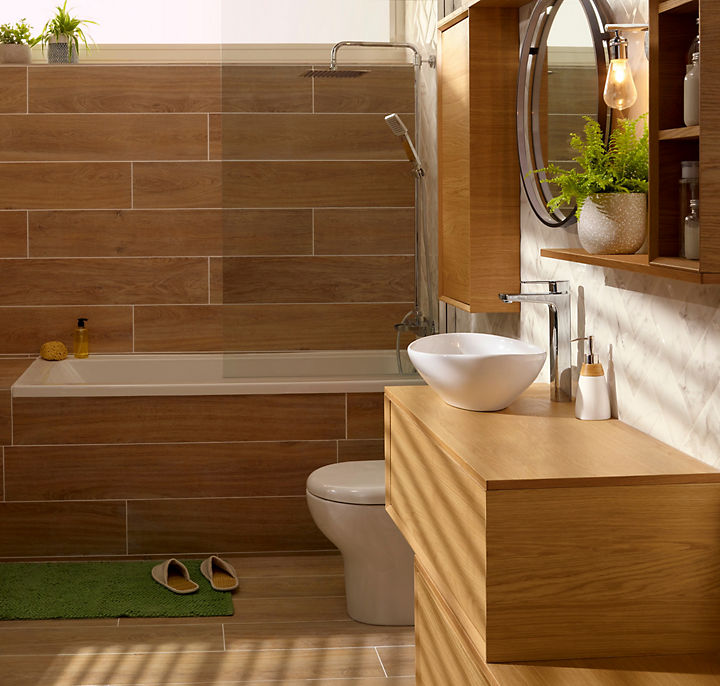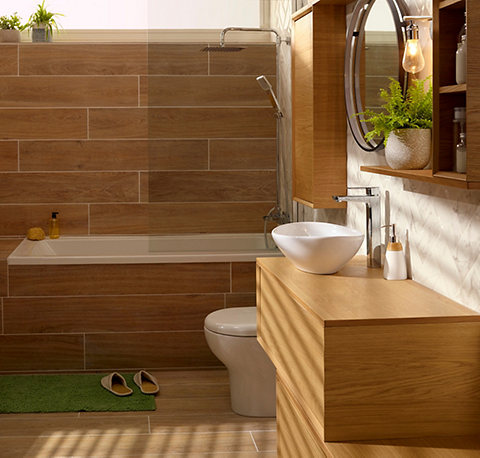 With some clever planning and smart design decisions, even a small bathroom, tiny en suite or compact cloakroom can feel spacious and offer everything your household needs.
We'll walk you through choosing fixtures and fittings that'll fit even the smallest bathroom and introduce you to some of our innovative space-saving products.
We'll also share the secrets of decorating and lighting a room to make it feel bigger. Take a look at our guide for the top small bathroom trends and create your perfect space.
Ready to elevate your small bathroom? Let's get started...
---
Basins are the hub of the bathroom, and when space is at a premium, there are a few ways that your basin can play a role in making your bathroom feel bigger.
Countertop basins don't include a traditional pedestal. Instead, they are made to look as though they are simply resting in place by sitting on top of a bathroom unit. Pairing a countertop basin with a wall-mounted vanity unit frees up heaps of floor space, and with no bulky pedestal, your bathroom will be sure to look larger.
Vanity units, sometimes known as washstands, have seen a makeover in recent years and a resurgence of popularity. New compact models mean that you can now find vanities to suit almost any space in both contemporary and more traditional styles. Not only do wall-mounted vanity units keep floors clear, but they're also deep enough fit all your toiletries – saving even more countertop space!
Usually taps would be placed on the rim of the basin, but with countertop basins, the tap sits behind the basin whilst extending over the side. This makes tall mixer taps the perfect addition to bathrooms with a countertop basin, whilst the extended length also makes them an eye-catching focal point of the room.
---
Many of the tricks you can use with a basin to gain space can be used with toilets. Opting for a wall-hung model will give the illusion that your room is larger – and help to make cleaning a breeze.
Whichever option you choose, don't forget to pay close attention to the dimensions of the products you plan to use. The size of a toilet cistern and pan can vary considerably from one model to another, which can be helpful if you're looking to solve a particular problem.
Slimline cisterns can reduce how far a toilet protrudes into a room – useful if you're trying to avoid the swing of a door. In narrow spaces, a slim pan could make all the difference between whether you can make room for a basin next to it or not.
Don't forget the toilet seat too. Choose a white or neutral coloured seat that blends in with the fixtures in the room. This way your eye won't be drawn to this part of the room as soon as you walk in.
---
Finding room for a bath can be tricky in a compact space, but fortunately there are a lot of options when it comes to this family essential.
Straight baths are small-space friendly and come in a range of lengths to best fit your room. Make the most of the floorspace occupied by a bath by using it for hidden storage.
If you're considering installing a shower as well as a bath, combining these in a shower bath is an easy way to save on space.
Much more than just a shower head perched over the bath, these multi-taskers are cleverly designed to offer a generous space for showering at one end without compromising on the functionality or comfort of the bath.
Combine your shower bath with a glass bath screen to protect your room from splashes but also allow as much light as possible to flood your space. Bath screens without handles, such as the Calera bath screen, are a great option as they remove and clutter from your view and provide the illusion of more open space.
---
Modern shower enclosures are available in a huge range of shapes and sizes that can fit into even the most difficult spaces.
Quadrant and offset quadrant enclosures offer a sleek look, whilst sliding doors will take up very little space compared to more traditional hinged doors.
If space seems tight for a shower, consider a wet room as an alternative. Wet rooms feature no compartments that restrict space, such as a bath or an enclosure, leaving you with ample floor room.
Whilst installation can take a little longer as you'll be waterproofing the whole room, you'll be rewarded with a shower room that's easy to clean and packs multiple uses into a small, or unusually-shaped space. Plus, they bring an airy, open feel to any small bathroom.
Take a look at our complete wet room kits which come with everything you need to help you install your own.
---
Storage can be a challenge in smaller spaces, but thankfully there are lots of options that'll make your room work harder for you.
Mirrored cabinets are ideal for smaller bathrooms, as the mirror provides the illusion of more open space in the room. Where space is at a premium, consider a mirror with an integrated shelf that'll give you somewhere to pop a few essentials, or a cabinet with a lift-up door that needs less room to open.
If there's a little floor space available, a tall narrow cabinet can hold everything from towels to toilet paper – and there's wall-hung options that'll keep floors clear. If you are low on space but still want to show off your stylish accessories, opt for tall open shelves such as those in the Avela range.
We've also got single and double door cabinets to give you more options, and designs with invisible handles that'll make your room look sleek and streamlined.
Don't forget to hang a shower caddy in your shower enclosure or above your bath to help keep bottles off surfaces and everything close at hand. You'll find solutions in different shapes and sizes to suit your space and family.
---
Keeping a room as light and bright as possible is the ideal way to open it up and make it feel larger. Neutral colours, like whites, creams and pale greys, as well as glossy surfaces will help to achieve this.
Pick a specialist bathroom paint that will resist the steam and moisture well, and opt for a soft sheen finish that will help to reflect natural light. Don't forget, a bright white paint on the ceiling will give the illusion of height and space.
Glossy tile finishes will also help to brighten a space. Large format tiles can help to make a room look more spacious, and fewer grout lines and simple designs will give a seamless finish.
Smaller tiles and mosaics, along with patterned wallpaper, can look fussy in a smaller space - so stick to simple designs that'll also be easy to clean and maintain.
Bathroom wall panels can be a good alternative to wall tiles in shower enclosures and above baths. As well as being incredibly easy to install, the smooth and glossy acrylic surface isn't interrupted by grout lines making the room look more spacious. Stick to neutral colours that'll reflect light around the room.
Choosing a statement piece such as a large circular mirror is another great way to give the illusion of space, and it will work wonders for reflecting natural and artificial light. 
For a seriously sleek look and multipurpose mastery, consider a mirror with built-in lights. It'll maximise mirrored space by making better use of room that you might have used for spotlights above a traditional mirror.
---
Choosing a light, natural flooring in your bathroom will open up the space and help the room appear bigger. Plus, it'll give your bathroom an on-trend, cool appearance. Floor tiles, sheet vinyl and Luxury Vinyl Click flooring are ideal choices as they're moisture-resistant, durable and easy to clean.
As with wall tiles, choosing a grout that tones with the tiles, using larger tiles and avoiding bold patterns will make the space look less busy and more spacious.
---
In a smaller bathroom, a traditional radiator can take up precious space, but innovative alternatives offer space-saving solutions.
A towel radiator is perfect for compact spaces - choose white or metallic finishes to enhance the illusion of a larger room. There's also narrow options for tight spaces as well as shorter towel warmers that can be mounted above the bath. Choosing a towel radiator is also a chance to do away with a conventional towel rail, usually offering more hanging space and quicker drying times. 
If you're replacing the flooring in your bathroom, consider options that can be used with underfloor heating. Underfloor heating can be used in even the smallest cloakroom, and you'll never need to worry about stepping out of the bath or shower onto a cold floor again. Removing a radiator or wall-mounted heater could also free up valuable space for additional storage – or simply more room for busy households.
---
How you light your bathroom or cloakroom can make a huge difference to how big it feels. Compact spaces will feel smaller with inadequate light, but the right choice of bulbs and fittings, in the right place, will help rooms feel more spacious and inviting.
For overhead lights, choose bathroom spotlights and downlights with LED. Position the lights evenly across the room where possible and consider adding spotlights above key areas, such as the bath.
Modern LED bulbs will give a clean, bright light and last for an average of 15 years – so you won't need to worry that more lights might mean changing more bulbs. They also reach maximum brightness almost immediately unlike older CFL bulbs, helping to make your room feel more welcoming.
Consider adding wall lights mounted above or on either side of your basin, or a mirror with built-in lights. These will give a softer light that'll make tasks like shaving and putting on make-up easier, and will complement your overhead lighting.
---
Our installation service
Don't want to do it yourself? We can help. We work with approved installers to help coordinate your bathroom project from start to finish. Our range of flexible finance options means you can find a plan to suit you. We also provide a 2-year workmanship guarantee for peace of mind. Find out more about our installation service and book a free planning appointment to get started.