Bathroom furniture buying guide
From bathroom cabinets to vanity units, discover our full range of bathroom storage 
Whether you opt for wall-hung or floor-standing solutions, your choice of bathroom furniture is the key to getting your bathroom to look the way you want it. In a room where space is at a premium, it's vital to choose the right furniture to meet your storage needs and get the most out of every inch. Tall bathroom units, vanity units, vanity counters, wall cabinets, shelf systems, drawer units - there's so much to choose from. Our guide will help you choose the right furniture for your bathroom.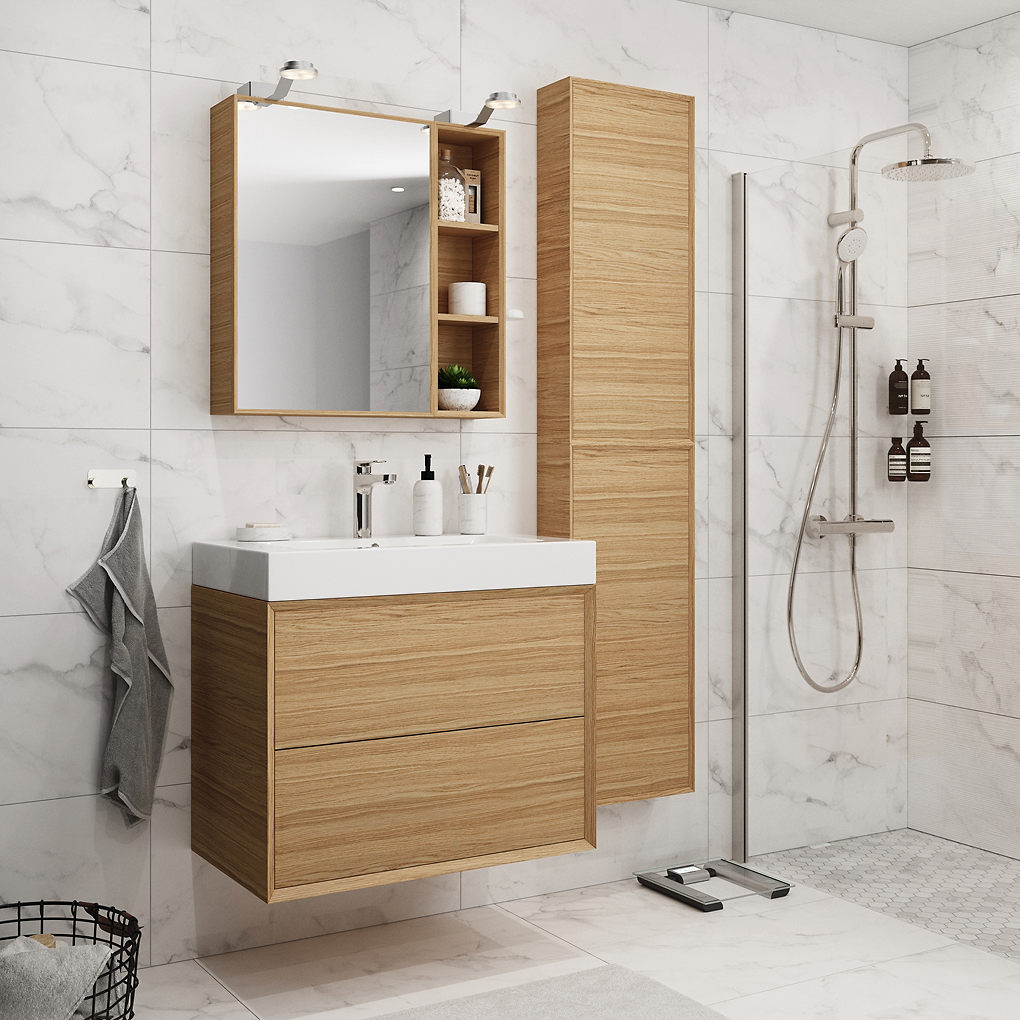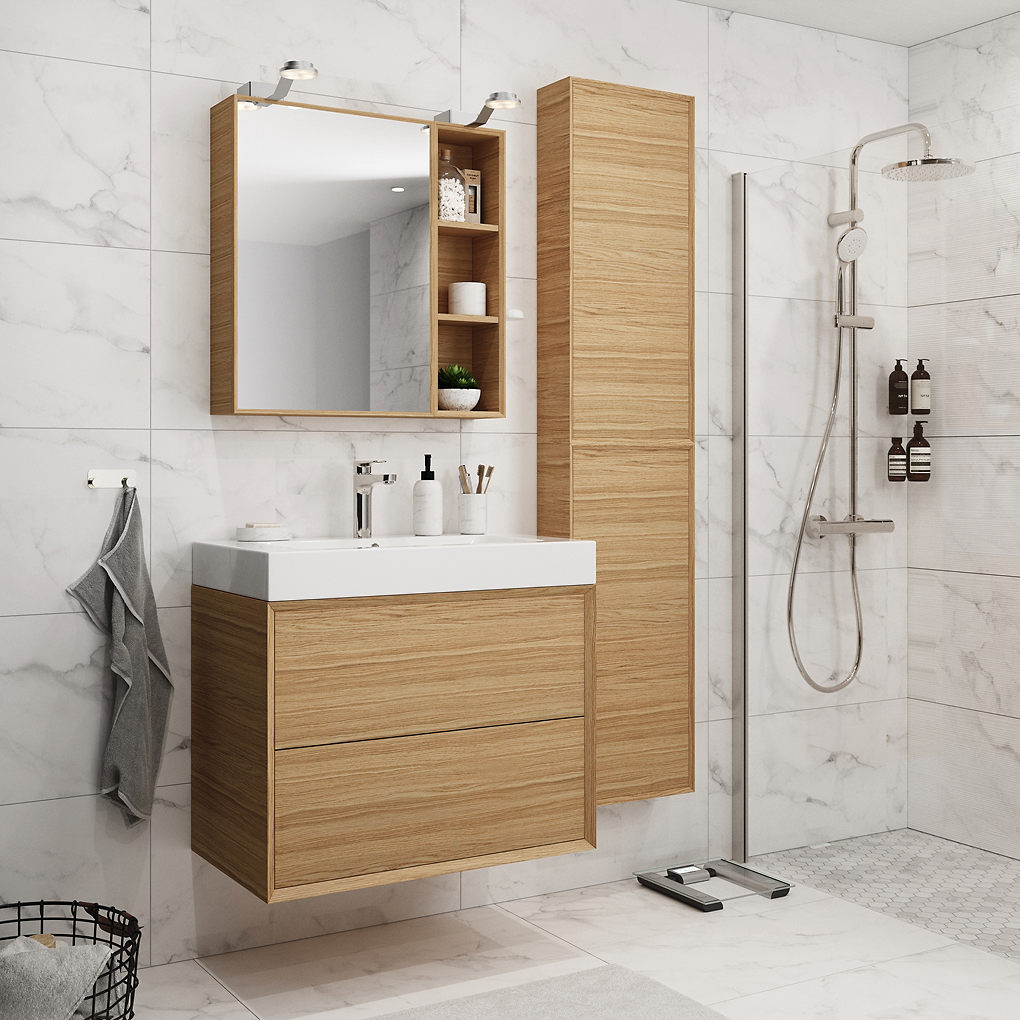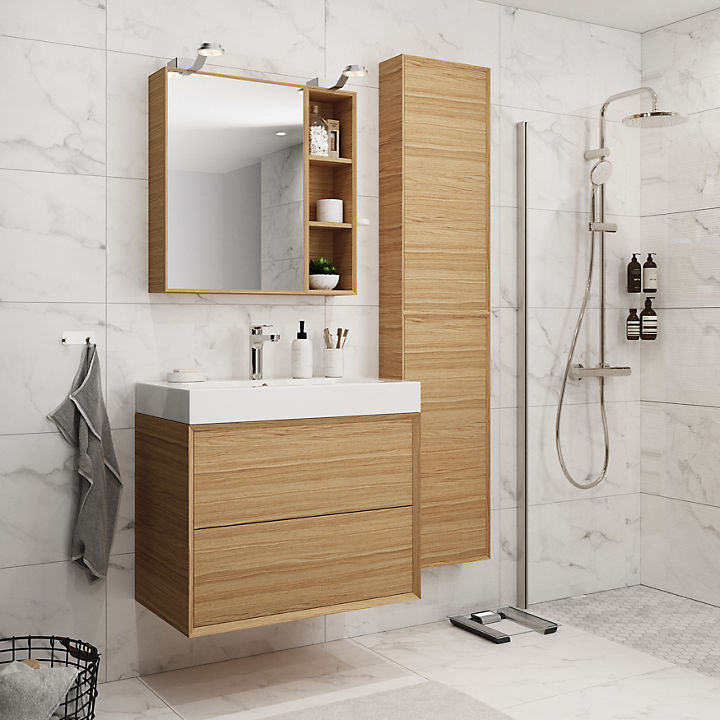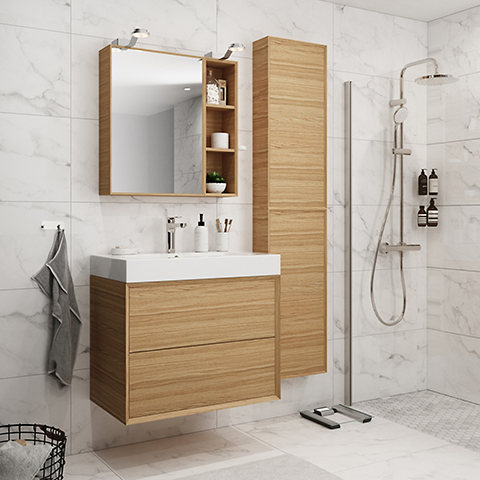 Vanity units
The most important piece of furniture in your bathroom is the one that holds your washbasin, known as a vanity unit. Depending on whether you choose a countertop or a recessed basin, you can choose a vanity to support it. To give yourself some extra storage, choose one with built-in drawers.
Vanity units are generally sold as kits for simple DIY installation. They're available in a wide range of styles, materials and dimensions. Our Veleka range comes in both white and grey, and can be used to create a semi-fitted look or standalone furniture. These stylish units are a simple, modern alternative to traditional pedestal basins and create ample storage space.
Units with plain tops instead of washbasin placements are also available for storage. They're ideal if you want matching furniture and need more storage space.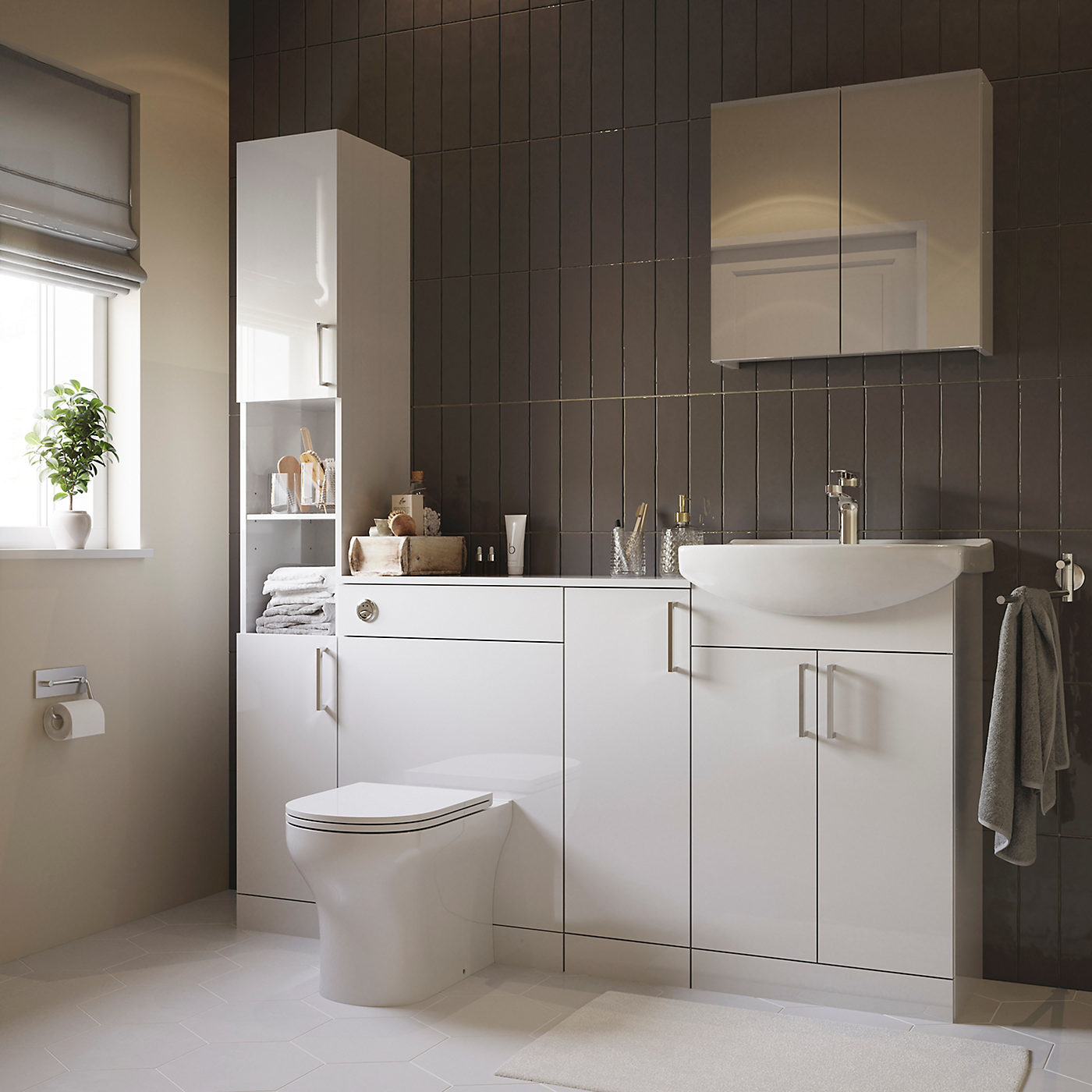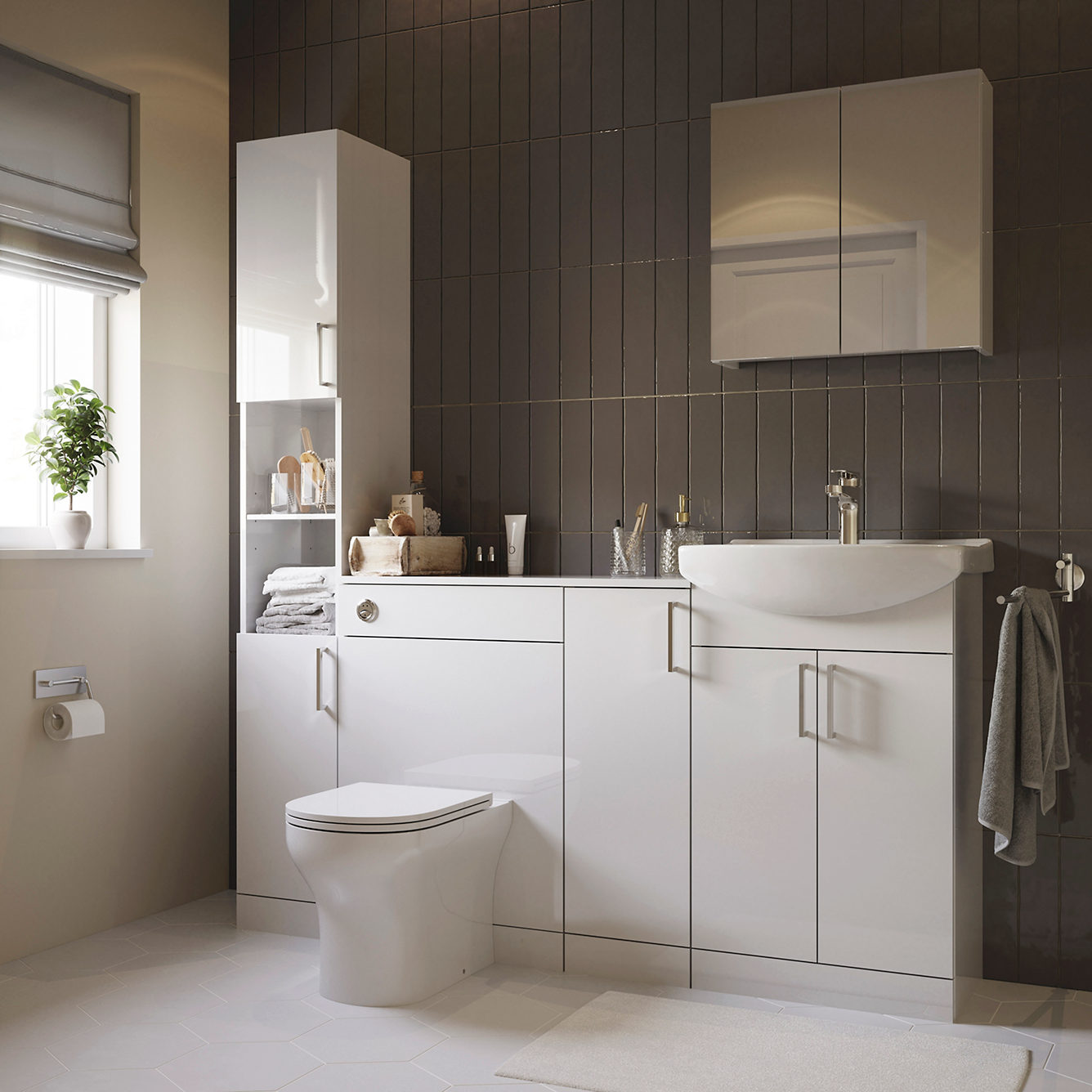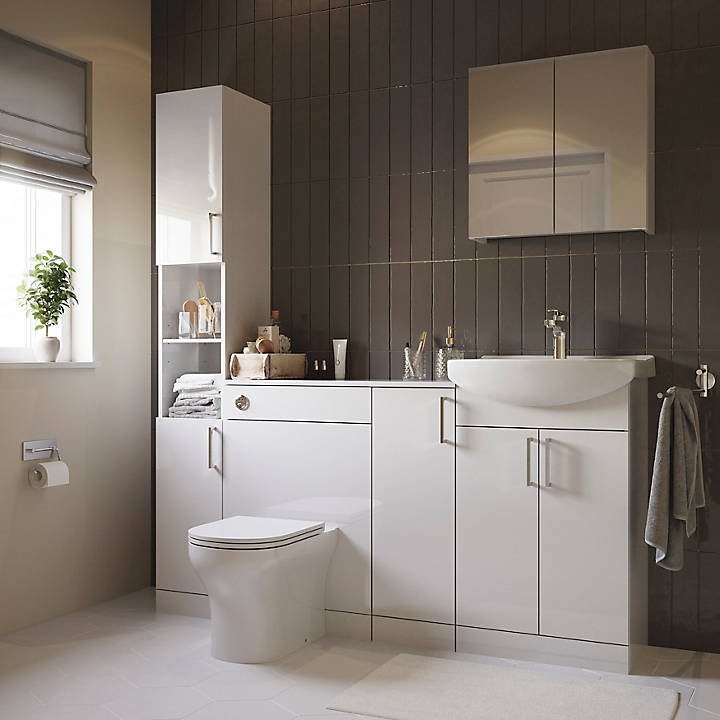 Bathroom cabinets
Bathroom cabinets come in a wide range of models: simple, illuminated, medicine and mirror cabinets. Generally installed over the washbasin, these cabinets are ideal for storing toiletry products.
Tall units are a great way to create floor-to-ceiling storage space, and can incorporate a variety of drawers, compartments, shelves and mirrors. You can choose between carousel and static models, in wall-hung or floor-standing variants.
We're loving the new Croydex range that features premium powder coated steel finishes, soft close hinges, and easy fix installation - enabling you to install without any assistance. Check it out here.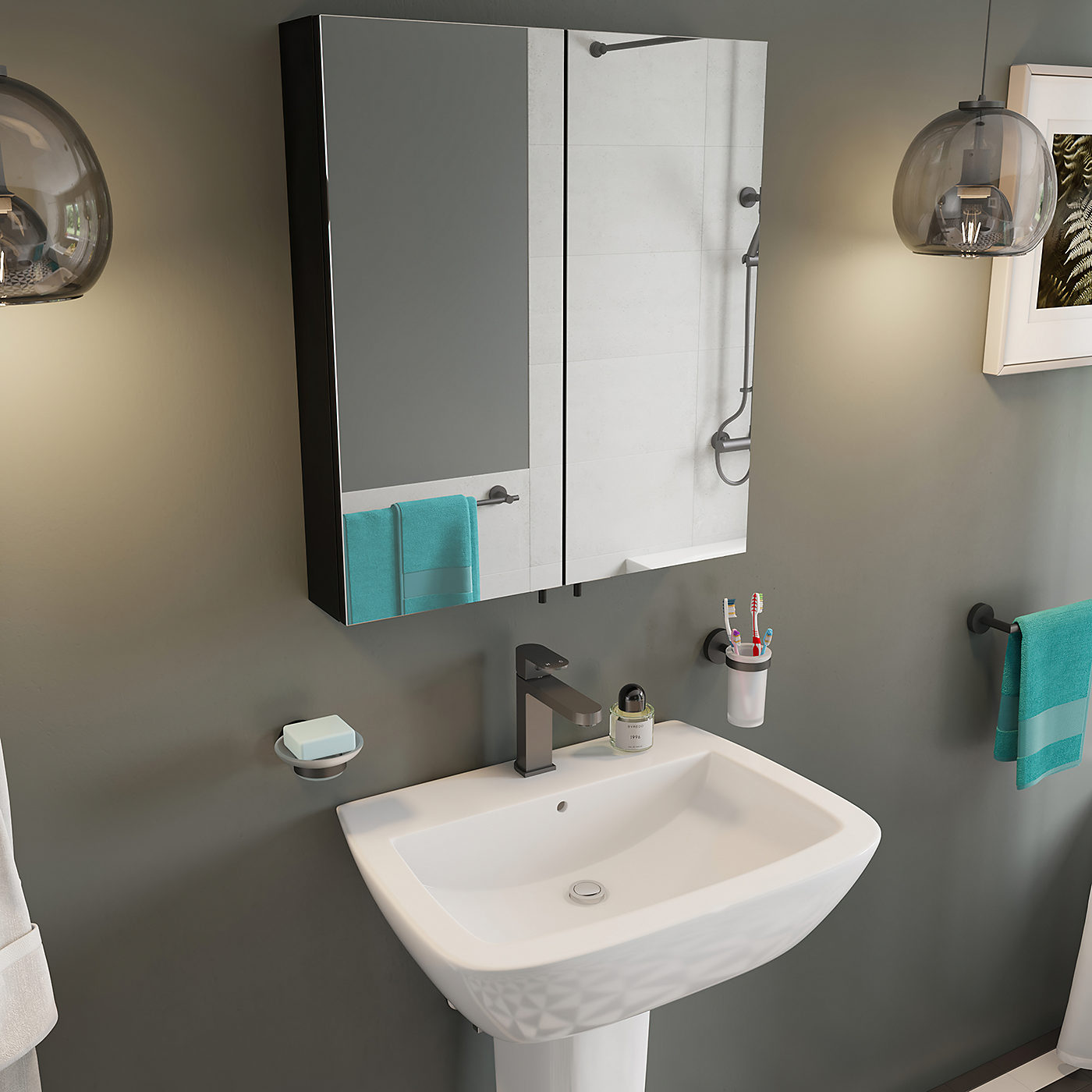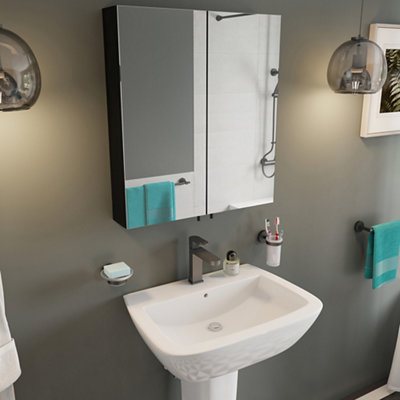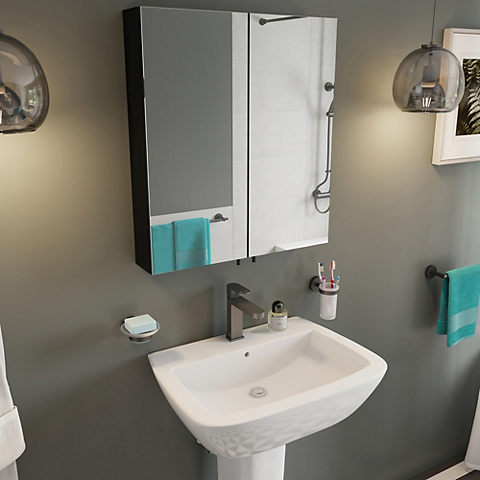 Fitted bathroom furniture
Looking for ultimate storage in your bathroom space? Floor-standing drawer units provide heaps of practical storage in two or more drawers - perfect for compact bathrooms with less storage space. We recommend the Marletti range if you're looking for an integrated handle design with a contemporary gloss finish.
Try wall hung cabinets, shelves, shelving units, and cubes to provide useful storage space and add a touch of style to your bathroom. These units come in many different types and sizes and can be fitted at whatever height you choose. They're a great way to take advantage of the full height of your walls for storage.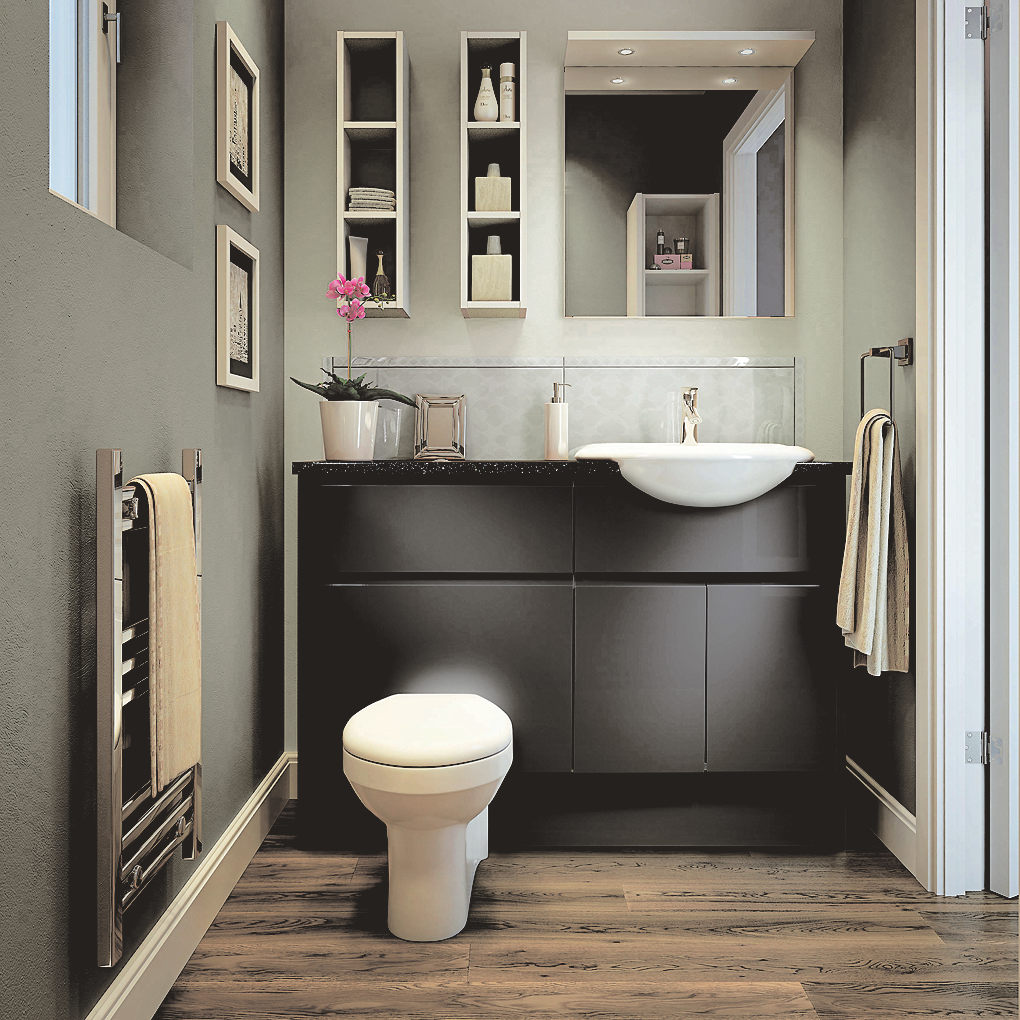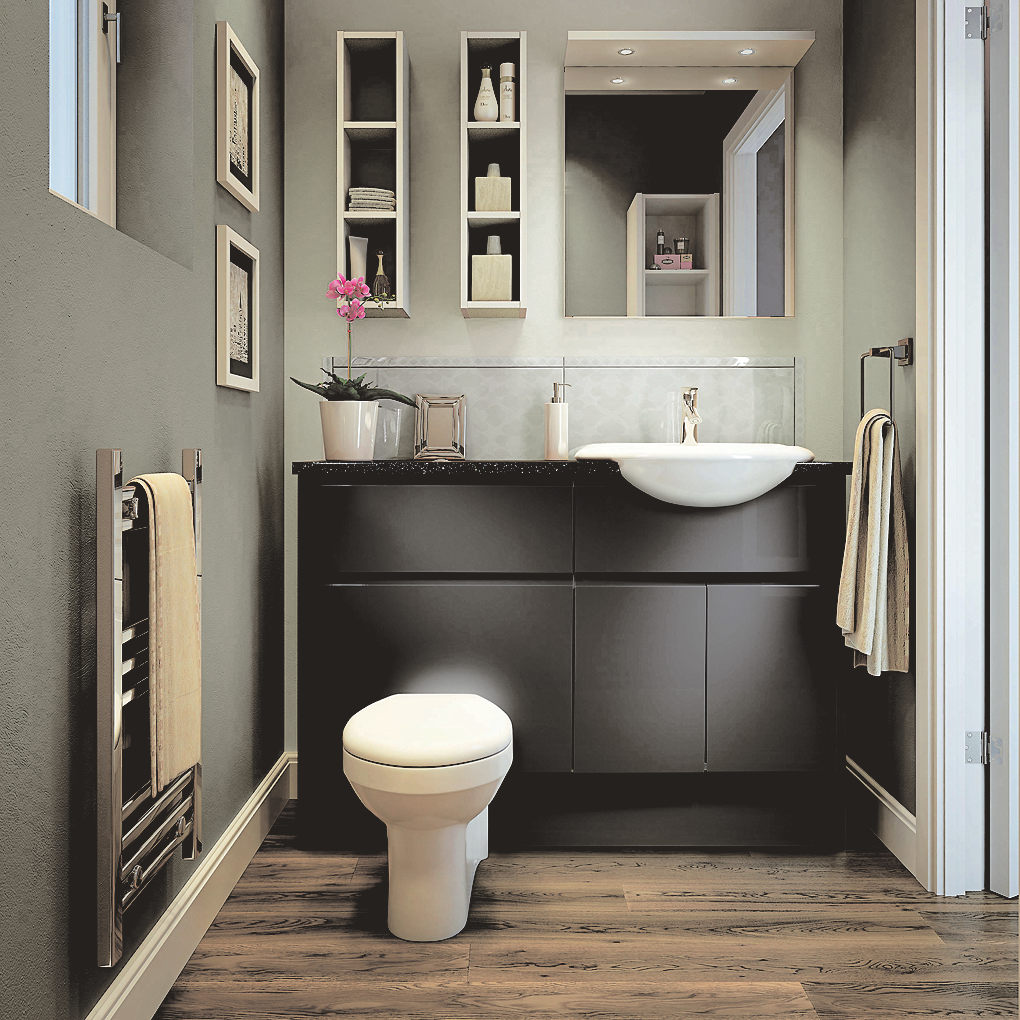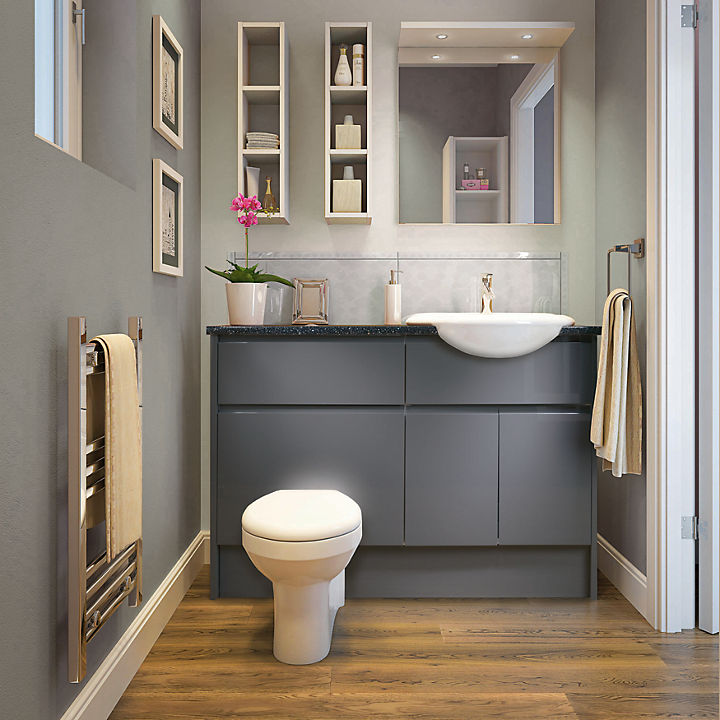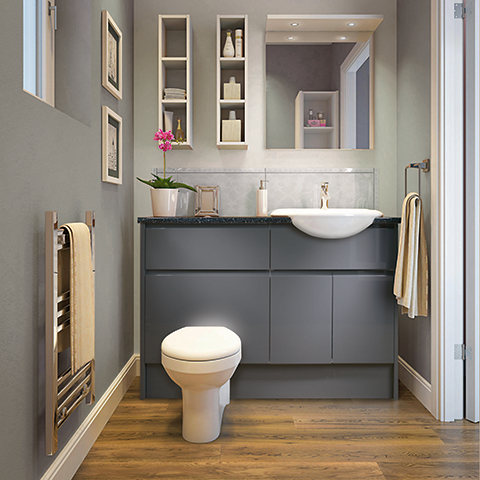 Modular furniture
Transform your bathroom life with the Imandra bathroom furniture range, the beautifully clever answer to bathroom organisation. Choose from contemporary designs and stunning colours to create a bathroom packed with style and function. Select your furniture components from cabinets to vanity's from the range to create a beautiful seamless look.
Looking to create a japandi-inspired bathroom space with modular bathroom furniture? We recommend checking out the Avela modular bathroom furniture range. The oak effect helps enhance style whilst adding heaps of functional storage in your bathroom.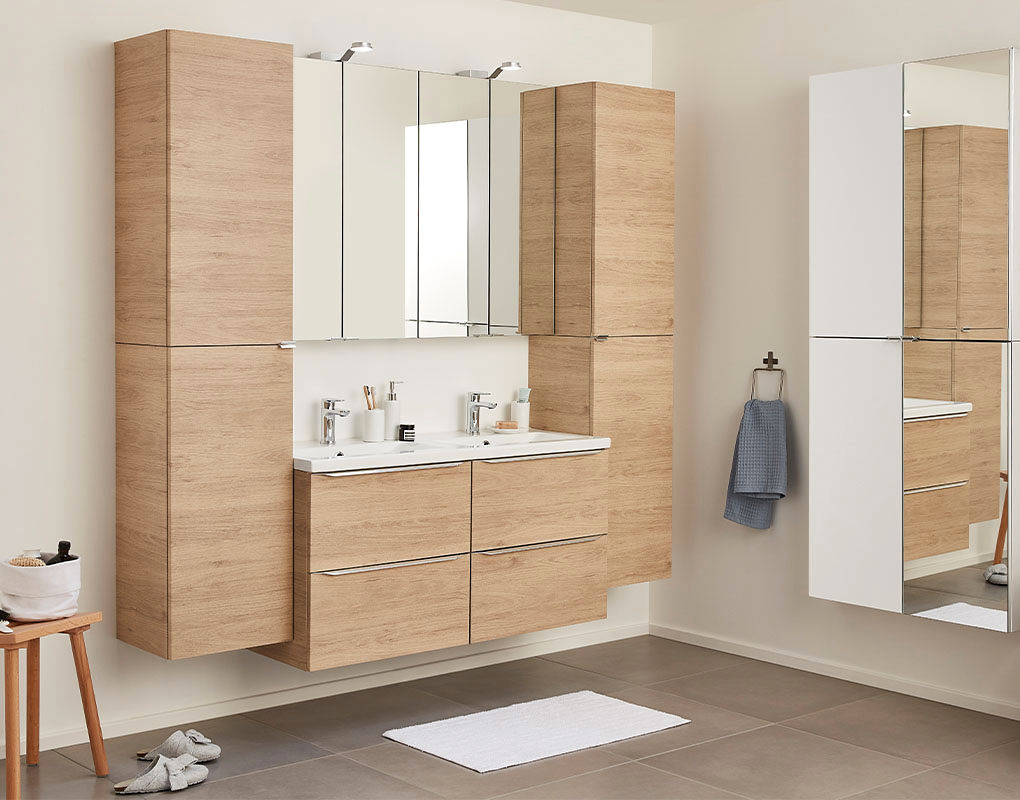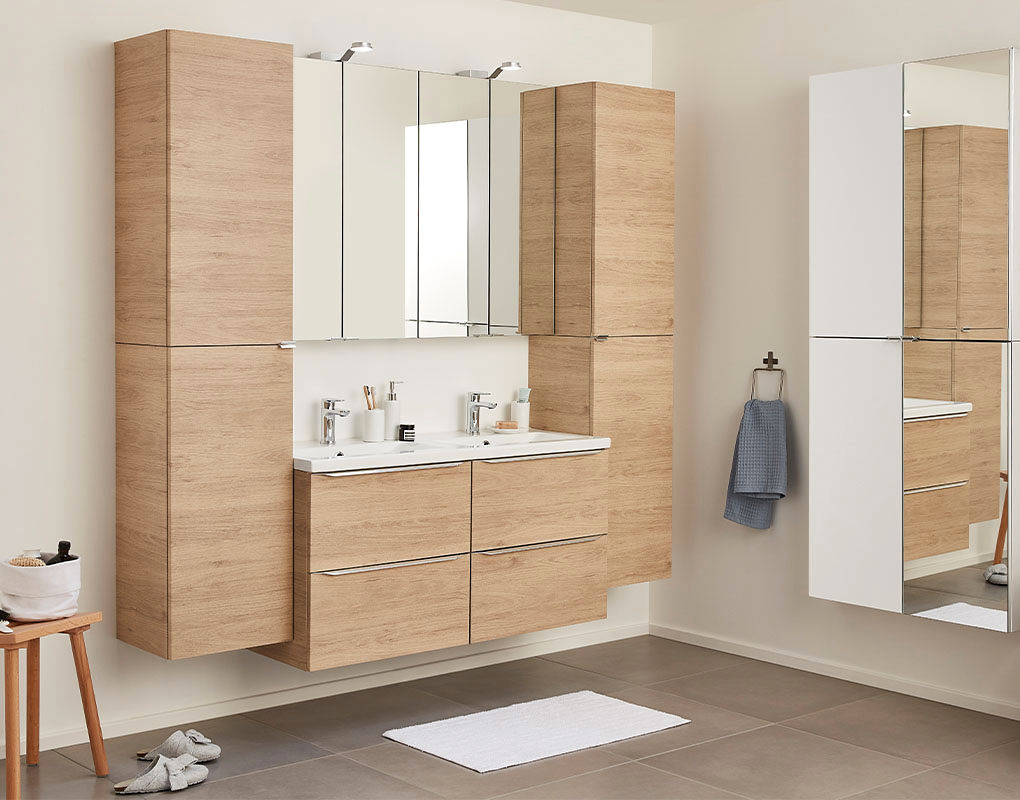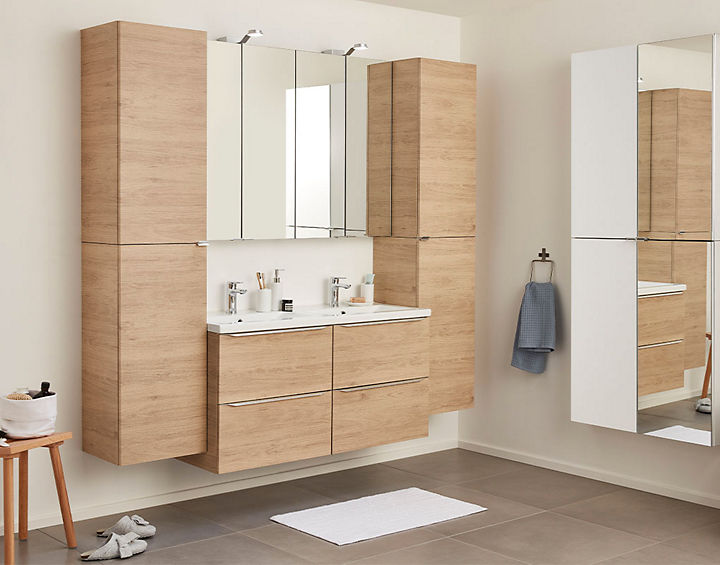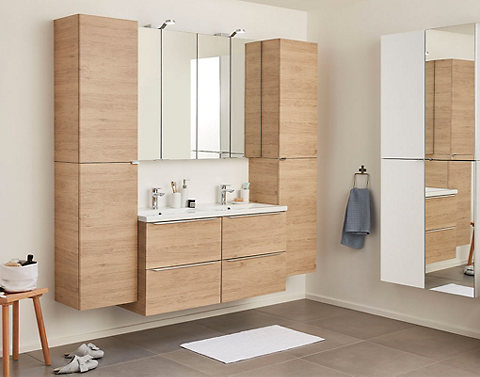 Multi-purpose furniture
Some items of furniture are fitted with accessories that combine different functions, eliminating the need for additional furniture. Smart storage systems combine features such as built-in power sockets, towel rails, side shelves, hair dryer racks, and magnifying mirrors. Wall units, cabinets, full and half-height tall units are all available with built-in, compact equipment to meet your bathroom needs.
If you're looking for multi-purpose storage solutions that offer style and practicality, we suggest the Nantua range. The natural and purified touch of the Nantua range goes well with any existing bathroom décor, plus, they can be used in other rooms such as hallways and bedrooms!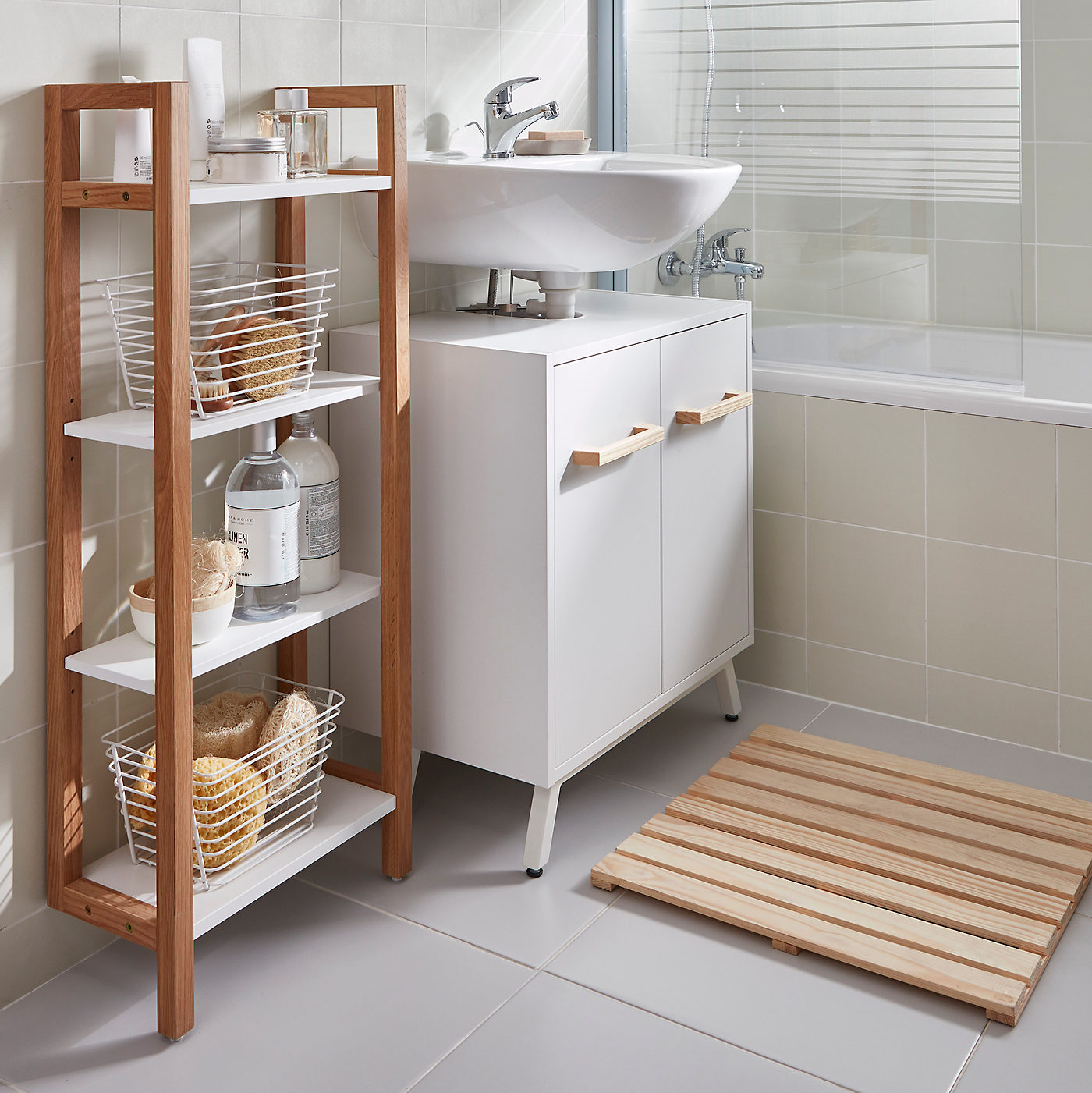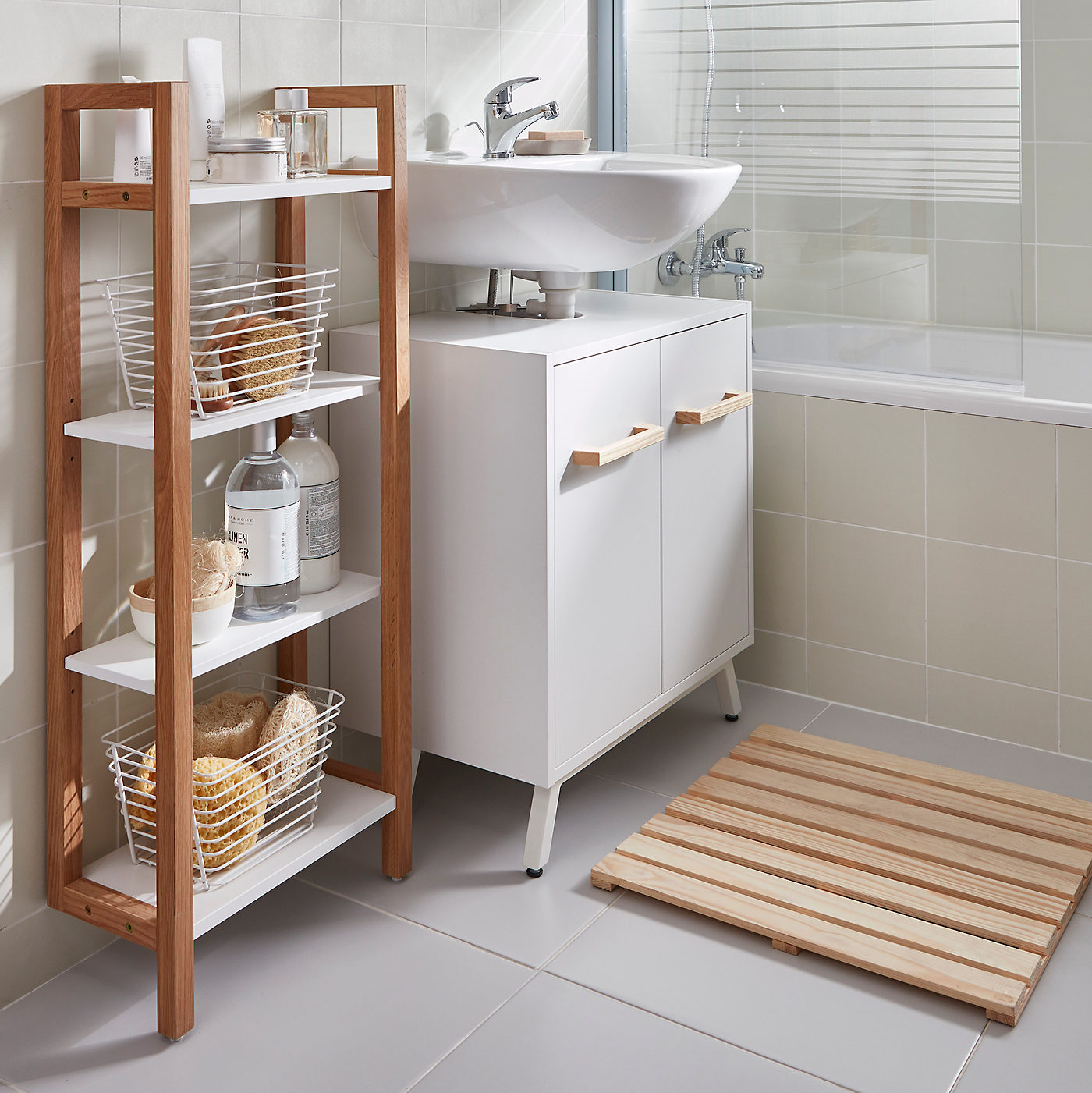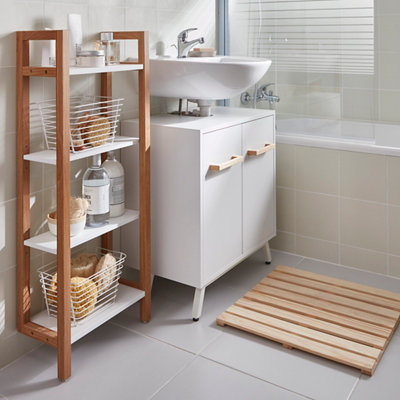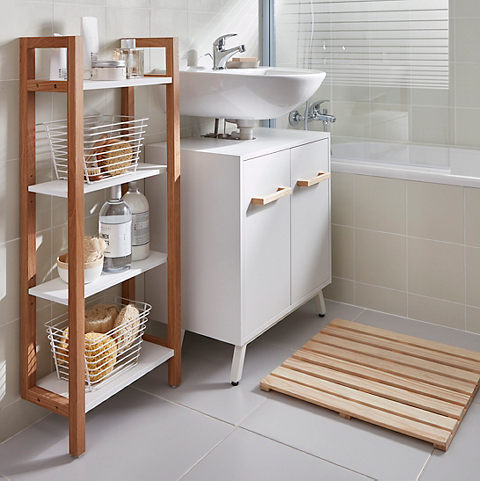 Bathroom mirrors
More than a simple accessory, the mirror is an essential item of furniture that brightens the bathroom, creates a sensation of space and adds a touch of style. There's a huge choice: wall mirrors, cabinet door mirrors, and mirrors with neon lights, spotlights or backlighting are just some of the types available.
Wall mirrors can adapt easily to all bathroom styles. They usually go over the washbasin but you can put them wherever you want. You'll find square and rectangular models in a variety of sizes. Depending on size, they can be anchored to the wall or stuck on with adhesive or even suction cups.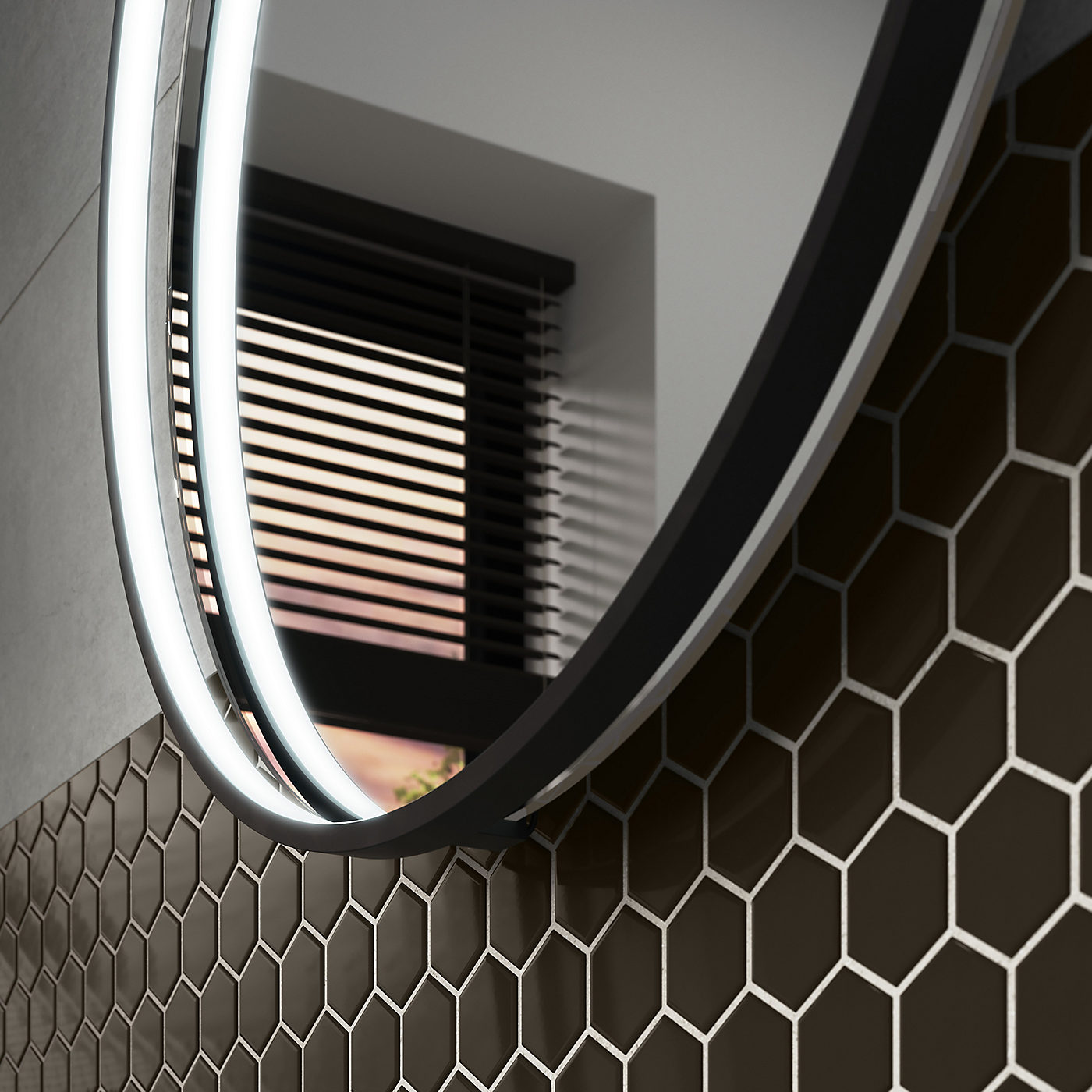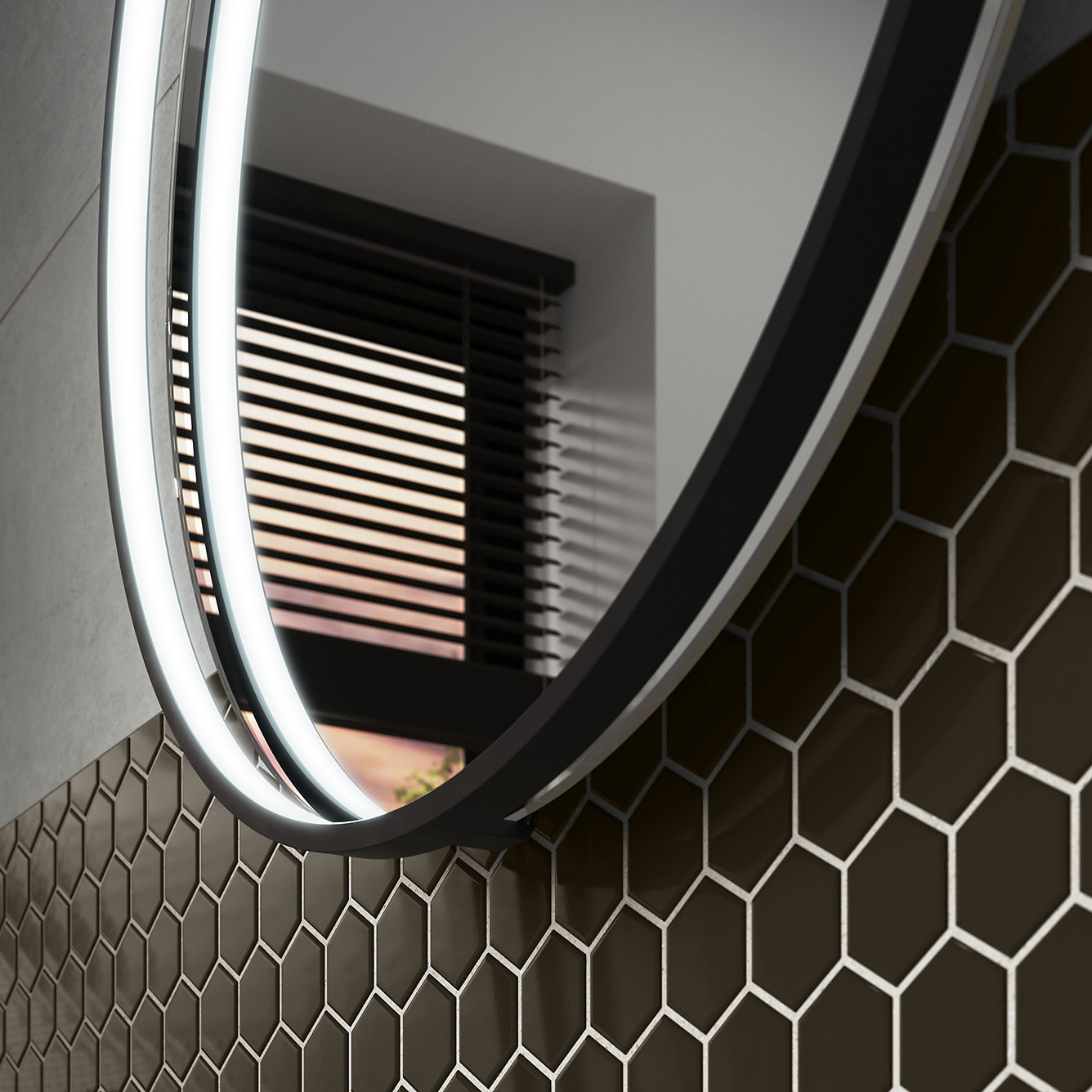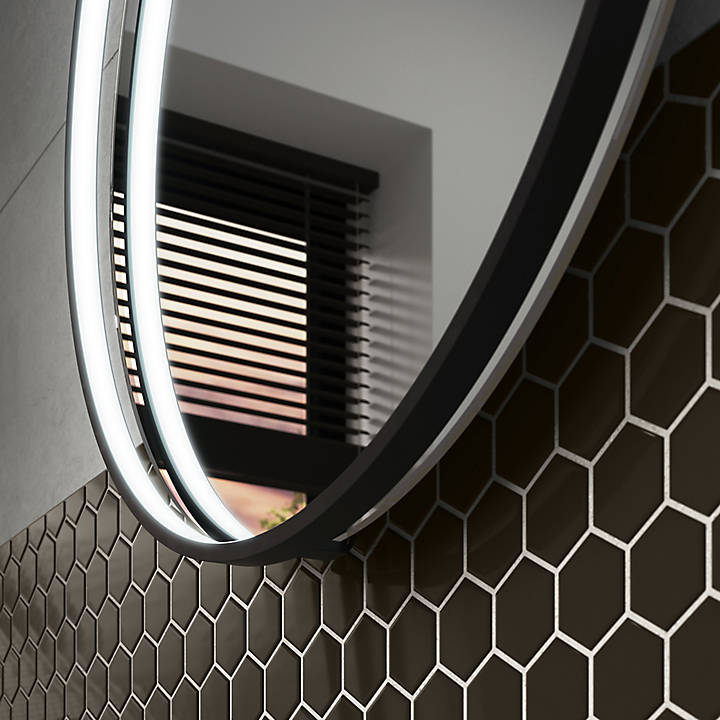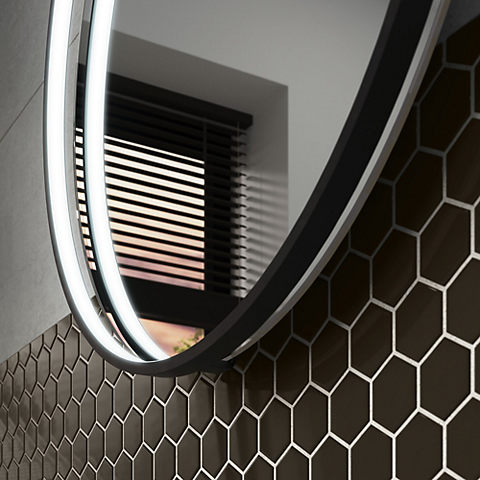 Illuminated mirrors brighten up the space in front with a light that's softer than a spotlight or suspension light. These days you'll find extremely stylish illuminated mirrors with LED lighting and hyper-trendy backlit mirrors. The illuminating lights make it perfect for brightening up darker rooms or for bathrooms lacking natural light, creating an illusion of light and space.
We're currently loving the industrial vibes the Sensio Aspect illuminated mirror, available in both round and rectangular styles. Still looking for more bright ideas when it comes to illuminated bathroom mirrors? Check out our favourites below, which include touch sensor light operation, a choice of cool, warm, and neutral light settings, as well as a rechargeable option via USB cable!
Ready to transform your bathroom into a space you love? Shop bathroom furniture here.
---