Contemporary kitchen design ideas
Create a clean, modern kitchen look
Clean, simple and without any clutter, the contemporary kitchen is streamlined but liveable. Glossy surfaces and metallic accents work together to create a look that is sleek and where everything has its place thanks to clever storage solutions.
With these space-saving innovations, this style suits all sizes - even the most compact and small of kitchens.
Check out our top tips and create your modern kitchen.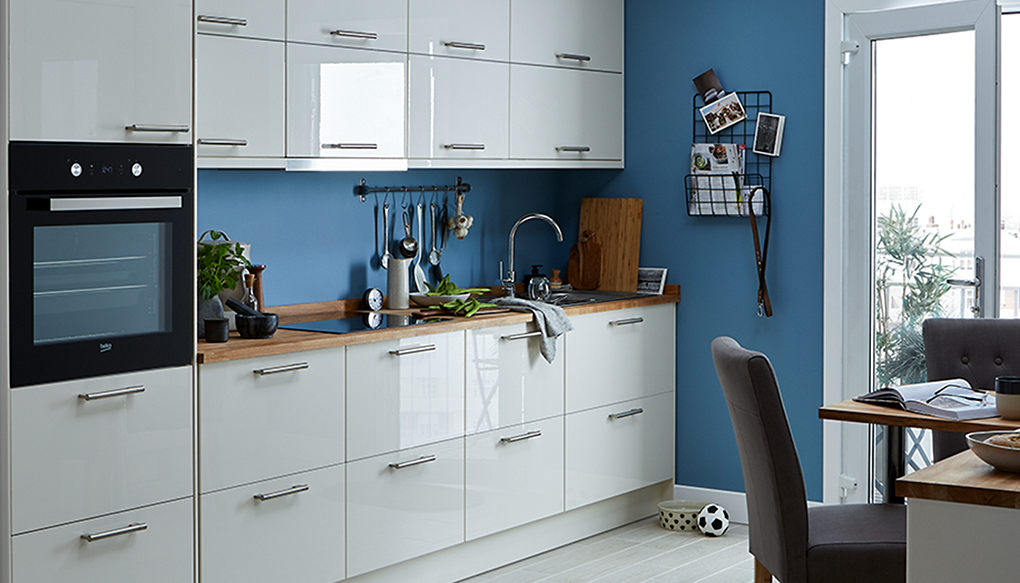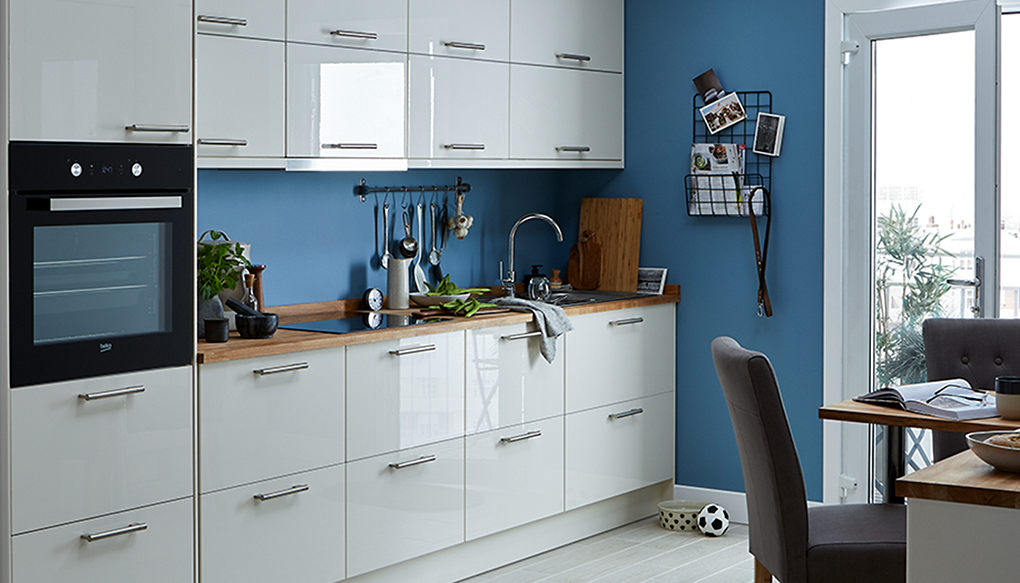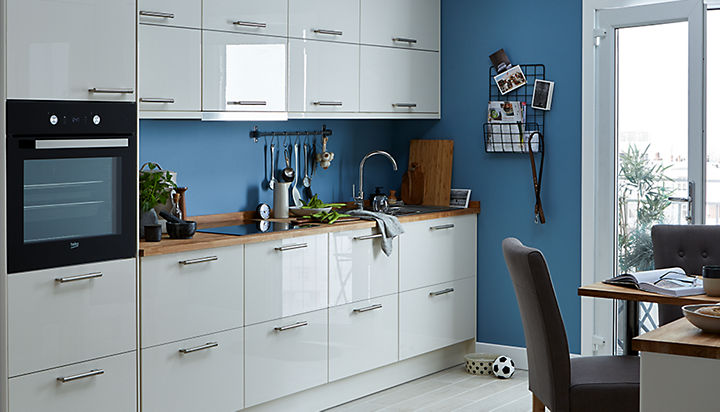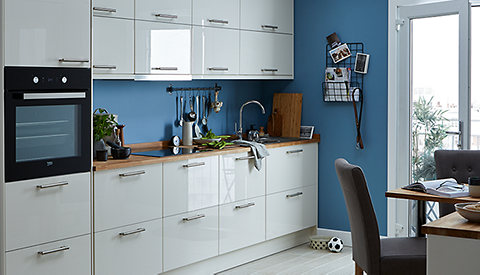 Kitchen cabinets & storage
In the contemporary kitchen, glossy cabinets are the way to go. They look sleek and modern, and are available in a wide range of colours so there's something to suit all colour palettes.
For small kitchens, consider the Alisma or the Stevia gloss kitchen ranges. They both make a bold style statement, and the glossy, reflective finish makes the room appear bigger. The Stevia kitchen is available in three muted shades, while the Alisma is classic with white and grey.
Our Balsamita matt kitchen (pictured) is ideal for larger kitchens. The matt finish doesn't reflect light, which means fingerprints or imperfections are less visible. Create a modern kitchen by styling with metallic accessories - the Balsamita kitchen is available in white or grey.
This trend is all about organisation. Explore our selection of innovative storage solutions to make the most of your space, as well as make your time in the kitchen easier. Our cabinet storage includes carousels, pull-out units and corner units. They are all designed to hide away tinned food, pots and pans or cleaning products in narrow or difficult places. Complement with larder storage options – simply open the door and internal trays glide forward, making items easy for you to see and reach.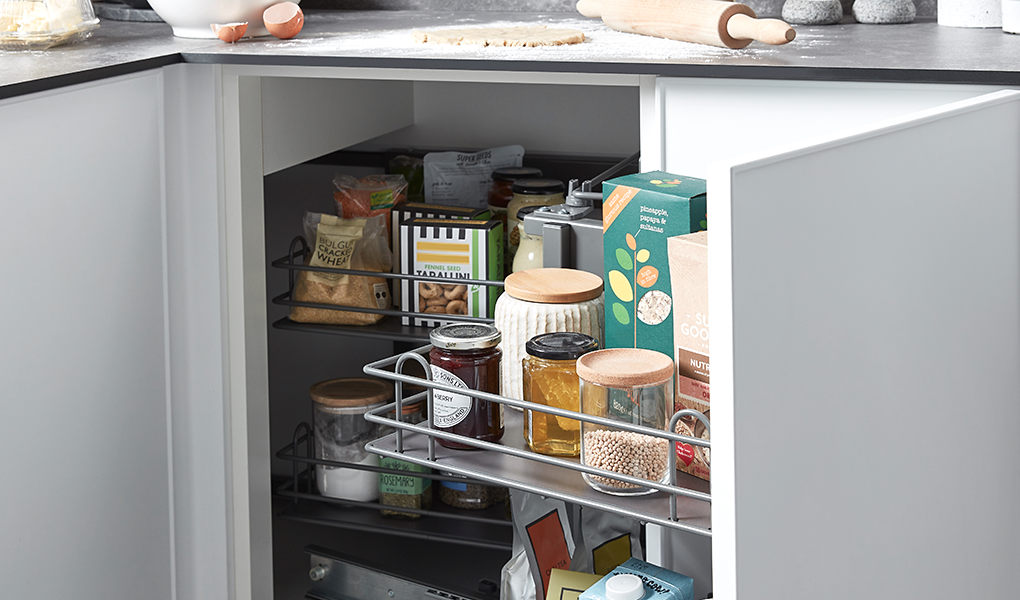 Kitchen worktops
Colour, thickness and profile shape can all be added into the mix when choosing a contemporary worktop. Simply focus on one of these elements, or consider all three to get the look you want.
A glossy light coloured surface conceals fingerprints and watermarks better than darker worktops. And we offer a variety of pale shades across our laminate, solid wood, Earthstone and bespoke material options.
Square worktop profiles offer a blunt, sharp look, while thin ones are increasingly popular for this hot trend. Combine the two thanks to the Exilis range of super-slim, square-edge laminate worktops that are only 12.5millimetres (mm) thick. They're compatible with undermount sinks – a strong look for your modern kitchen. And can have drainage grooves cut into them to avoid the clutter of a separate drainer.
To really ramp up your kitchen's modern style, why not mix and match thick and thin worktops? It creates definition and can help differentiate between different areas in your space. For example, you may want a thicker worktop for food preparation, while a thinner option may be better for entertaining.
If you have the room, ditch the traditional kitchen table for a breakfast bar. Add bar stools for casual dining and simply pull under the bar when not in use. Or if lucky enough to have a large kitchen, introduce an island. It increases your storage and counter space and brings the whole look together.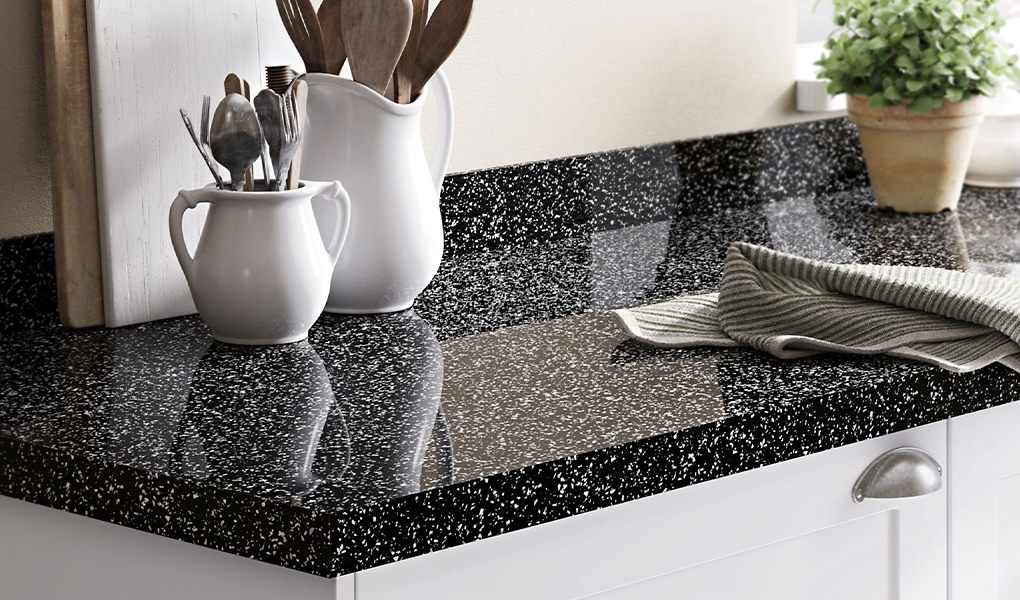 Kitchen sinks & taps
Contemporary sinks should be tough but stylish - just like our composite quartz sinks. Hard-wearing and highly scratch-resistant, they contain real quartz and withstand very high temperatures. Available in black, white or grey they work well with modern colour schemes.
The ever-popular monobloc and single lever taps work well in a modern kitchen. With only one spout and fitted to the sink with just one hole, they're a more streamlined alternative to more traditional pillar taps. Or if looking to declutter your work surfaces as much as possible, why not ditch the kettle and opt for a boiling water tap that offers steaming hot water?
If you've chosen to have black appliances, consider whether to match your sink and tap. Black makes a statement in any room and looks stunning when paired with the clean lines of a high gloss kitchen.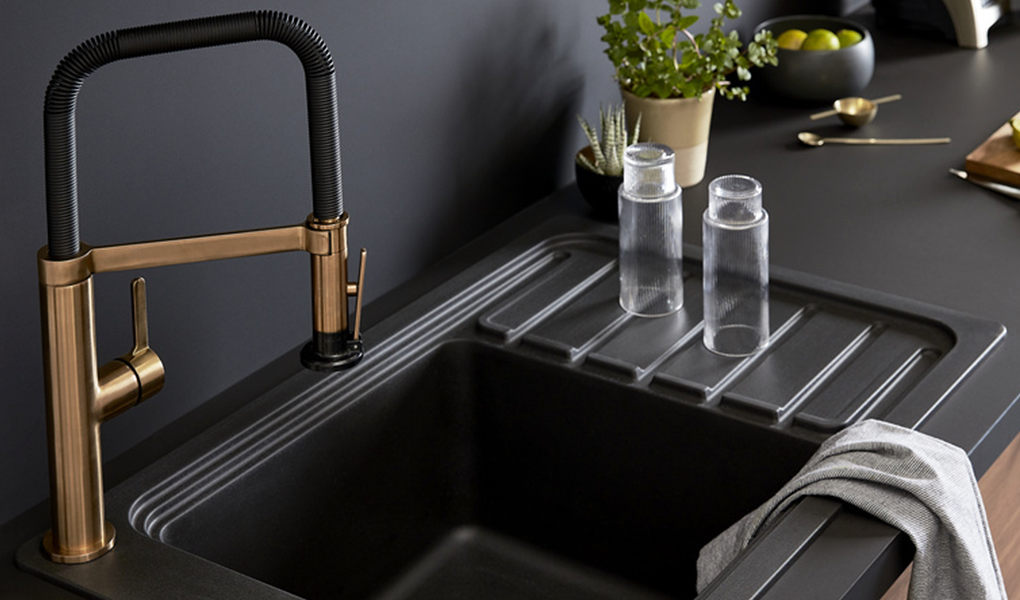 Ovens, hobs & cooker hoods
Cookers and hobs can effortlessly blend into the seamless style of a modern kitchen. Opt for a single built-in oven that can fit snugly underneath most worktops, or a double oven which can sit between drawers and cabinets. These require a separate hob on a nearby work surface, rather than more traditional range cookers which feature them directly above the oven. We love induction hobs - they're the quickest and most energy-efficient option. Look for ones with touch-slide controls to add an innovative flair to your cooking.
Contemporary kitchens are always decked out with the newest in innovative technology. 
And when choosing your cooker hood, find one that coordinates well with your oven or hob. We offer a selection of styles in black, stainless steel and glass. So whether you want one that's angled or one with soft curves, both complement the contemporary look and make a stylish focal point.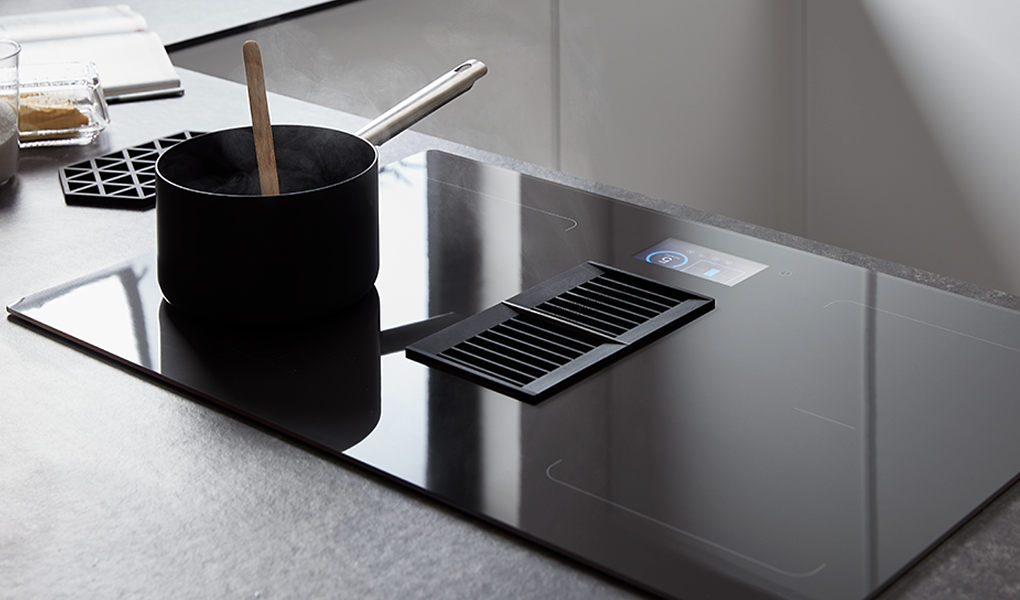 Kitchen appliances
As this style is all about sleek, clean lines, look for built-in versions of your large kitchen appliances or white goods. By keeping them behind cupboard doors, the seamless feel isn't interrupted and this works well in both kitchens and utility rooms.
We offer integrated under-counter dishwashers, washing machines, freezers and fridges. While for larger kitchens, we can fit even larger appliances. Dependent on the ratio of your fridge to freezer, choose between 50/50 and 70/30 built-in fridge freezers, or go for tall, built-in options of both. If your appliances can't be integrated, look for ones in silver, grey or black (where available) to match the colour scheme. If you're feeling creative, why not paint them to match? We offer a wide range of renovation paints, including appliance paints that are specially designed for use on white goods.
One appliance you won't want to hide away is one of our wine coolers. A fun addition to any kitchen - they're sure to impress when entertaining.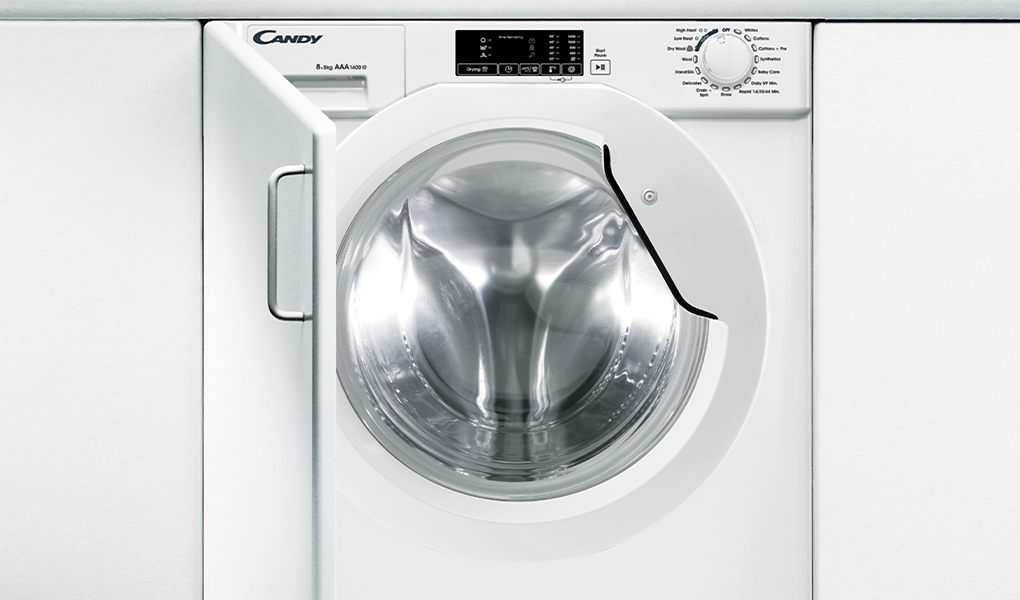 Kitchen walls & floors
Neutral colours complement all kitchen styles and the contemporary kitchen is no exception. Whites, blacks and greys are all popular choices. They contrast brilliantly against glossy kitchen cabinets. And while the contemporary kitchen look is all about neutral colours, it works best with light walls and dark floors.
Charcoal grey is on-trend, works with most other colours and is available in a range of flooring materials. We love it for floor tiles, especially the Cimenti Grey Matt Effect Porcelain Floor Tile with its satin finish. You could even choose a tile that works on both floors and walls for a completely seamless look. For a little more warmth and softness underfoot, consider our grey vinyl flooring - stylish and a great budget option.
For the walls, explore our range of kitchen paints - these are specially designed to resist the humidity, condensation, moisture and grease from everyday cooking and create a tough surface that's easy to scrub clean.
If you've gone for neutral walls and cabinets, why not add a dash of colour with a bright splashback? We offer a dazzling selection of shades in both acrylic or glass options. Choose from stylish stone effect, passionate reds or more glacial blues.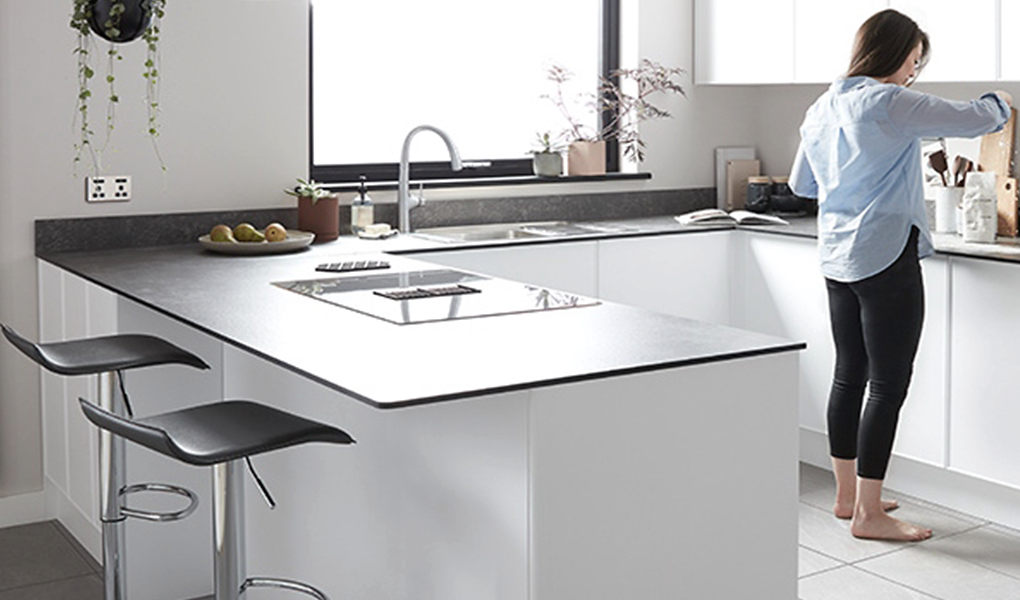 Kitchen lighting
In the contemporary kitchen, your lighting choices are as much a feature as the cabinets and worktop. Combine several options to achieve a range of lighting effects, ambient moods and show off those glossy surfaces.
For task-orientated lighting, choose between discrete and subtle flush ceiling lights or spotlights which are slightly more of a feature - we love bar spotlights for a strong, modern look. And add to that counter and cabinet lights which are fitted underneath your wall-hung units to highlight your worktop and help with food preparation.
For a more showy statement, introduce some pendant lighting - a hot trend across all kitchen looks. And as a final touch, light up your floors with plinth lighting underneath your base cabinets and around the floor.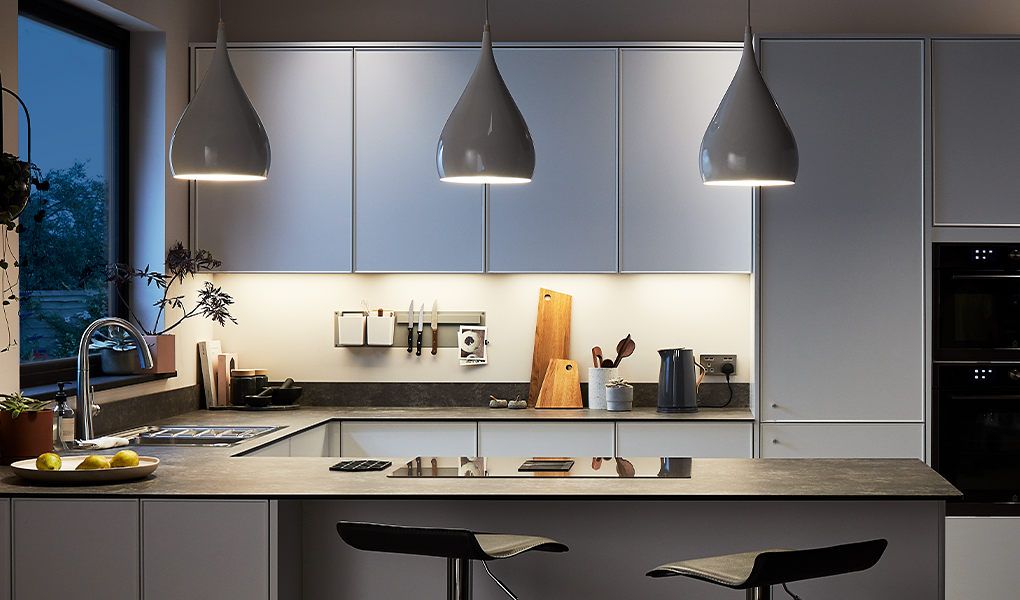 Kitchen accessories & finishing touches
Ensure your modern kitchen stays sleek and stylish by removing as much clutter as possible. This doesn't mean completely bare surfaces at all times, but that everything has it's own designated space and that any decorative touches on surfaces are kept to a minimum.
Our Kora waste system (pictured) makes recycling an easy and convenient task. The touch bins can easily be stacked on top of the base pull-out bins, making it easy to sort waste, and you'll save a heap of floor space!
For more space-saving and decluttering ideas, check out our kitchen cabinetry and storage buying guide.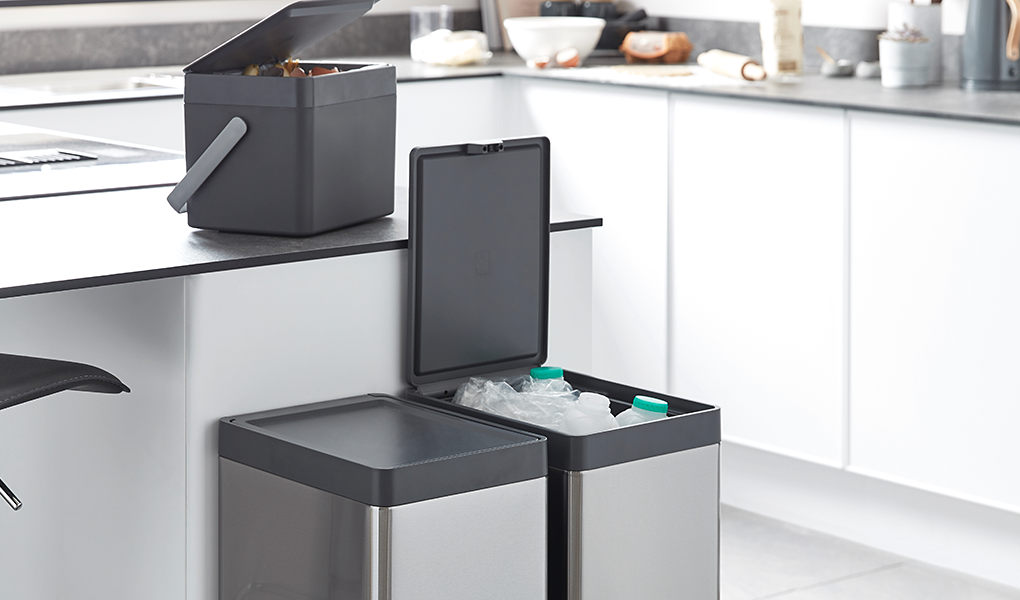 Our kitchen installation service
We work with approved installers to help coordinate your kitchen project from start to finish. Our range of flexible finance options means you can find a plan to suit you. We also provide a 2-year workmanship guarantee for peace of mind. Find out more about our installation service and book a free planning appointment to get started.