Pressure washer buying guide
Blast away outdoor dirt with a versatile power washer
Pressure washers make light work of many outdoor cleaning tasks; from cars to bikes, garden furniture to garden tools.
Skip to...
They're one of the most versatile garden power tools and are invaluable for keeping paving, patios and decking in good condition. Also known as power washers or jet washers, they use considerably less water than a standard garden hose when completing the same jobs - helping you to reduce your water usage.
With the wide range of models that are available, it can be difficult to pinpoint the right power washer for your home and garden needs. Let's talk through the options to help you find the right pressure washer for you.
Let's start with the power. There are three ways to measure the power of a pressure washer:
The pressure the water will be pushed out at, measured in Bar
The rate of water flow, measured in litres per hour
The power of the pressure washer, measured in watts (W) if electric or Horsepower (Hp) if petrol
The most important measurements to consider are water pressure (the higher the bar, the more powerful the washer) and water flow. Concentrate on choosing a pressure washer, which has the best combination of the two for what you need to use it for.
Choosing your pressure & flow rate
To choose the pressure and flow you need, think about what you'll be cleaning, how often you'll be cleaning it, and how dirty it will get. Both of these factors are important as the pressure is reflected in the cleaning, and the flow is reflected in the rinsing.
As a general rule, the higher the pressure, the more suitable the tool is for cleaning stubborn dirt and harder surfaces – such as paving and concrete. The water flow rate reflects its performance when rinsing. So, if you're looking to speed up tasks like car cleaning, a higher water flow rate can be helpful. Below is a table to help you choose whether you need a light, medium or heavy-duty washer.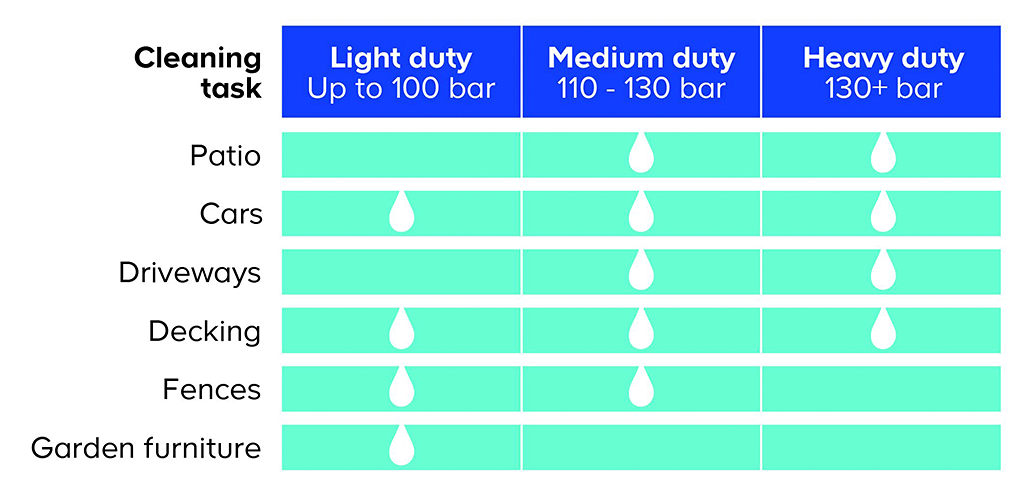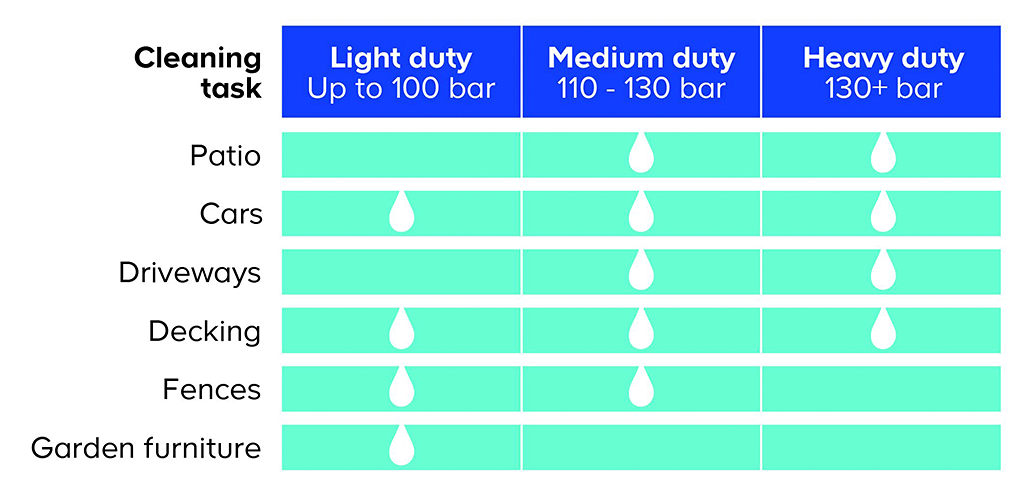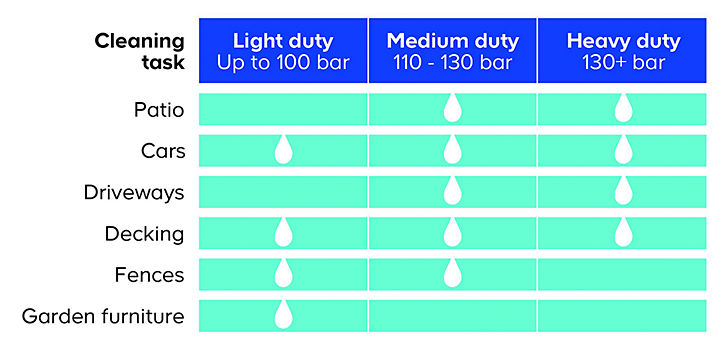 Don't forget that most pressure washers will allow you to vary the pressure, so a higher-pressure machine doesn't necessarily mean you can't use it for tasks requiring lower pressures.
Pressure washers are not recommended for use on brickwork or glass as the high pressure could cause damage to them, if you want to give your windows a thorough clean try a window vac instead.
Electric or petrol?
There are two choices for power supply – electric or petrol-powered pressure washers.
Electric pressure washers
Most pressure washers are electric powered. They're suitable for light to heavy-duty tasks, ranging from cleaning sports equipment up to large driveways. All you need to do is plug the main unit into an outdoor power socket with RCD (residual current device) protection and away you go.
Your pressure washer is always ready for use, provided you're within reach of a power supply. And don't forget that an extension lead suitable for outdoor use (and protected from water splashes) can extend your working area.
Petrol-powered pressure washers are less common but come into their own if you have a larger garden or regularly need to use your washer away from home. You're not tied to a power supply, ideal if you have a large garden. There's also a reduced risk from trailing power cables which can be a plus.
Petrol-powered washers also tend to be high-powered and therefore suitable for some of the tougher jobs you might want to tackle. Naturally, you'll need to have sufficient fuel to hand when you want to use it – invest in a sturdy fuel container to safely transport this.
Motor types
Pressure washers come in three different motor types. It's not something you need to be too concerned about, but it's good to know what you're buying.
Brush motor – These have brushes in constant contact with the rotating part of the motor. This leads to friction which reduces efficiency and causes increased wear & tear.
Universal motor - A simple motor which is compact and high speed but usually noisy and with a shorter life span.
Induction motor - A more complex motor which is quieter to run and has a longer life span.
Features
When choosing your pressure washer, look out for some of the important, helpful features you can get with your washer.
Hose length
The hose length is measured in metres and connects the main unit to the trigger gun, a vital piece of kit. It's worth considering whether the length supplied with the pressure washer is suitable for the jobs you'll be tackling most often.
Lances
Lances are attached to the trigger gun to provide additional control over the water flow. Depending on the model, they can be used to increase or decrease the water pressure without increasing water usage. If you need a new lance for your pressure washer we sell these on their own too. Look out for the full control lance which is available on some Karcher models. The full control lance gives you full control over the pressure
Handles and wheels
If you plan to tackle larger tasks, such as patio and deck cleaning, or will be storing your pressure washer away from where you'll be using it, look for a handle and wheels. This will make it easy to move around before and after a job as well as manoeuvre mid-­task.
Auto start/stop
A useful feature to reduce water usage. Auto start/stop machines use the trigger on the spray gun to start and stop the flow of water, rather than using a switch on the main machine. You can move into the position where you want to begin working before you start using water – saving water and detergent.
Pressure washer accessories
To make the most of your pressure washer, look for accessories designed to help with different cleaning tasks.
All pressure washers come with a standard spray head for general cleaning jobs, but specialist attachments will make all the difference, as will the detergents you use.
Wash brushes
Specialist brushes for washing cars and bikes can help you get the best finish and make light work of hub caps, wheel arches and more.
Patio cleaners
Cleaning paving, concrete and paths can be a messy task, but using a patio cleaner attachment can help to reduce mess.
This tool concentrates the power and water flow onto a small area to really deep clean, and can be easily manoeuvred as you clean, reducing the time taken and mess made.
Integrated storage
If storage space in your home or garden building is at a premium, consider a model with integrated storage for lances and spray guns. Not only does this reduce the amount of space you'll need to store the washer, it will also mean all your tools are to hand – speeding up your cleaning task.
Suction hoses
These are a great way to reduce your home water usage, as they allow you to draw water from a water butt (via its tap) or from a static water source (like a bucket), rather than a tap. These are ideal for homes with a rainwater collector in place, or occasions when a tap may be a long way off. Using a suction hose to run your pressure washer with rainwater also means that you can continue to use your washer during a hosepipe ban.
Detergent tanks and systems
Using the right detergent with your pressure washer will make cleaning quicker and easier, with longer-lasting results. Some models come with a detergent tank which allows you to pre­fill with the cleaner of your choice.
Others use more sophisticated cleaning systems with interchangeable detergent bottles that allow you to quickly switch detergent as you move from one job to the next.
Either way, look for a system that is compatible with the cleaners you're most likely to use, and a control mechanism (usually a dial) so you can use just the right amount for the job.
Pressure washer detergents
Water detergents help to speed things up and ensure more efficient cleaning. They can also be invaluable when cleaning hard-to-remove substances, such as oil and grease from driveways or bicycles.
Power washer cleaners are usually applied under low pressure and rinsed under higher pressure, after being left to work for a short time. We offer a universal detergent or a more job specific selection, so find the right one for the surface you're cleaning.
Looking after your pressure washer
There is a range of support available should you encounter an issue with your pressure washer at any stage. If you have bought your product within the last 6 months you may be entitled to a refund if brought back to store, however there is a variety of other support available. We stock a wide range of spare parts both instore and online with matching parts across lawnmower blades, trimmer spools and chainsaw chains to name a few, spare batteries for cordless products and a range of oils and fuel enhancer for petrol products. All our vendors also have aftersales contact support available which can help you troubleshoot any issues and provide any advice on how best to look after your product or in some cases send you spare parts or repair your product. These details can be found here.