Power up and tackle those tough garden jobs
Save yourself plenty of hard work in the garden with a chainsaw. These powerful tools can be used for a number of backbreaking chores, such as felling trees and chopping logs for firewood. They can help with domestic garden clearance, especially cutting work that's too much for a shredder, and in times of emergency, such as cutting back fallen branches after a storm. So if you've ploughed on with these tough jobs using an axe or saw, consider hanging them up in favour of a chainsaw as we take you through what options are available.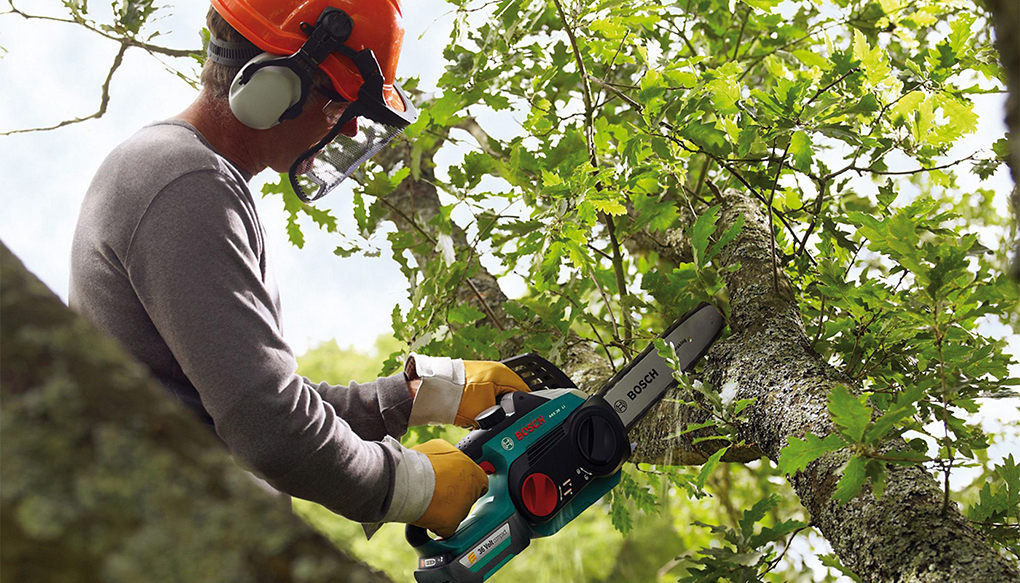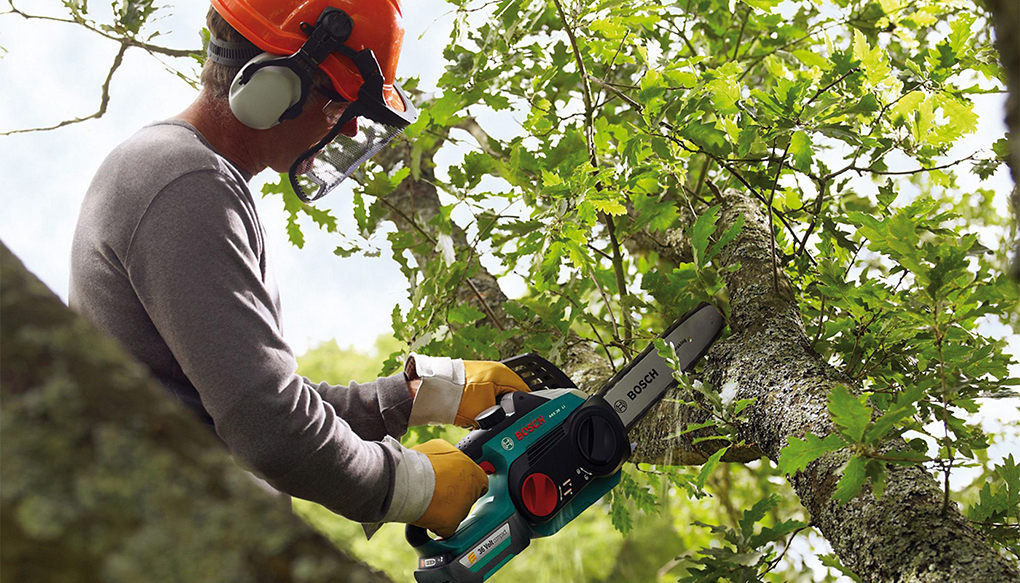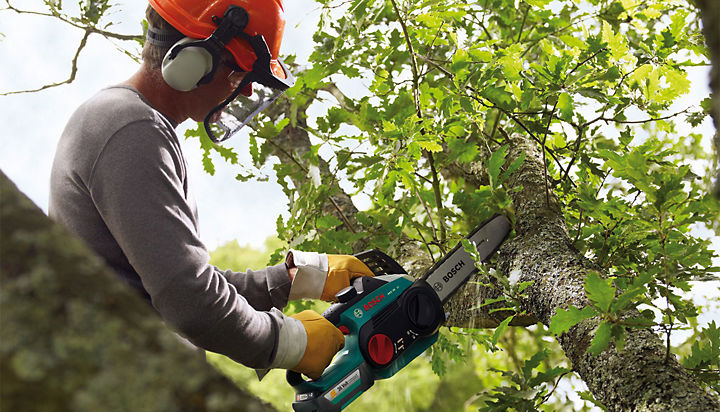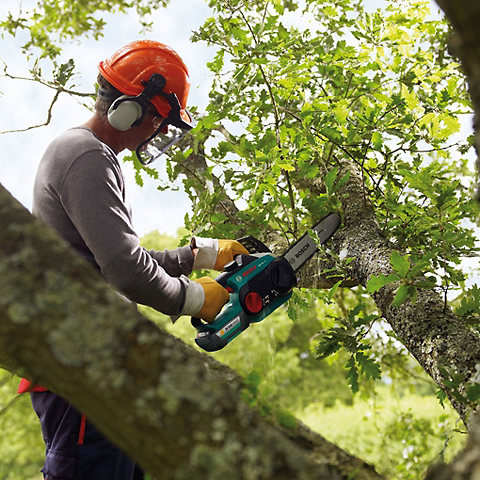 ---
Before buying a chainsaw, it's important to understand how you're going to be using it. This can help determine which of the many different types available is best for you.
What are you going to use it for?
Ask yourself what material are you going to be cutting. This affects how much power you're going to need to efficiently and effectively complete the job. The smaller the job, or the softer the cutting material – the less power is needed. So for example, if you're cutting hardwood trees in your garden, you'd look for a more powerful chainsaw rather than one being used to chop softwood for a fire.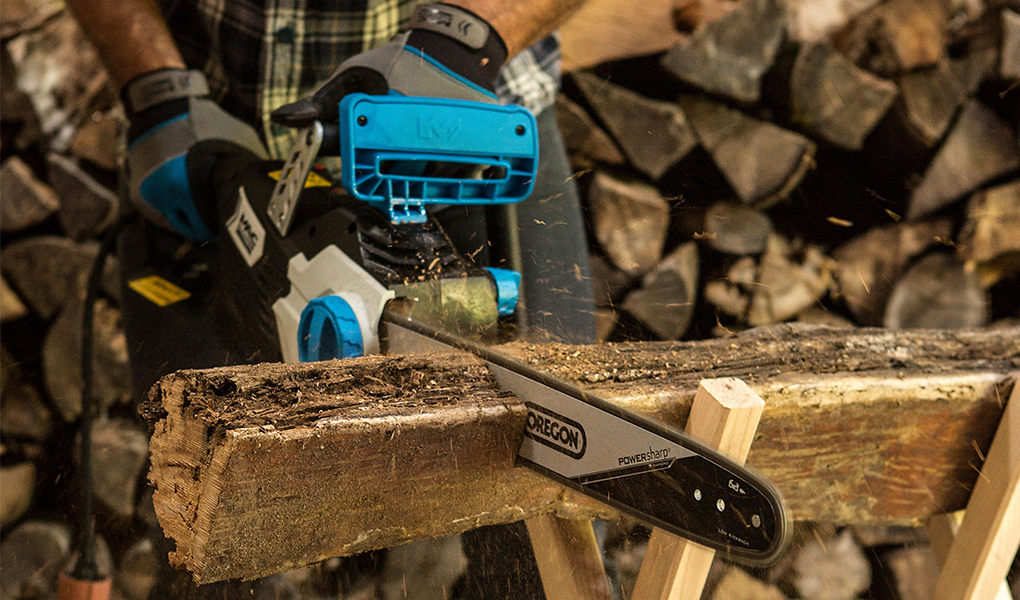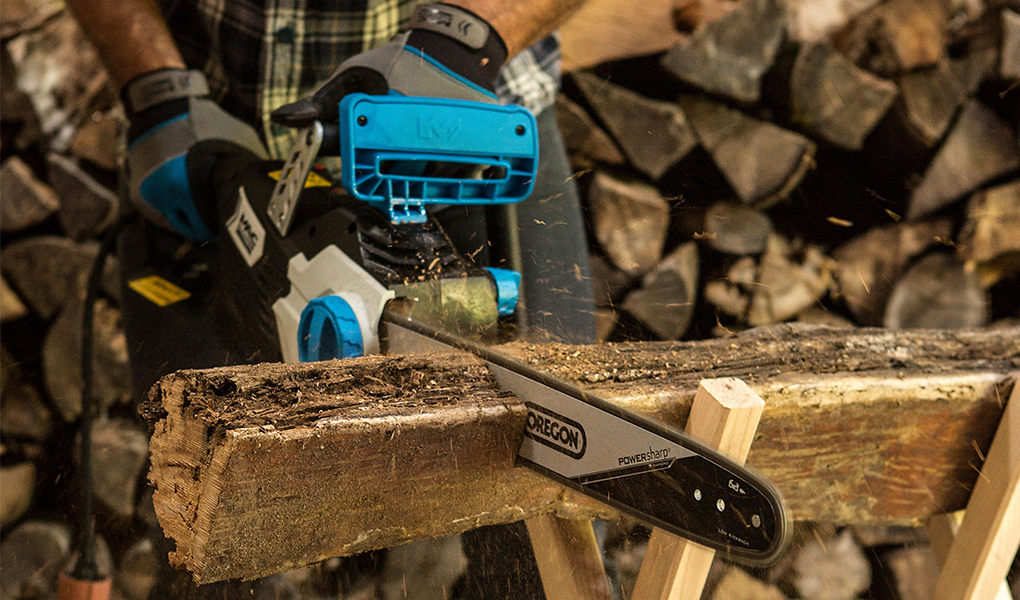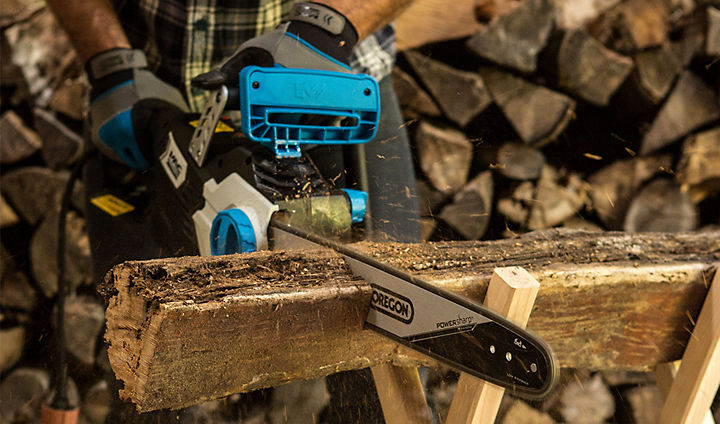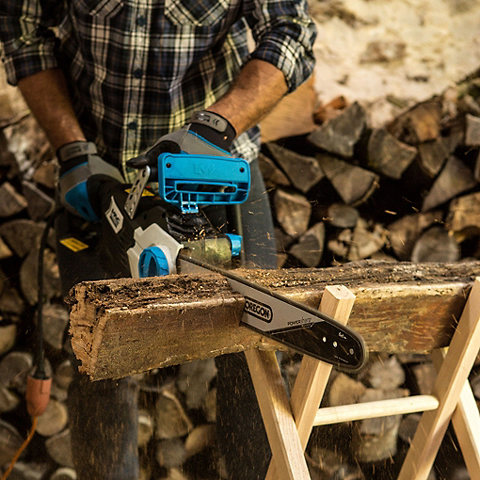 How far away from a power source will you be using your chainsaw?
You'll never be too far away from a mains electricity socket if you have a smaller garden, giving you more options than if you're looking to use your chainsaw in a larger space.
How experienced are you using a chainsaw?
If you've never used this type of garden power tool previously, consider using the least powerful one possible to achieve your job. There's no need to get the most powerful one available if you're never going to need all that extra oomph. Buying it could just mean you end up shouldering a heavier tool but never benefitting from the extra power. However if you're more seasoned, choose from the entire range available.
Now having a better sense of your cutting needs, you can determine which type of chainsaw you should opt for.
---
Like many garden power tools, there are three core varieties available – petrol, corded or cordless.
Petrol
Petrol chainsaws offer the greatest power and so get through jobs quicker than other models. Using a two stroke engine, their higher performance means they're best suited for bigger cutting jobs, regular use and more experienced users. They're portable and so are great if working away from a power source, however they're heavy, noisy and require regular maintenance. There's also the cost of the necessary further purchases – the petrol itself, engine oil to keep it running smoothly, a petrol can for transportation and perhaps a funnel for easy filling.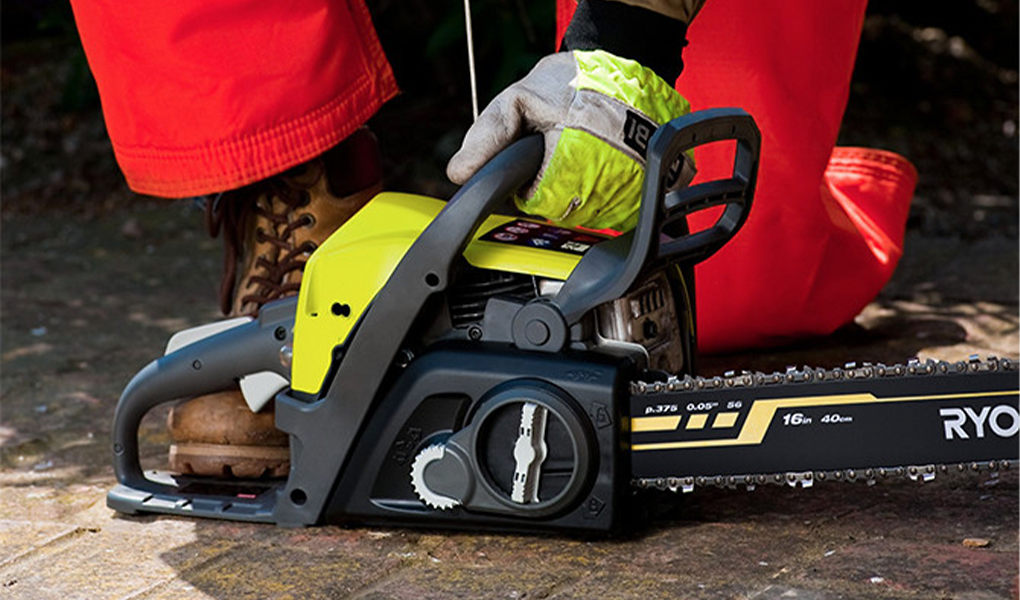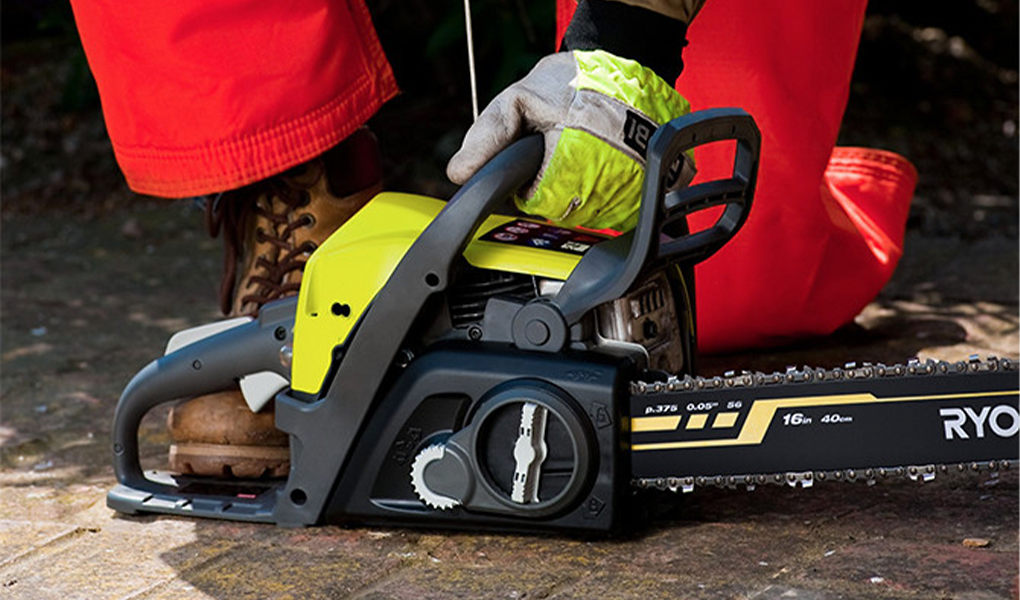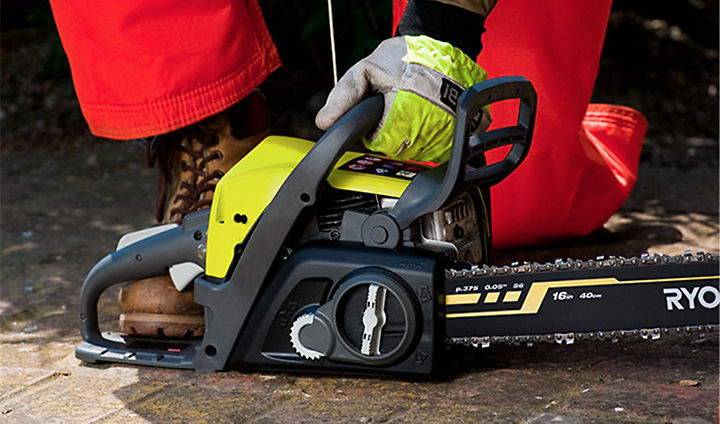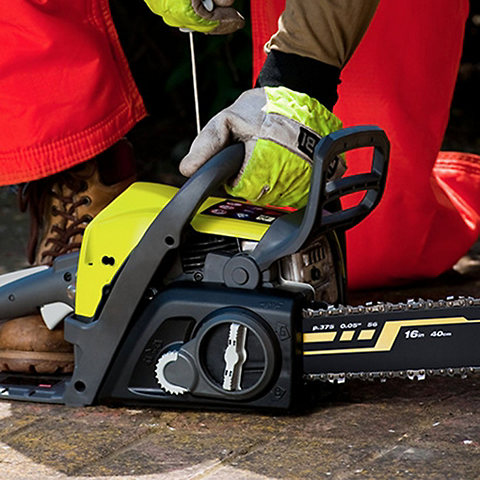 A petrol chainsaw's power is measured by engine size, often referred to as cubic capacity, in cubic centimetres (cc). The larger the engine, the more power is being sent to the cutting mechanism delivering more torque and all round better performance.
Cordless
Like petrol models, cordless or battery powered chainsaws are ideal for use some distance from a power source. There's no cord to limit movement and they're lighter than petrol models, making them easier to carry around. They generally match the power of corded types, though are less powerful than petrol and so suit smaller jobs. They're quiet so good if using in a busy residential area, and require little maintenance – ideal if using once or twice a year. Working from a battery, they only have a certain period of charge and so it can be worth investing in a spare battery to prevent unwelcome breaks.
A cordless chainsaw's power is measured by Volts (V). The more power the battery can deliver, the better the tool's performance. Most models come with a removable 36V lithium-ion (Li-ion) battery.
The battery's ampere hour (Ah) or amp rating goes hand-in-hand with its voltage. This measures the electric charge and dictates the capacity of the battery supplied. The higher the capacity, the longer the battery will run for.
Corded
Corded chainsaws, also known as plug-in or electric chainsaws, share many similarities with cordless models being lightweight, low maintenance and quiet. Yet while they can be more powerful than battery chainsaws, they're often not as powerful as their petrol counterparts and so are ideal for smaller jobs and less experienced users. Being plugged into a mains electricity socket, they only offer limited movement and users must be aware of the trailing cord at all times for safety. However portability issues can be eased if used close to the power source or with an extended cable lead and RCD protector for safety.
A corded chainsaw's power is measured in Watts (W).
---
There are a number of further technical specifications and key features that chainsaws offer which are important to consider.
Bar length
Measured in centimetres (cm).
Bar length refers to the length of the cutting bar on the chainsaw which determines the size of cutting area. Essentially, the bigger the bar, the bigger the size of log you can cut in a single pass. Petrol models have longer bars than corded or cordless types, with domestic use chainsaws ranging up to 40cm.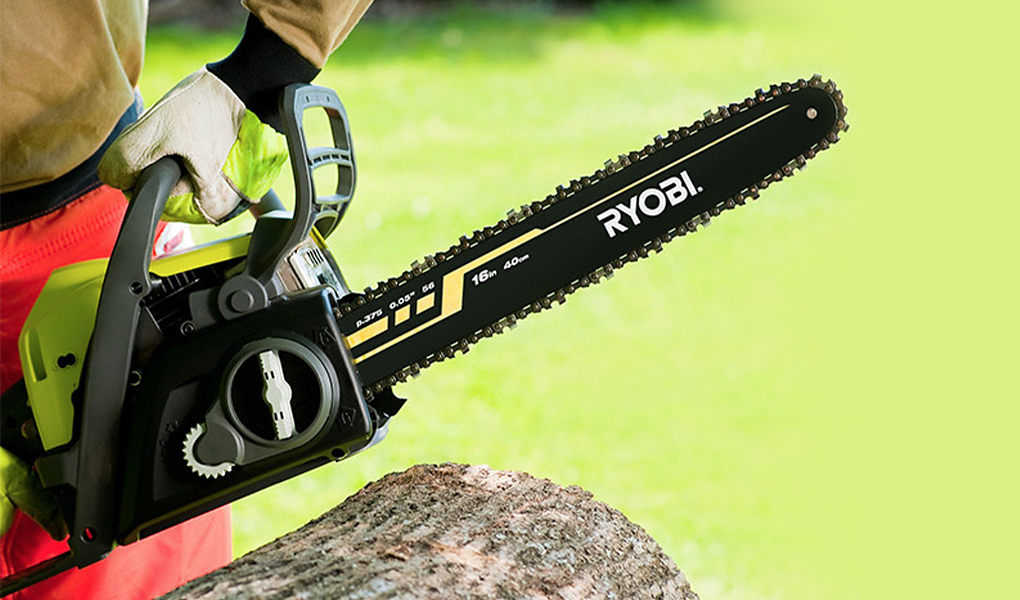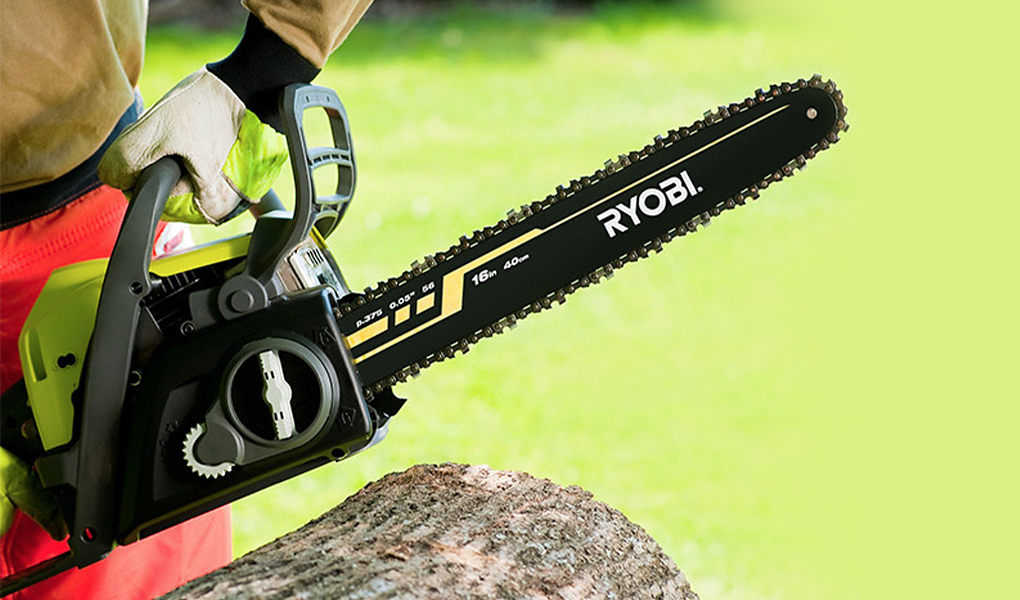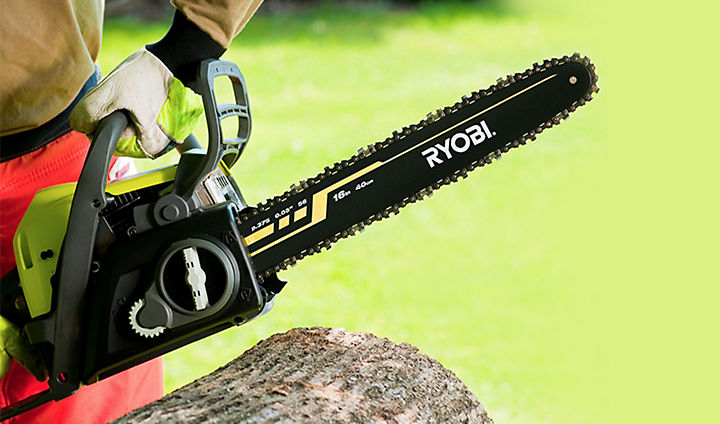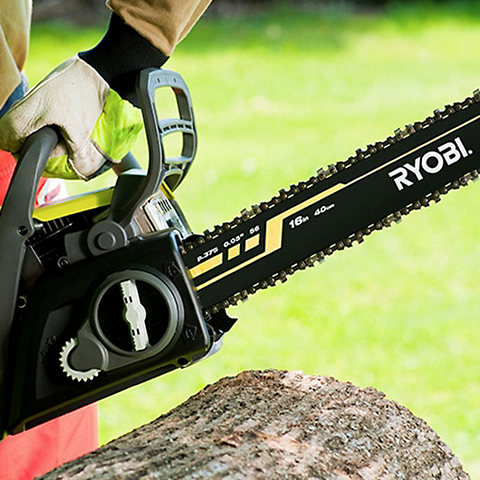 Chain Speed
Measured in metres per second (m/s).
Chain speed dictates how quickly you can cut through the material, the higher the number the speedier the tool's performance. Corded and cordless types commonly offer around 9m/s, whereas petrol models are often closer to 20m/s.
Weight
Measured in kilograms (kg).
The weight of a chainsaw is key as it influences your comfort when using it. Lighter models, such as corded and battery powered, offer greater ease of movement and increased manoeuvrability than heavier petrol ones.
Handle Type
Like weight, type of handle relates to usability and there are a number of different features to look out for. Opt for models with anti-vibration and ergonomic soft-grip handles to minimise discomfort, or wrap-around handles for better accuracy when cutting at odd angles.
Chain Tensioning
Also known as chain adjustment, chain tensioning maintains the necessary tension in the chain to ensure its safe to use. Some models come with a tensioning tool that allows you to tighten the chain and remove any unwanted and dangerous slackness. Look for ones that offer tool-less tensioning – simply twist the dial on the side of the chainsaw and it's done.
Kickback brake / Anti-kickback function
Kickback describes when the chainsaw tip hits another object and gets thrown up and towards the user. Many models look to minimise the risk of this occurring through an anti-kickback brake or inertia chain brake. If kickback occurs, this safety feature automatically responds forcing the chainsaw to stop.
---
Safety first
Protective work wear must be worn at all times when operating a chainsaw. Check out our full range.
Using your chainsaw
A saw horse If you're regularly chopping firewood or logs, a saw horse can help support the weight of what's being cut for easier and quicker cutting.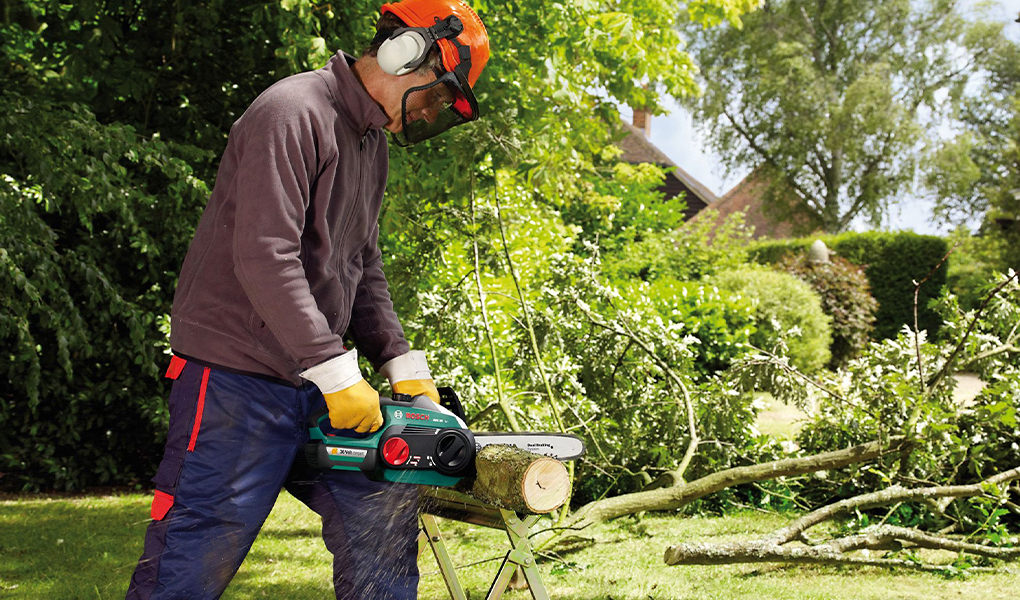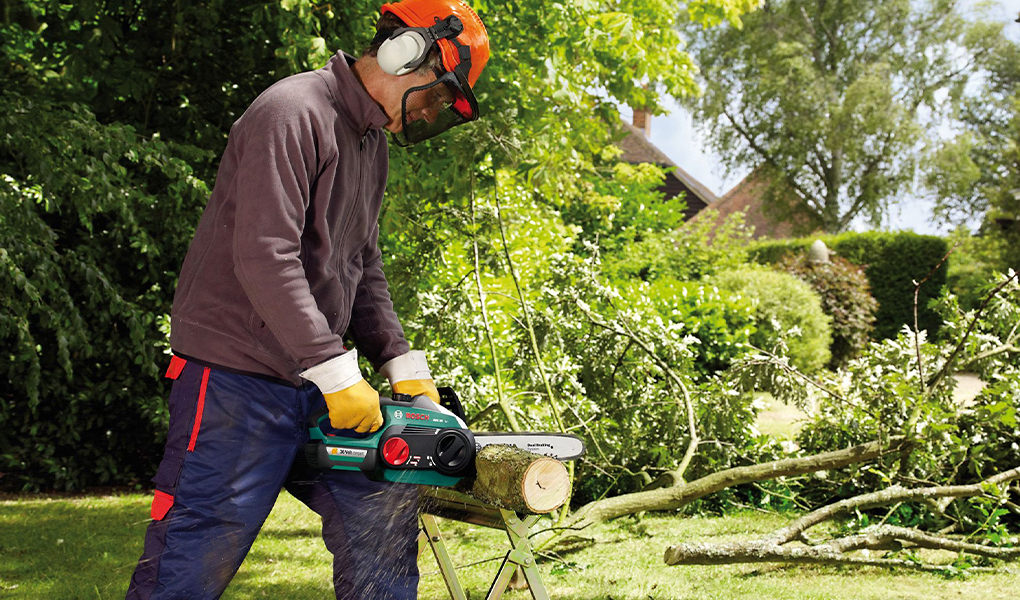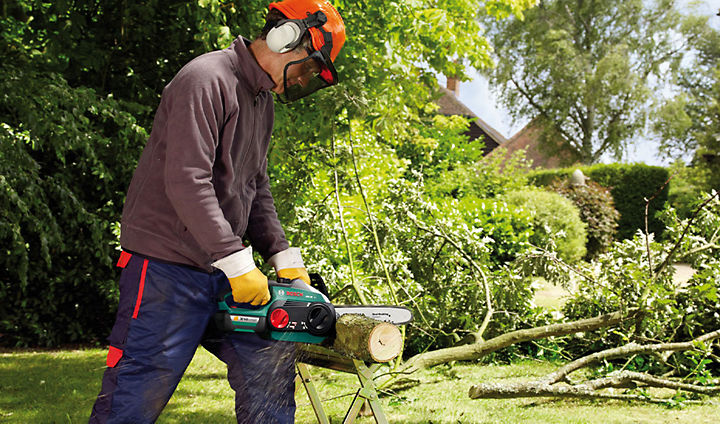 If you're opting for a petrol chainsaw, why not also pick up:
Or if you're taking the cordless option, grab:
And if you're going for a corded type, consider:
Caring for your chainsaw
With good care and maintenance, a chainsaw can last a number of years. To keep yours in good working order, consider picking up:
---