The scent of freshly cut grass is the surest sign that the sun is on its way again. The roar of the mower is the traditional soundtrack to a bright Sunday morning, and we all know someone who boasts about the size of their motor.
A lawnmower is an integral part of your garden care, keeping the grass in tip top condition prepares your space for all that time you'll be spending outside. But with so much to choose from, sometimes it can feel overwhelming to choose the perfect one.
Our guide will take you through the different types of lawnmower available, the power sources on offer and all the features to look out for to make mowing your lawn as easy and simple as possible. So, whether you have a small patch of grass or a whole field to take care of, we've got the right one for you.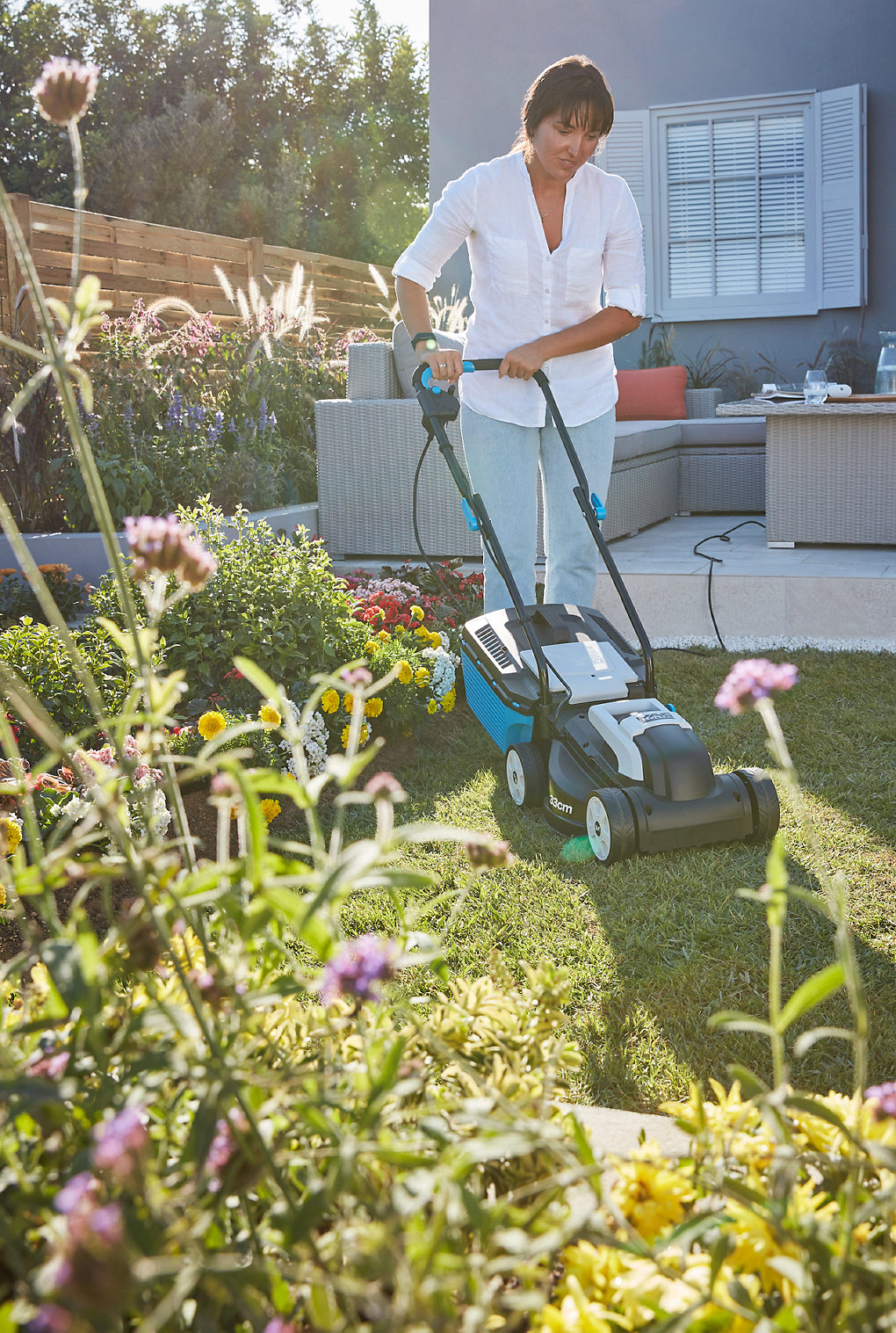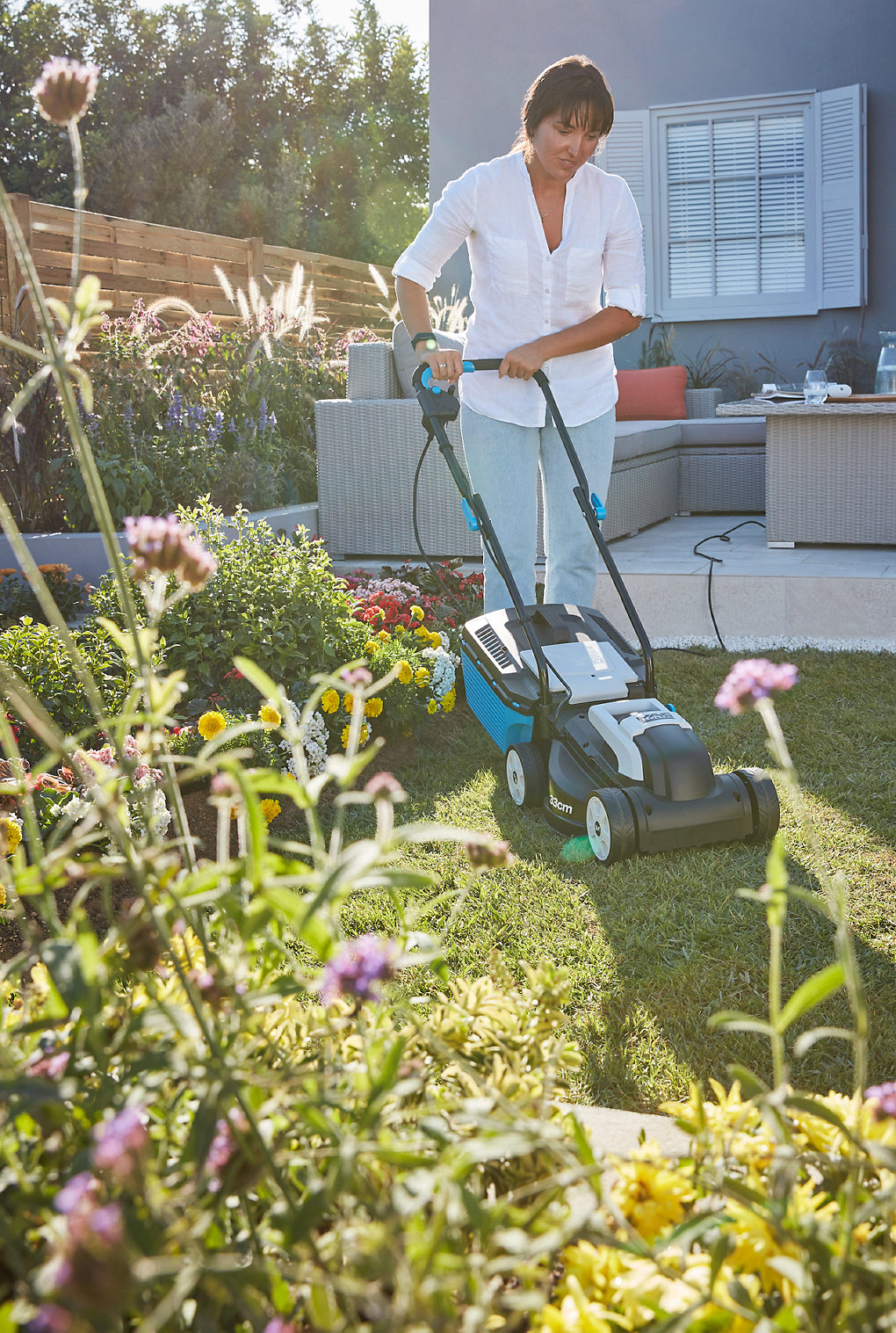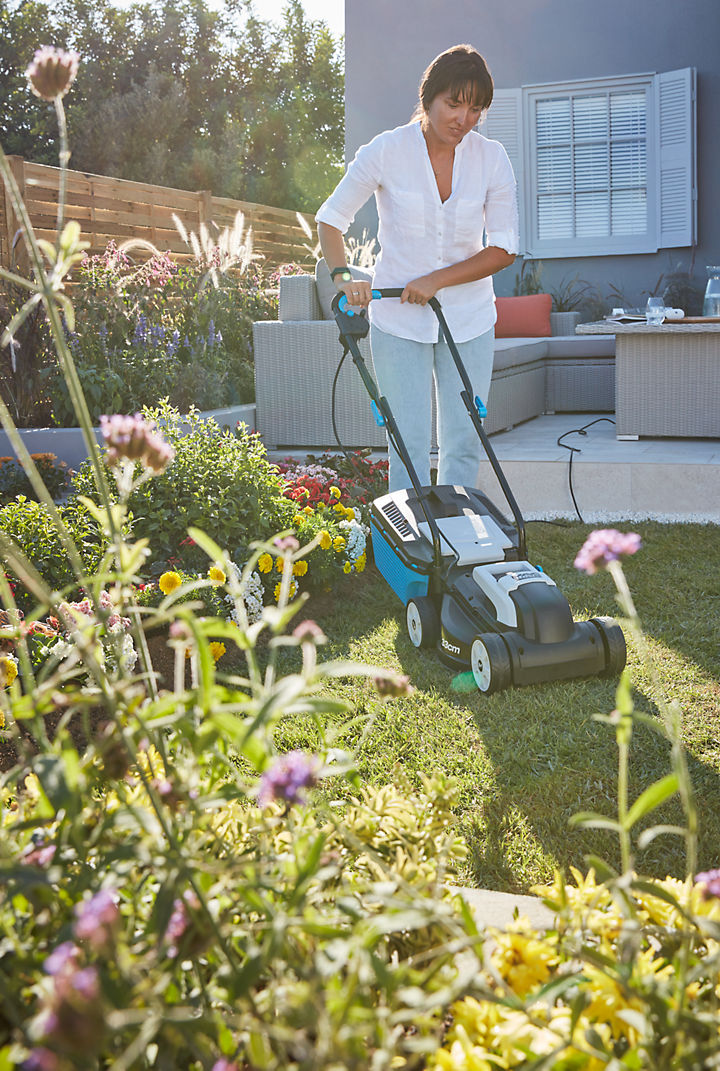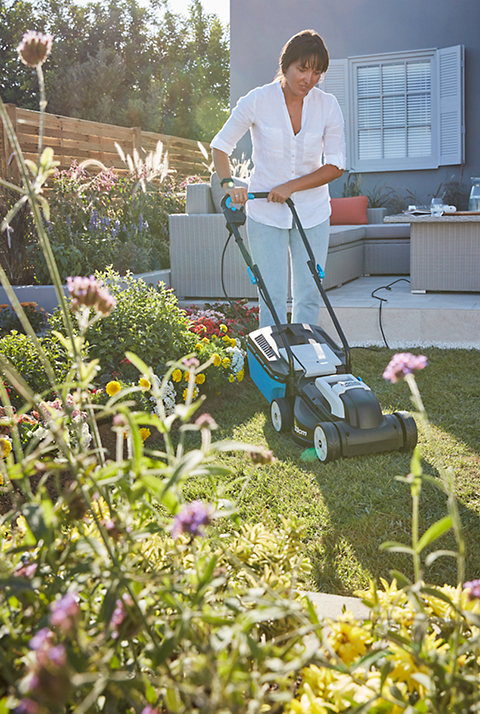 Power type
Choosing what power type you want is the perfect place to start your buying journey. Corded, cordless or petrol options all have some benefits and draw backs, depending on the size of your lawn and layout of your garden.
Corded electric
Corded electric lawnmowers are ideal for most garden sizes as you can mow for as long as you like without worrying about topping up the fuel or recharging the battery. They're lightweight and easy to use. The higher the wattage of an electric mower, the more powerful it will be.
They're surprisingly quiet, especially when compared to petrol mowers, so you don't need to worry about upsetting the neighbours. Maintenance is low cost and easy, and you don't need to buy gas or oil like you would with other models.
Top tip: Cable length and safety
The length of the cable on corded electric lawnmowers impacts the reach and mobility when mowing. If you choose a corded mower you may want more cable length in order to move without restrictions. An external extension lead or cable reel will give you a bit more room to manoeuvre. And a residual current device (RCD) is a safety must-have when using electricity outside. It immediately turns it off in case of faults, or if you run over the cable when mowing your lawn.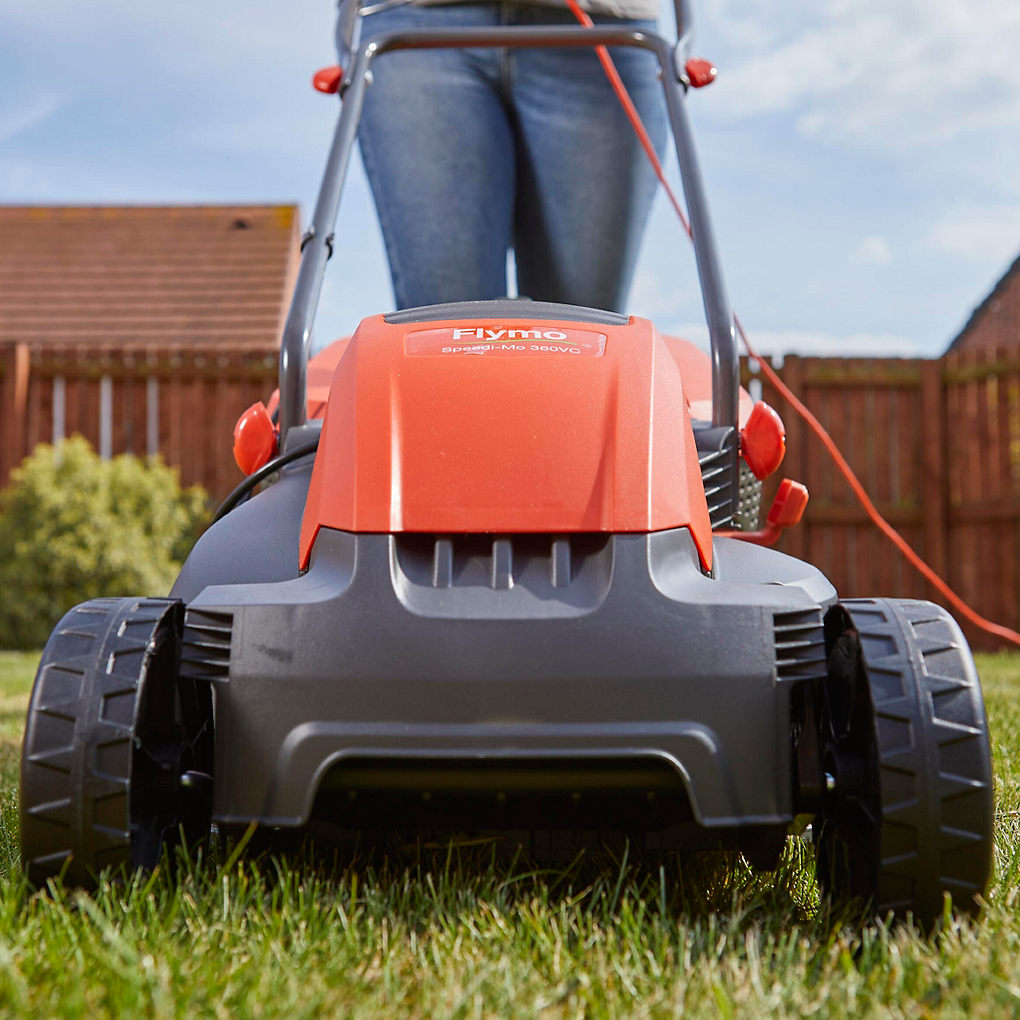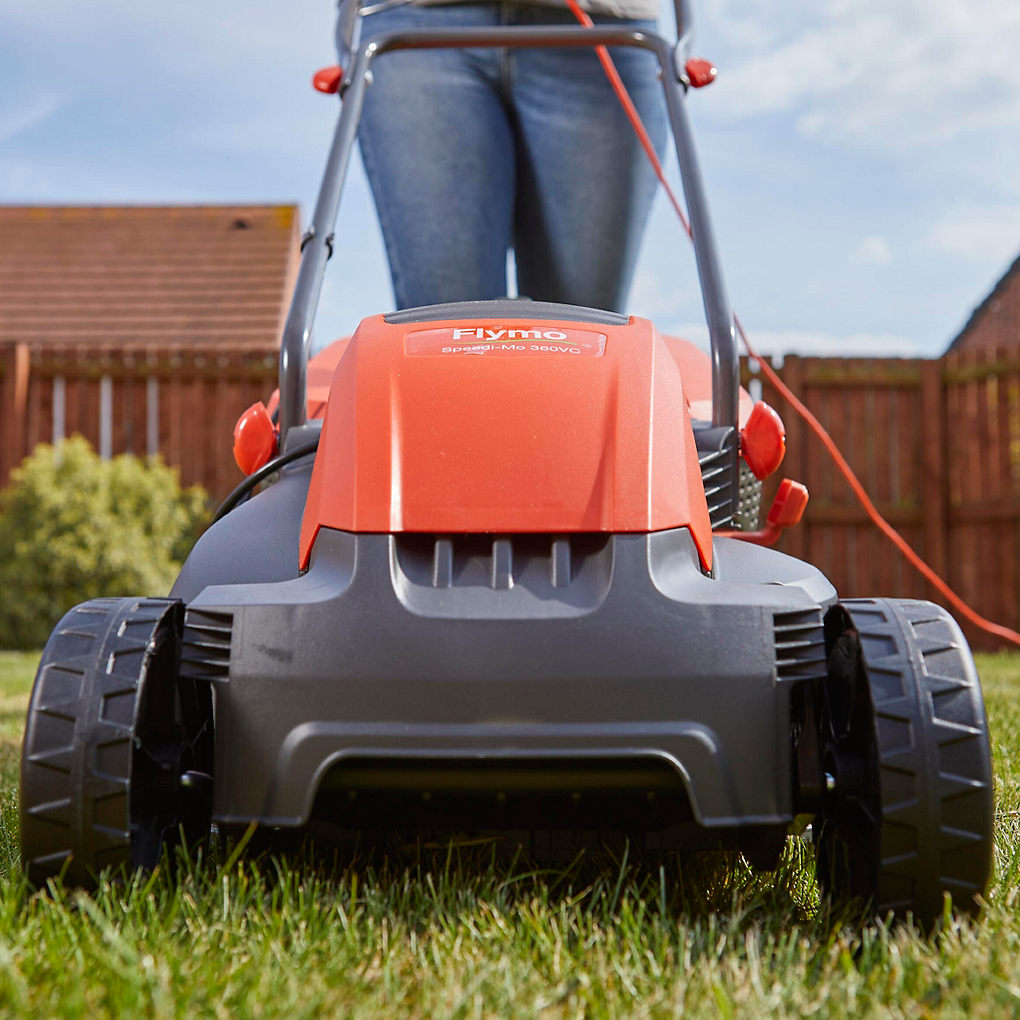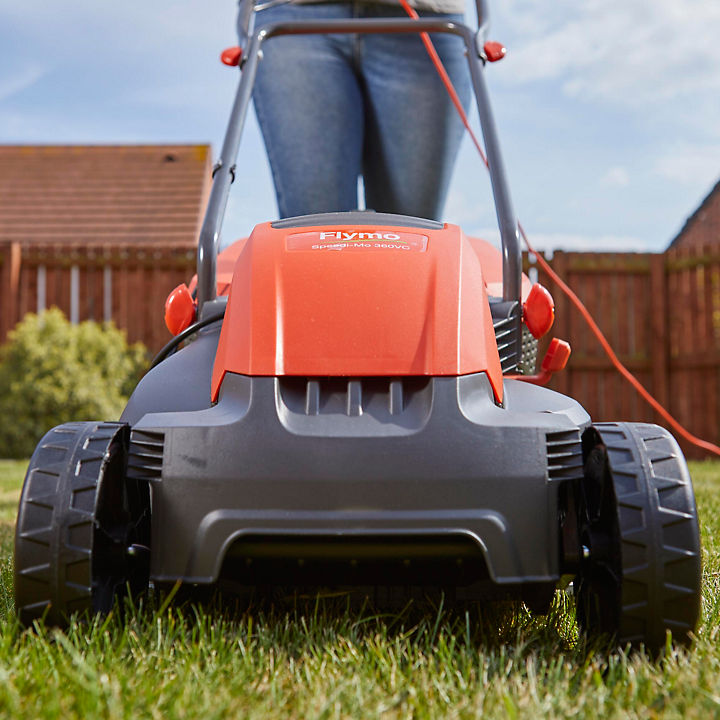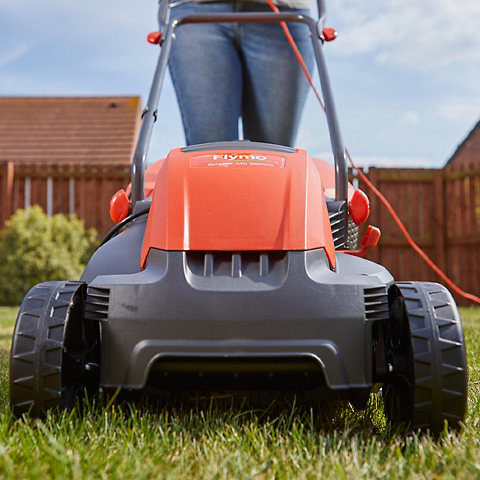 Cordless
If you don't have access to an outdoor power source or have a larger garden where an extension cable simply won't do, then a cordless lawnmower could be perfect for you.
With advances in technology, some cordless mowers can now perform for much longer and are now able to cut larger lawns. Most of them come with a lithium-ion battery, which holds a lot of energy and are quick to charge.
Some brands, such as Erbauer, offer interchangeable tools. This means that you can have a number of different garden power tools but only need one battery to run them all, saving you money.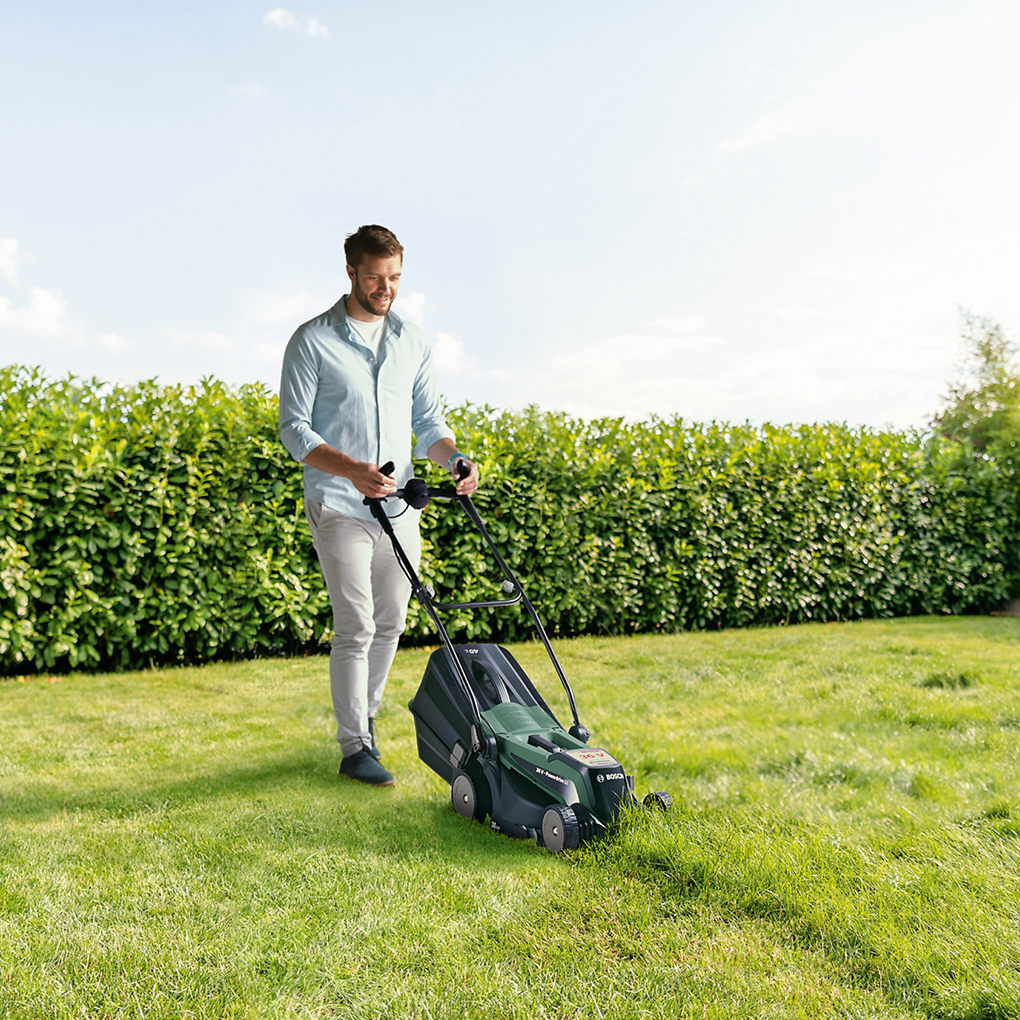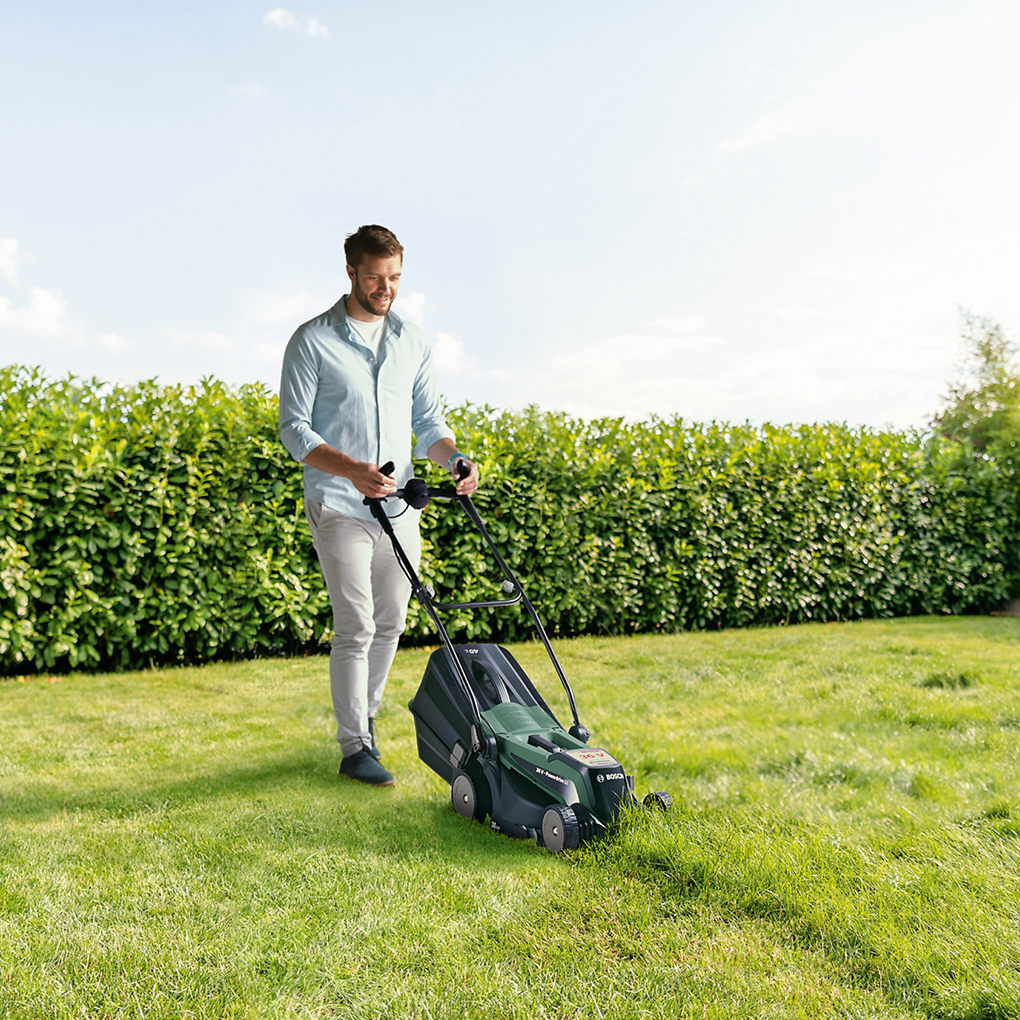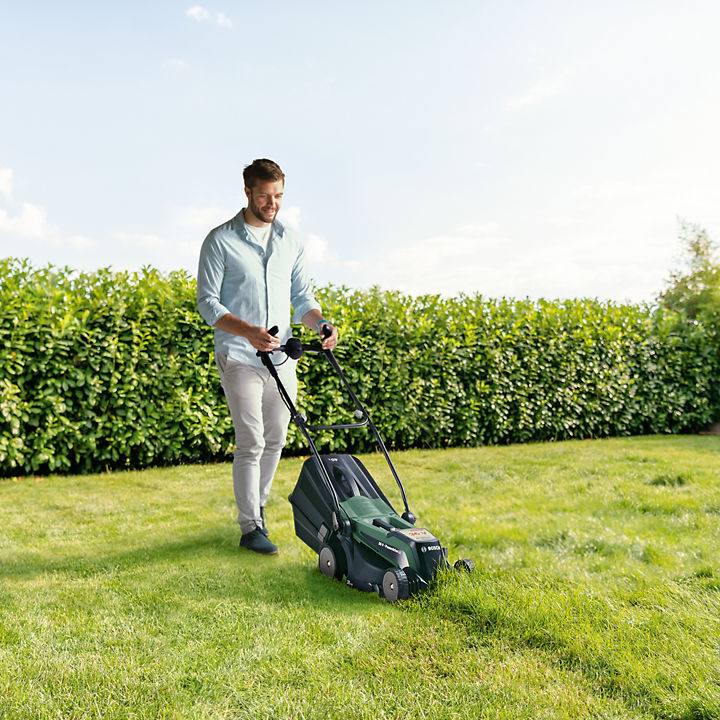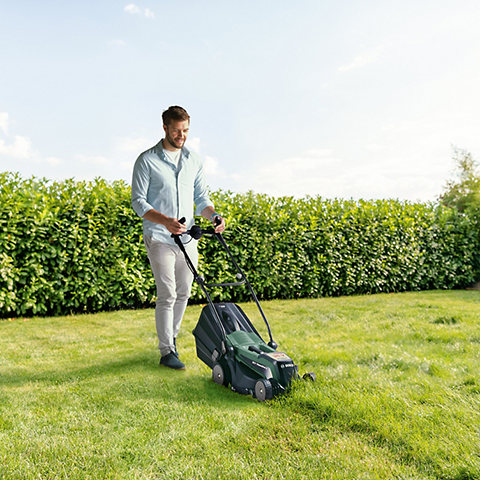 Battery power
Batteries have two important measures: The power of the battery is measured in voltage (v.) The higher the voltage, the more powerful the product will be. The other measure is ampere hours or amp rating (Ah.) This determines the batteries run time, the higher the capacity, the longer the battery will last.
Petrol
Petrol lawnmowers are best suited to tackle larger gardens, overgrown grass and more difficult mowing conditions.
They're similar to battery-powered lawnmowers as they are portable and offer unrestricted movement. Unlike with mains electric mowers, petrol lawnmowers don't need to be near a power supply and there is no restrictive cable. They'll keep going longer than battery-powered models and tend to be more powerful than either of the electric motor options.
Petrol tank capacity is measured in litres. The larger the tank, the more petrol your lawnmower can store. This means that you can mow for longer without having to fill up. A bigger cubic capacity means that your lawnmower will need more petrol to power it, and this affects how quickly the fuel is used.
Cubic capacity is a measure of how powerful the engine is, a higher cubic capacity is better suited to more difficult mowing conditions, however it will get through more fuel to power it.
Petrol lawnmowers are often a lot heavier and louder than other models, and as they require petrol and oil, they come with additional ongoing fuel costs. They also take more maintenance and need regular servicing.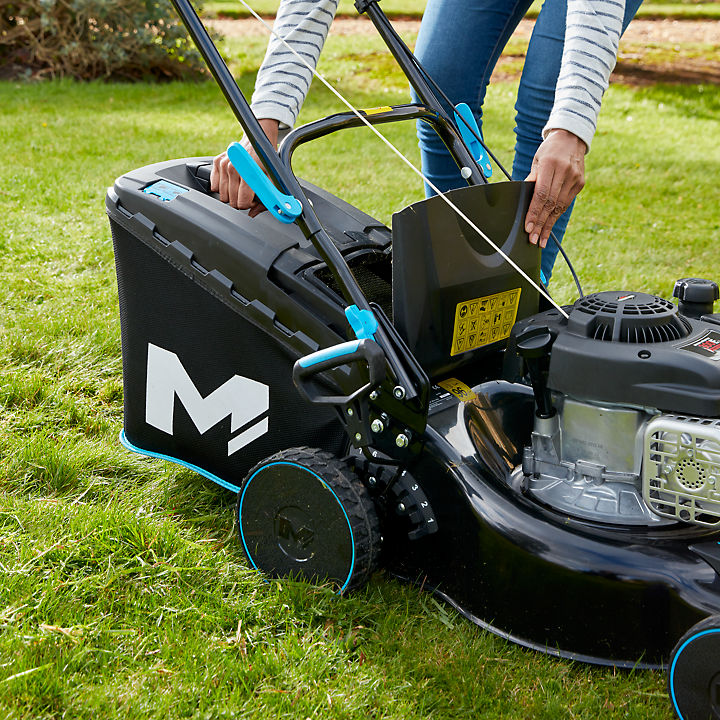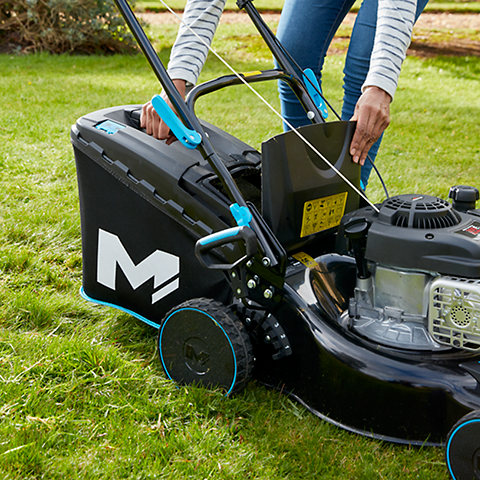 How large is your lawn?
Consider the size of your garden when choosing your lawnmower. Focus on the cutting width to determine what size of lawnmower you'll need to suit your space. The wider the cutting width, the more grass it will cut, helping to reduce mowing time.
| Lawn size | Ideal cutting width | Best power type |
| --- | --- | --- |
| Small to medium - up to 100m2 | Up to 32cm | Electric corded, cordless or robotic |
| Medium to large - 100m2 to 400m2 | Up to 40cm | Electric corded, cordless, petrol or robotic |
| Large – 400m2-1000m2 | Over 40cm | Petrol, petrol power |
| Extra large – over 1000 m2 | | Ride on mower |
It's important to mention though that a larger lawnmower will be heavier and harder to turn around obstacles, as well as being more expensive. So, if you have a smaller lawn, it's not always a good idea to go for a large mower just because it has a wider cut, as it may not be as practical.
You'll also want to consider the capacity of the grass collection box. As the mower cuts it will collect the trimmings in a box. The larger the capacity of the box, the less you'll need stop and empty it.
If you have a large, wide lawn for example, you need to choose a box that will allow you to collect a significant amount of grass, or you'll be stopping all the time when it's full up.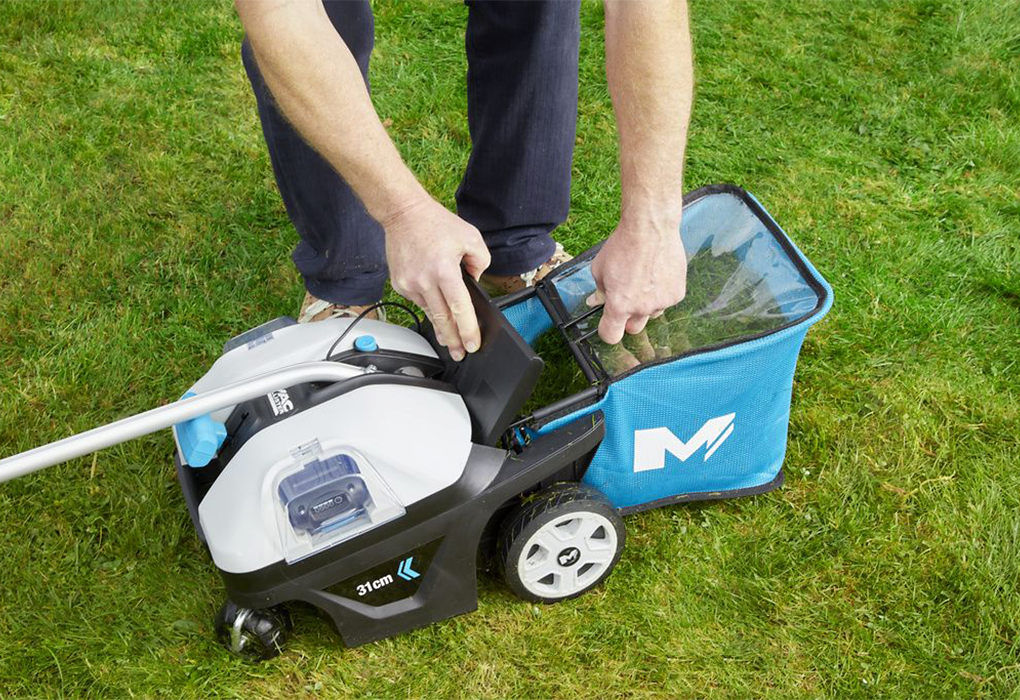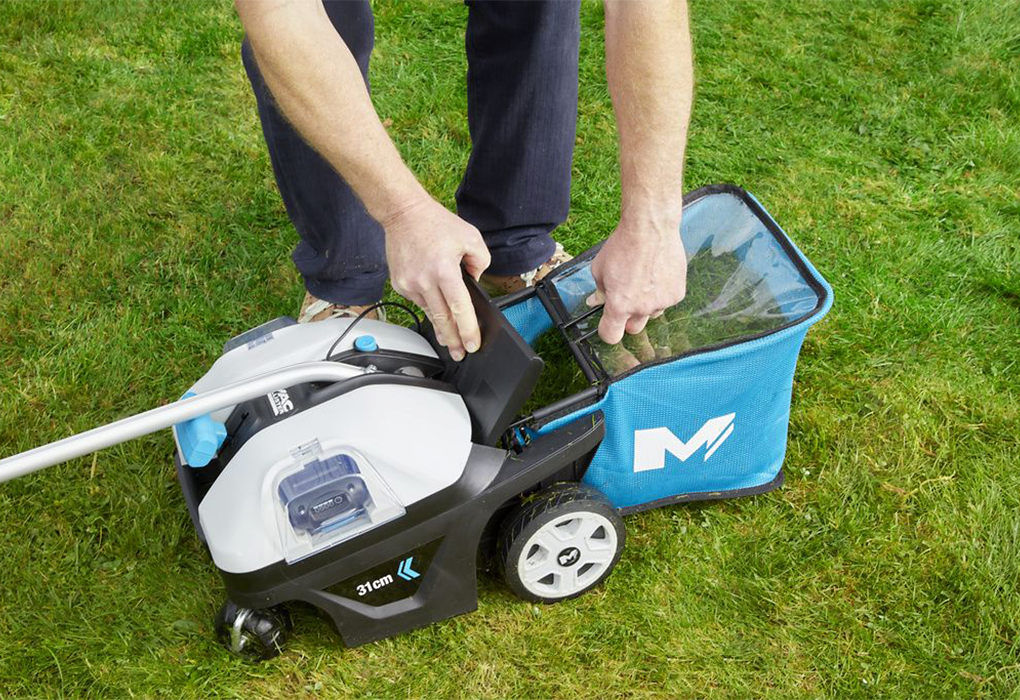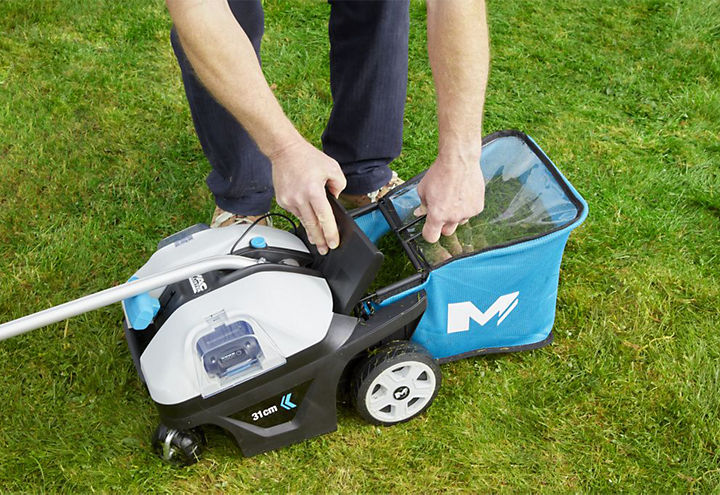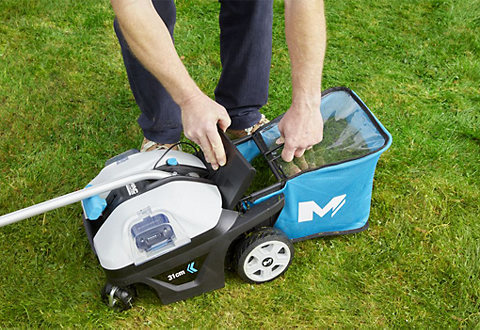 Cutting height
The Cutting height is the length at which the lawnmower is set to cut the grass. Different models of mower will have a different number of settings you can choose from – more height settings mean more flexibility. This is especially useful when making the first cut of the year or if you have longer grass to deal with as cutting down too much in one go can damage your lawn.
Types of lawnmower
Our range of lawnmowers includes rotary, hover, ride-on, hand-push and robotic. There are advantages to each type, and this section of the guide will help you decide the best choice for you.
New for 2021: Mow & Stow
We know that unused shed space is unheard of and empty garages are a rarity. That's why the Mow N' Stow feature on our new range of petrol lawnmowers gives you all the benefits of a powerful Briggs and Stratton petrol engine but are designed to be packed away upright, so they're a doddle to store when the work is done.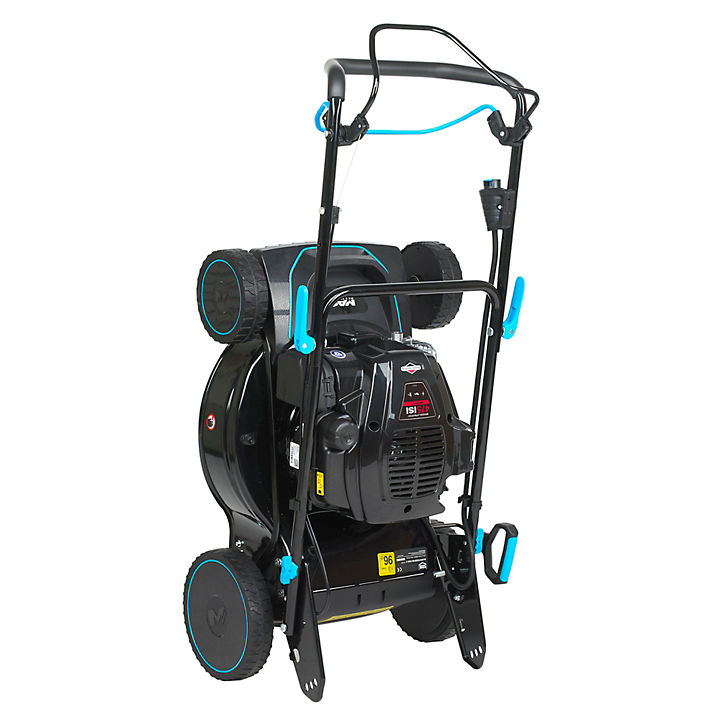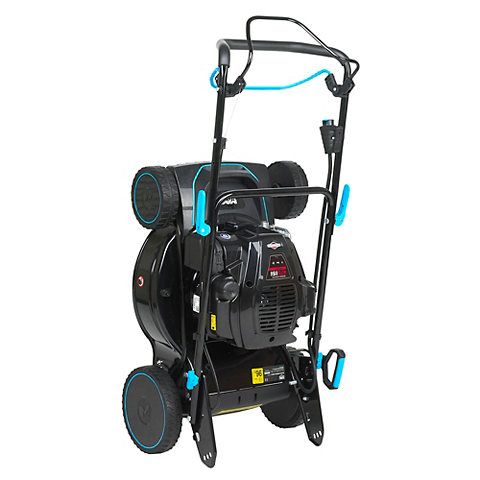 Rotary lawnmowers
Rotary lawnmowers feature a disc that horizontally rotates to cut the grass. They're able to cut any type of lawn, whether it's long and overgrown or on a slope. This makes them brilliantly versatile, something to consider if you don't have the time to mow the lawn on a regular basis. They offer the widest choice when it comes to power sources - available in both electric corded and battery) and petrol options.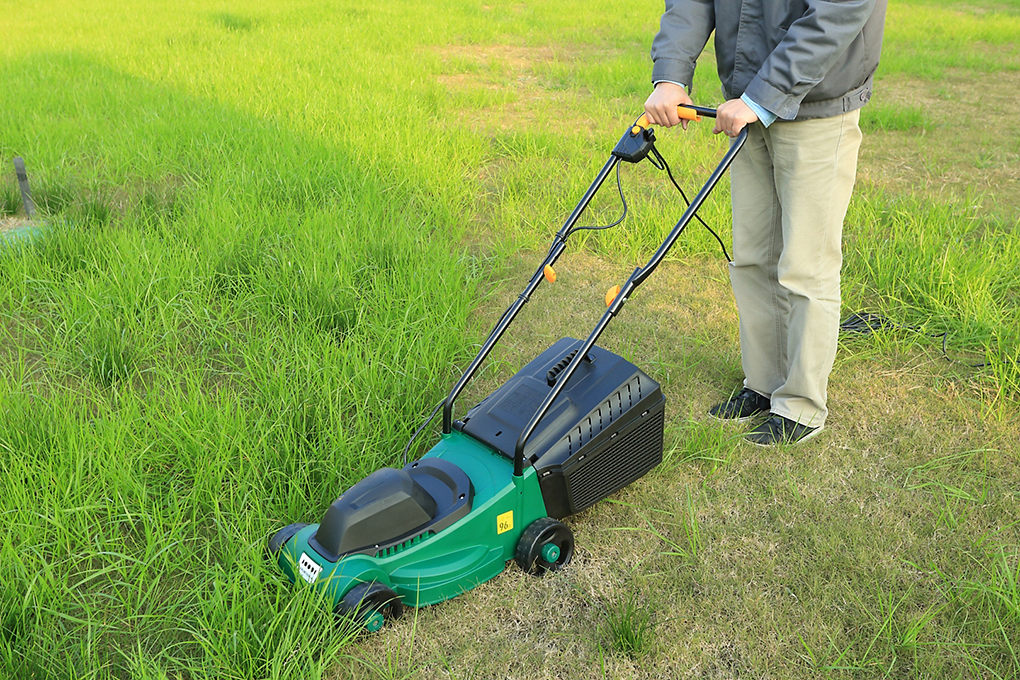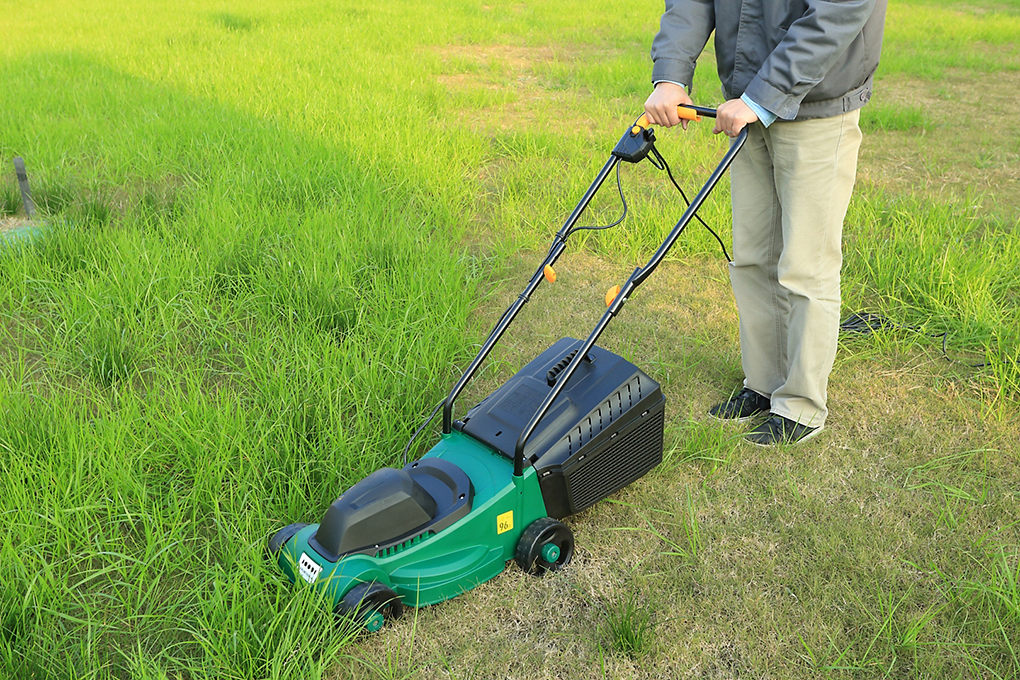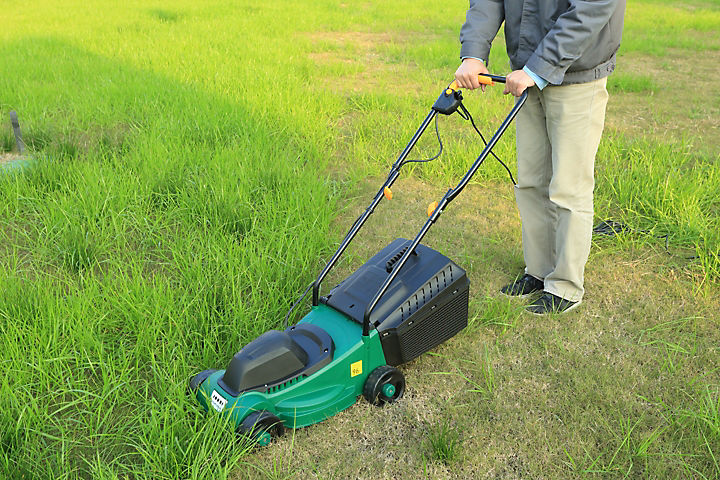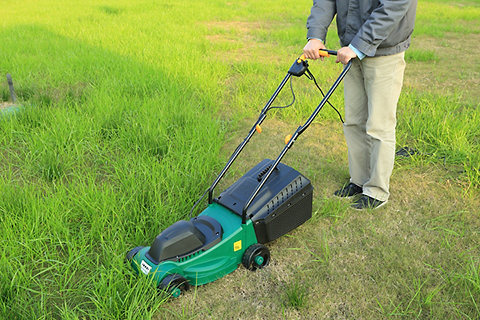 Push mowers
Push mowers are hand-powered, and feature blades in a cylinder inside the mower. They are ideal for short, fine grass as they cut like scissors, leaving a clean, precise finish. These machines are designed to regularly cut grass and manicured lawns.
They don't cope well with long grass and bumpy lawns and not many models come with a collection box.
Push mowers are a great option if you're on a budget, or just have a small patch of grass, but not so good for anyone less mobile as you'll be physically powering it.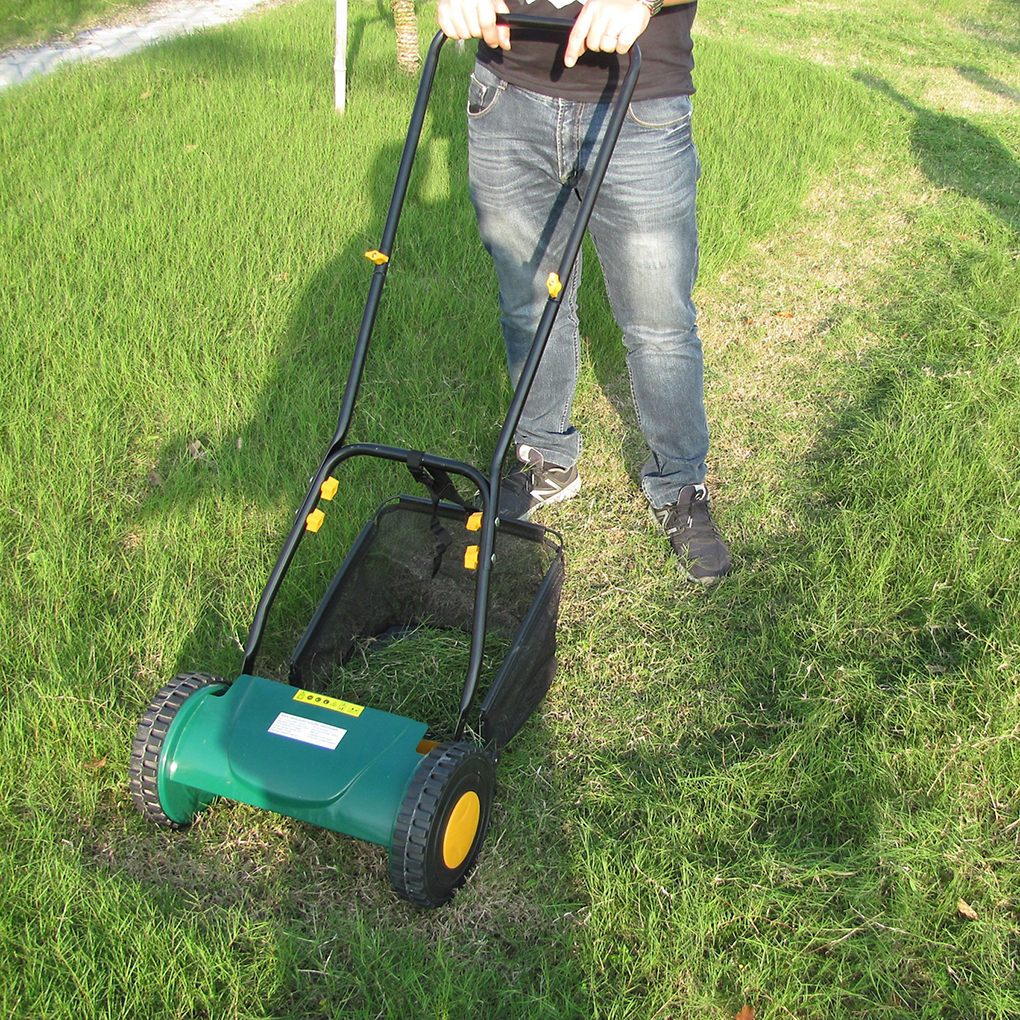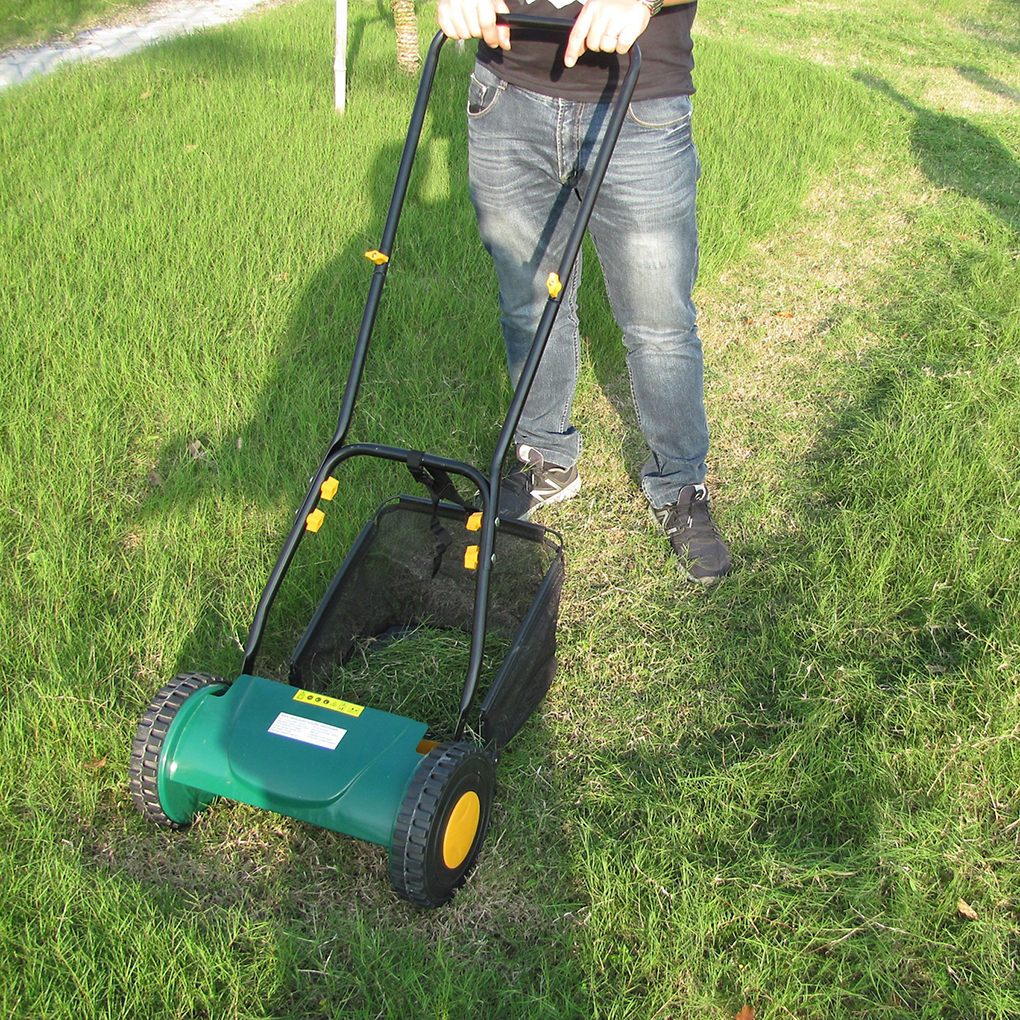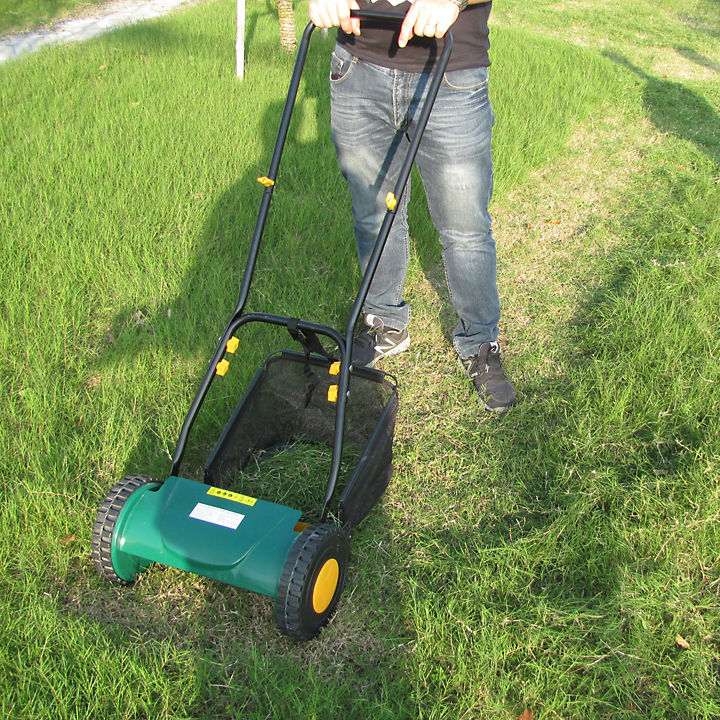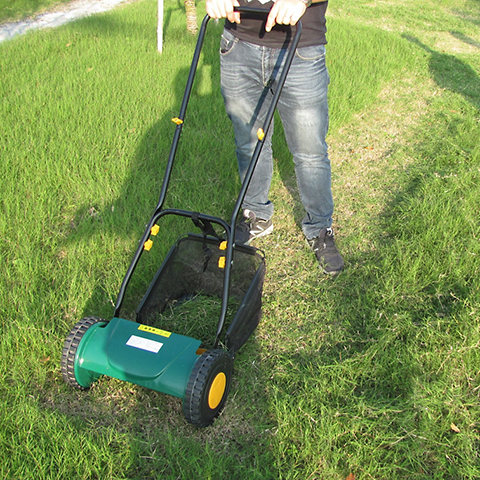 Hover lawnmowers
Hover mowers glide over the grass on a cushion of air which raises it up off the lawn. Because of this design, it benefits from being light and manoeuvrable, able to move freely from side to side, not just backwards and forwards.
This makes it ideal for uneven surfaces, irregularly shaped gardens and slopes - however this side-to-side motion isn't possible with models fitted with a grass collection box.
One drawback is these mowers do not cope with long and damp grass very well.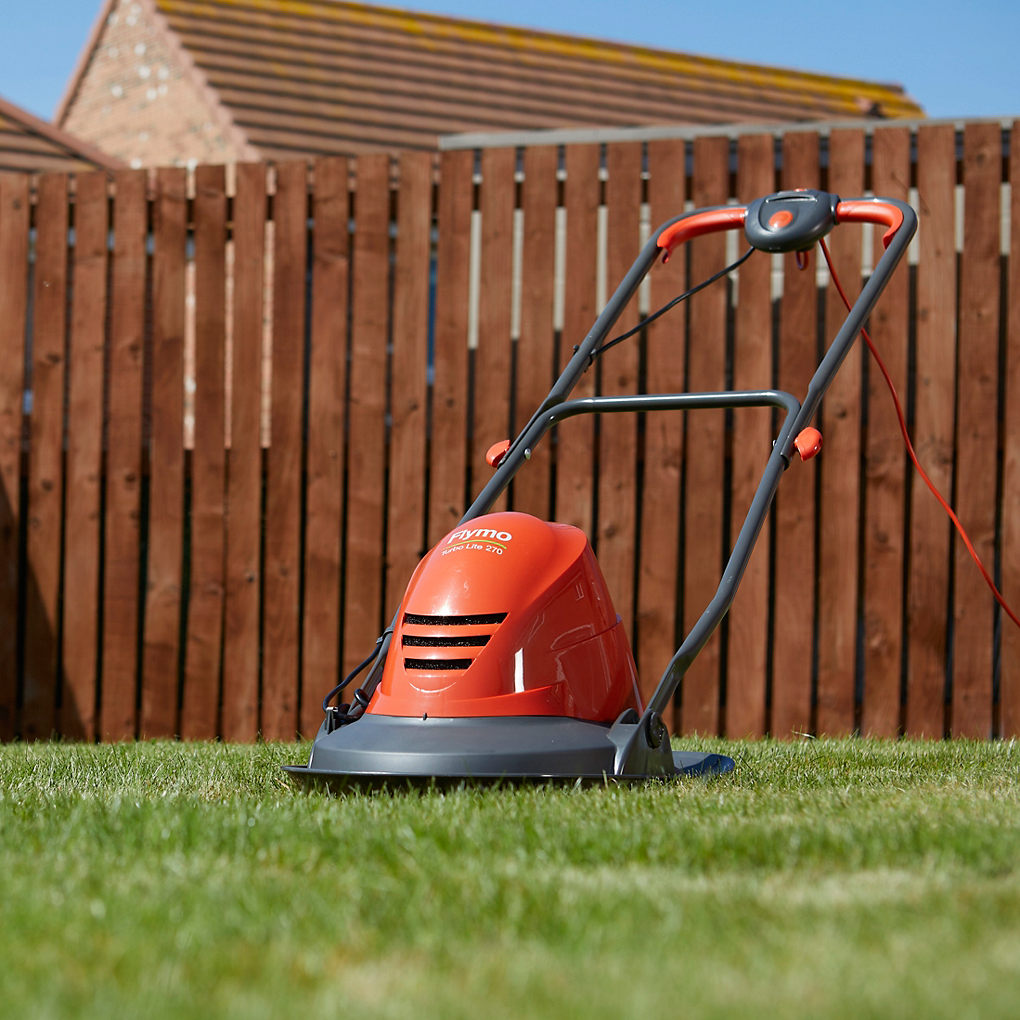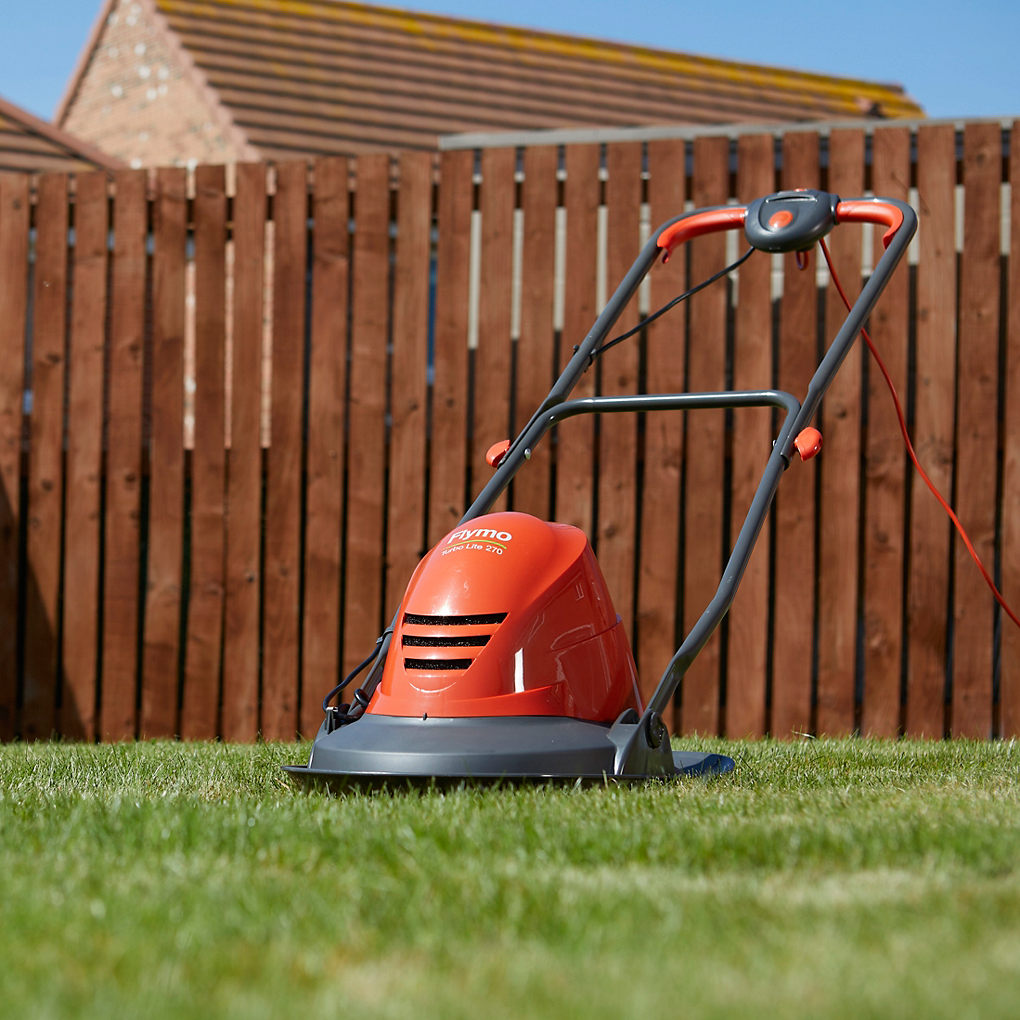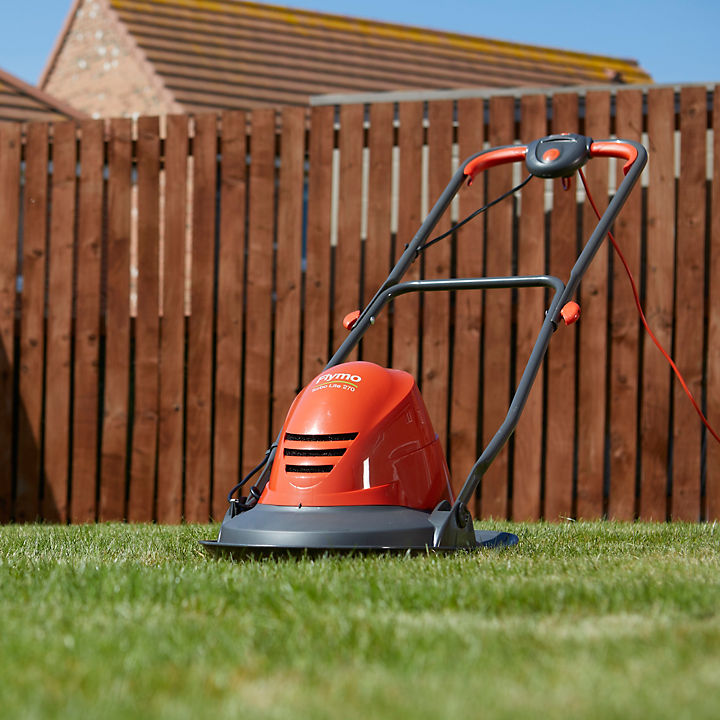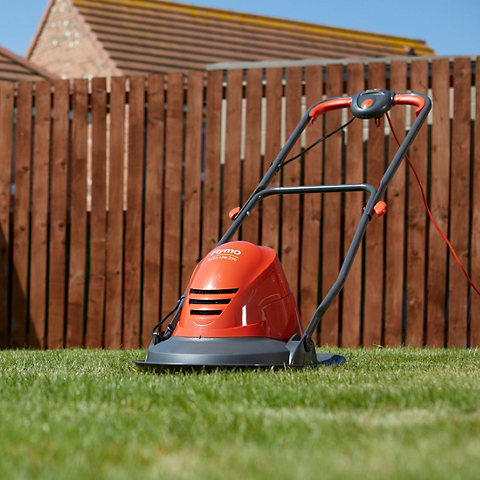 Robotic lawnmowers
Robotic lawnmowers are fantastic for those of us without a lot of time but still want to keep the lawn neat and tidy. Independently mowing without being pushed or driven, these battery-powered models make a great choice for lawns of all sizes. They have the added benefit of releasing the grass clippings back into the grass, making sure no nutrients are lost and you're left with a healthier lawn.
It can be programmed to start up at specific times, no matter the time or weather. It will return to its charging station when it's finished or if it needs to recharge. And you don't have to worry about it being stolen as it features an anti-theft PIN and alarm.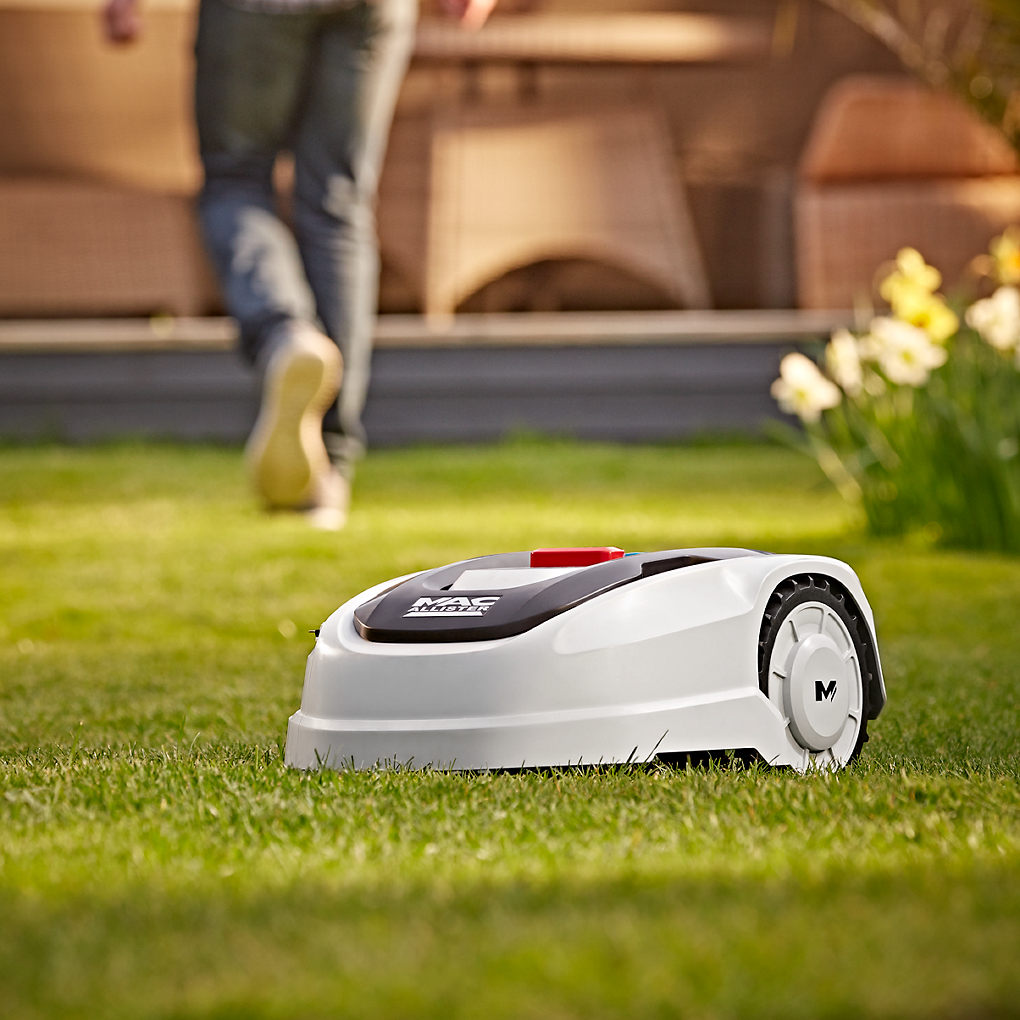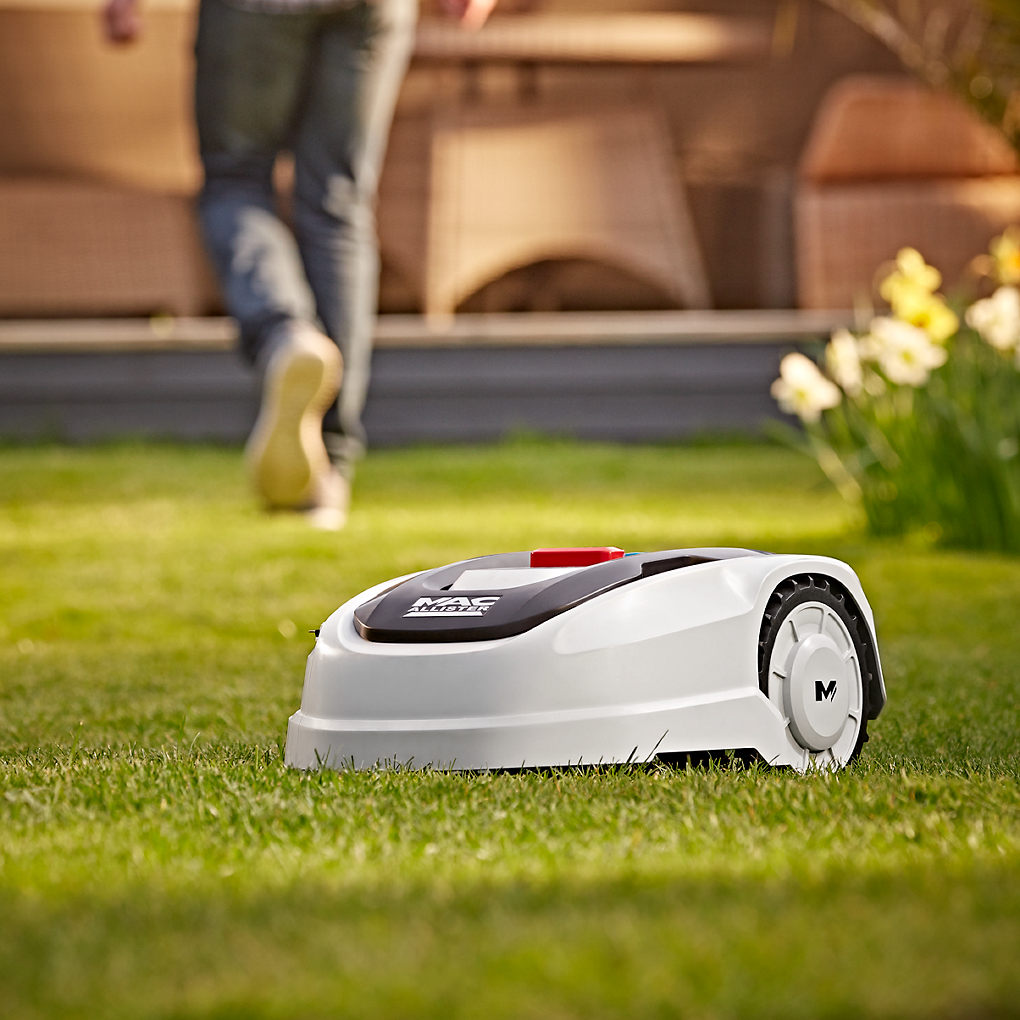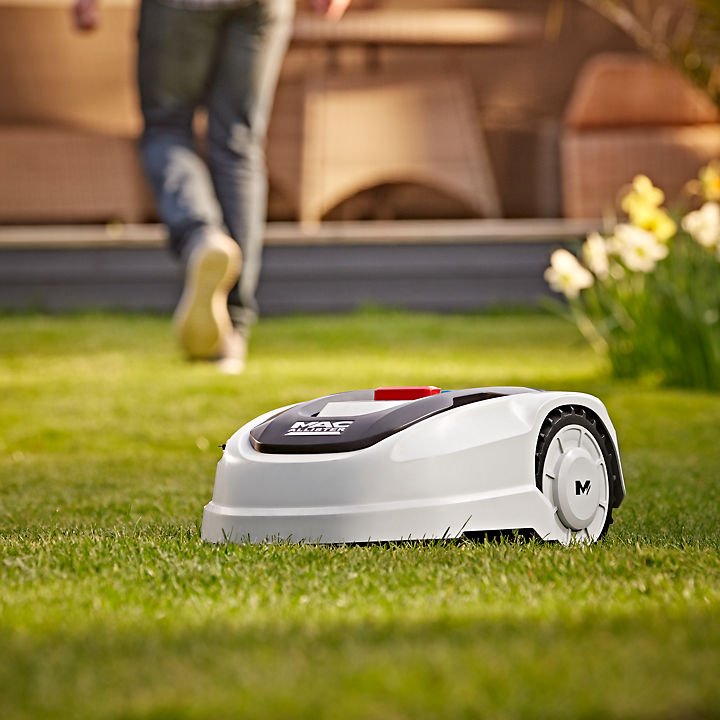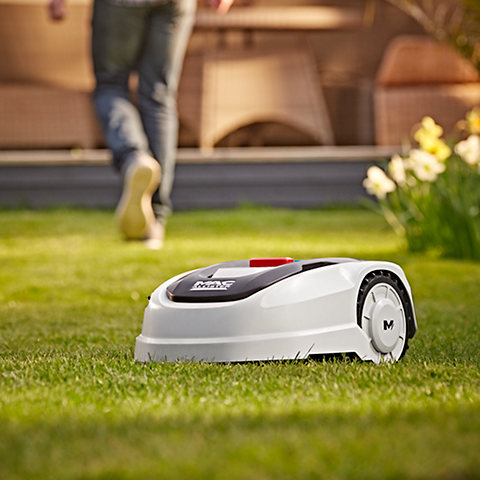 Hand-propelled or self-propelled
As well as looking at the type and power, you can also choose hand-propelled and self-propelled mowers. These are labelled as HP or SP in the product descriptions.
Self-propelled
Self-propelled mowers require less effort to use; just engage the drive and the mower will move forward without being pushed. All you need to do it walk behind and steer. Some self-propelled models also have a variable speed control, so you can adjust the speed to best suit your own pace or the conditions.
Hand-propelled
Hand-propelled machines have to be pushed to make them move forward, the motor or engine's sole function is to drive the cutter blade. You'll have complete control over the speed, stopping and starting. They're good for smaller gardens with a lot of obstacles.
Features to look out for
There's a whole selection of extra features that can make your mowing even easier.
Lawnmower handle types
Ergonomic handles minimise discomfort when mowing as they reduce back and muscle strain – ideal for those who have larger gardens or heavier mowers.
If you're looking for a lawn mower that's easier to store, choose one with foldable handles. Collapsing the handles will make your lawnmower more compact, and easier to place in corners.
Take a look at the Mac Allister MLMP1200 Corded Rotary Lawnmower with a collapsible bag and handle for easy transportation and storage.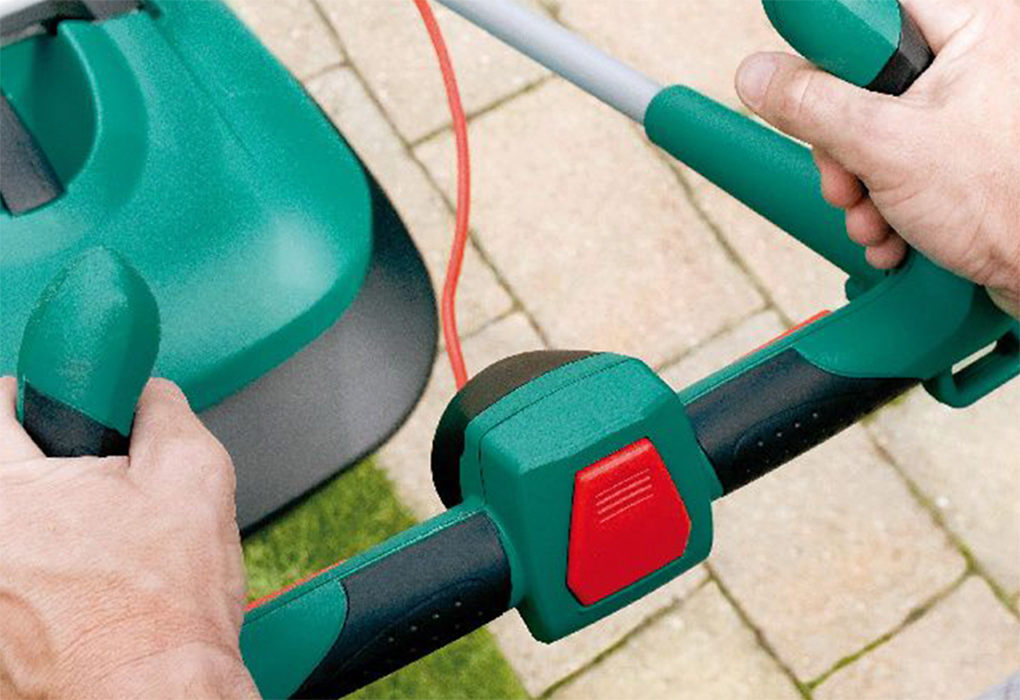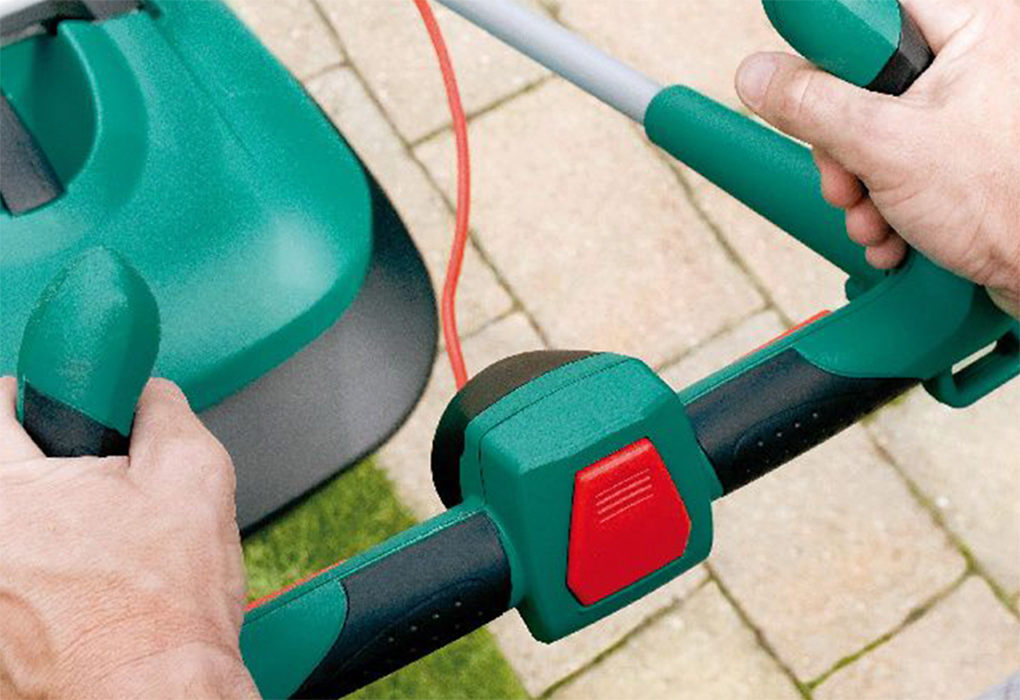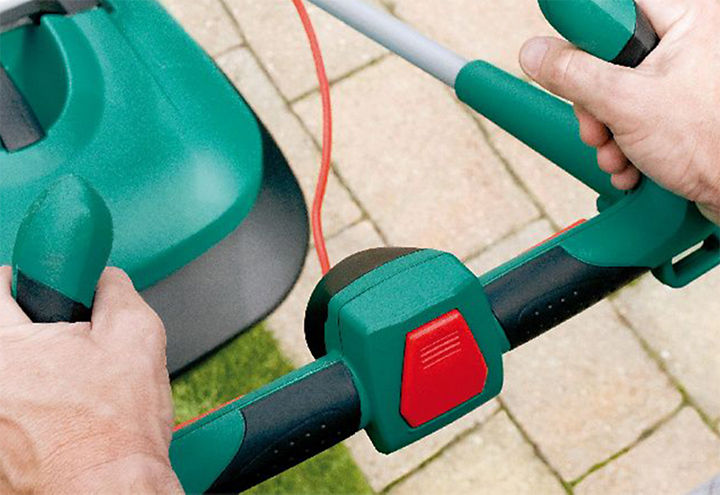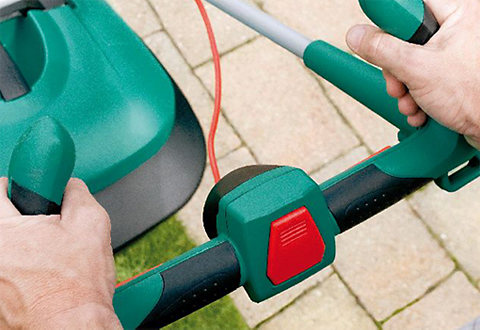 Mulching function
A mulching lawnmower, or a mulch plug, cuts grass clippings down into very fine pieces that fall easily into the soil surface which release nutrients into the grass. Nearly all of the Mountfield 4-wheel petrol mowers now come with mulching plugs as standard.
InStart Engines
If you think a petrol mower would be the right choice for you but don't want to deal with pulling cords to start the engine, or you have restricted mobility that might make this difficult, then look no further. Mowers with InStart engines, like our Mac Allister 46cm In Start Lawnmower, come to life with the push of a button.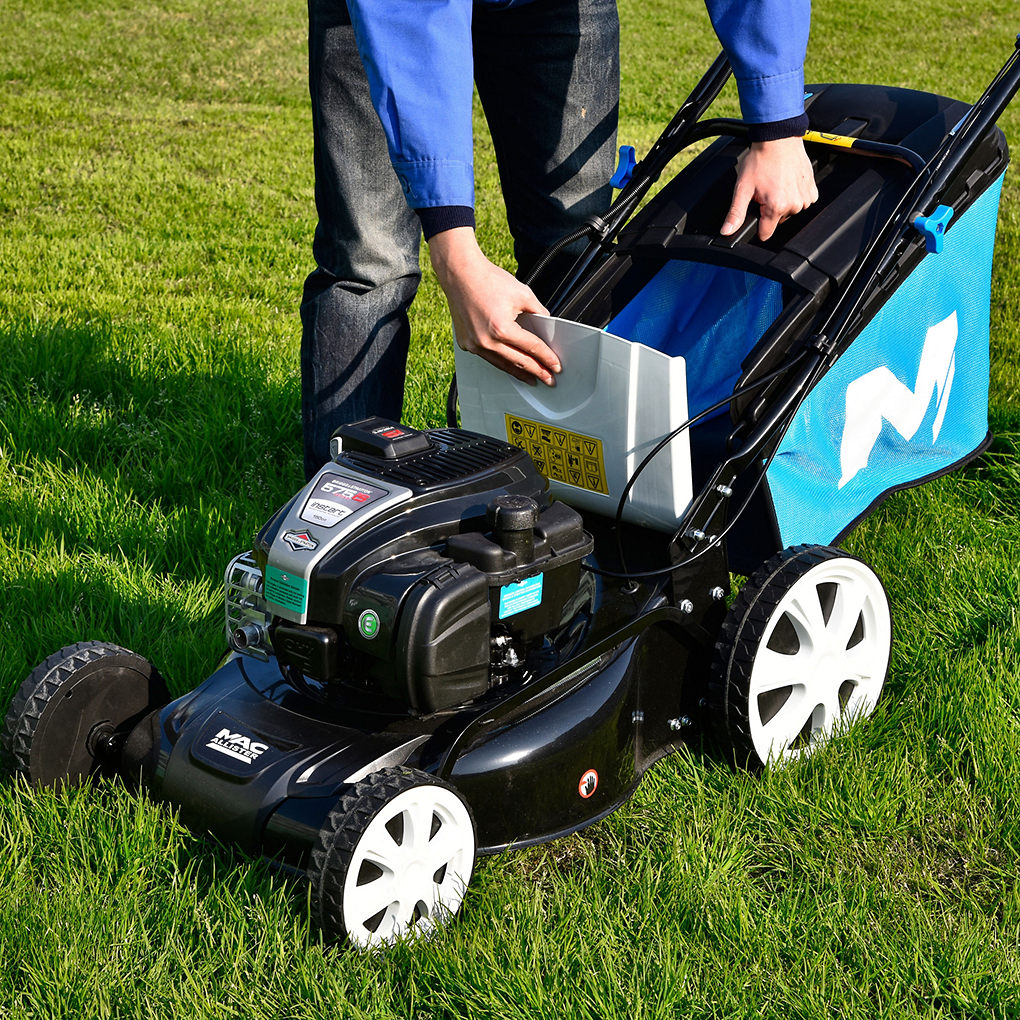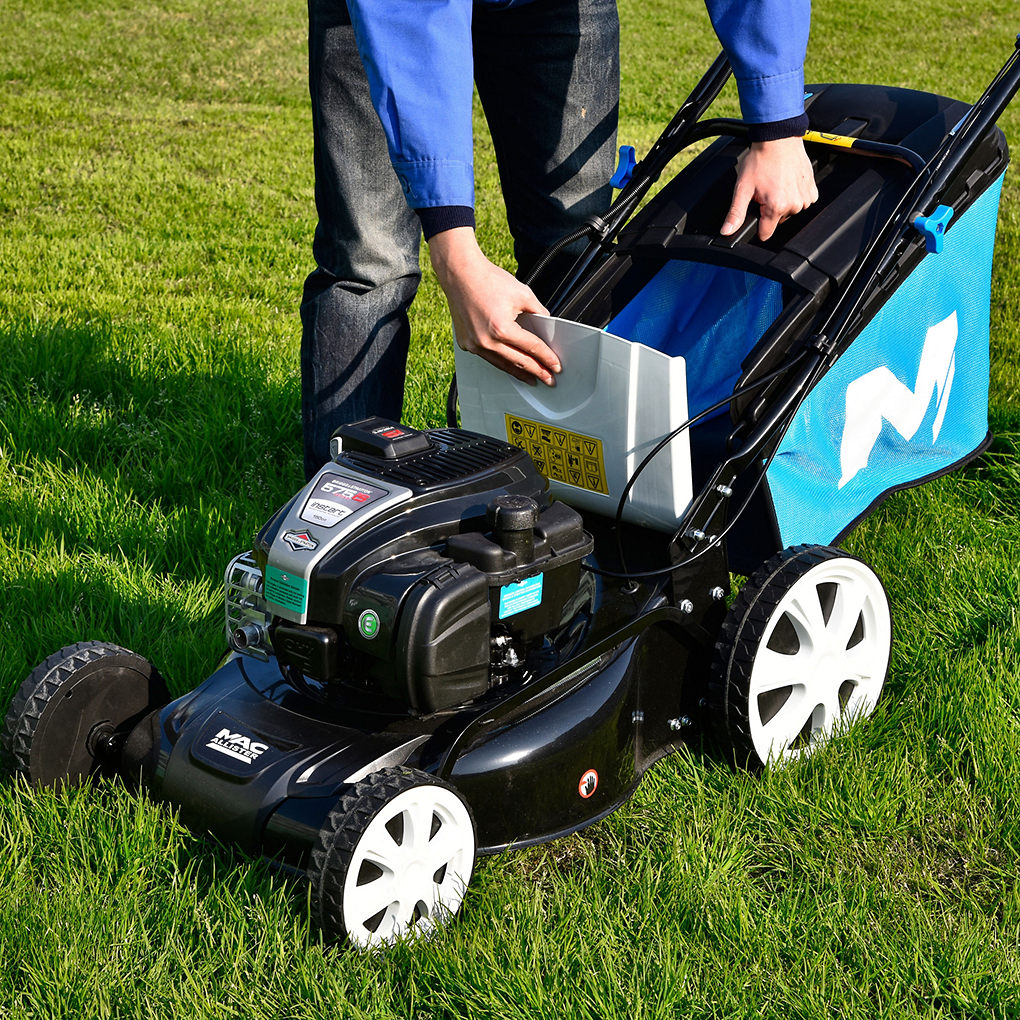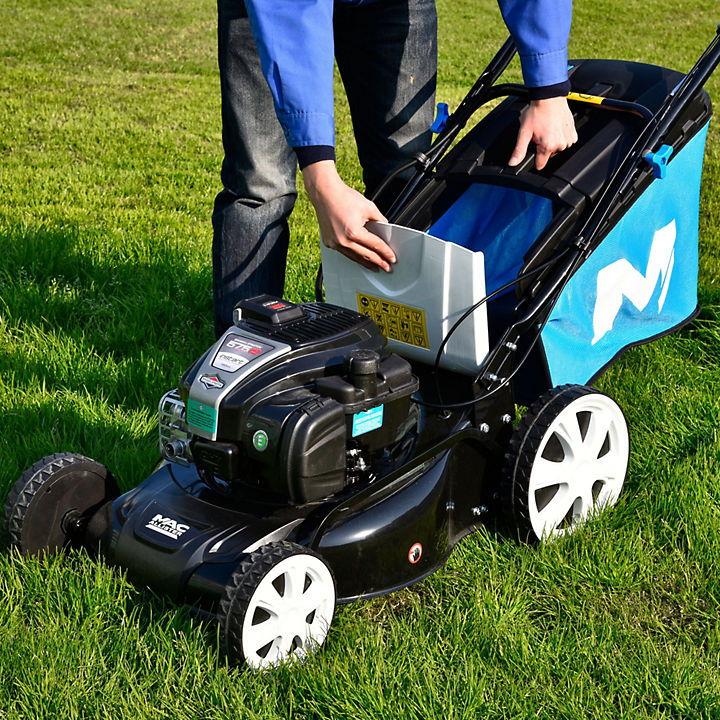 Extras to make the job easier
Now that you've selected your lawnmower, it's time to make sure you have all the extras you'll need to use, store and maintain it.
Lawnmower blades
Sharp lawnmower blades are essential for safely mowing your lawn and getting a clean result. Every now and then sharpen or replace your blades.
Batteries
If you've chosen a cordless mower it's a good idea to pick up a spare battery before you tackle the lawn so that you can keep on working without interruptions and delays.