Customer makeovers: Upcycling projects
DIY transformations using self-adhesive film and furniture paint
Do you have an outdated piece of furniture you want to give a makeover? Or are you restyling and want your furniture to match your new look? Upcycling is a great way to transform existing furniture at a fraction of the price of buying something new. And it means you can choose the exact colours, textures and patterns you use for a truly bespoke look.
These customers have done just that using spray paint, self-adhesive film or paint to transform their furniture. Read on to see the stunning results and to find out what they used to get such a fantastic finish.

An updated fireplace using black, silver and stone-effect spray paint by Cklv
---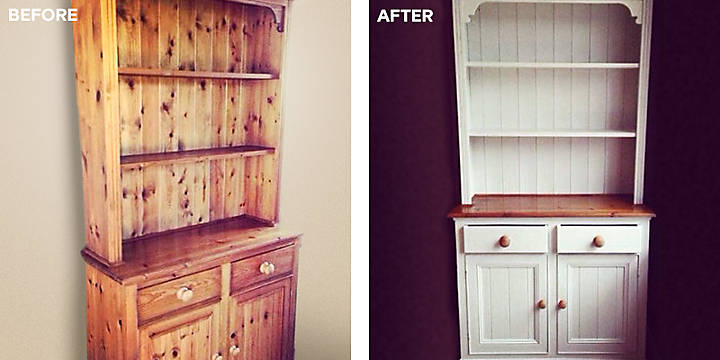 A brand-new looking dresser with chalky furniture paint
This customer used Rust-oleum Chalky Matt Furniture Paint to upcycle their pine dresser and we love the result. The dresser has been completely transformed into a lovely rustic farmhouse style that would look great in a country kitchen.
"Bought this last month & transformed a plain pine dresser to a beautiful new addition to our living room. Easy to apply, used 2 coats and finished with wax." Rp86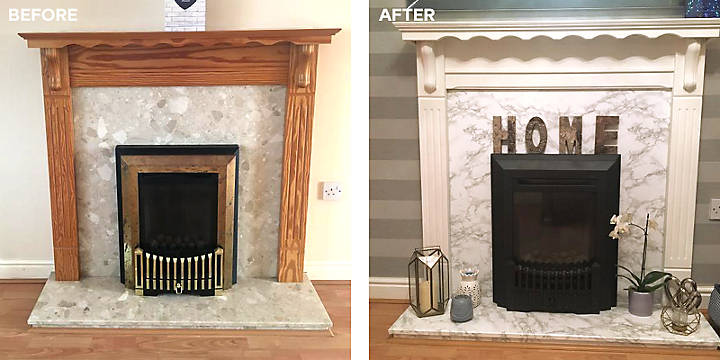 An added touch of class to a fireplace
This project used D-C Fix Marmi Marble Effect Grey Self-adhesive Film to refresh the fireplace fascia, from an outdated grey pattern to an elegant marble pattern. Combined with a coat of cream paint on the fire surround, the result is a sophisticated, new-looking fireplace.
"This adhesive can really transform furniture or other surfaces in your house. I recently bought my first house and a new fire place is way out of my budget so I used this to update the marble…highly recommend." Abbabubble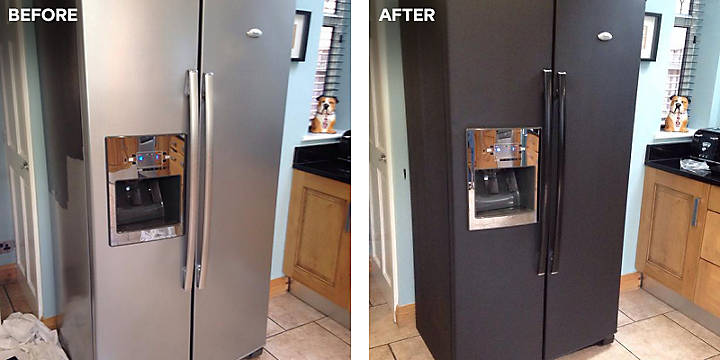 A fridge-freezer turned chalkboard
Upcycling doesn't always have to be about restoring old furniture. We love this customer's idea to paint their fridge-freezer in chalkboard paint to create a surface for the family to write their shopping lists on, or even just for the kids to doodle on. For this they used black chalkboard paint, applied with a paint roller for a smooth finish.
"I rollered our fridge in this & got a fantastically smooth finish…you'll get fab results." El1

A revamped wooden coffee table
This customer also used D-C Fix Marmi Marble Effect Grey Self-adhesive Film but for a wooden coffee table, resulting in a sleek and expensive-looking table.
"I wanted to do a coffee table up and bring it back to life. I wanted a marble effect top, and found this sticky back plastic easy to apply. I get lovely comments about my table and they can't believe it's just self-adhesive film." ChazMarble17

An upcycled vintage chic sideboard
This customer enhanced this beautiful sideboard by painting it with Rust-Oleum Chalk White Chalky Matt Furniture Paint. As a result they have updated an old-fashioned sideboard that is unlikely to match most modern furniture, into a gorgeous vintage piece that will go with anything.
"I have been painting furniture for a long time, every piece in my house is chalk painted. Cannot recommend highly enough." flipflopsx
---