Customer makeovers: Indoor renovations
Before and after photos of innovative projects taken on by our customers
In need of some inspiration for your home? These customer makeovers show you that you don't have to splash out to give a room or a piece of furniture a refreshed and improved look and to bring it in line with your favoured style. It's often easier, quicker and cheaper to update what you've already got and our products are perfect for the job.
Get inspiration from our creative customers, who have shared their own stunning renovation projects.

A kitchen renovation with a fresh new look using tile paint by Swhitmore
---
A contemporary look to the kitchen with painted kitchen tiles

This project used Ronseal brilliant white high gloss tile paint to brighten up the room with a clean white finish to the tiles. Tile paint is a great way to upgrade discoloured, tired or old tiles, or tiles that don't suit the current style of your room - without the work and expense of putting up new tiles. It's also a way to neutralise the décor in a room, or to create a feature or focal point – whichever look you're after.
"I am really bad at diy but... would really recommend if you are on a tight budget." Little Miss Sweetie
For the best results, clean your tiles with sugar soap and grout cleaner before painting.
A sophisticated kitchen transformation with newly painted kitchen cabinets

White satin kitchen cupboard and cabinet paint was used on the cupboards to refresh this kitchen. Our customers highly rate this paint, which is specifically designed for kitchen cabinets. You can be confident that it can stand up to the rigorous demands of the kitchen environment, and is much a much cheaper alternative to replacing your cupboards.
"I researched several paints before deciding to use this one to paint my kitchen. I had a large ceiling and 37 doors and drawers to paint so wanted to make sure I wasn't going to be wasting my time and money. I am over the moon with the finish and truly believe you get what you pay for." Tiamaria27
A refreshed bathroom with sleek new vinyl floor tiles

This customer used Colours stone effect self-adhesive vinyl tiles to give their bathroom a simple and modern look. The darker floor offers a bold contrast to the white toilet and basin, making the space seem bigger. These vinyl tiles are really easy to lay as they are self-adhesive so you don't need any other materials, keeping the cost down and making a quick but effective renovation project. Plus, they're easy to clean so should stay in good condition for a long time.
"Easy to lay and look great. Quick and easy way to transform a room." NLE
A brand new look without the expense with new cabinets

Replacing only the cupboard doors, and not the rest of the cabinets, means a substantial saving in cost, but still has a strong impact and gives a brand new look. The combination of the white cabinet doors with the wood finish of the old cabinets and plinths creates a two-tone look that's on-trend with kitchens.
"What a difference having new doors makes. I couldn't afford a new kitchen so decided on white to go with the beech... Just need to lay the floor tiles and its done." Willow1964
An upcycled wooden chest of drawers with furniture paint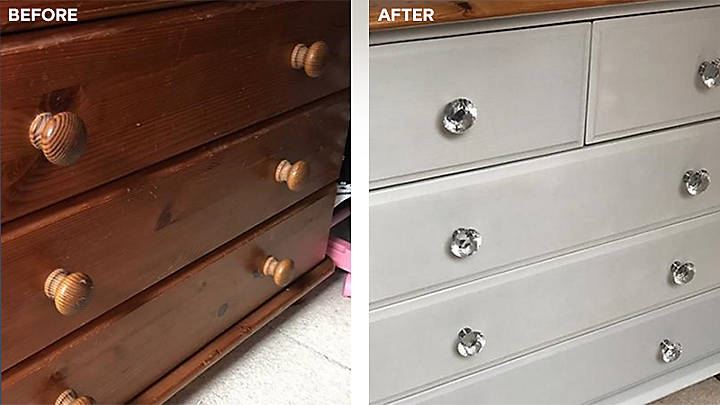 This project used Rust-Oleum winter grey flat matt furniture paint to transform an old-fashioned looking wooden chest of drawers. This result was a bright, attractive piece of furniture that we think looks great. The addition of the eye-catching drawer knobs gives a spectacular finish - our Colours chrome effect cabinet knobs would give a similar effect.
Upcycling a standalone piece of furniture like this can give amazing results after a relatively short period of effort – often within a day. For something like this chest of drawers you don't need to prime the surface and you only need one coat for an on-trend shabby chic look.
"Lovely finish after applying two coats with a foam roller. Brilliant chalk paint for the price, I am now going to do other furniture in my bedroom! The colour came out as I imagined." JLH94
---