Choosing a wall covering for your bathroom
What's best for your bathroom: wall tiles or paint?
Today's bathrooms enjoy the full status of living-space. They offer plenty of scope for decoration to get them on-trend and match them to your interior design style, whether that's modern, industrial or inspired by nature. Check out our advice on tiling or painting your bathroom walls.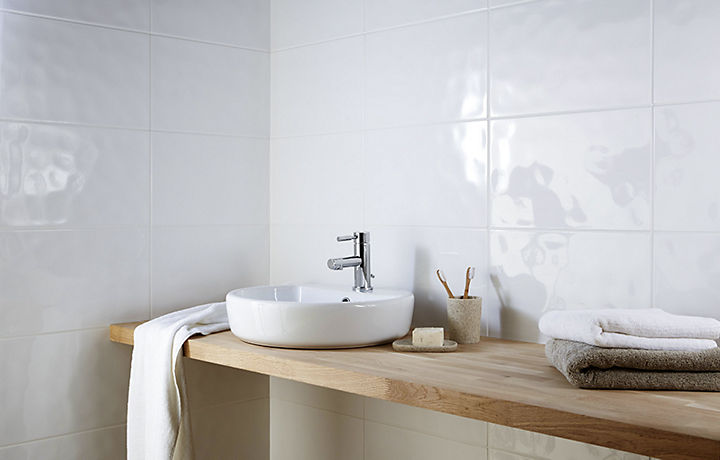 ---
This is the most popular bathroom wall covering because it's waterproof and easy to look after.
Materials
Ceramic is the most common material for bathroom wall tile. Available in many different sizes and colours, you can use ceramic tile to decorate your entire bathroom, one complete wall or just the shower area.
Porcelain tile on the other hand is highly resistant to impact and wear. Some types can even be used on floor and walls, for a really coordinated look.
Avoid terracotta. It's porous, so it's not suitable for use in bathrooms. If you really want to use terracotta tile in the bathroom, make sure you treat it with a special sealant after installation.
Wall tiles come in many different styles, colours and sizes.
Stone-effect tiles give your bathroom a natural, quarried look.
Concrete-effect tiles replicate raw walls and create a contemporary, industrial look.
Wood-effect tiles look natural and combine the warmth of real wood with the easy cleaning of ceramics.
Marble-effect tiles replicate the vein patterns of real marble and give your bathroom an authentic, retro look.
Top tip
Mosaic is another alternative you can use to decorate small areas or complete walls.
---
Bathrooms are bound to be humid, so they need an appropriate type of paint. Choose a paint that's washable, water-resistant and anti-mould. To ensure a long-lasting finish, make sure your paint is also formulated for use on your type of wall: concrete, plaster, etc.
Oil-based paint is tough, waterproof and washable, so it's a great choice for the bathroom.
Acrylic paint is a good alternative to oil-based, especially in bathroom renovation projects. It's water-based, but it has many of the benefits of solvent-based alternatives, including toughness and easy cleaning.
You can use colour to create a sense of space and change the atmosphere of a bathroom. Choose whatever colours create the ambience you want.
Warm colours like yellow, orange and red are vibrant and help kick-start your day.
Cold colours like blue and green are more relaxing and create a cosier environment.
Using light colours like white in a small bathroom can create light and give the illusion of a larger space.
---