10 smart lighting ideas to inspire you
With smart lighting, set the mood for whatever you're up to at home, whether it's fun, focus or relaxation
With light you can easily change the atmosphere and mood of any room. Whether you want to add colour to your interior, set the right light for functional tasks, throw an outdoor party or create a cosy mood for dinner, you can personalise your light and ambience with Philips Hue lighting.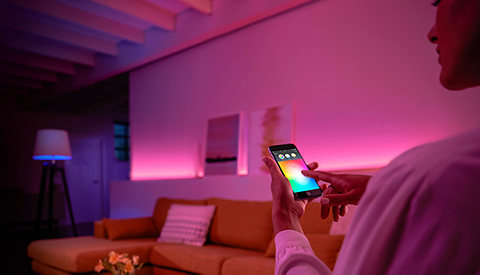 What is Philips Hue Lighting?
Philips Hue is a collection of smart lighting products which are easy and simple to install. Taking only a few minutes to set up with simple instructions, you don't have to rewire your home. Hue products are easy to use, work with Google Nest speakers with Google Assistant, Amazon Echo with Alexa and Apple's Siri, plus they also support IFTTT.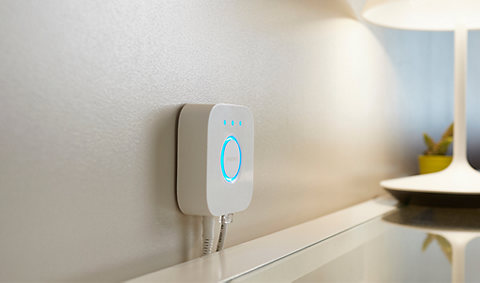 Discover how to create the right lighting to match your mood or activity
1. Get creative with 16 million colours
Create a relaxing ambience, a romantic mood or a party atmosphere. Hue gives you 16 million colours and 50,000 shades of white to choose from. Save favourites to easily recreate that perfect mood.
2. Cover your walls with light
Transform an entire room with colour. Smart lighting lets you change a room's look to match your mood, activity or maybe just to match your outfit! Choose a colour or use pre-set scenes — colour schemes hand-picked by Philips lighting designers. You can even create your own picture scene based on an image you love. The Hue picture-to-light algorithm does just that: turns any picture into light. It does it by taking the key colours from an image and converting them into a Hue scene. So, you can relive that glorious holiday sunset any time of day, whatever the weather.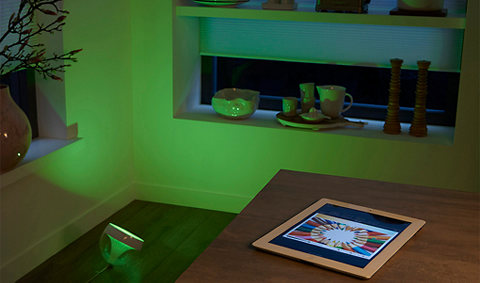 3. Play, watch and listen in colour
Link your lights with your Philips Hue Sync app to translate what you're watching, listening to or playing into light. Gaming becomes more immersive, movies more atmospheric and music more intense.
4. Add sparkle to your celebrations
Set the mood for a cosy Christmas, spooky Halloween or any celebration you're planning. Create your own scenes or choose from loads of pre-sets. With the Philips Hue Go smart lamp, take the party to any room or out into the garden. To really get the party started, the Philips Hue Sync app sets your lights to music.
5. Come on you Reds! Or Blues… Or even Sky Blues
Big match on the box? Whoever you're rooting for, show your support by lighting up the room in your team's colours.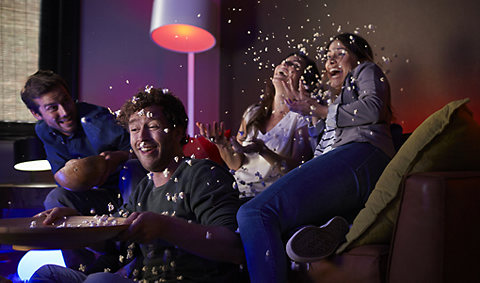 6. Sleep naturally, wake refreshed
Set your smart lighting to change gradually as bedtime approaches, helping you naturally relax into a good night's sleep. In the morning, the lights can be set to mimic sunrise, easing you into the day. There's even a nightlight scene, for safer night-time wanderings.
7. Take the weather with you. Or not
Bring that beautiful blue sky or kaleidoscopic sunset indoors. By linking Philips Hue with your weather app, your lights can mirror nature's marvels as they happen. On the other hand, if the weather's awful, then light up your home like a tropical paradise!
8. Set the right tone
Create your own lighting palettes which you can design to enhance your activities. Wake up energised, focus on work or wind down with a book at the end of a busy day. Whatever you're up to, there's a routine to set the perfect tone. Hue is pre-set with four light 'recipes' (which are also displayed under Scenes!): Relax, Read, Concentrate, Energise. Find out more at www2.meetthehue.com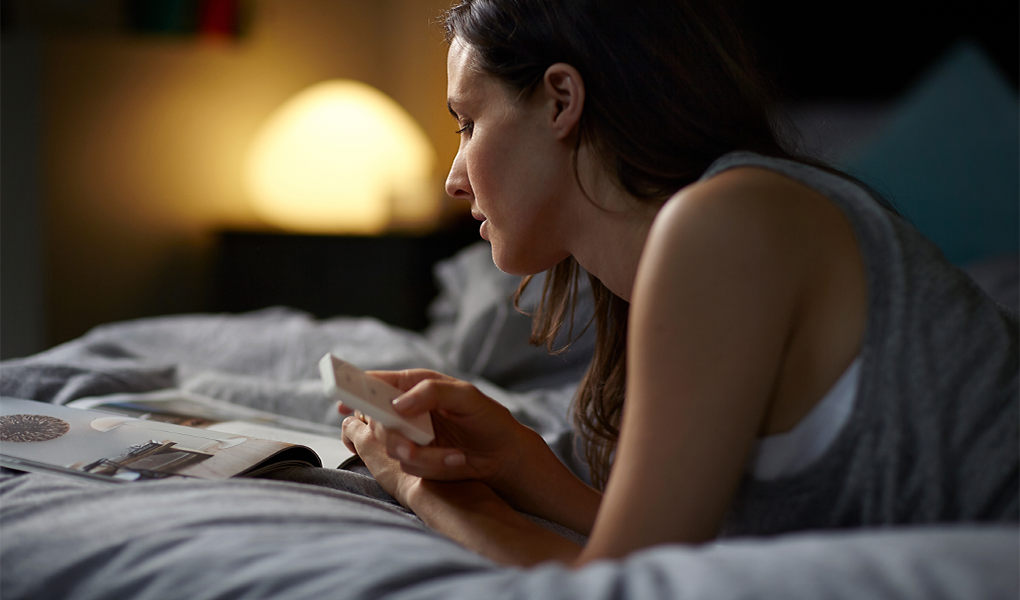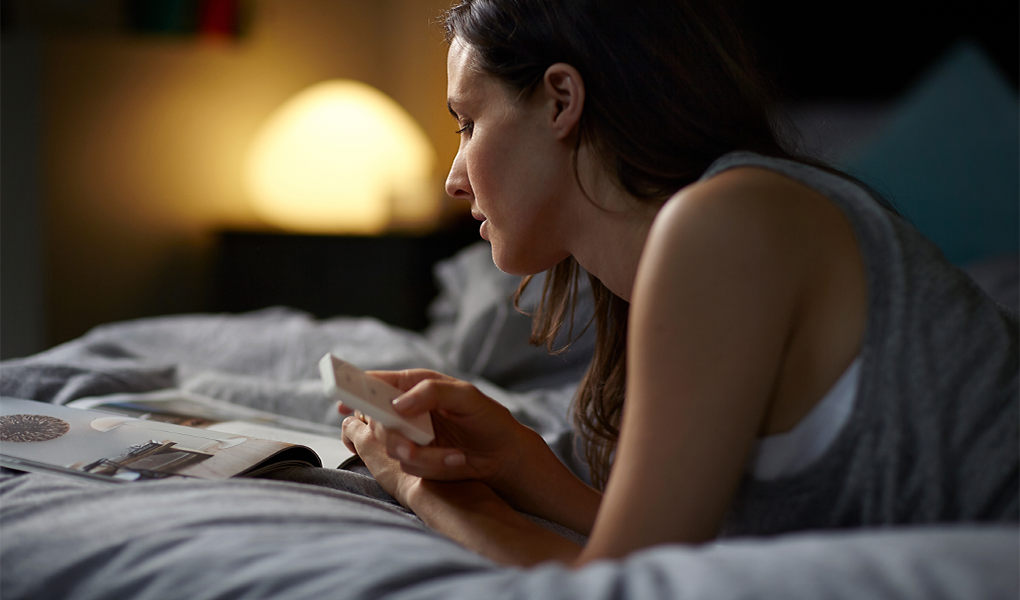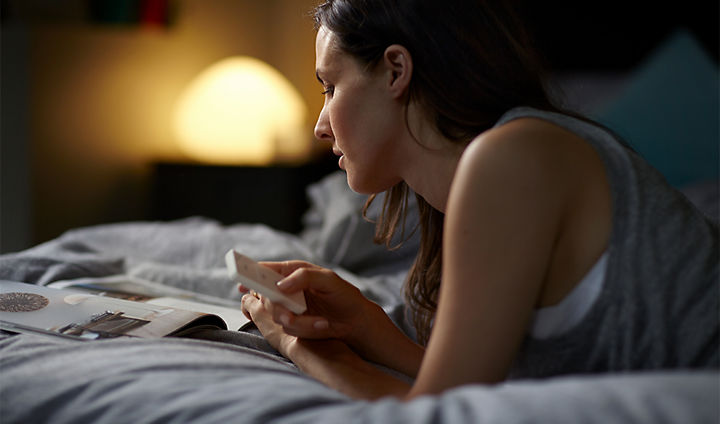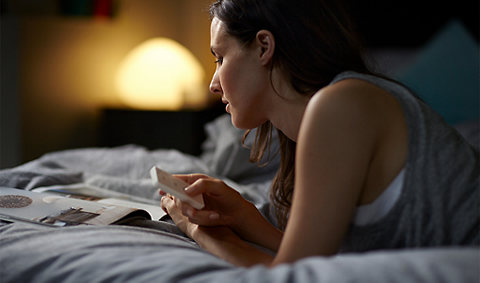 9. Make story time more magical
Set your kids' bedroom lighting to match their bedtime stories. With 16 million colours to choose from you can magic any room into a wonderland.
10. Light up your workout
Light your space to suit your workout. Choose something calm to help focus on yoga practice. Or sync smart lighting to your favourite workout music to inspire an epic spin session.
Transform your lighting into an immersive, multi-coloured experience with Philips Hue. The Hue starter kit has everything you need to get going. Or browse the complete range of Philips Hue products.