How to get reliable Wi-Fi all through your home
Fast, simple, everywhere - A quick guide to whole home Wi-Fi
Smart homes rely on decent Wi-Fi. A smart plug isn't much use in a far corner where Wi-Fi doesn't reach. And when you run routines with multiple devices, they all need a reliable connection. Not to mention all the other streaming, gaming and googling going on.
The answer? Whole-home Wi-Fi.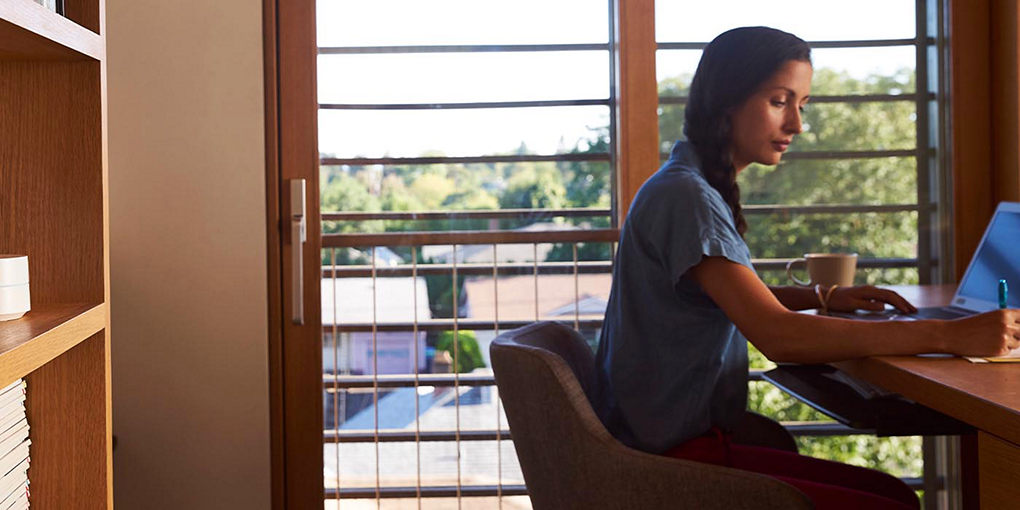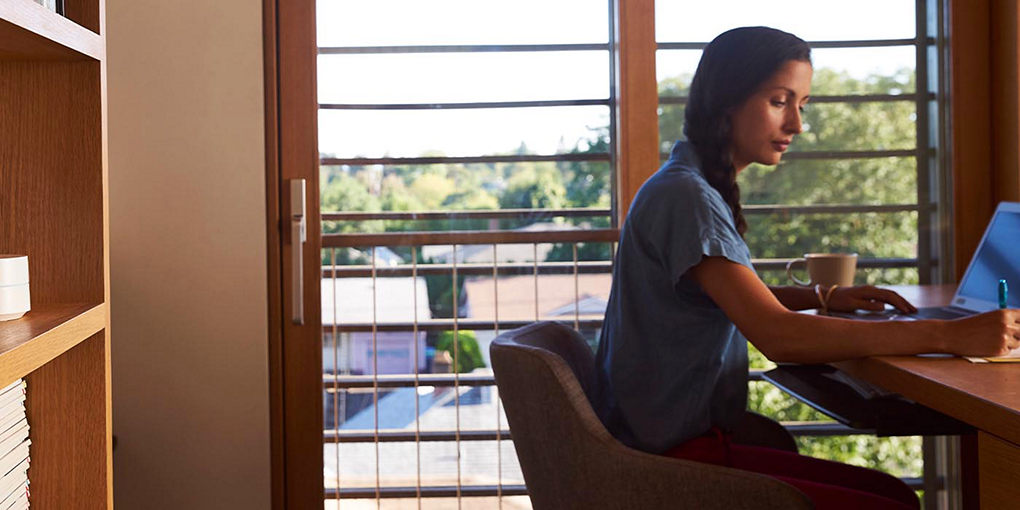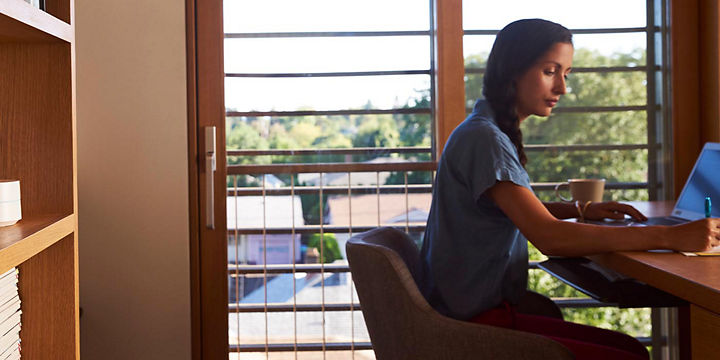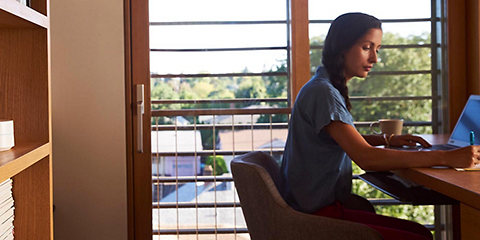 What is whole-home Wi-Fi?
It's a type of home Wi-Fi system which can deliver seamless, reliable connection to every corner of your home*. It does this by using strategically-positioned Wi-Fi discs or nodes to create total coverage. (Technically, it's called a mesh network. But it works whatever you call it!)
How is it different from a traditional router?
In a nutshell, It's like having a light bulb in every room instead of just one in the hallway.
Whole home Wi-Fi doesn't rely on a single router. Instead you place Wi-Fi points or discs around your home to create a seamless network, giving you coverage whether you are in the lounge, the bedroom or the kitchen.
With a traditional router, Wi-Fi extenders are used to send the signal to far-flung corners. Those extenders create branch networks with their own names, for example Downstairs_WiFi and Upstairs WiFi. You then connect to the one with the best signal.
The great news is that a whole home Wi-Fi is a single system, managing internet traffic much more efficiently. So, even with lots of connected devices all over the home, the network stays stable. It's also run by a single app, which gives you much more control over your Wi-Fi.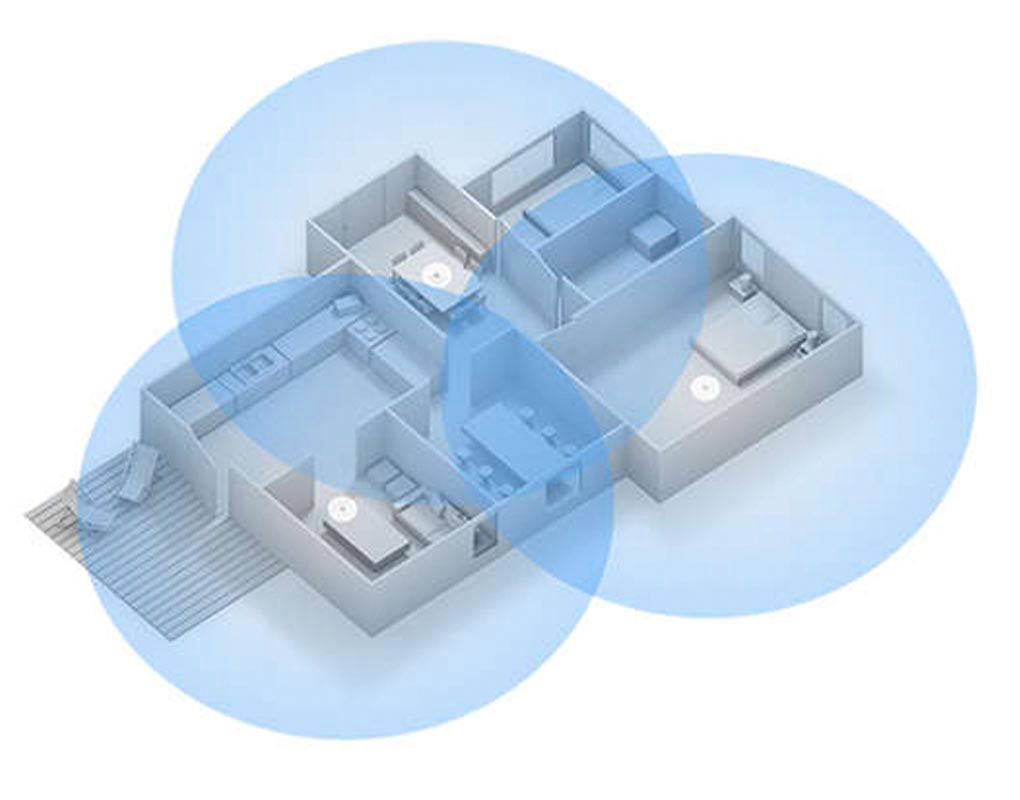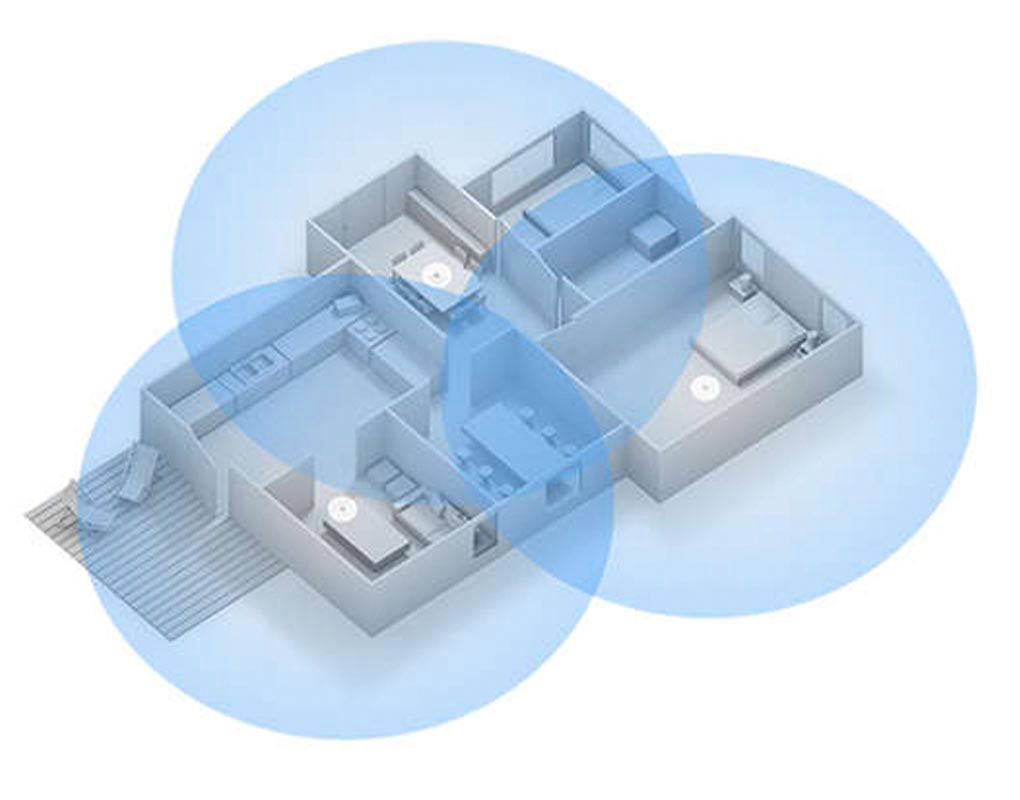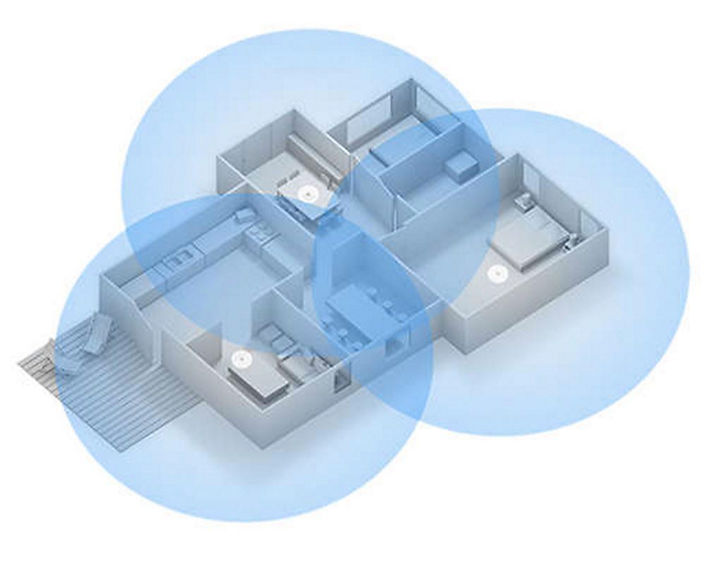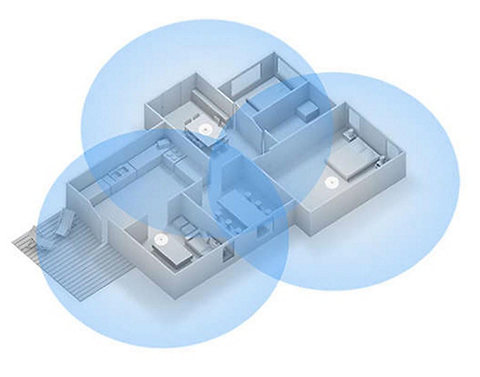 Our Google WiFi and BT Whole Home WiFi range of products give you the option of either one or three devices to start your mesh network, you can then add more if you need to.
Why do I need a whole home Wi-Fi?
Whole home Wi-Fi gives complete coverage. Reaching the parts of your home that traditional Wi-Fi can't. No more dead zones or drop outs*.
- It's good for internet speed. The system manages itself, keeping your network fast and reliable*.
- It's good for smart devices. Put smart devices anywhere they're needed and be guaranteed a good signal*.
- It's good for parents. You can block sites, see who's online, or pause the internet by device or for everyone*. All from a single app. Sorry kids!
- It's good for security. Create and manage separate guest networks if you need to share your Wi-Fi. This helps keep access to your home network secure*.
- It's good for the future. If you've converted the attic or want Wi-Fi in the summerhouse or garage, simply add extra Wi-Fi points to expand your network*.
How to get whole-home Wi-Fi
First, you'll need broadband internet and a modem. Any internet provider is fine. Then choose your system. Shop our whole home Wi-Fi. Check the features (and looks!) of each to see which suits you best.
The number of devices you need depends on things like the size of your home, its layout and what the walls are made of. Here's a rough guide based on size of home - but you will need to check when you buy: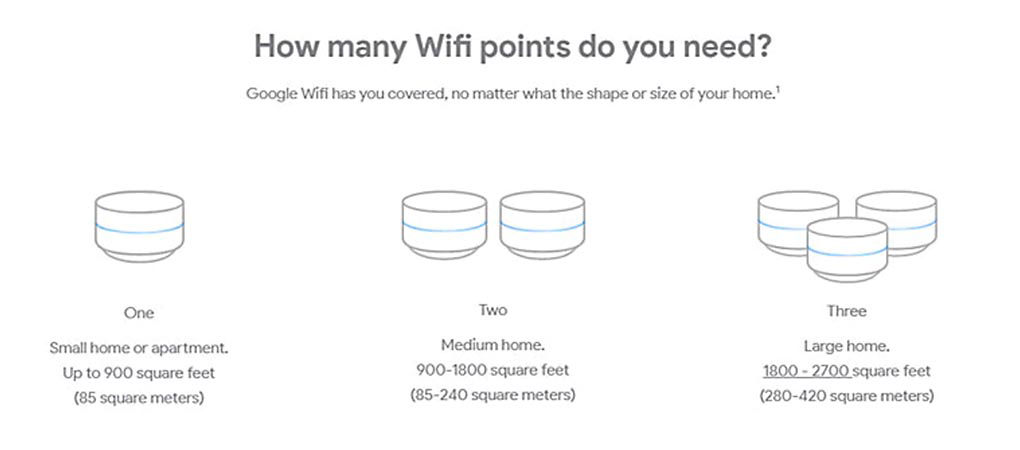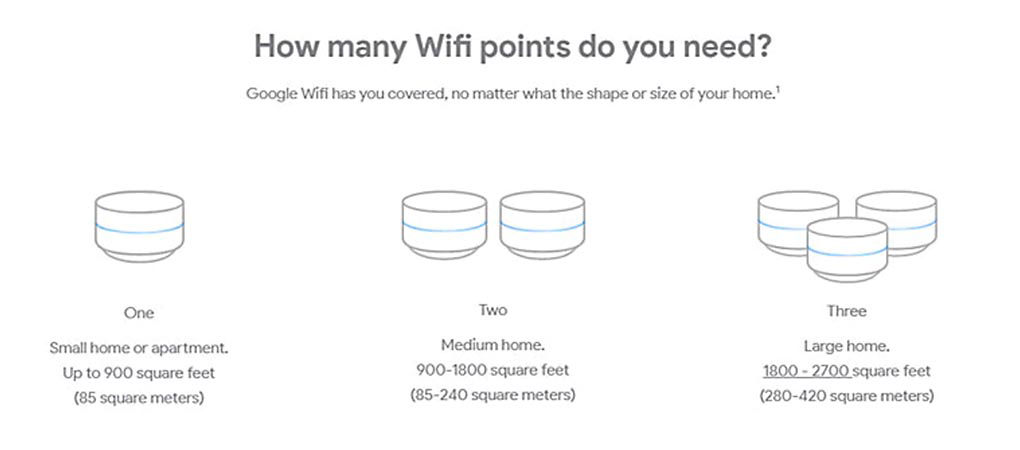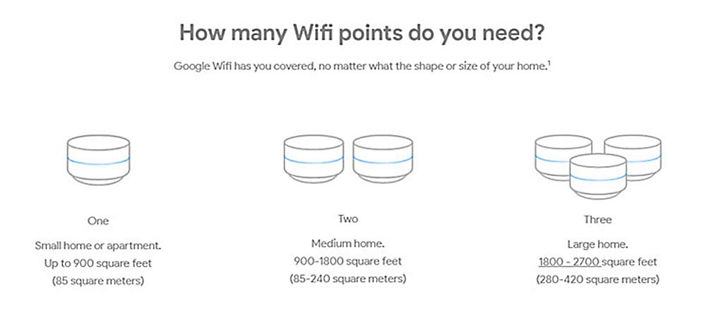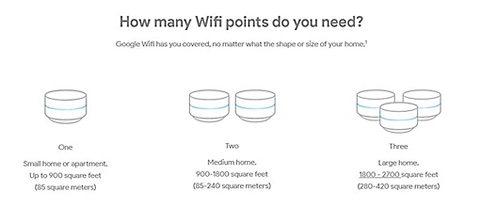 Once you have got your new mesh wifi home, you can download the relevant app for your system. This will help you position the devices for the best coverage and link up your different points to give you a complete mesh network!
So, if you're planning a smart home set up or suffering from patchy internet, whole home Wi-Fi is definitely worth a look.
Additional Ethernet connections
Both Google WiFi and BT Whole Home WiFi have their own Ethernet port, so you can attach non-wireless network devices, if required. This is really useful if you need a wired connection to a device that's in a different room to your router.
Our smart home product range
You can buy our full range of smart home products online. All our stores stock a wide range of smart devices and for a real hands on experience, some stores have a fully functional Smart Home display.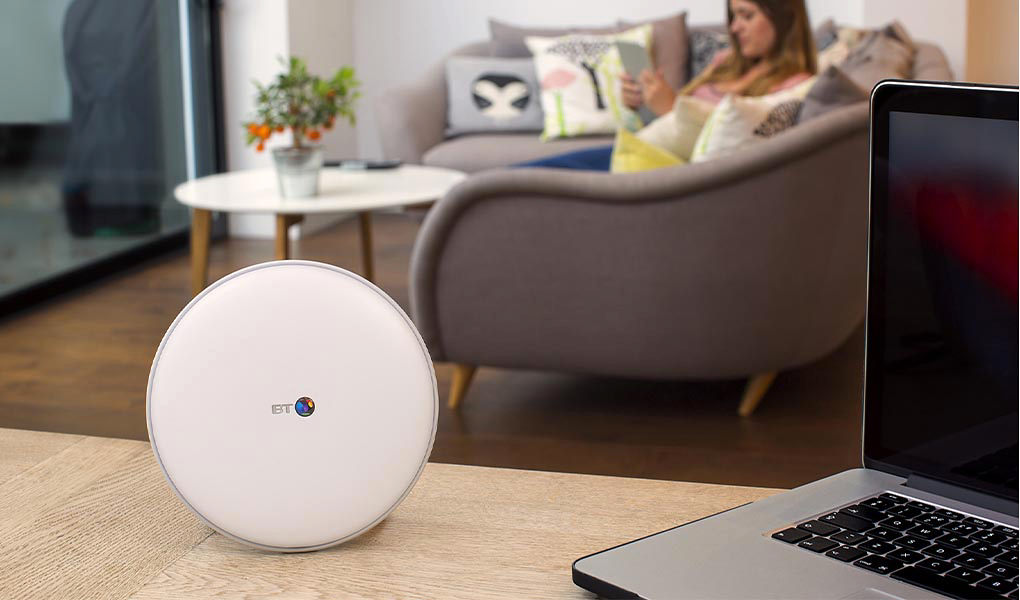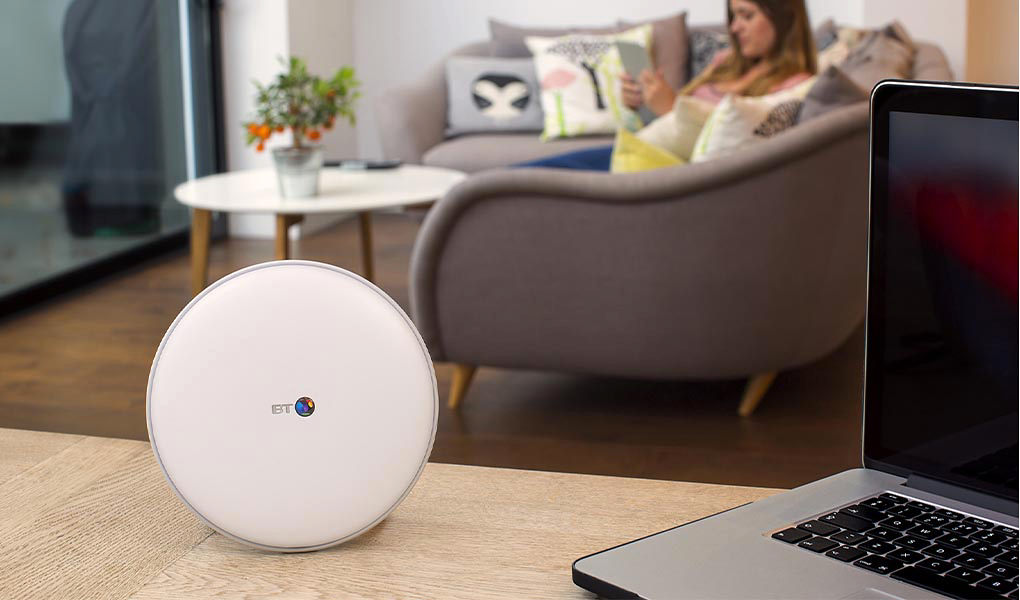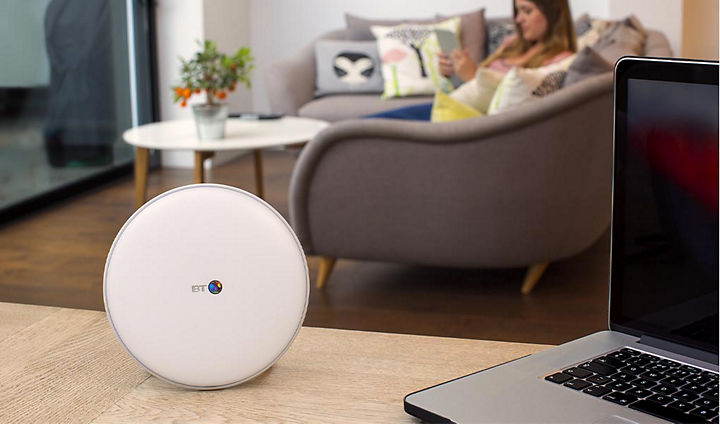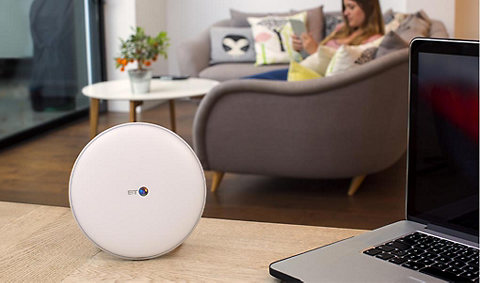 *The small print
As with anything - the above information is a guide only and will be dependent upon a number of things:
The number of Wi-Fi points or discs required is just a guide. Home size, materials and layout can affect how Wi-Fi signal travels
Larger homes or homes with thicker walls or long, narrow layouts may need extra units for full coverage
Strength and speed of signal will depend on your internet provider
Whole home Wi-Fi systems require broadband internet. Each unit requires a nearby electrical outlet for power