Our favourite floor lamp picks right now
Transform your home with these gorgeous floor lamp ideas
Whatever your style, floor lamps are an easy and cost-effective way to refine your interior decor. From sleek industrial to beautifully boho, we've got floor lamps to suit every space – simply plug it in and away you go! Keep reading to find out our favourite floor lamp picks for the season, as well as top tips on how to style your space around them.
Skip to… 
The bohemian decor trend became popular in 2022 and it's certainly one that's here to stay. Want to achieve this style at home? Think warm, neutral paint shades paired with refined rattan and bamboo accents. If colour is more your thing, opt for a feature wall in a bold blood orange shade.
Incorporating a natural woven floor light in your living or bedroom space is the perfect way to add a touch of bohemian bliss. Pair with a selection of flourishing houseplants, dried pampas grass, and neutral abstract wall art to finish off your beautiful bohemian boudoir.
Our top pick: this Kasungu basket weave style floor lamp is perfect for adding warm accent lighting to your room that achieves a real bohemian touch.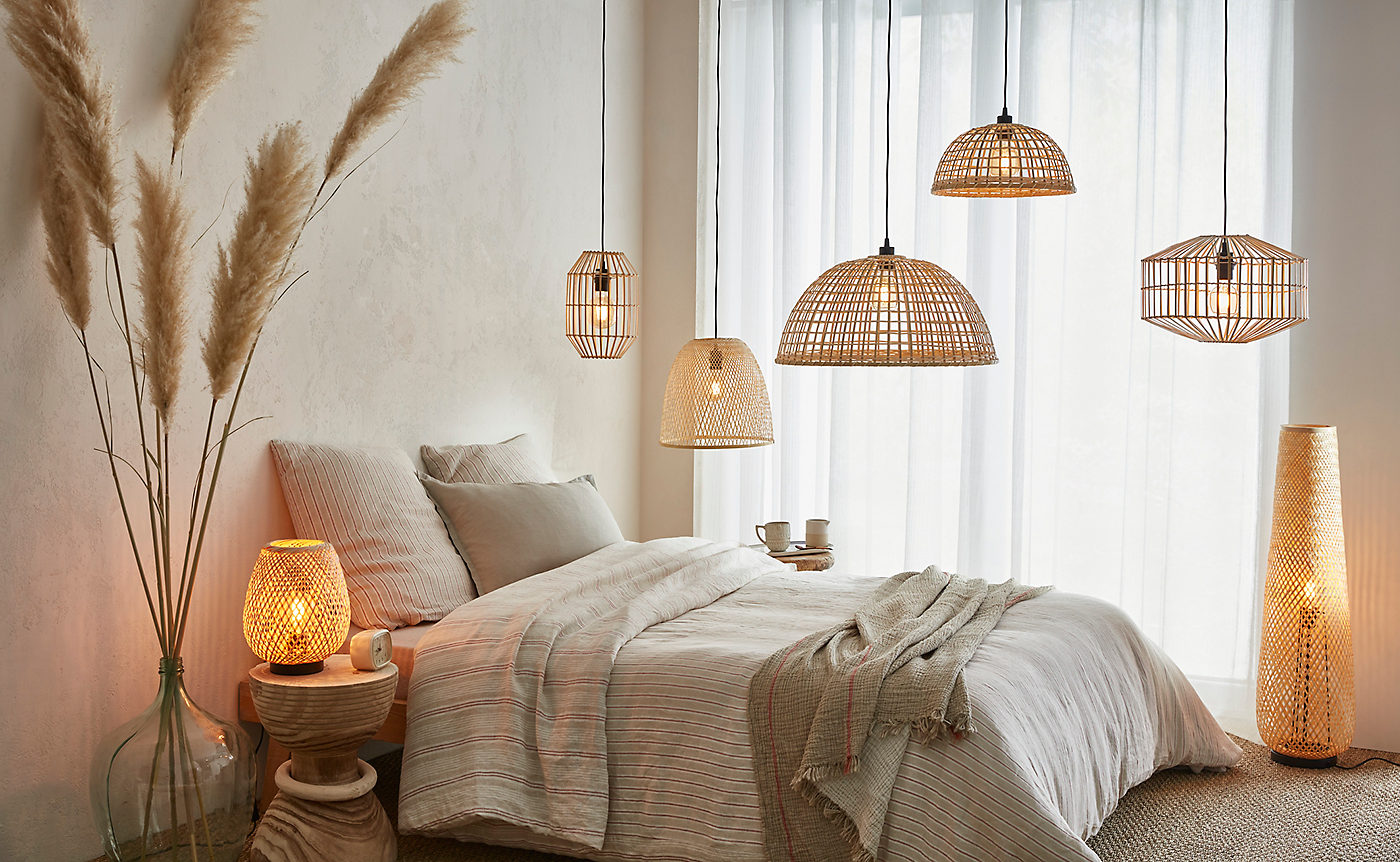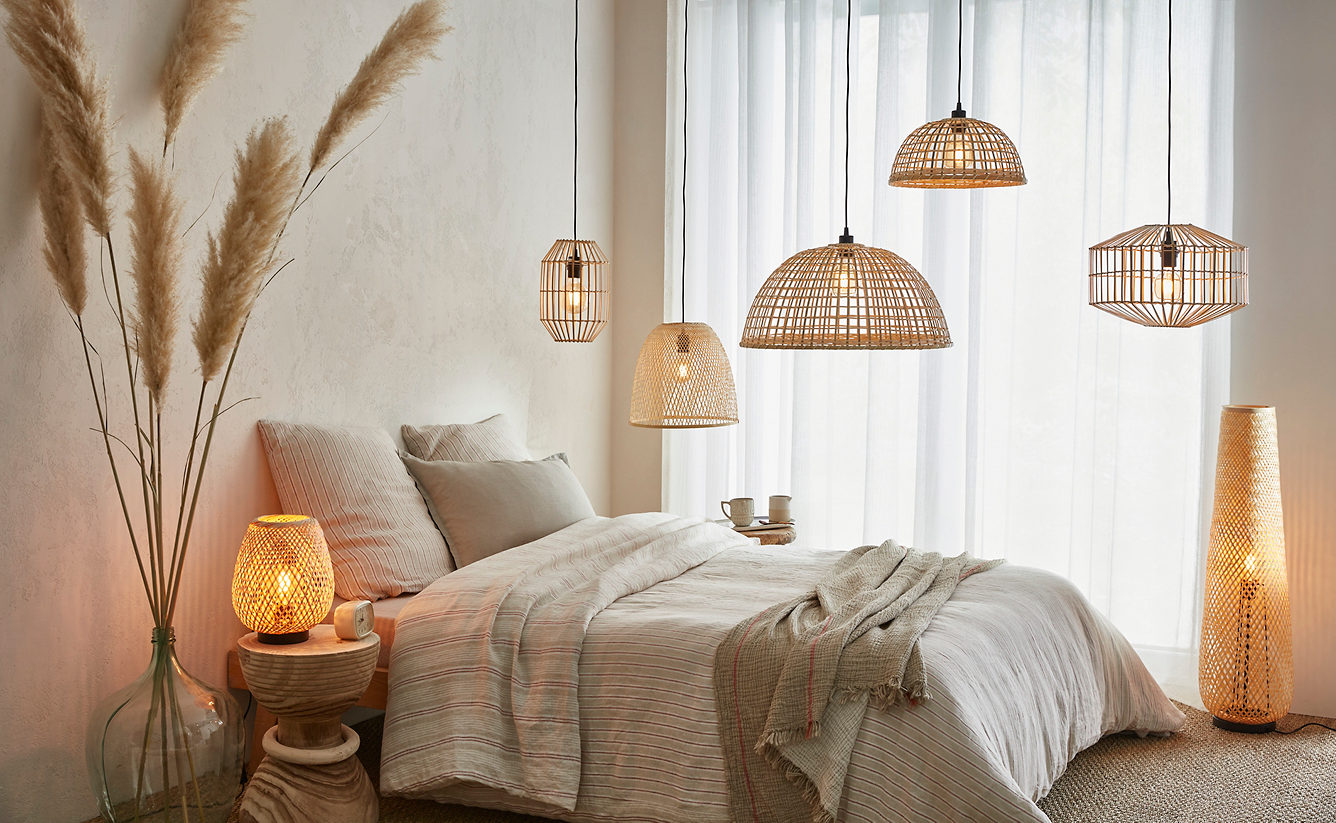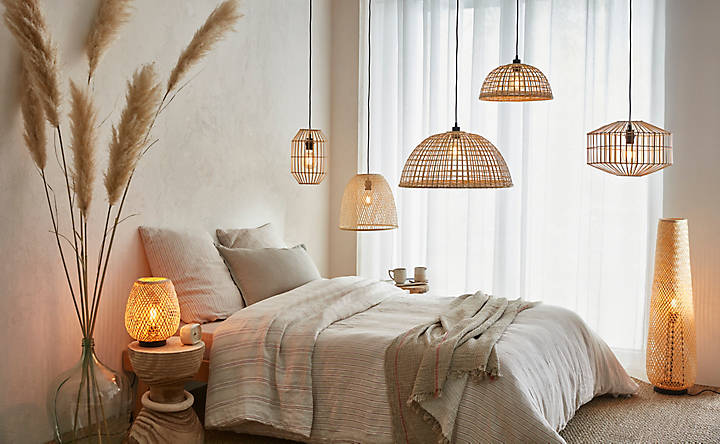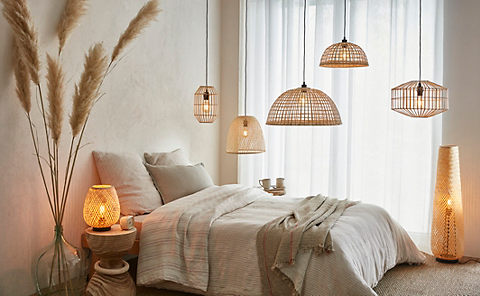 Give your home a chic urban makeover with industrial inspired floor lamps. To create an industrial loft-style feel in your home, opt for exposed brick walls (or brick effect wallpaper), industrial copper effect light fixtures, and bold black accents. Combine dark metals and wood to complement the space.
Adding a black steel floor lamp is one of the easiest ways to kickstart your industrial aesthetic. Pair with an exposed filament bulb for an impressive industrial inspired design. Don't forget to add statement wall art, such as these black and gold framed prints, to finish off the look.
Our top pick: this steel matt black floor lamp comes complete with two shelves to provide a real industrial feel – plus, it doubles up as handy storage for books and decorations.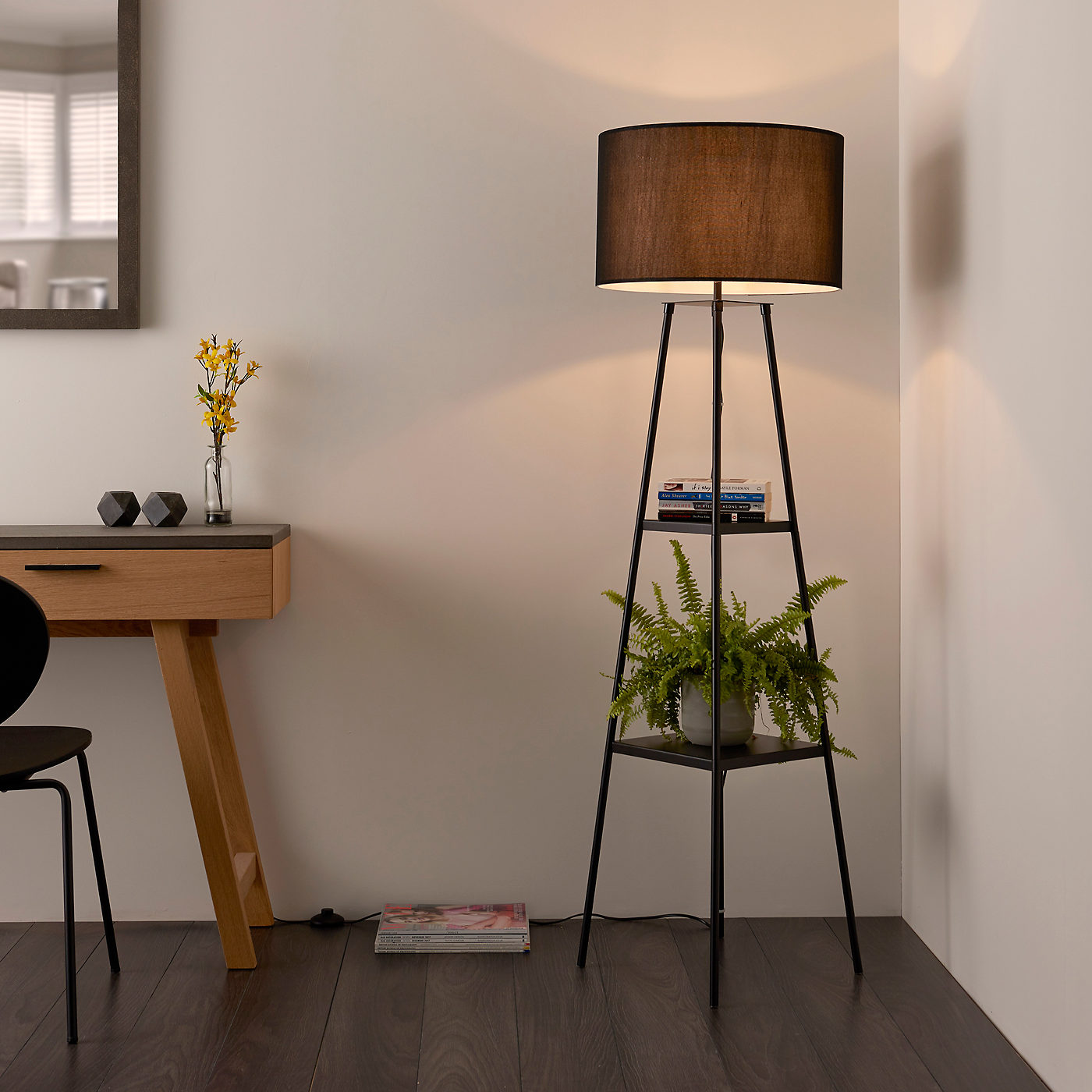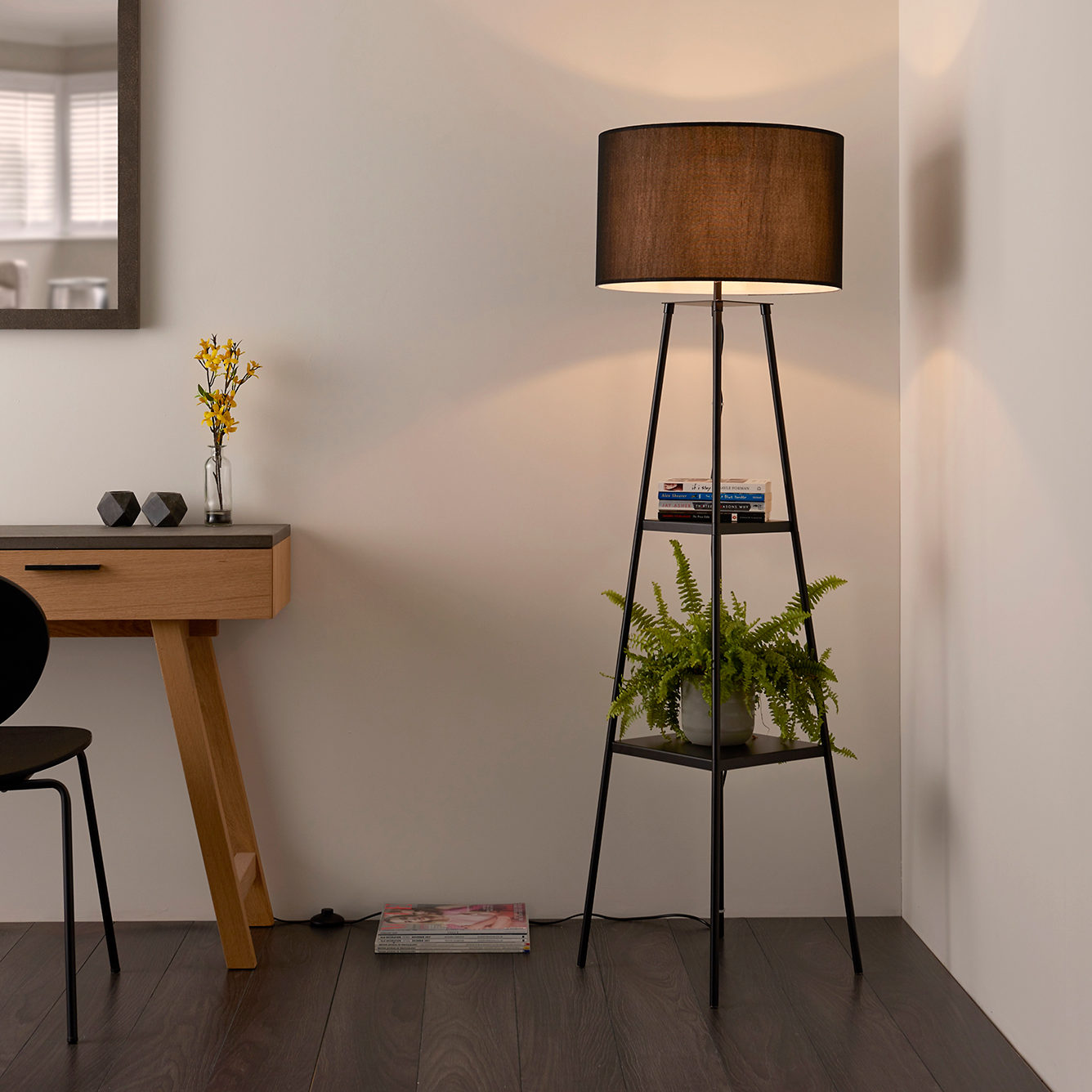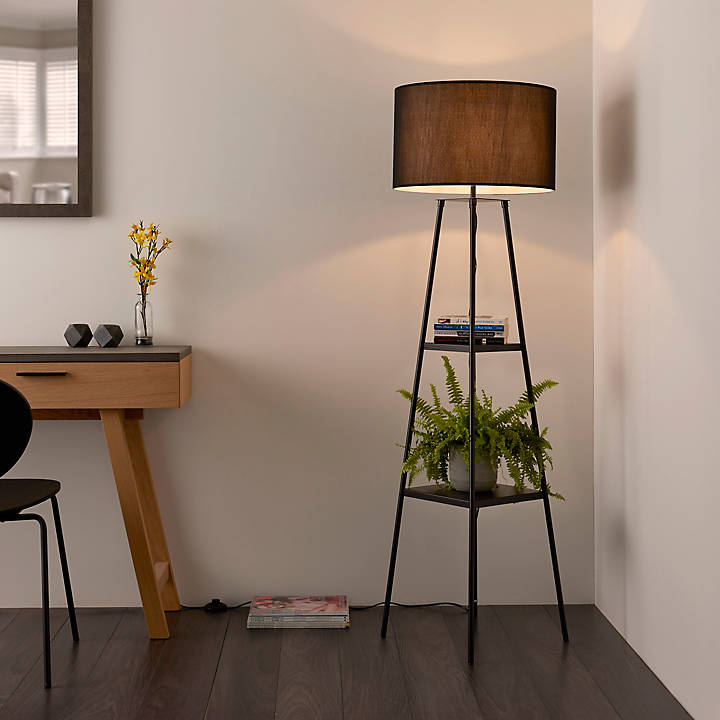 Brass floor lamps ooze opulence and class. Plus, they are extremely versatile, making them an excellent choice for both traditional and contemporary properties alike. Brass floor lamps come in a range of styles, from minimalist and modern to extravagant multi-bulb lamps.
If you have a period property, pair a brass floor lamp with antique features, such as a vintage dressing table, to achieve a classic look. Alternatively, if you have a modern space, incorporate brass floor lights with luxurious marble flooring and gold accessories to create an indulgent contemporary aesthetic.
Our top pick: this elegant Baldaz brass effect floor light features round frosted glass shades that will add a modern, art deco look to your room of choice.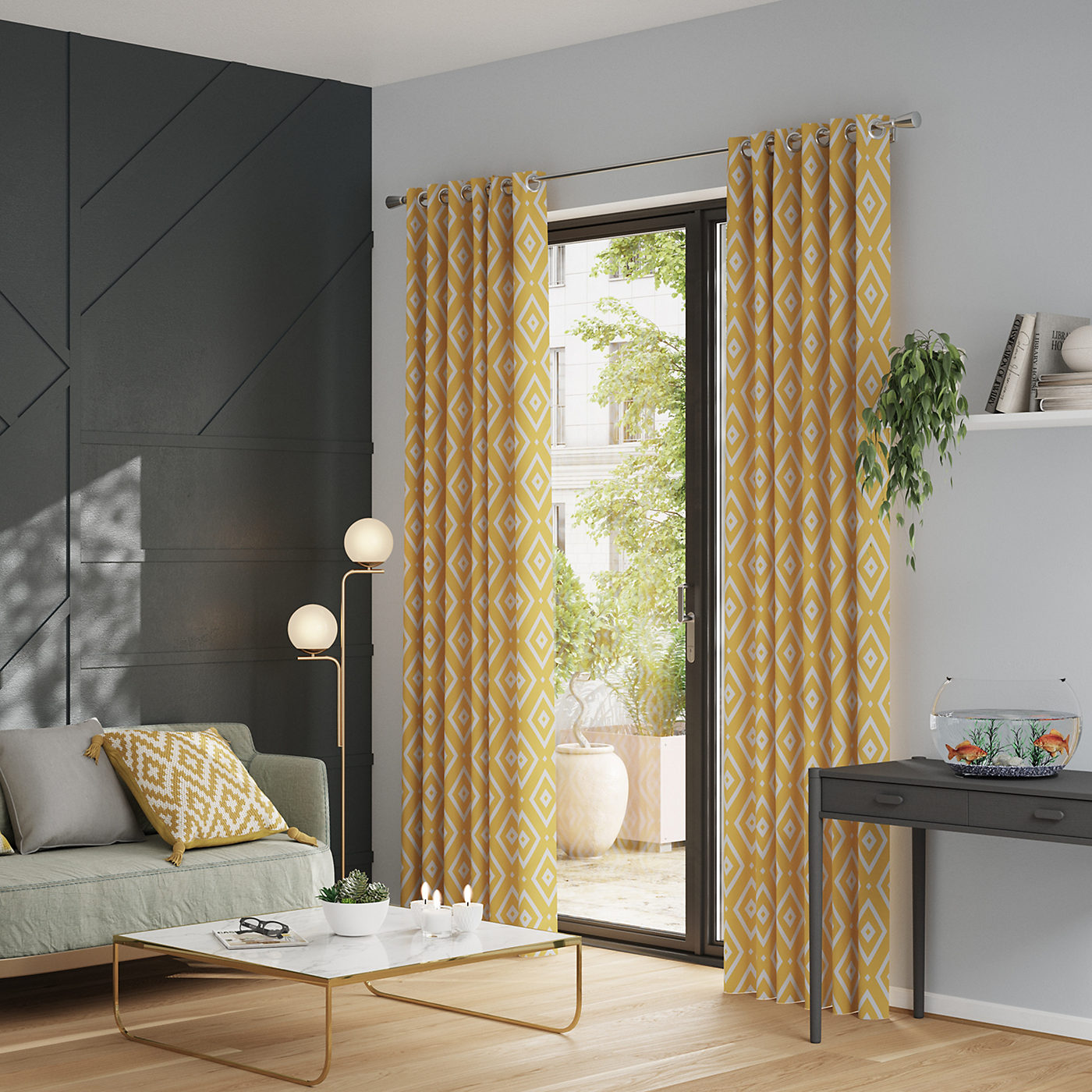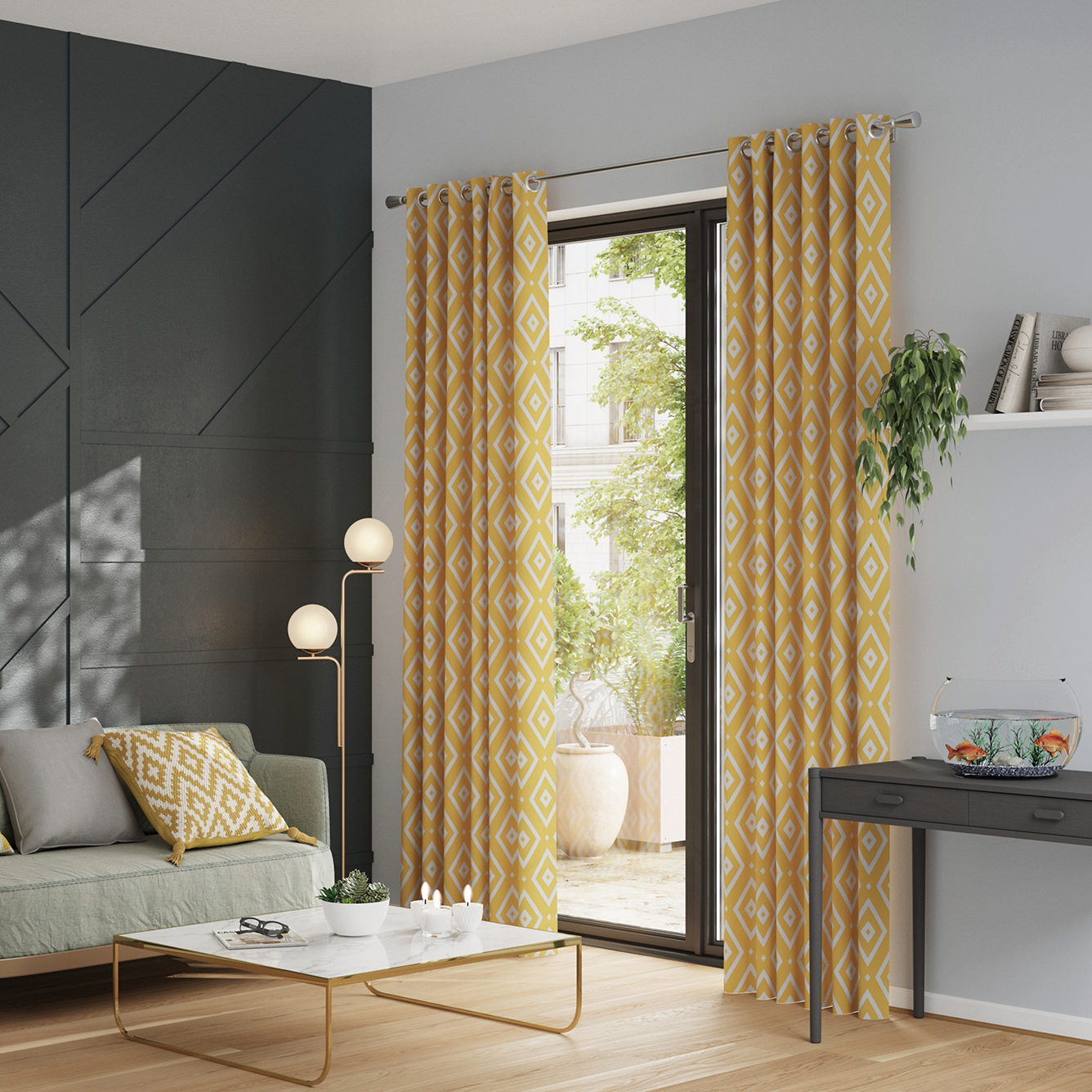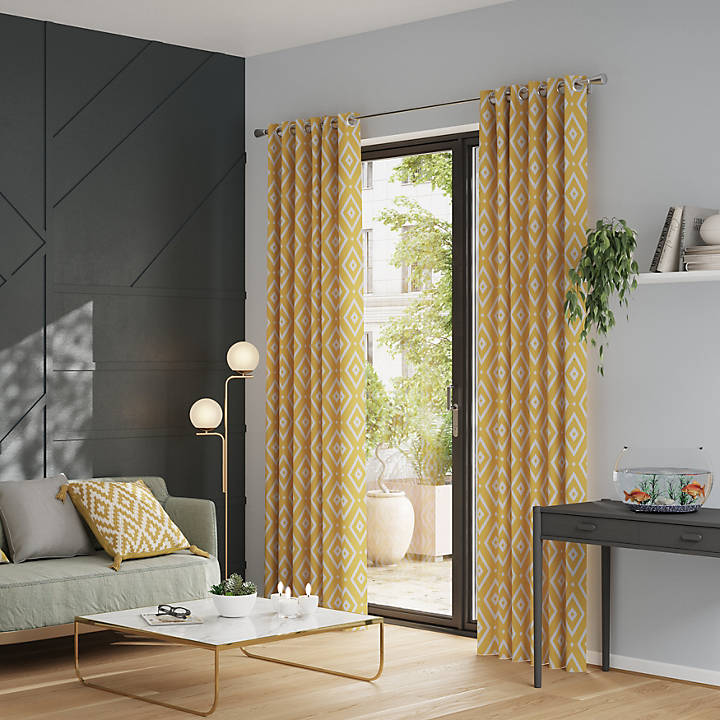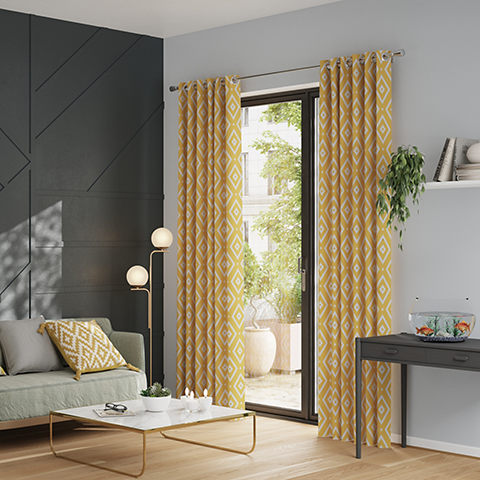 One of the reasons Scandinavian design has become so popular is because of the stunning simplicity it brings to a room. Scandi decor involves minimalism, clean lines, and light tones to give a polished yet welcoming feel to your space. To achieve a simple Scandi aesthetic at home, be sure to remove any clutter and focus on adding decor with minimal colour and texture.
Scandi floor lamps are a popular choice amongst decor lovers as they offer sophisticated style whilst maintaining a simplistic look. From paper cylinder floor lamps to floor lights with linen shades, there are a variety of options available to help you complete your Scandi look.
Our top pick: this Undara paper floor light creates a warm ambience due to the white paper finish, and blends seamlessly with Scandinavian-inspired homes.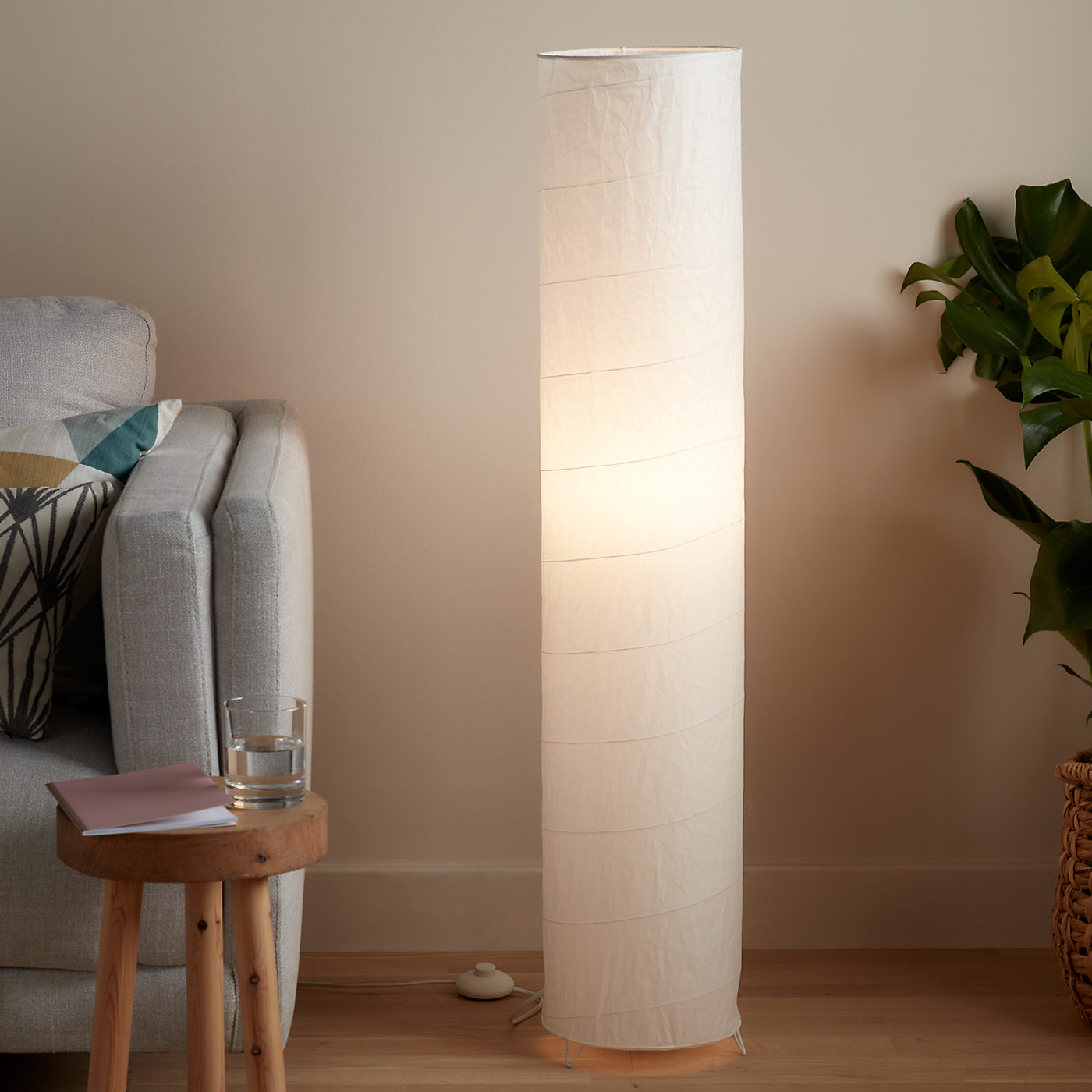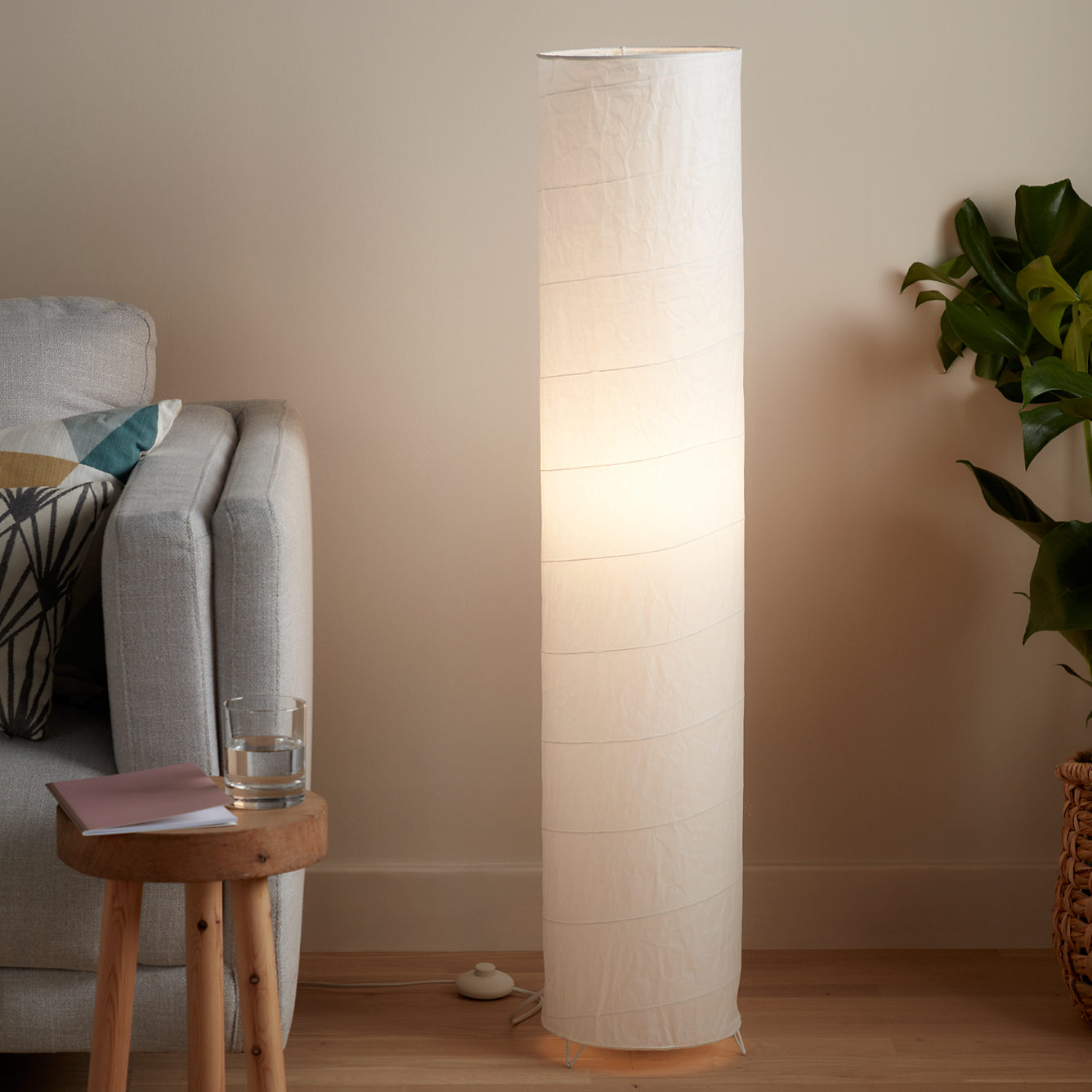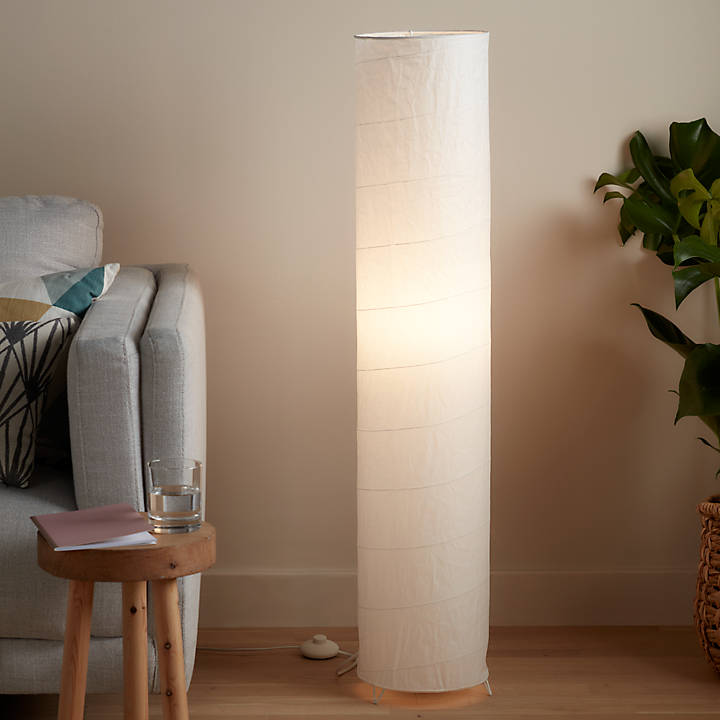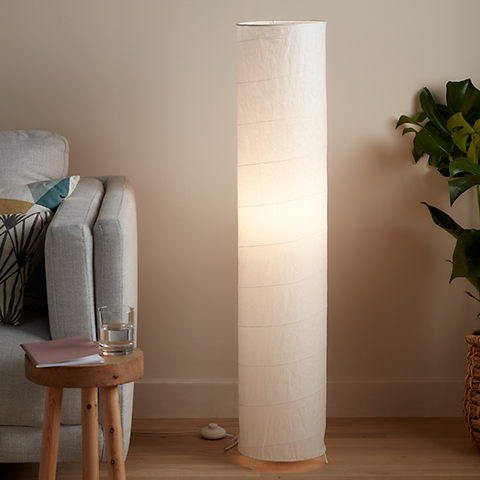 Chrome is a timeless option when it comes to lighting. Why? Because chrome goes with almost any colour and style, so you know it won't go out of fashion. Whether you're looking for a floor light that adds a touch of luxury, simplicity, or a bit of fun, there are plenty of chrome options to choose from.
Chrome accents blend beautifully with grey and silver tones. If you're opting for a chic chrome floor lamp, style your space with textured grey cushions and silver candle holders. Alternatively, if you lover a pop of colour, pair your chrome finishes with light blue and purple accessories for a match made in heaven!
Our top pick: this Carnavon chrome effect floor light features a long stem with a contemporary twisted design for a truly chic feel.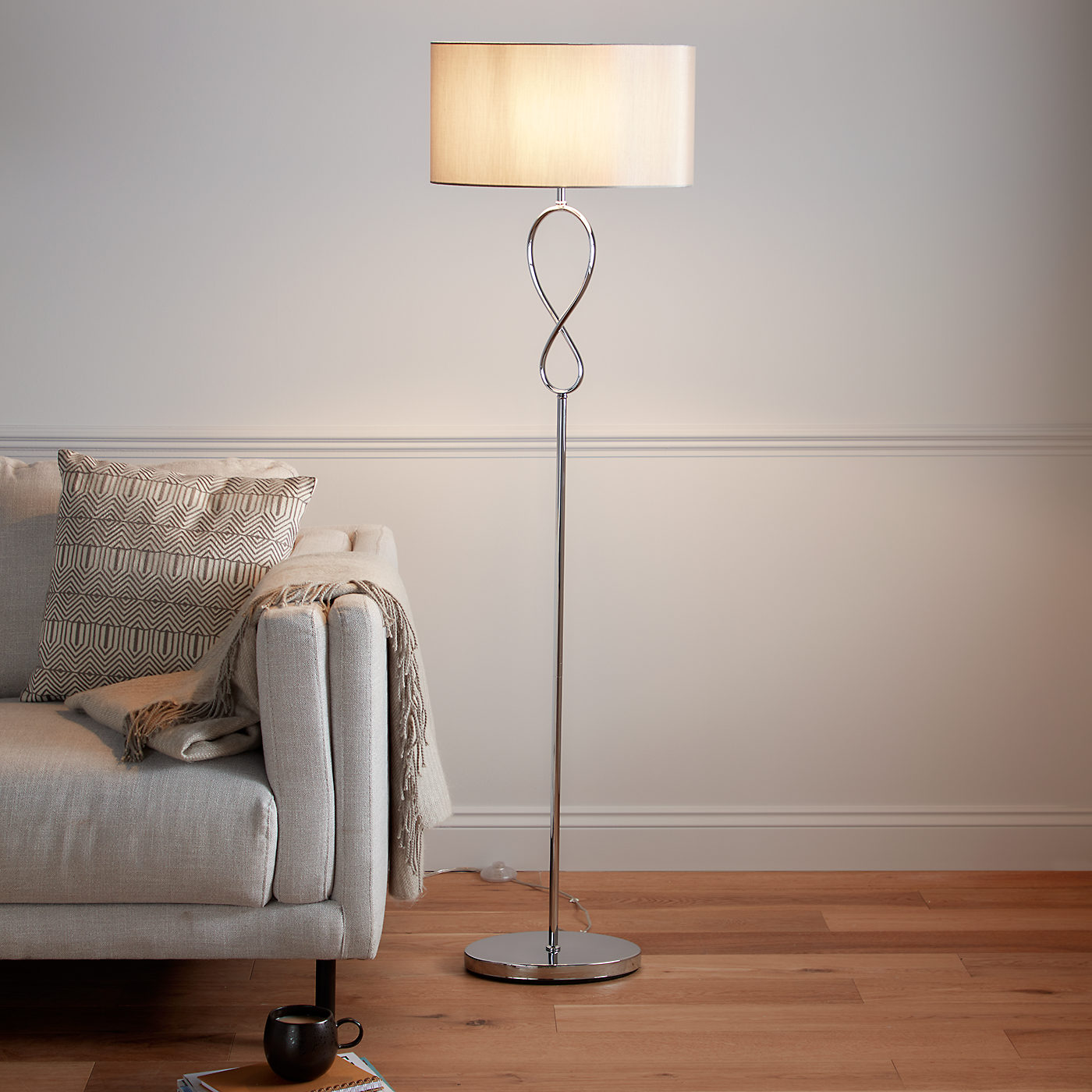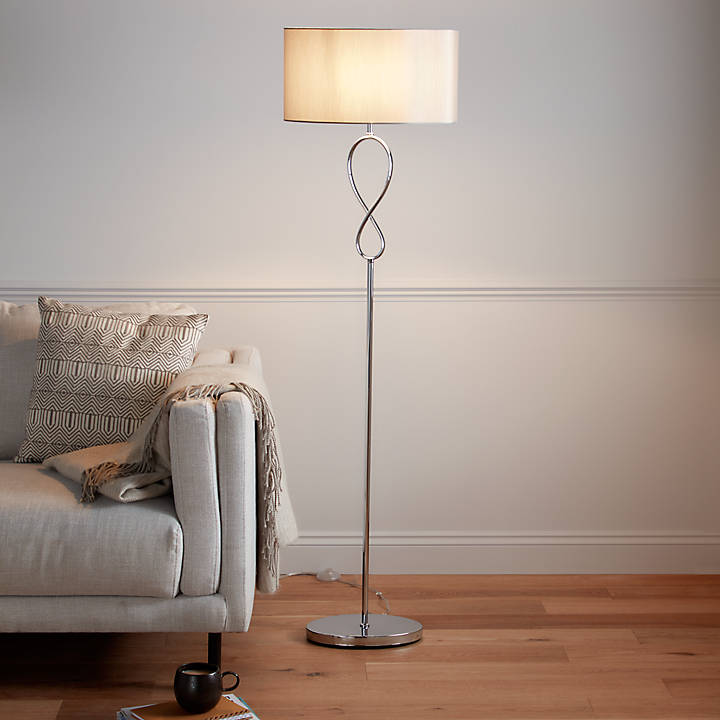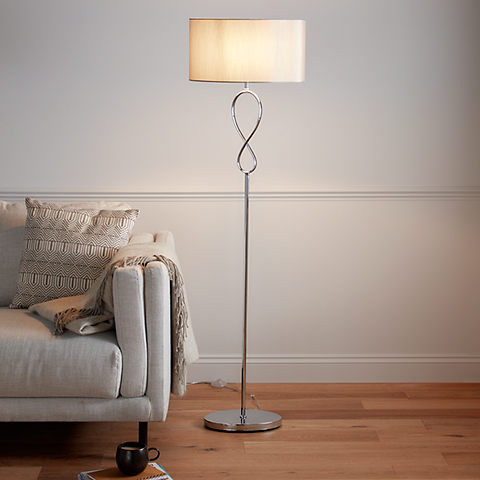 Add a touch of retro with glass lighting. Floor lamps with rounded glass shades and exposed bulbs give a stylish retro feel to a space, whilst still blending effortlessly with contemporary decor. Clear glass lampshades are beautifully complemented by filament bulbs, so opt for one of these to finish off your retro-inspired look.
For a fully retro look, pair glass floor lamps with lots of shape, colour, and texture. Choose quirky shaped table lamps, such as this smoky table light, and finish off with colourful accent chairs and textured cushions.
Our top pick: this Barool glass floor light features a funky rounded shade with an exposed bulb, perfect for both retro-inspired and ultra-contemporary spaces.