How to maintain a coal or wood fireplace
Introduction
A fireplace with a glowing fire can be a real centrepiece to a room. However, open fires can be a lot of work to maintain - and some urban areas have restrictions on burning wood and coal. But there are plenty of alternatives, such as a huge range of cosy, stylish flame-effect gas and electric fires that complement your existing fireplace and decor.
---
Safety first - Carbon monoxide
This poisonous gas has no smell, taste or colour. It's produced by the incomplete combustion of fossil fuels - gas, oil, coal or wood. Damaged or badly installed appliances combined with poor ventilation can cause it to accumulate in the home. Protect yourself and your family by fitting an approved carbon monoxide detector - but remember to test it regularly and change its batteries every year.
Gas fires
Burning gas produces fumes which need a safe outlet. If your fireplace has a chimney, you can easily put in a gas fire. If not, you'll need a flueless model with a catalytic converter to clean waste gases, or a balanced flue model which expels gases via an outside wall. Either way, a Gas Safe registered gas fitter must install your fire. And if your gas fire will be set in an existing fireplace, make sure you measure the dimensions carefully first.
Electric fires
Because electric fires don't produce waste gases, they don't need a chimney or flue. They can be wall-mounted, freestanding or fitted into an existing fireplace.
Solid-fuel stoves
Controlled-draught slow-burning fires and enclosed stoves are easy to clean, and burn all day without attention. If you add a back boiler, you can also use them to heat water and for your central heating. Although they do require a chimney, they're much more efficient than an open fire, which loses much of its heat straight up the chimney.
One Planet Home - Wise choices
When you choose a new gas fire, check its energy efficiency. With up to 90% energy efficiency, some of the latest models can cut your energy bills significantly. Or if you have a solid-fuel stove, try using sustainably-sourced wood as an environmentally-friendly choice. Wood is considered to be a carbon-neutral fuel, as the CO2 released by burning it equals the CO2 absorbed by the tree as it grew.
---
A fire surround frames a fire, and makes it an attractive focal point. You can choose from wood, stone, marble or cast metal finishes, in a huge range of traditional and contemporary styles. For practical and safety reasons, you must set a fire on a heatproof hearth to protect the floor and against a back panel that will protect the chimney.
These too are available in many finishes, so you can mix and match to create the perfect fireplace for your room.
If you have an unused fireplace, you could also make this a decorative feature instead of sealing it up. To keep out debris and draughts, close off the flue with a piece of hardboard nailed to wooden battens screwed into the sides of the chimney opening, just out of sight. Cut some ventilation holes in the board to prevent damp. Then fit a fire surround, and place a vase or ornament in the recess.
---
To work efficiently, a fireplace needs a supply of oxygen and a means of removing smoke and fumes. Most fires have a barred grate, through which ash falls into a removable tray.
As the burning fuel produces gases which are lighter than air, they rise up the chimney. This creates a draw, pulling fresh oxygen into the grate to feed the fire.
Sometimes, a fire will smoke. This might be because the chimney needs cleaning - any partial blockage can stop smoke being drawn up the flue. Double-glazing or draught-proofing can also prevent a fire from burning properly, as a constant supply of fresh oxygen is essential. You can improve ventilation by putting an airbrick into an outside wall or fitting a window vent.
If your chimney is old and gets a lot of use, it might also have become damaged inside. The easiest way to prevent damp patches on walls or smoke seeping into the room is to put in a flexible flue liner.
You might also need one of these if you're installing a new gas fire into your fireplace. As you'll need a liner to suit the type of appliance you're fitting, it's well worth consulting a professional installer.
Top tip - Changing fireplaces
Fitting a new fire surround and hearth can make a terrific difference to the overall look of your room. Most surrounds are attached to the wall by screws hidden by the plaster on the chimney breast. But they're usually very heavy - so do try and get some help when you're removing or fitting them.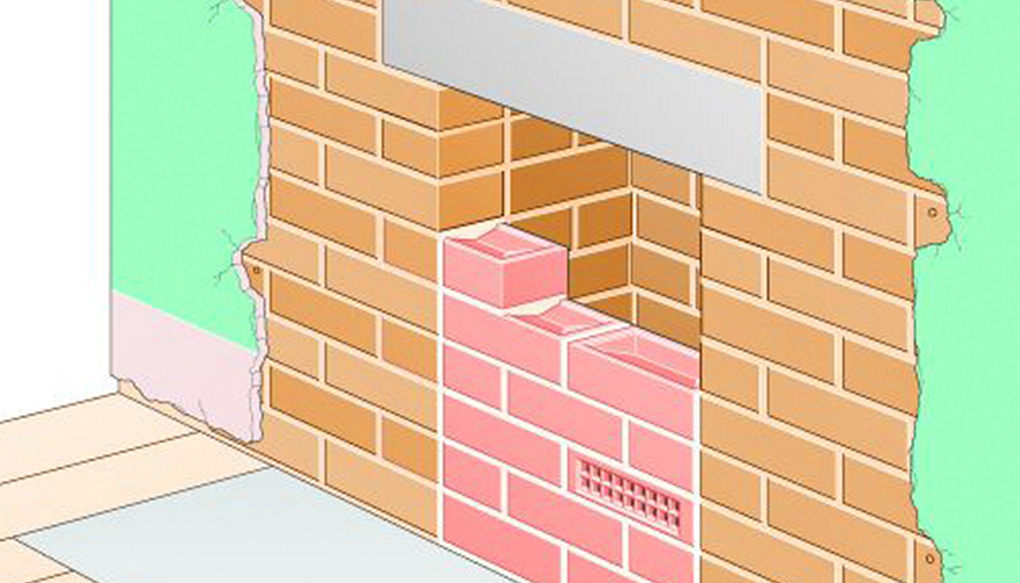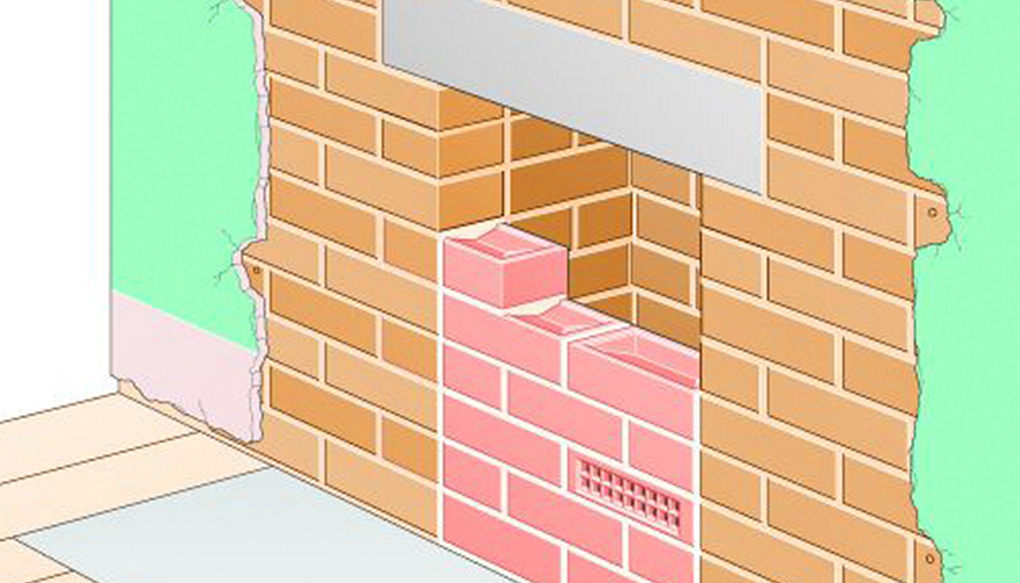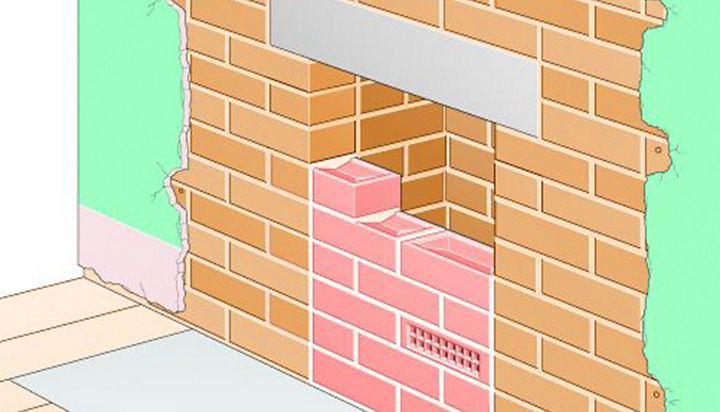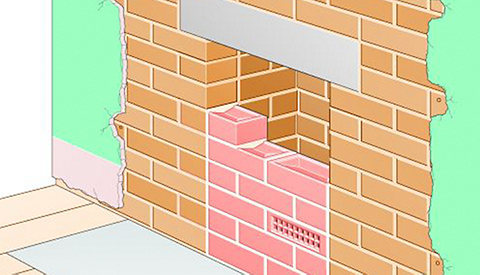 Removing a fireplace
Removing a fireplace from a room is a messy job that creates lots of dirt and dust. First, you'll need to remove the fire surround, hearth and adjacent skirting, then level the surrounding floor. If you think you might want to use the chimney again in future, you can simply panel over the opening with a piece of plasterboard cut to the appropriate size, and nailed to a wooden frame set within the fire opening. If you don't want to use the chimney again, you can brick it up then plaster over the top. Whichever method you choose, it's crucial that you fit a ventilator in the opening so there's still a flow of air through the chimney. Otherwise, condensation could form there, which would eventually seep through and stain the wall. In the case of plasterboard, cut an opening just above skirting level and fit a ventilator into it. And if you're bricking up the fireplace, fit an airbrick in the lowest course of bricks above the skirting.
---
Coal and wood fires produce a mixture of gas and solid waste products, which are carried up the chimney.
Some of these deposits settle in the chimney as soot, which can narrow your chimney and reduce the flow. If the build-up becomes too great (most likely at a bend in the chimney) you might get a severe blockage that could cause a fire or divert poisonous gases back into the room.
Sweeping a chimney doesn't have to be a particularly messy job if you prepare the area carefully. But do make sure you wear safety goggles and a dust mask to protect your eyes and lungs.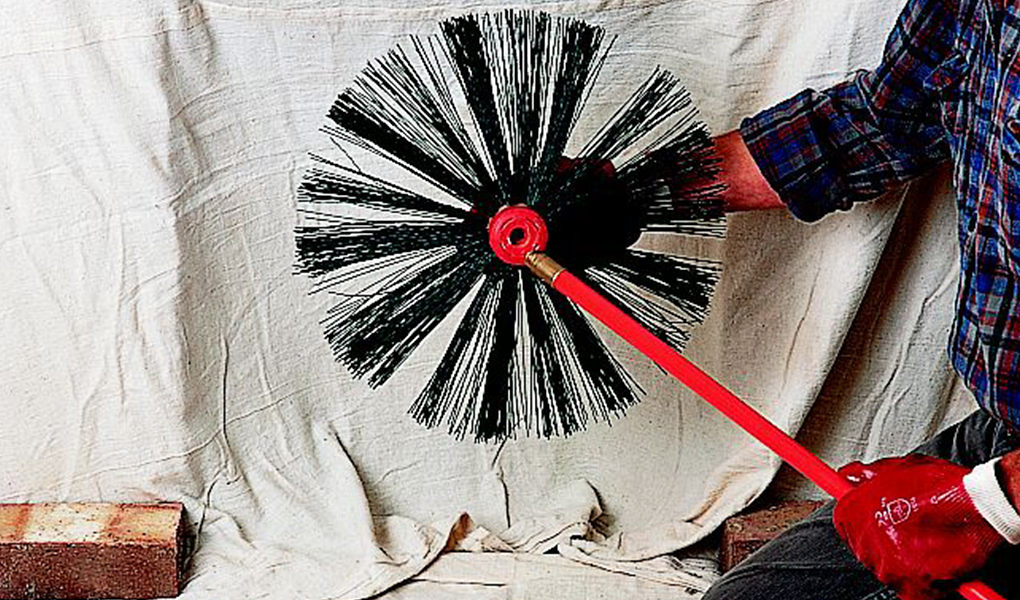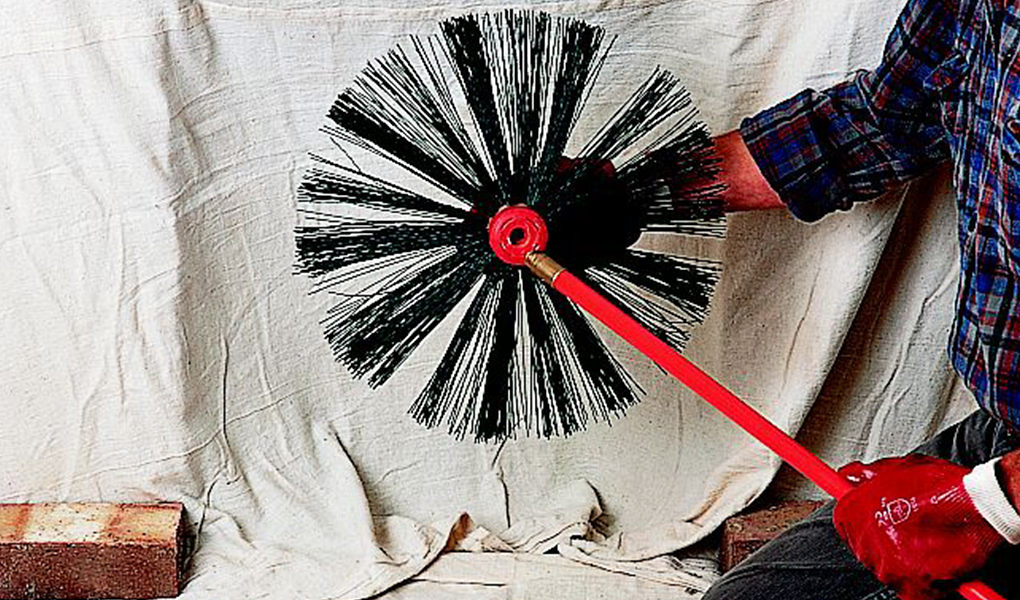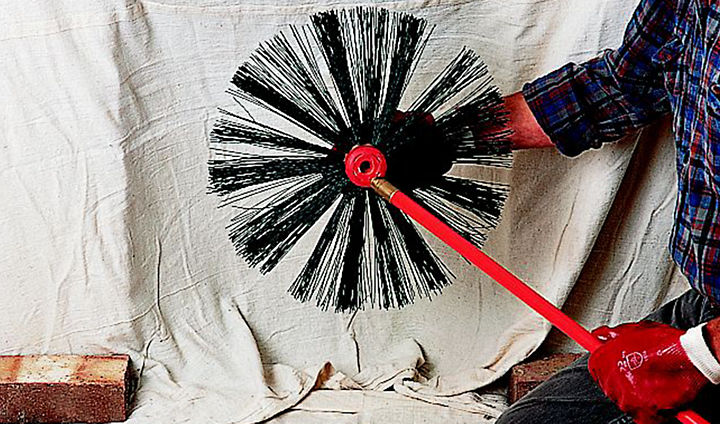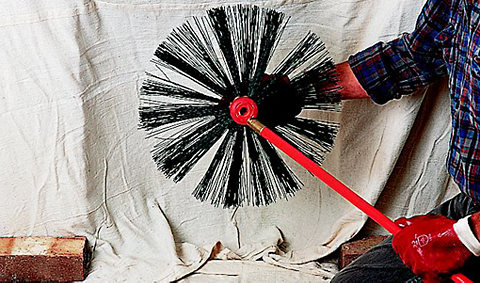 Step 1
Roll back any carpet, remove nearby objects and cover everything in the area with a dust sheet. Drape another dust sheet over the fire surround and use heavy objects to weigh it down on the mantelpiece. Put a heavy object like a brick on each side of the opening against the fire surround to seal the chimney space. Next, screw the brush head to the first cane.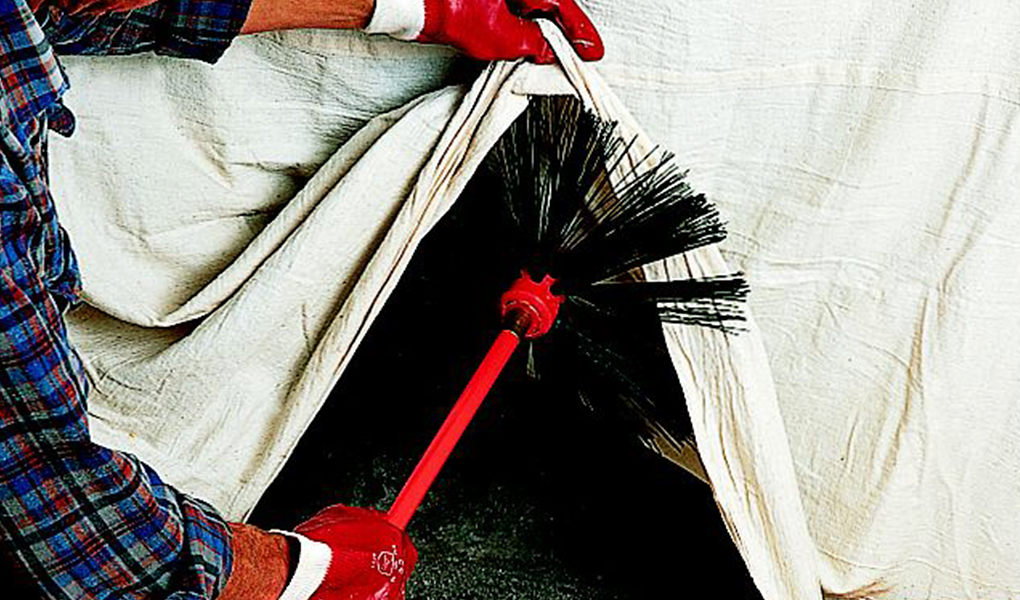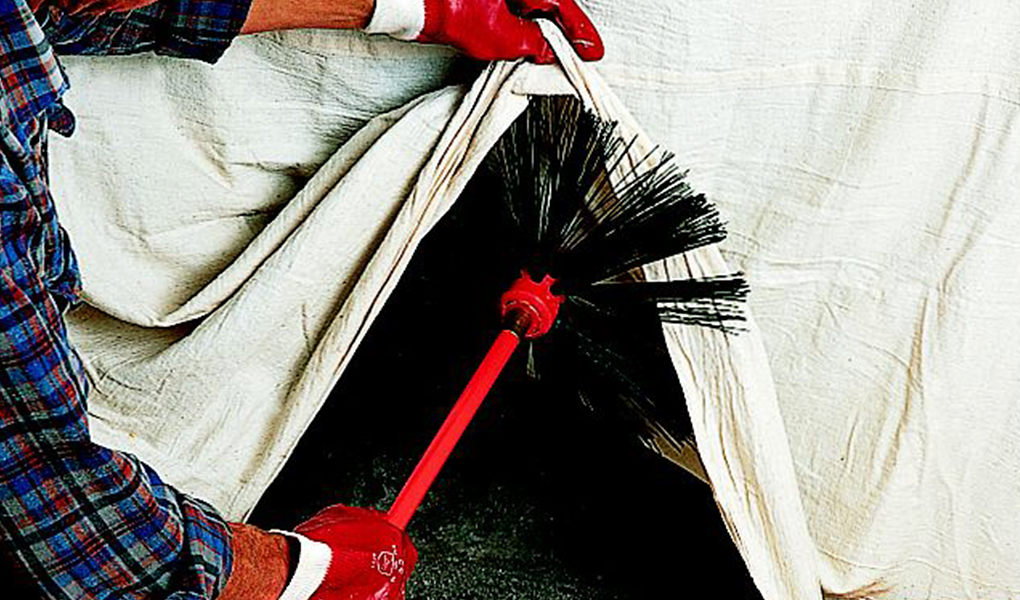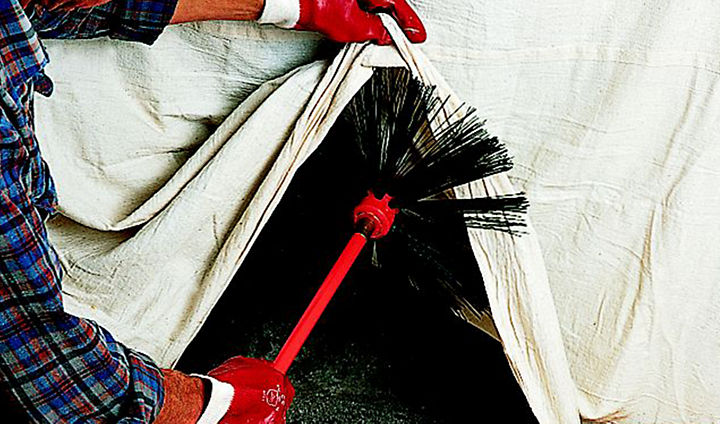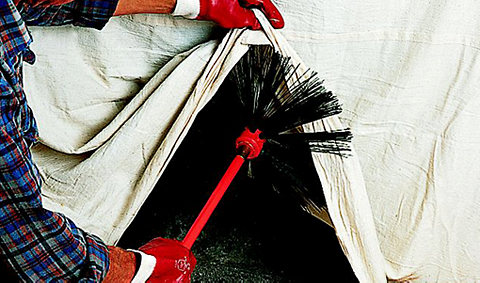 Step 2
Lift the sheet and push the brush inside the flue above the fireplace.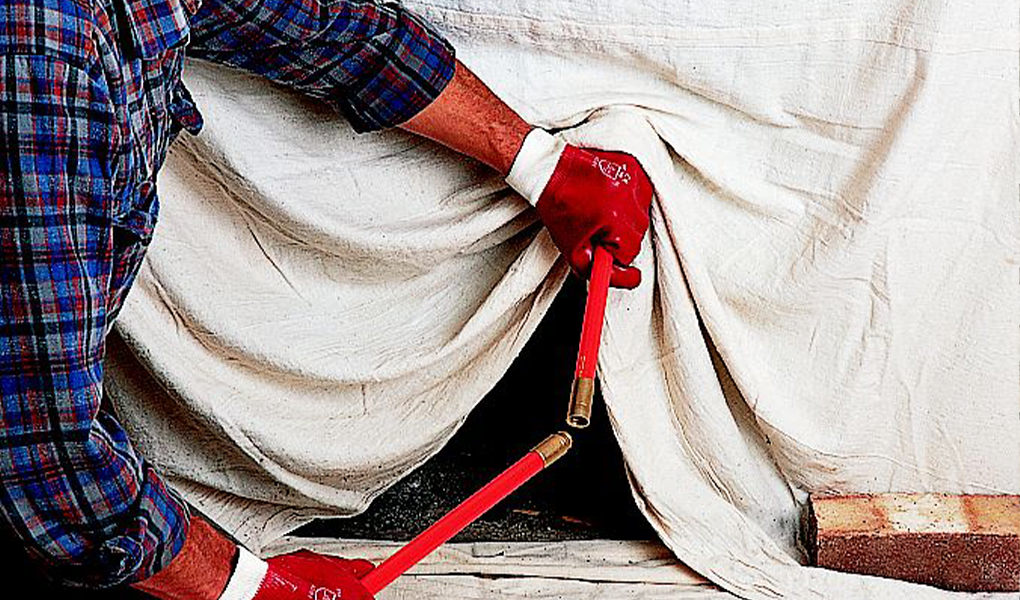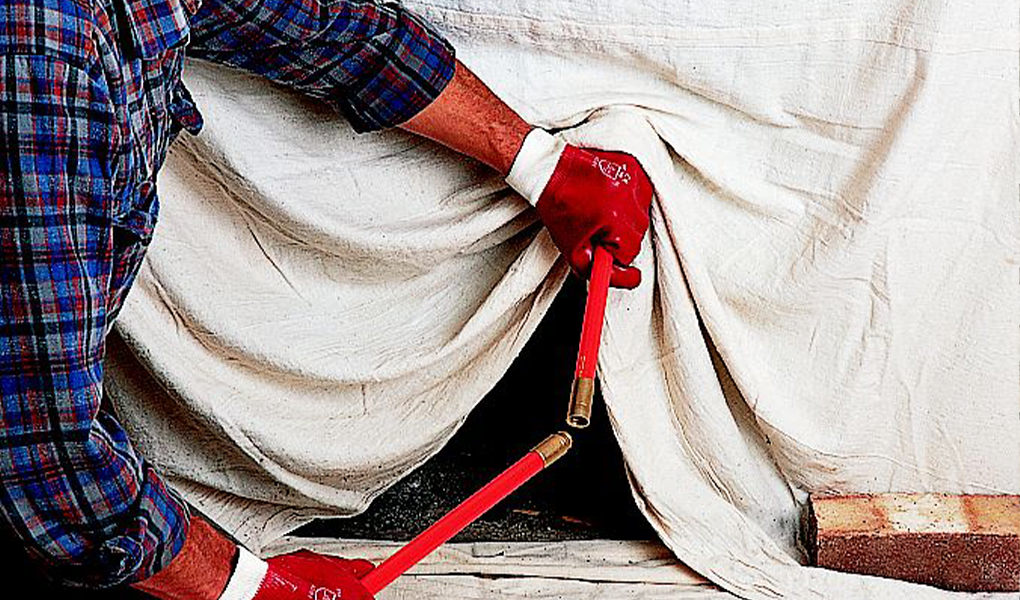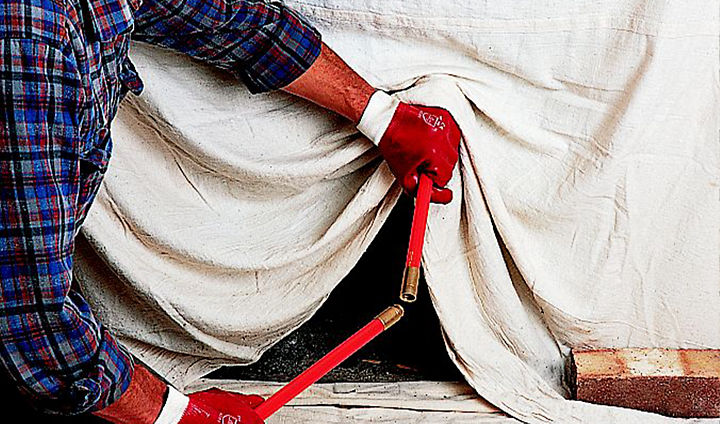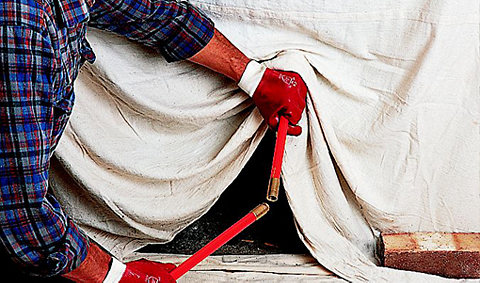 Step 3
Screw on another cane and push the brush up the flue. Carry on adding canes and push the brush upwards. If it gets stuck, just pull it back and push it up again, working to and fro. Try not to use a screwing action, or the canes might come apart at a joint. You'll be able to feel when the brush comes out at the top. And if there's a cowl on the chimneypot, be careful not to push it off.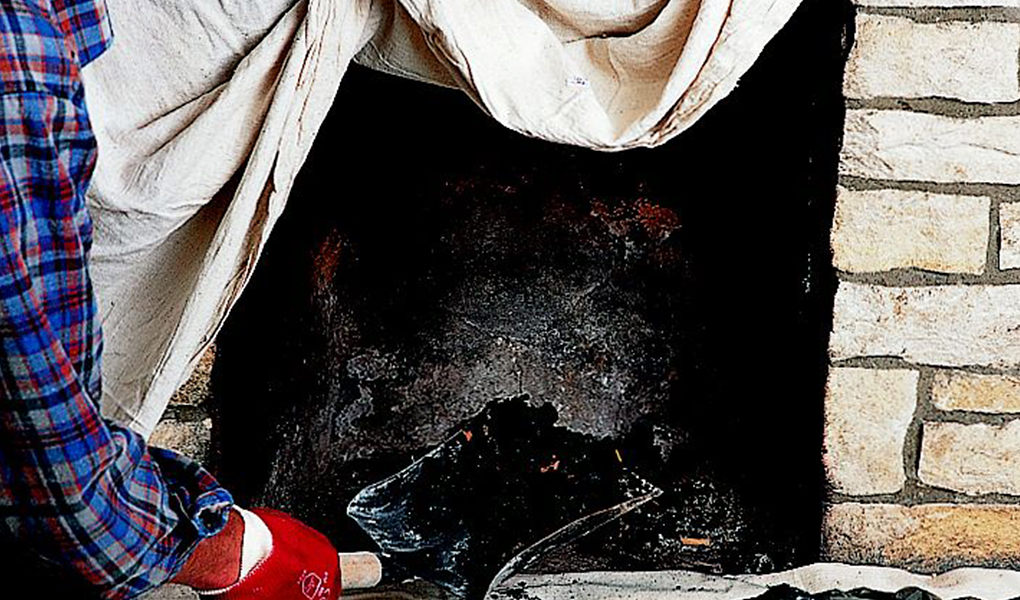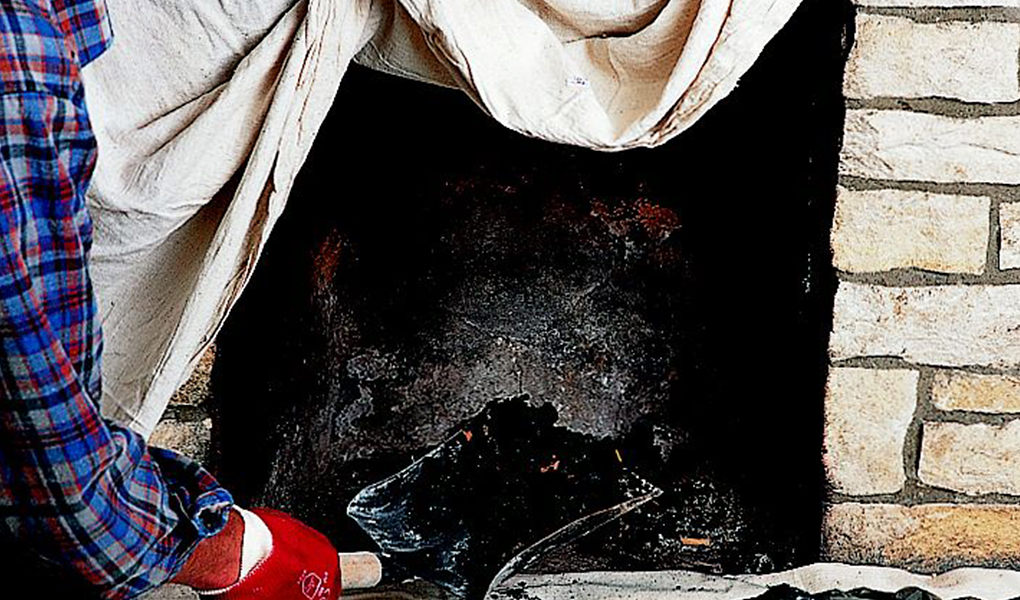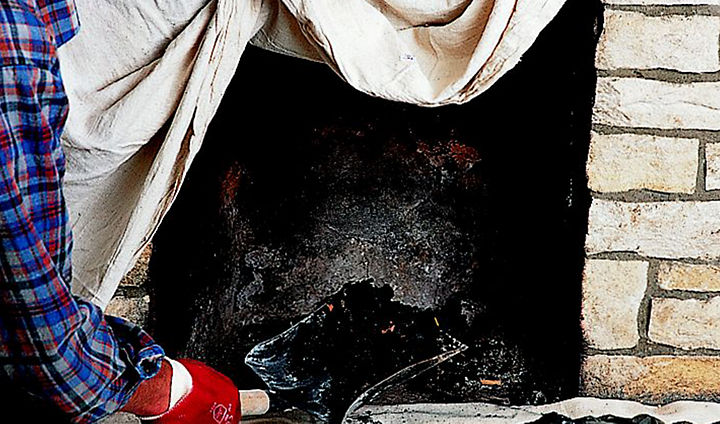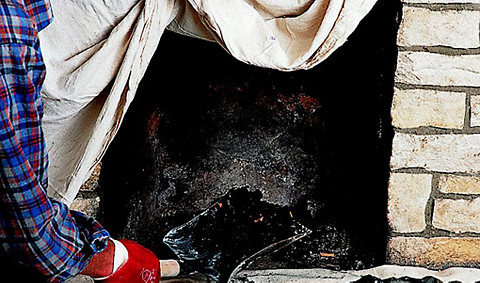 Step 4
Pull the brush back down, unscrewing the canes as you go. Shovel the soot and debris from the grate into a plastic refuse sack.
---
The extreme heat from a fire can easily damage a fireback over time. You can repair fine cracks quite easily, but if the damage is more severe it may be better to replace the fireback completely.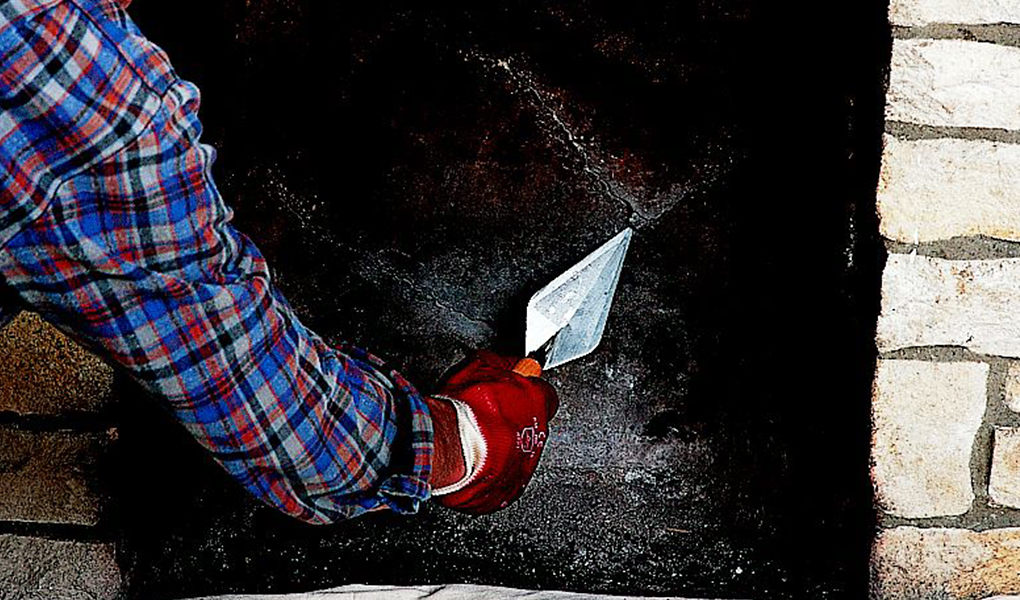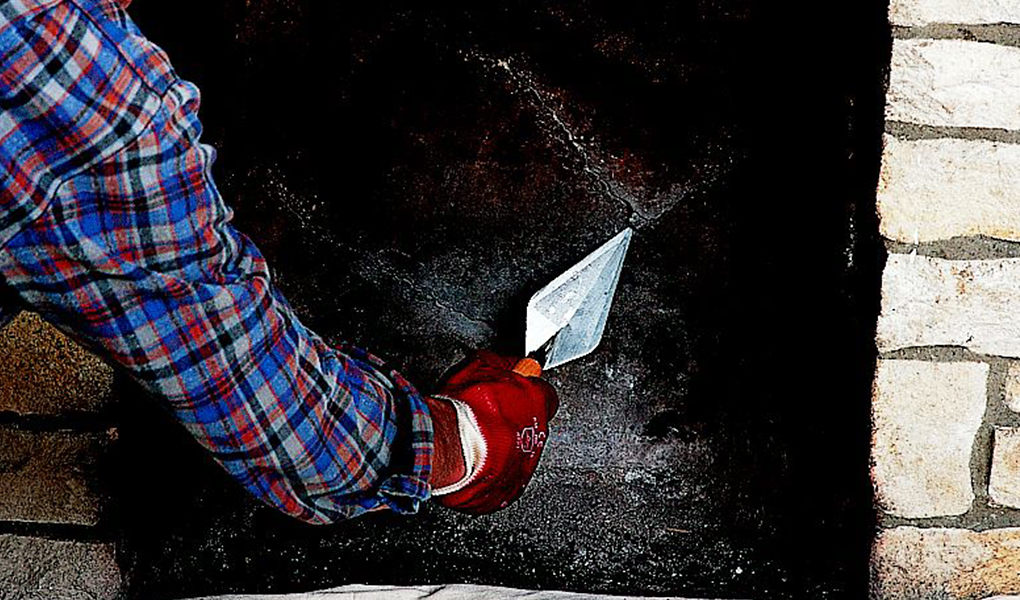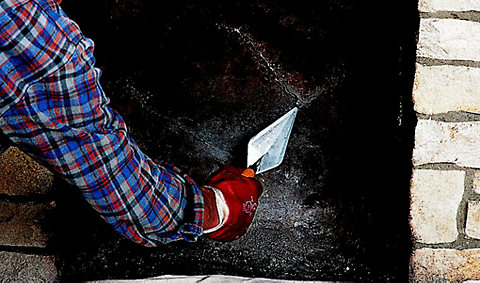 Step 1
Let the fireback cool for 48 hours before you start work. Spread a dust sheet around the fireplace, and use a wire brush to clean away soot deposits and expose the damaged areas. Then clean out the cracks with the point of a trowel.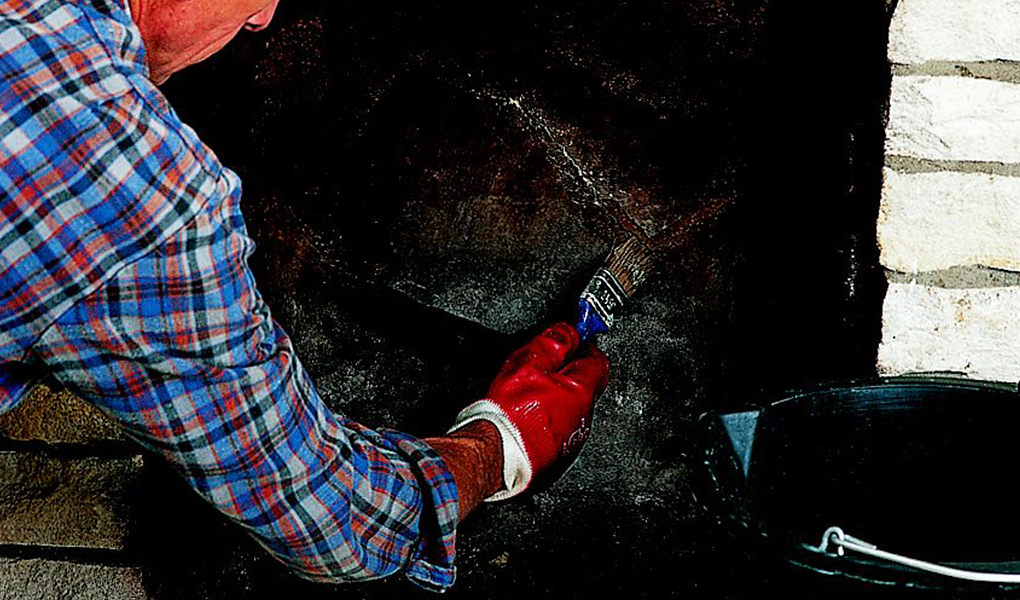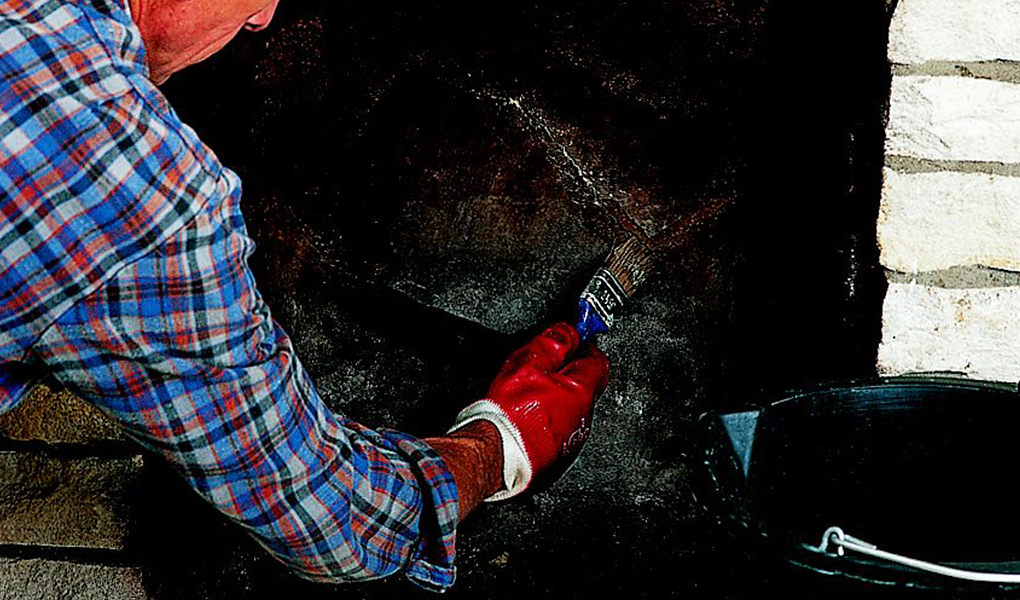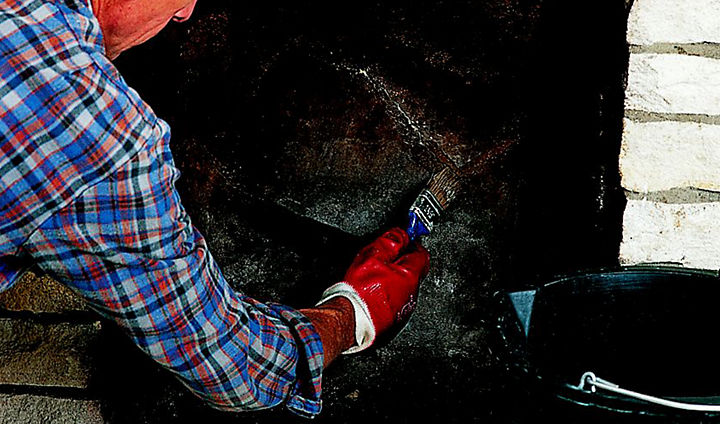 Step 2
Get the dust out of the cracks with a wire brush, then put water over the area using a paintbrush. This helps the fire cement to bond.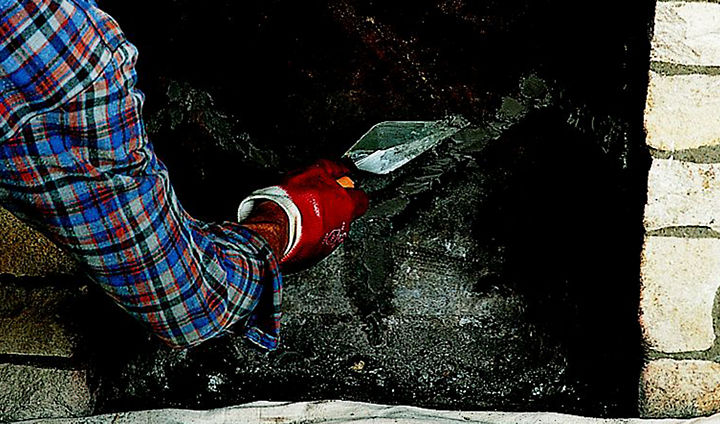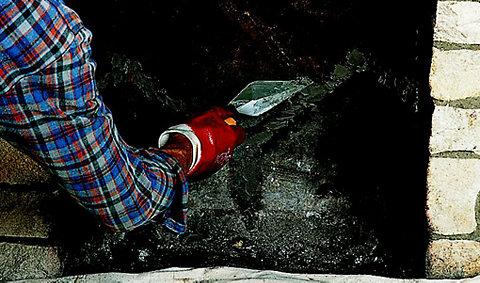 Step 3
Using a small trowel, work the fire cement into the cracks.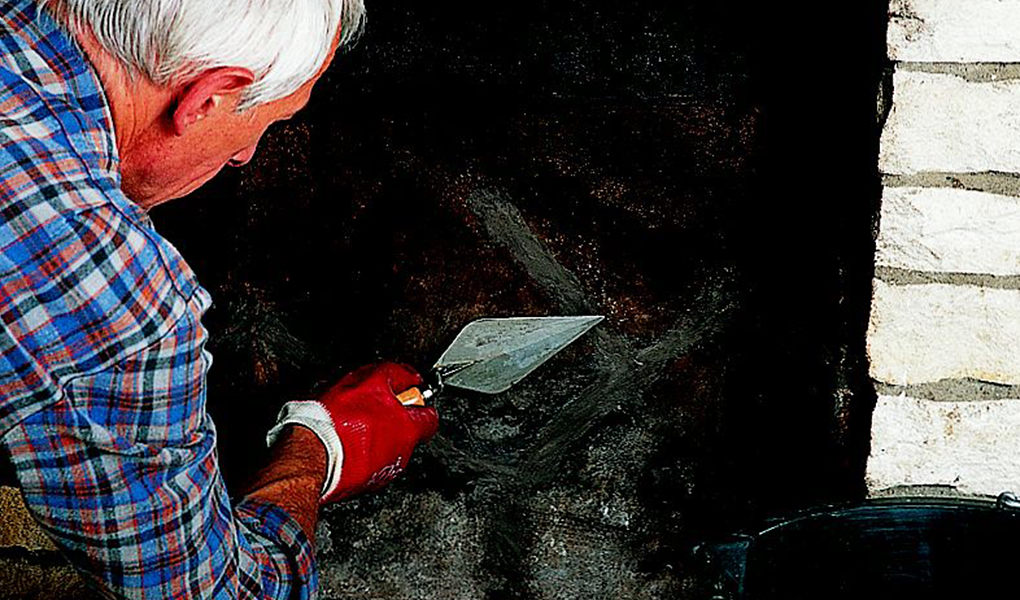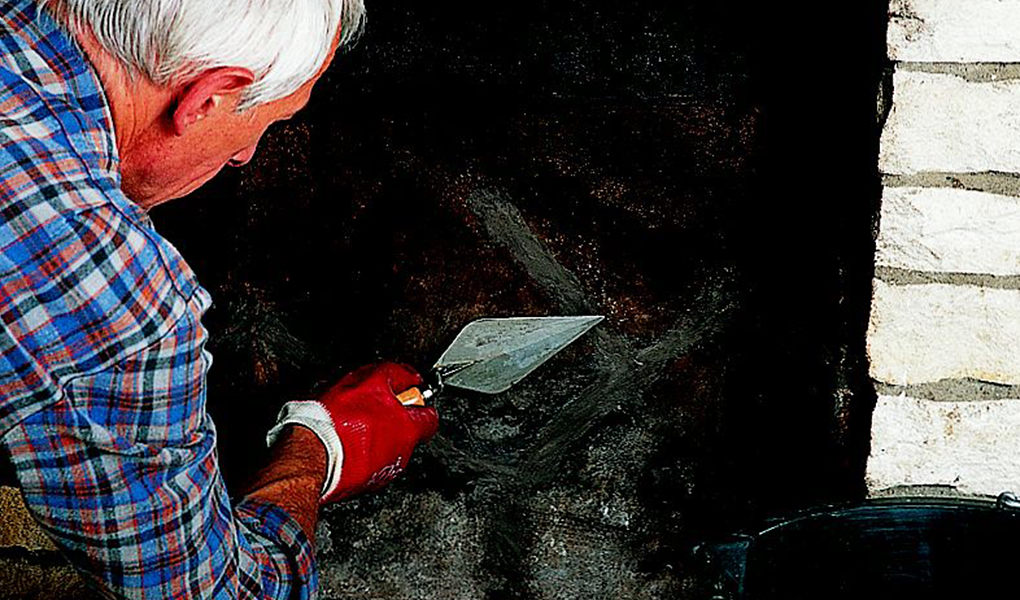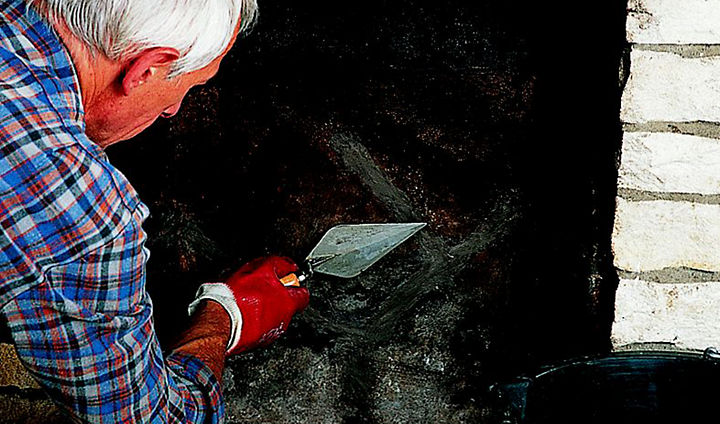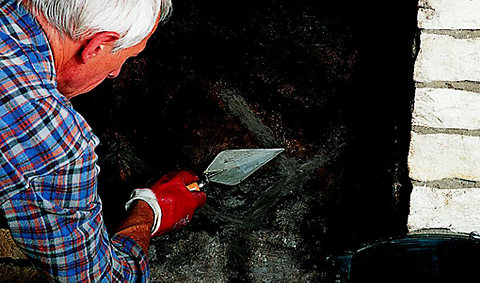 Step 4
Trowel away any excess fire cement, then brush the surface with a wet paintbrush to get a smooth finish. Leave the cement to harden for a few days, or light a small fire to warm the area and dry it more quickly (always follow the instructions on the cement tin).
---