Fires & surrounds buying guide
Add warmth and style to your home with a fire
There's nothing like sitting round a fire during the colder months. They create a striking feature in your living room, dining room or bedroom, whatever the weather.
We'll take you through your options based on the kind of home you live in. Often people who live in new builds or flats think they cannot have a fire, but that's not the case. We'll look at the variety of fires we offer and explain how they work and the different fuel types they might require. When it comes to finding the ideal look, a lot of our range is available in both gas and electric options, so you won't need to compromise on style. Plus, you can mix and match your fire with its surrounding elements to create looks that are truly unique.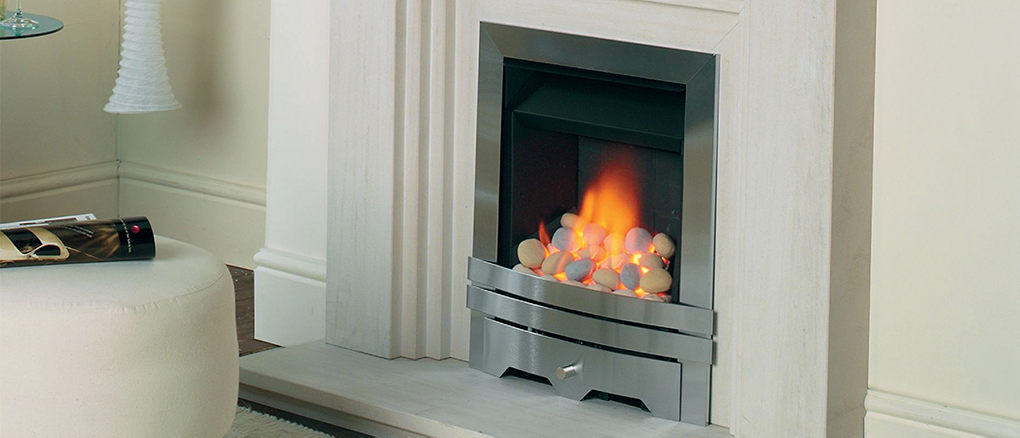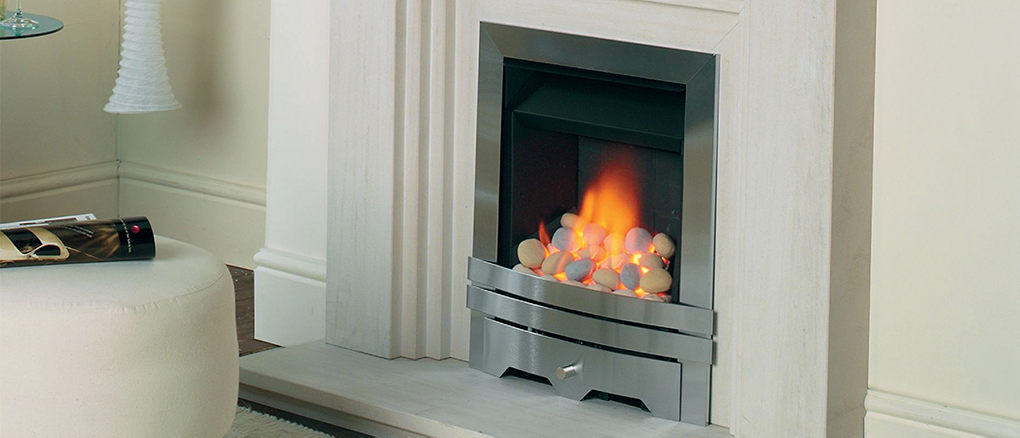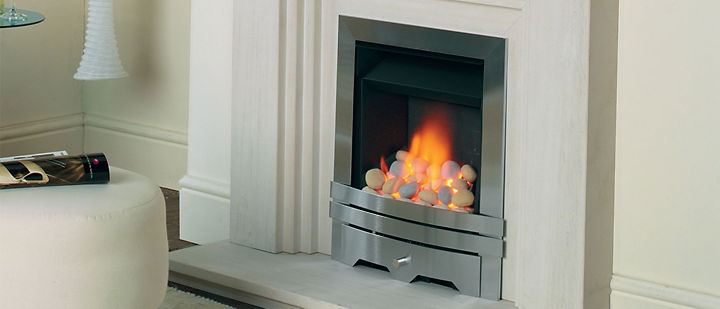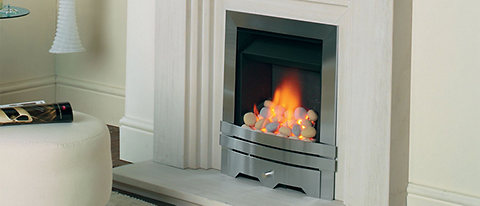 ---
What type of chimney or flue do you have?
Before picking your fire, you need to understand the type of chimney or flue that you have. Certain fires will only work with the correct chimney or flue.
A chimney is the pipe that helps with ventilation, releasing your fire's gases or fumes outside. The flue is the space within the chimney that helps with this process.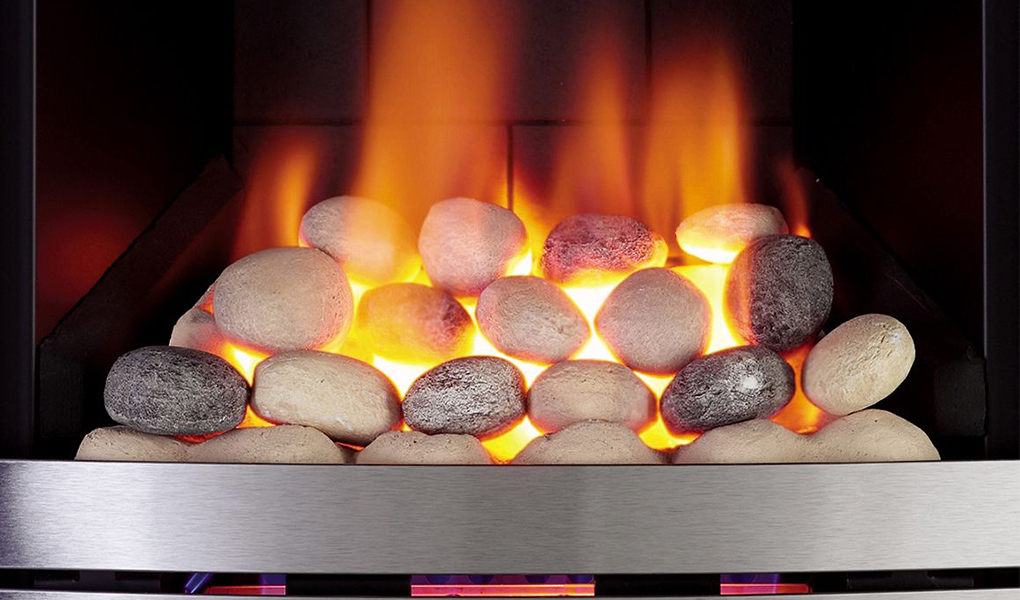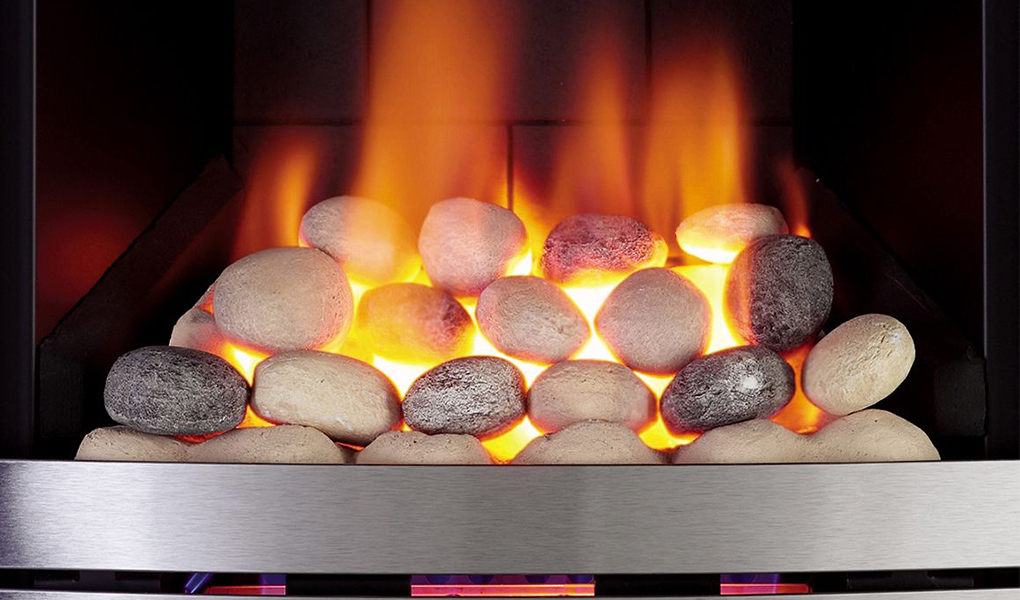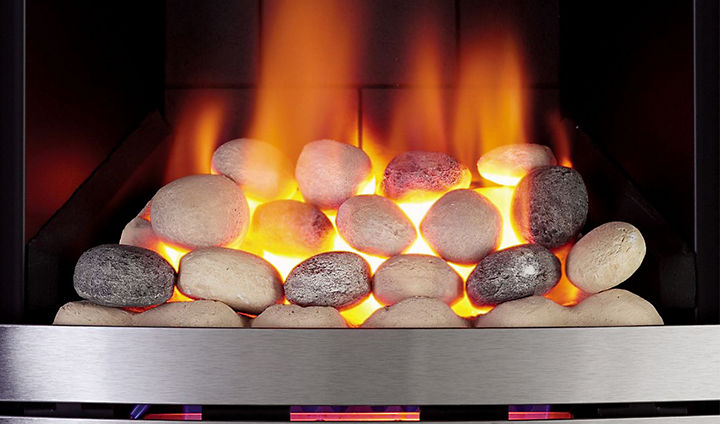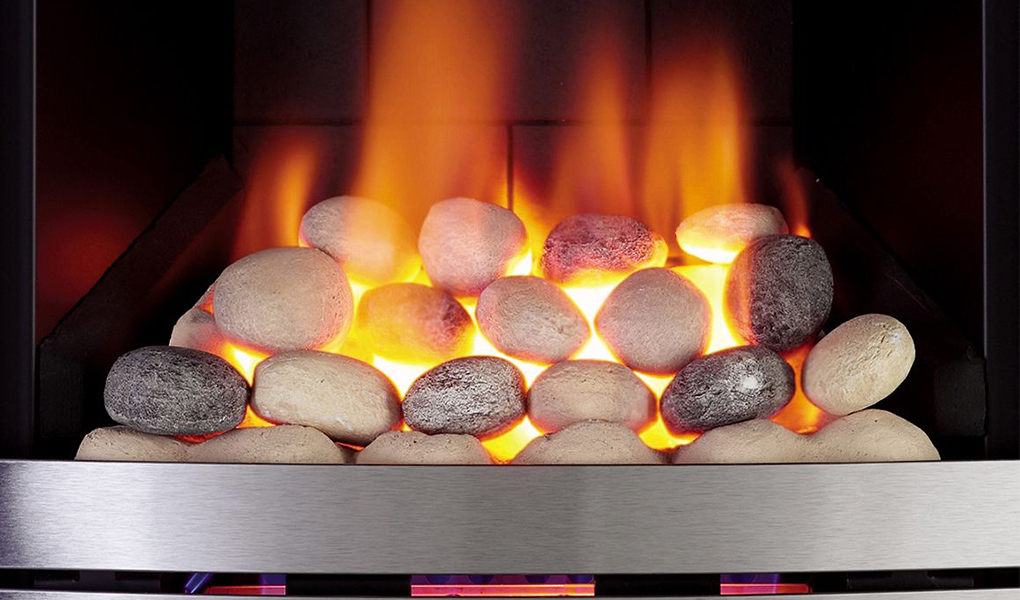 Brick or stone chimneys (class 1)
If your home was built before the 1960s, it's likely to have a brick or stone chimney. This means it will have a traditional chimney pot on your rooftop – more than one indicates that there are several fireplaces on different floors sharing a chimney.
Pre-fabricated flue (class 2)
Was your home built after the 1960s and has a metal flue pipe on the roof? If so, it's likely that you have a Class 2 flue.
Pre-cast flue
A lot of newer properties no longer have chimneys, but some are fitted with a pre-cast flue. This will have a raised ridge tile or metal flue pipe on the roof and are much shallower than a traditional flue.
No chimney or flue
You're still able to have a fire, even if you don't have a chimney or flue. Our flueless gas and electric options will work in your home and, unlike those with chimneys, you won't need to worry about draughts – all the heat will stay in your home.
Do you want a complete set or to mix and match your fire?
There are three ways to buy a fire. The first option is to buy a complete suite which includes a fire and a full surround. Alternatively you can choose a fire, then pick a surround set which includes a back plate and a hearth that complements your surround.
Or finally, you could mix and match the different elements to suit your style. This is when you select each part of your fire and surround individually. So after selecting your fire, you then pick a back panel, a surround, and finally your hearth. This gives you the opportunity to create a unique combination to suit your style.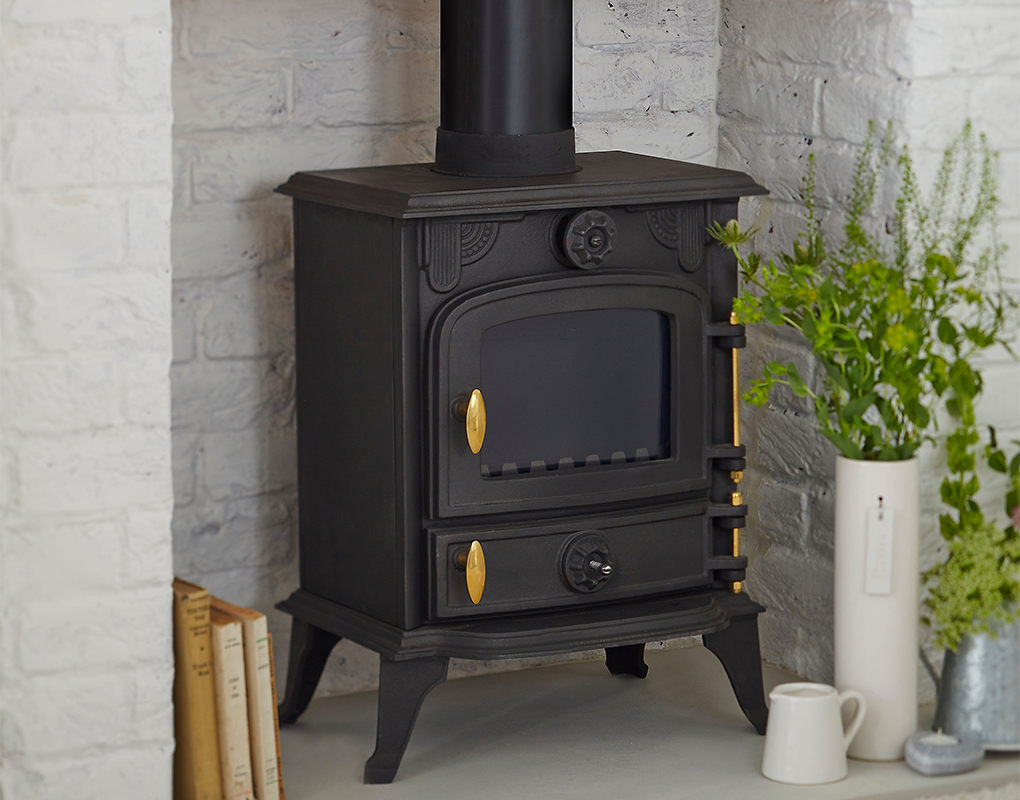 ---
Solid fuel or gas fires sound right for you?
These two types of fire require adequate ventilation to prevent the risk of carbon monoxide poisoning. Be sure to get professionals to assist with installation. If your home is old enough to have had a coal fire when it was built, it should already have air vents. For those looking to install one of our flueless gas fires, you'll need to have a 100cm square, purpose provided vent installed.
Be sure to get professionals to assist with installation and check that any pre-existing vents are up to the task of supporting your new fire.
What are the different options?
There are three types of fire: gas, electric and solid fuel.
Gas
For a clean, efficient way to bring instant heat to your home, choose a gas fire. They combine the look of real flames with the ability to have instant heat, as well as controllable temperature. Gas fires are the cheapest to run, and come in a wide range of styles. Certain models don't require a flue or chimney – all you need is a working gas supply.
To ensure their efficiency, gas fires must be installed by a Gas Safe registered engineer - for more info go to the Gas Safe register website. For our most energy-efficient options, as well as a way to control your energy bills, look for the green gas logo on the packaging.
Our gas fires are available in the following options:
Wall hung gas fires
As the name suggests, wall hung fires can be placed on the surface of any wall, at any height you desire, creating a focal point in your room.
They don't require a chimney or flue making them ideal for any space, including flats and apartments. They are a stylish, contemporary option that give you the joy of a fire without any of the maintenance. They are clean and easy to maintain whilst creating a cosy, inviting atmosphere.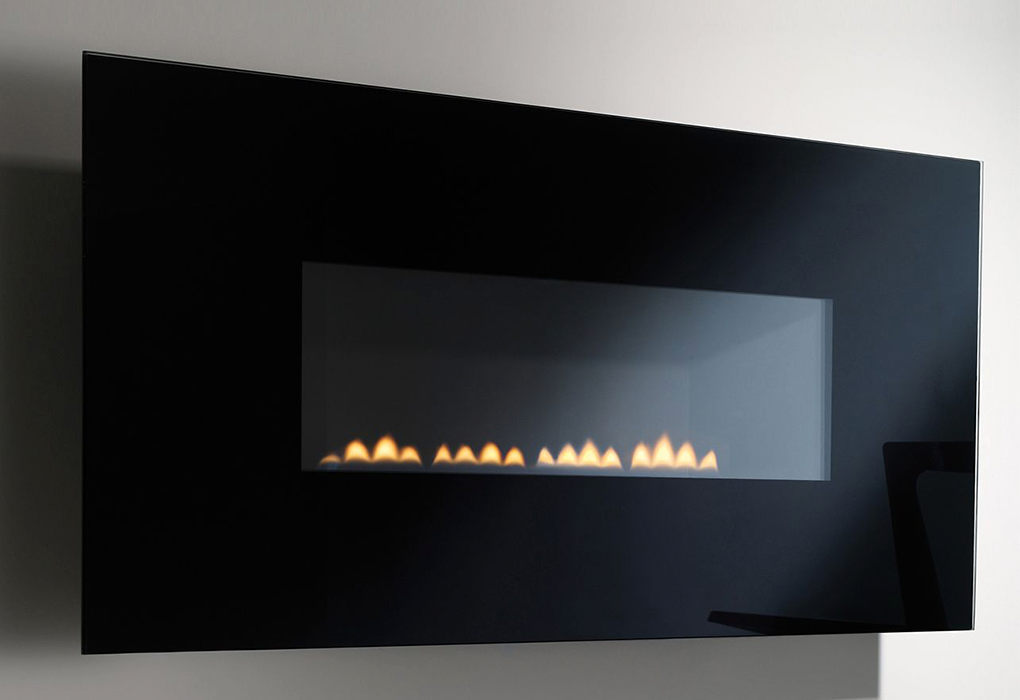 Inset gas fires
Inset means that the fire is placed into the wall, not hung on it. These fires look like the more traditional fires you will have seen – although they do not have to be traditional in style.
We offer three types of inset wall gas fires depending on whether or not you've got a flue or chimney, the different options are explained below.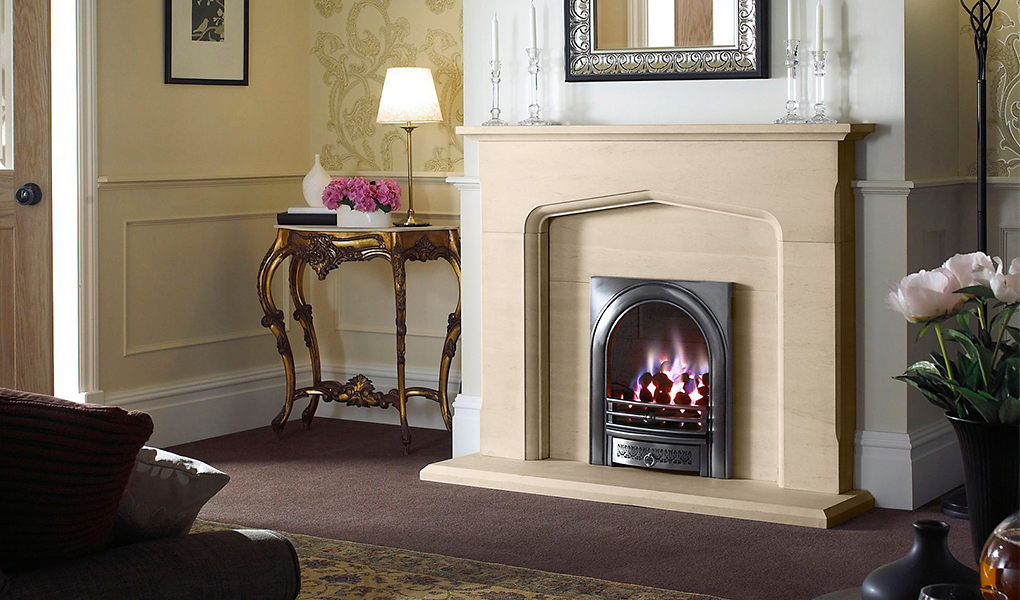 Inset wall
Choose this if you've got a class 1 or class 2 chimney or flue, and don't want to add more ventilation.
Inset multiflue
These have a slimline design that works with several types of flue. They also allow you to install your fire a little higher than an inset wall, without the need for additional ventilation (but only if you have class 1 or class 2 chimney).
Inset flueless
These chimneys allow you to have a gas fire when you don't have a chimney, and are 100% fuel efficient, as all the heat stays within your room.
Full depth
Suitable for class 1 chimneys only, full depth gas fires look the most like a real fire.
High efficiency
Converts more of the gas into heat, saving you money on your gas bills.
Electric
Our electric fires give you the option of having flames in your room, with or without the heat. An electric fire pumps heated air into the room while showing you different sorts of flames on a screen. Easy to install – you won't need any professional help or to add ventilation. Simply plug in your electric fire and you're ready to go.
Like our gas options, you just need to turn on your electric fire to get instant heat – a lot of electric models come with remote controls. Or if you prefer, just have the look of a flickering flame for ambience, which is perfect for a summer's evening.
Electric fires don't require a chimney or flue. When it comes to looks you can choose from the options below:
Wall hung fires
Place your wall hung electric fire at any height and let it become a focal point of your room. The technology of an electric fire can still provide your home with realistic flickering flames and glowing fuel beds found within a 'real' fire. Choose an electric fire which uses a thermostat to help to maintain heat levels efficiently and reduce running costs. Some are also available with a remote control for ease of use.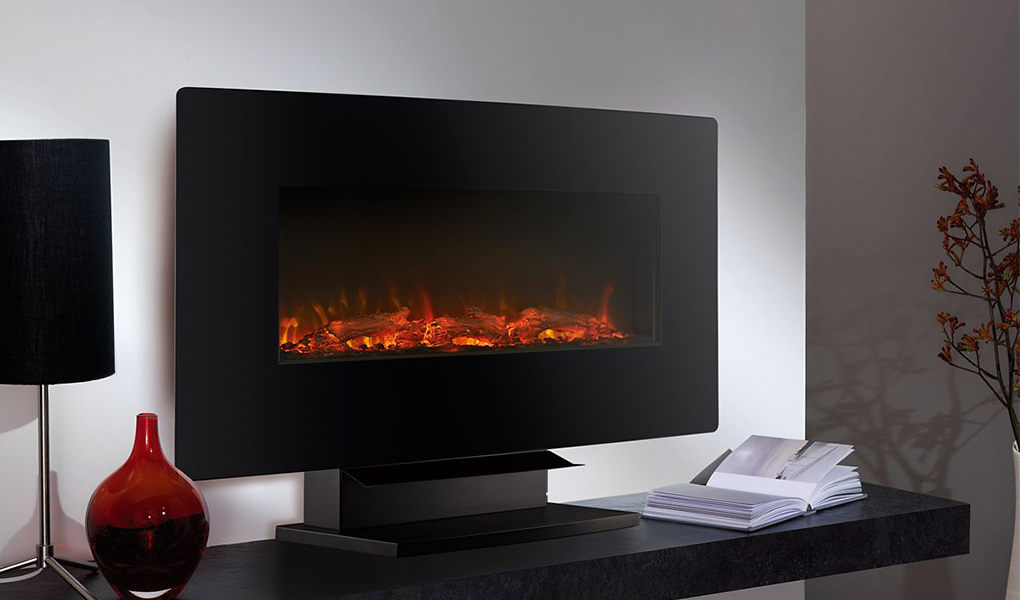 Inset electric fires
For the look of a traditional fire, complete with a surround, choose an inset electric model. Features can include a coal effect visual, as well as silent flame option designed to replicate the cosy glow of a real fire.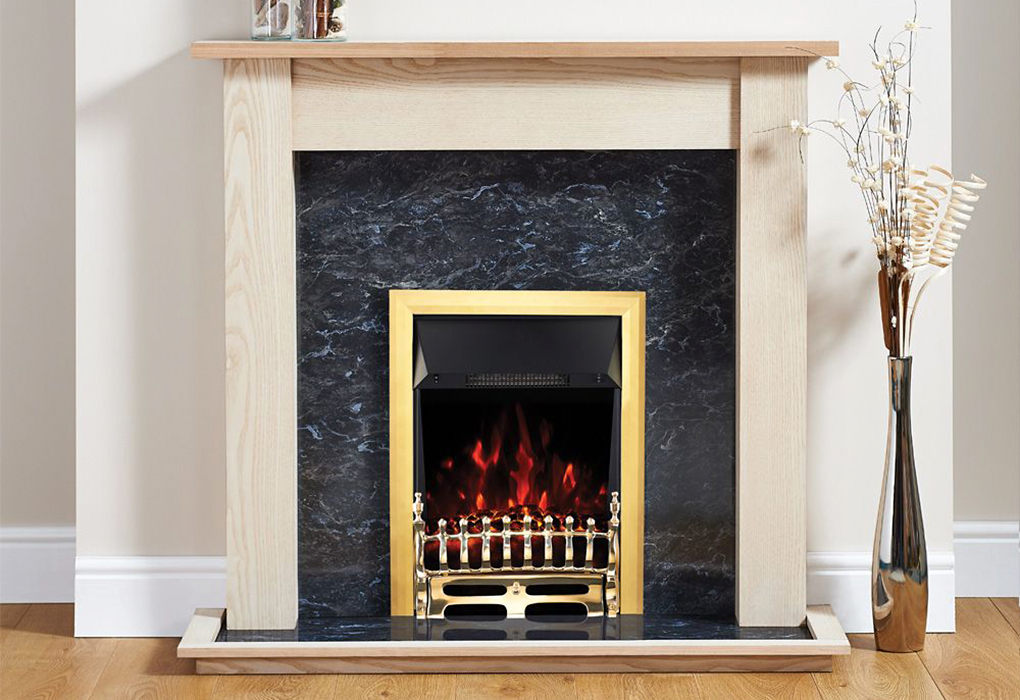 Electric stoves
For the perfect combination of traditional look and feel with modern technology, pick an electric stove. With no need for a surround, these freestanding models can be placed wherever suits – you can even move them from room to room if you fancy.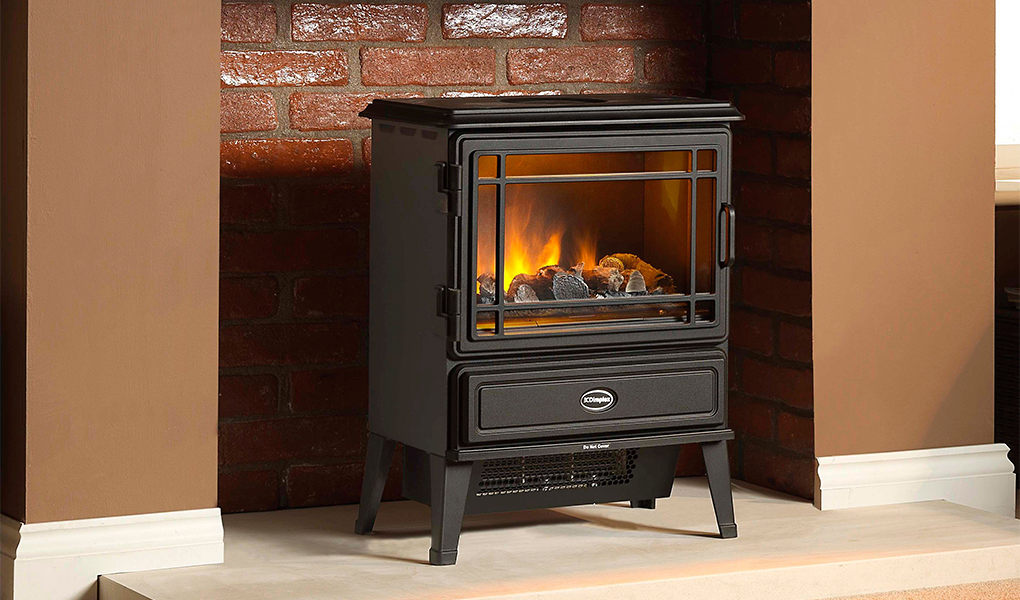 Solid fuel fires
For the more traditional wood or coal burning experience, a solid fuel fire is an efficient and eco-friendly solution. There's nothing like sitting around a real fire on a cold winter evening and, whilst they need a little more effort that a remote control fire, we think the experience is worth it.
Choose from wood burning or smokeless fuel options – wood is a carbon neutral choice. But whatever you choose, solid fuel fires are clean burning, efficient and available in range of sizes and styles to suit any home. You can only have a solid fuel fire if you have a brick or stone (class 1) chimney or flue. Choose from solid fuel stoves or baskets for your home.
Solid fuel stoves & fire baskets
Stoves are a very popular option. They are made from cast iron or steel and offer great heat, but the fire is enclosed within the body of the stove making them safer and more efficient. You can save money choosing a stove over a basket as they use up to 25% less fuel. Stoves also collect all the ash in a tray underneath them, so cleaning after using is easy.
All solid fuel stoves must be fitted in accordance with current regulations. For a list of approved fitters in your area, visit the HETAS website.
Fire baskets give you the true open fire experience, our solid fuel baskets can be traditional or contemporary in style and look truly stunning. While a basket will keep you toasty, they are not as efficient as stoves when it comes to heating. The heat from the basket is free to go anywhere, so burns more fuel. Consider getting a fire screen or guard if you choose this option in a home with young children or pets to keep everyone safe.
Because baskets are totally open, you need to ensure that you use smokeless fuel or at least ensure that the room you're putting it in is well ventilated to prevent smoke inhalation. You also need to check in with your Local Authority to see if you live in a smoke control area – if you do, you'll need to only buy items that are DEFRA (Department of Environment, Food & Rural Affairs) exempt. These will be marked clearly.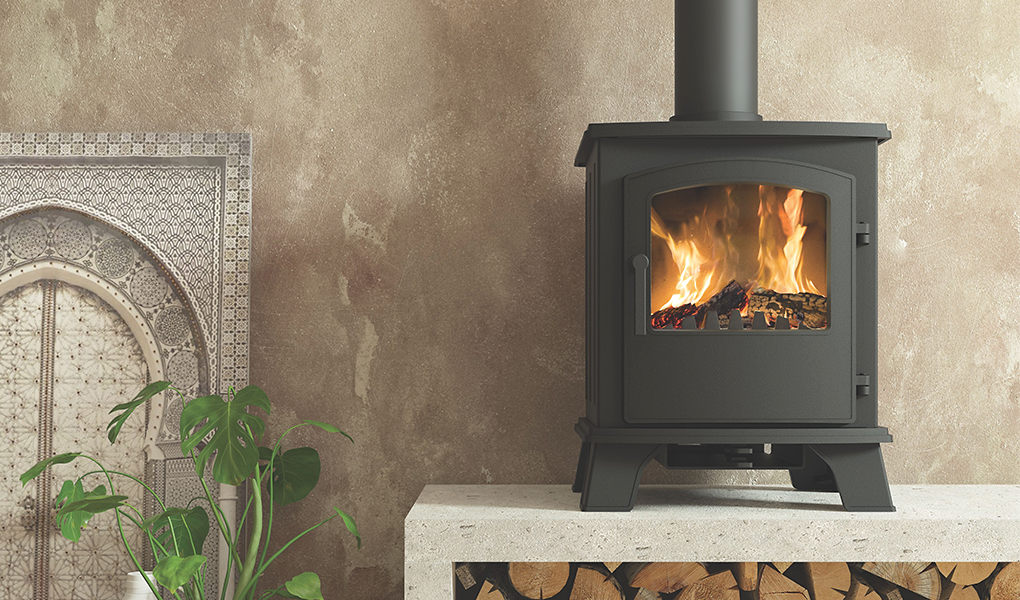 ---
The perfect finishing touches
Depending on the look you are going for, choosing the right surround for your fire could help you to finish your design off perfectly.
Surrounds
The surround, or mantelpiece, plays a key role in making sure your fire works perfectly with the look of your room. Whatever your inspiration, we're sure to have a fire surround that'll enhance your room.
We offer a variety of different finishes, ranging from marble, limestone, granite and wood surrounds. Decide whether you'd like a plain surround, or maybe something a little more ornate, it really all depends on the style you're going for, as well as your chosen fire.
You can opt for a complete surround set that gives you all you need. Alternatively you can choose from our range of separate surrounds, back panels and hearths to create a unique look that works with your chosen fire and surround.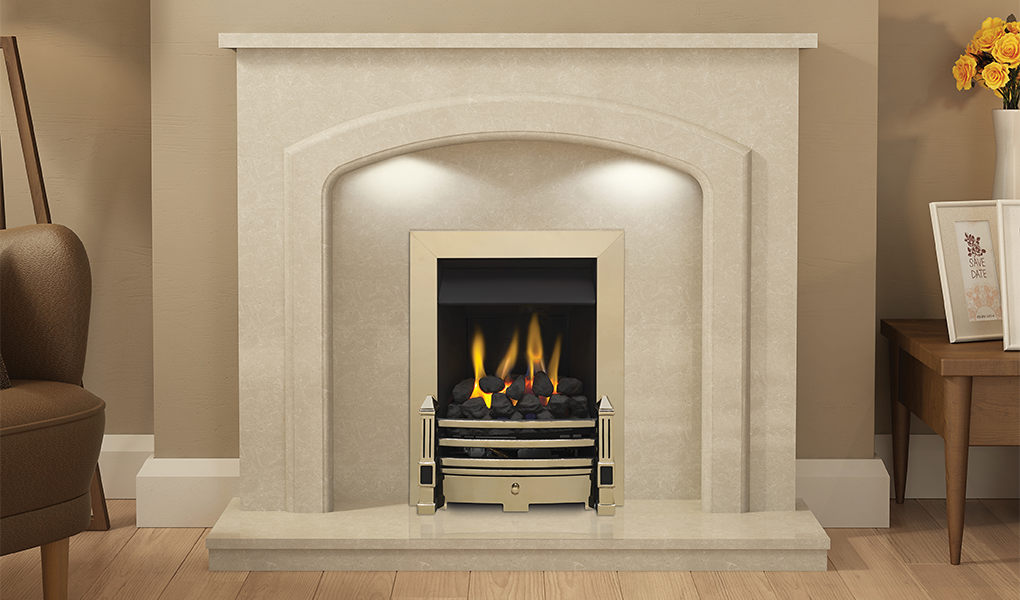 Back panels & hearths
Our back panels and hearths are available in a range of colours and effects to suit your room. Choose from durable marble or granite, or explore our laminate options. They resist stains and scratches and are a lot more lightweight than other options.
Take the time to make your back panel and hearth choices – these are the closest elements to your fire and therefore need to be complementary. They also set the tone for the whole style you're going for. Be sure to check that the surround you choose is suitable for your type of fire.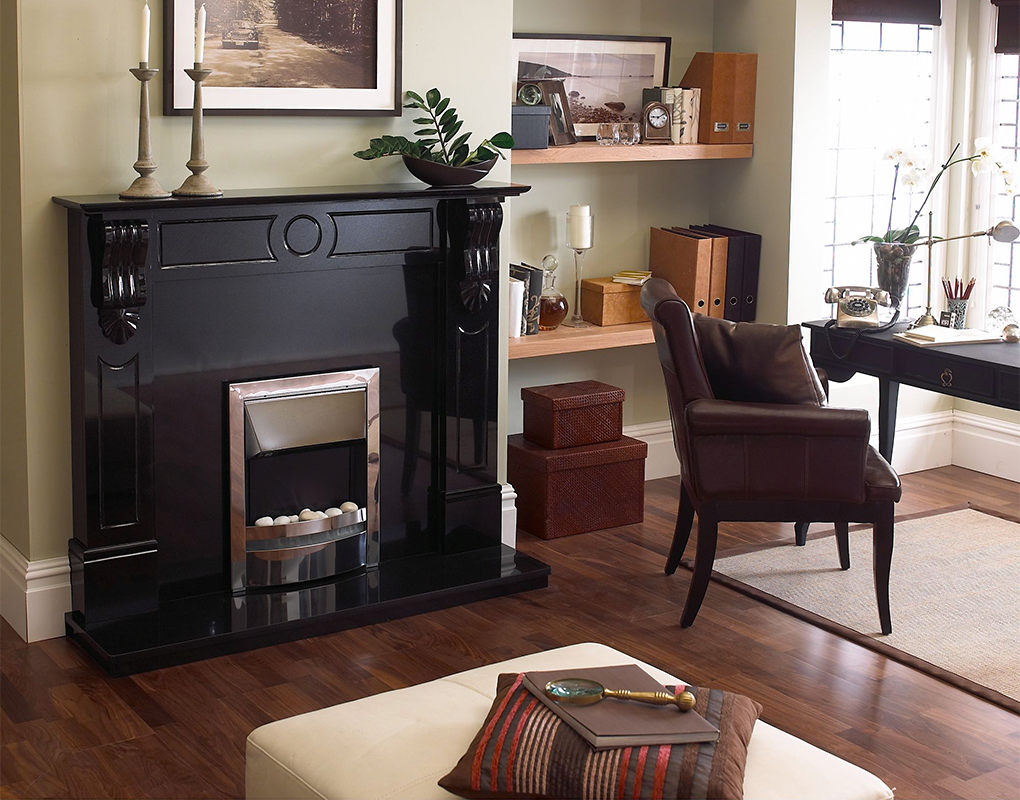 ---
So you've picked your fire, chosen your surround, back panels and hearth and have decided where it's going. Now it's time for the finishing touches.
Fire screens and guards
If you've children or pets, and your fire is at a level that they can reach, you may want to consider getting a fire screen or guard to stop them getting too close. These are also an excellent way or preventing any hot debris popping out of an open fire and into your room.
Most of the products in our range are hinged, so they can be easily folded away when not in use, ensuring that your room stays free from clutter.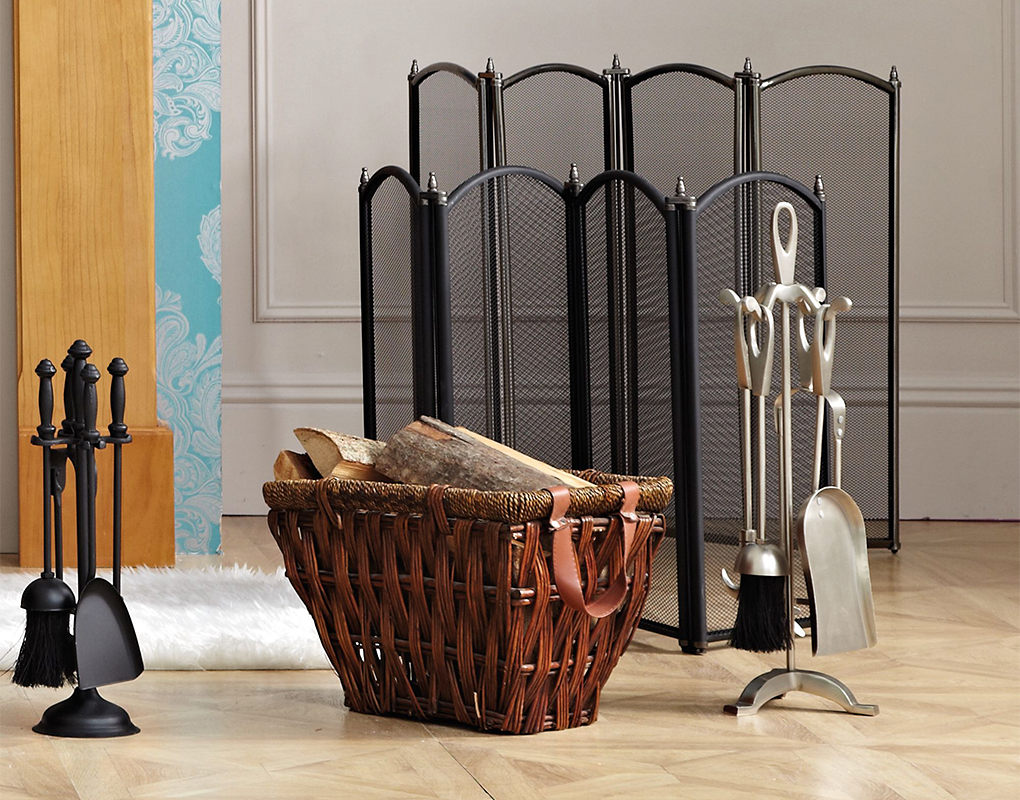 Log baskets & coal buckets
Chosen a solid fuel fire? Keep the wood, kindling or coal by the fire in a decorative bucket or basket to help you refill your fire with ease. Log racks are a stylish way to hold logs. Maybe you need a more traditional coal chute which comes with handles and allows you to pour your coal straight into the fire without having to get your hands grubby.
Even if you've got an electric or gas fire, check out our range to see if you just want add a basket as a decorative element.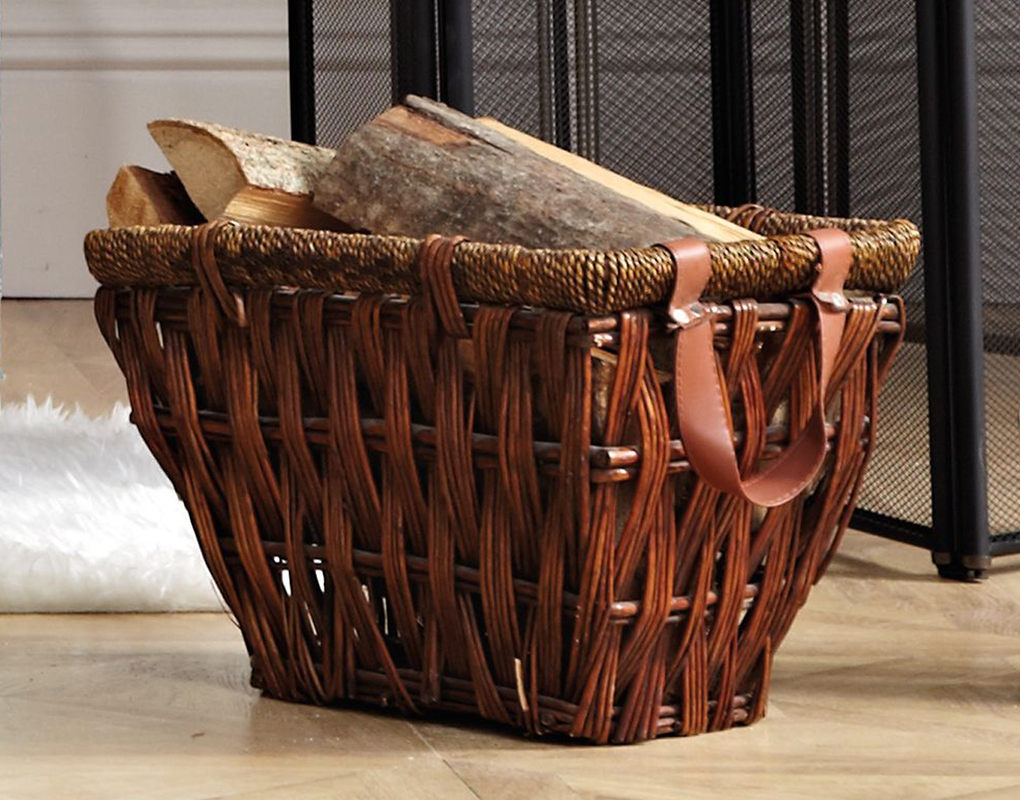 Companion sets and tidies
Having a solid fuel fire requires a little bit of maintenance to keep it, and the surrounding areas clean, as well as ensuring that it keeps working at its best. You'll need to sweep away the ash and redistribute the fuel to make sure it's burning effectively. To do all this, you'll need the right tools – our companion sets are just the ticket and they aren't just practical, they are stylish too.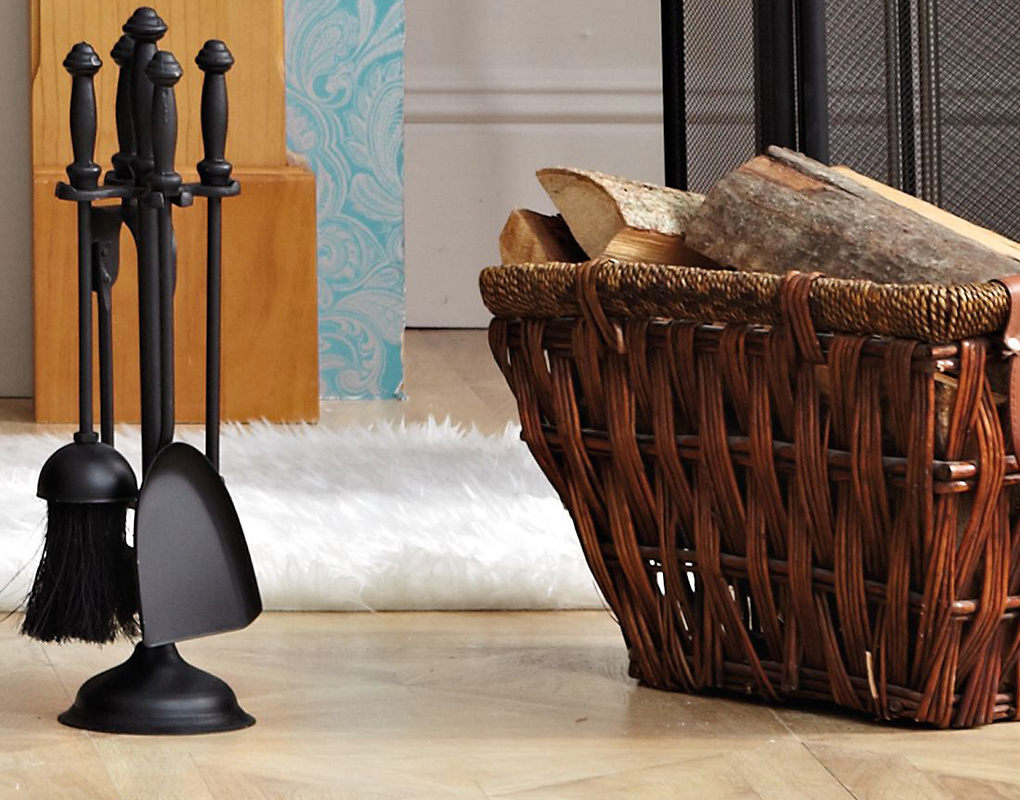 ---