Easy Christmas decorating ideas
Quick ways to get the home ready for Christmas
Everyone loves their home to be beautifully decorated at Christmas time. However, we don't all have hours to spend on it, so we need options that offer the festive look we want, quickly.
Any room or office can enjoy a holiday makeover in the blink of an eye. Taking it from standard to seasonal instantly and with little fuss and no stress.
Follow our top tips and we'll not only show you how to create a quick and easy Christmas look that you'll be proud of, we'll also ensure that you won't have to spend ages on the clear-up in January. Our handy guide is here to help you with all your last-minute Christmas decorating ideas.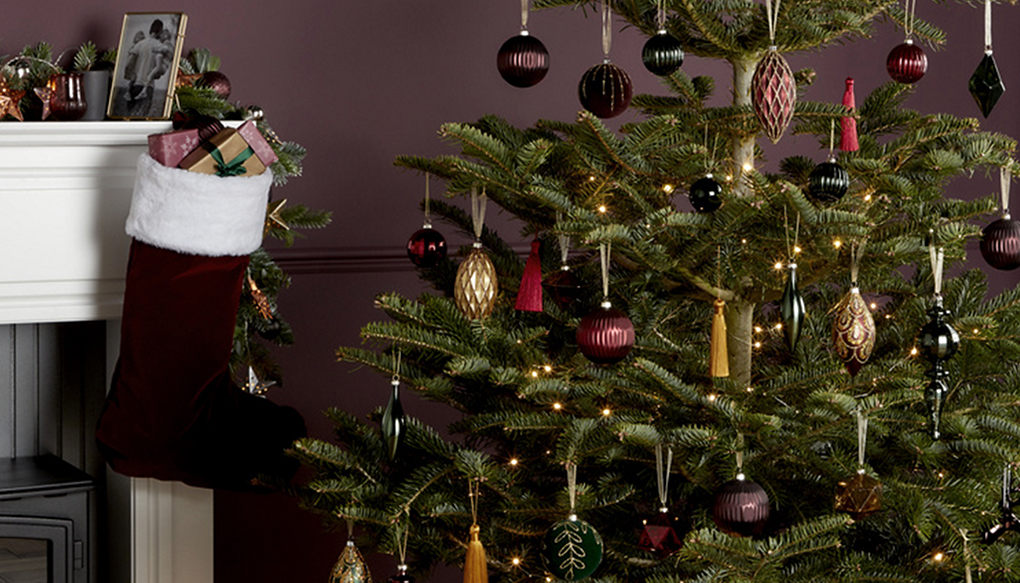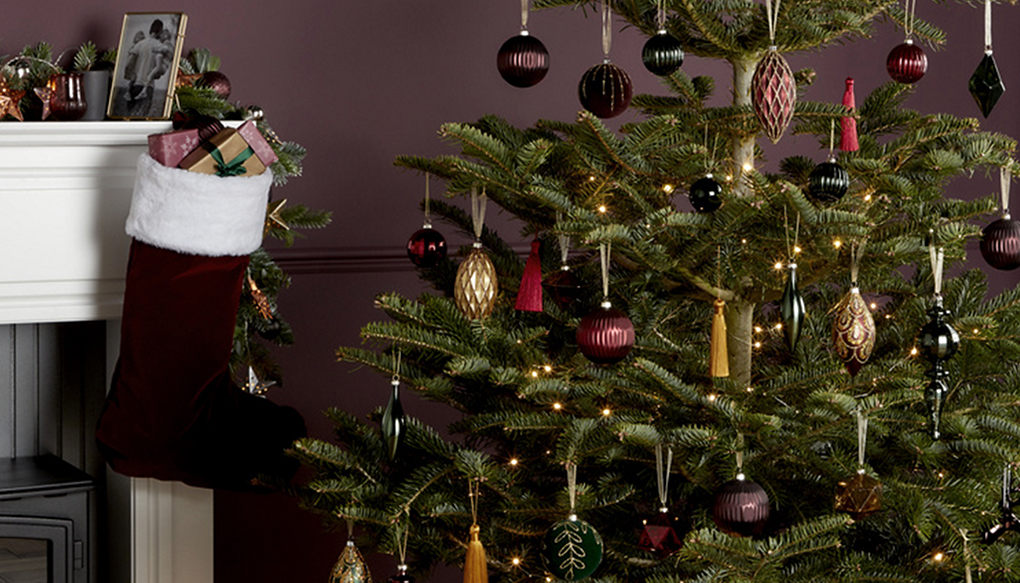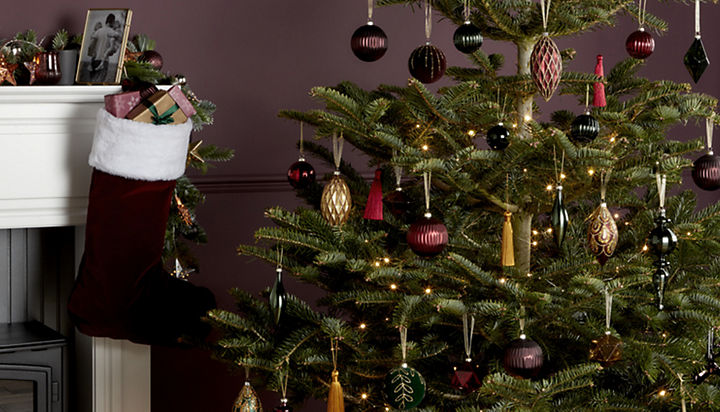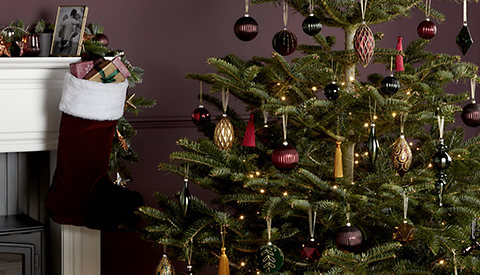 Instant Christmas makeover ideas
Trim the Christmas tree in no time
Artificial Christmas trees are the ideal choice if you're looking for something quick to put up as well as easy to maintain. Our range includes trees that are pre-lit (the lights are already attached), pre-decorated (the decorations are already attached) and even a combination of the two that only require assembly for a no-effort Christmas tree.
We love pop up artificial Christmas trees (such as the Trevalli pictured). These fun tinsel trees are fitted with lights and decorations, so all you need to do is put together the base, hang the main body over it and you're done.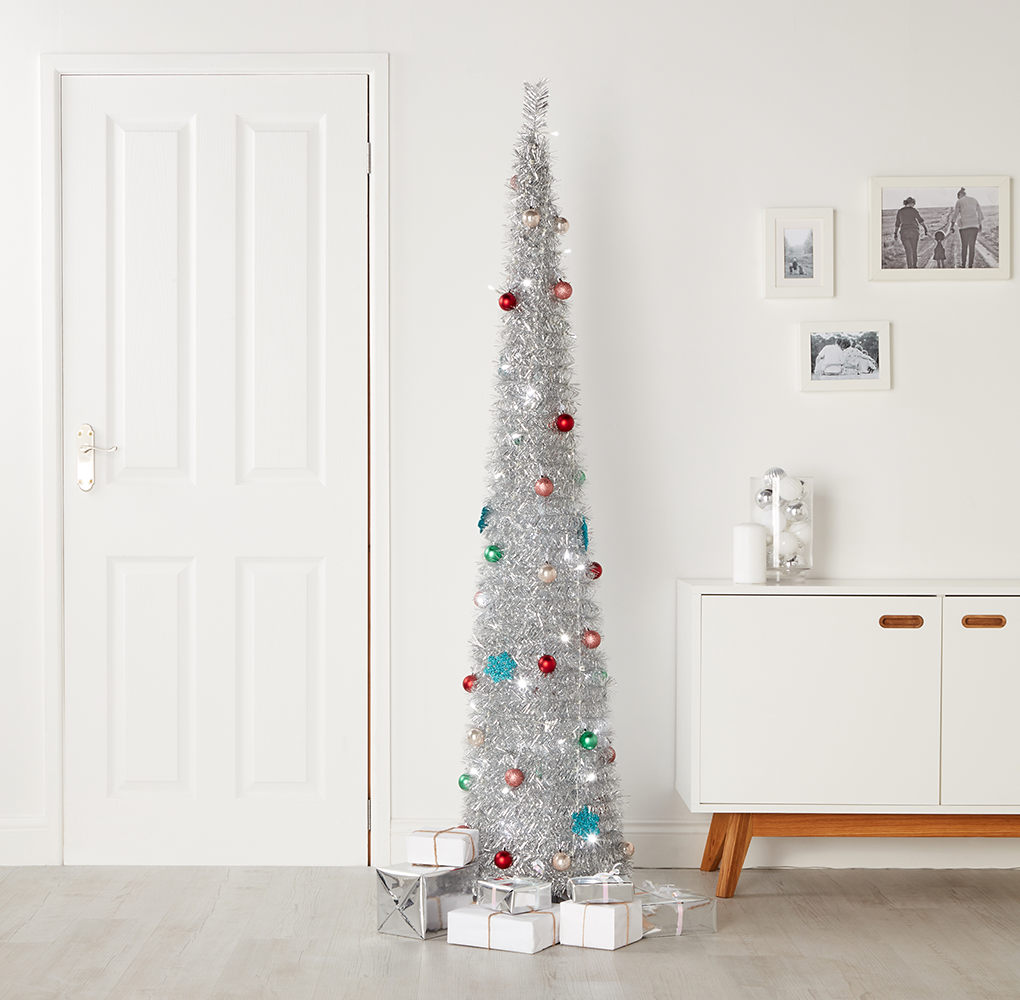 Dazzle with low-fuss Christmas lights
Twinkling Christmas lights are a sure-fire way to make a room feel festive and we have plenty of options that are high impact and low fuss. We recommend looking for battery-powered options, where possible, to save time on set up. Our favourites include:
Christmas silhouettes - a fun favourite that is either put up or hung to deliver stunning and speedy results. Check out our pop up 3D ones, such as our Freestanding Presents Trio Silhouette, they make a lovely feature for outside or inside the home. Why not place them under a tree in your front garden?
A new and incredibly cute addition to our range this year is this sausage dog light silhouette. We're also bringing back our popular pop-up dog light silhouette which you use to decorate your front garden or bring inside to add some canine cheer.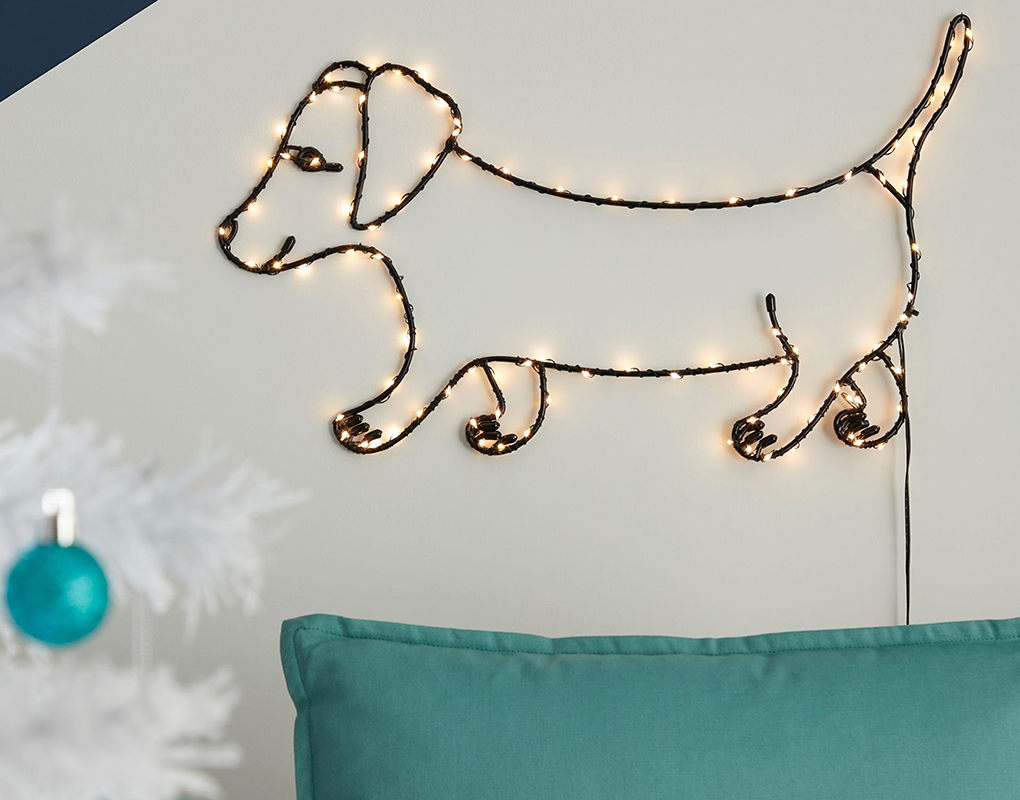 Pick up a plant - real or fake
Floristry offers a quick way to dial up the festive fun. If you're happy looking after real plants, poinsettias are the traditional favourite. We also sell potted bay trees, these make fantastic gifts and, with a little care, will continue to thrive long after the holiday season.
If you're not green-fingered, get the look with none of the fuss with one of our artificial plants. Our seasonal selection features metallic pots, including the hot trend for rose gold and plants with a sprinkle of glitter.
Don't forget we have a wide selection of artificial Christmas garlands and wreaths to liven up your bannisters, mantelpieces and window sills. Our 18ft pre-lit LED garland is ideal for adding a little extra to your decor - it can be decorated to match your style.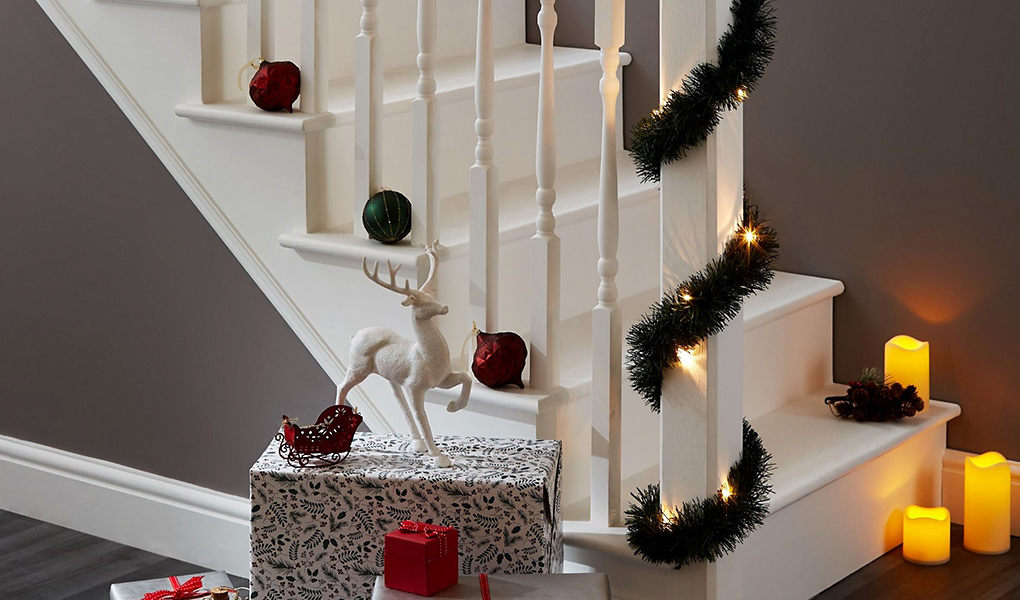 Enjoy some instant Christmas comfort
Switching your regular cushions and throws for festive options is a fast, effective way to make an ordinary living room Christmas-ready. Plus, it's got the added bonus of making your space cosy and snug for visitors on those cold winter nights. Think about colour and pattern to find something that matches your festive look. And don't forget texture – we love chunky knits and touchably soft faux fur. Simply scatter and drape where needed to give your home a comforting Christmas makeover.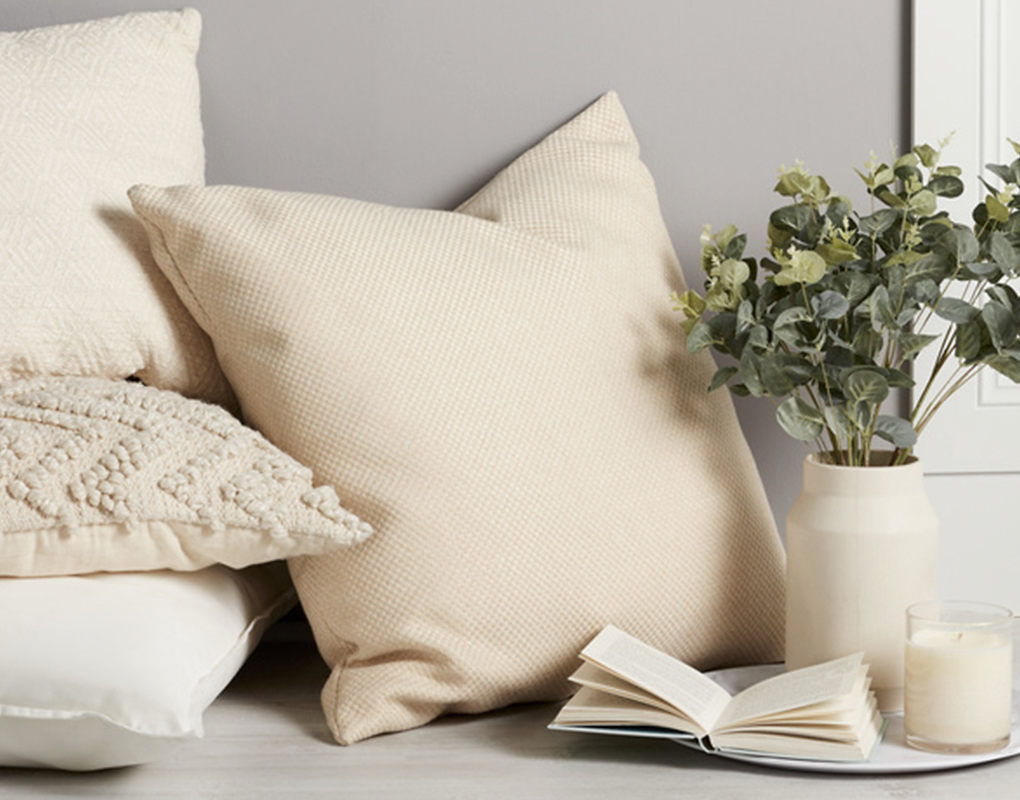 Don't forget to dangle
Hanging decorations can be quickly added to any corner of the house to add instant Christmas cheer. These can also help continue your festive look from room to room and are especially effective in small spaces, such as offices, or ones often overlooked at Christmas, like hallways, bedrooms and kitchens.
Tidy away coats, scarves and dressing gowns to make use of all available hooks to hang stockings, sacks and wreaths. These come with integrated hooks for easy hanging. While smaller baubles, hanging decorations and door hangers work well dangling from handles and knobs, such as those on kitchen cabinet doors.
Alternatively, add hanging decorations wherever you fancy with our self-adhesive hooks, and wreath and stocking hangers. They're all removable and don't require any tools or repair work afterwards – ideal for renters.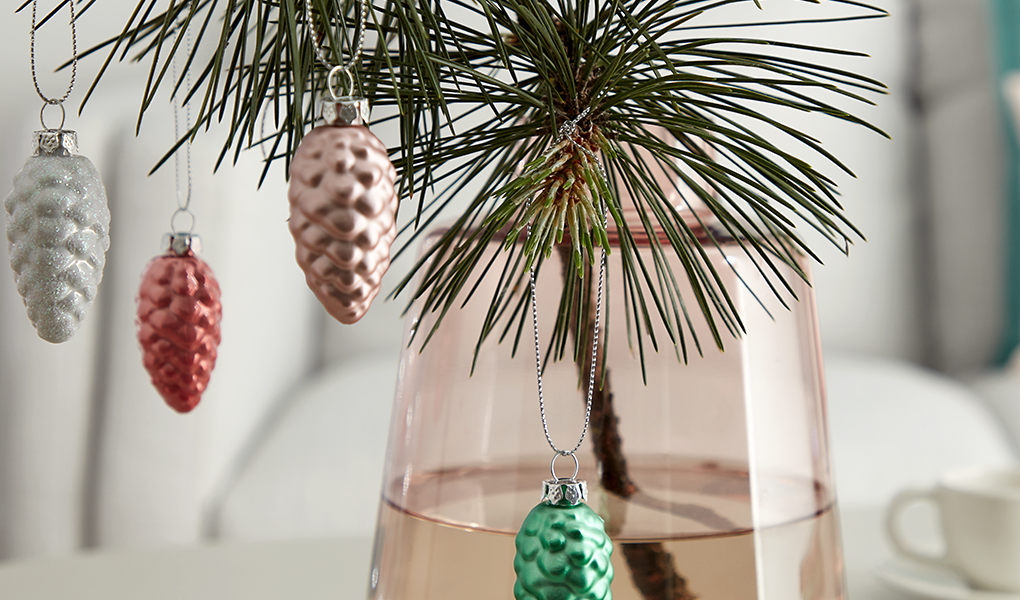 Make the most of walls
Walls can often be forgotten about come the festive season - but they can easily be transformed from magnolia to merry. Take down existing prints and pictures and replace with Christmas alternatives. For a unique look, you could spray paint spare photo frames in gold or silver and hang a single decoration, such as our Feather Glitter Decoration in the middle of the frame. Simple yet incredibly effective.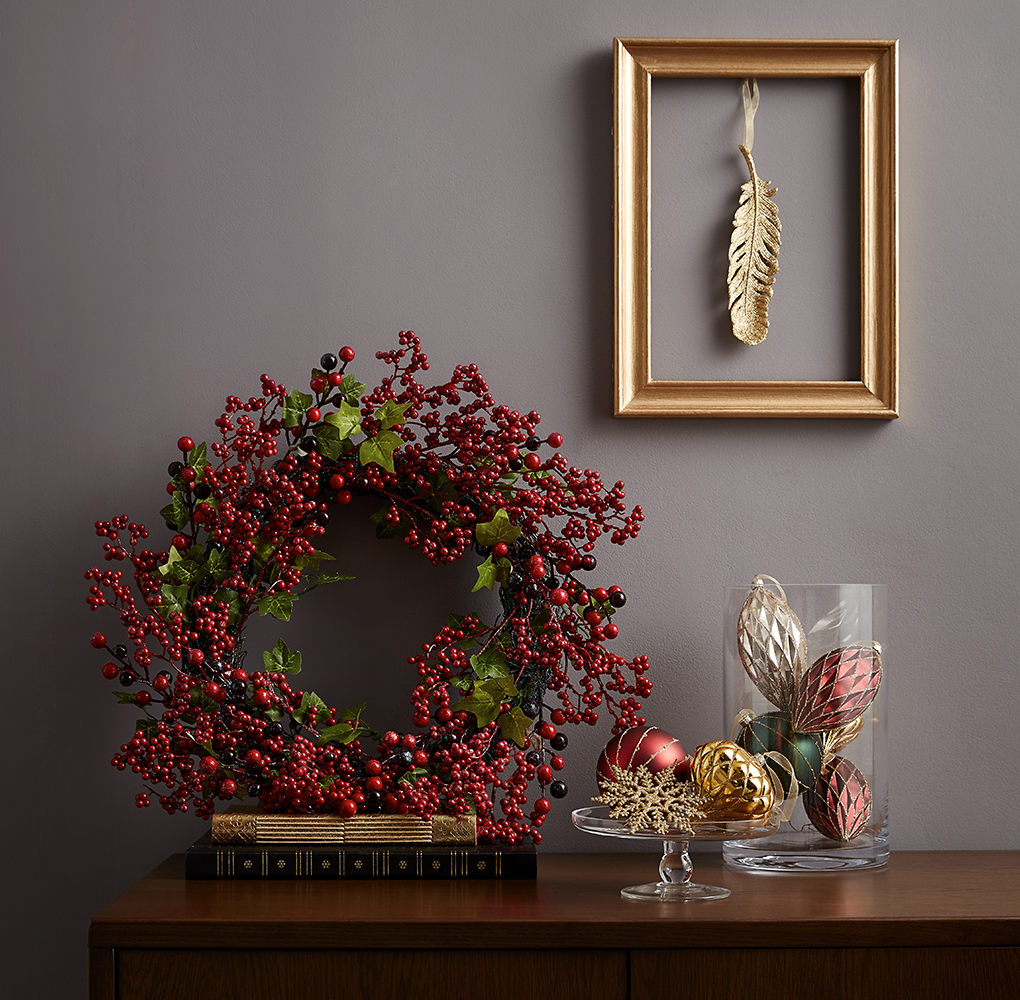 Decorate neglected surfaces
Shelves, windowsills, fireplaces, stair bannisters – these spots and more can all be quickly updated to dial up the holiday spirit. Larger surfaces work well with garlands and swags, while traditional tree decorations, like tinsel and bead chains, can be simply and artfully arranged to add sparkle in smaller spaces.
For a stress-free and simple showstopper, grab a bowl or basket and fill with any spare baubles (pictured). Or introduce a stunning light silhouette such as this wooden crackle bulb star. Perfect for creating a sophisticated seasonal sparkle.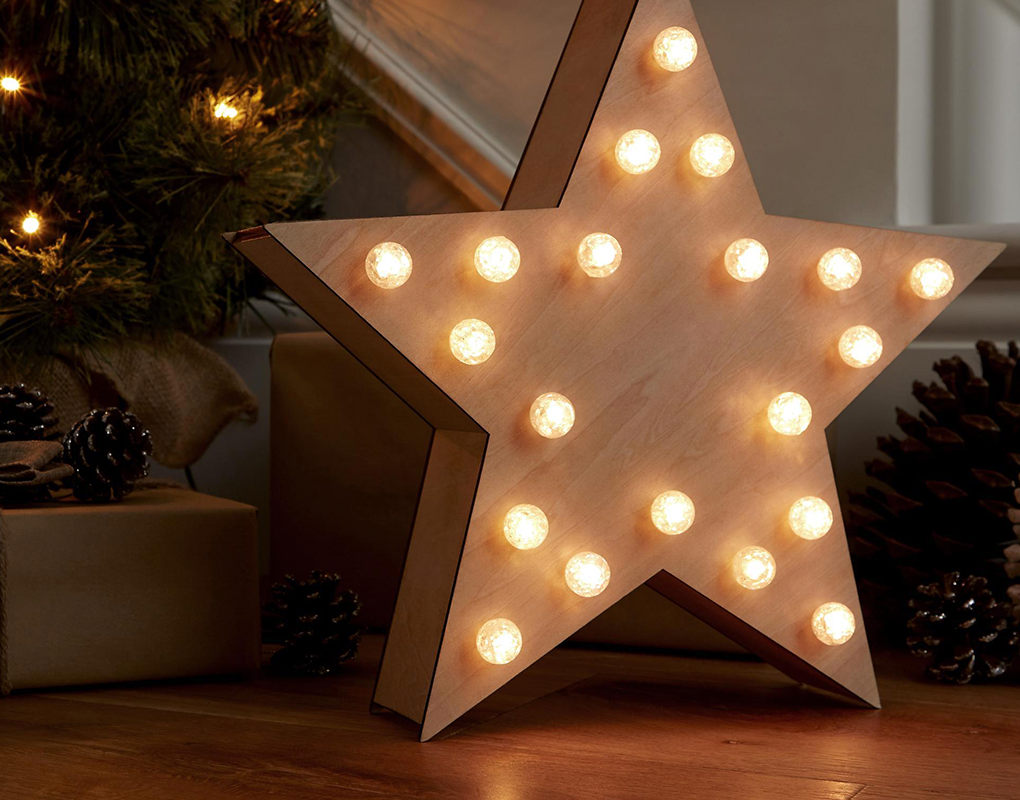 Don't forget to hang your stockings
Add some instant Christmas charm to your living area by hanging up your stockings for all to see. If you don't have a hammer to hand, or don't feel comfortable nailing holes into your wall or fireplace – we've got just the trick with our weighted stocking holders. These are perfect for hanging Christmas stockings on a mantelpiece, table or windowsill without leaving any unwanted marks or scuffs.