Get your home ready for Christmas guests
6 ways to prepare your home for visitors this festive period
With the holidays fast approaching, now is the time to start prepping your home for your Christmas guests. From doorbells and doormats, to cushions and curtains, small changes can make all the difference. That's why we've created some handy tips to help you freshen up your home in time for Christmas and give your guests a fabulous festive stay.
It's time to get your home ready for Christmas. Skip to…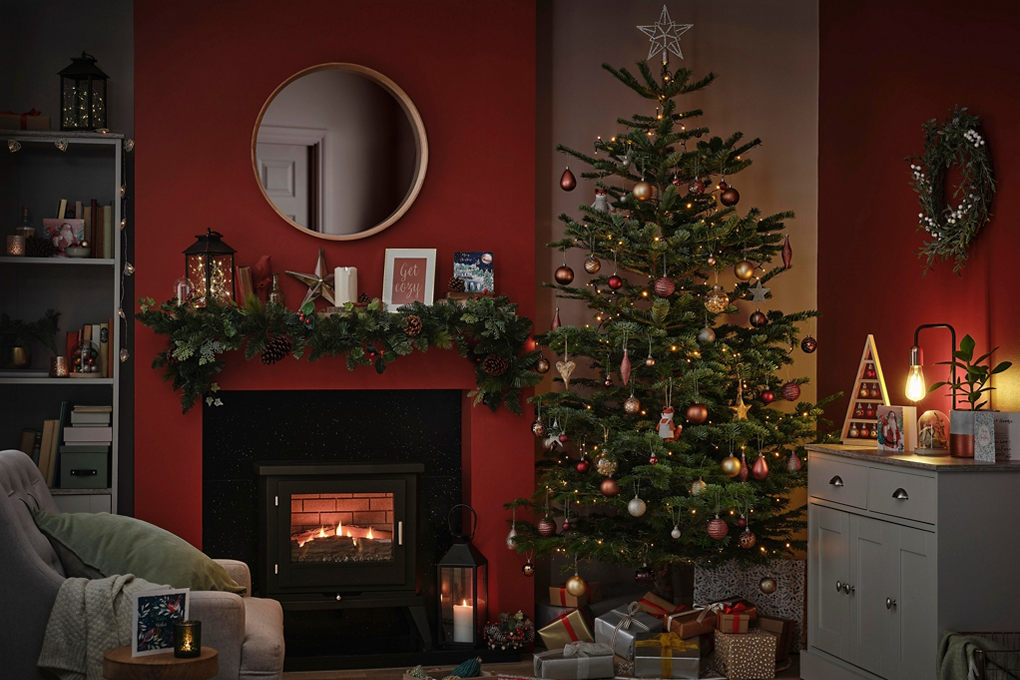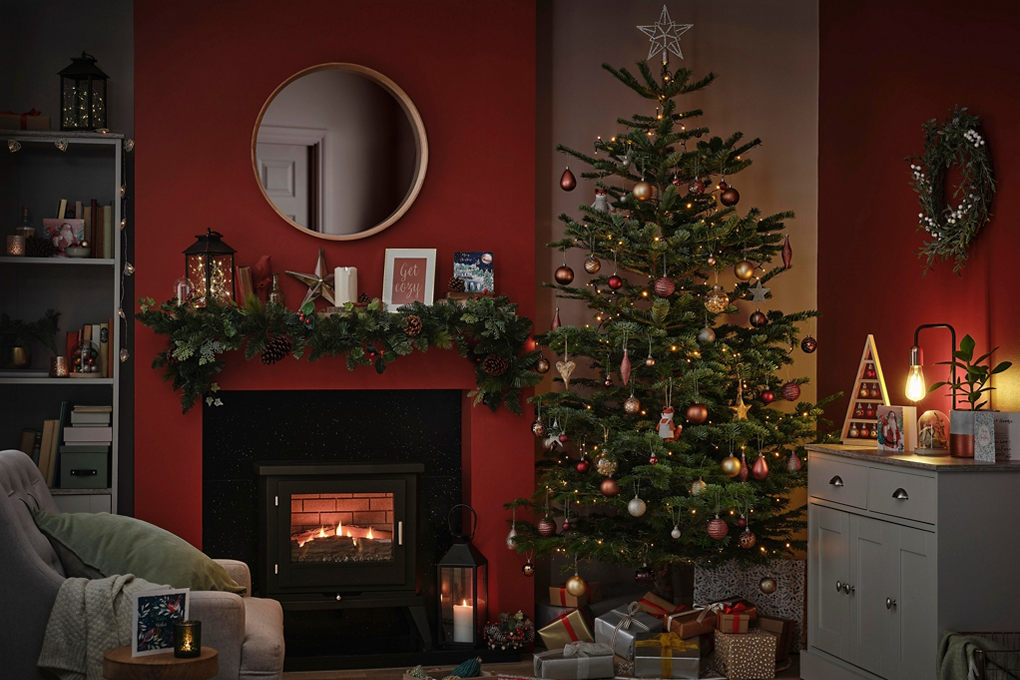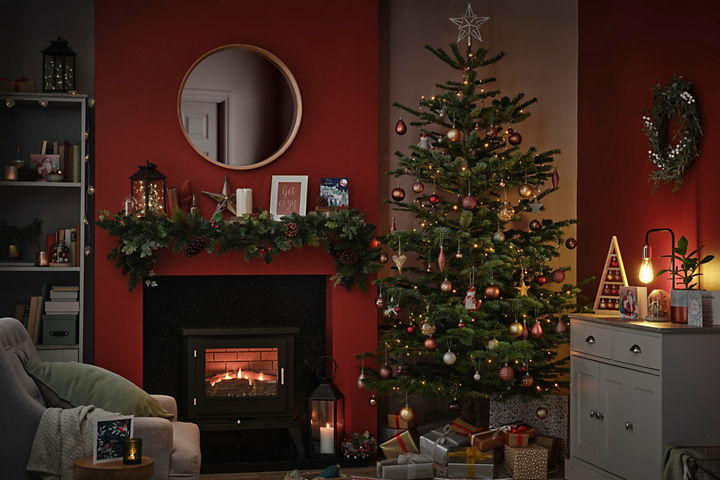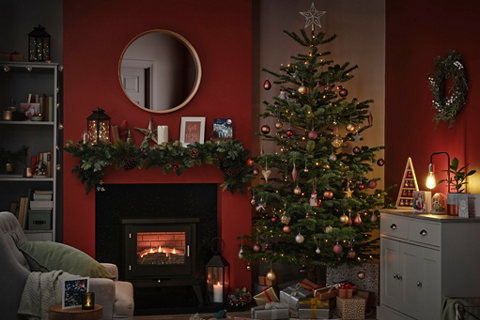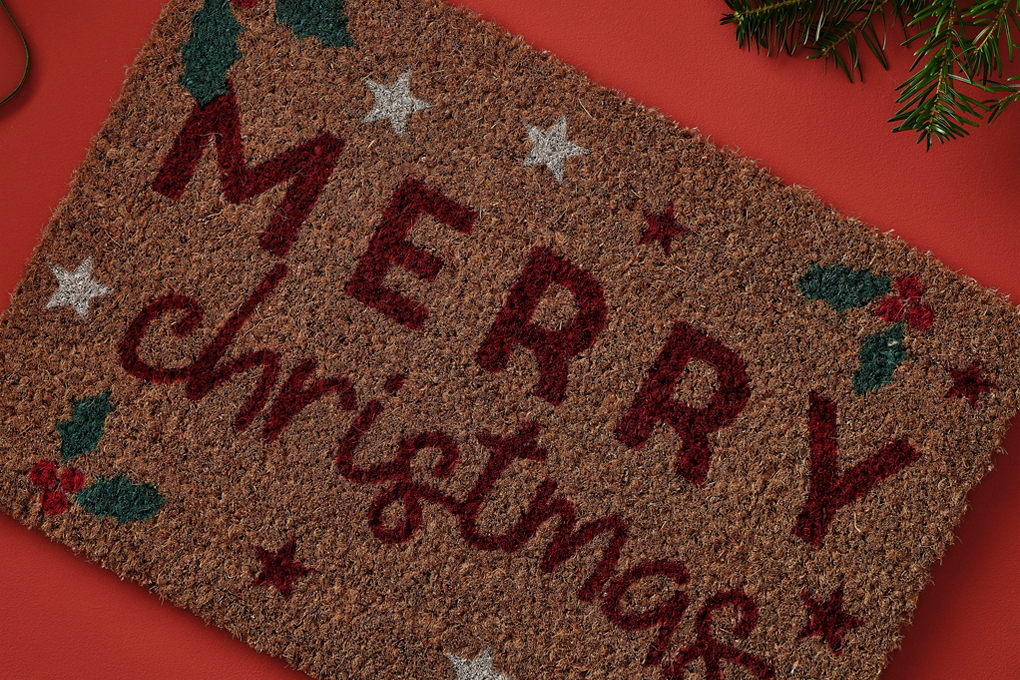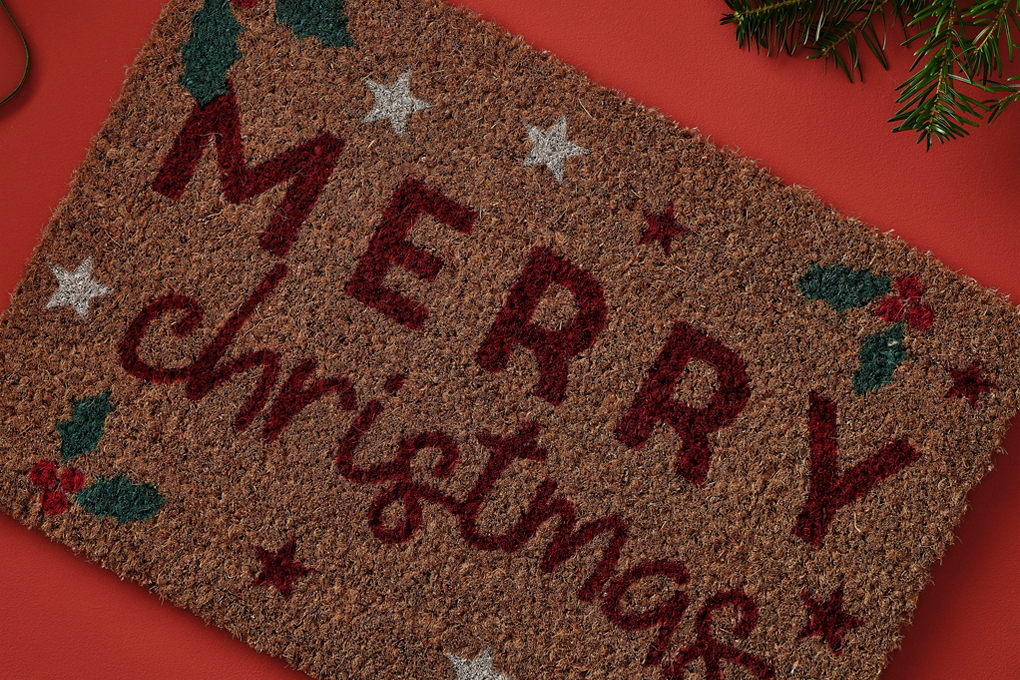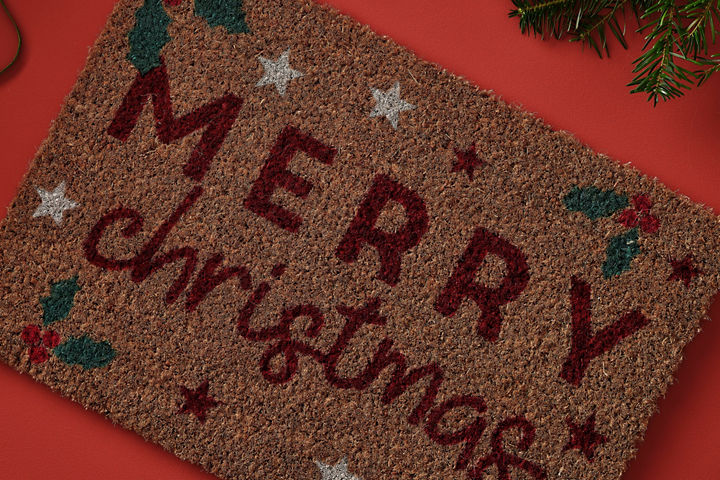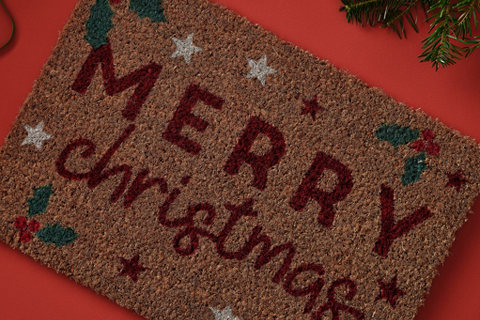 1. Freshen up your entrance
Whether you're hosting a Christmas party, or someone's popping by to drop off the turkey, first impressions count when having guests over. From the moment your guests step foot on your doorstep, you want to make sure they're getting that warm and fuzzy feeling.
Making a good first impression doesn't have to be expensive. There are numerous quick fixes you can make to your front door that will transform the look and feel to the entrance of your home.
Is your front door looking a little tired? It's as easy as giving it a lick of paint for a complete refresh. We love the look of duck egg painted doors, complete with a frosted wreath and a cool Christmas doormat for a stunning seasonal makeover. If you have guests coming and going over the festive period, why not go for a new doorbell? A smart doorbell, such as a Ring doorbell, will be sure to impress your guests when they arrive. Alternatively, if you're looking for something quick and easy, we recommend a kinetic-powered doorbell that requires no batteries.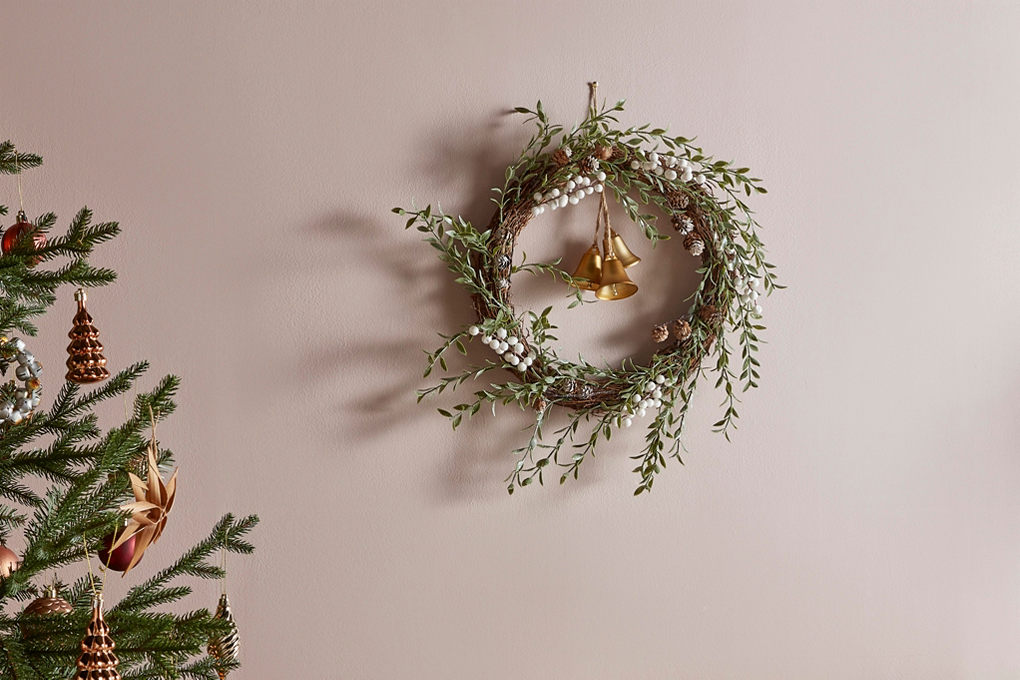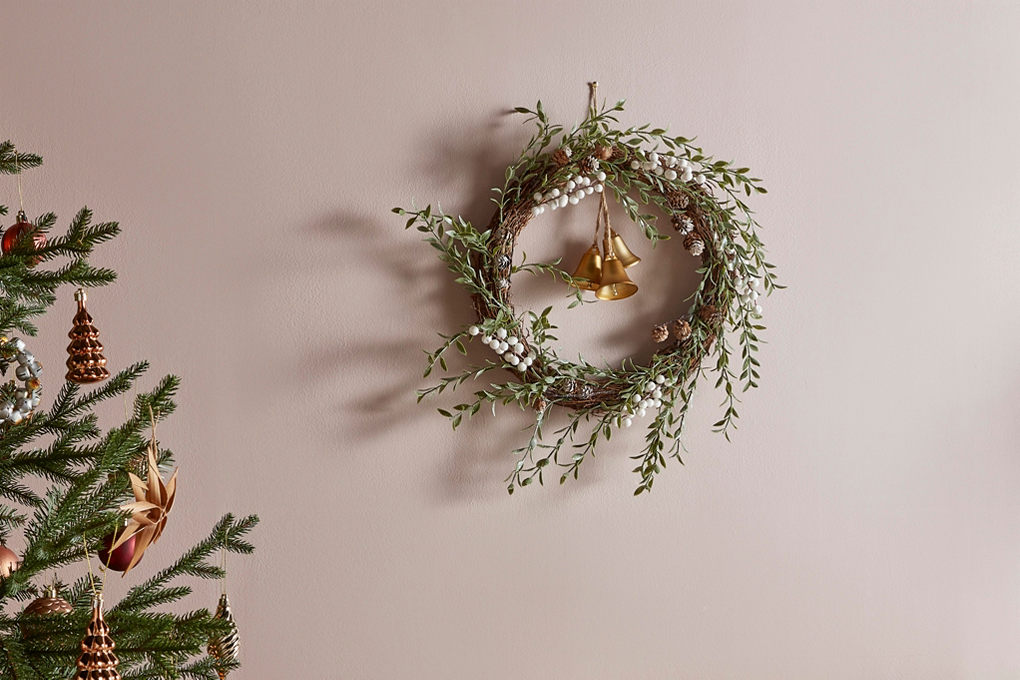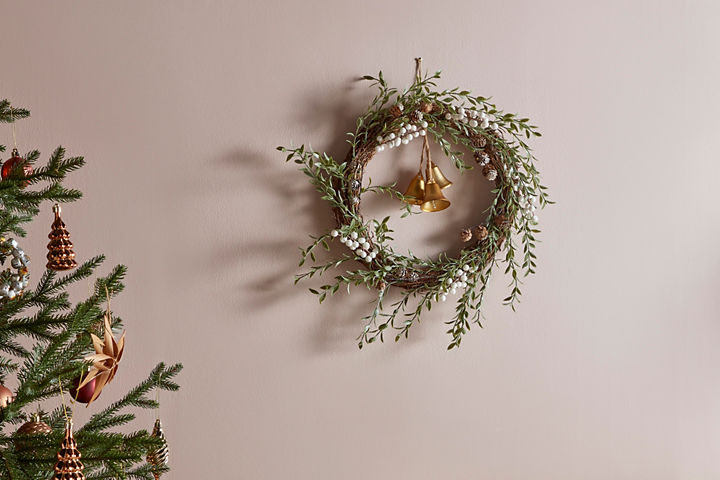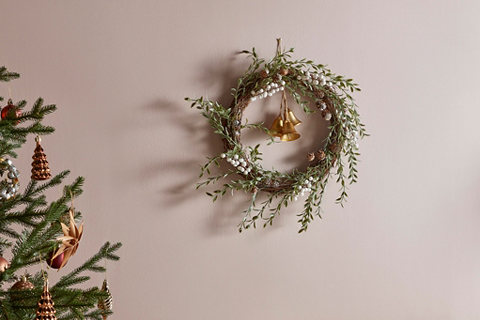 2. Refresh your walls with paint
It's easy for scuffs and marks on your walls to blend into the background, but for guests, they'll be glaringly obvious. Paint your hallway and living room walls for a fresh new look. You could choose the same colour and cover any marks. Or if you're feeling adventurous, why not choose a brand-new colour to see in the new year?
If you're not sure where to start, we'll show you how to prep your walls for painting and transform your room with a fresh coat of paint. Need some help deciding your shade? We've got plenty of living room colour ideas to inspire you, from sage green to deep blue. Our paint mixing service lets you choose from 2,000 pre-selected colours to find the perfect colour for your room.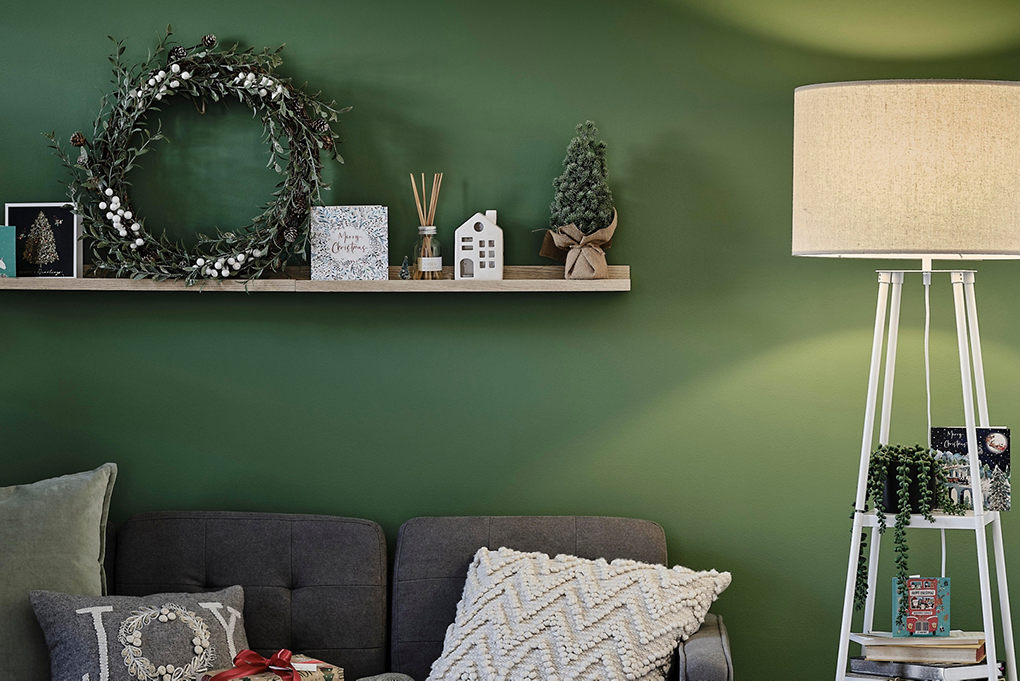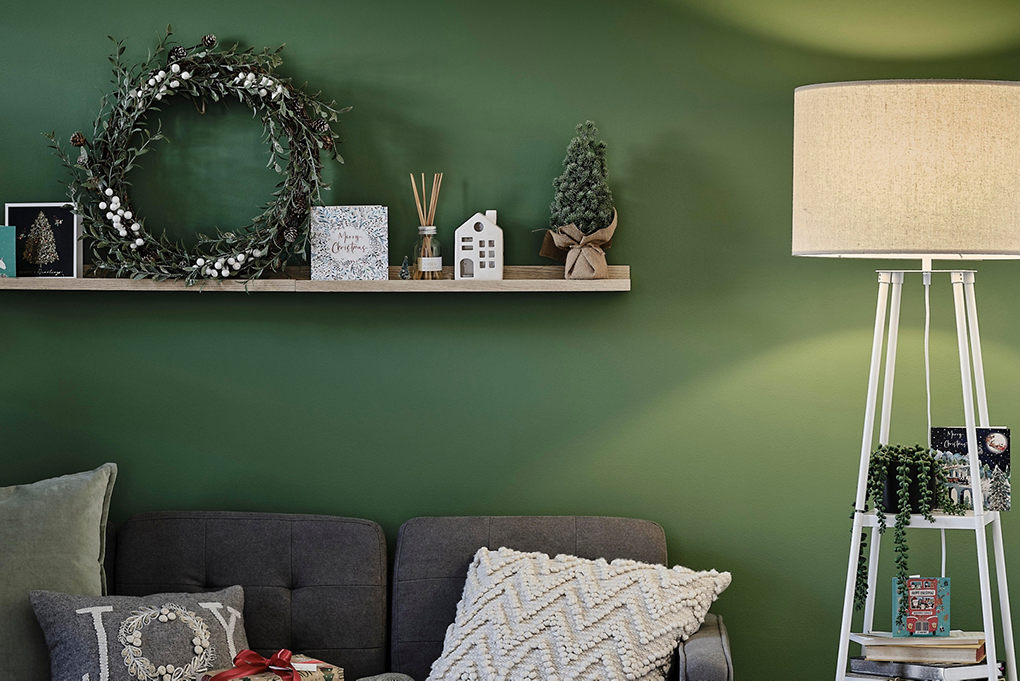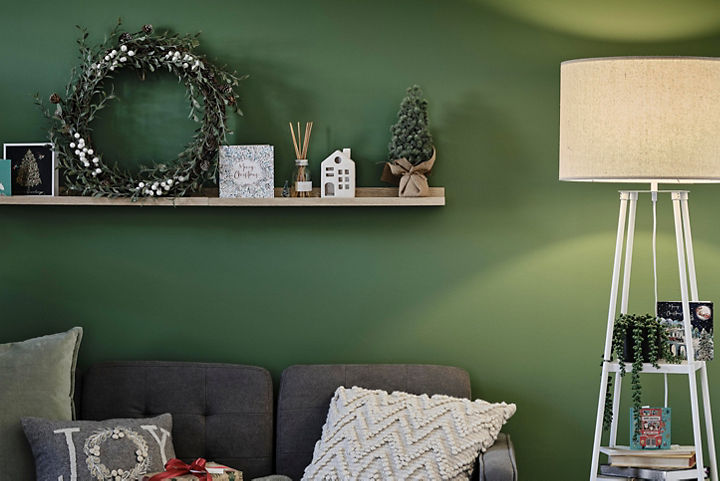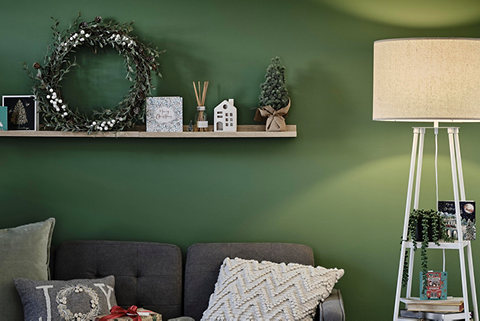 3. Create a cosy ambience
The festive period calls for ambient lighting. If your home is looking a little lacklustre, making some minor lighting switch ups can make all the difference in creating a festively cosy space. Think draped string lights, extra table lamps, and subtle spotlights. We've shed some light on our favourite lighting quick fixes below.
Turn off the ceiling lights and get cosy with floor and table lamps. Putting a floor lamp in the corner of your living room is a great way to brighten up the space whilst keeping it looking ambient. We recommend brass effect lamps for a cosy Christmas feel.
One place you'll want luminous lighting is in the kitchen – it's crucial for Christmas dinner around the dining table! A quick fix you can make this winter is to add spotlights in your kitchen. Spotlights can be used to highlight specific areas of your room (shine a light on those spuds!) or to wash a wall with light for a more indirect ambient effect.
If you have a fireplace, we recommend draping string lights over the hearth for a complete cosy feel. Remember – the cosier your space feels, the more at home your guests will feel. Don't be afraid to hang some outdoor string lights on the front of your house to impress the guests upon arrival!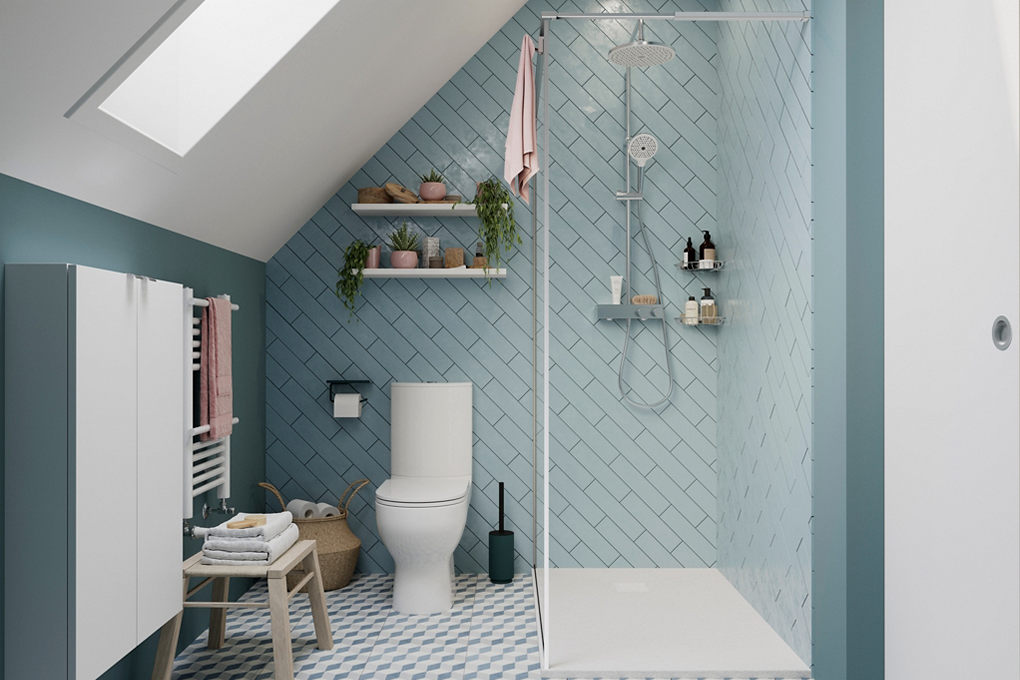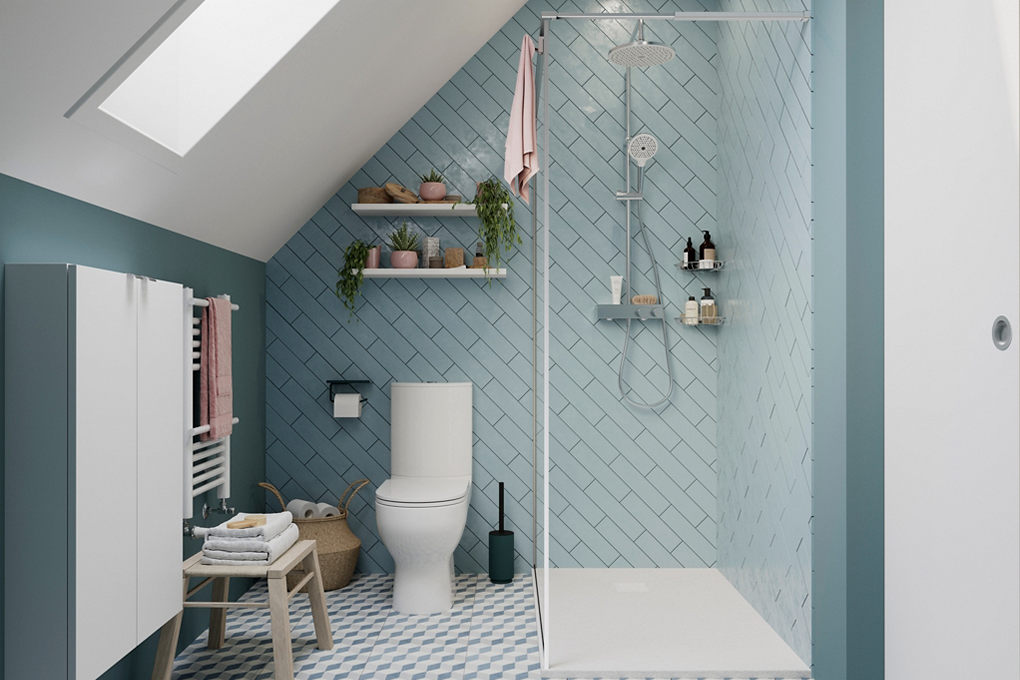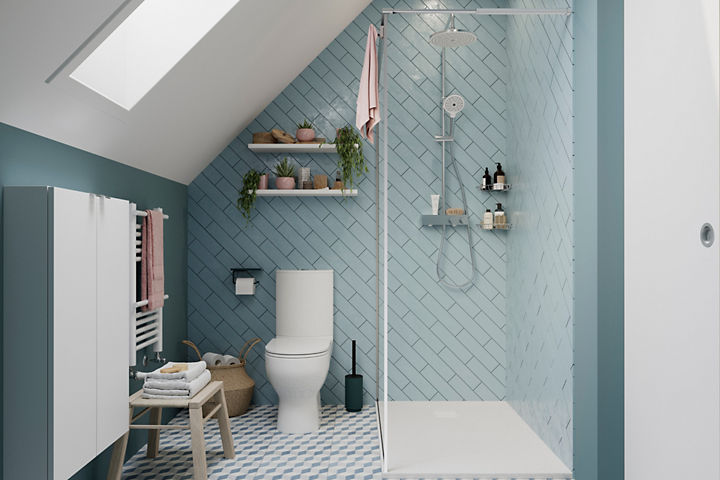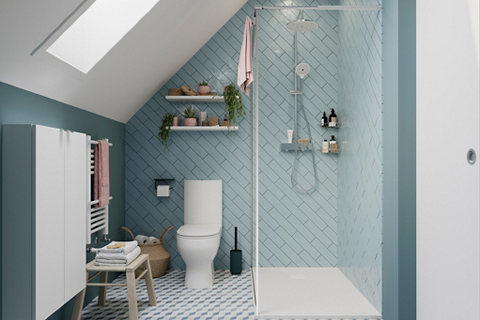 4. Give your bathroom a spruce up
Is your bathroom looking a little… uninspiring? You can quickly and easily spruce up your bathroom before guests arrive with just a few small changes. Nobody wants to spend a fortune on DIY over the festive period, so here are our tips to brighten up your bathroom on a budget. Shower curtains can be tricky to keep clean, and sometimes start to look dull even if they've been given a good wipe over. Let's face it, there's nothing fresher than a bright white shower curtain – and we're sure your guests will think the same. Replace your existing shower curtain with a contemporary white marble design shower curtain to really impress your house guests.
Another quick fix that won't break the bank is opting for a new toilet seat. The toilet is the focal point of your bathroom (and something your guests will use regularly!) so it's important to have a clean, functional toilet seat for your guests. To make a real eye-catching statement, choose a black toilet seat.
Getting your home guest ready doesn't mean you have to splash out on a whole new bathroom. Your guests will be left feeling like they've experienced spa-like luxury with just a few accessory upgrades. We love the high-end aesthetic of the Elland marble bathroom accessories.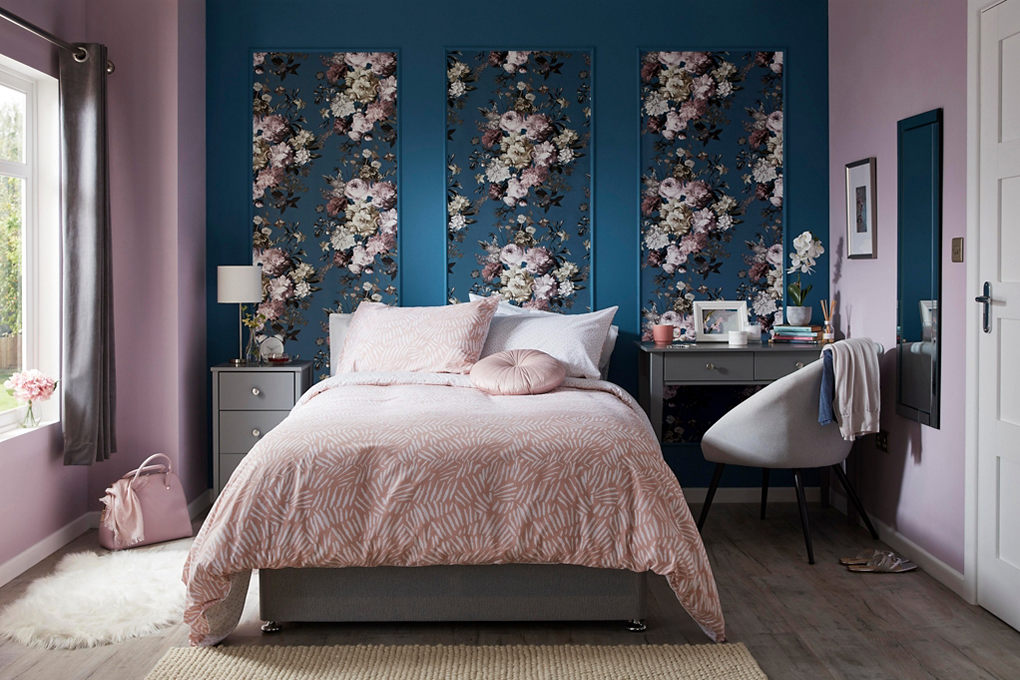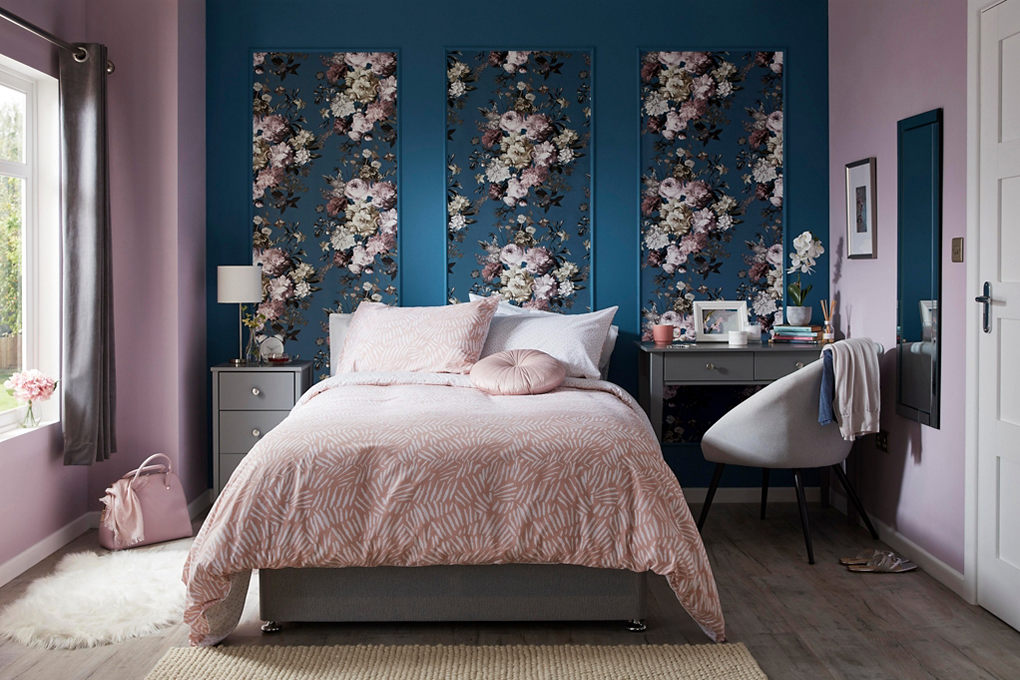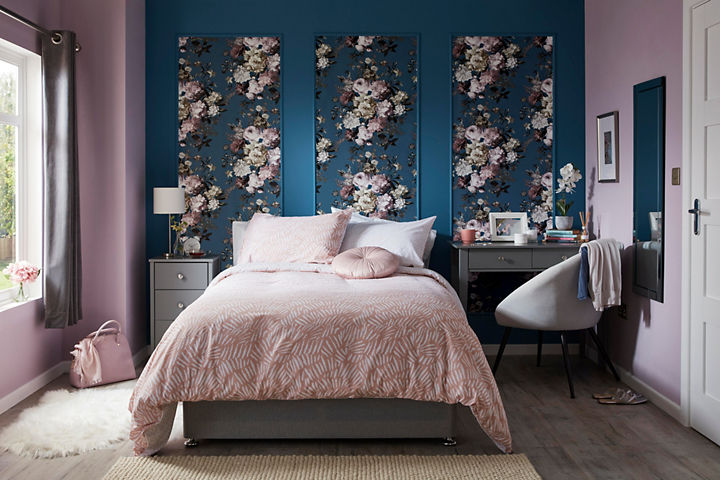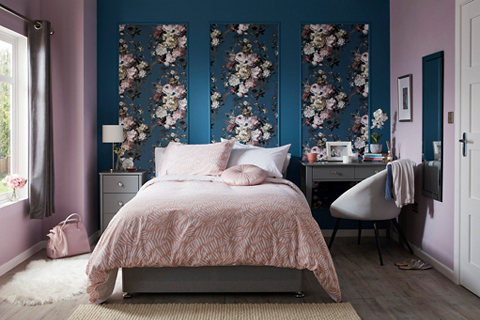 5. Prepare the spare bedroom for guests
If you've got guests staying the night, it's essential that you've got a bedroom that not only makes your guests feel at home, but one that's equipped for a good night's sleep. From blackout blinds to plush pillows, there are several quick fixes you can undertake to get your spare room guest ready.
You want to make sure your guests have a comfortable stay, whether they're sleeping on the sofa or in the spare bed. We suggest choosing memory foam pillows to give your guests ultimate comfort. You could even treat them to a warm winter 13.5 tog duvet for the night – it's Christmas after all!
The key to a good night's sleep is blackout blinds or blackout curtains. These type of blinds and curtains include a coating that blocks out all external light as well as keeping the warmth in – perfect for those chilly winter mornings. Not only will your guests be guaranteed a peaceful sleep, but you can sleep easy knowing it's a cost-effective quick fix too. Looking for more guest room ideas? Read our article for advice on creating a welcoming guest room.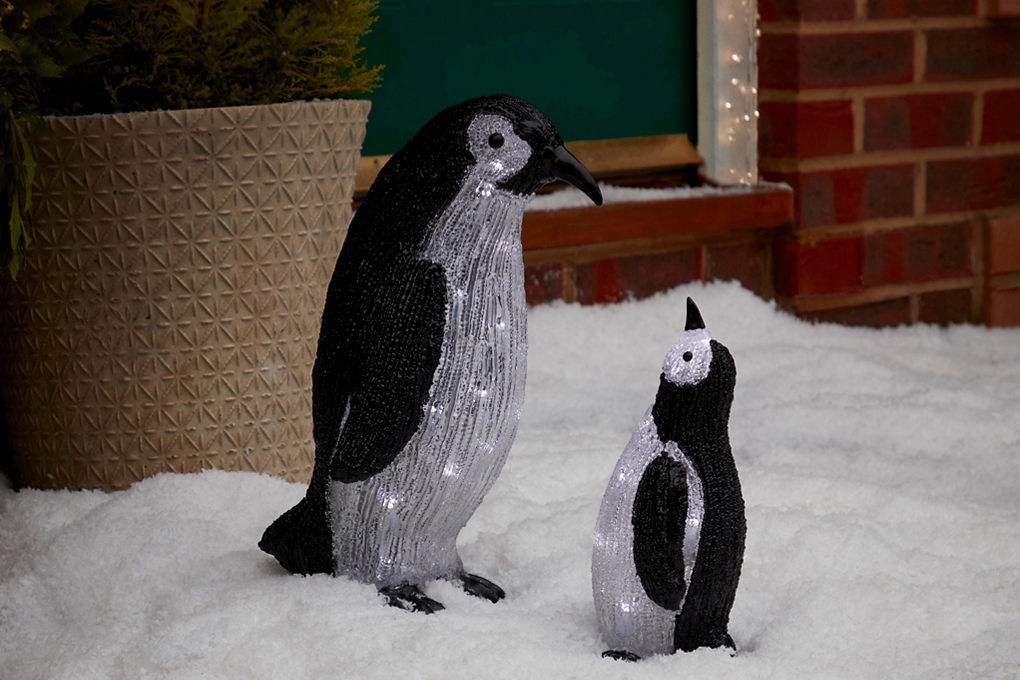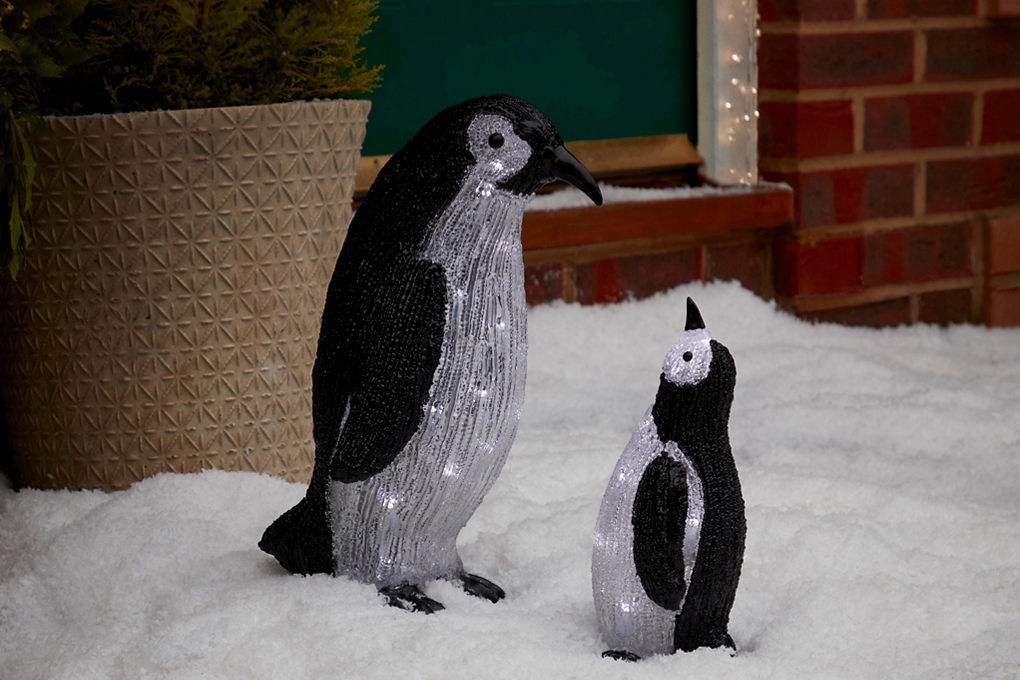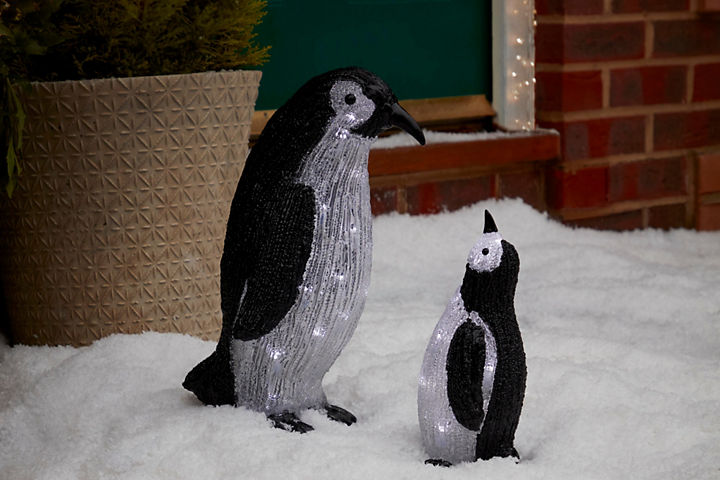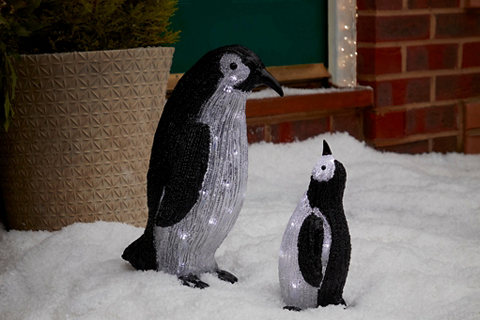 6. Get your garden ready
Your outdoor space shouldn't be neglected just because it's winter. If you're hosting a Christmas party, chances are you'll have lots of guests coming in and out of your house, so it's important that your garden space is guest ready too. Check out our quick fixes for sprucing up your garden for those all-important Christmas get togethers. Outdoor lighting is vital when it comes to dark winter nights. We recommend opting for a motion sensor floodlight so guests can navigate around the garden when heading outside. If you're braving the cold and hosting a festive garden party, impress your guests by hanging a selection of garden party lights.
Want to win Christmas host of the year? Dazzle your guests with the full works! Go big with a glass of bubbly in the hot tub – portable spas can be used all year round and are a great option for entertaining guests. Alternatively, if you're looking for a low-cost quick fix that will be a real party highlight, go for a chiminea or firepit. There's nothing better than roasting marshmallows round the fire over the festive period.