Stevia Matt Sandstone Slab
Stevia matt sandstone slab
Our Stevia matt kitchen in soft Sandstone are the perfect neutral shade which is light and airy whilst adding a touch of warmth to your kitchen. The sleek slab doors have a contemporary feel, which works well with contrasting accessories for an ultra-modern look.
The soft beige shade works well in multi-function rooms where you need extra storage space for a home working corner. The slab doors, with their smooth finish, are easy to clean, and the matt finish doesn't reflect the light making them perfect for hiding fingerprint marks.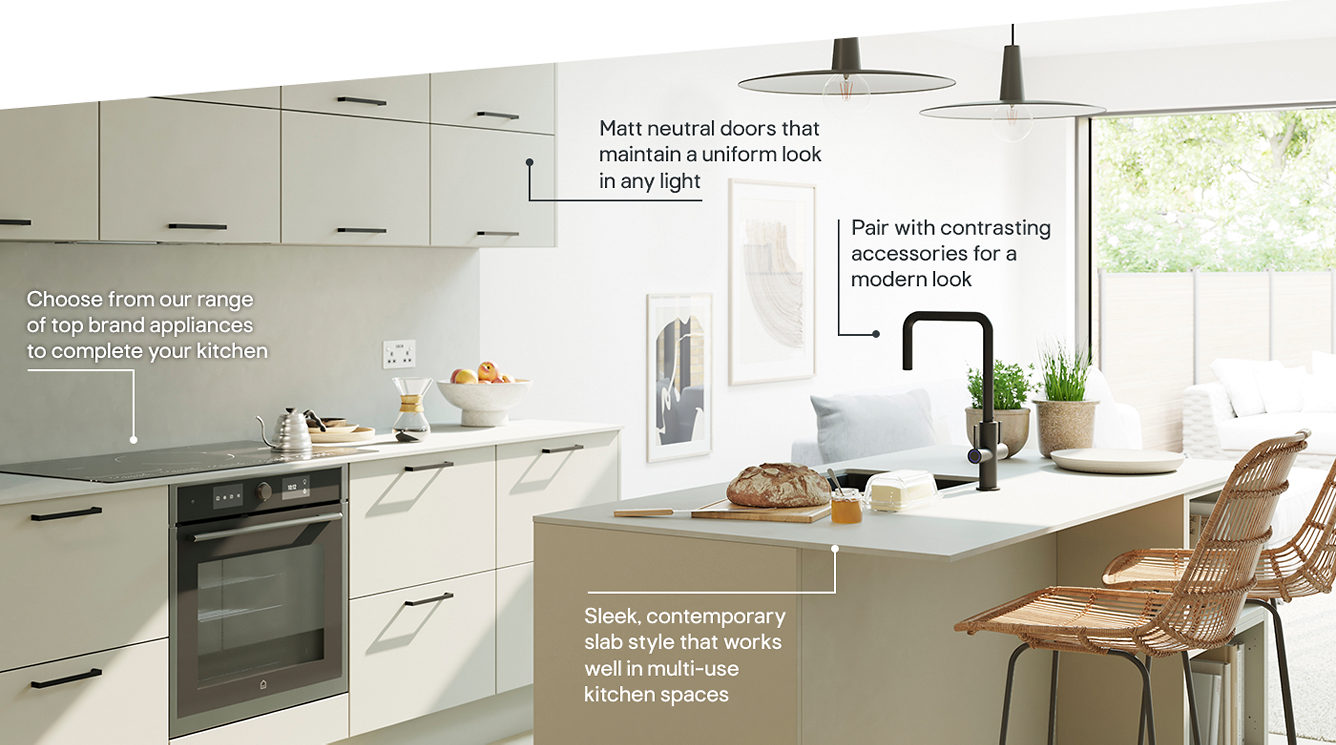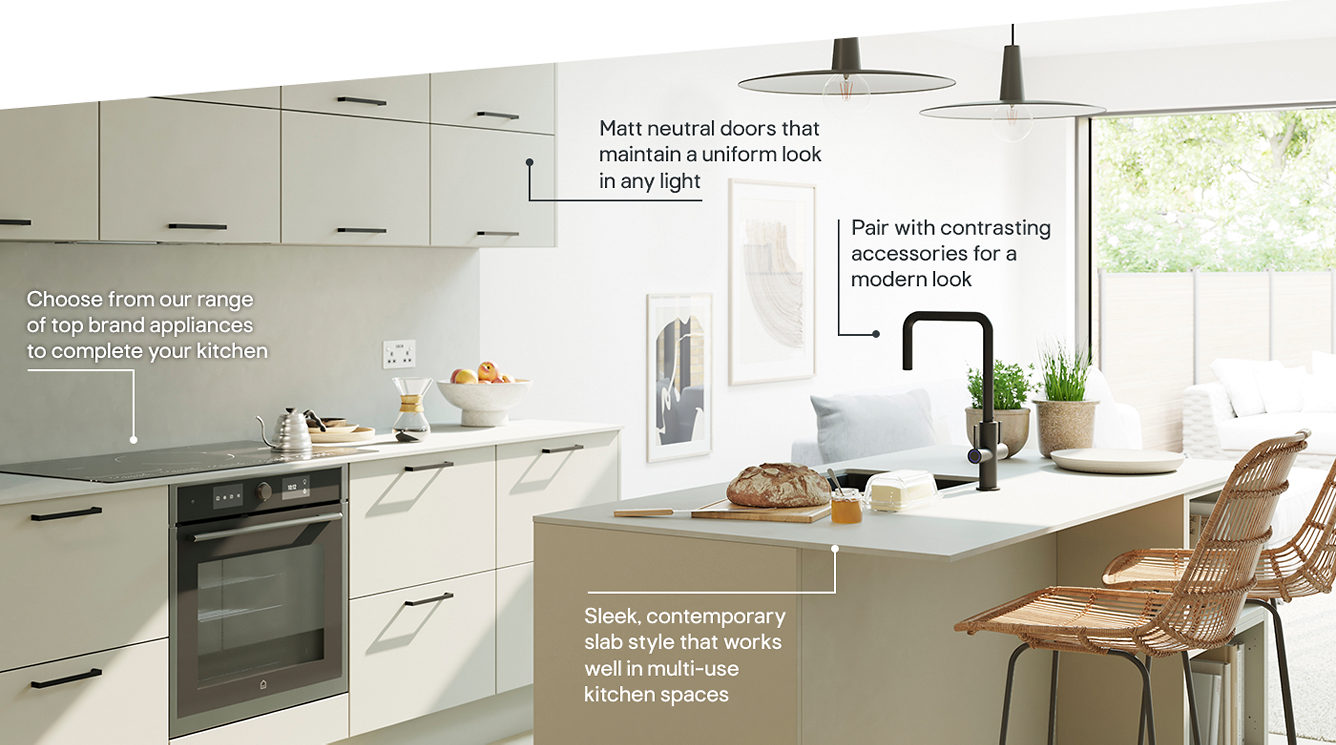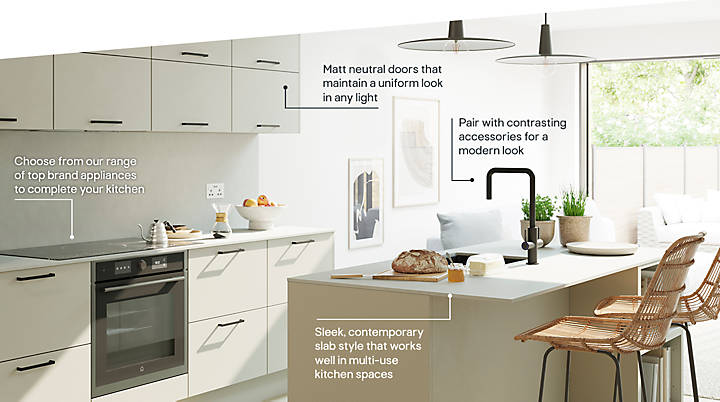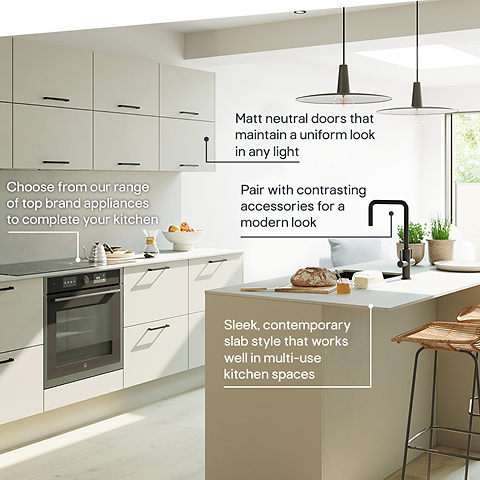 ---
B&Q kitchens in real customers' homes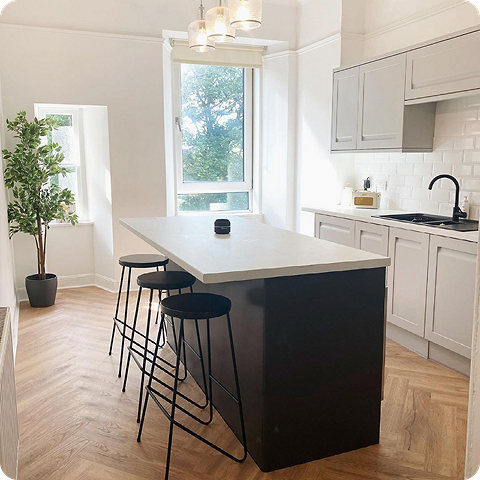 @lorisarah_home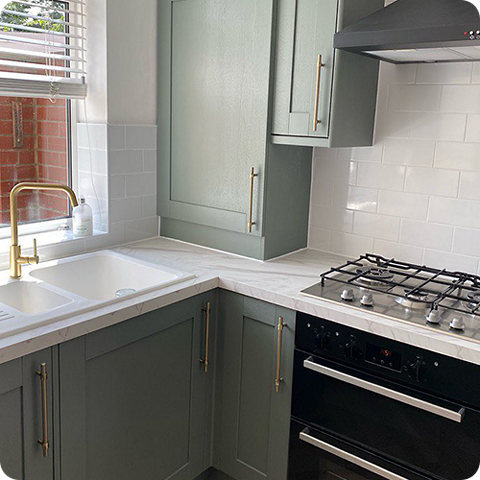 @1930s.house.to.home.leeds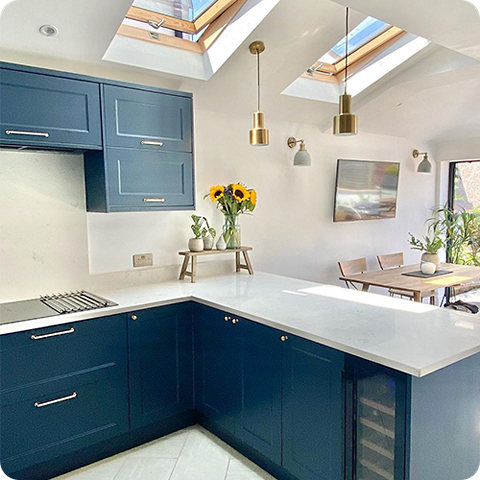 @lanevalleydesigns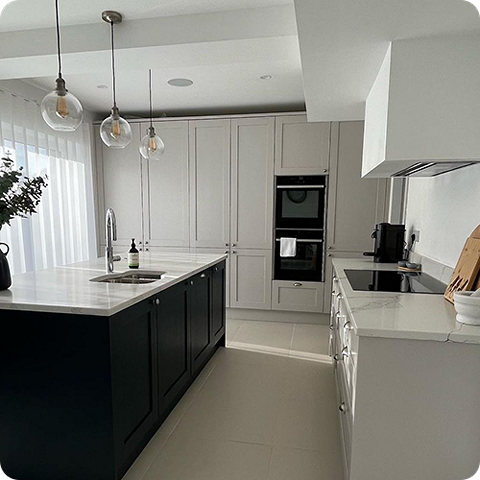 @extendinguplands
Price examples
We'll help you find exactly what's right for you, your space, and your wallet with everyday low prices and finance options.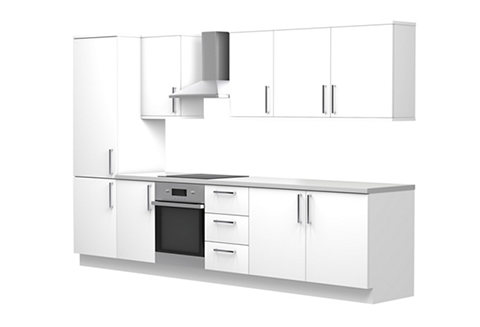 Galley kitchen, 8 units† - €2,372
or €108.35 per month for 24 months - 14.76% APR. Total amount payable €2,724.42*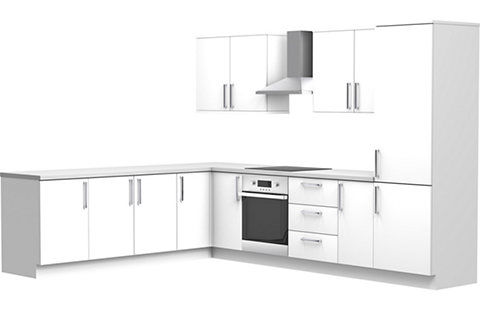 L-shape kitchen, 11 units - €2,996
or €136.89 per month for 24 months - 13.63% APR. Total amount payable €3,409.31*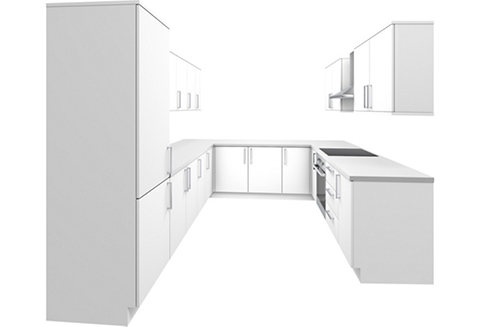 U-shape kitchen, 16 units - €4,344
or €198.43 per month for 24 months - 12.26% APR. Total amount payable €4,886.32*
Let's help you book your planning appointment
Our helpful showroom advisors are on hand to help you shape your design ideas. Book a free online or in-store appointment to discuss your project with a member of our friendly team. You'll come away with a 3D room design and a personalised quote with full price breakdown.  
Terms & Conditions
†8-unit example:
Excludes appliances, taps and sinks. Price for 8-unit example shown. Price also includes worktop, colour matched replacement end panels, plinth, cornice/pelmet, soft-close drawer boxes and soft-close hinges. Also includes: 1x 100cm base cabinet. 1x 50cm 3-drawer base cabinet. 1x 60cm oven housing base cabinet. 1x 50cm base cabinet. 1x 100cm wall cabinet. 1x 60cm 50/50 larder cabinet. 2x 50cm wall cabinet.
3x 50cm premium drawer with soft close. 1x standard larder/appliance end panel (pack of 2). 4x cornice/ pelmet, 2x plinth, 3x standard wall end panel, 1x replacement right hand multi drawer base end panel, 2x 60cm 50/50 larger door, 7x 50cm highline door, 2x 50cm 3 drawer door, 1x 60cm appliance door, 6x gen brushed nickel effect d-handle*, 9x soft close clip-on 110 degree hinge, 1x 38mm kabsa woodblock effect worktop (300cm), 1x 38mm black worktop end cap. Excludes appliances, sinks, and taps.
*Minimum spend €250. Subject to credit assessment and approval, standard fees may apply. Finance provided by FlexiFi Europe Limited. See humm.ie for more details.