Sturdy and stylish garden gates for easy access to your home
Choosing the right garden gate can help finish off the look of your fence or wall – as well as granting you access to your home of course.
When considering what type of gate to get, think about its purpose. If it's for the boundary of your property, needing to provide security for your children and pets as well as privacy, you'll probably want a tall, solid wooden gate. On the other hand, a front gate can be smaller and more decorative – after all, you're inviting people into your home. And it's also critical to consider your surroundings – the theme of your garden as well as any current fencing or walling you have. Are you looking for something subtle that blends in, or one that makes more of a statement and acts as a focal point?
Whatever your need or outdoor style, let our guide help you find the right gate for you and your home.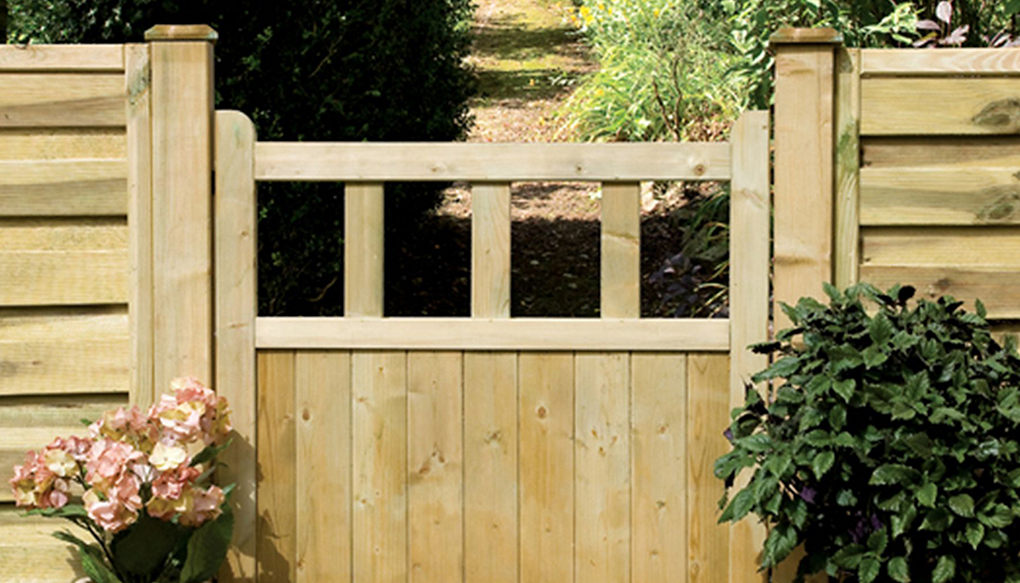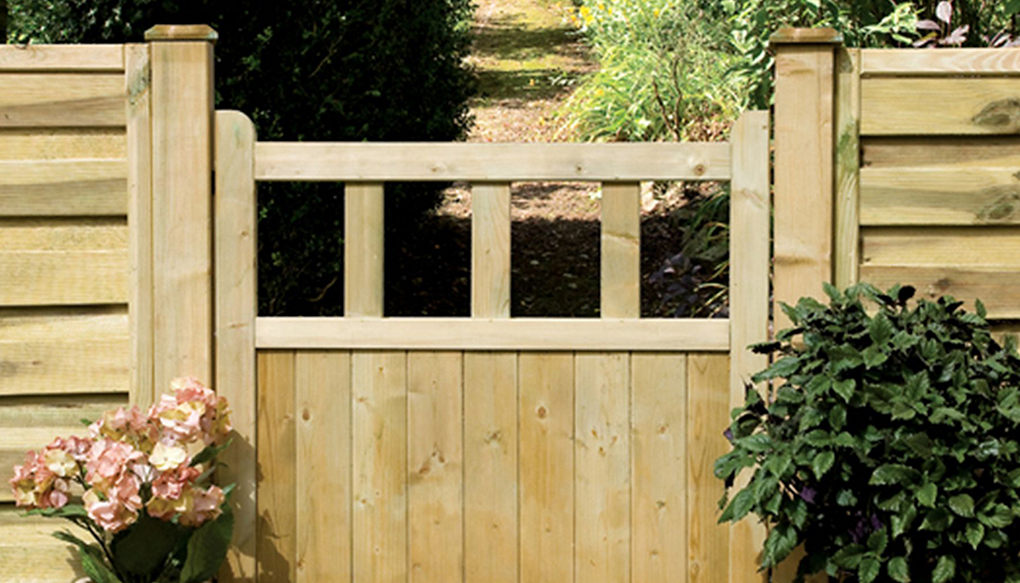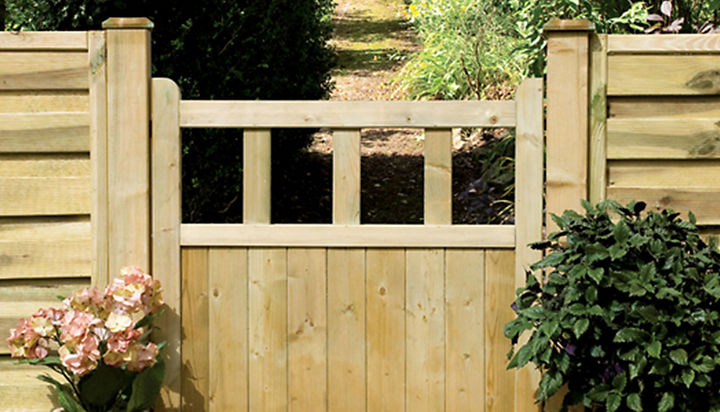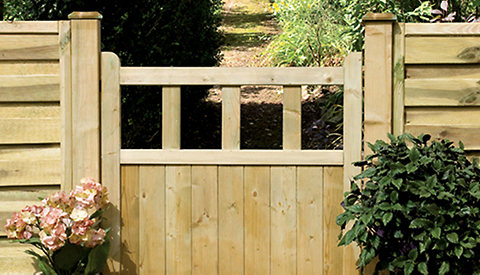 ---
Where's your gate going?
The placement of your gate impacts the size, design and material you're looking for. For example, you may want a tall, wooden gate for side access to your property, but prefer a short, more ornate gate for your front garden.
If you're replacing what you have currently, you'll be limited on size as any new gate will have to fit between the existing posts. However, if you're starting from scratch or are looking to move the posts, choose from the full range of sizes available.
Before you buy, be sure to measure the gap size (where you want your gate to be) and remember to leave sufficient space for posts and fittings. Standard entry and path gates are 0.9 metres (3 feet) wide. And it's not just the width of the gate that needs to be considered when taking those important measurements. Think about what height the gate needs to be, ensuring that you leave enough space underneath it for ground clearance.
What side does it need to hang from?
If you're installing new posts, check which side you want or need the gate to hang from. Is there a wall or fencing in place already that needs to be accommodated? And think about how the gate will look from outside your property – you usually want it to face outwards.
Heavy-duty gates may need to be hung on a certain side for added support - take a look at the frame to see. If it has a Z-brace, it will need to be hung from one side, whereas if it has a cross brace you can hang from either side.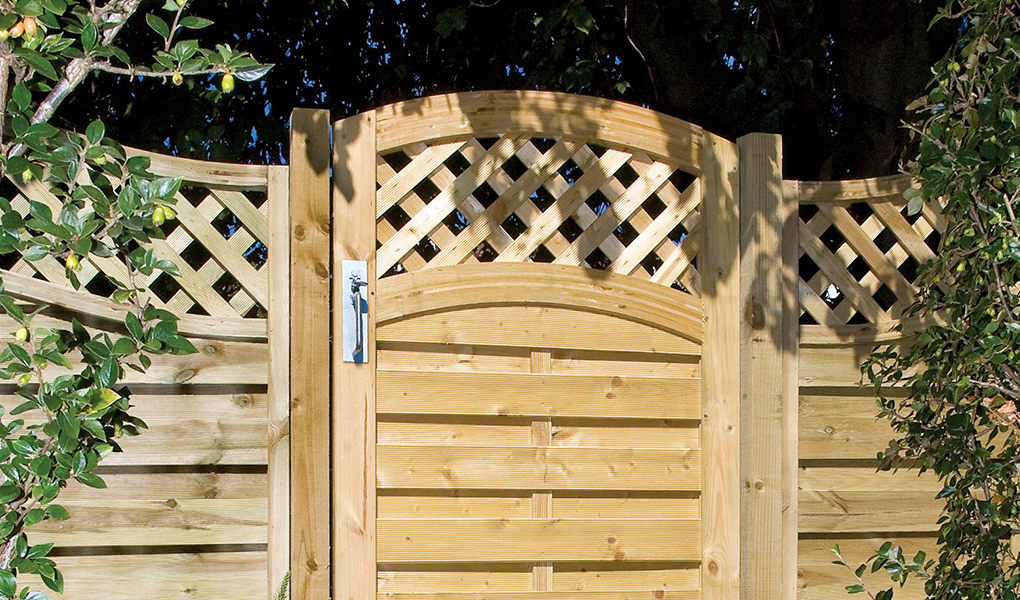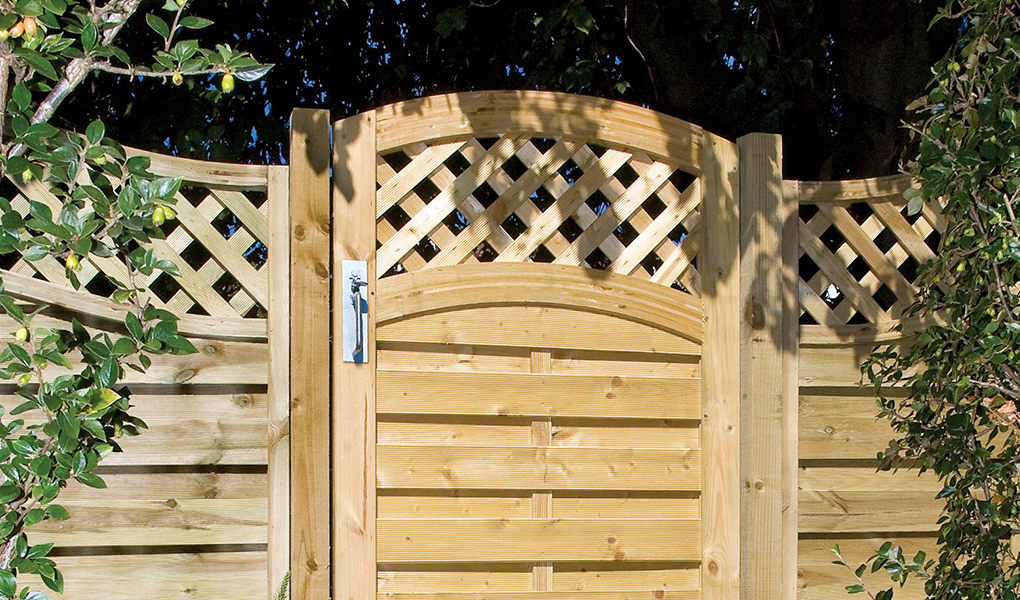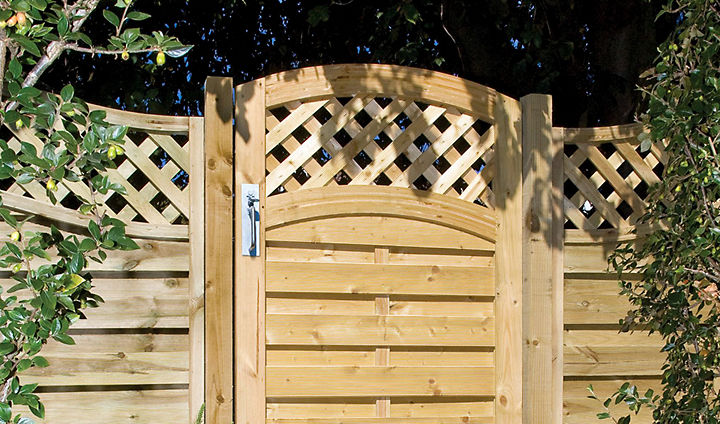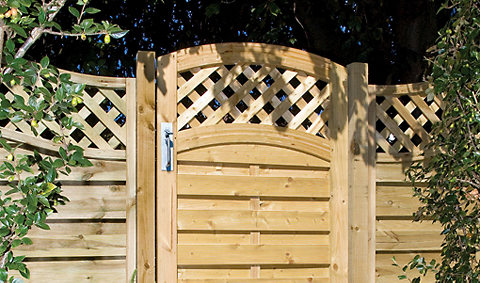 ---
Our gates are available in either wood or metal.
Wooden gates
For a traditional yet sturdy option, wood is your best choice of gate. They can be decorative as well as offer you your privacy. And if you have fencing, choose a gate to match to coordinate your outdoor look.
Our wooden gates options are:
Made from responsibly sourced timber certified by the Forest Stewardship Council (FSC®) – this ensures that it's been produced using the best practices for the environment
Available in a range of heights from welcoming entrance gates at just 0.9m to taller models at 1.8m for increased privacy and security
A standard width of 0.9m
Protected against rot, decay and insect infestation in one of two ways: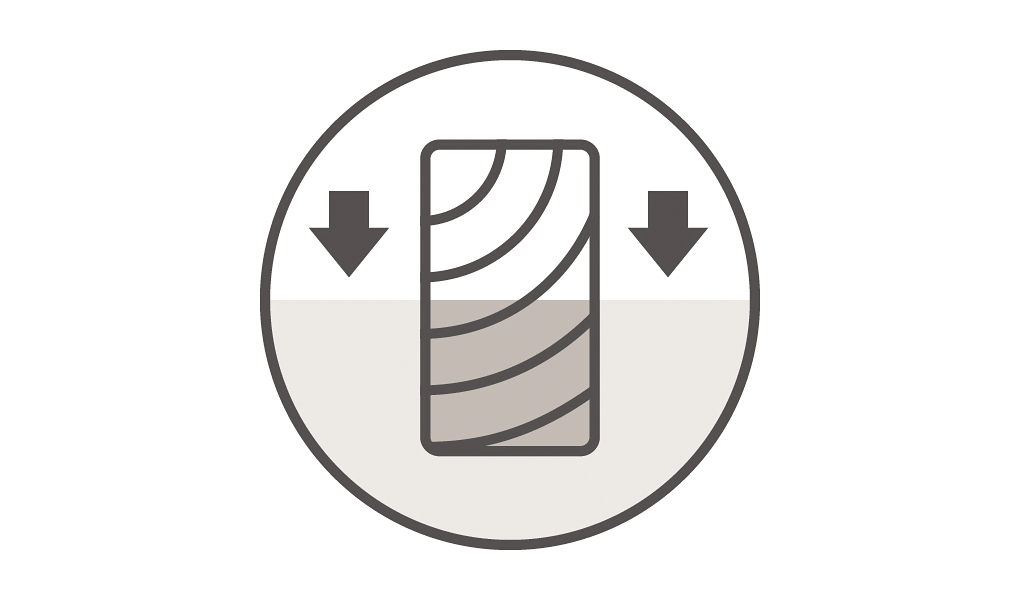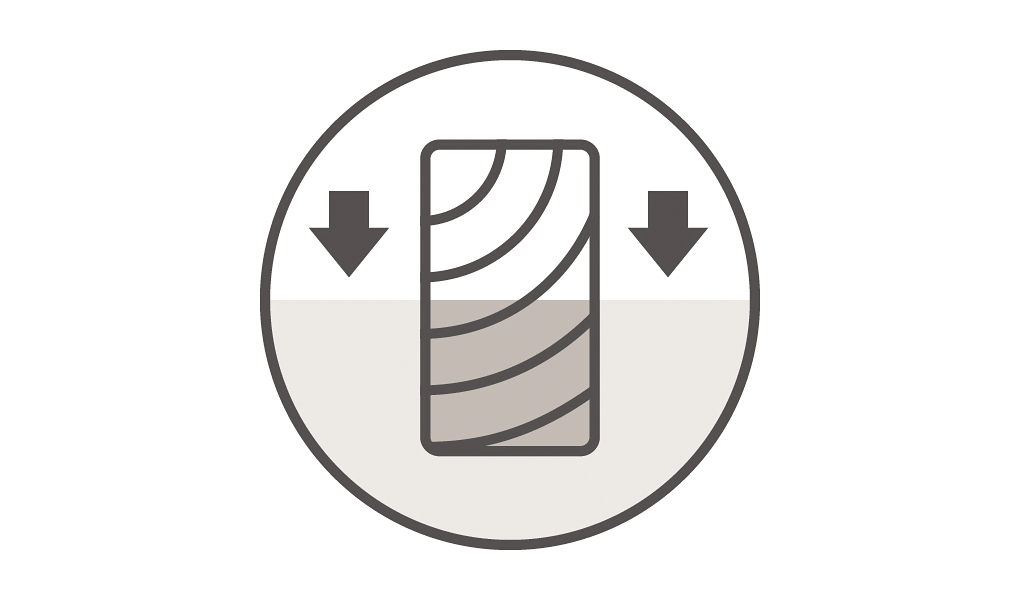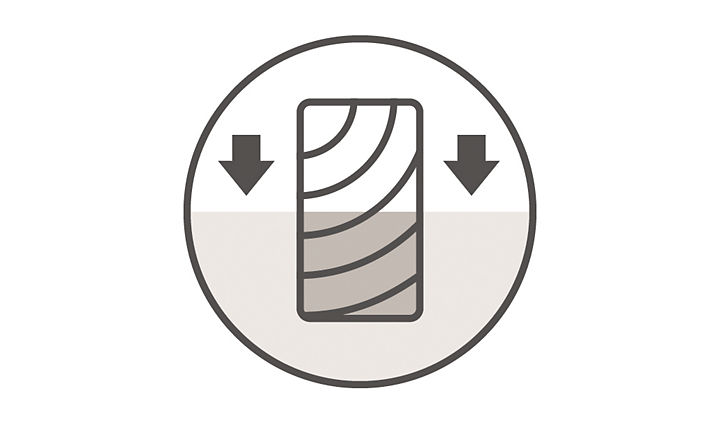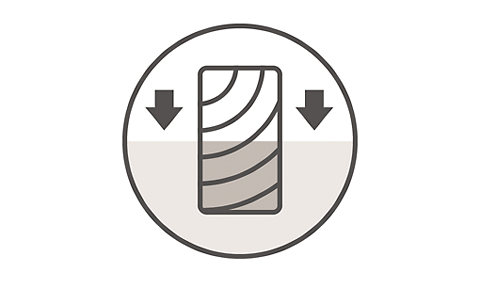 Dip treated – The timber is submerged in protective treatment. This water-based treatment will need to be re-applied throughout the life of your gate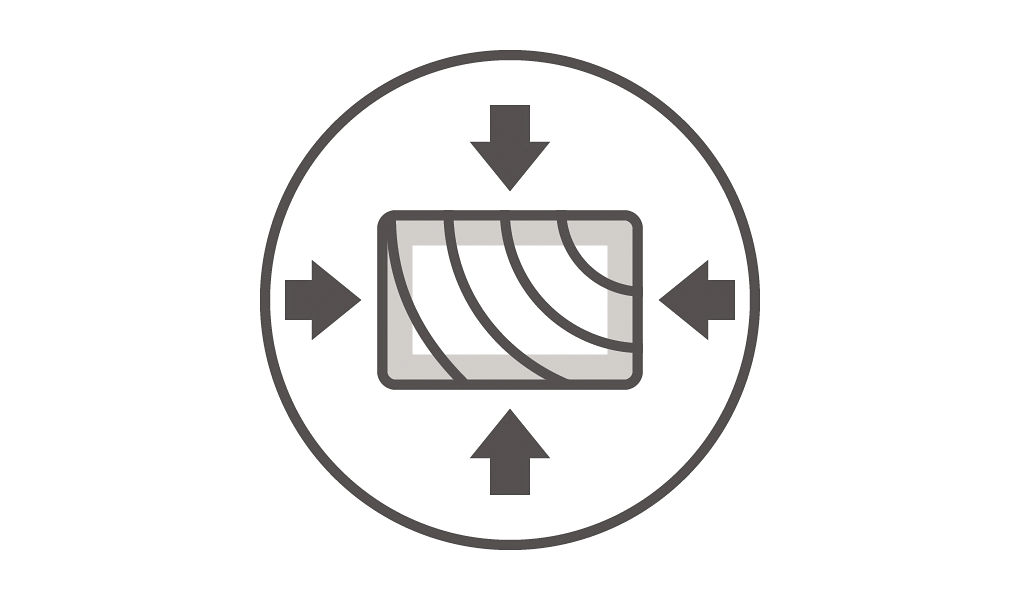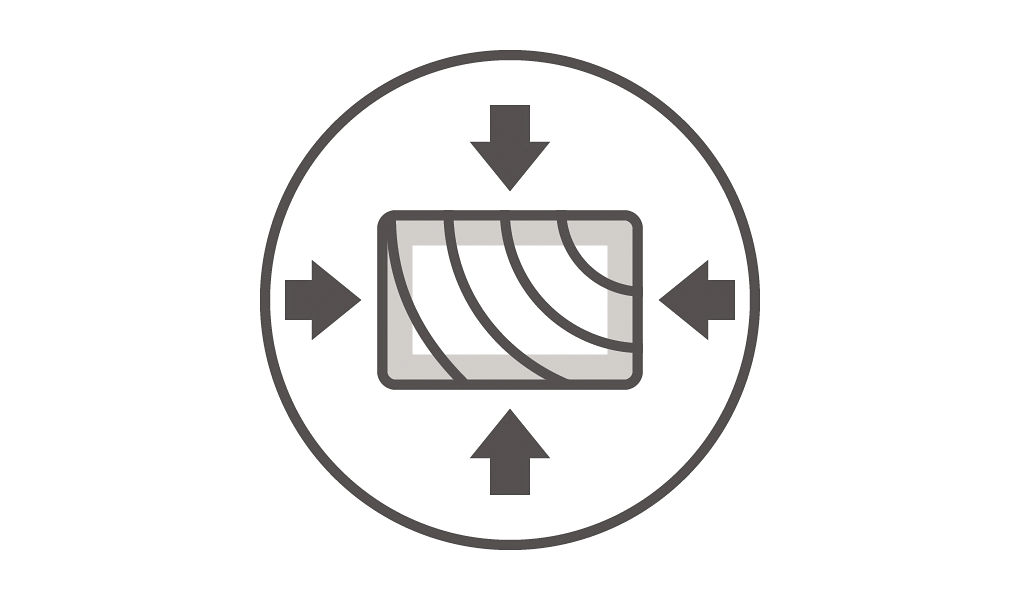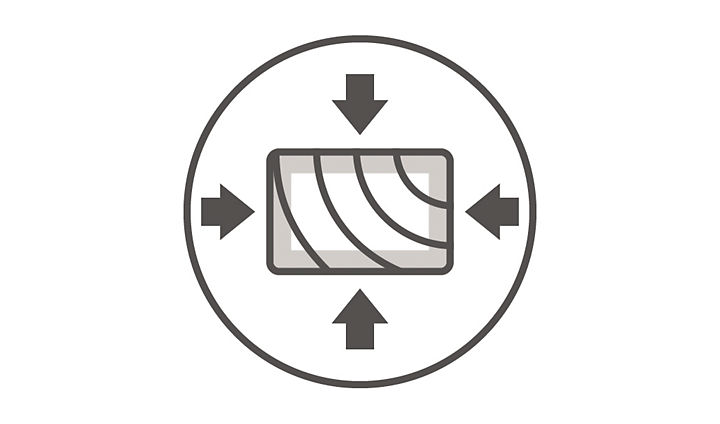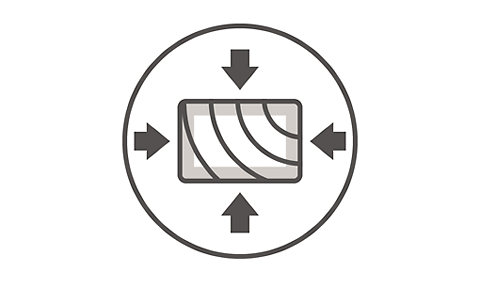 Pressure treated – Protective treatment is blasted into the timber at high pressure, providing longer-lasting treatment than dip treating
Constructed in a variety of ways: boarded or closeboard - the boards lay flat to one another featheredge - the boards overlap each other like a bird's feathers o picket – there are gaps between the pales
Available with the wooden boards planed for a smooth, clean look or rough sawn for a more rustic, textured feel
Offered with the boards configured in different designs, such as laid horizontally, vertically, or in diagonal chevrons
Finished with attractive top designs including arched and square and even a trellis feature for extra detail (great for matching with trellis fencing)
Available with some braced for extra strength with a diagonal strut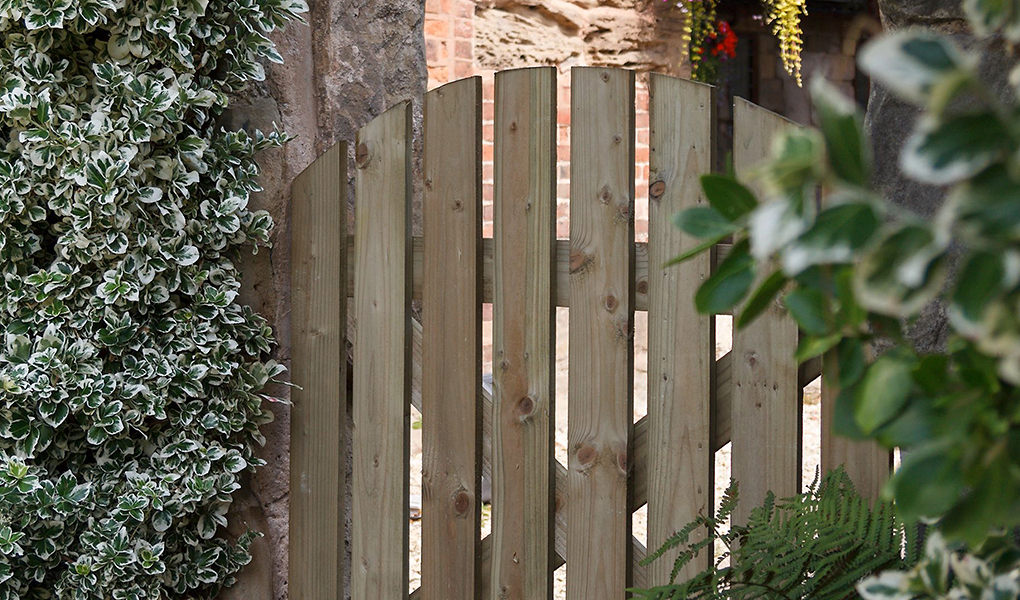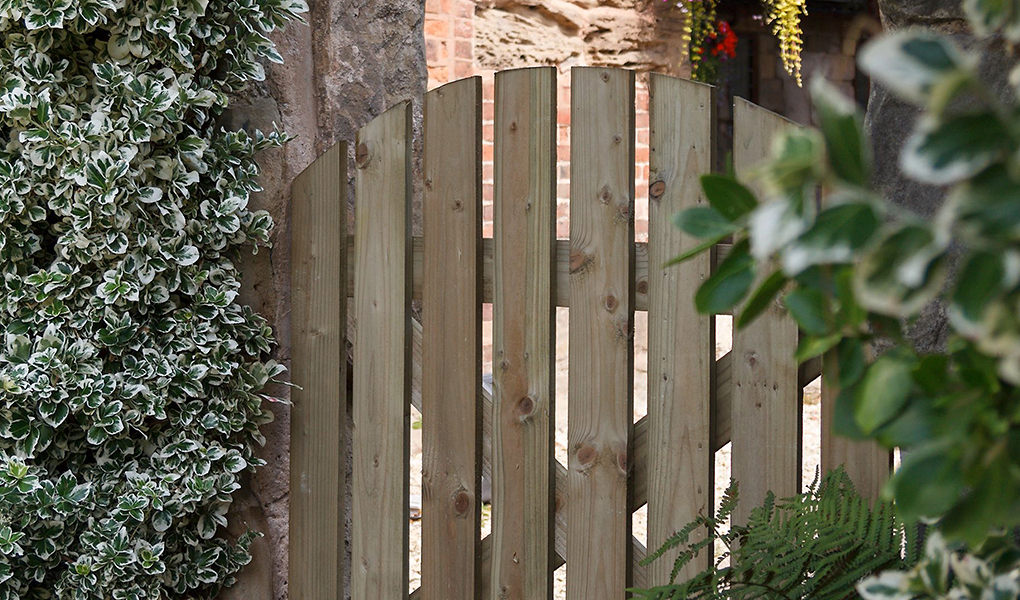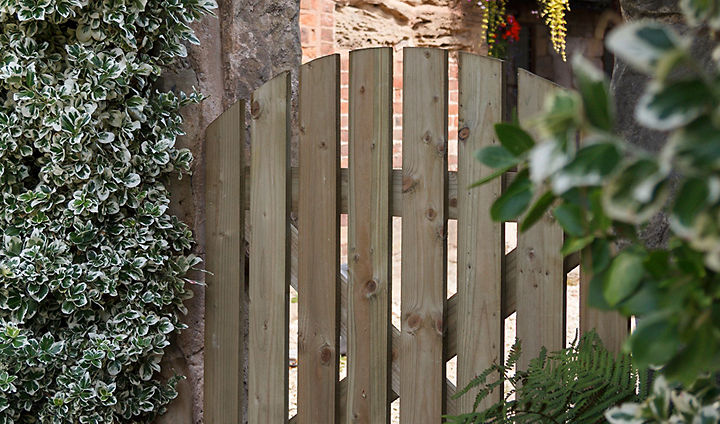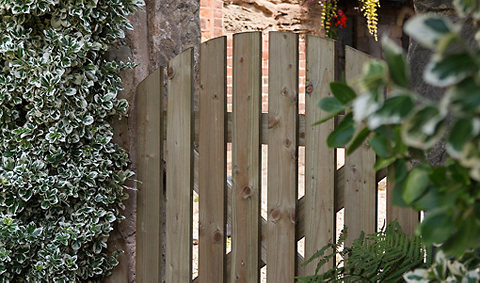 Metal gates
Our metal gates add a classic, decorative look. Please note that their more open designs offer less privacy and security than wooden options.
Metal gates are:
A popular choice for front gardens, driveways or for sections within your garden
Protected against rust and corrosion. They are zinc and powder coated in black
Available in a range of heights, from 0.85m to over 1.8m
Either 0.77m or 0.81m in width
Finished with top designs including square, soft swirls, and balls and spears (great for deterring those looking to climb on them)
Black in colour with the bars configured in close together or wide apart designs
Offered with the latch and fittings included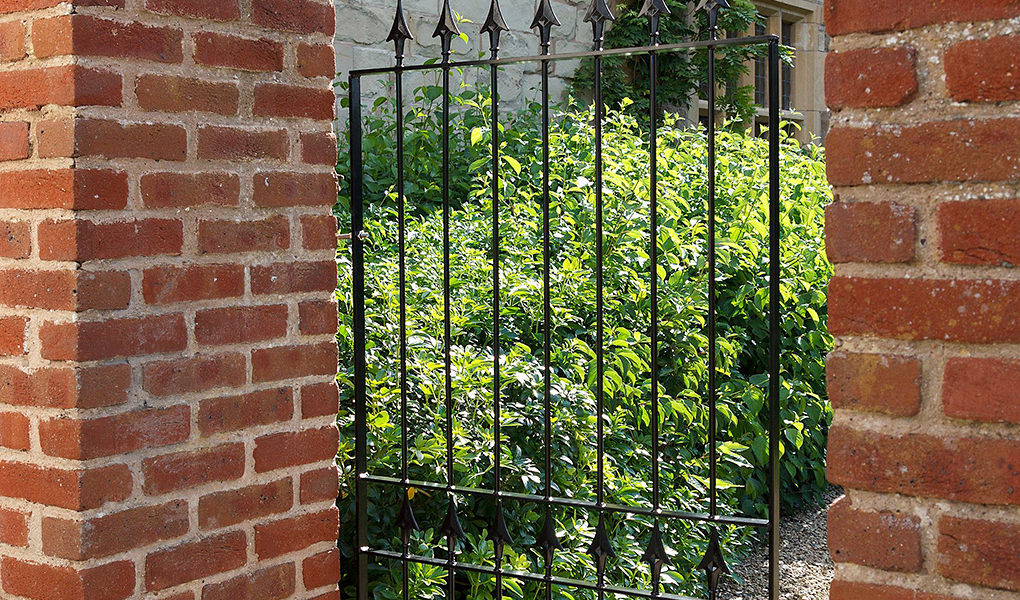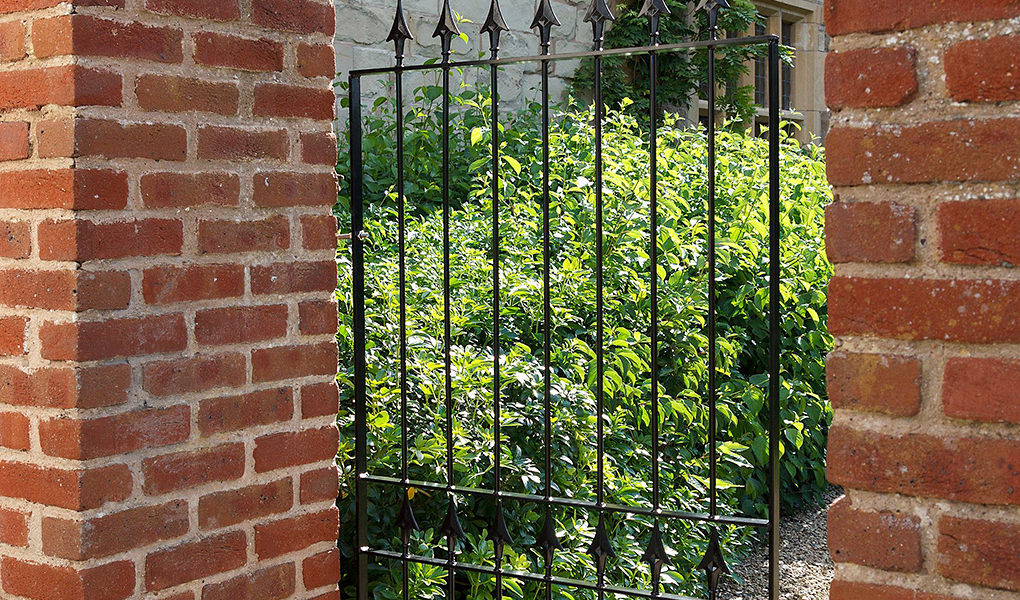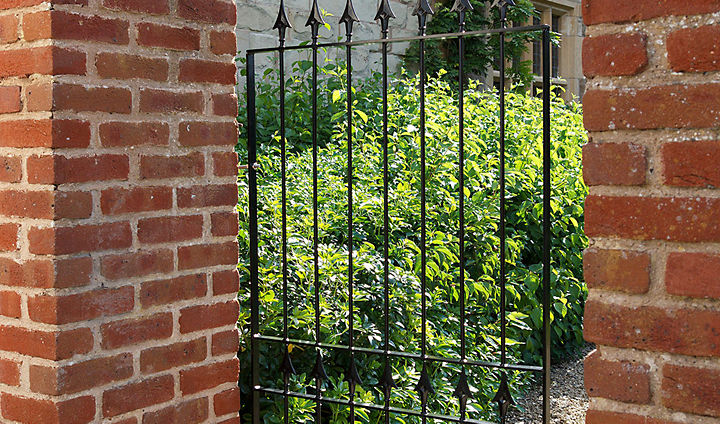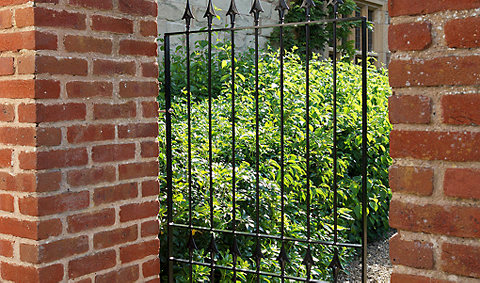 ---
Once you've selected your gate, you need to think about posts, fittings and maintenance.
Gate posts
If hanging a gate with no posts already in place, this project essential will need to be picked up. Alternatively, if you're working with existing posts, this could influence which gate you opt for as it's important that they complement one another. Brick, metal and wooden posts look good with either wooden or metal gates. Opt for the same material for a matching look or add contrast for more of a statement.
Gate fixings
Ensure you have everything you need to hang your gate with a fixings kit. Look for metal fittings that are galvanised and powder-coated to aid corrosion resistance.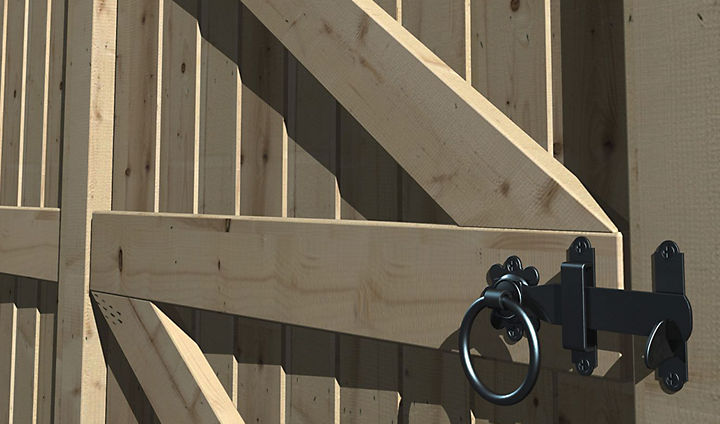 Locks
For pathways that will be regularly accessed, a latch is the ideal way to keep it secure while ensuring that it's not too difficult to open and close. Metal gates come with latches supplied, but be sure to check before you buy.
For more robust security, invest in an outdoor bolt or attach a padlock to a hasp and staple.
Maintenance
Wooden gates will need treating every few years to protect against rot and decay. We have a wide range of woodcare products to help with this, including external paints, stains and varnishes.
Metal gates have a slightly longer life than wooden ones, but you'll still need to care for them over the years by covering up chips and scratches that could lead to rust. We recommend protecting with metal paints, as well as water-repelling treatments. Be sure to add these immediately to your new gates, or (after repainting) once the paint is dry.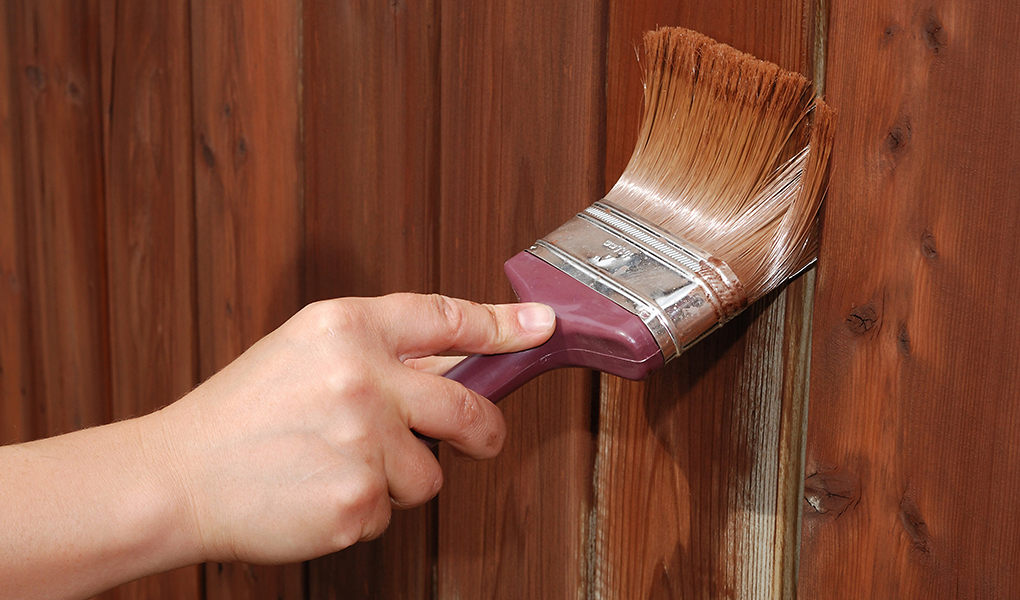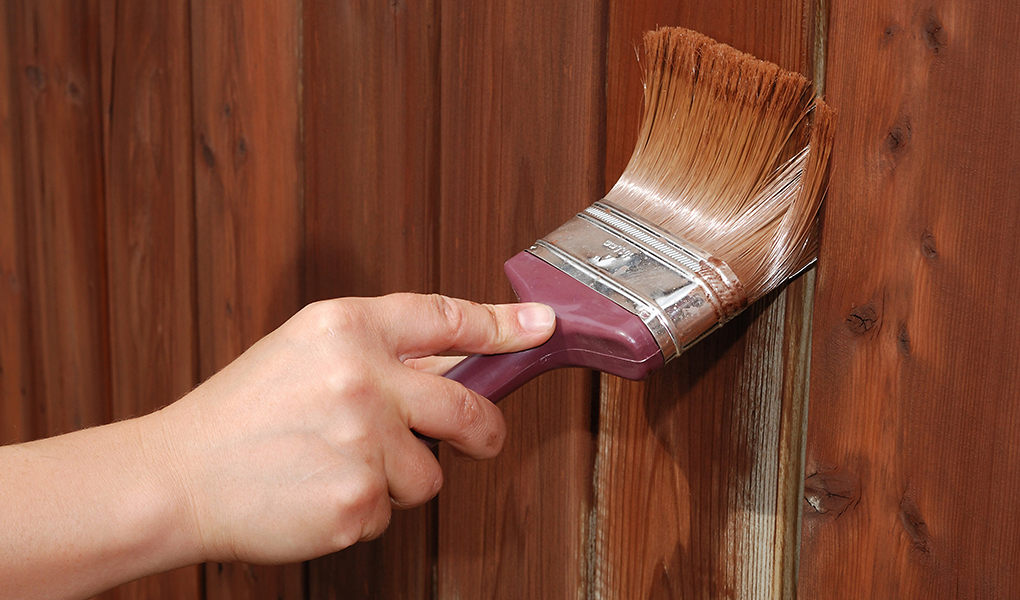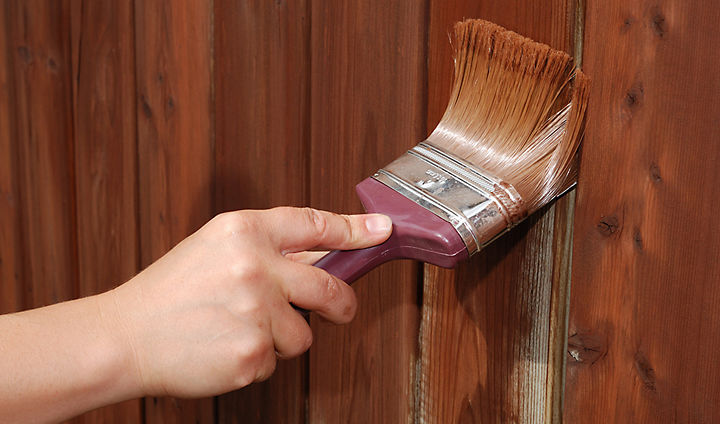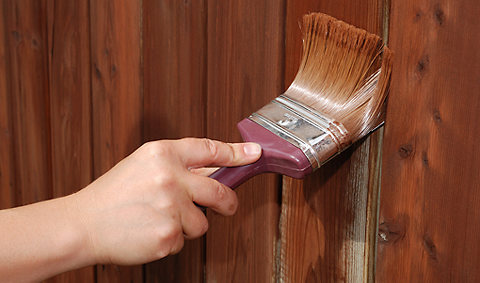 ---