How to paint a wooden shed
Paint your shed in just one day
Rain, wind, sleet and snow, day in, day out. Your shed goes through a lot battling with British weather, but it doesn't take much to give it an uplift if it's looking worse for wear. This guide shows you how to refresh yours in one day.
Before you start
Adding colour to your shed not only protects it from the elements, but it also can transform the look of your garden
Try a beach blue, purple pansy, or even sweet sundae for a touch of personality.
To blend in with the surroundings, try subtle shades like muted clay, wild thyme or white daisy.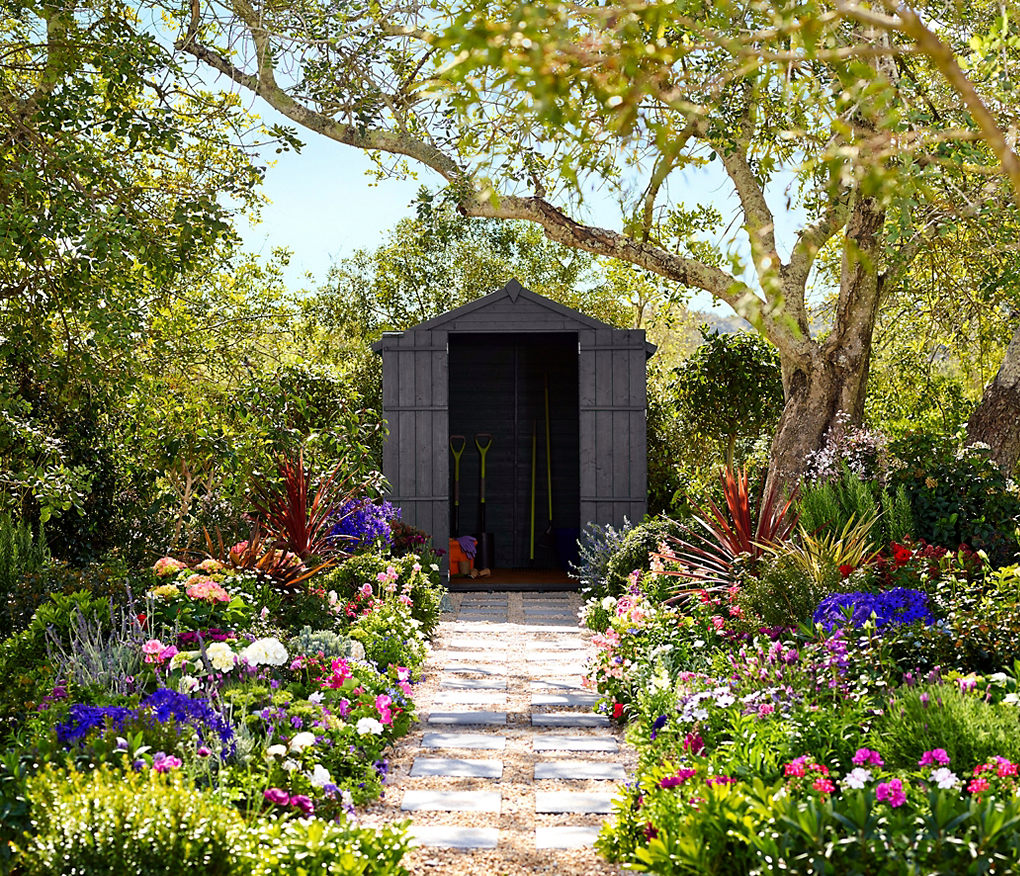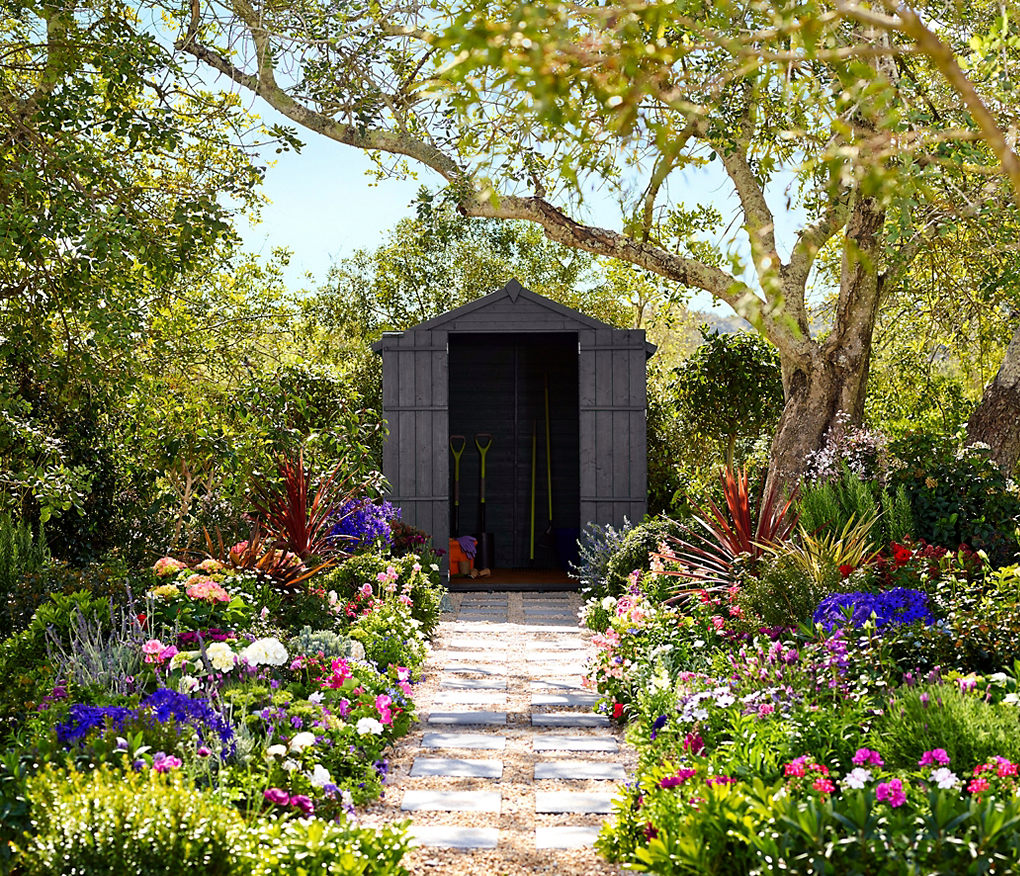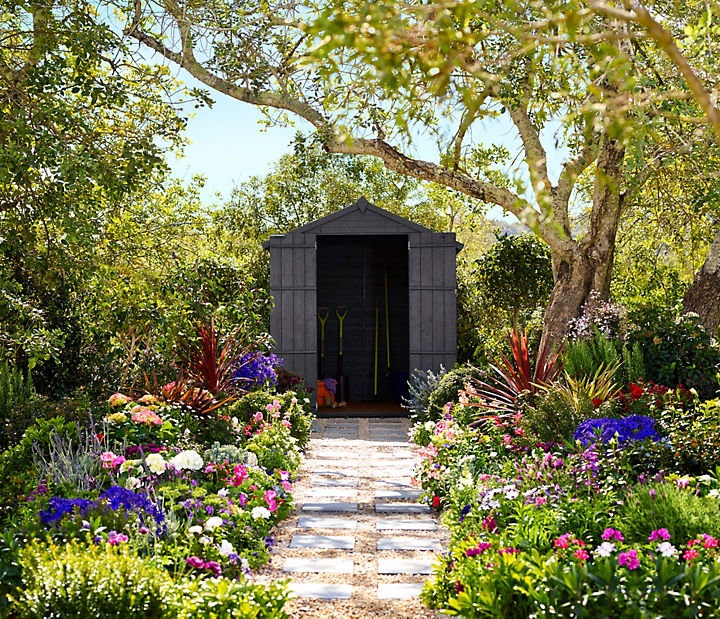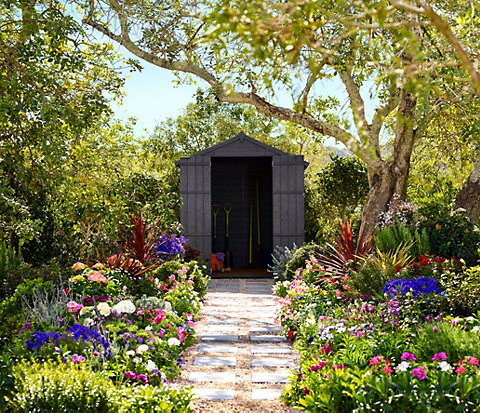 Top tip
Wood needs to be completely dry, so the best time to apply any paint, stain or treatment is after a dry spell and when no rain is expected for a few days.
Project shopping list
If you can't make it into one of our stores try click + collect. Many of our products are ready in just four hours, and even more are available the next day. Simply pay for your items online, and pick up free of charge from your nearest B&Q store.

Take care if you're using a step ladder to reach all angles of your shed. It may sound obvious, but move the ladder when necessary instead of trying to reach difficult areas. Always ensure the feet are on firm ground.
Step 1, 7am: Now's the time to make any repairs and replace any decayed sections of wood with healthy timber.
For small areas, use an exterior wood filler which can then be sanded flush prior to painting.
Step 2, 8.30am: Prepare the wood by using a stiff brush to get rid of any dirt or cobwebs and flaking paint. If the surface is covered in algae, dip the brush in diluted outdoor cleaner and scrub it clean before rinsing off.
Allow the surface to dry completely. Grab some breakfast and a cuppa while you wait!
Step 3, 9am: Cover any nearby surfaces and plants with dust sheets in case of any drips. Trim back any unwanted foliage to give yourself plenty of space to work. Tie back any climbing plants that can't be covered or you don't want to cut back, using plant ties and canes.
Step 4, 10am: Use masking tape and newspaper to cover any metal work (handles) and window panes.
Consider unscrewing any handles or fittings so you can paint underneath for a really neat finish.
Step 5, 10.30am: Use the timber brush or roller to apply a thick, even coat of paint along the grain of the timber. Apply brush strokes in the same direction as the grain and be careful not to spread the paint too far.
Avoid runs or drips by not overloading the brush or roller and be sure to work it in well. Pick up any wet edges before they begin to dry in a drip shape and don't let the paint collect in crevices as it will create runs.
For any end grains, such as the tops of posts or at the corners of sheds, we, we recommend dabbing the brush on these areas to make sure that the product soaks into the wood. Allow the paint to dry.
12pm, Lunch break: Rustle up some lunch and relax for an hour or so. This is our favourite part!
Step 6, 2pm: Your paint should be dry now (check the information on the paint tin for specific timings) and you can decide if it needs another coat. If you're applying a second coat, simply repeat step 5 and leave it to dry.
3pm, tea break: Flick the kettle on (and grab a few biscuits).
Step 7, 5pm: When the paint has completely dried before removing any coverings from your plants, paths etc. and screwing back into position any handles or accessories. You're new and improved shed is ready and waiting to be shown off!
Top tip
Use a cutting-in brush with specially angled bristles for painting accurately along edges such as around window frames.
Stand back and take a look at your finished result, all that in just one day! You've definitely earned yourself a pat on the back. We bet you can see the neighbours getting jealous already.