Create your outdoors oasis with our inspirational ideas
Balconies can often be neglected and written off as a useless space. However, a balcony can be a fantastic outdoor area with a bit of thought. Make it the ideal place for socialising with friends, unwinding after a long day or relaxing in the sunshine.
It's simply a case of making the most of what you've got. Choose space-saving decorative plants and pots, as well as stylish fold-away furniture. Turn your balcony into a small but perfectly formed area. We're here to help inspire you to create an inviting haven on your balcony.
Our top tips to transform your balcony
Decorate with pots and planters
A great way to decorate your balcony and add colour is to plant flowers in pots and planters. We offer a wide range of pots and planters in various shapes, sizes and materials. Our innovative Nurgul range is designed for balconies and is perfect for small, tight spaces. It includes pots that hang or slot on the railings of the balcony. There's even a clever pot that fits onto the corner of the balcony railings (pictured).
Another clever solution in the Nurgul range is the stackable connected trio pot. They can be placed on top of each other to create an attractive tower of plants. All of the Nurgul pots come in a variety of vivid colours such as pink, red and green. Fill them with vibrant flowers to give your balcony a boost of bright colour.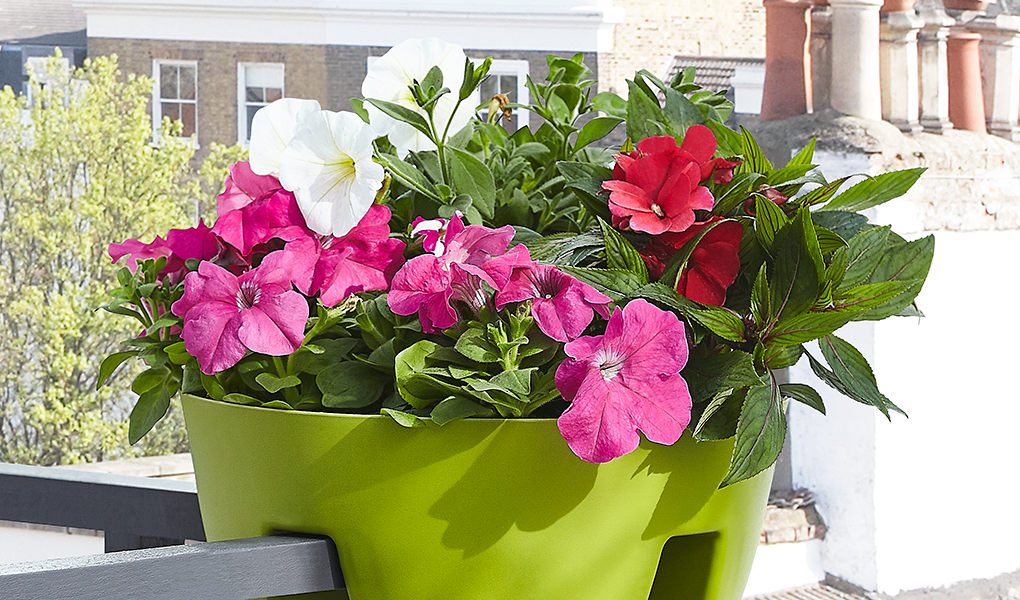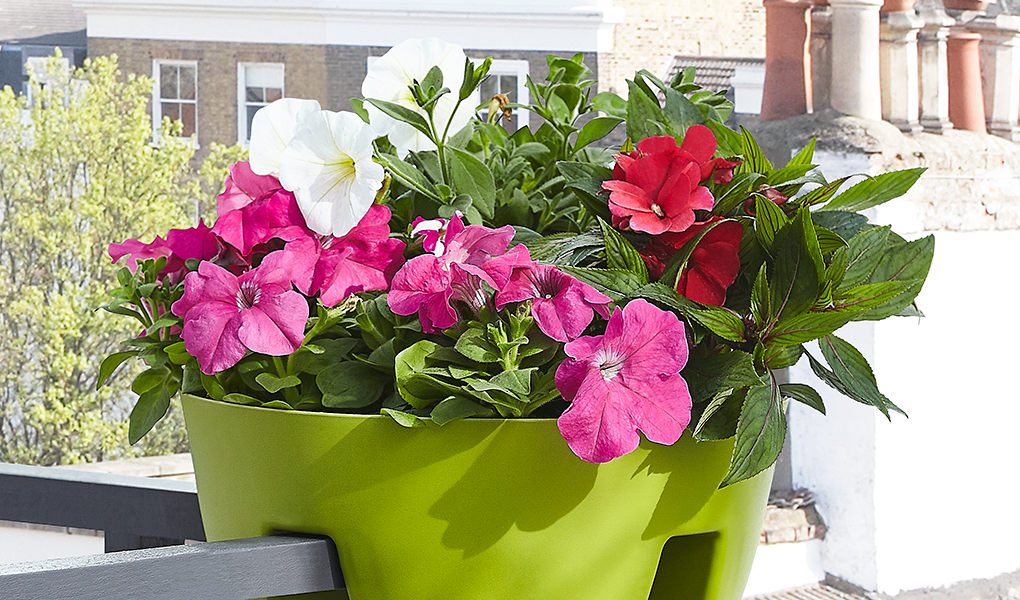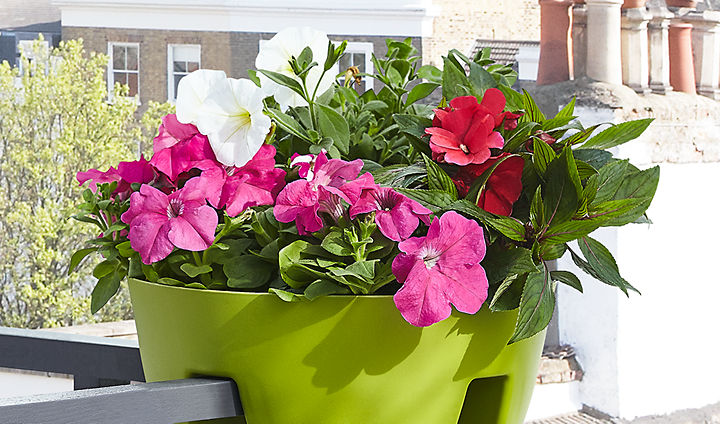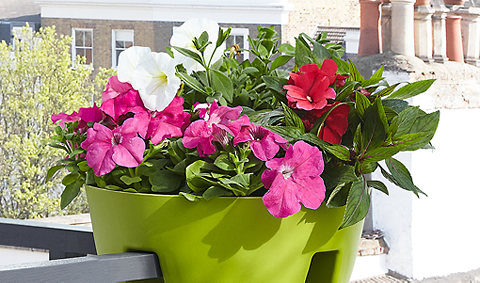 Use the height of your balcony
Take advantage of wall space with a wall basket or hanging basket. Stick with the classic wire hanging basket lined with natural material, or go for a more modern look. We offer cone-shaped baskets and more robust solid-sided baskets. These have built-in water reservoirs that ensures the plants are kept well-watered. We love this Keter Rattan-Effect Hanging Planter which is an on-trend and contemporary grey colour.
Another great option is a macramé-style pot holder. Why not make your own out of some rope? They may conjure up nostalgia for some, but these hanging pot nets are back in fashion. Hang from a hook or rail to liven up a blank wall. They would work well with a Mediterranean or Moroccan style balcony, with rich and opulent colours like oranges and deep blues. Fill the pots with succulents for this exotic look.
Find out more hanging baskets, including when and what to plant, in our 'How to plant a hanging basket' article.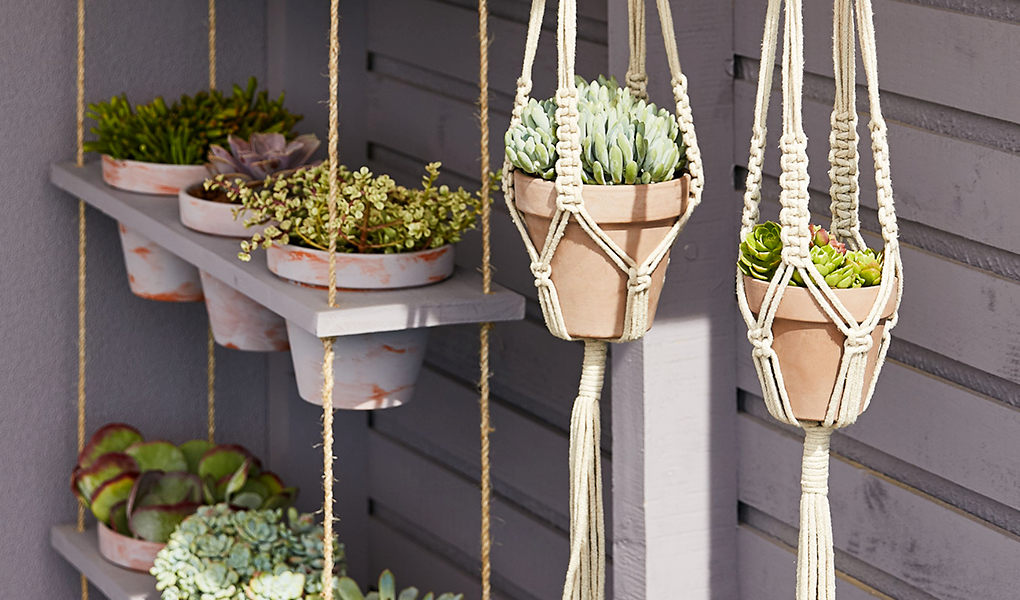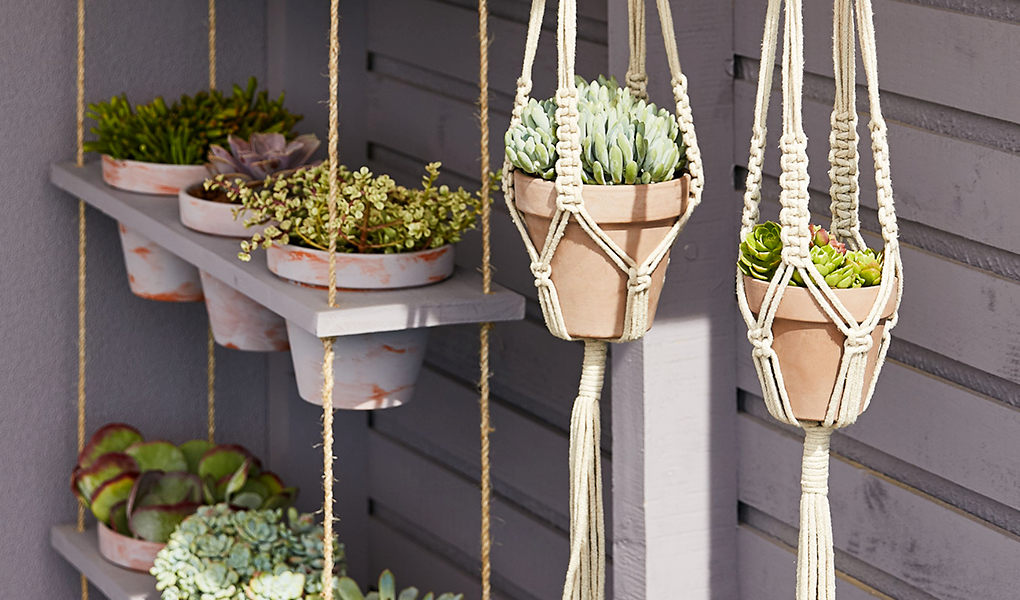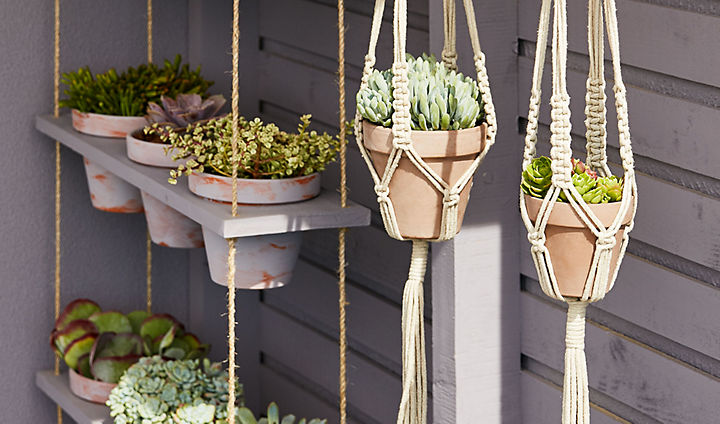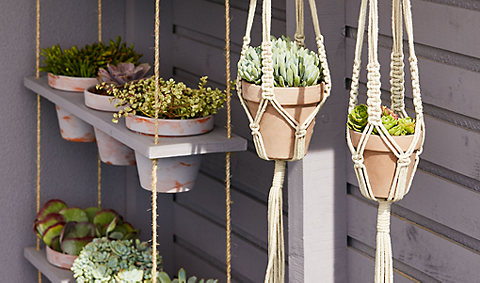 Choose plants and flowers to suit your balcony
The best plants and flowers to fill your pots will depend on the amount of sunlight you get to your balcony. If the spot is shady, consider lush foliage plants such as ferns and hostas. If it's more of a suntrap go for Mediterranean plants like olive (*olea europaea*), palm (*arecaceae*) or bay (*laurus nobilis*) trees.
We recommend that at least half of the plants you choose are evergreen, no matter how much sunlight you get. This means your balcony will always have some greenery, whatever the weather.
To add a pop of colour, fill your pots and hanging baskets with vibrant flowers like geraniums (*pelargonium*), pansies (*viola tricolor var. hortensis*) and petunias (*petunia × atkinsiana*). Lavender (*lavandula*) is a great choice as it's not only colourful but it also smells wonderful. For the walls, add a trellis for beautiful climbers like clematis or passion flowers.
And if gardening isn't your thing, skip the plant care completely by opting for an artificial plant. Our favourite is this Smart Garden Artificial Topiary Ball. It can withstand the weather and doesn't need any maintenance, guaranteeing a touch of green to your balcony all year round.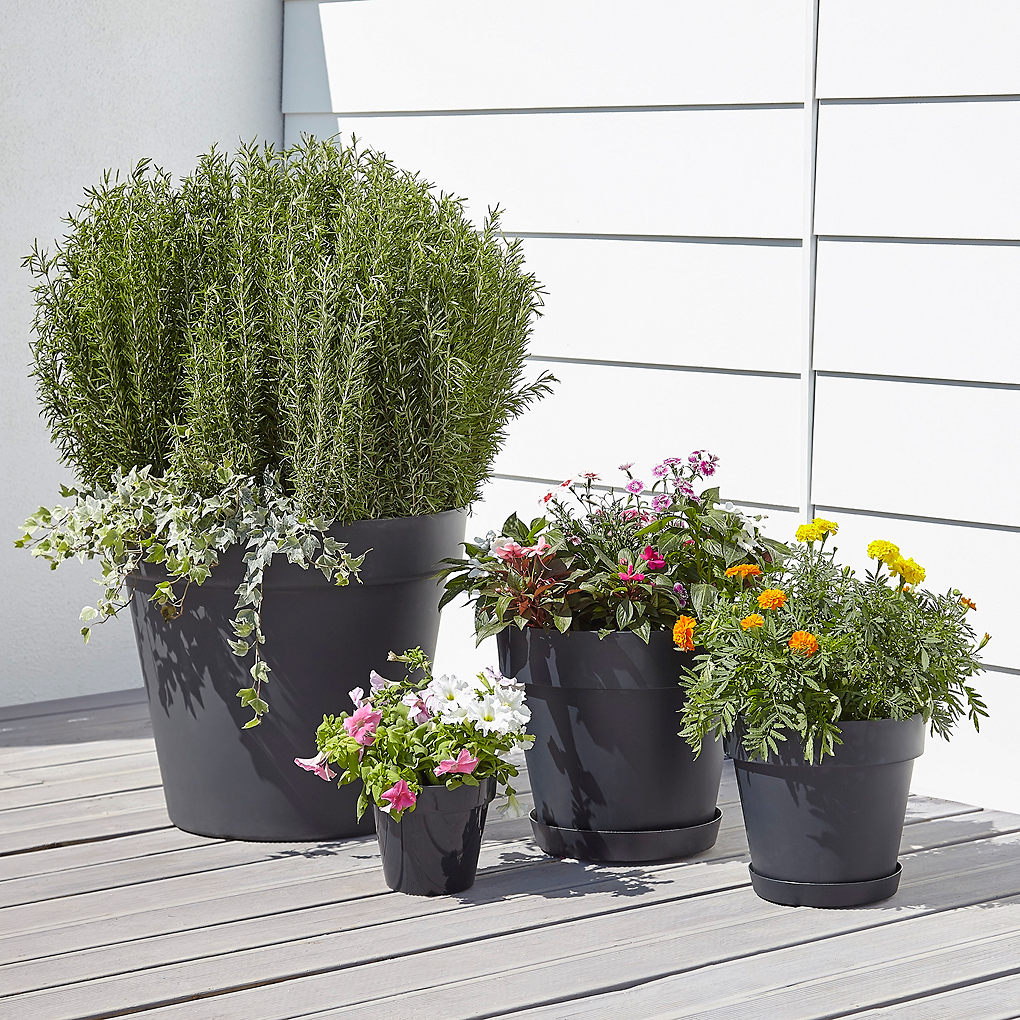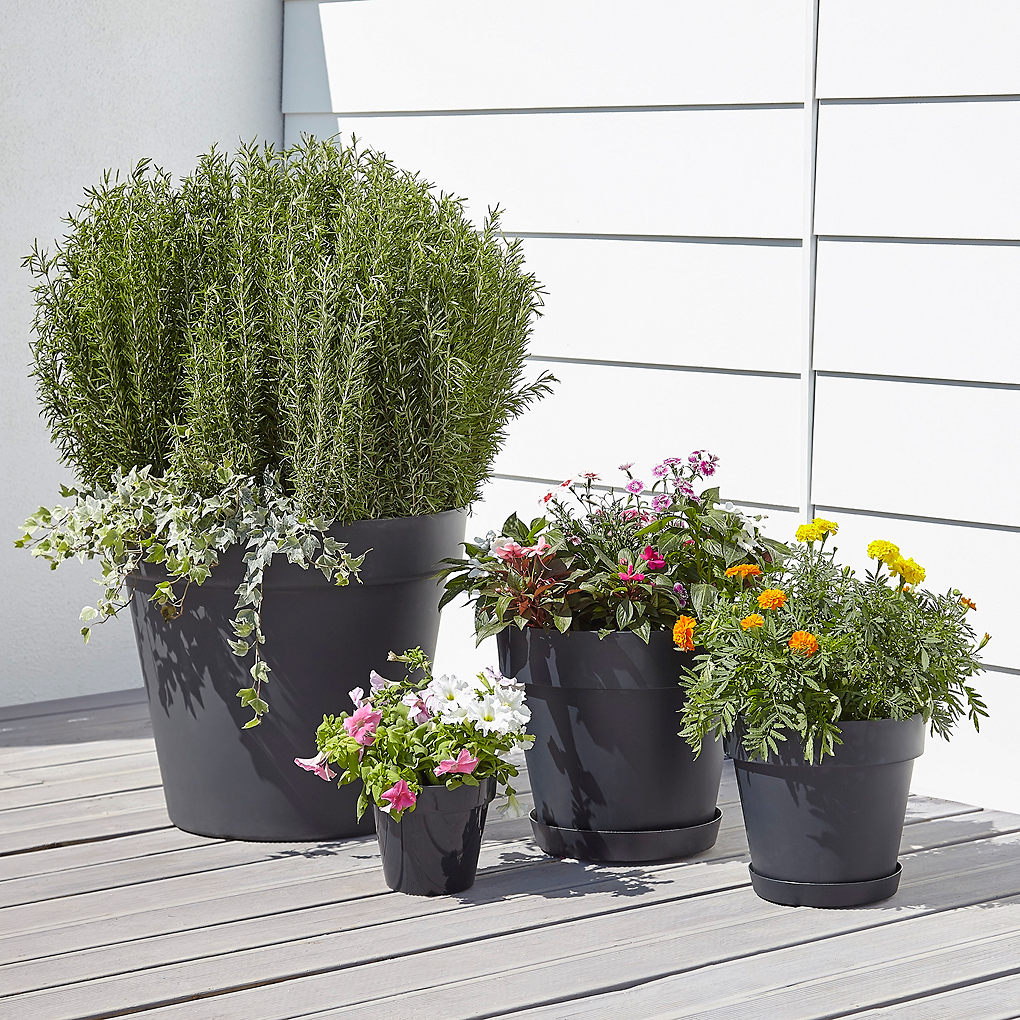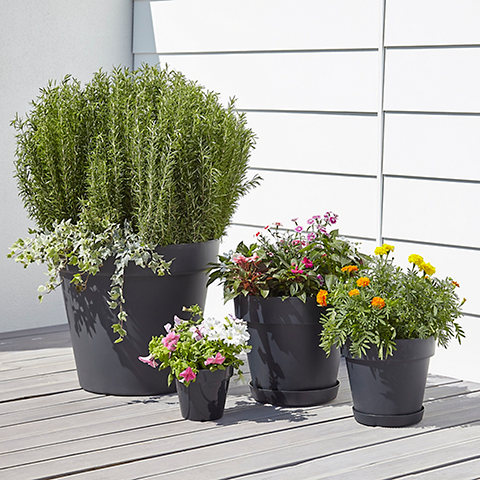 Relax outside on stylish garden furniture
There's nothing better than dining outside when the weather is warm. At B&Q we have a wide range of bistro sets that are ideal for a smaller balcony, including practical foldable furniture. To be extra clever, why not save even more space by hanging the folded set on the wall using a storage hook?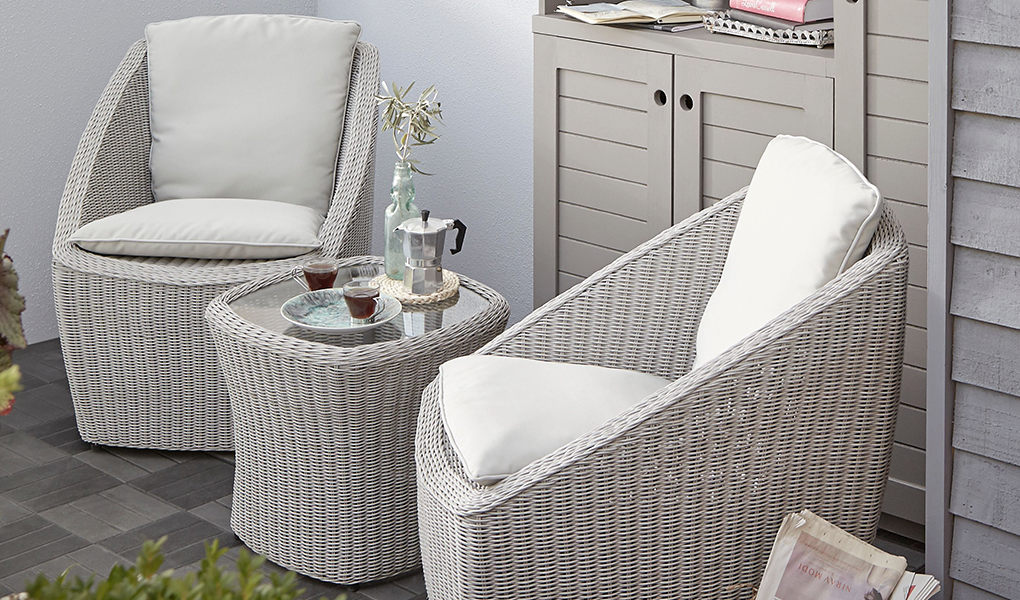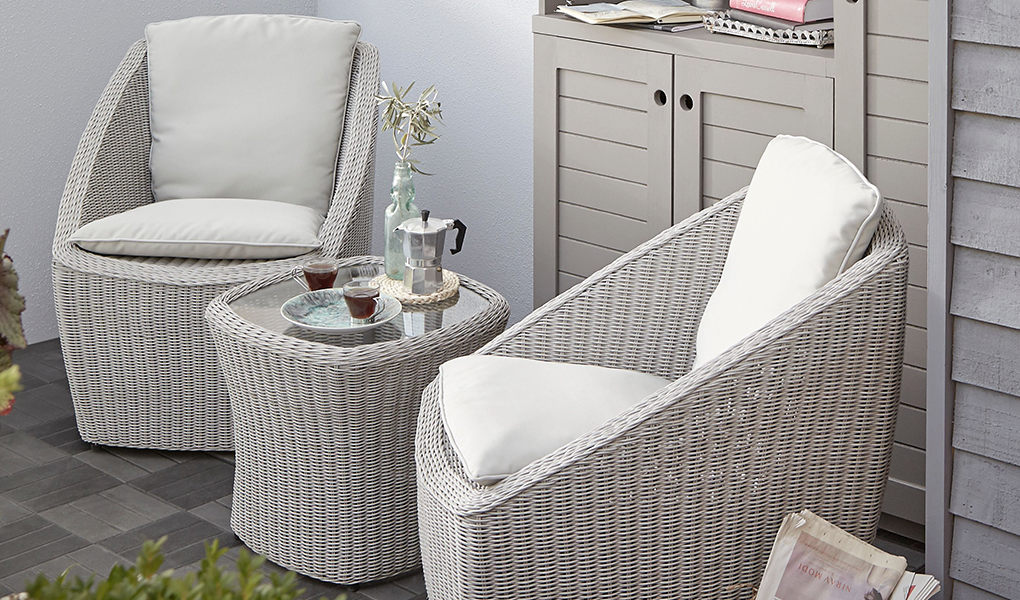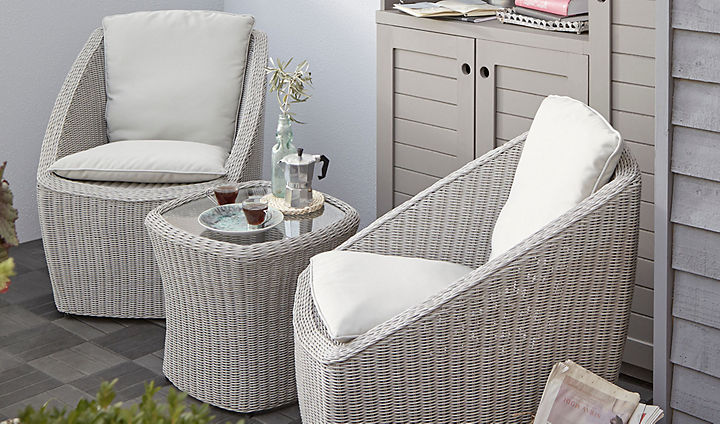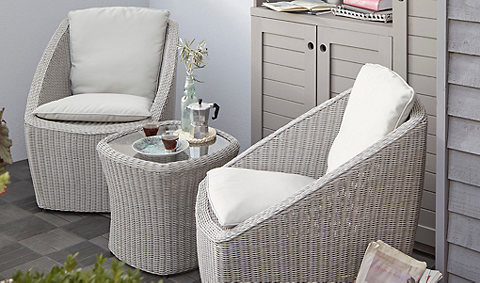 Stay out of the sun
If your balcony is a suntrap but you prefer to stay out of the sun try a paraol.  The perfect way to shade you and your family from the heat of the sun without taking up too much room.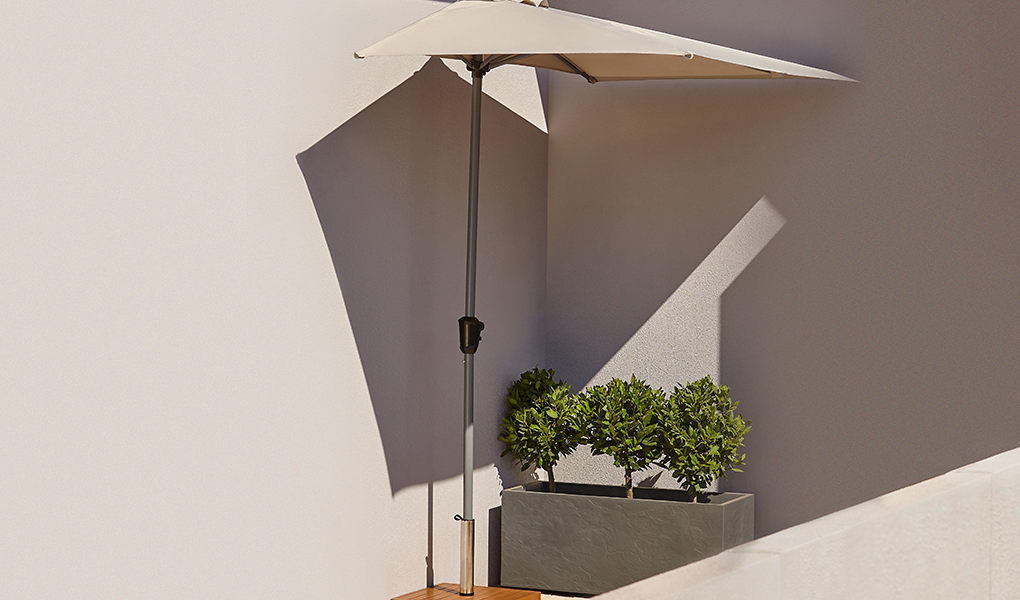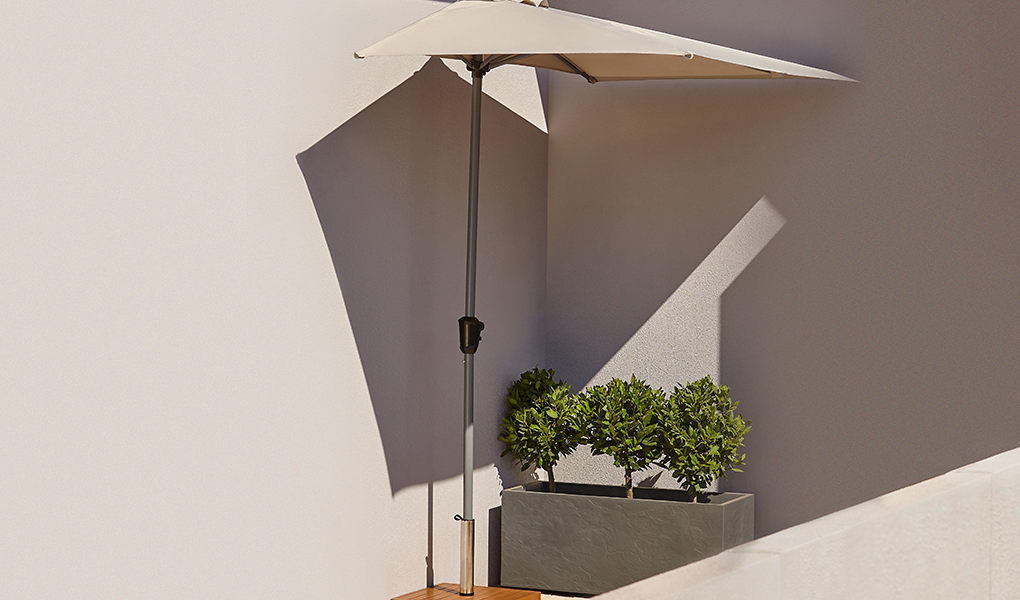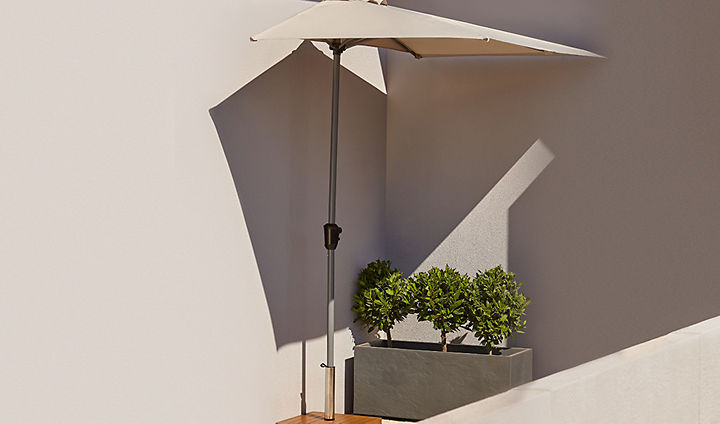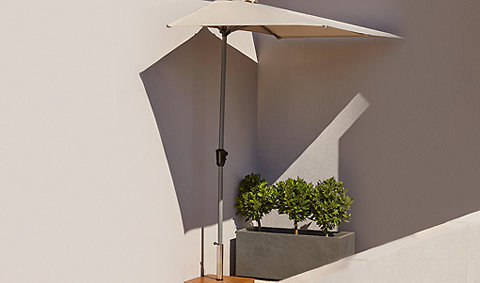 Dine outdoors with an electric BBQ
Many people with balconies are not permitted to have gas or charcoal barbeques. However, hope of dining outside is not lost as electric BBQs are a safe and easy alternative. Spend time socialising with friends outside and still get the same BBQ experience as you would with a gas or charcoal barbeque. Electric BBQs have an element underneath the griddle that heats up, giving an even distribution. You simply need to plug them into a socket, turn the dial to the desired setting and let it heat up. Within ten minutes you're ready to cook. Plus, you don't need to buy any extra gas or charcoal, meaning you can set up and cook whenever you want without any hassle. All of our electric barbeques feature a heat-resistant lid – pull it over when cooking to get a consistent cooking temperature.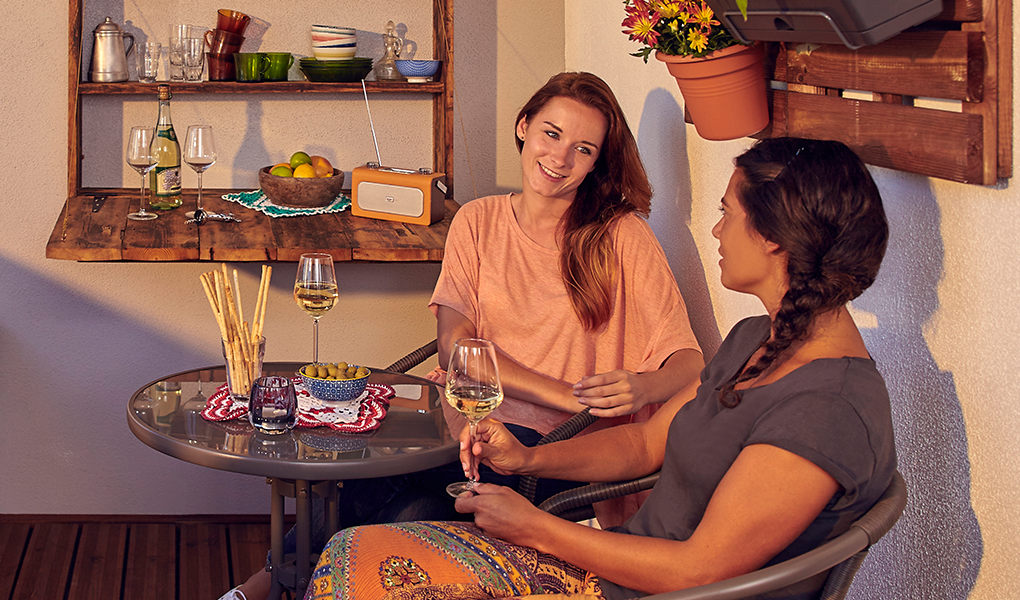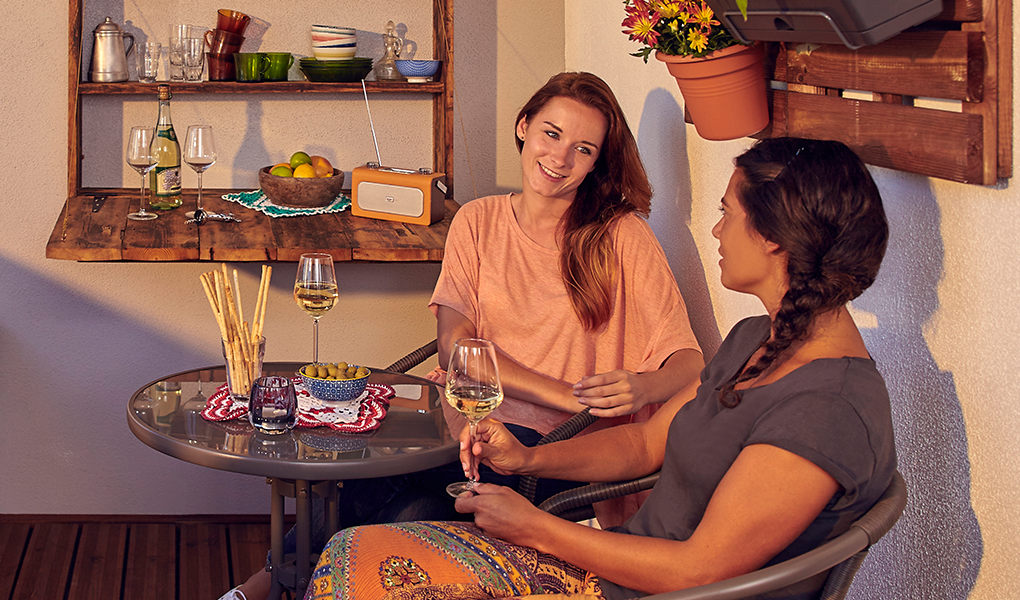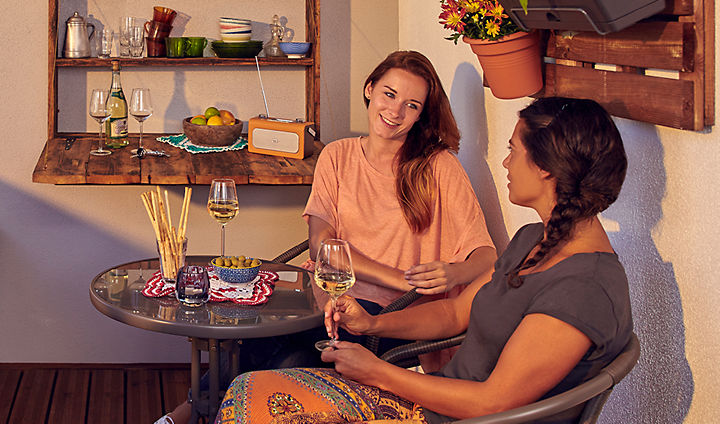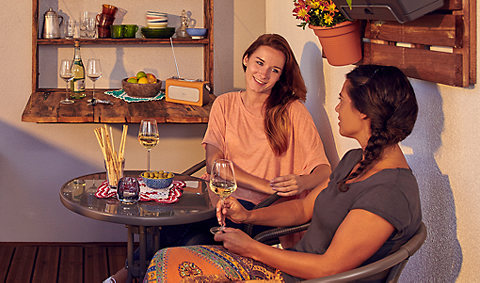 Light up the balcony
Make full use of your balcony in the evening as well as the daytime by lighting it up. As with the rooms inside your home, task lighting is needed to offer clear visibility and ensure you stay safe. For functional task lighting we suggest fitting a wall-mounted light. At B&Q we sell a wide range of stylish wall lights, with a choice of mains, solar or battery-powered lights. Choose from a subtle and discreet design or a wall light that is more of a statement feature. Our range includes geometric, uncomplicated designs or more traditional, intricately-designed lights.
In addition to a functional wall light, add some ambient lighting to create a calming atmosphere. Lanterns are a great choice that look fabulous.
For a garden party look, add some string lights along your balcony rails, or hanging above. We offer several string light options.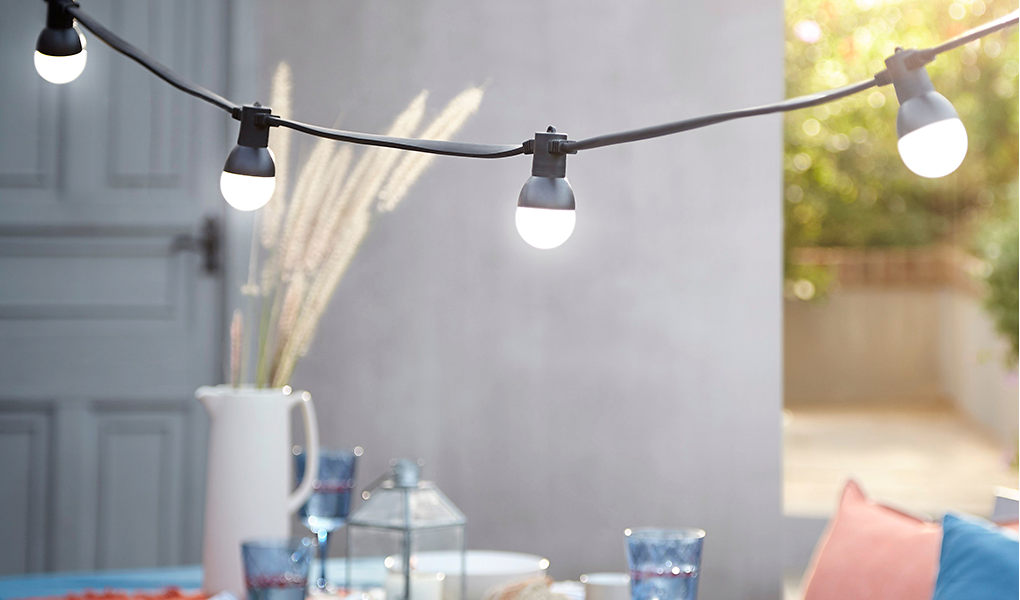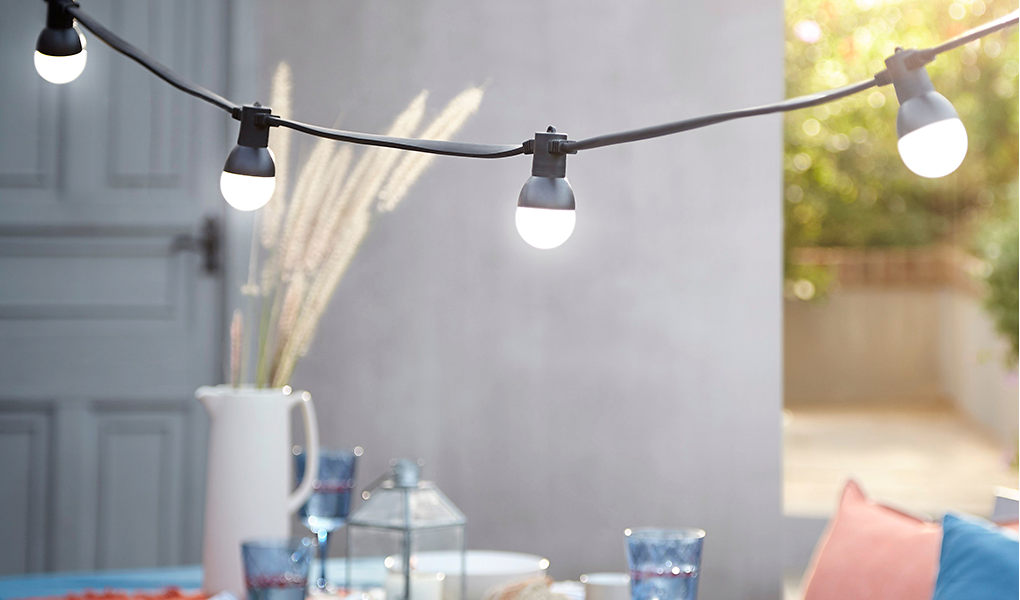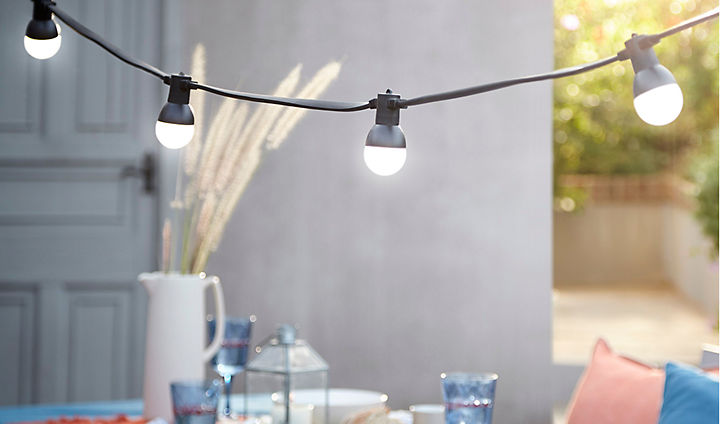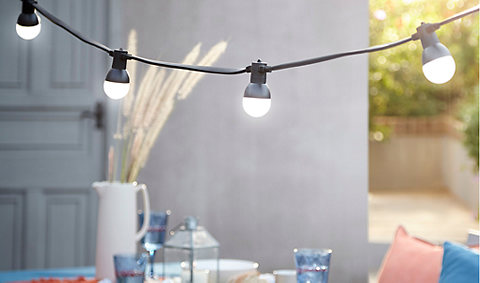 Jazz up a boring balcony floor
Is the flooring of your balcony just a bit plain and boring? We've got some ideas to liven it up. Firstly, deck tiles are ideal for laying down to create an eye-catching deck. We offer deck tiles in treated pine or acacia which can be easily fitted together over the flooring for a wooden deck. Another option is composite deck tiles which simply clip together and are easy to maintain. Or you could use a single wooden deck tile to place your plant pots on to introduce some wood to the look, rather than covering the whole floor.
Instead of decking tiles, consider decking boards. We have a range of materials and colours available, including wood and composite boards. Missing the feel of grass? These unique Grassedeck deck boards feature a layer of artificial grass – so you can have the greenery without any of the effort.
And to top off your flooring, roll out a patterned rug. If you've got the space, we have loads of outdoor rugs which come in a variety of attractive colours and patterns, including geometric and striped. The durable material is hardwearing and weatherproof, making it a perfect choice for outdoors. Roll it up when not in use or even transfer it indoors. The eye-catching pattern will brighten up any space, indoors or outdoors.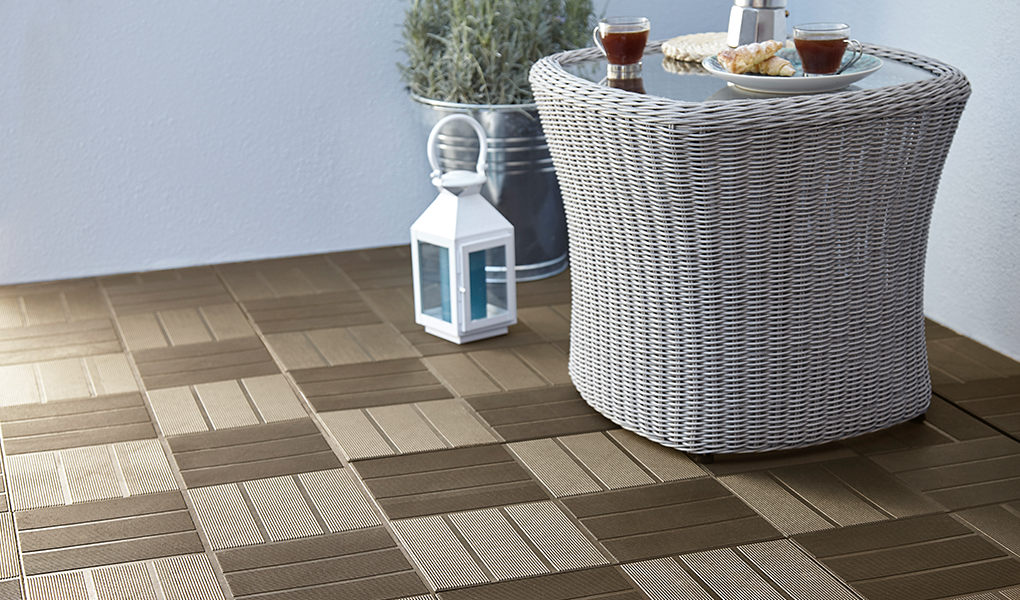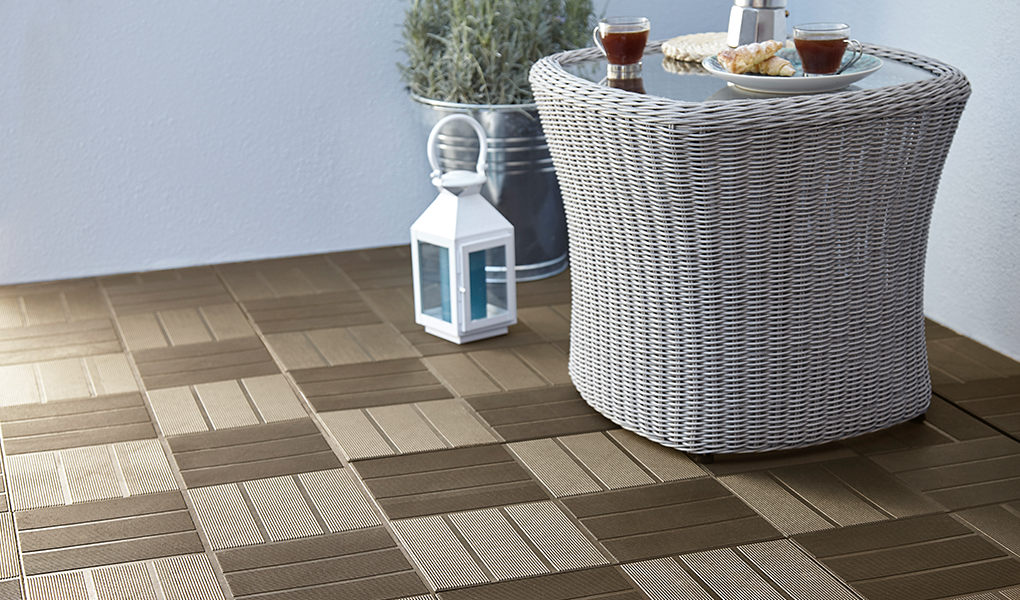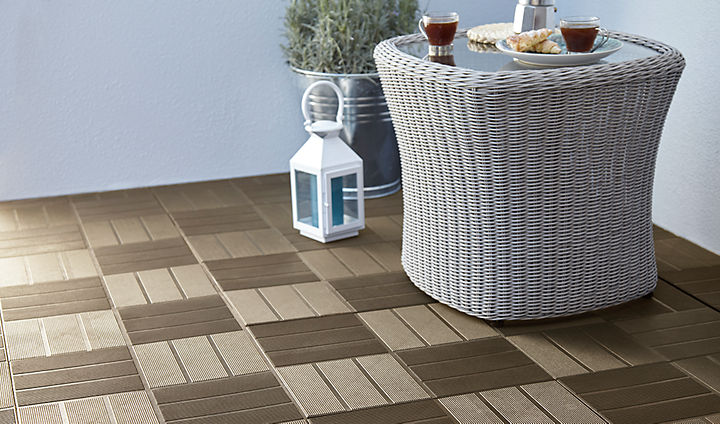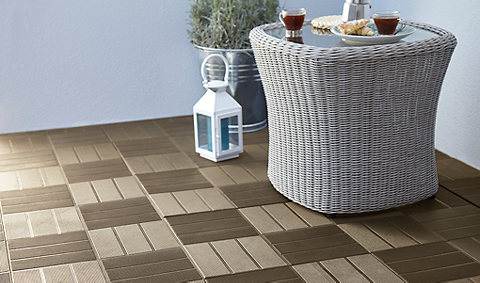 Grow fruit & veg on your balcony
You don't need a garden to grow your own fruit and vegetables, many types can be grown in even the smallest amount of outdoor space.
The easiest of the edible plants, herbs only need a very small space and grow all year around. Not only are herbs like rosemary, thyme and mint simple to grow but they also give off a lovely scent.
Go one step further and use your outdoor space to grow your own delicious fruit and vegetables. Strawberries, tomatoes, courgettes and potatoes can all be grown from seed in a grow bag or pot on balconies. Kids especially will love planting the seeds and seeing what grows.
We recommend a growhouse (a mini greenhouse) if you're looking to grow anything from seed as this will give the plants the best start. Or check out our unique Kitchen Garden range with everything you need to grow-your-own. Whether you're a complete novice to gardening or a green-fingered pro, the range will suit you. It's an innovative offering of mix and match raised beds, liners, covers and support structures.
Choose a small or large raised bed, depending on the size of your balcony, or you can mix sizes and stack them. Then pick a raised bed liner and a cover it up. We offer easy to use grow tunnels and more sophisticated easy access grow covers, all in small sizes that suit a balcony. Depending on what you're growing, the range includes support structures of varying sizes, like trellises, that fit easily onto the grow bed.
For help with growing fruit, vegetables or herbs, head to our how to articles.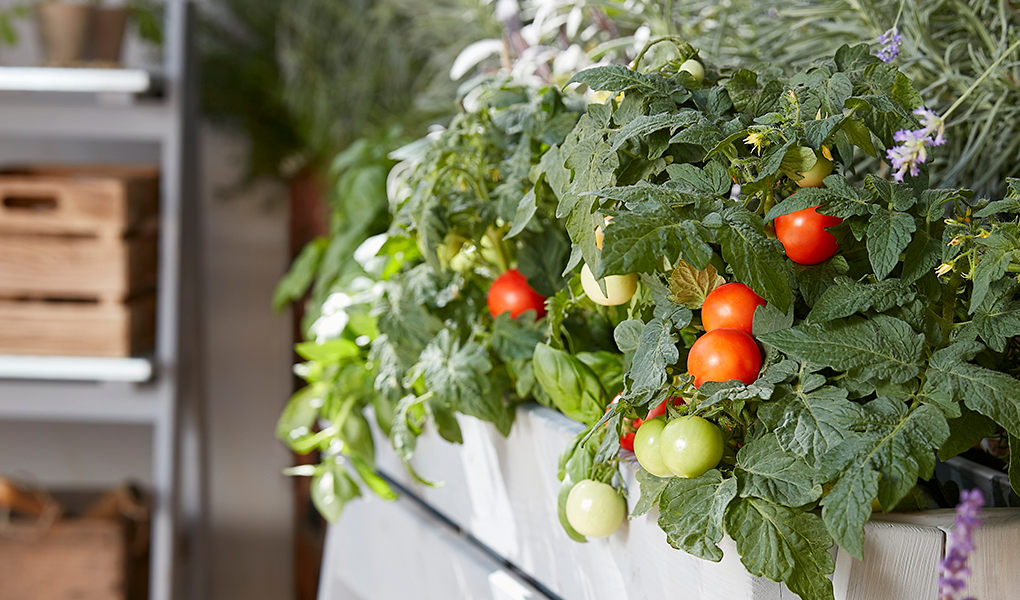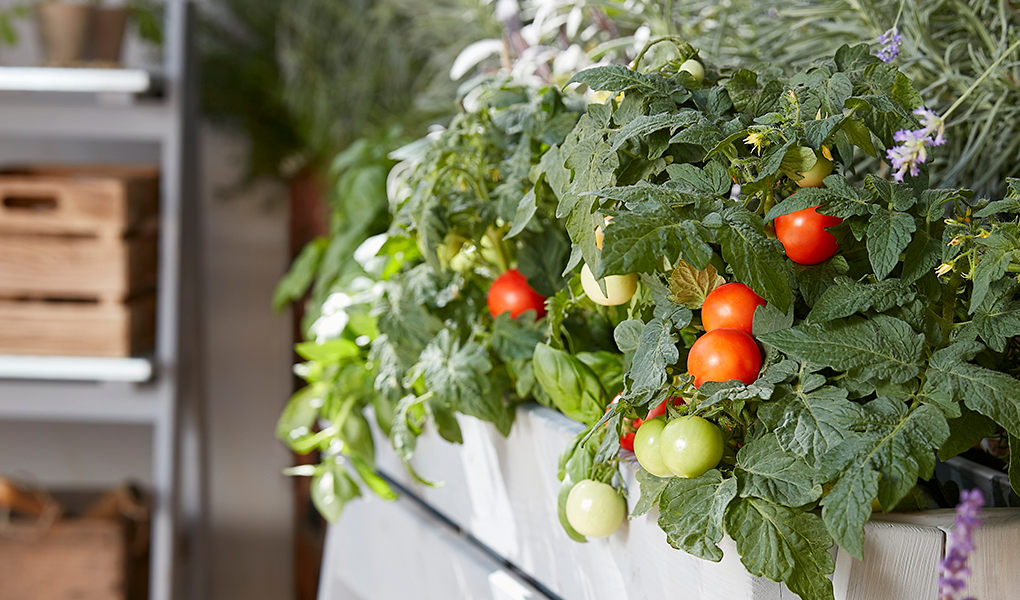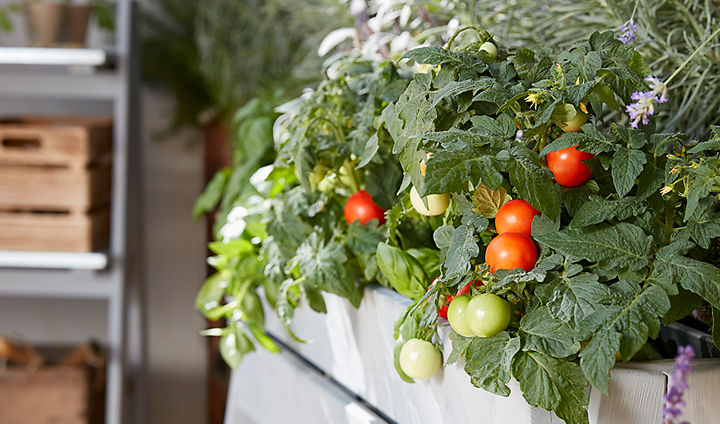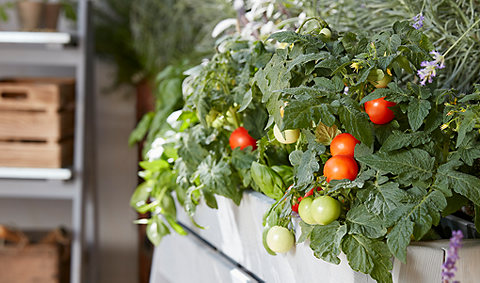 Add the finishing touches
Complete your balcony look with the finishing touches. We have lots of garden ornaments, including a number of kitschy, fun and colourful ornaments that kids will love. Opt for a cute creature like this Flocked Sheep Ornament. Or did you know gnomes are back in fashion? Pop a cheery animal or gnome on your balcony to give it some character.
Create some natural and calming noise by hanging up a wind chime. Our range of wind chimes come in all sorts of colours and feature different decorations. Or if you'd rather avoid the noise, opt for a mesmerising wind spinner, a hanging decoration that spins and creates beautiful patterns. This Active Splash Design Wind Spinner would be ideal to jazz up your balcony with some colour and movement. Our wind spinners come in various other colours too so you can match it to your preferred colour scheme.