5 everyday kitchen problems solved
We spend a lot of time in our kitchens. We cook, chop, eat, laugh, and sometimes even cry (we usually blame it on the onions). Whether your neighbour is popping round for a cuppa, or you're baking a birthday cake for your nephew – you want your kitchen to look, feel, and perform at its best.
Kitchens are worked even harder now we're at home more, and unsurprisingly, things can go wrong more often. Over time, cupboards will begin to overflow, taps will start to leak, and handles will come loose. With just a few trusty tools and materials, we'll help you look after your kitchen, so it can look after you and your family.
Read on for advice on caring for your kitchen. Let's breathe some life back into the heart of the home…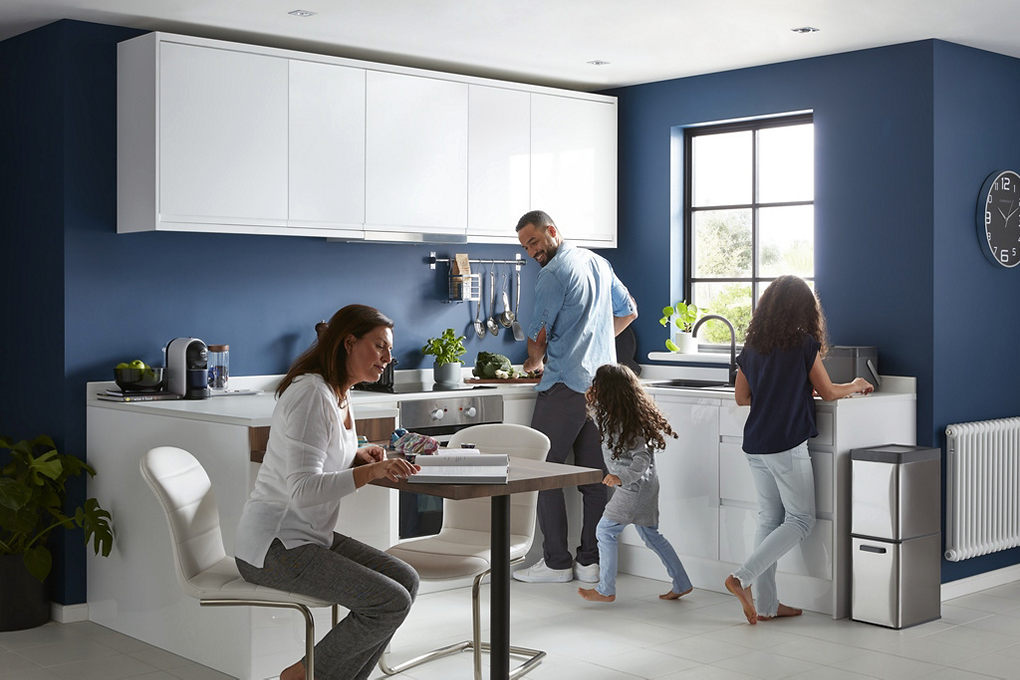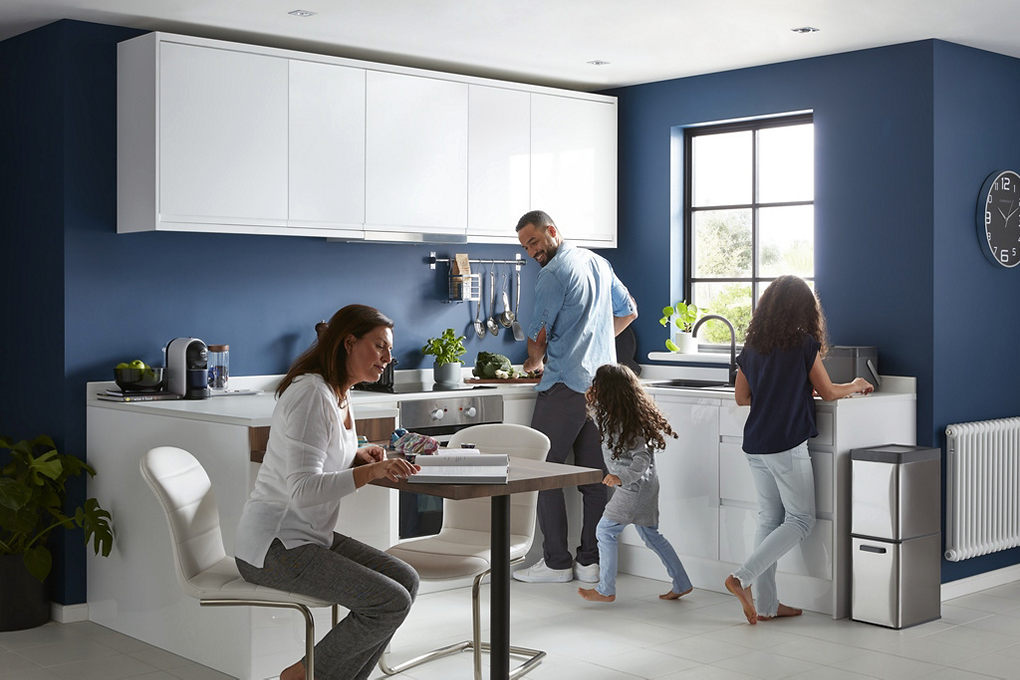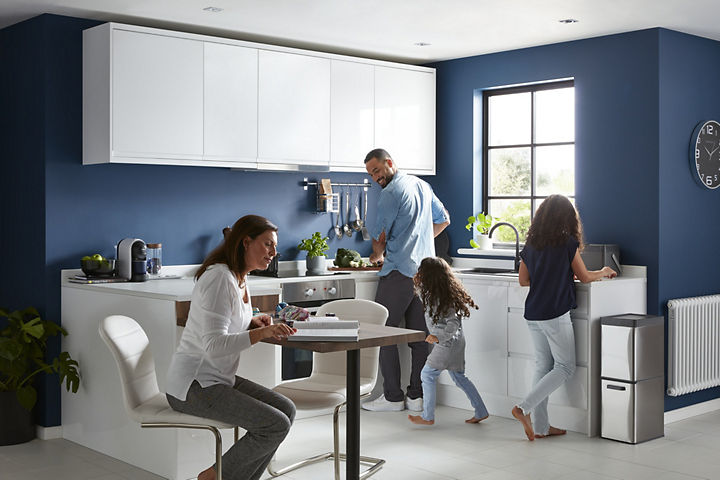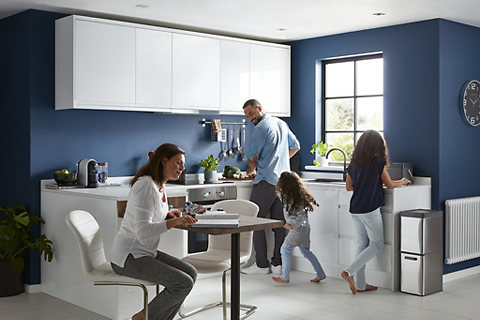 1. Overflowing cupboards
If we had a magic genie in our kitchen, the first thing we'd wish for is more storage space. No matter the size of your kitchen, it seems there is just never enough room for all of our crockery and utensils. And with each birthday that goes by, we have a new bread bin, knife block, or butter dish that we suddenly need to make space for.
Don't fret, read our list of kitchen storage tips and ideas, and check out our kitchen storage buying guide for advice on the best storage products for your kitchen. From larder storage to high top shelves – we'll help you bring some calm to the chaos.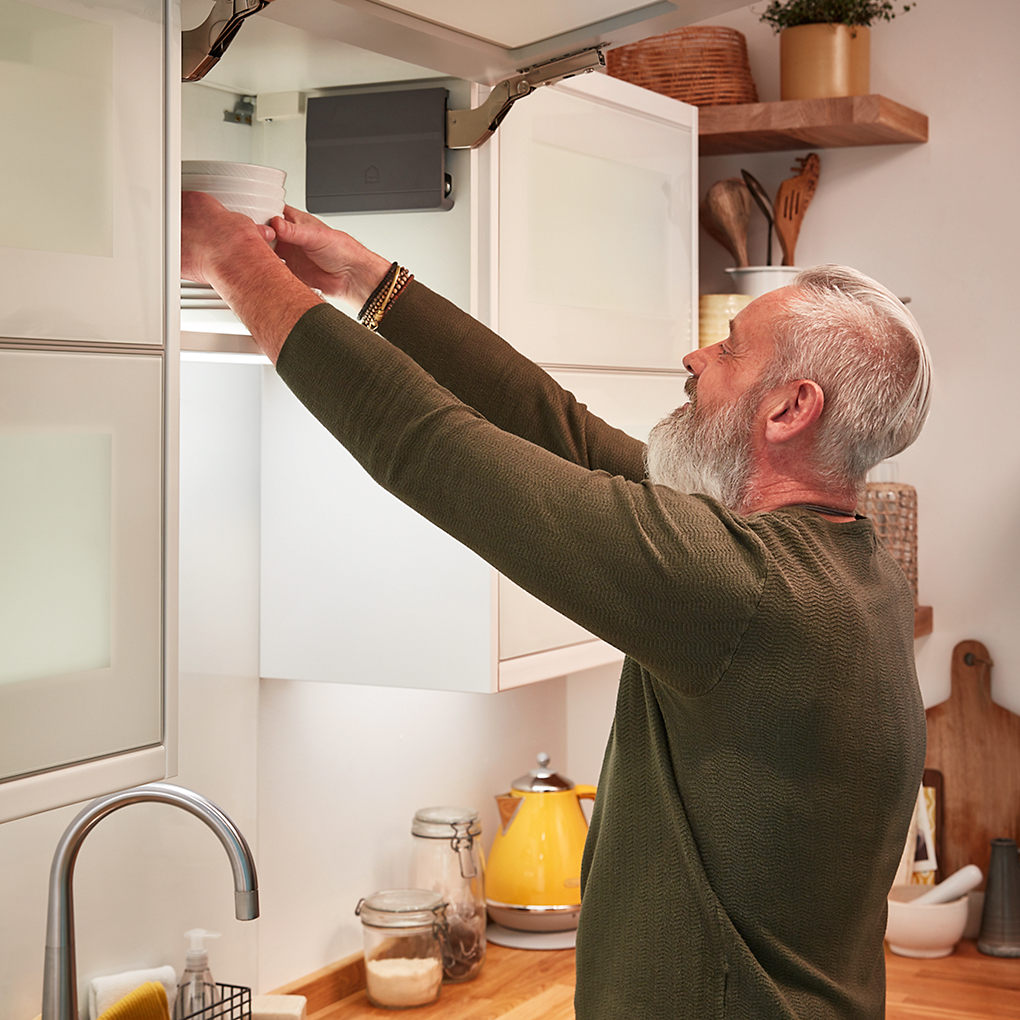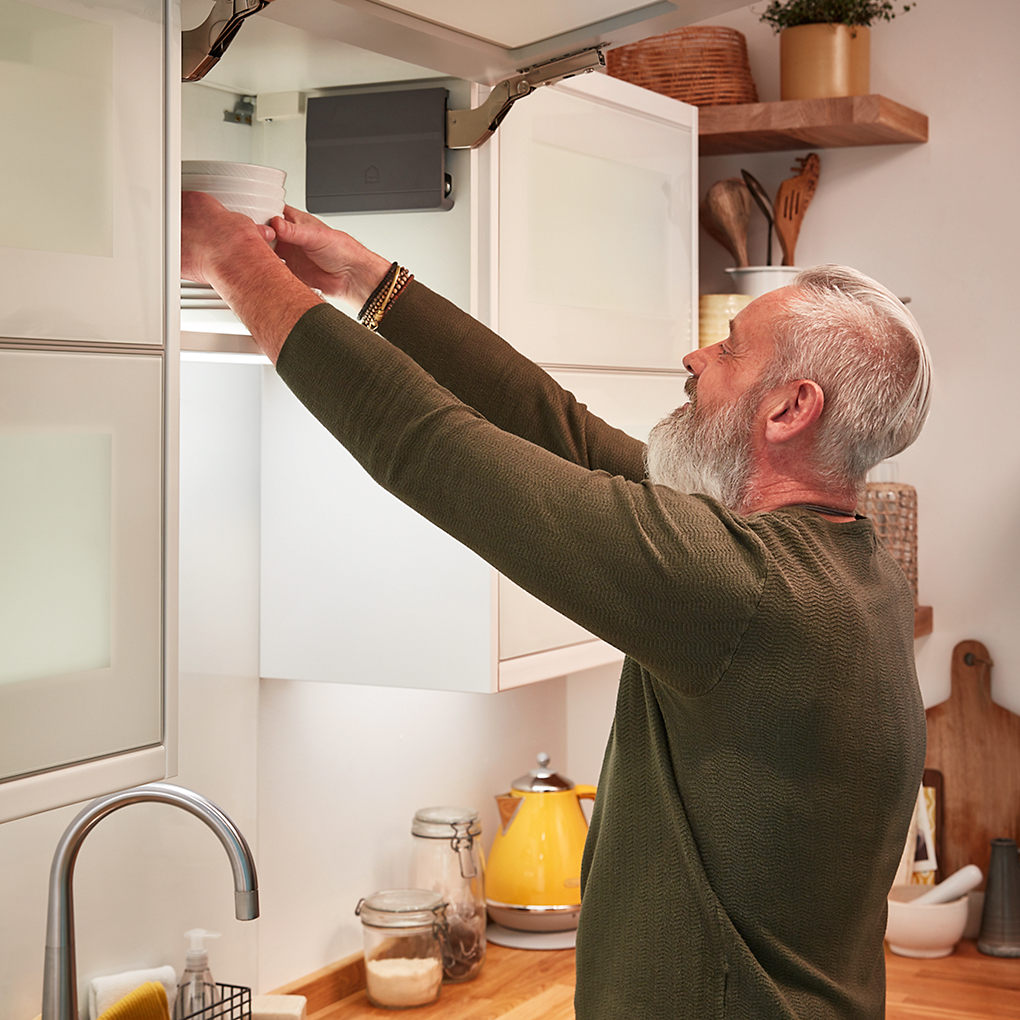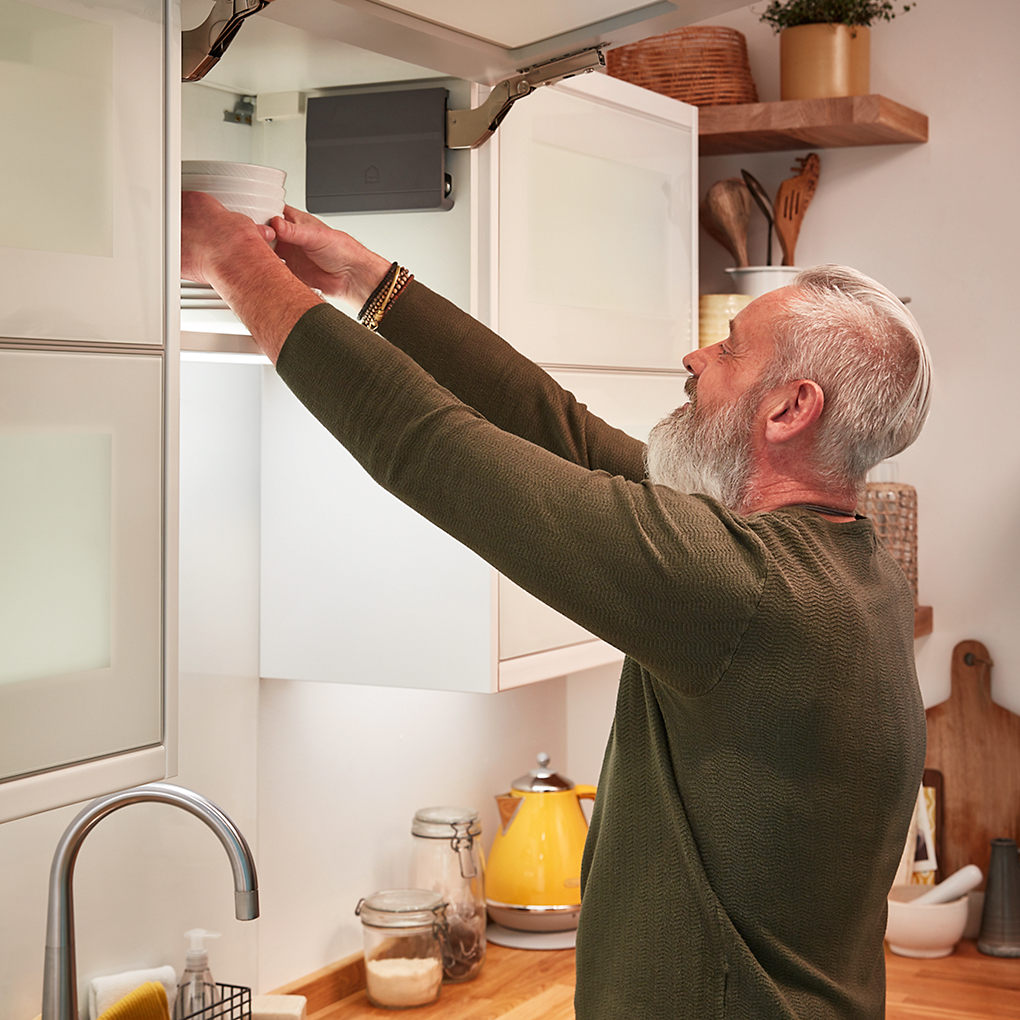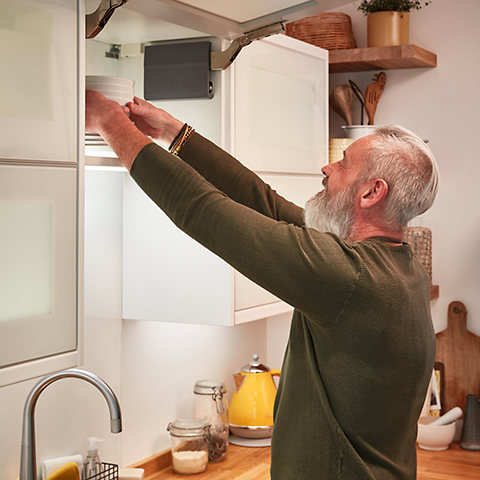 2. Tap troubles
Whether your tap is leaking, limescale ridden or rusty (or all of the above), it can be extremely frustrating when our taps aren't working properly. We rely on our taps to wash our hands, fill our kettle, and clean our dishes. So, it's important that we don't have any issues with them.
Most kitchen taps last around 15-20 years. If you can't remember when you last replaced your tap, perhaps it's time for a new model. Browse our selection of kitchen taps at B&Q. From monobloc to pull out, or even boiling water taps – we'll help you find a fresh new faucet for your kitchen.
How to fix a leaking tap
How to remove limescale from taps
There are plenty of ways you can remove limescale from your kitchen taps. We have a range of limescale removers that will do the trick. However, if you've got some spare white vinegar or lemon juice in the kitchen then that will also do the job just as well.
Fill a small plastic cup with vinegar or lemon juice and immerse the tap in the cup of descaling liquid. Wrap a tea towel around the cup and tap to keep it in place. Leave to soak for a couple hours, or more, depending on how bad the limescale build up is. Remove the tea towel and cup and wipe the spout clean with a fresh cloth.
We suggest you regularly descale your taps to avoid crusty limescale from building up – the longer you leave it, the more difficult it will be to remove.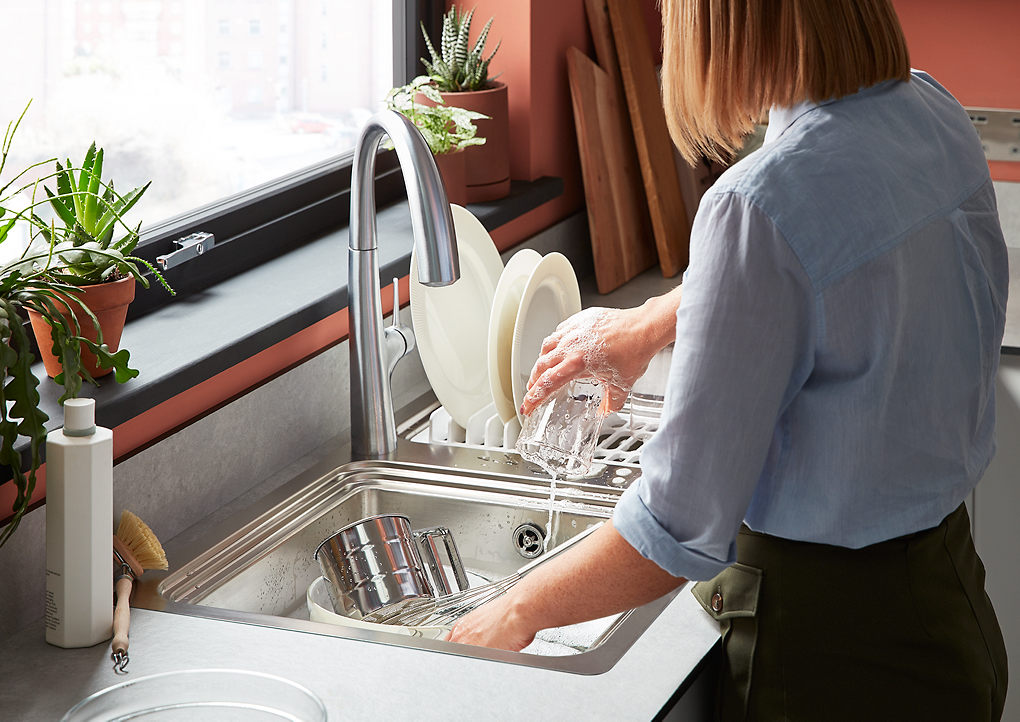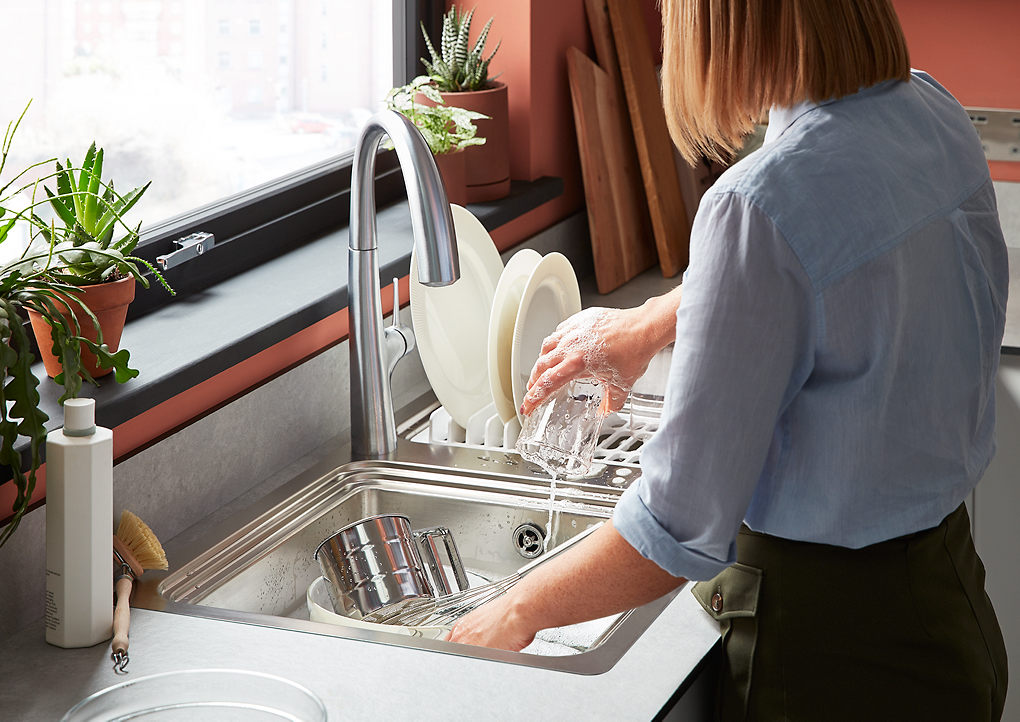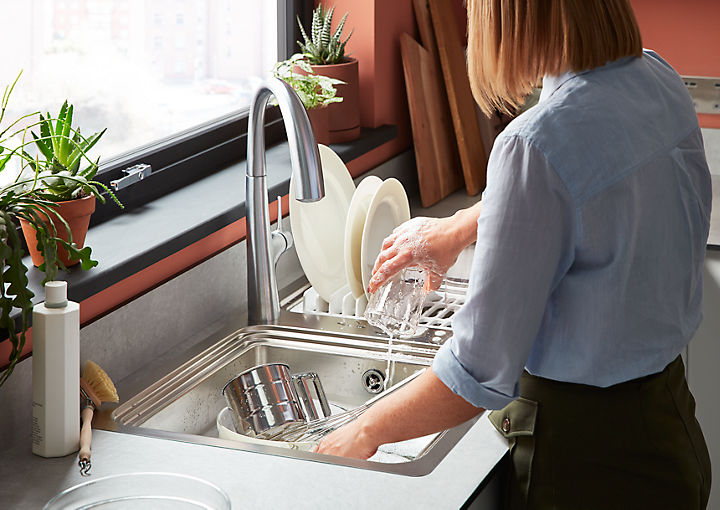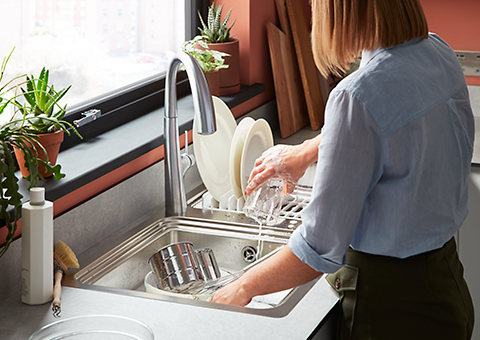 3. Dreary surfaces
Fed up with staring at the same colour walls or cabinets day after day? All it takes is an afternoon of DIY to transform your kitchen with fresh wallpaper or a lick of paint. Whether you want a lively orange kitchen to wake you up when you're making your morning porridge, or a calming blue kitchen to help you relax when things start to feel hectic – we have the perfect shade of kitchen paint for you.
How to paint kitchen cabinets
Paint isn't the only way to refresh your space. Our washable and splashproof wallpaper is perfect for kitchens. Available in a wide range of styles, including mini hexagon tile effect, navy chevron effect, and duck egg mosaic effect. Not only does it look wonderful, but it's also got antibacterial properties to help stop the spread of bacteria around your home.
If you want a quick and affordable way of refreshing your worktops, use sticky back plastic to get the look you want. Choose from marble, woodgrain, or concrete effect. And it's not just for worktops – you can use it on practically any surface you can think of! Sticky back plastic is a great option if you're living in a rented home and aren't allowed to paint the walls or fixtures.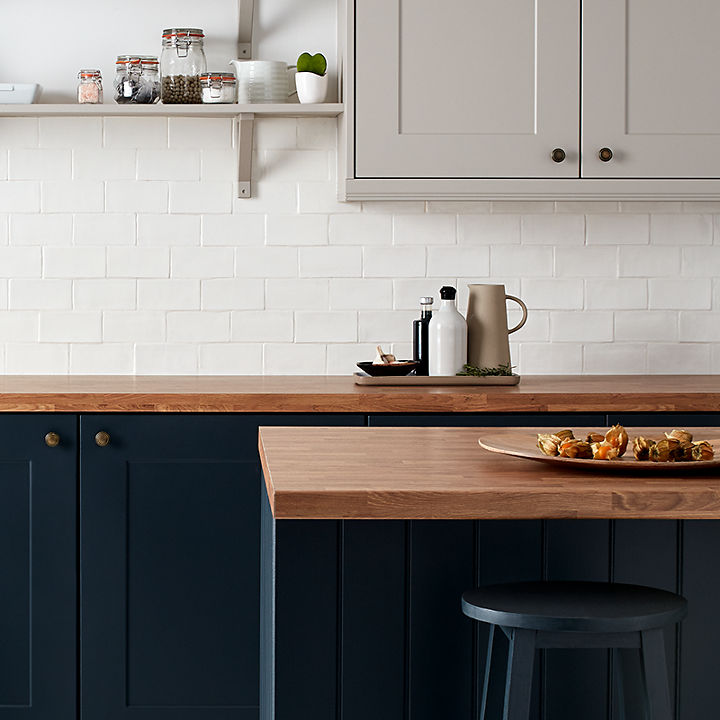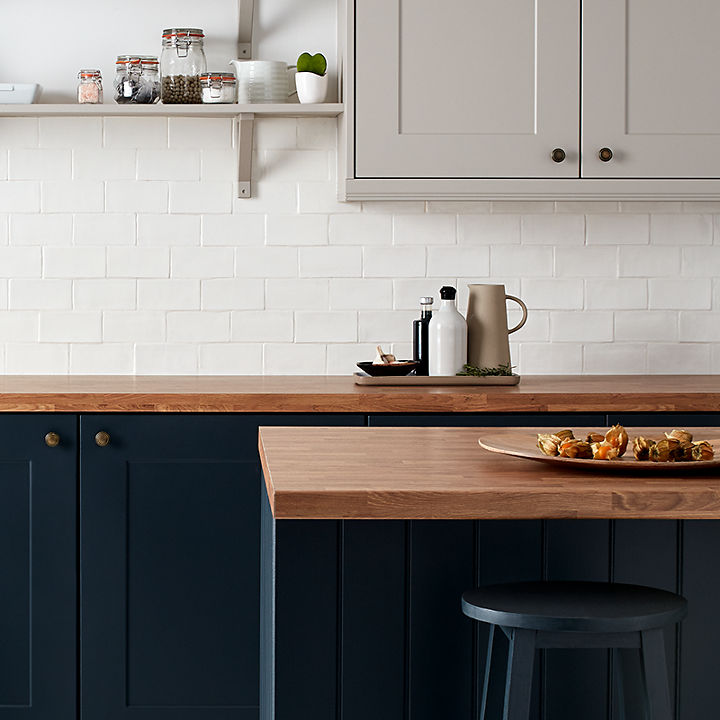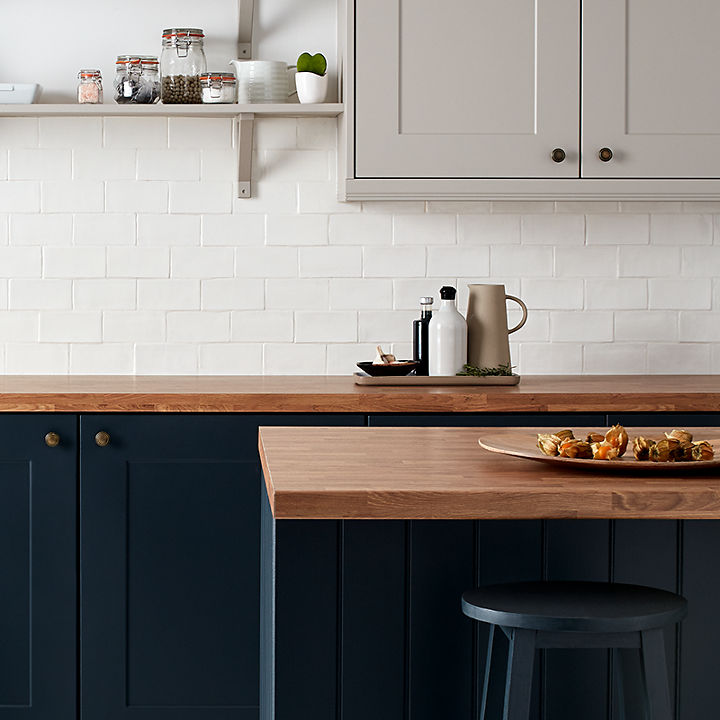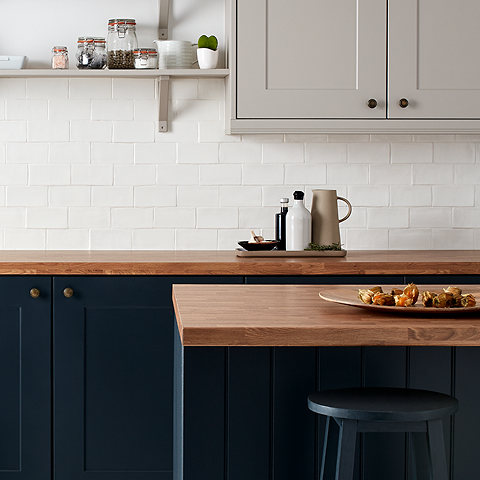 4. Herb envy
We hear it time and time again: "I love fresh herbs; I wish I had a garden so I could grow my own." Well, you know what? You can! You may not have an outdoor space, but that doesn't mean you have to miss out on growing your own delicious herbs. All you need is a windowsill and a few pots, and you can liven up your favourite dishes with your own homegrown herbs.
There are some herbs that grow better on a windowsill than others – basil, coriander, mint, thyme, parsley, and chives all grow exceptionally well on a windowsill. Growing your own herbs is easy, read our article for a fail-safe guide. Another perk of growing your own is that you'll no longer need to buy single use plastic wrapped herbs. Helping you do your bit for the environment!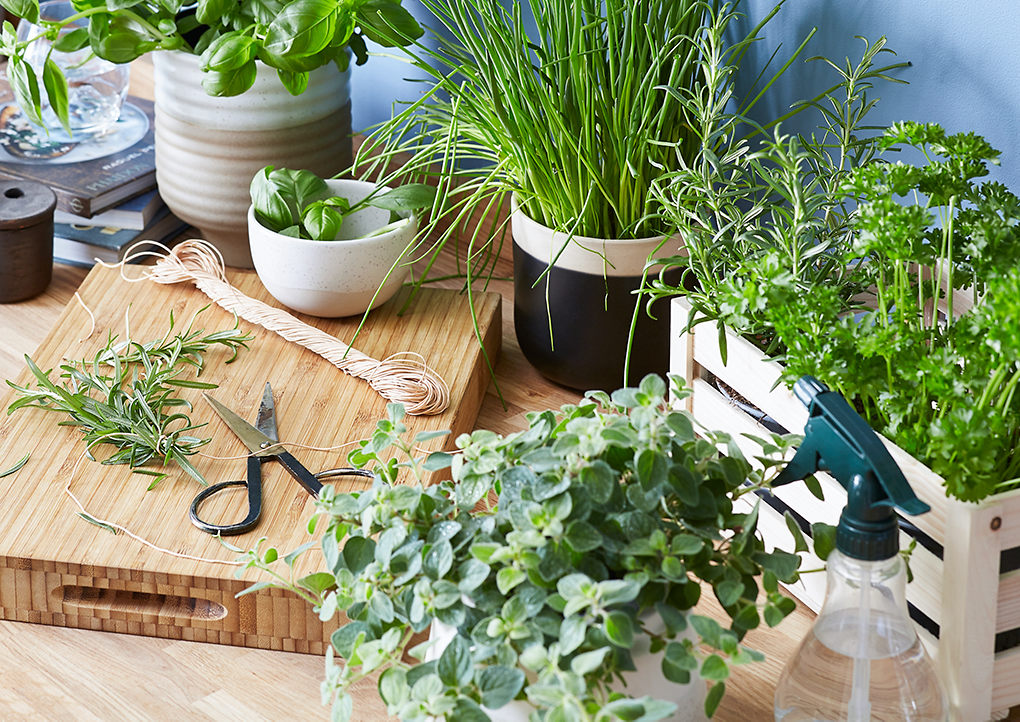 5. Lack of light
It's hugely important that our kitchens get enough light. We need to be able to see what we're doing, especially when there are sharp knives and hot pans lurking around. If you find that you don't have enough light to cook and clean efficiently, think about installing some task lighting under your kitchen cabinets or shelves. If your kitchen has high ceilings, use low hanging pendant lights to make the room feel brighter.
The more sources of light you have in your kitchen, the more drama you'll create. So don't hold back! Use floor lights, LED light strips, downlights, and wall lights to bring your kitchen to life.