How to create a cosy reading nook
Current mood: do not disturb
Over the years our homes have morphed and shifted into what we need. Today, they're more multifunctional than ever. We've pushed comfort out the door and made way for desks, dumbbells, and side hustle ventures. However, it's just as important that we allocate space in our homes for relaxation. If we dedicate areas of the home exclusively for unwinding, then we're more likely to make meaningful time for ourselves.
At B&Q we've got everything you need to create a book nook in your home. We'll help you transform a bare corner into a dedicated spot for slowing down and spending time in your own company. Whether you'll use it for storytime with the little ones, or a place of refuge after a stressful work meeting – every home can benefit from a cosy corner.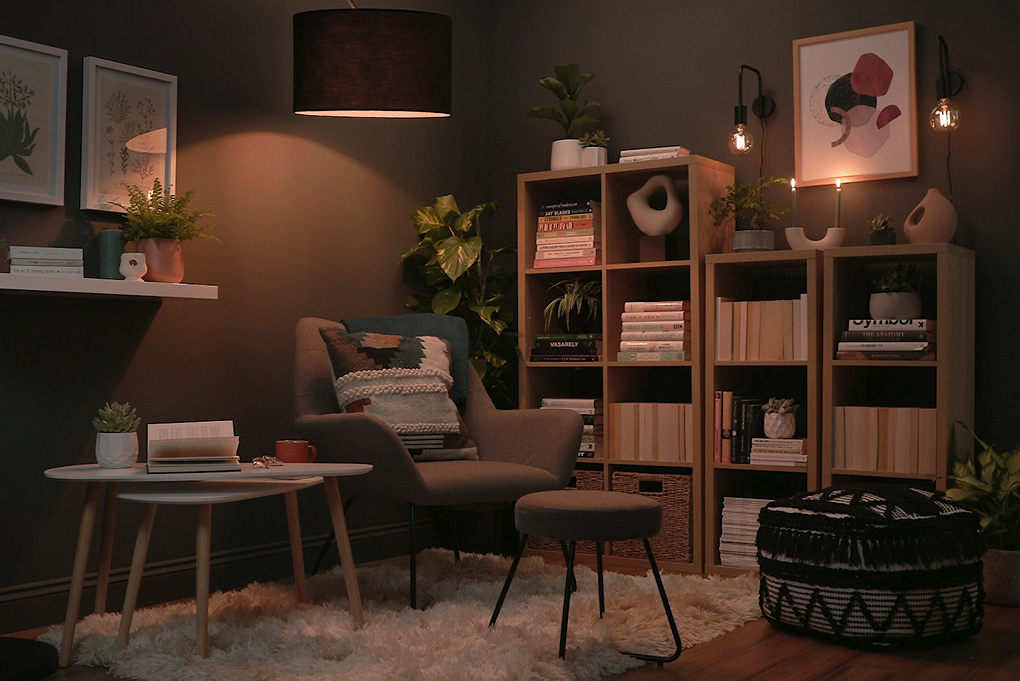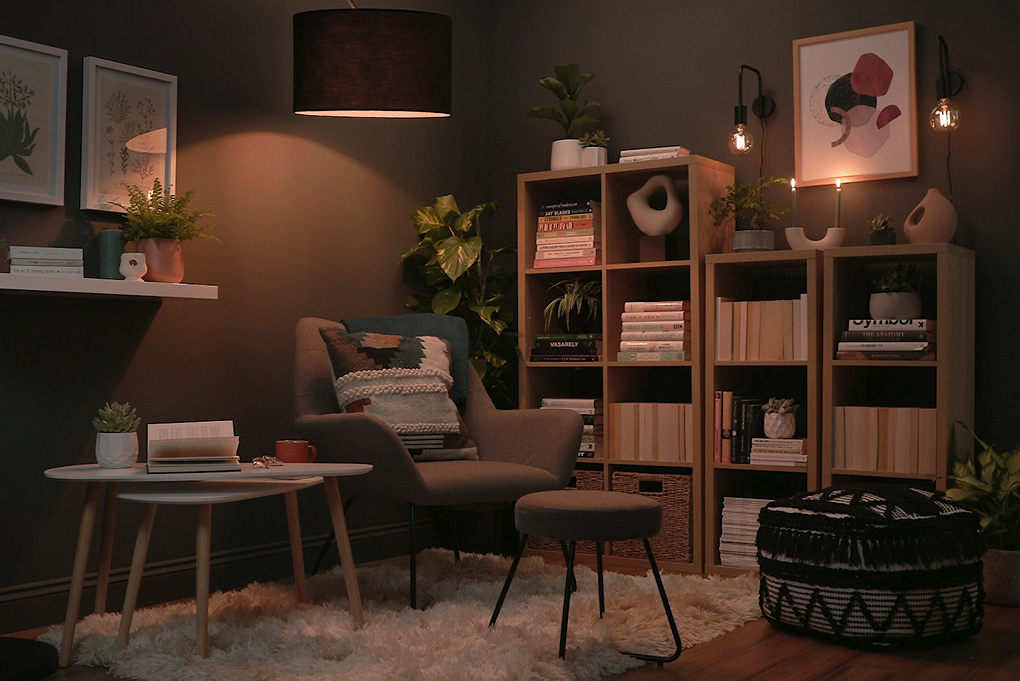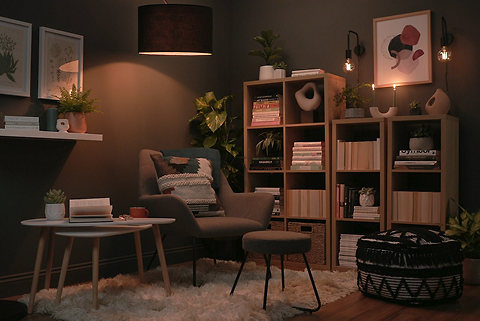 Wind down with warm colours
The colours you choose will help to determine the atmosphere in the room. Soothe your senses with a gentle paint palette. For an intimate feel, choose warm tones such as warm beige, deep taupe, or charcoal grey. Create extra dimension by covering one of your walls with textured wallpaper. Think about the colours underfoot too, dark wooden flooring is ideal for creating a cosy environment. And don't forget to lay down a thick rug for a comforting layer of softness.
Want to make an impact? Add some interest with bold accent colours, such as olive green or burnt orange. You could bring these accent colours into play with cushions, candles, wall art, or any other accessories.
On display
Keep everything looking smart with some stylish storage. Frame your reading corner with open shelves decorated with books, plants, and photo frames. We've got an impressive range of storage options to choose from. Struggling to find the right size storage furniture for your awkwardly shaped room? Luckily for you, we've got the solution to your problem. GoodHome Atomia modular storage lets you build custom furniture that will slot into your space perfectly. From the internal accessories to the external doors, you have total control over every little aspect.
Trend alert: Create a rainbow bookshelf
Take all your books off your shelves, divide them into piles organised by spine colour. Put your books back on your shelves in their colour groups following this colour order: black, blue, green, yellow, orange, red, purple, grey, white, brown.
Snug as a bug
When it comes to creating a cosy reading den, comfort is key. You want your nook to be the ultimate spot for curling up with your favourite novel and putting everything else on hold. Pick a comfy armchair, bean bag or pouffe – and add plenty of cushions and blankets for extra levels of snugness.
We've got a gorgeous selection of occasional chairs to pick from. Our Zorita chairs come in a range of muted colours and a velvet-effect finish, giving a sumptuous and welcoming vibe. Inspired by the rustic converted loft spaces of Brooklyn, our range of Turio armchairs combine luxe elegance with industrial charm. No matter your style, we'll have something that you'll love.
Why not treat yourself a foot stool so you can put your feet up? Maybe consider a side table too, we don't want to be held accountable if you spill your cup of tea over yourself when you inevitably doze off!
Shine a light
Softly illuminate your corner with our selection of indoor lights. Whether you prefer floor lamps, table lights, or wall lights – we've got plenty of stunning options to choose from. An arched floor lamp will frame your reading nook perfectly. We've also got a selection of adjustable table lights, so you can direct the light wherever you need it. In a relaxing environment like this, we suggest choosing a light bulb with a warm colour technology. Find out all you need to know about watts, lumens, and kelvins with our light bulb buying guide.
As well as brightening your space, lighting is another opportunity to bring some style and personality to your room. From Scandi style table lamps to industrial effect wall lights, we'll have something to brighten your day.
The finishing touches
Warm colour palette? Check. Stylish shelving? Check. Comfortable seating? Check. Ambient lighting? Check. You're well on your way to creating a harmonious space to escape to after a hectic day. Tie the whole look together with some stylish accessories, house plants, art prints, and a couple of scented candles. Make sure you've got all of the functional elements sorted too. Have you got enough sockets for plugging in your lamp and charger for your e-reader? If not, use an extension lead and tuck it neatly under your chair or behind your storage. Now, it's time to put your feet up, make yourself a brew and most importantly, relax.
Relaxation station, zen den – whatever you choose to call it, one thing's for sure, you won't ever want to get up.
Create your own cosy nook with our video guide
Looking for extra tips and advice on creating your own reading nook? Watch our video for even more inspiration!