Bathroom design tips from our in-store colleagues
Our fantastic showroom advisors spend all day chatting with customers about their bathroom ideas, recommending products, giving out advice and creating 3D bathroom designs. So, we thought, why not tap into all of that incredible knowledge, and share it wide!?
If you're at the beginning of your project and on the hunt for some advice, look no further. From the best flooring and furniture options to ideas for small bathrooms – read our collection of the best bathroom design tips that our colleagues swear by…
Bathroom design tip #1 – Paint walls and ceilings the same colour
"One tip which I would always advise is to paint the ceilings and walls the same colour. This opens up the room and creates the illusion of extra space. You could create contrast with different coloured woodwork (doors, skirting etc.) or alternatively use the same colour to create an even larger feeling room." – Riana Wilson from B&Q High Wycombe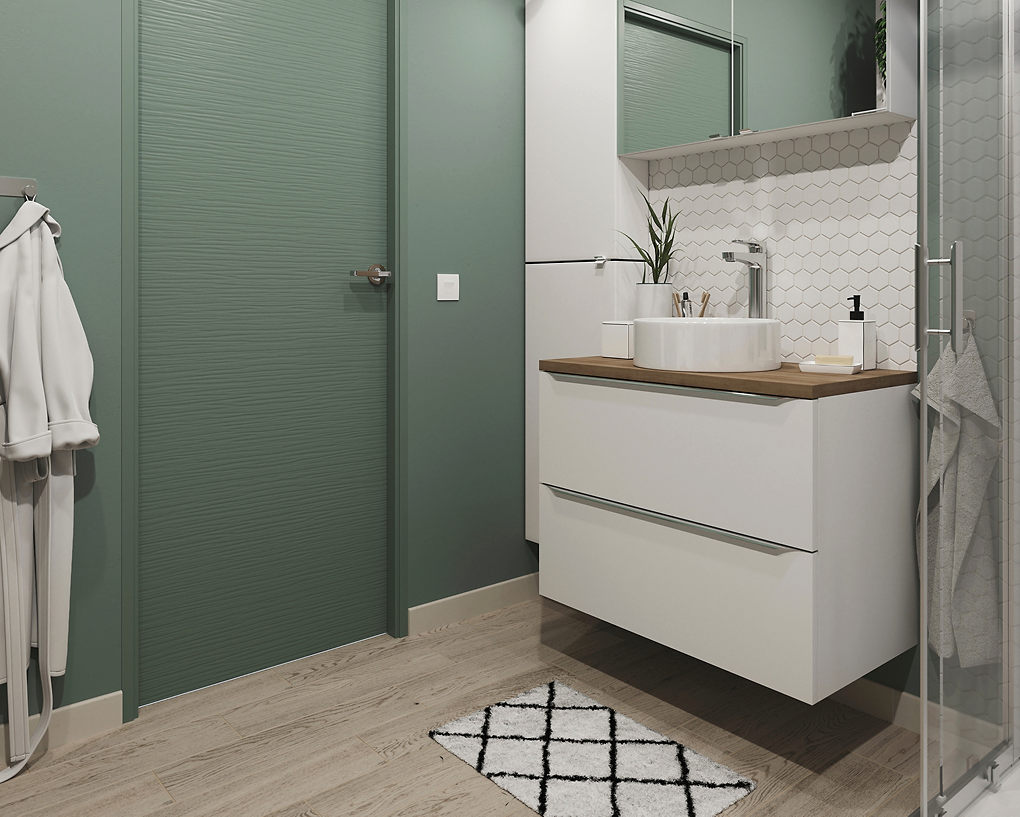 Bathroom design tip #2 – Tile vertically not horizontally
"When tiling walls with large rectangular tiles place them vertically rather than stacking them horizontally, this way the eye is drawn up the wall which makes the room feel taller. Also, linear or block tiling patterns on the floor can make rooms feel smaller, try tiling floors diagonally instead, this makes the room feel bigger!" – Rowan Stanley from B&Q Caerphilly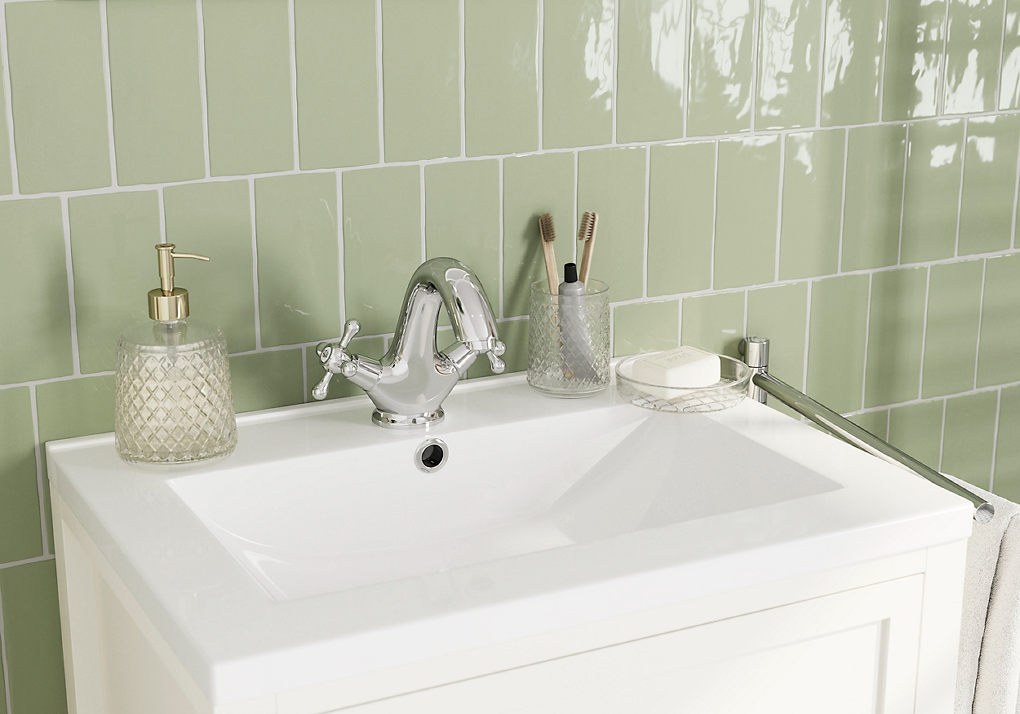 Bathroom design tip #3 – Best furniture for small bathrooms
"For customers with small bathrooms, I often recommend the Imandra vanity unit. Under sink storage is fantastic, otherwise it's wasted space, and lack of storage is often an issue in smaller bathrooms." – Kelly Barrett from B&Q Scunthorpe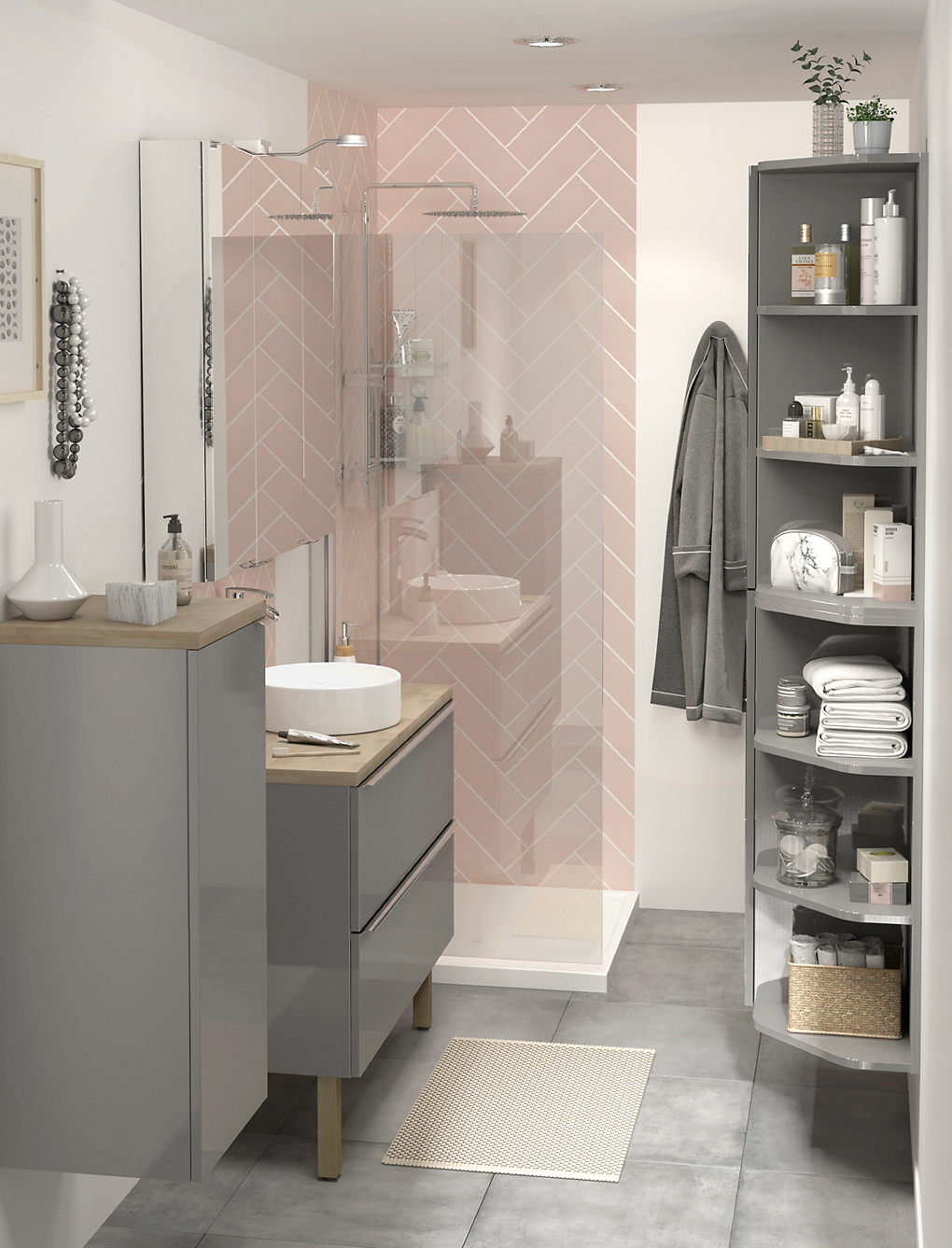 Bathroom design tip #4 – Stick with neutral tones and add colour after
"If you're the type of person who (like me) can't decide on one specific colour scheme, keep your bathroom neutral. Whites, greys, and off-whites are perfect as they go with everything. You can then accessorise the room with as many colours as you want afterwards!" – Rowan Stanley from B&Q Caerphilly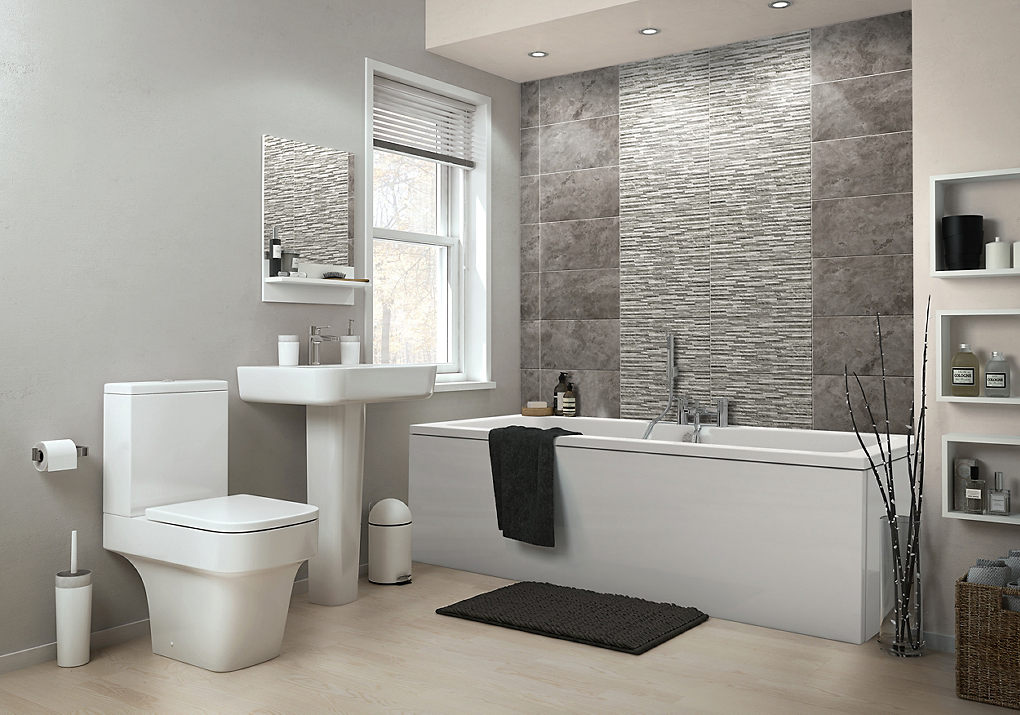 Bathroom design tip #5 – Don't forget grout!
"Whatever the size of bathroom, if using tiling don't forget to consider the colour of grout - black or grey can really make tiles pop!" – Kelly Barrett from B&Q Scunthorpe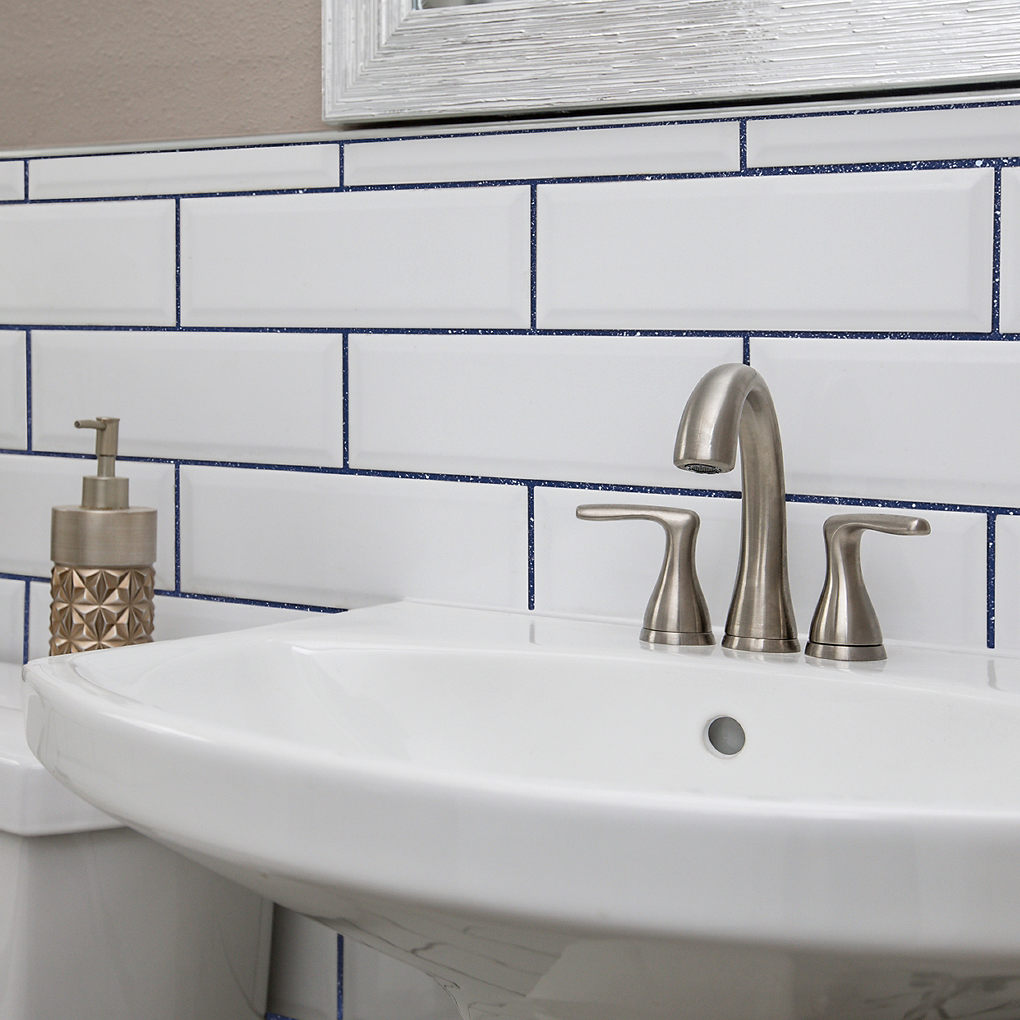 Bathroom design tip #6 – Try vinyl click flooring
"Floor tiles are an effective look but can often feel very cold especially in the winter and autumn months. Try vinyl click flooring instead. It's warm under foot, completely waterproof and comes in many different designs and patterns, there's a style for everyone!" – Rowan Stanley from B&Q Caerphilly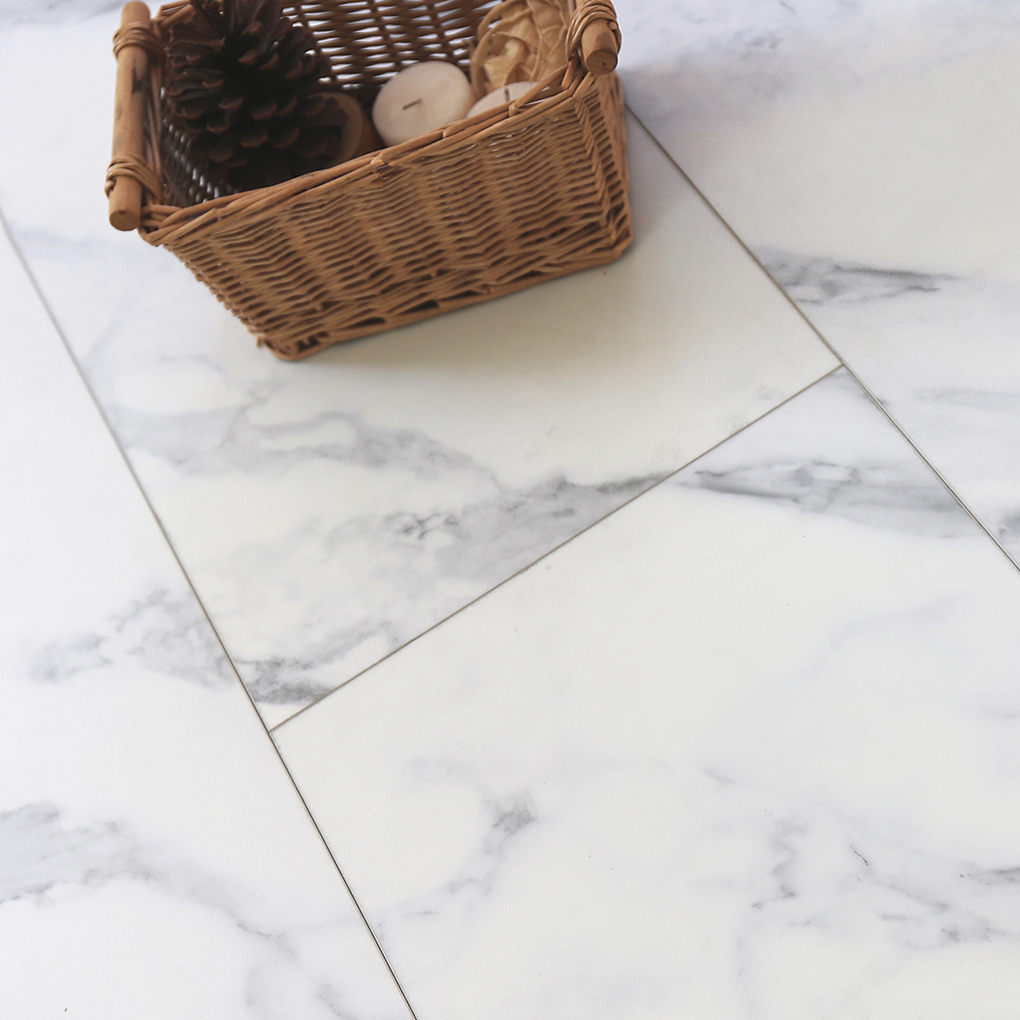 Bathroom design tip #7 – Trick the mind with reflective surfaces
"Use glossy tiles or Splashwall wall panels in smaller bathrooms, they will bounce light around the room helping it feel bigger, brighter, and more open." – Kelly Barrett from B&Q Scunthorpe
"When renovating small spaces add mirrors and/or reflective surfaces, they trick the mind into thinking that the room is much bigger than it actually is. The more reflections the brighter the room will be! This is especially good for rooms that don't have a lot of natural light." – Rowan Stanley from B&Q Caerphilly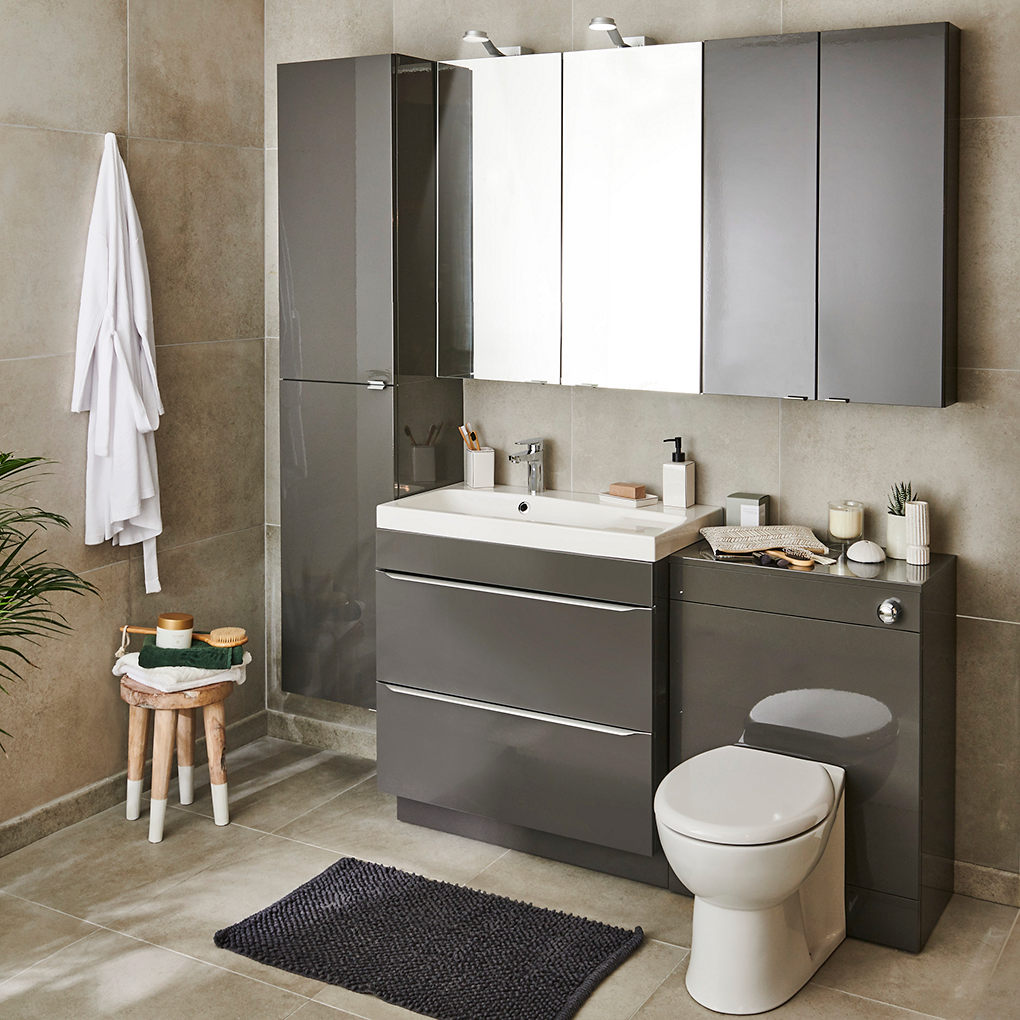 Ready to kickstart your bathroom makeover project? Book a free planning appointment with one of our showroom advisors to get the ball rolling. At B&Q we can help with inspiration, planning, finance, and installation. We want to make it as easy as possible for you to achieve the bathroom you've always dreamt of.