Your perfect flooring fit
Laminate and real wood flooring buying guide
Our flooring has to put up with a lot – from muddy shoes to clumsy spillages, and maybe even the occasional workout. We've designed our hard flooring to withstand wear and tear from everyday living. As well as being sturdy, it's important to pick flooring that ties in with the rest of your décor too.
Hard flooring provides a classic look that wears well over time. We offer three stylish hard flooring options - laminate, solid wood and real wood top layer. Whether you prefer herringbone or chevron – we'll have something to suit you. It's time to find the perfect laminate or wood flooring for your home. Walk this way…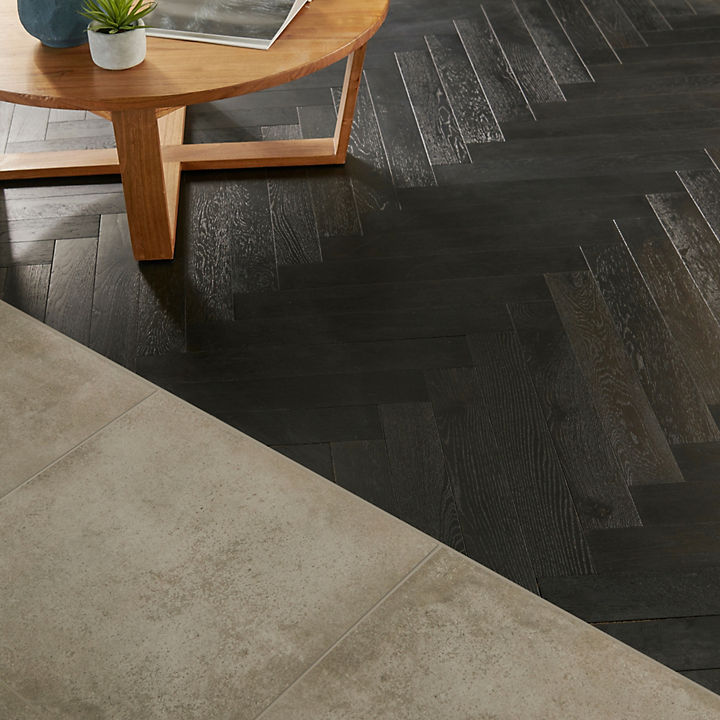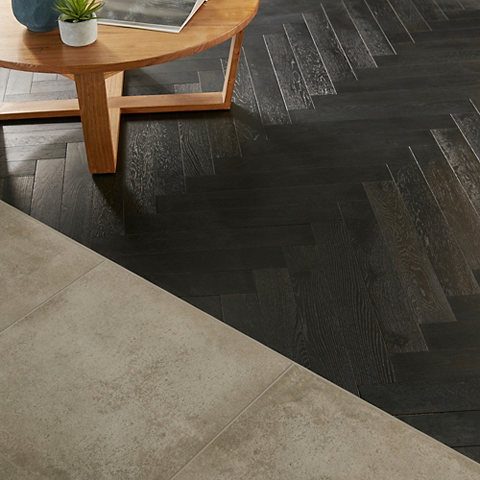 Laminate flooring
For a hard flooring option that's affordable and easy to install, explore our laminate options.
We offer an extensive range that offers our widest selection of finishes and effects. Create the natural look of a variety of woods, such as oak, beech and pine.
Alternatively opt for a striking wood effect, such as reclaimed, parquet or painted.
Easy to look after and maintain, laminate flooring is available from 6 to 12 mm thick and is compatible with underfloor heating.
Laminate flooring is made from four layers:
backing paper - for stability
high density fibreboard (HDF) with wood certified by the FSC® or PEFC™
paper with your chosen effect on it
clear, protective wear layer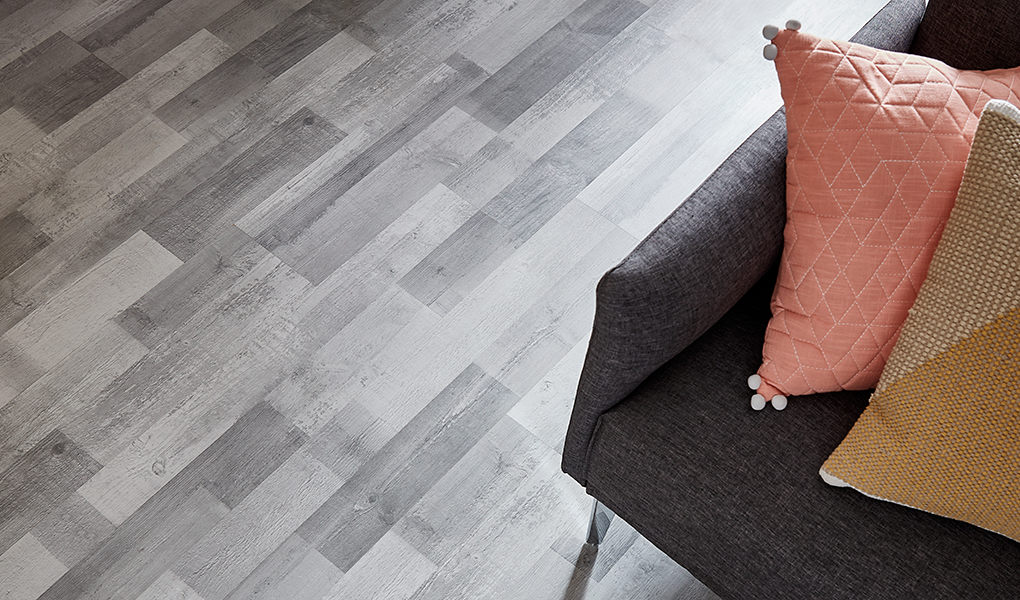 Real wood top layer flooring
Real wood top layer flooring offers both the look and feel of solid wood flooring, and most ranges also work with underfloor heating. It's better suited to changes in heat and humidity than solid wood, though we recommend avoiding in bathrooms or kitchens. Our range features several colours and finishes, from a pale whitewash oak to a rich caramel brown.
Ranging from 10 to 18 mm thick, the layered construction of this flooring makes it hard-wearing and durable. And it can be sanded and re-lacquered a few times so that you can help extend the life of your flooring.
Also known as engineered wood flooring, real wood top layer flooring is made up of three layers:
a strengthening bottom layer - this adds stability
a soft wood or HDF middle layer
a solid oak top - this top layer is made from a single piece of wood, so it looks like solid wood once laid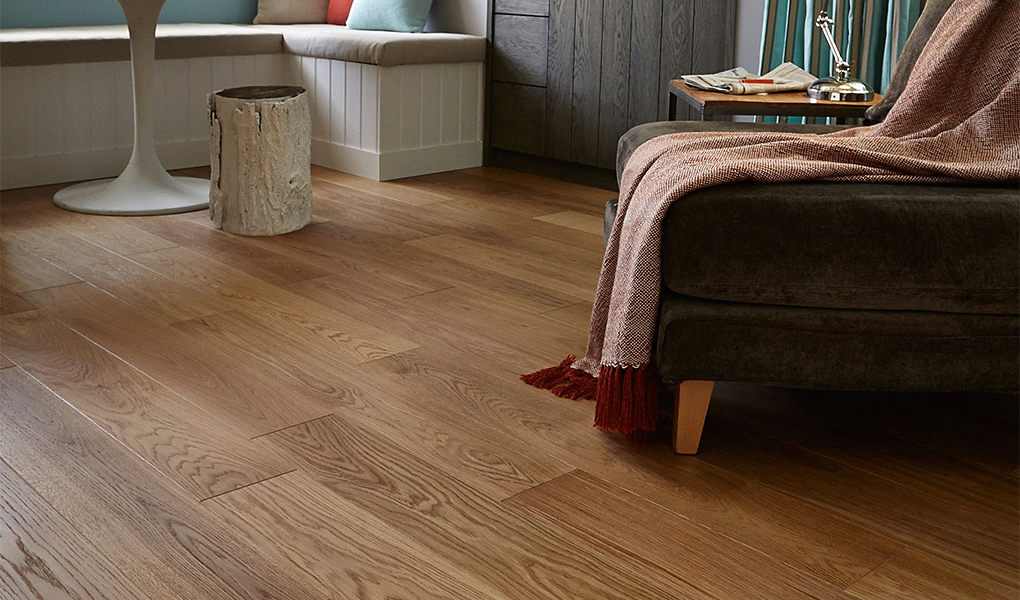 Solid wood flooring
For a timeless look that improves and develops with age, choose one of our solid wood floors. Made from single pieces of oak, this flooring range comes in a selection of natural finishes, from dove grey to coffee, and is great for high-traffic areas such as hallways and living rooms.
As this is a totally natural product, you'll see variations in colour in the planks and so we recommend mixing them up before laying them. This ensures that you end up with an attractive look before you secure the floor.
Ranging from 12 to 21mm thick, solid oak flooring isn't suitable for kitchens and bathrooms as any splashes and spills will warp and stain the wood. If you're planning on installing underfloor heating, we have 2 options which are compatible.
Wood flooring finishes
When it comes to the finish of your laminate and wood flooring, we offer two types - the matt UV-oiled finish and the glossy, lacquered finish.
UV-oiled flooring: For a matt look that offers the durability of a lacquer, choose a UV-oiled finish. Oil is applied to the wood before being UV treated for protection. The oil protects the wood both inside and out, seeping into the wood to deliver long-lasting results. Remember to clean regularly with a product that's specially made for oiled floors and you shouldn't need to re-oil it.

Lacquered flooring: For a glossy, hard-wearing and smooth finish, opt for a lacquered finish for your wooden flooring. Lacquered floors don't need much maintenance – just sweeping and vacuuming will keep it clean. And you should only need to reseal if it becomes damaged.
Laminate and wood flooring fitting systems
There are two main ways for your laminate and wood flooring to fit together – tongue and groove and click fittings. These options are simple enough to tackle as a DIY project and don't require any specialist tools. For angle-to-angle click fitting, we recommend enlisting a friend to help lay your flooring.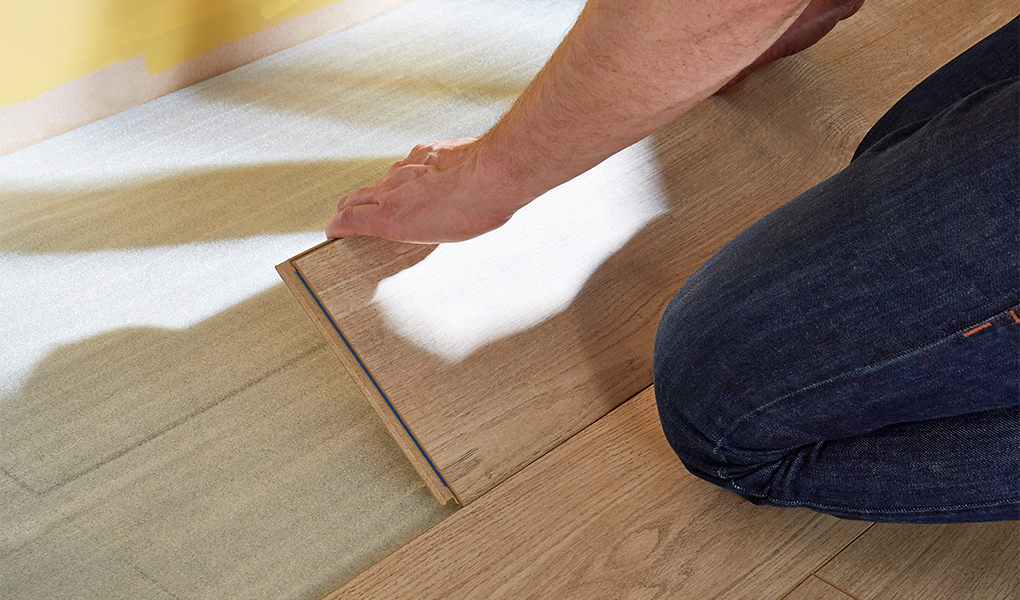 Tongue and groove flooring
With this type of flooring, the 'tongue' from one plank slots into the 'groove' on the next plank. Check that it's firmly in place by knocking it and then glue down. Secure the flooring by either sticking it directly to the subfloor or laying it onto a self-adhesive underlay. Some of our solid wood options are available with tongue and groove fittings.
Click fitting flooring
There are two types of click fitting flooring systems - angle-to-angle and drop click. Both work well if you're covering a large space and the planks can be dismantled easily if you need to get under the floor for any reason. We have click fitting options available for all our hard wood flooring range.
Angle-to-angle click flitting: This system has angled edges that only fit together with a certain manoeuvre. While it needs two people to assemble, it's quick and easy to do so and won't budge once in place.

Drop click fitting: With drop click, the individual flooring planks are angled on the long sides and the short ends are dropped into place. Unlike angle-to-angle fitting, it can be laid by one person.
Underlay
Classed as "floating floors" because they don't fix directly to the subfloor, most wood and laminate floors need an underlay for cushioning, soundproofing and insulation. It can also protect your new flooring from moisture and help even out surfaces.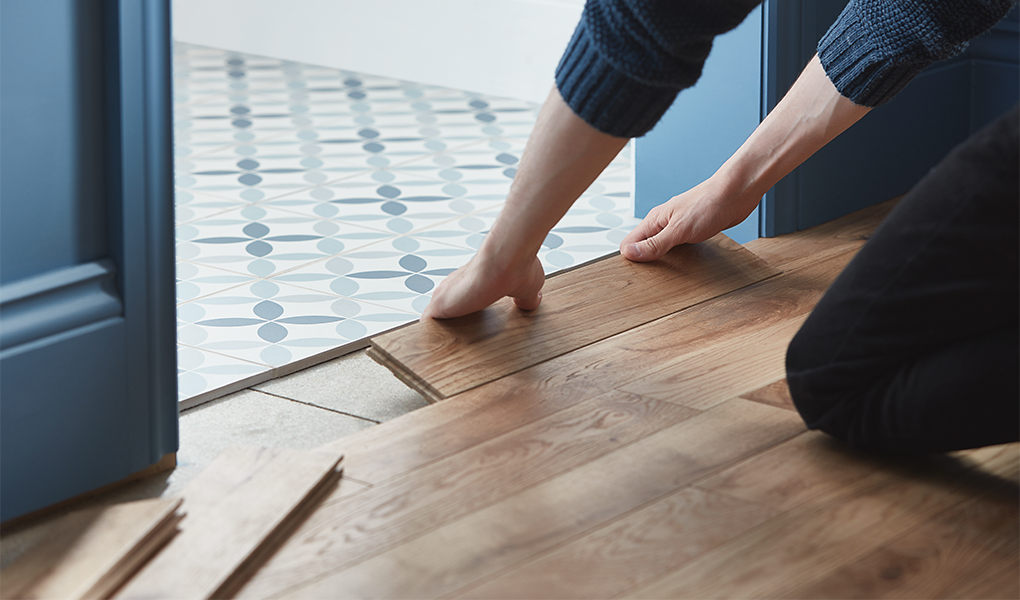 The type of underlay you choose will depend on the floor you've decided upon and what type of surface you'll be laying it on. And, if you're considering underfloor heating, always check your underlay's suitability before buying. Let's go through the options.
Foam underlay
Most foam underlay is great for dry, firm and level surfaces, such as those in bedrooms, living rooms and hallways. There are also a few options suitable for areas that may get damp or splashed, so look out for those if laying in a bathroom or kitchen.
Available in thicknesses ranging from 2 to 5 mm, we also offer self-adhesive foam underlay. Secure this to your subfloor before laying your laminate or wood flooring.
Fibreboard underlay
Also known as wood fibre board, this type of underlay is ideal if the subfloor is uneven. It can also reduce sound transmission, making it a great choice if you want to reduce noise travelling through the laminate and wood floors in your living room, bedroom or hallway.
As with all our laminate and wood flooring, this underlay is made from responsibly sourced, forest friendly timber.
Sponge rubber underlay
Working as a moisture barrier to stop damp rising from the subfloor, sponge rubber underlay is ideal for bathrooms and kitchens. It also works with underfloor heating, is foil-backed for insulation and reduces sound.
Cork underlay
Cork underlay is a versatile option that can be used under solid wood and real wood top layer when they're glued. It's made from renewable raw materials, helps with floor unevenness and protects the floor from damage.
You might need
Once you've picked your flooring, there are few more final touches to consider. Look for products that colour match the flooring for a neat, consistent finish.
Skirting boards, scotia trims & thresholds
Flooring trims or scotia are decorative mouldings that hide any unsightly gaps between the edges of your flooring and your skirting boards or walls.
They can also be used to hide cables - helping keep your flooring clear. They aren't glued to the flooring, but to the skirting or wall and rest just above the flooring – this allows for the floor to expand and move.
Flooring thresholds are used whenever there's a transition between flooring or when the flooring of one room stops and another begins. They're long, thin strips that cover any gaps and can compensate for any height differences between adjoining rooms. Thresholds can be either PVC or aluminium and you won't need any tools to fit them as they either clip into place or are self-adhesive.
Floor protection & cleaning
It pays to be careful when laying furniture directly onto wood flooring, as over time the feet may leave indents or marks. To prevent this, use castor cups, rubber feet or pad protectors. These help distribute the weight of the furniture, as well as stopping sharp edges catching on the floor helping prevent damage.
Keep your floor in the best condition by using cleaning products specifically designed to work with hard flooring. These will help ensure that it continues to look great over time.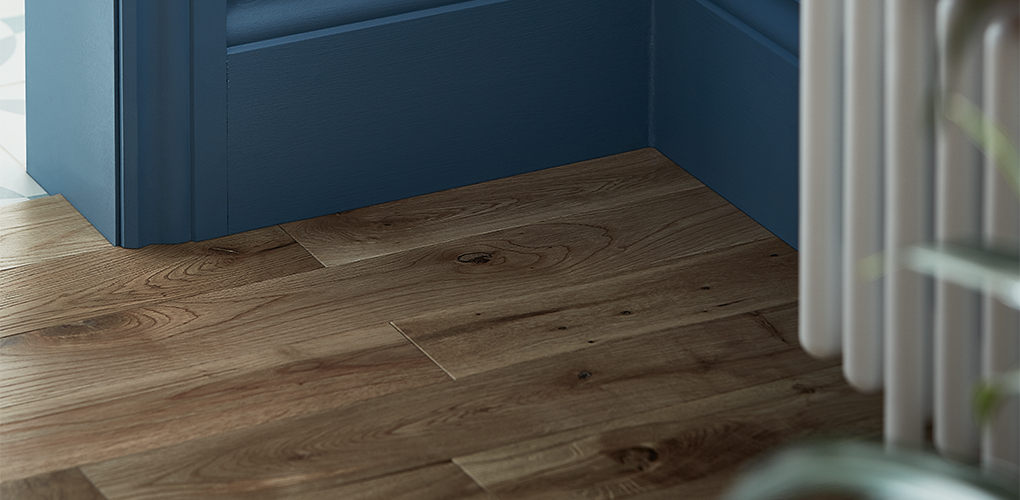 Rugs and rug grips
Our hard flooring options are warm underfoot, but adding a rug is a cosy way of breaking up the room. Our extensive selection offers a range of sizes, colours, patterns and materials.
So, whether you're looking for something modern and edgy, or a rug that's more traditional and classic, we have a style to suit.
And, if you're worried about the rug slipping, secure it firmly with a rug grip.