Everything you need to paint your bathroom and make it last too
Painting a bathroom might seem just as easy as a normal wall, but it can get hot and steamy in there, so you need to have a paint finish that can handle it. Here's everything you need to know about painting your bathroom for a long-lasting finish.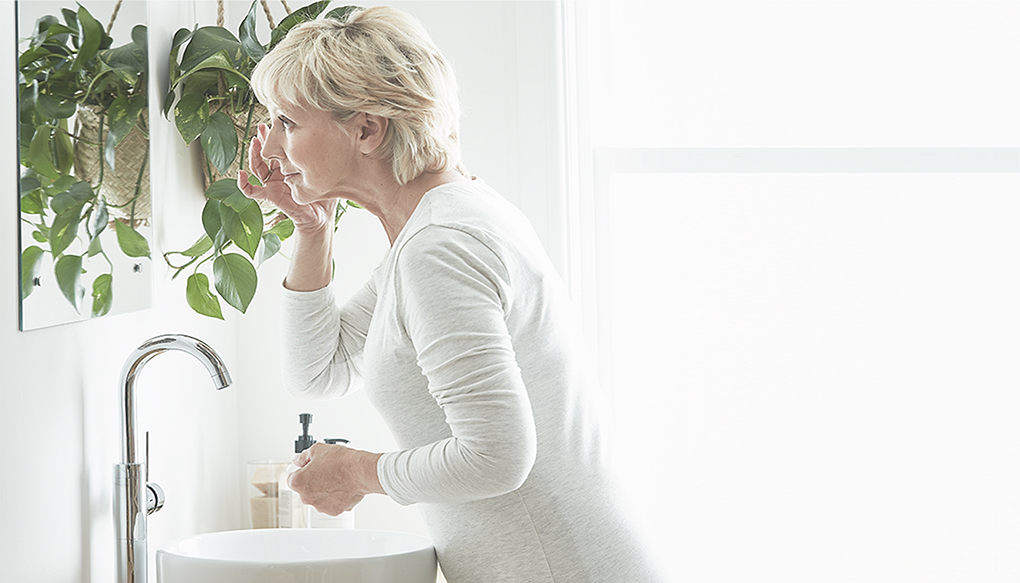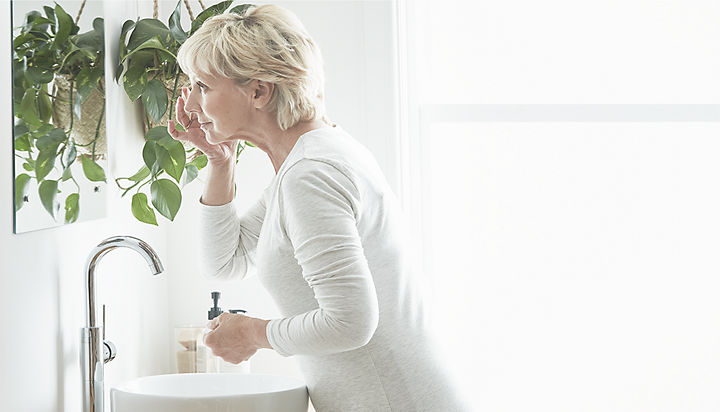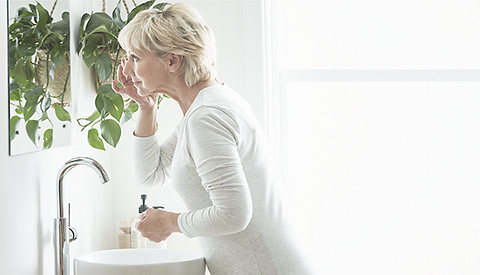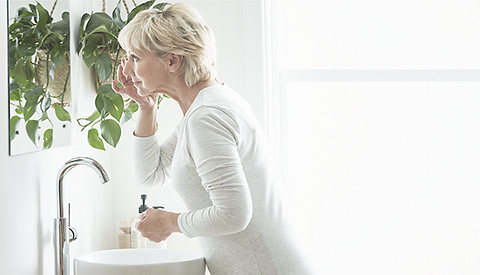 ---
---
---
Bathrooms are often small and need a fresh and clean feel, so the colour you choose is quite important. Here are our recommendations for colours in your bathroom:
White
A common choice for bathrooms, as it's safe, flexible and clean. It helps make a room feel light and can be livened up with a splash of colour.
Grey
While it might seem boring, grey is a popular choice as it provides a versatile, yet contemporary feel. Blending well into the background, it lets your fixtures and fittings shine, while pairing well with natural textures such as stone.
Blue
Blue is the most common colour choice for bathrooms because we relate it with water. Light shades are often used to create a calm and relaxing environment, but don't be afraid to play with stronger tones to bring depth and solitude.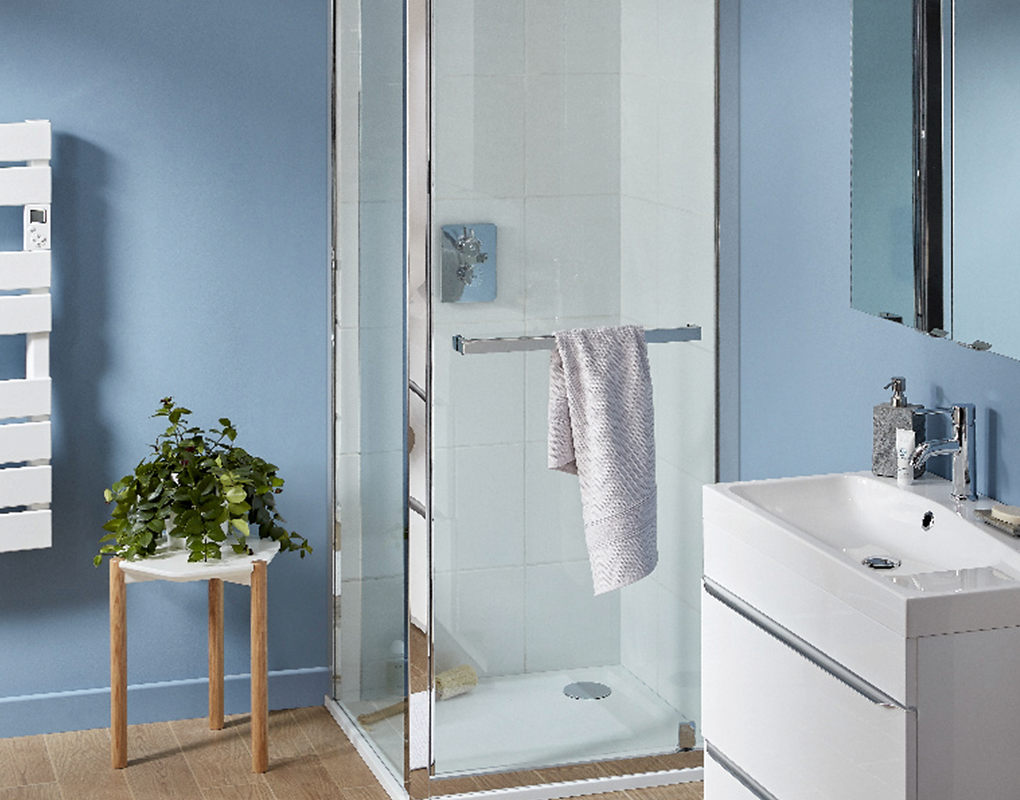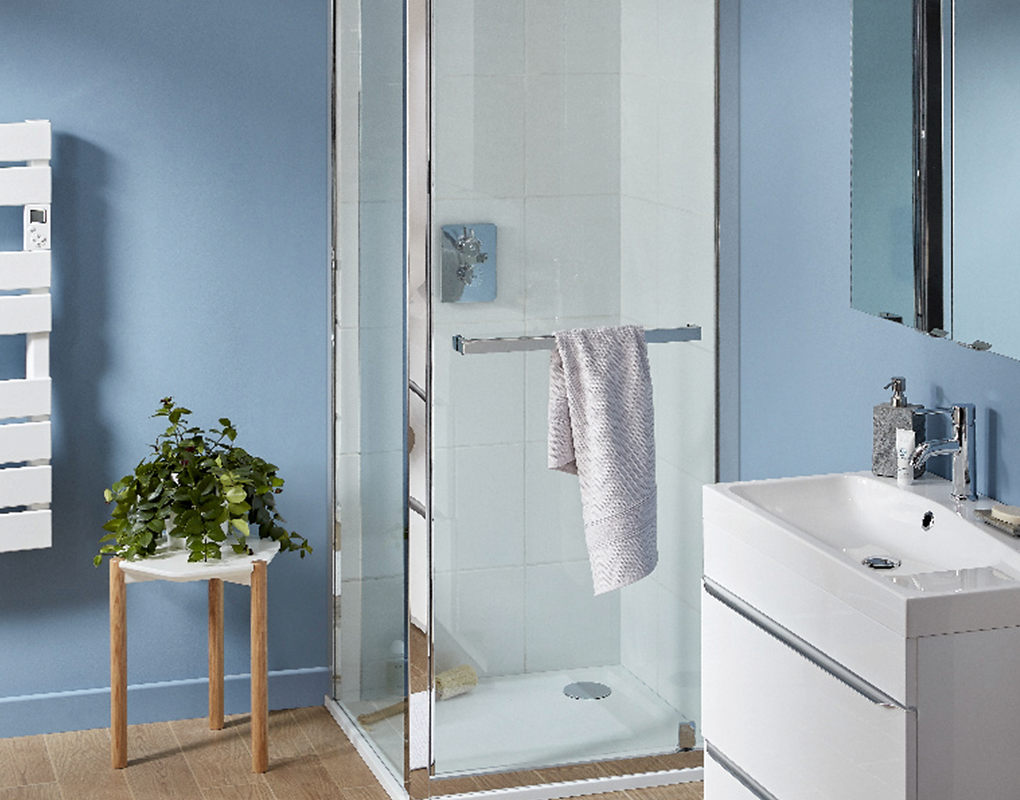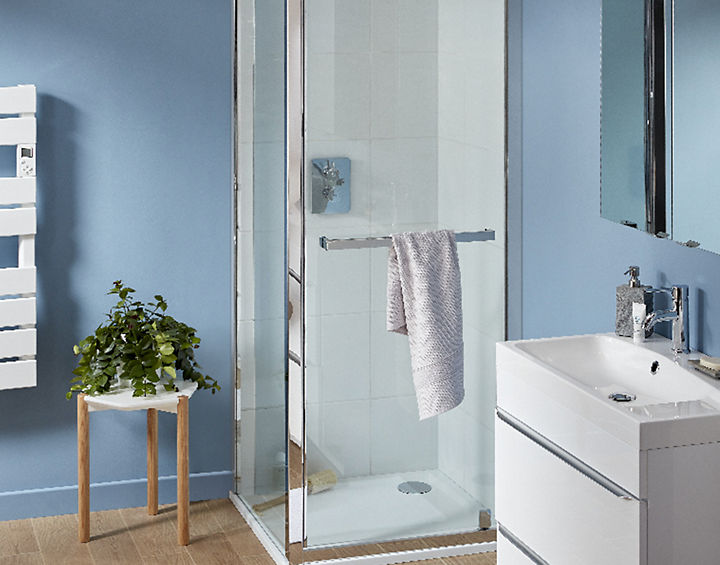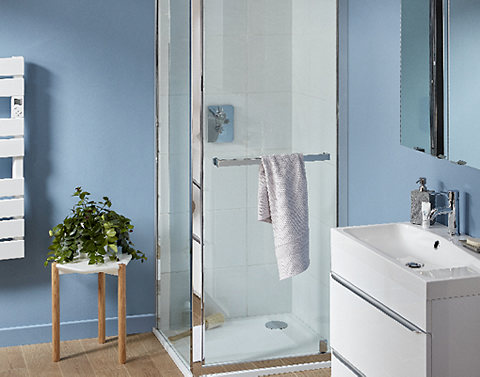 ---
Cutting in:
A painting technique which uses a brush to give a neat edge, allowing you to easily fill the rest of the wall using a roller.
---
Step 1
If there's one thing you shouldn't skip when painting your bathroom, it's washing the walls. Use a sugar soap solution and sponge to remove any dirt and then wash again with warm water to remove soap traces.
Step 2
If your paint finish is flaking or peeling, it's probably because a moisture resistant bathroom paint wasn't used before. Use sandpaper to remove any flakes until you're left with a smooth surface.
Step 3
Put masking tape around any fixtures that you won't be removing like tiles and toilets. And think about whether you'll need to paint behind any radiators and if there are any knobs that need protecting. Have you thought about painting your tiles? We know tiling can be a tricky job, so if you want a new look without the work of tiling, give them a fresh coat of paint with our GoodHome wall tile and panelling paint.
Step 4
Cut in around the walls and edges first, using your paint brush.
Step 5
Empty some bathroom paint into your tray and evenly apply this over your roller. Work in 'W' sections until you've applied your first coat.
Step 6
Leave the paint to dry before painting a second coat and removing any masking tape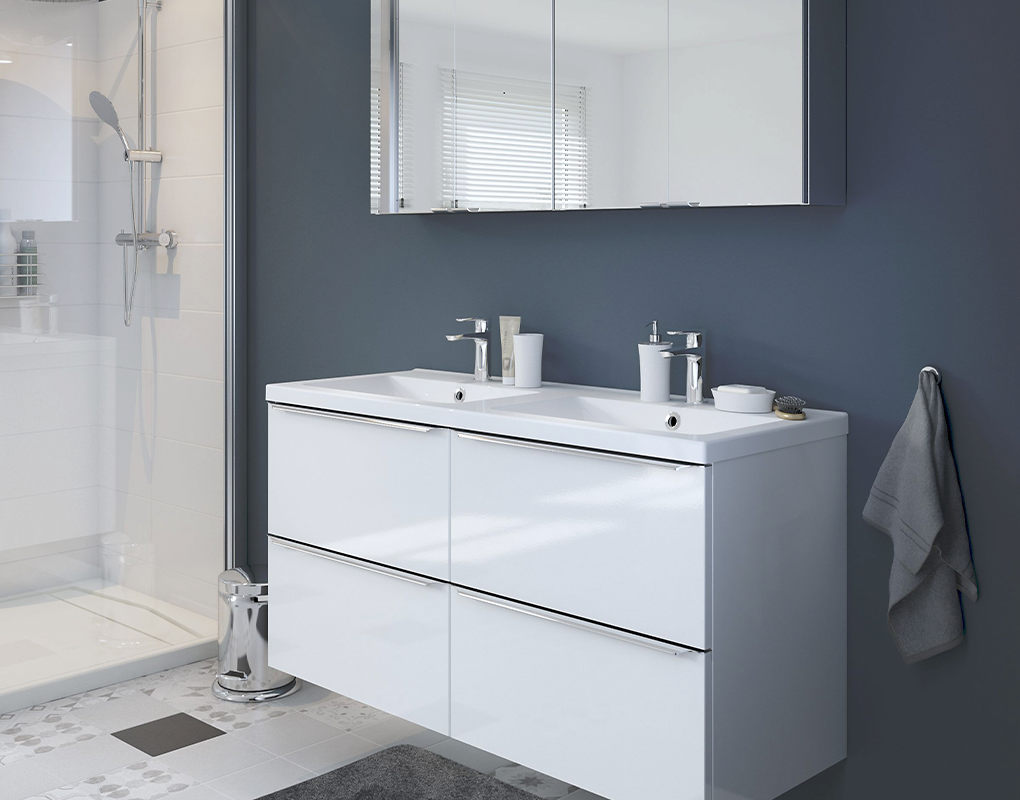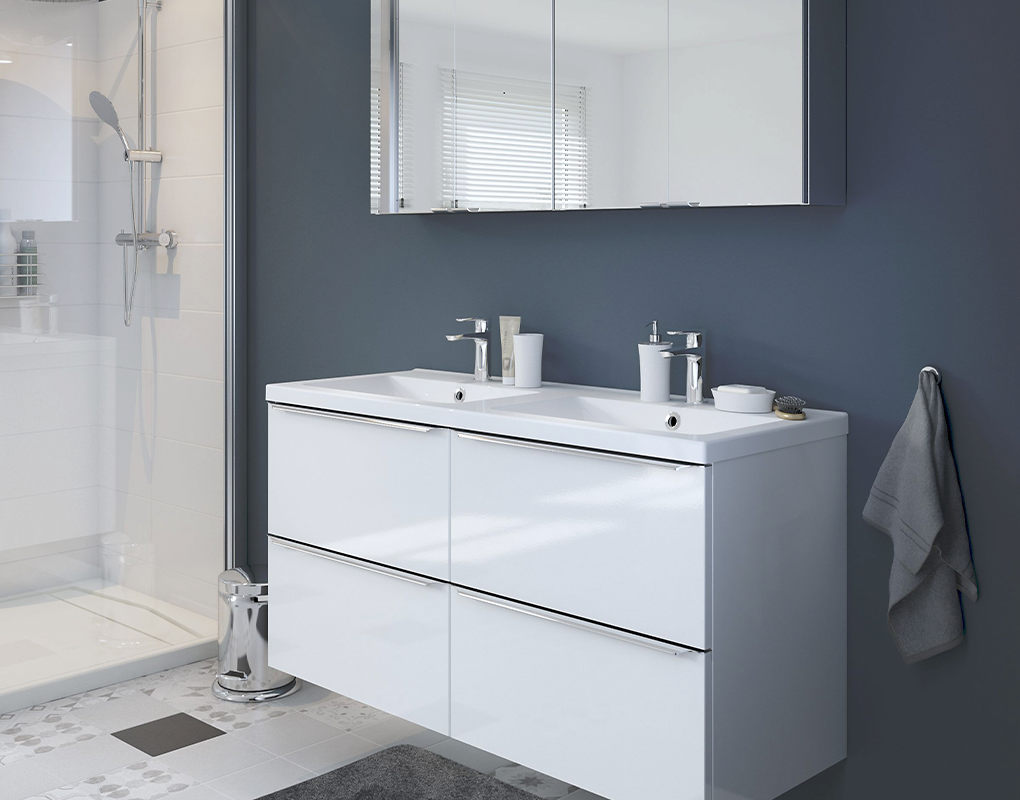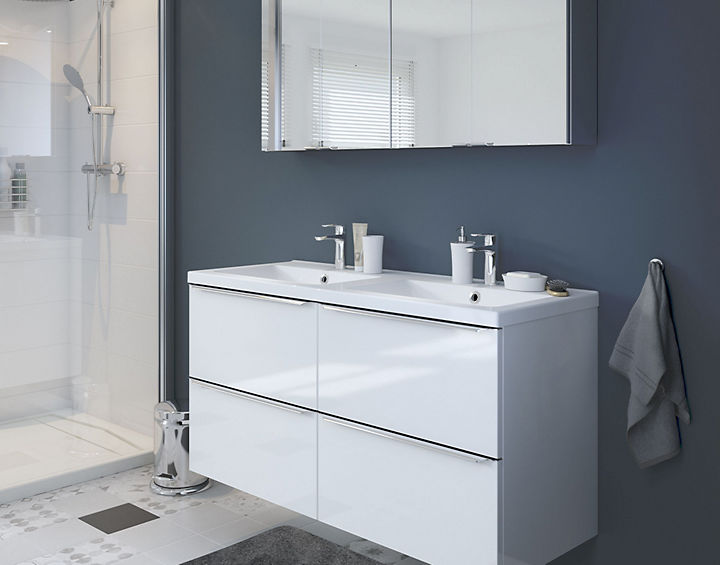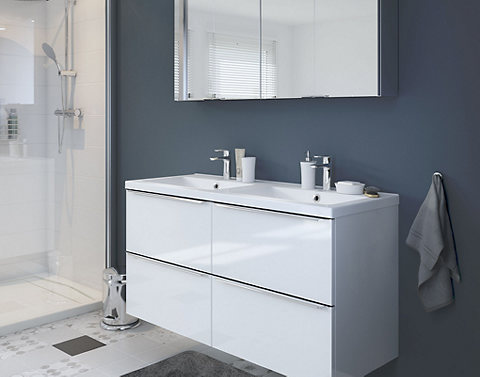 ---