Ideas to inspire a decking project
Thinking of adding some decking to your garden? Our decking design ideas are here to inspire you. There are lots of ways you can use this versatile landscaping option in your garden. So, whatever the size of your outdoor space, having an area of decking is a great way to enjoy it. Whether you want a ground-level or a multi-layered deck, or one with a sandpit set into it for the kids to enjoy, we have lots of suggestions.
Have you already decided what to do with decking in your garden? Check out our planning guide to start your project. And when it comes to finding your favourite decking to match the look you're after, our decking buying guide will help.
Read on to kickstart your inspiration for your decking project.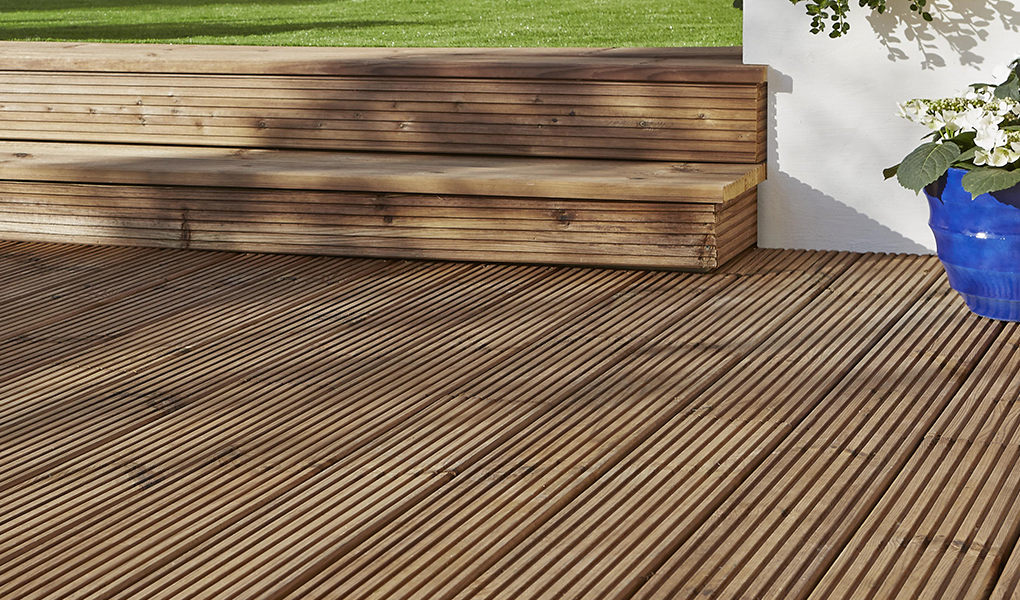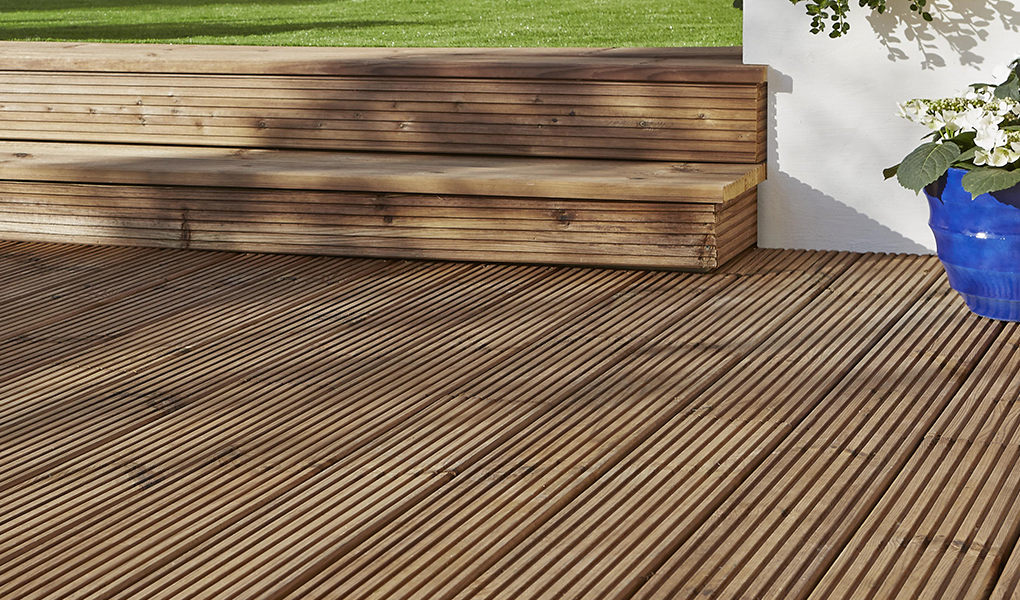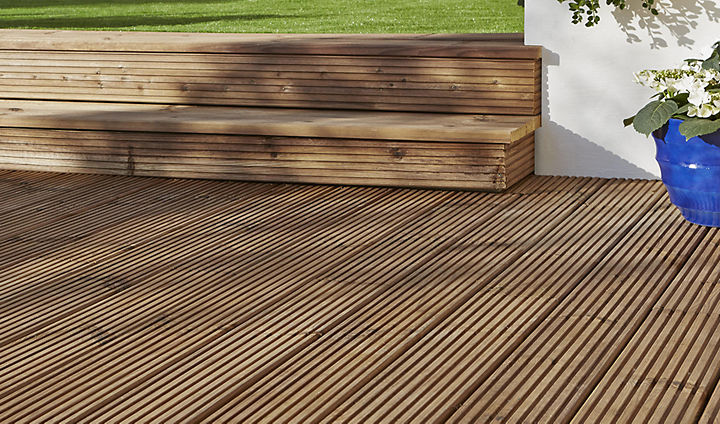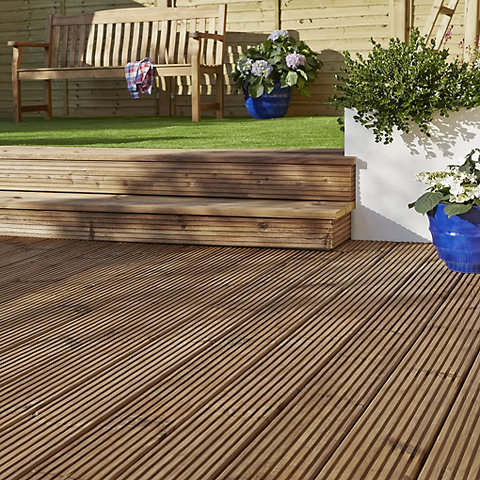 ---
---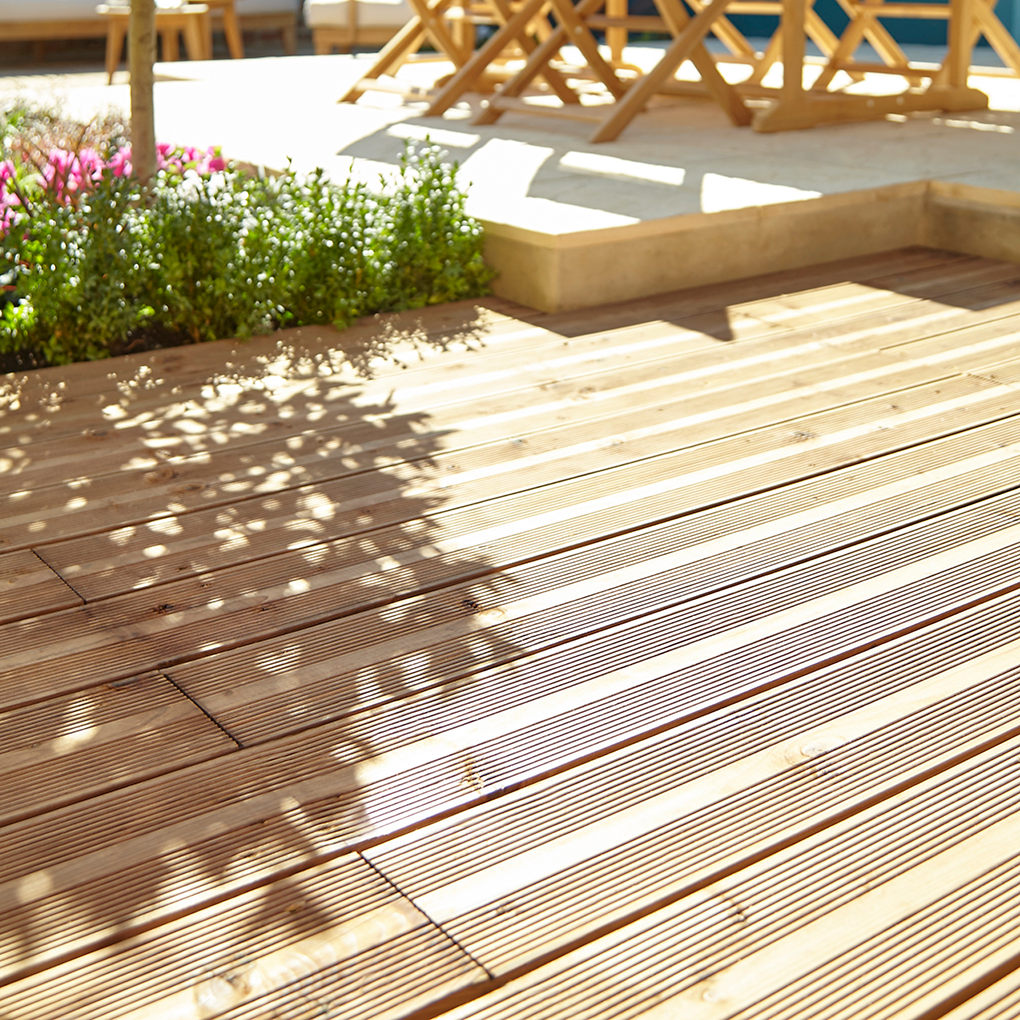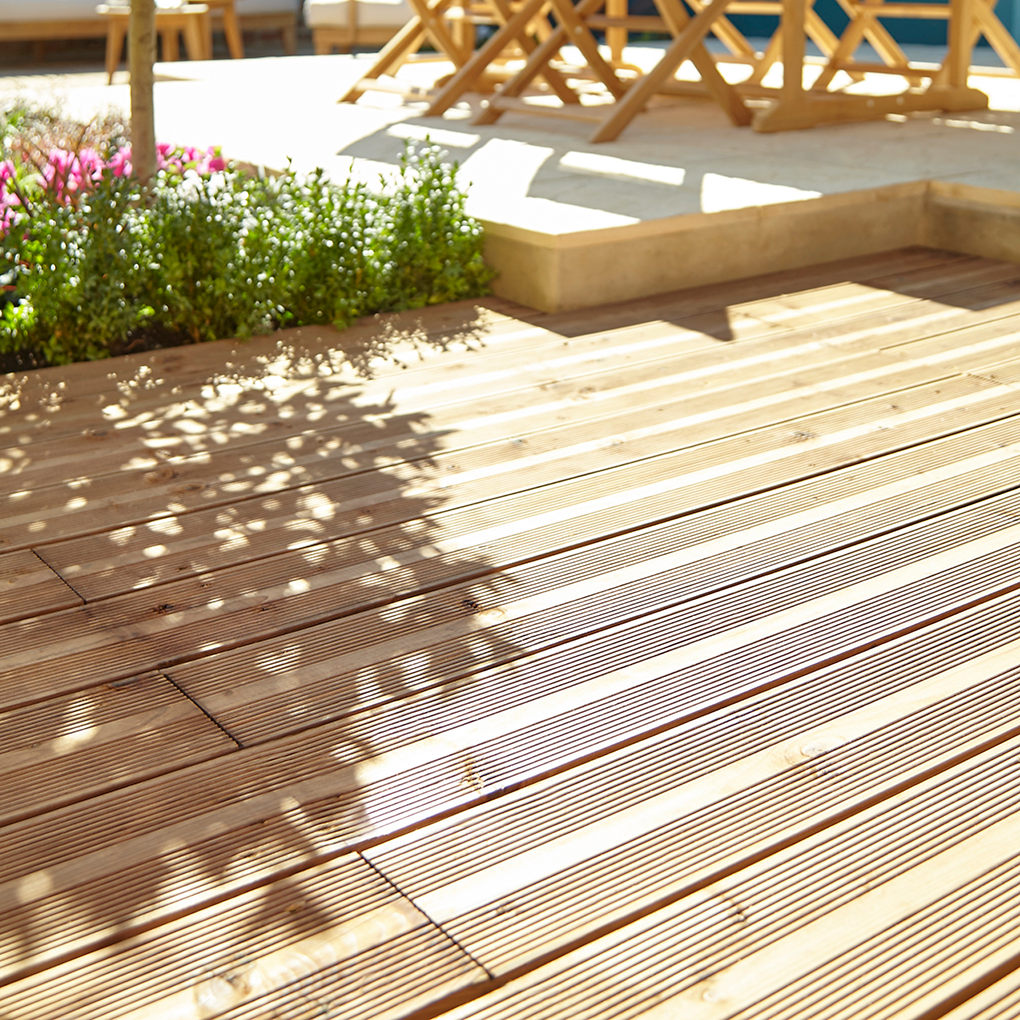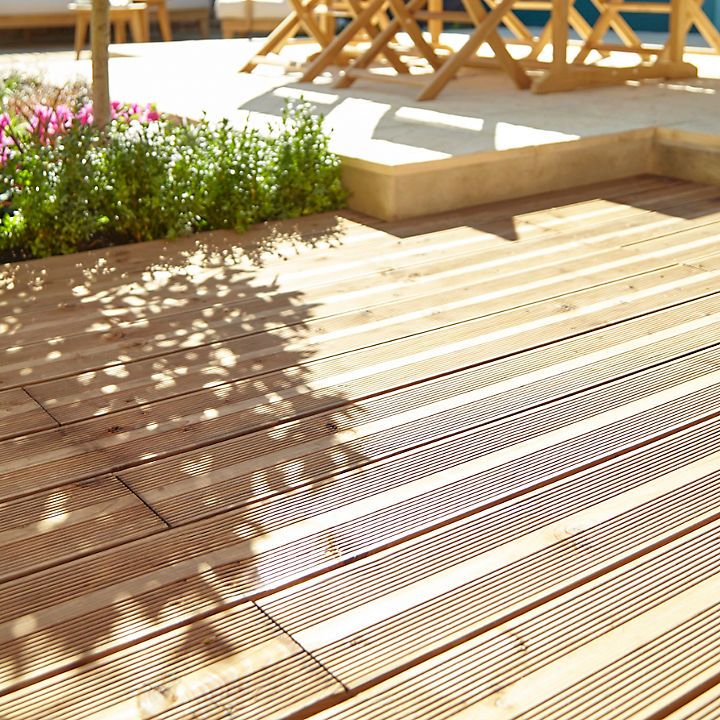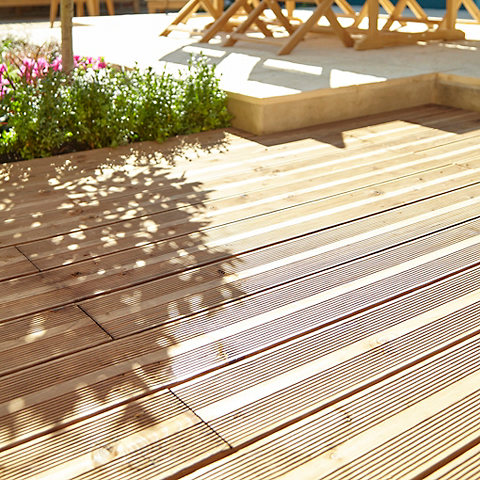 Take decking to another level
You can lay decking at different heights and levels, depending on the shape and surface of your garden.
A raised deck is a good option for sloped or uneven gardens as a way of creating a flat surface for a dining table or a seating area. If you build a tall enough frame, you can even use the space underneath your decking as additional garden storage.
A ground level deck is great if you want to keep a flat, even surface in your garden and they are easier to build than raised decks.
Top tip: Try mixing it up
Why not try integrating both raised and ground level decking into your design to create different platforms? This is a really eye-catching way to lay decking.
Choose the best shape for the space
Be open minded when it comes to the shape of your decking and design it to best fit your space. Rectangular or square-shaped decks are traditional and create clean, angular lines in your garden landscape. A straight-edged deck is also easier to construct than one with a curved edge.
Decking with a curved edge can help to create a softer finish to your garden design and looks great with bark, gravel or grass against the curved edge.
Consider different laying patterns
You can lay deck boards in lots of different configurations to create an interesting effect. Potential laying patterns for decking include: horizontal, diagonal, chevron (zig-zag like parquet flooring) and picture frame (boards in a different orientation to frame the decking) deck boards.
Alternatively, go for deck tiles instead of deck boards for a different design. Line up the deck tiles to get a horizontal design or opt for an eye-catching checkerboard effect by aligning horizontal and vertical deck tiles (pictured).
Mix it up with different materials
Add different elements to your garden look by combining decking with other materials like >paving slabs. Complement the decking by edging it with paving, giving it a contemporary look. Or go bold by slotting it between your deck boards for a truly tailored design (pictured).
Use decking to bring colour to a garden
Our composite decking is available in attractive colours including deep red, brown and grey so that you can choose one that works with your garden design. Our timber deck boards can be painted or stained with decking paint. We have lots of choice including traditional brown wood stains, earthy greens and on-trend grey paints. Stick with one striking colour or combine more than one colour. Merge navy and white for a nautical design or black and grey to get a contemporary and stylish look.
And for any budding artists, why not try creating unique painted decking with a bespoke design? Get creative and paint a pattern or picture on your decking – you can be sure no-one else will have the same look.
For a two-tone look try painting the deck boards a different colour to the railings or balustrades around it. Choose complementary colours like greys and whites or mix it up with a bold colour contrasting with natural wood.
For advice on cleaning, painting and caring for your decking, check out our useful guide, How to clean, paint & care for your decking.
Top tip: Want to freshen up your decking?
Check out our video on three ways to spruce up your decking with paint.
Be creative with spare deck boards
Regular deck boards can be used for all sorts of garden landscaping. You can build a path alongside your flowerbeds, or a raised vegetable patch with separate compartments for different types of produce.
Continue the decking look onto the walls for an attractive feature (pictured). And get creative with leftover deck boards. Build a planter from decking by following the steps in our video below.
Top tip: Get crafty with decking
It's really simple to build a planter out of deck boards. Our How to video below will take you through the easy steps
Work decking around plants, trees and shrubs
When thinking about the shape and size of your deck, plan it around the planting design you want to have in that area. Pot plants are the easiest way to incorporate plants into your deck design, but a border around the edge of your decking is a great way to frame it with your favourite shrubs and plants. Fragrant roses growing up trellis or obelisks can be particularly effective for this.
You can inset borders into your decking as a bit of a feature, this is particularly handy if you have well established plants growing in the area you want to deck. You don't have to dig them up, simply build your deck around them.
Create a decking design that is great for kids
Decking can be a great addition in a garden that kids enjoy. The flat, level surface it creates is ideal for freestanding children's play equipment like sandpits or picnic tables.
Alternatively, you could build a sandpit into your actual decking space (pictured). This could work particularly well on a decking split over two levels. Position chairs and a table on the higher level, then set a sandpit into the lower platform so you can sit and relax in a sand-free area whilst keeping a watchful eye over your little ones.
Follow our step-by-step guide to make your own sandpit using deck boards – a great way to use leftover boards.
Personalise decking with accessories
Railings or balustrade are a must-have on raised decking to make sure it is safe to use. You can choose between railing kits, or you can design your own with balustrade screens and posts. As well as being safe, they add a decorative touch, so are not exclusively for raised decking, but for ground-level decking too.
Create decking ambiance with lighting
Adding lighting to your decking means that you can enjoy the area long after the sun goes down. Whether you go for atmospheric garden string lights draped around the edges, cosy lanterns, or built-in decking lights, lighting is a great way to brighten up your decking.
Our LED decking lights come in either blue or white and look great set into decking steps or between decking levels. Choose between mains-powered or solar-powered lights and silver or black surrounds, so you can match them to your desired look.
How to add spotlights to your decking
Make your decking stand out. Watch our step-by-step guide to find out how.
---