Bathroom lighting buying guide
Bright ideas for bathroom lighting
The bathroom is one of the most used rooms in the home. It's where you get ready in the morning and where you can unwind after a long day. With that in mind, it's essential to choose the right lighting for it. With some help from B&Q, you can create a bathroom lighting scheme that helps with everyday tasks and sets a mood for relaxation and indulgence.
Meet our new range of lighting that means your sanctuary will always feel like a zen place, whether you're getting ready, winding down or lathering up. From flush ceiling lights to sculptural LED designs and mirror-framing wall styles, find lights that set the mood for every part of your day-to-night routine.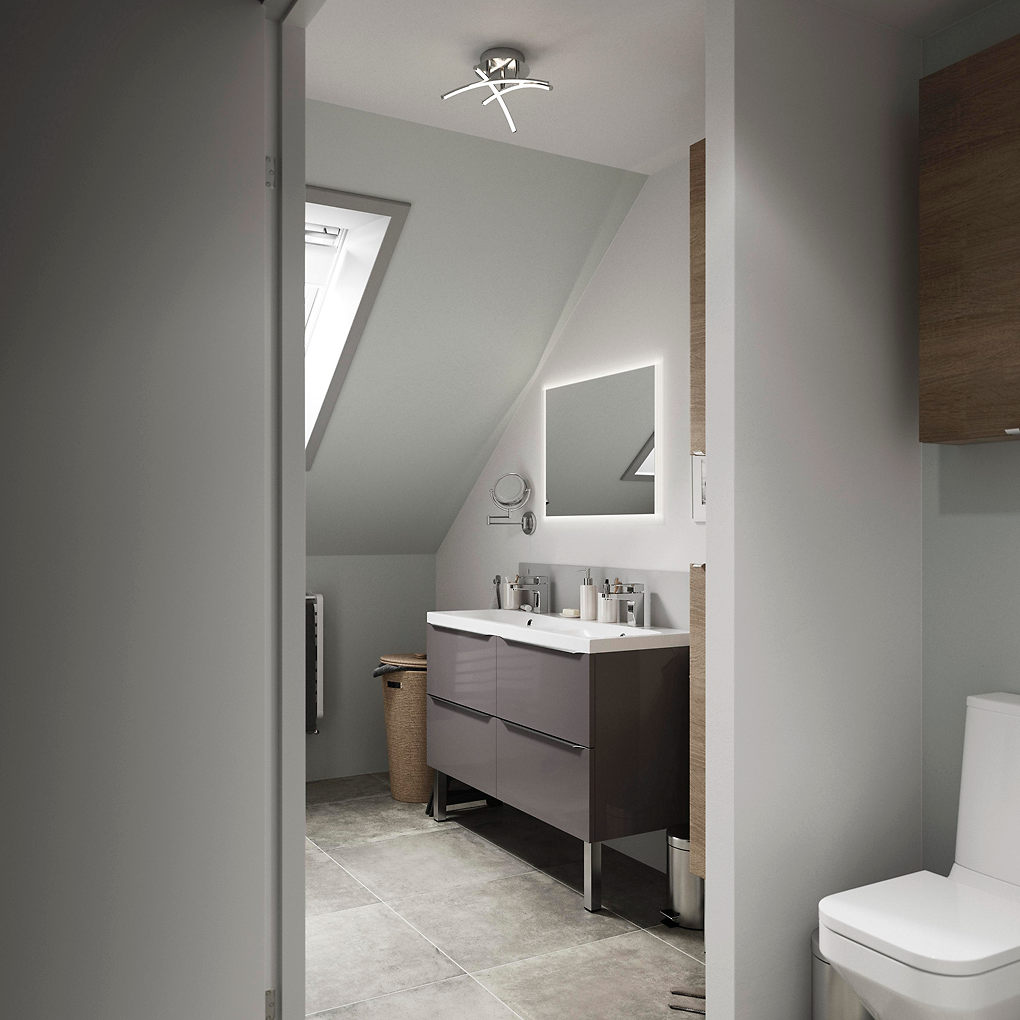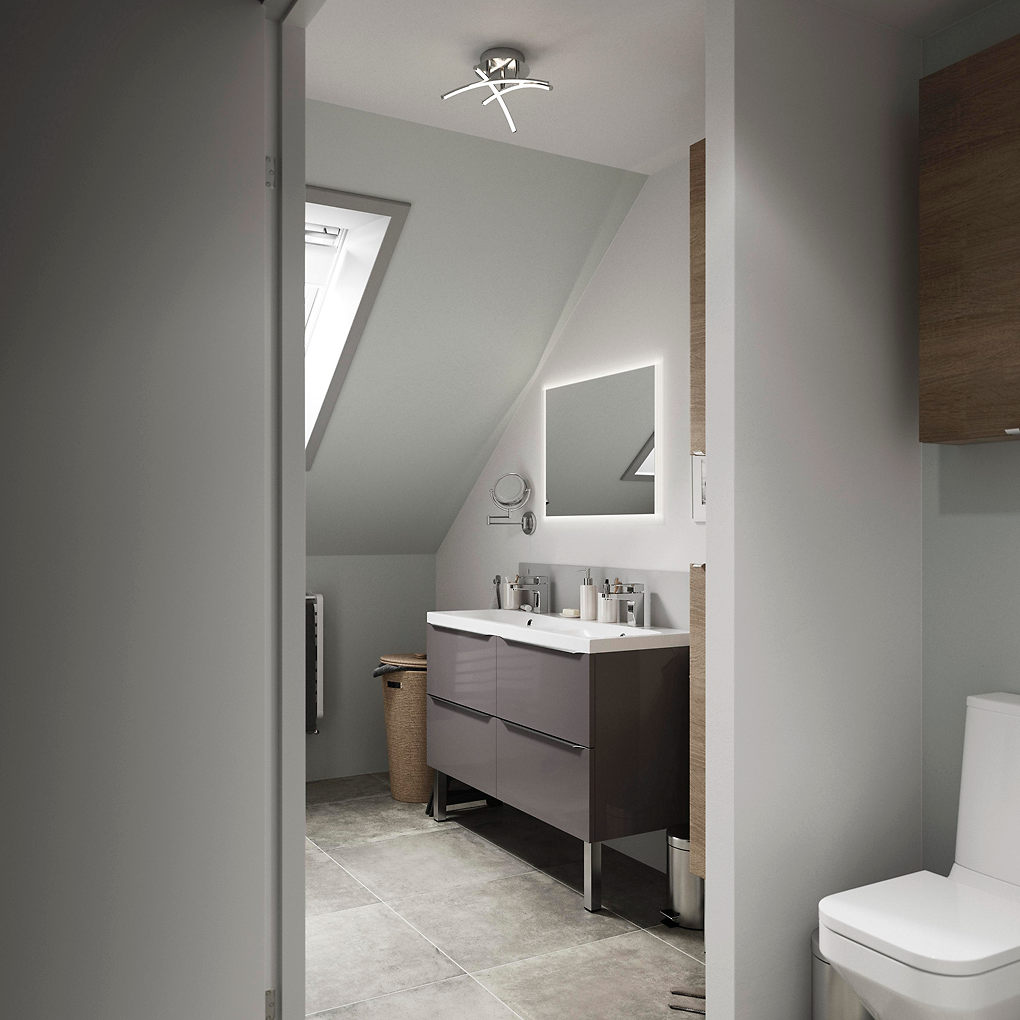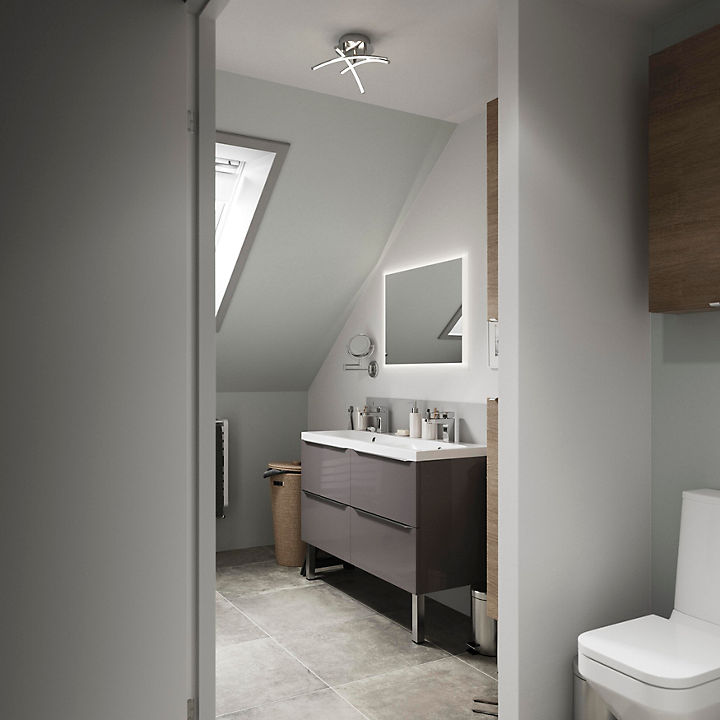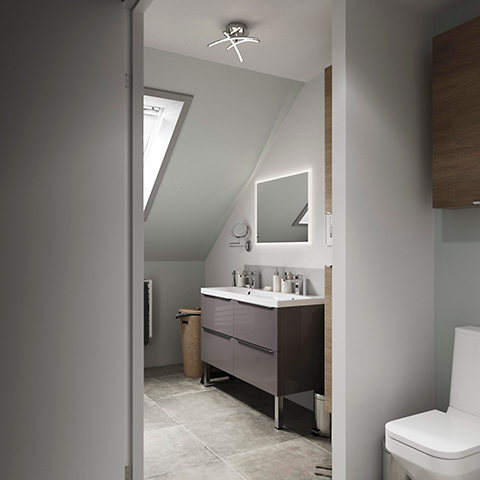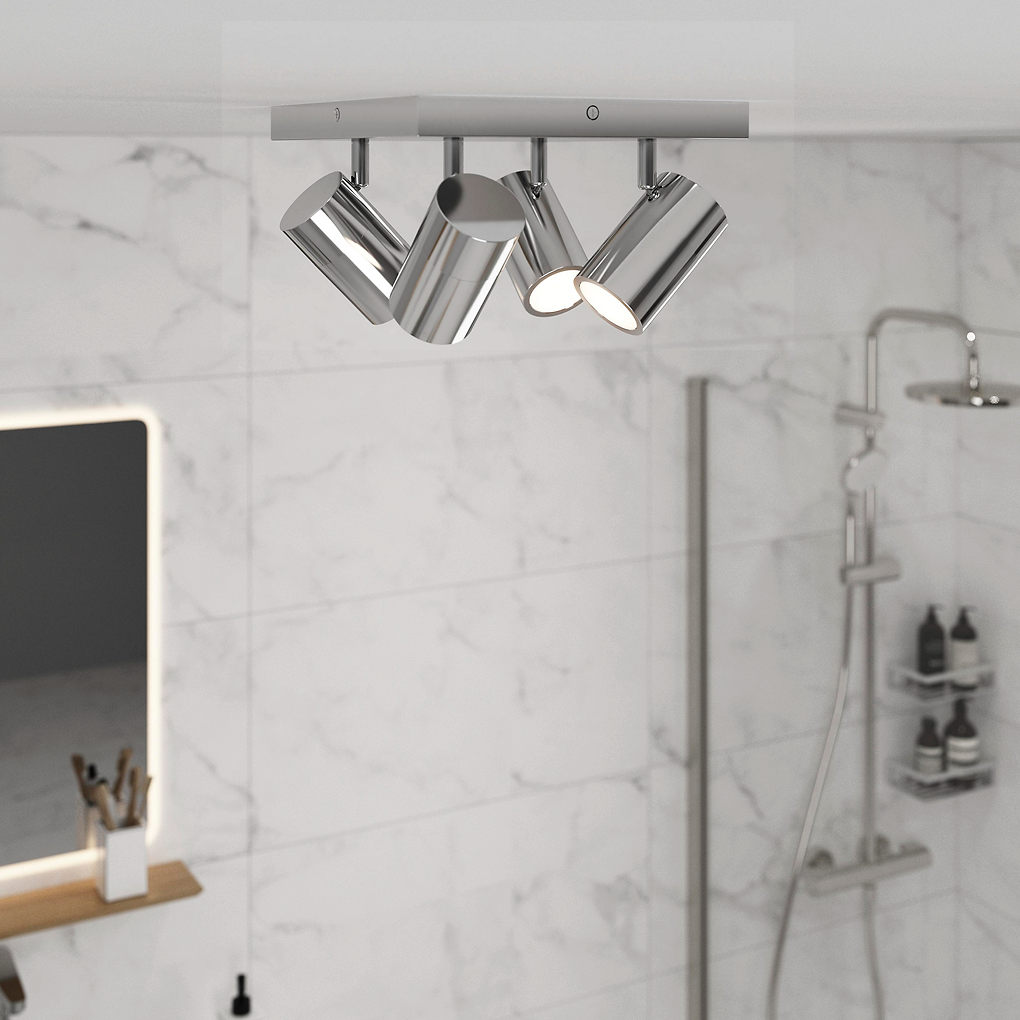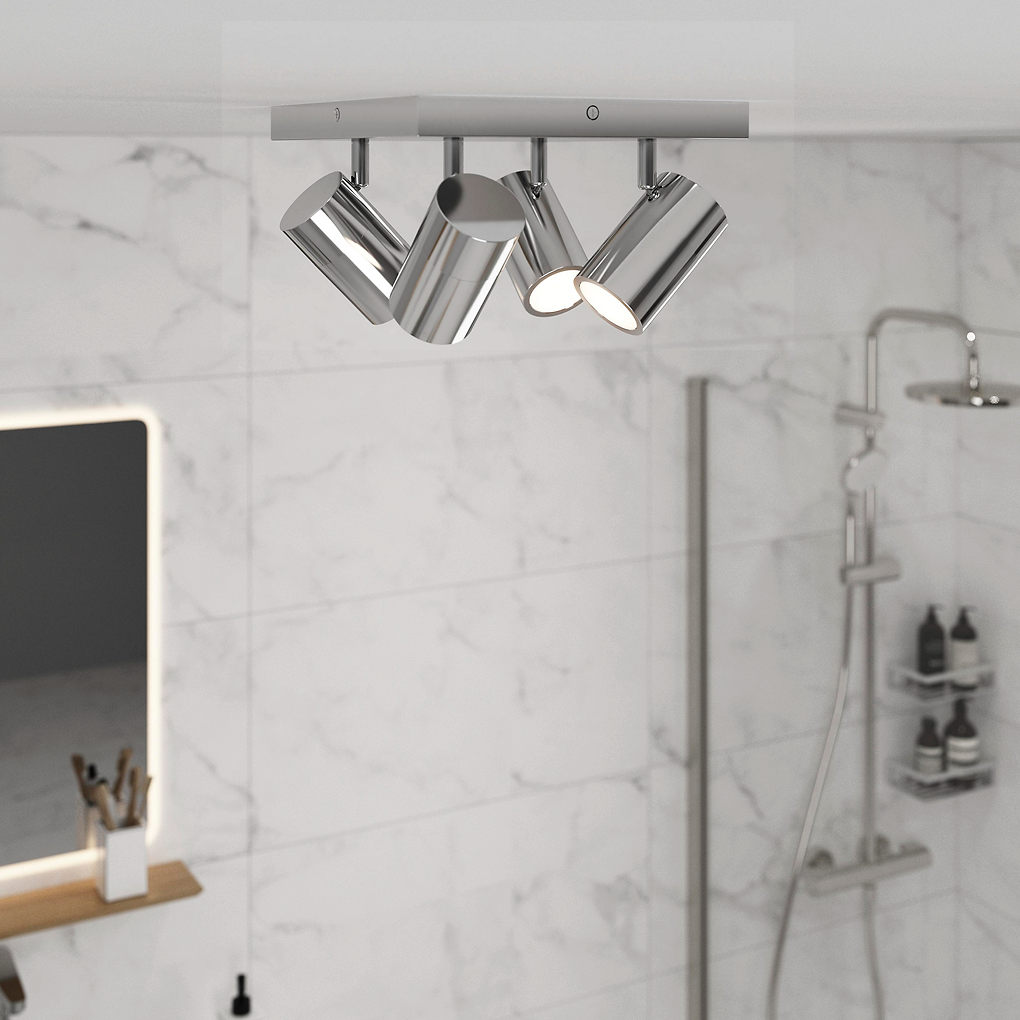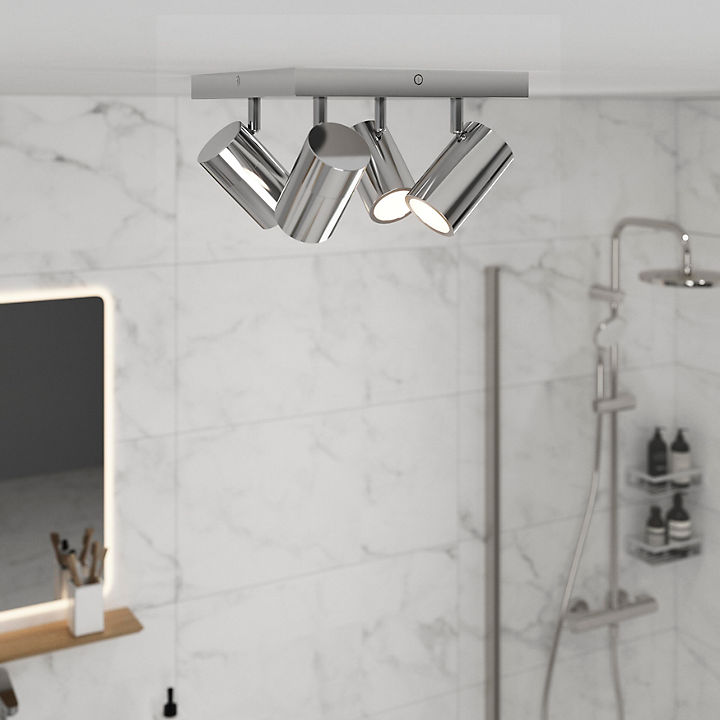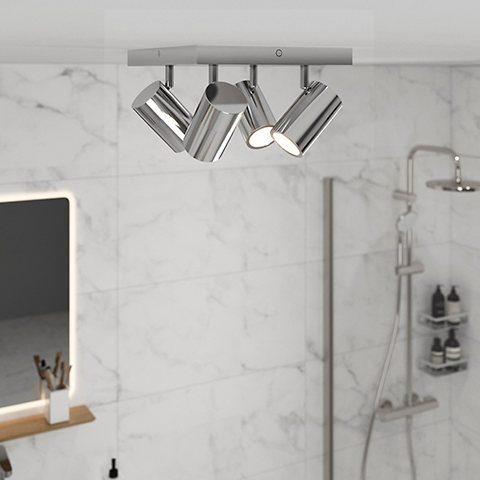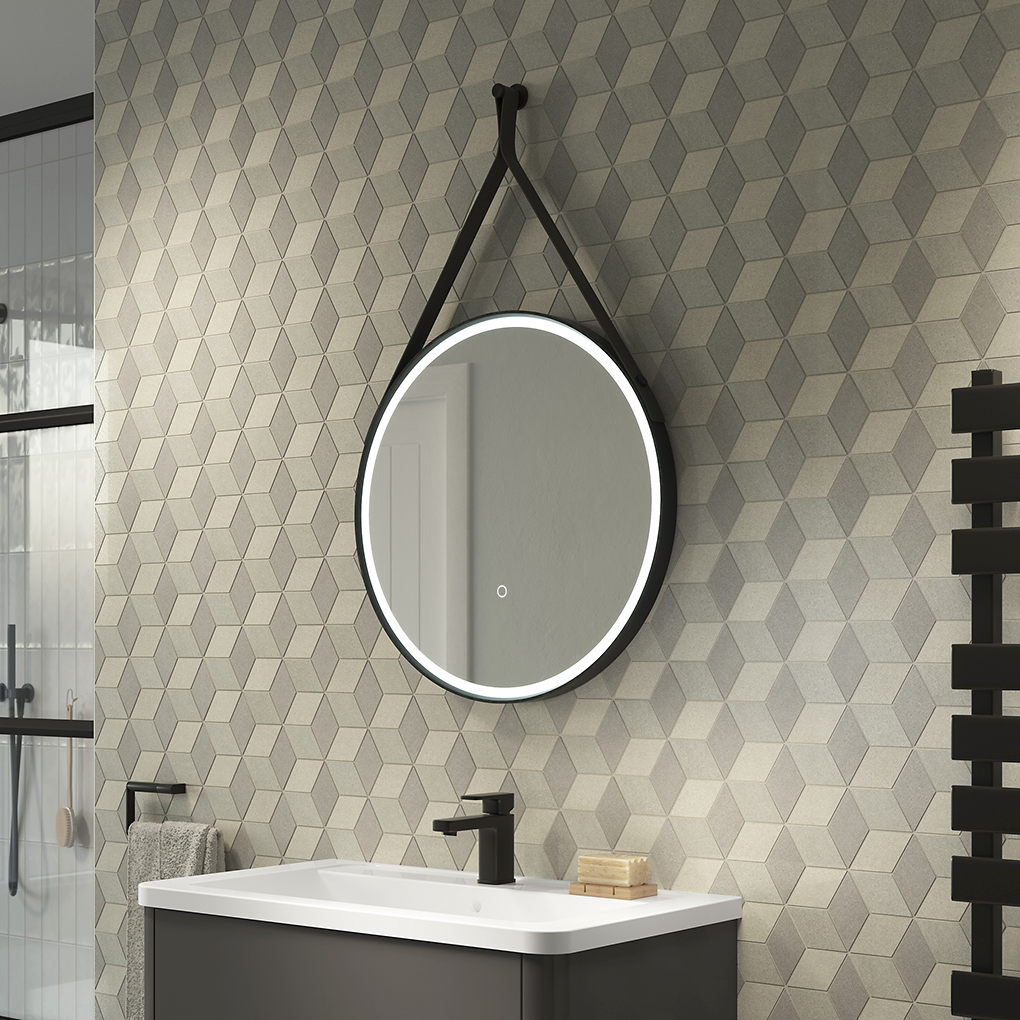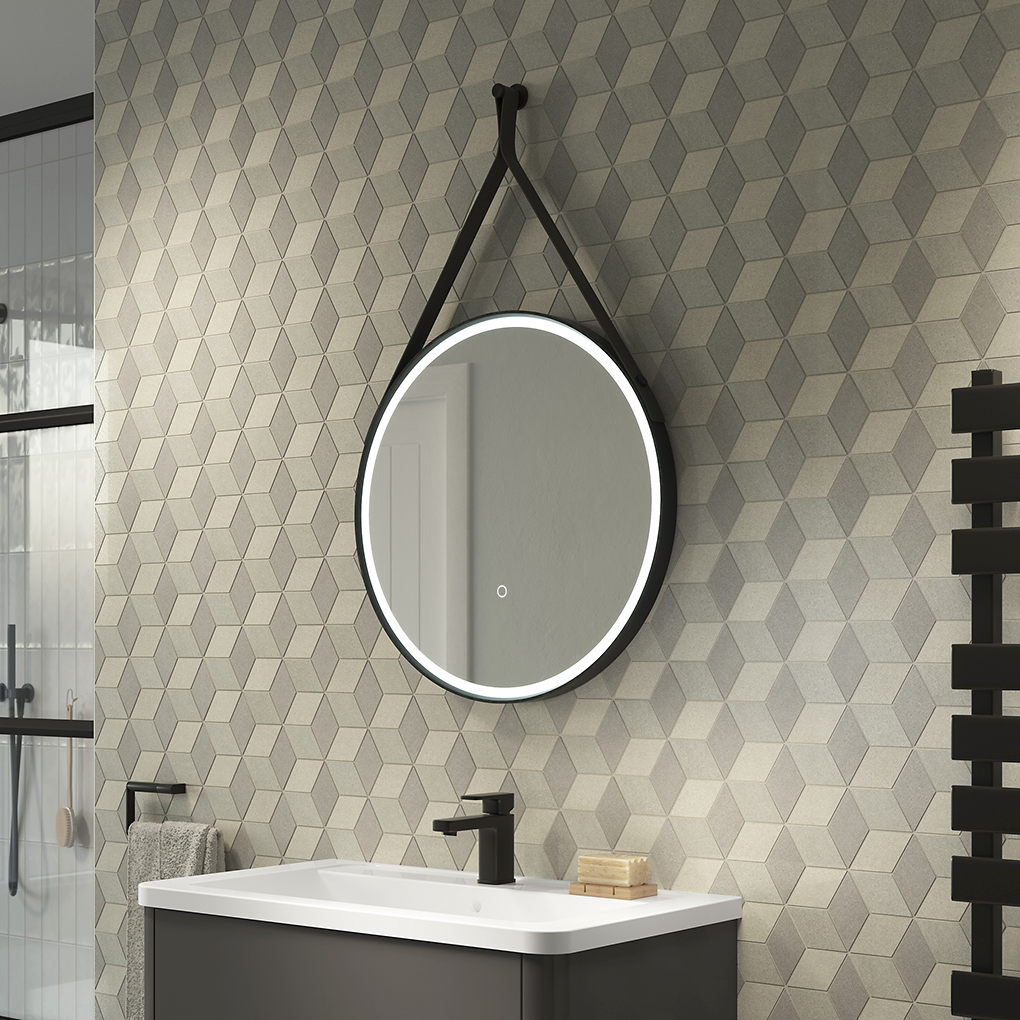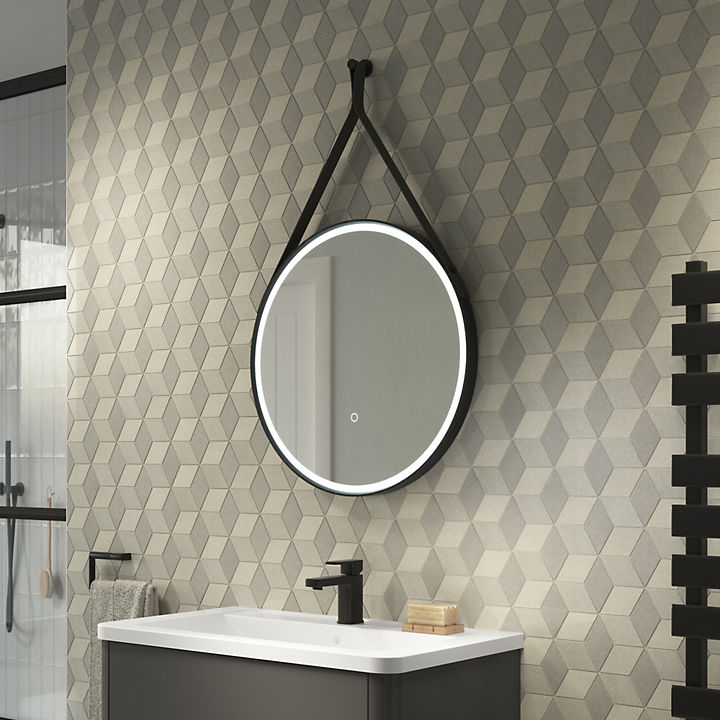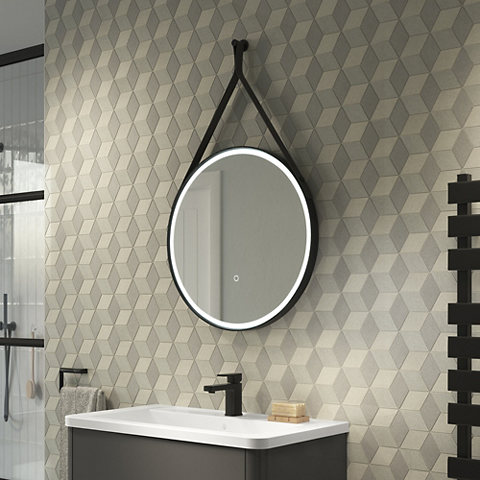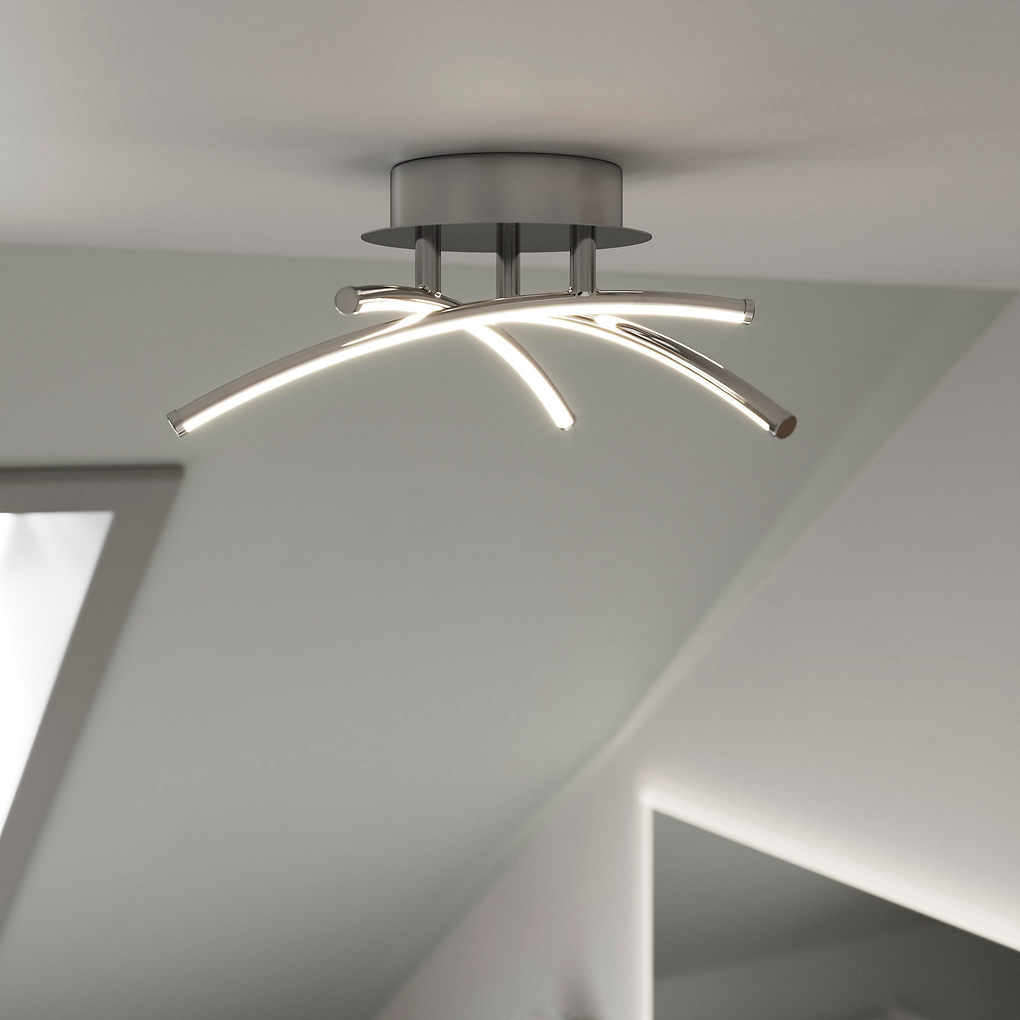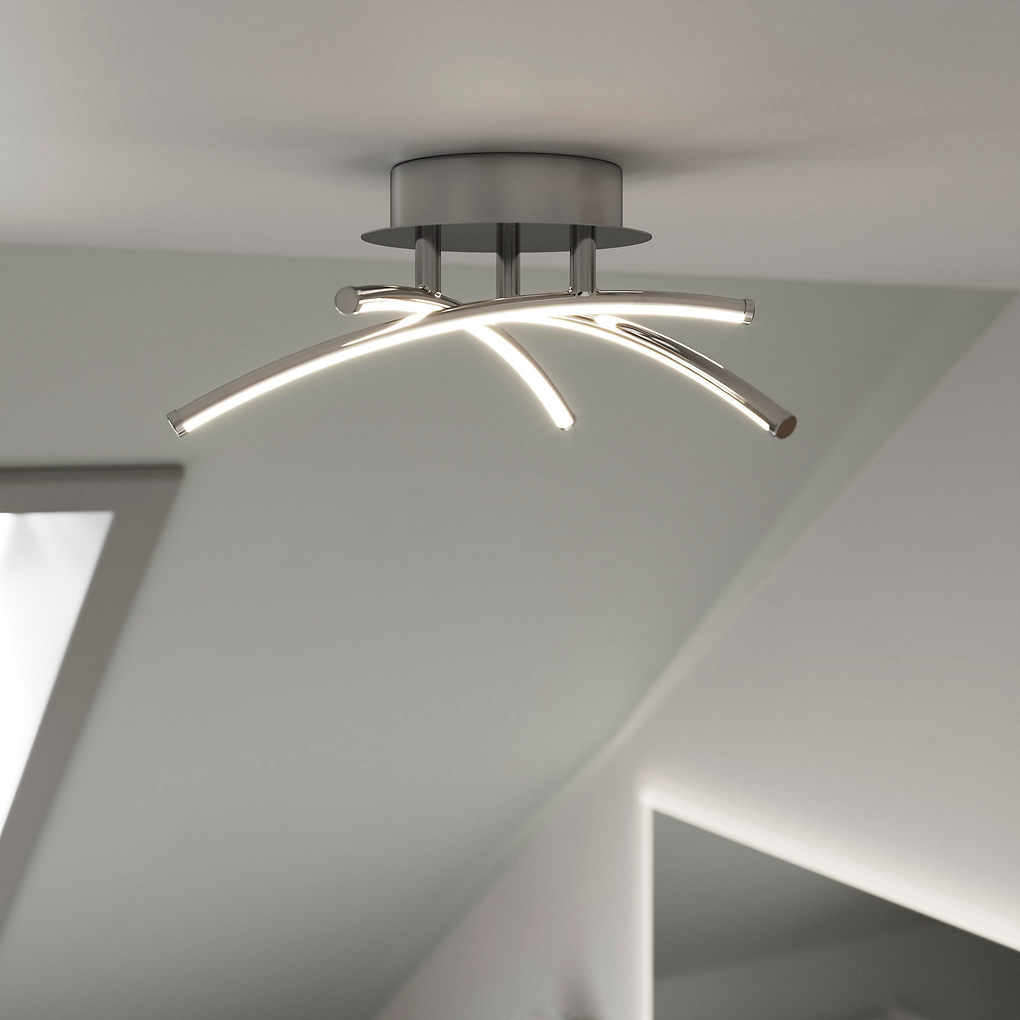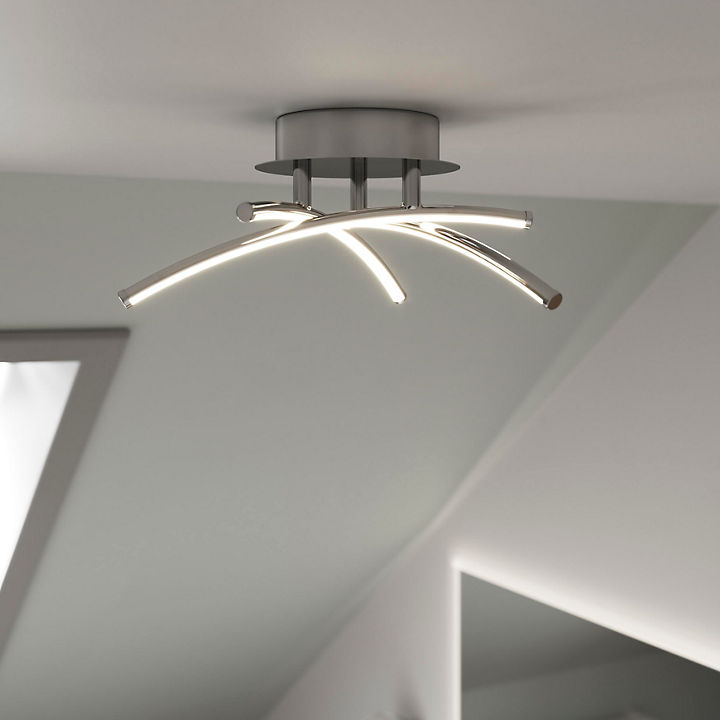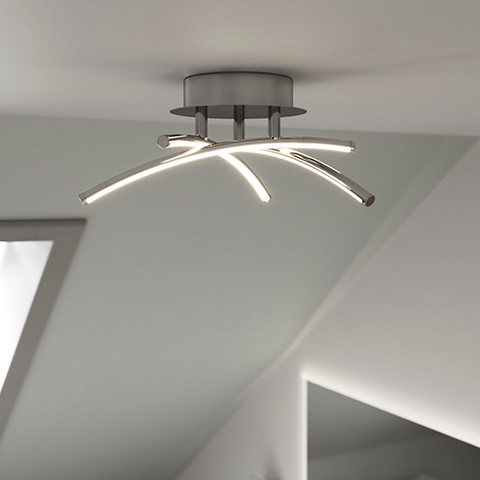 ---
All new and modified electrical installations must comply with the latest relevant Wiring Regulations. Bathroom lighting products must be installed in accordance with local Building Regulations by a suitably qualified or experienced installer. A bathroom is dived into zones. These zones represent the distance from water sources, and as such determine what lighting is safe to use where. For example, a light that is over a shower meets with more moisture than one away much further away from it, and so requires lighting with greater resistance to water:
Zone 0 requires a light fitting to be IP67 rated, which is considered to be safe when immersed in water. This area is actually inside the bath or shower itself.
Zone 1 requires a light fitting to be IP44 rated or above. It's generally considered safer to use an IP65 rated fitting (it's worth noting most shower lights are actually IP65). This includes the area above a bath up to a height of 2.25m from the floor. If the light is mains voltage, an RCD must be used to protect the circuit in this zone.
Zone 2 also requires a light fitting to be IP44 rated or above. This includes the area 0.6m from the outside perimeter of the bath or wash basin up to a height of 2.25m from the floor.
Other zones generally consider an IP20 light fitting as safe. We would recommend IP20 plus.
Bathroom lights can be listed with just their suitable bathroom zone, the corresponding IP rating or both. The IP (Ingress Protection) rating, also known as the IP code or International Protection Marking, ranks how effectively an electrical item is sealed against solid and liquid objects.
The ratings are given as the initials IP and then two digits. It's the second digit that's key for bathroom lighting and the higher it is, the greater the resistance to water:
0 No protection
1 Dripping water
2 Dripping water when tilted at 15 degrees
3 Spraying water
4 Splashing water
5 Water jets
6 Powerful water jets
7 Immersion, up to a depth of 1m
8 Immersion, beyond 1m
Check the listed zones and/or IP ratings to make sure your bathroom lights are safe to use in the desired spots before buying.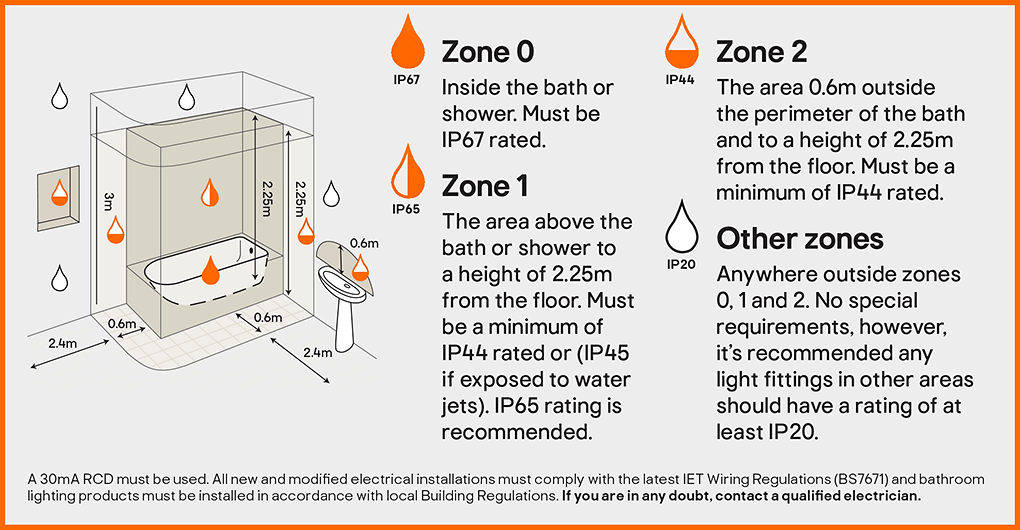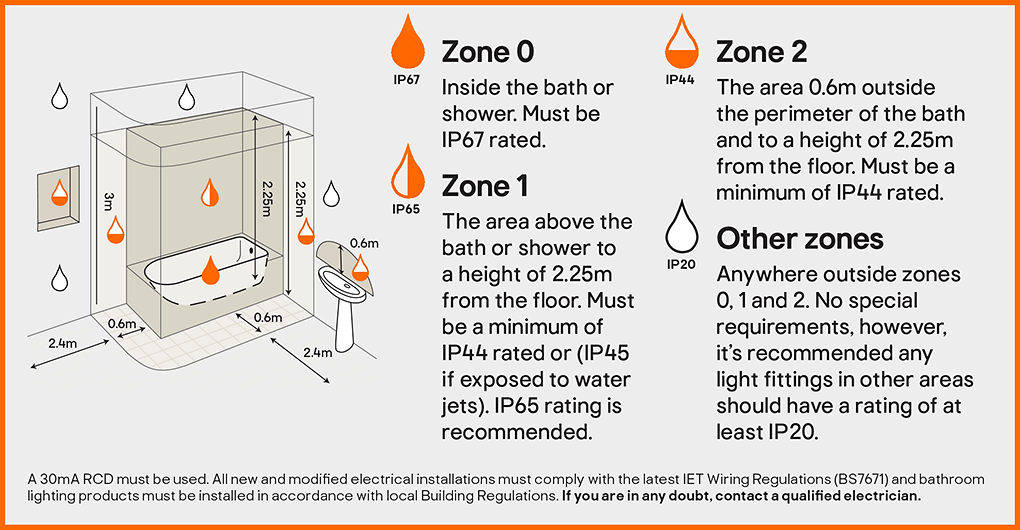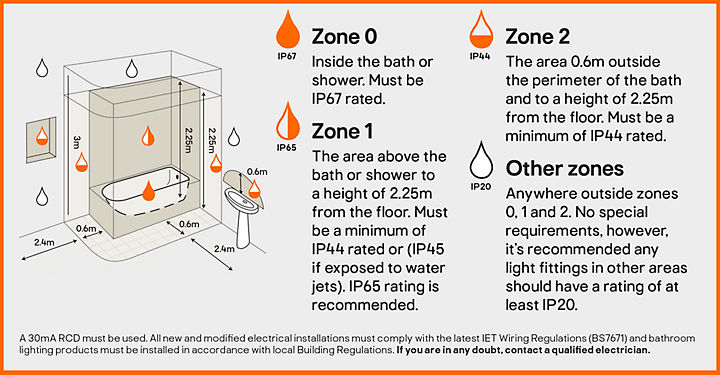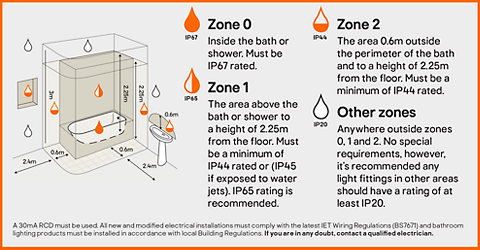 ---
For the ultimate in bathroom indulgence, consider a spa bath with LED lighting. Create your own by combining one of our baths with a whirlpool or wellness system that features colour-changing chromotherapy lighting. Perfect for relaxing at the end of a busy day or energising first thing in the morning, these lights combine with the powerful jets to create a truly special bathing experience.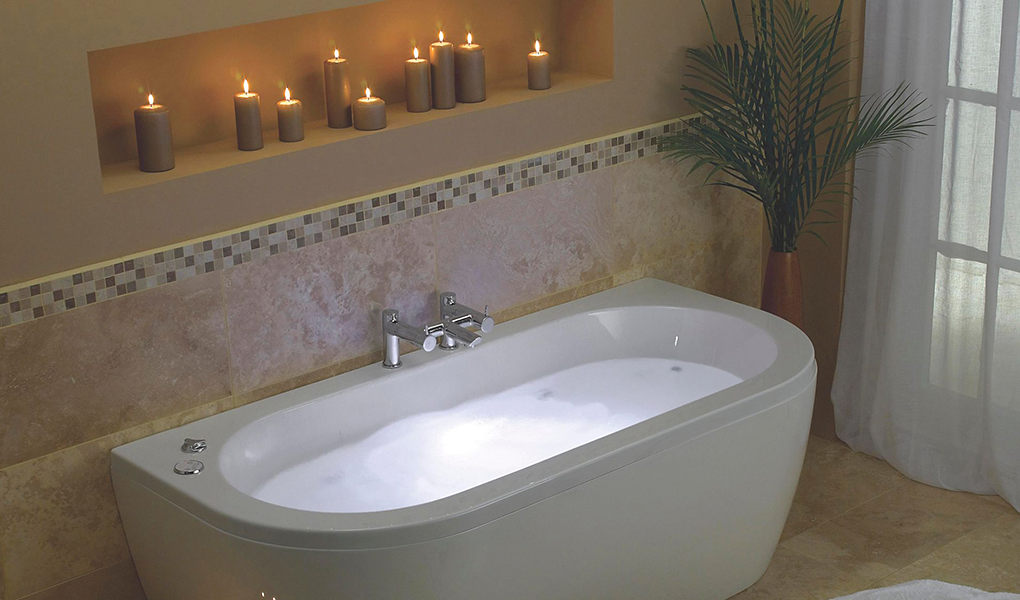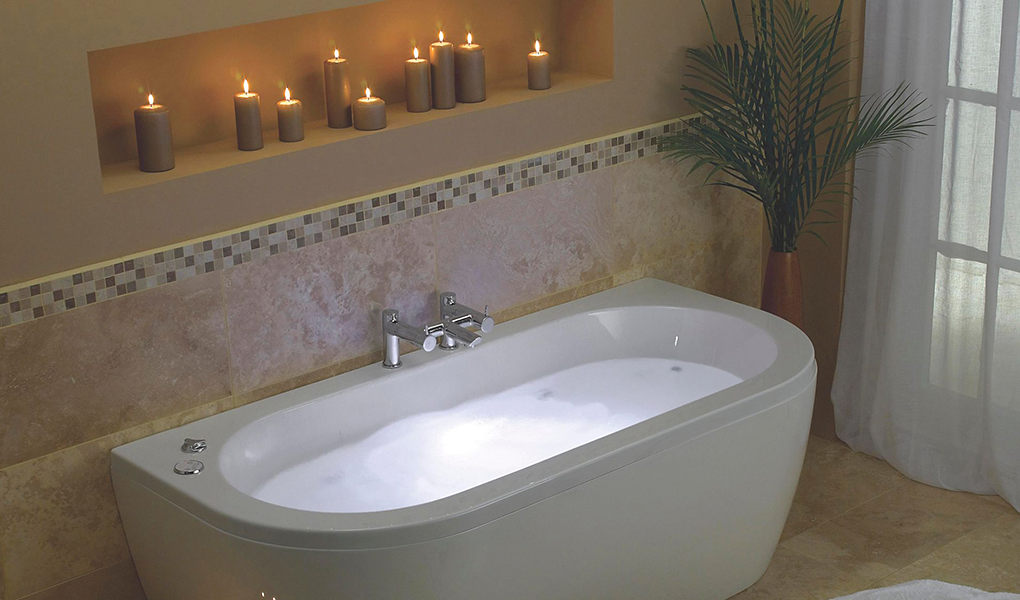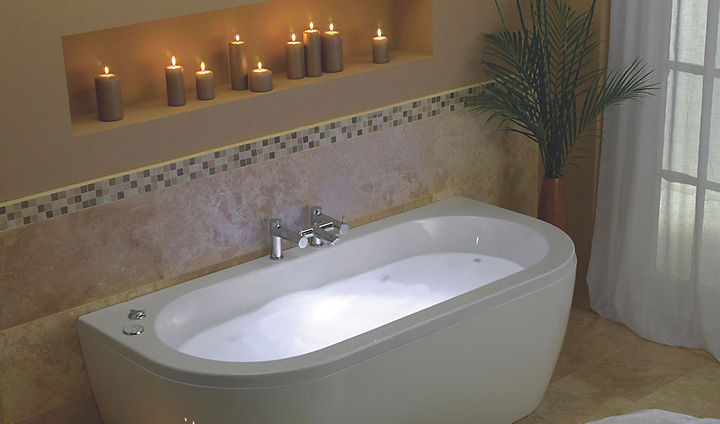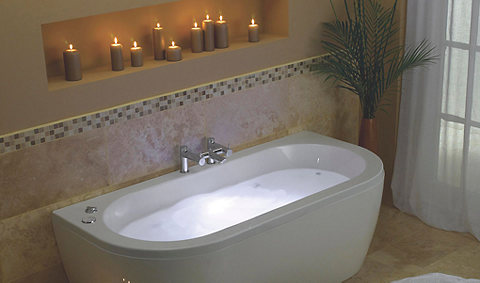 Safety first
Considering recessed downlights? If there is loft insulation above the recessed downlight instead of inhabitants, you might need to install heat diffusers or insulation guards around the lights. These are essential with old-style halogen bulbs as they generate a lot of heat, though we also recommend for LED lights as using without could reduce the life expectancy of your lights.
---