Paint vs. wallpaper
Move over paint, there's a new kid in town. OK, so it might not be entirely new, but with innovative technology and endless designs, wallpaper is firmly back on the interiors map. It's formerly lived in the shadow of its tinned sibling. Over the years, paint has seemed a much simpler upgrade. Think wallpaper is a hassle to hang? Think again - paste the wall technology makes it a breeze. Think wallpaper is tough to remove? Also wrong - it can be peeled back in minutes when you do fancy a change. Flawed plaster or wall imperfections? No problem - these heavy-duty wallpapers have magical covering power. Oh, and they're durable, extra washable and resistant to stains. Busy family households, rejoice.
So, if you love prints but always turn to paint in times of decorating need, put down the colour chips and dive into a world of pattern. Trust us, wallpapering is easy.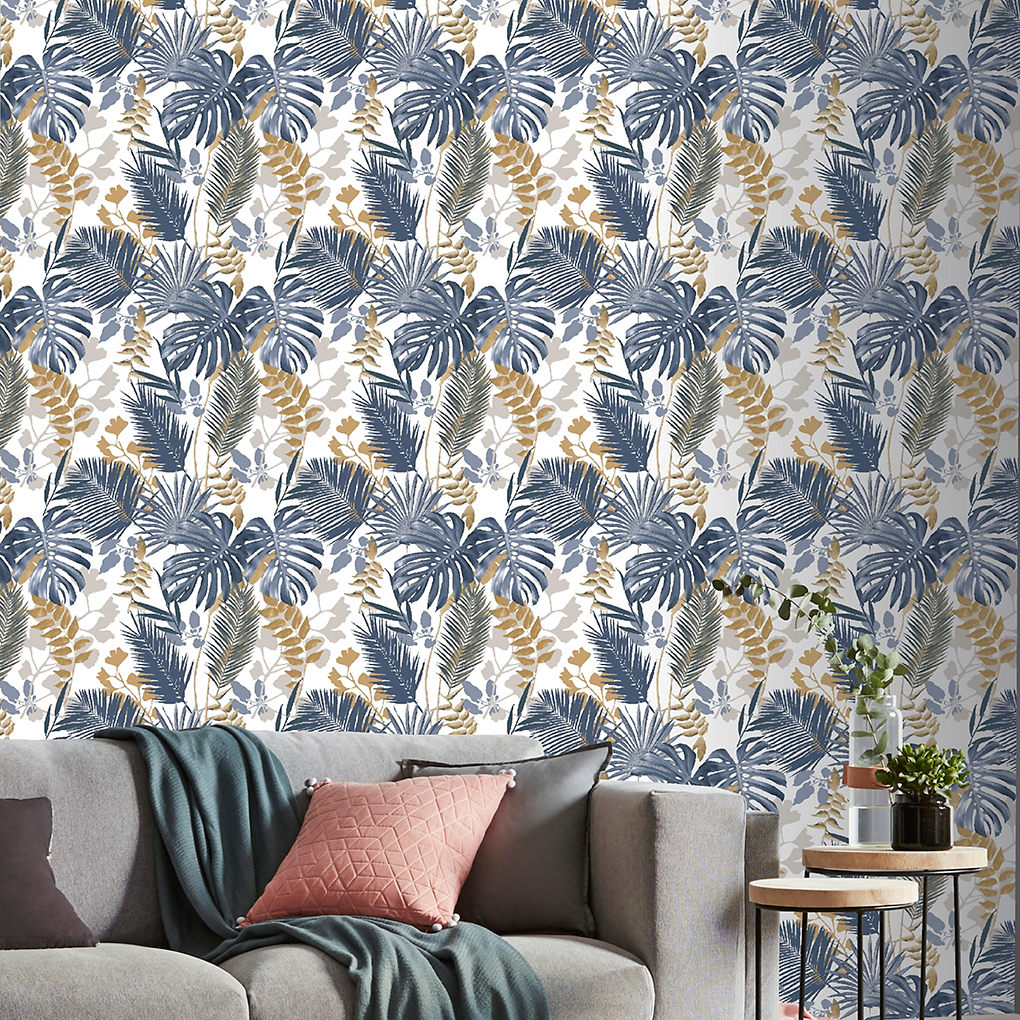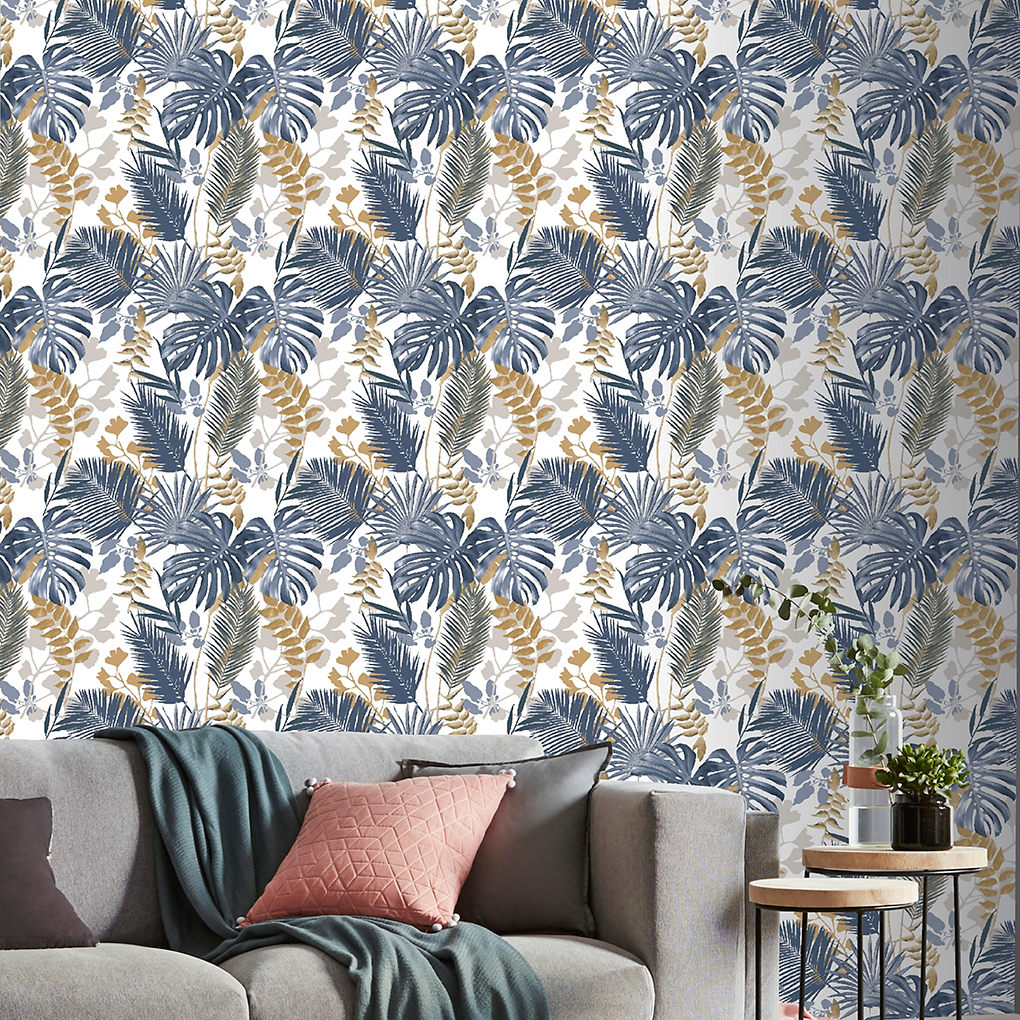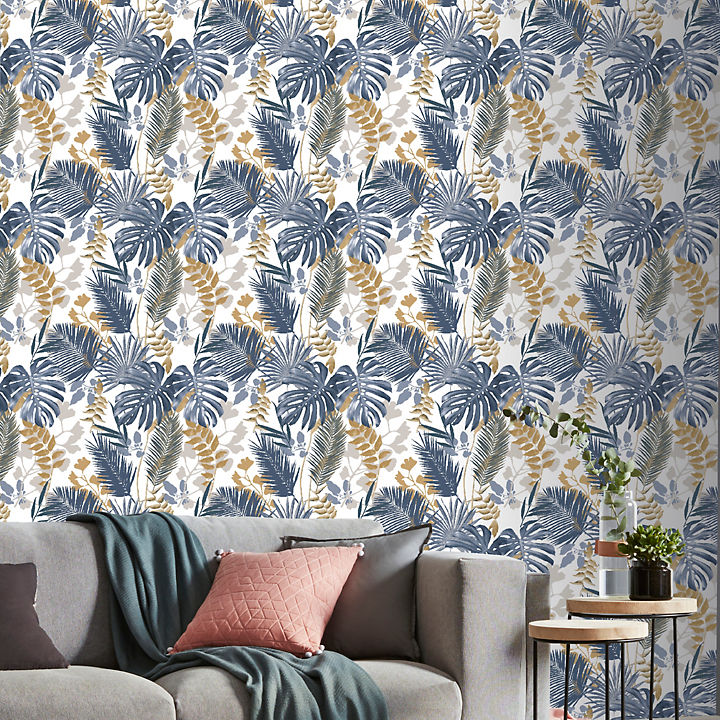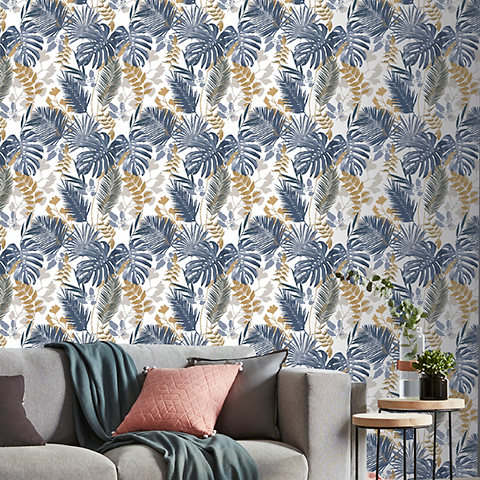 Wallpaper that speaks to you
Before decorating a room, think about how it is used and how you want the space to feel. It's the same when deciding a paint colour. There are patterns that will help you de-stress and unwind (bedroom, perhaps?), textured wallpapers that will make a cosy living room feel even more inviting and sultry designs for the boldest makeovers. Otherwise, barely-there motifs create a romantic, lived-in look and are understated enough to let fun textiles take centre stage. Whatever you choose, don't get too caught up on trends. Ultimately, your choice will come down to what looks good in your home and brings out your best mood.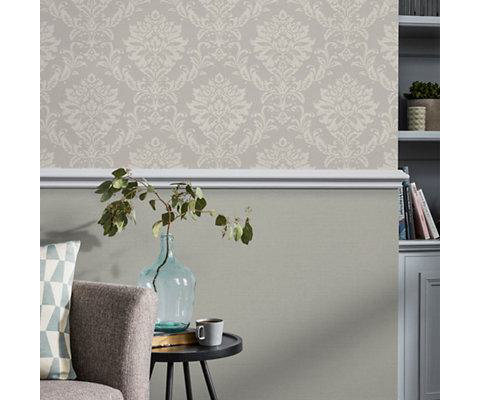 Meet Contour
Meet our Contour wallpaper that gives the illusion of texture and mimics our favourite tiles - think marbled herringbone and Grecian-inspired patterns. Better yet, these ranges even feature splashproof designs, so it's a perfect way to transform your bathroom or kitchen. If you're into geometric patterns and stylish colour combos, then this is the collection you've been waiting for. It's durable and resists stains, so it's perfect for busy family households. Oh, and if wallpapering fills you with dread, fear not - paste the wall technology makes it a breeze.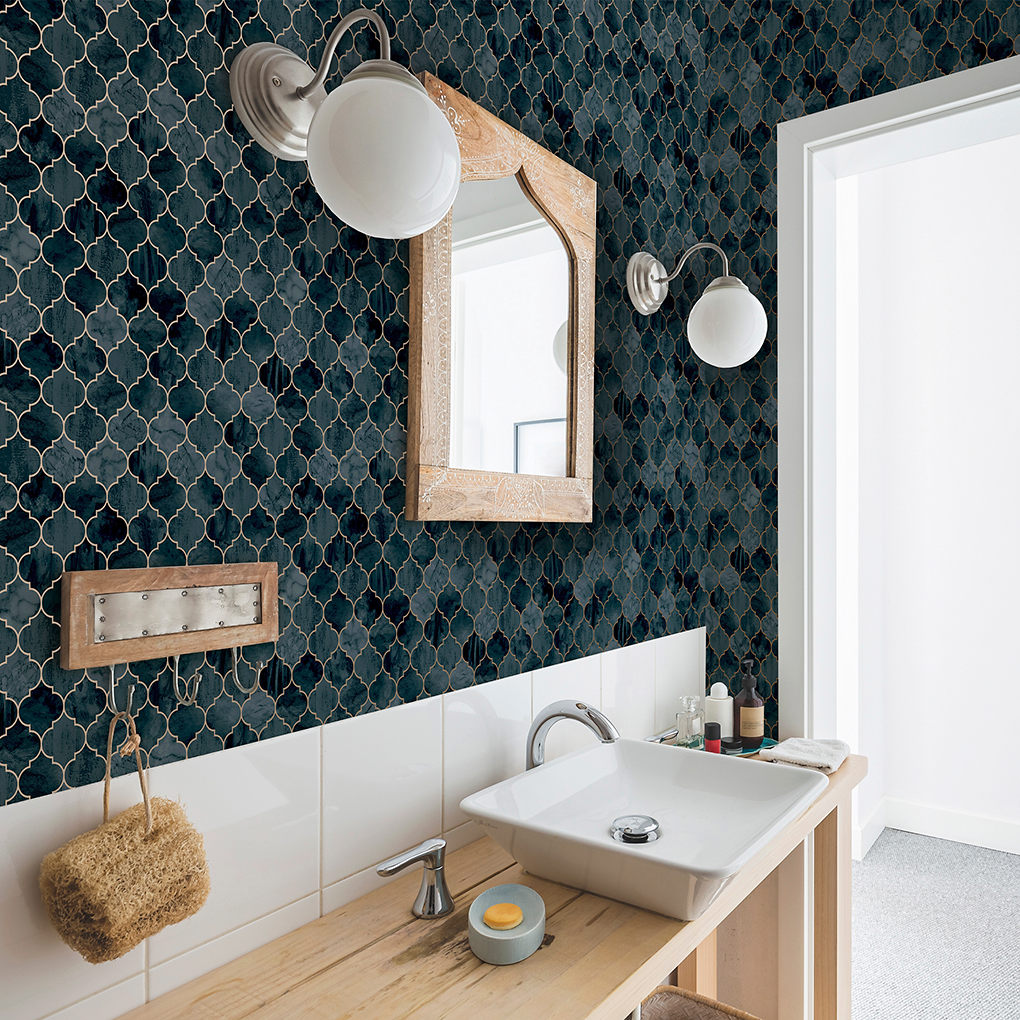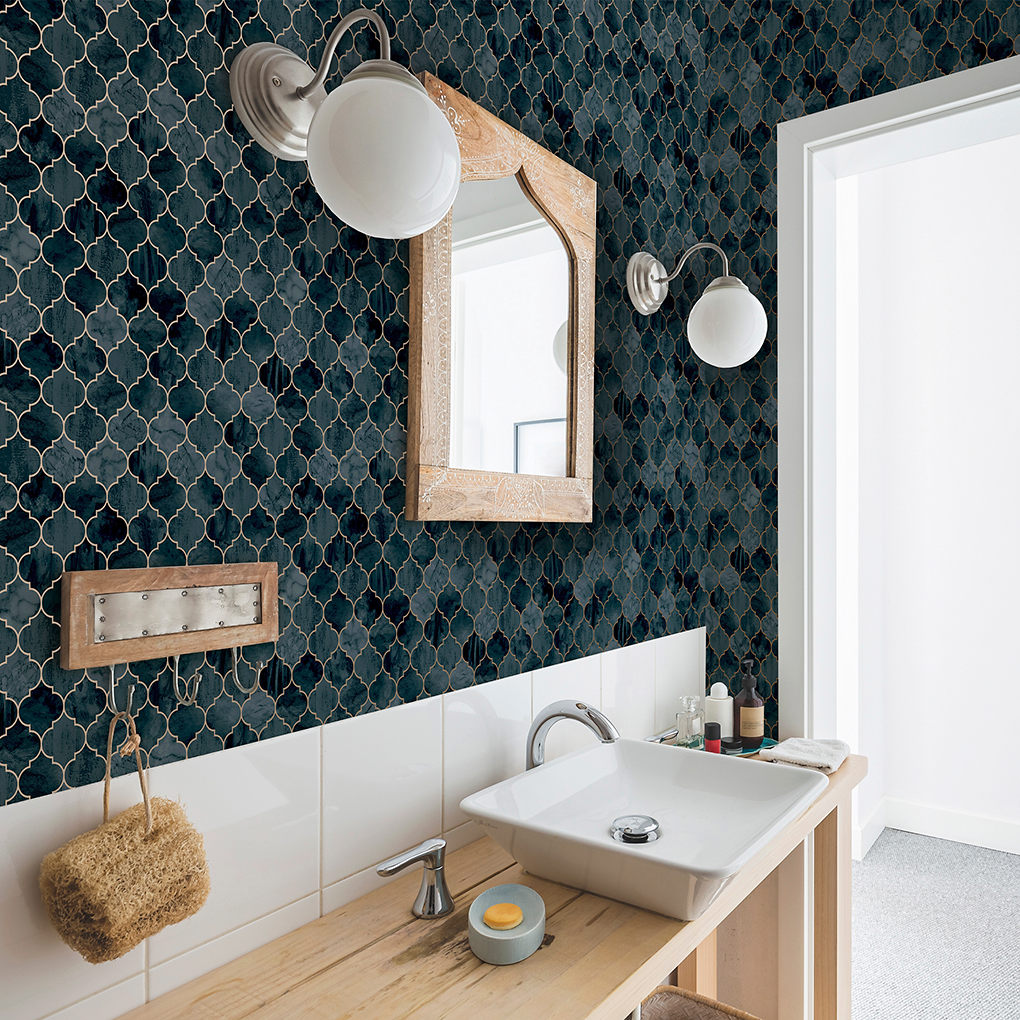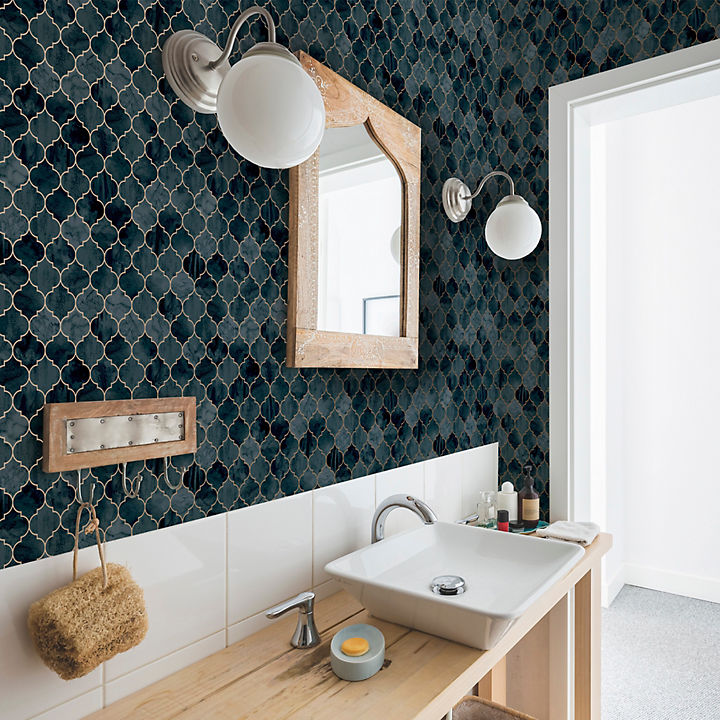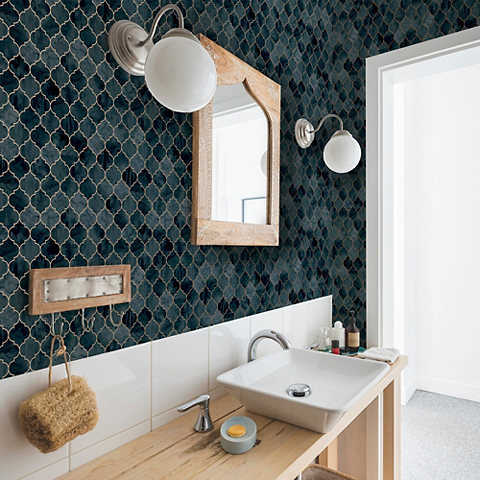 Wild things
Wanderlust? We get it. For year-round sunshine, look to palm prints in vibrant colours. Not only are tropical patterns perfect for adding colour, they add a serious amount of energy to a room. But if you're wanting real indoor jungle vibes, a hefty collection of houseplants wouldn't go amiss.
Larger-than-life fronds aside, florals are a forever favourite. Gone are the days of saccharine pastel hues too. For a modern way to do florals, go for painterly moody blooms to add character to the modern home. If moody inky hues aren't your thing, trailing leaves and small-scale Oriental blossoms look oh-so romantic and suit any room.
If you have contemporary furniture, don't be fooled into thinking it won't work with smaller traditional prints. A throwback pattern can work perfectly in contrast with sculptural mid-century designs. For the Scandi-inspired home, a subtle floral wallpaper can add a delicate pop of colour to an otherwise minimal palette. Ditsy or vintage wallpapers are also a beautiful base for a nursery or little one's room.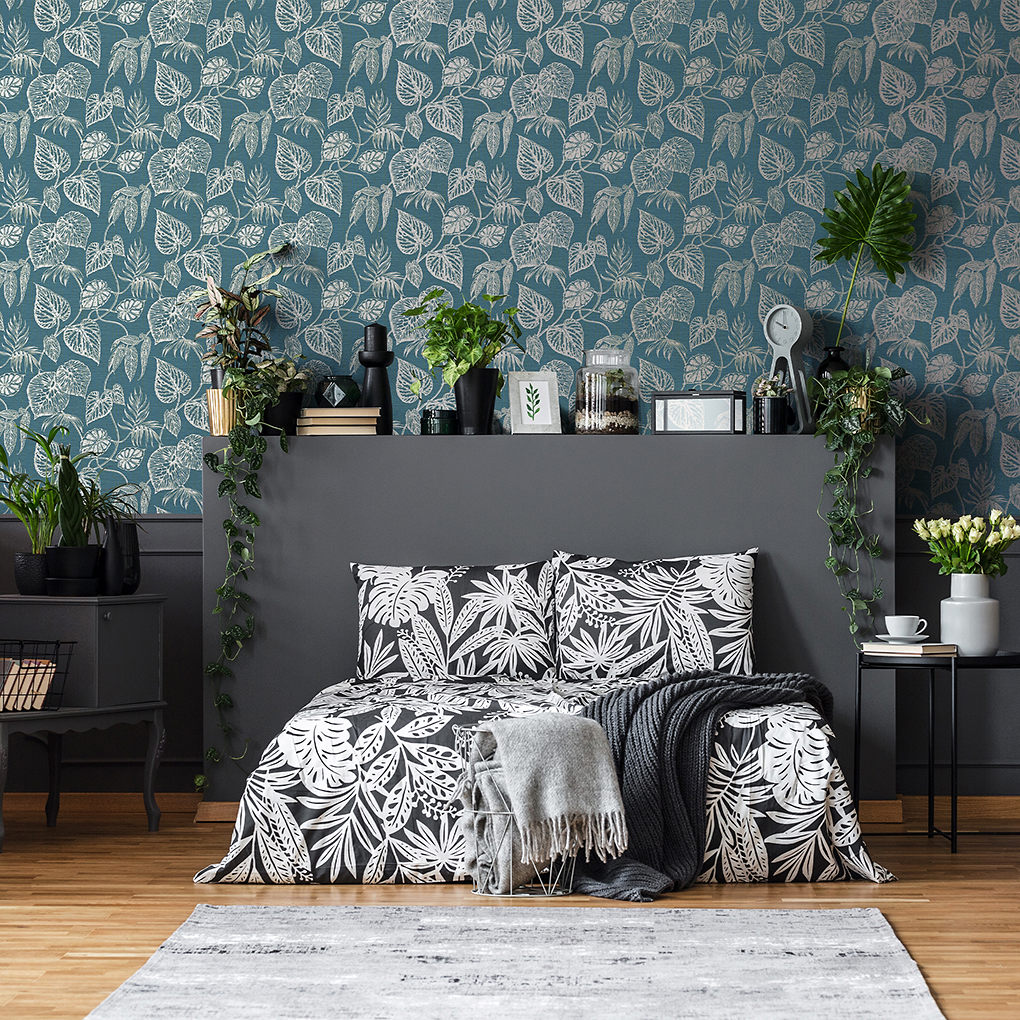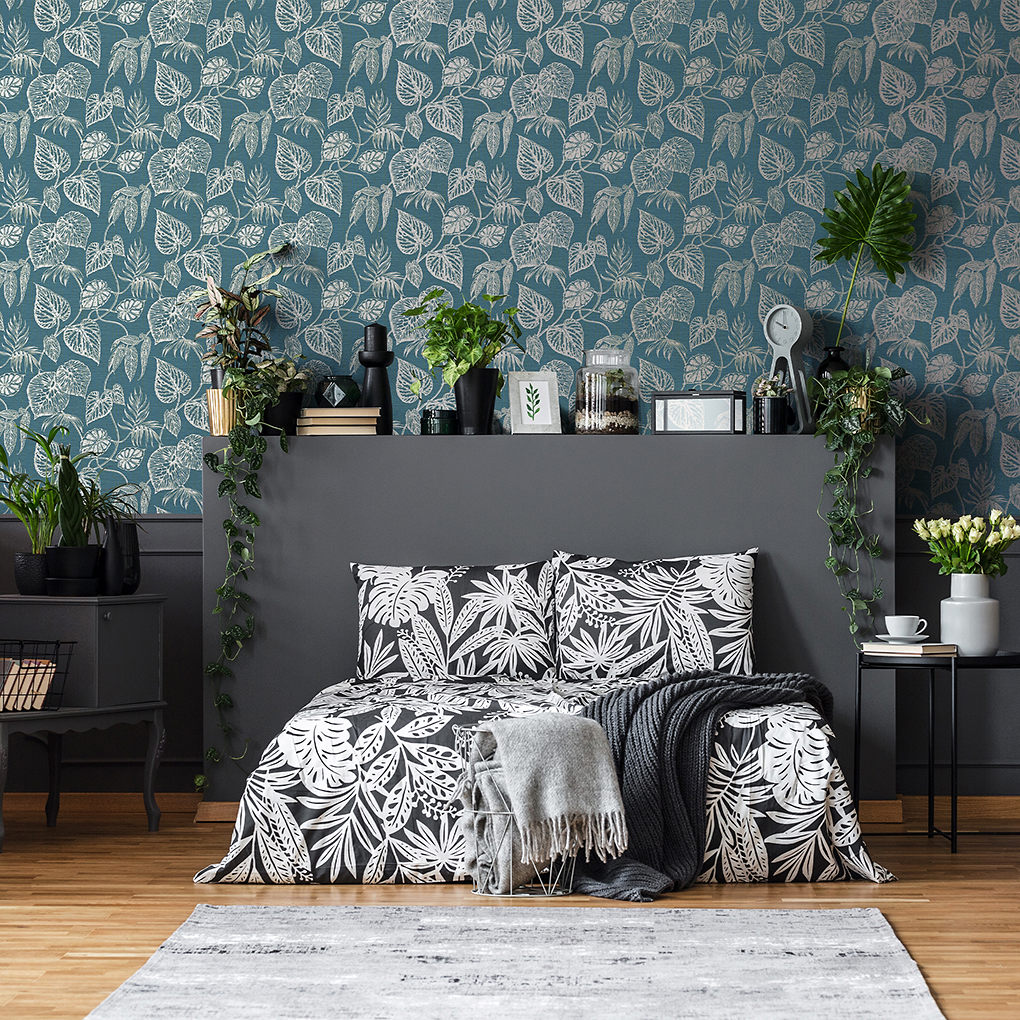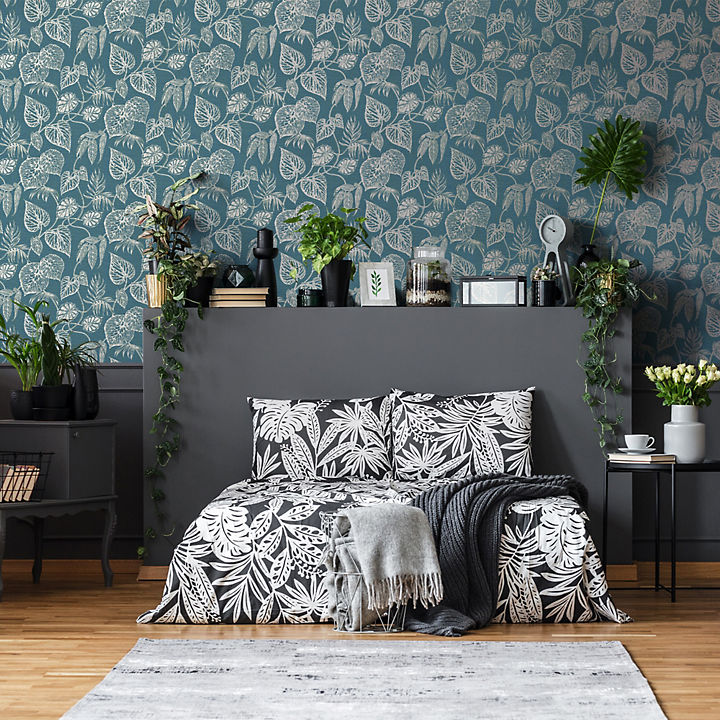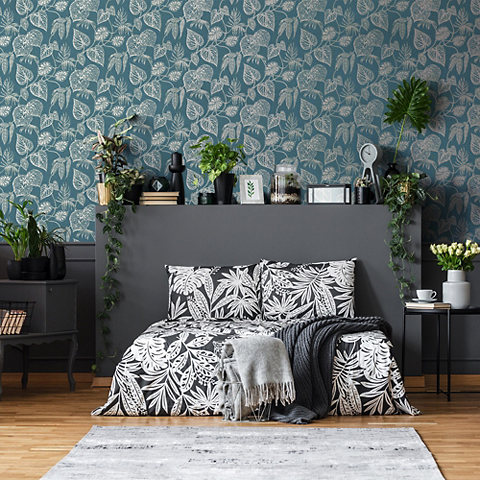 Pattern power
From clean architectural lines to Art Deco shapes, geometric patterns are hard to tire from – which makes them a first-class choice for wallpaper. They can make a bedroom feel like a 5-star suite, a hallway feel like a grand lobby. Throw gilded accents into the mix and you've got the most luxe wall upgrade. Metallic designs have an illuminating effect, so are ideal for dimly lit or small rooms. Our top tip? Add a glimmering chandelier to really maximise brightness levels.
Steal inspiration from your favourite hotel by partnering your new patterned backdrop with gold furniture. A rich wallpaper also makes dark furniture look beautiful. Choose from embossed textures, stamp-like motifs and supersized prints.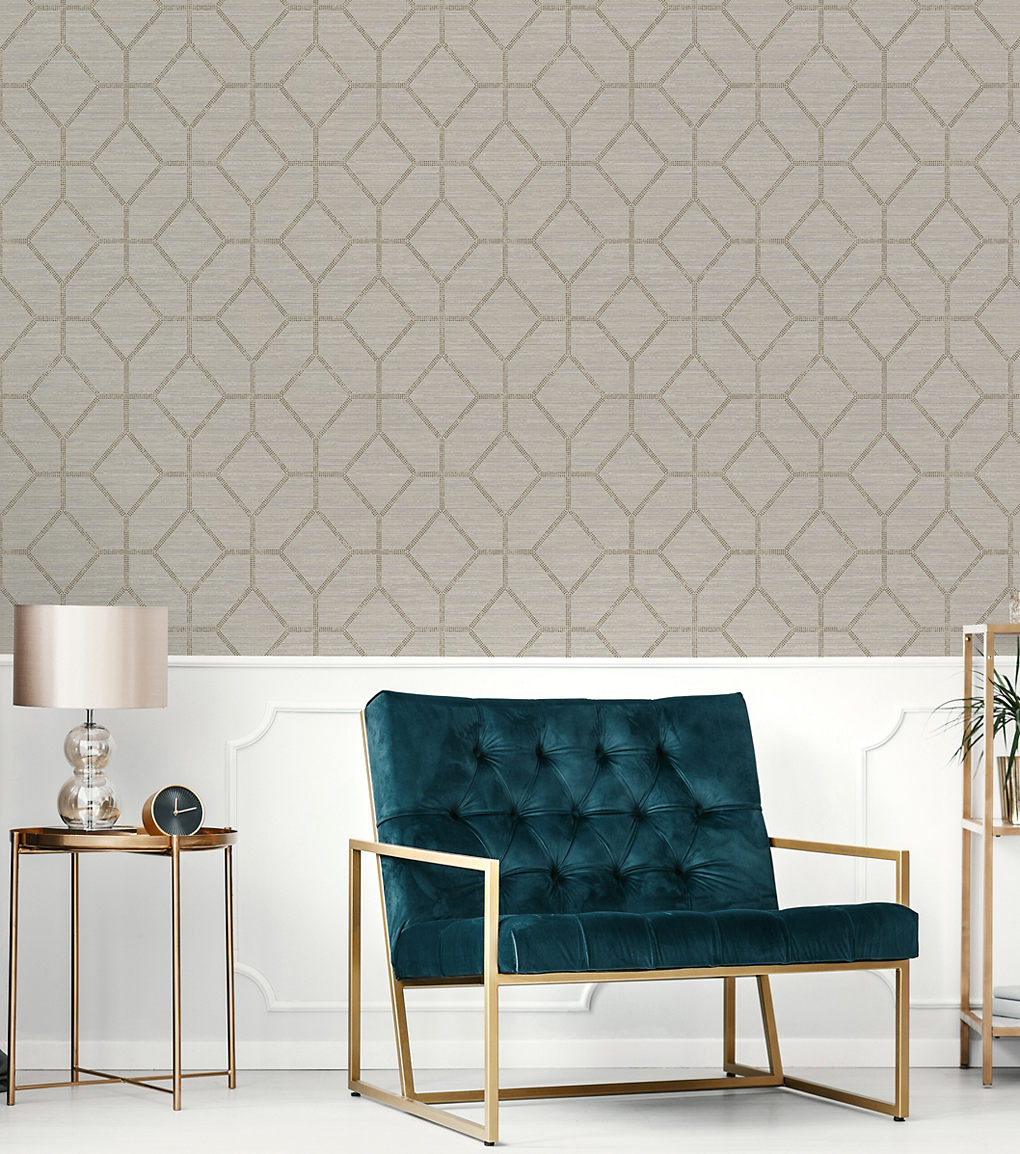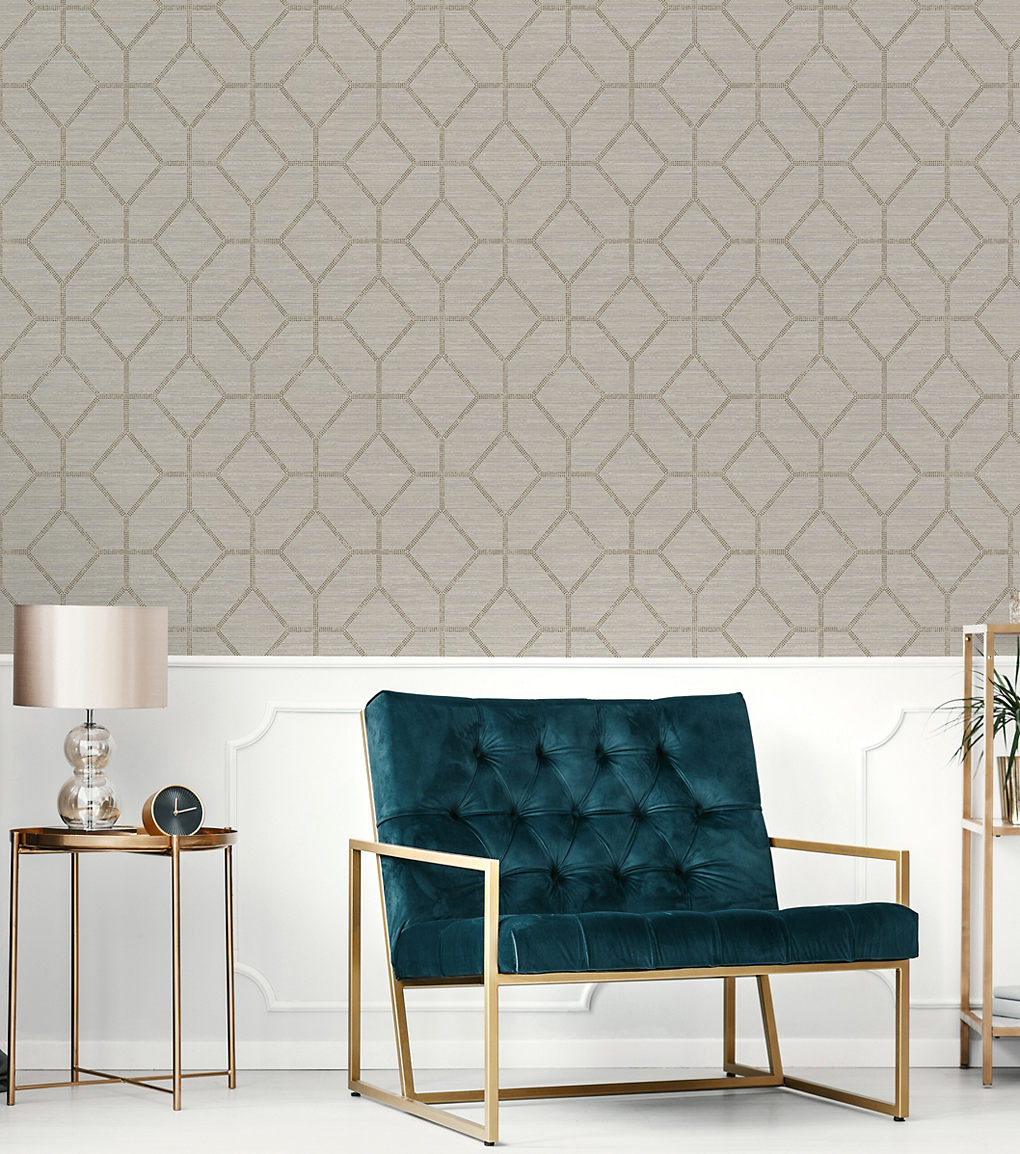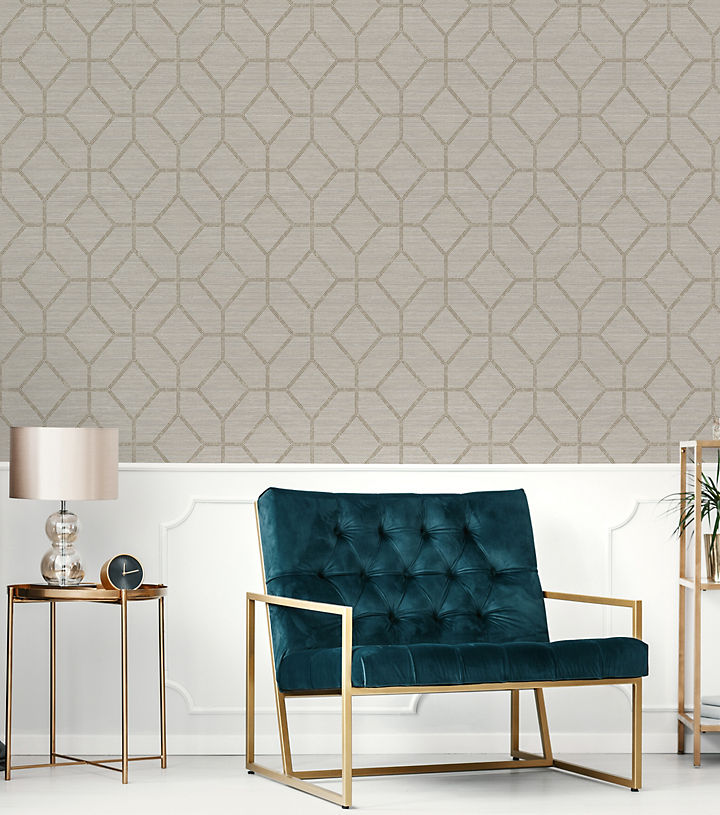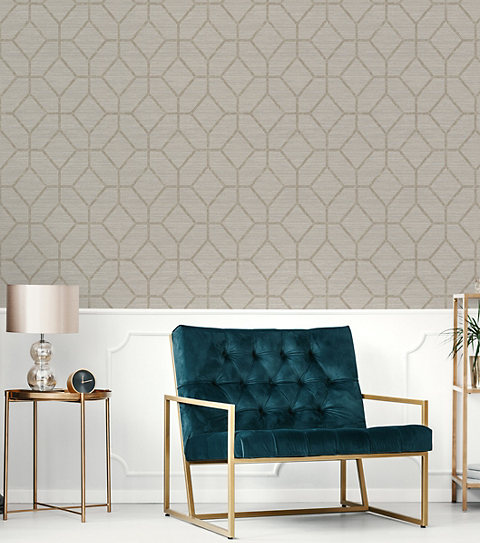 Less or more – you choose
Still not convinced about wallpapering an entire room? A humble accent wall is your best friend. Using wallpaper on a single wall or chimney breast creates a focal point. This also gives you a chance to experiment with a new look without fully committing to changing the overall style of a room.
In period properties with a dado rail – or if you're looking to fit one onto plain walls – simply add wallpaper above or below. Pair it with a complementary paint shade for the most sophisticated upgrade.
Feeling super confident? Pick one of the colours in your wallpaper, or furnishings, and coordinate any surrounding woodwork. This stunning border will make any room feel really special.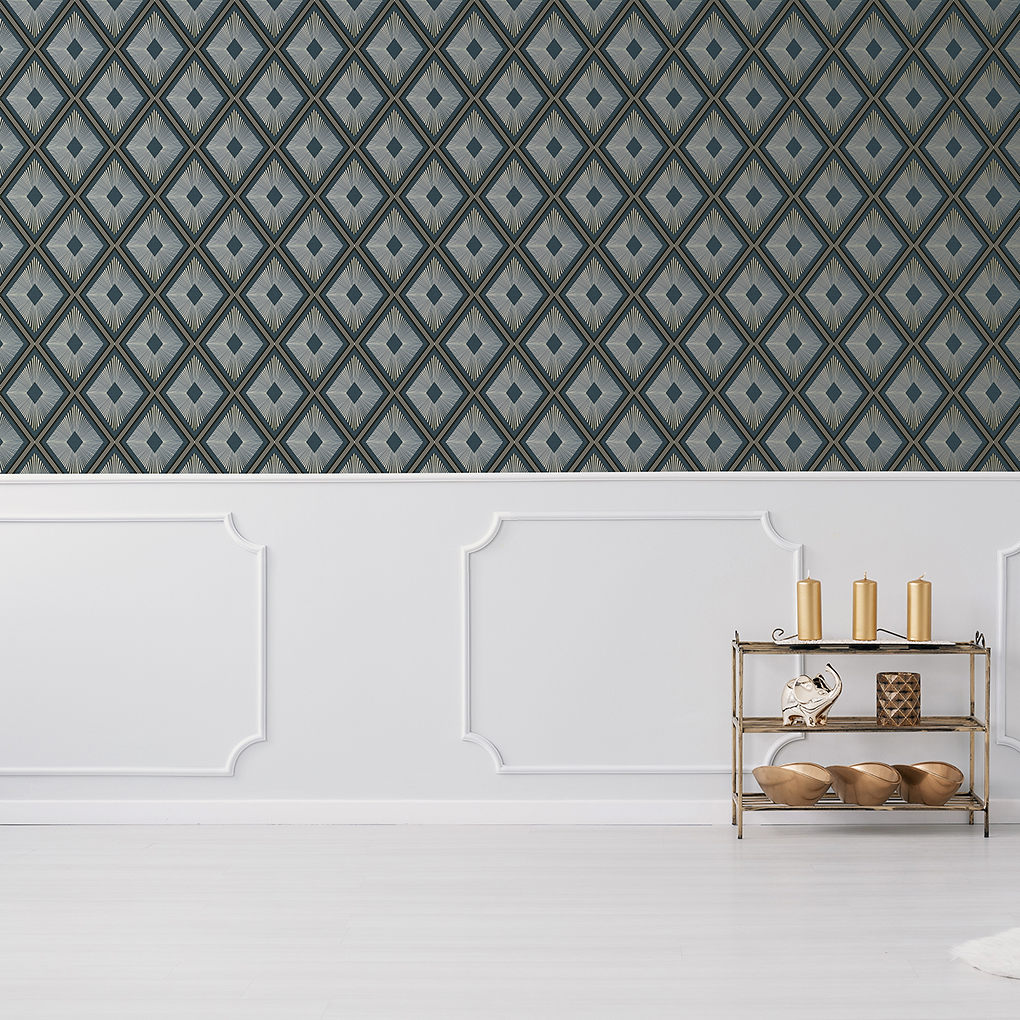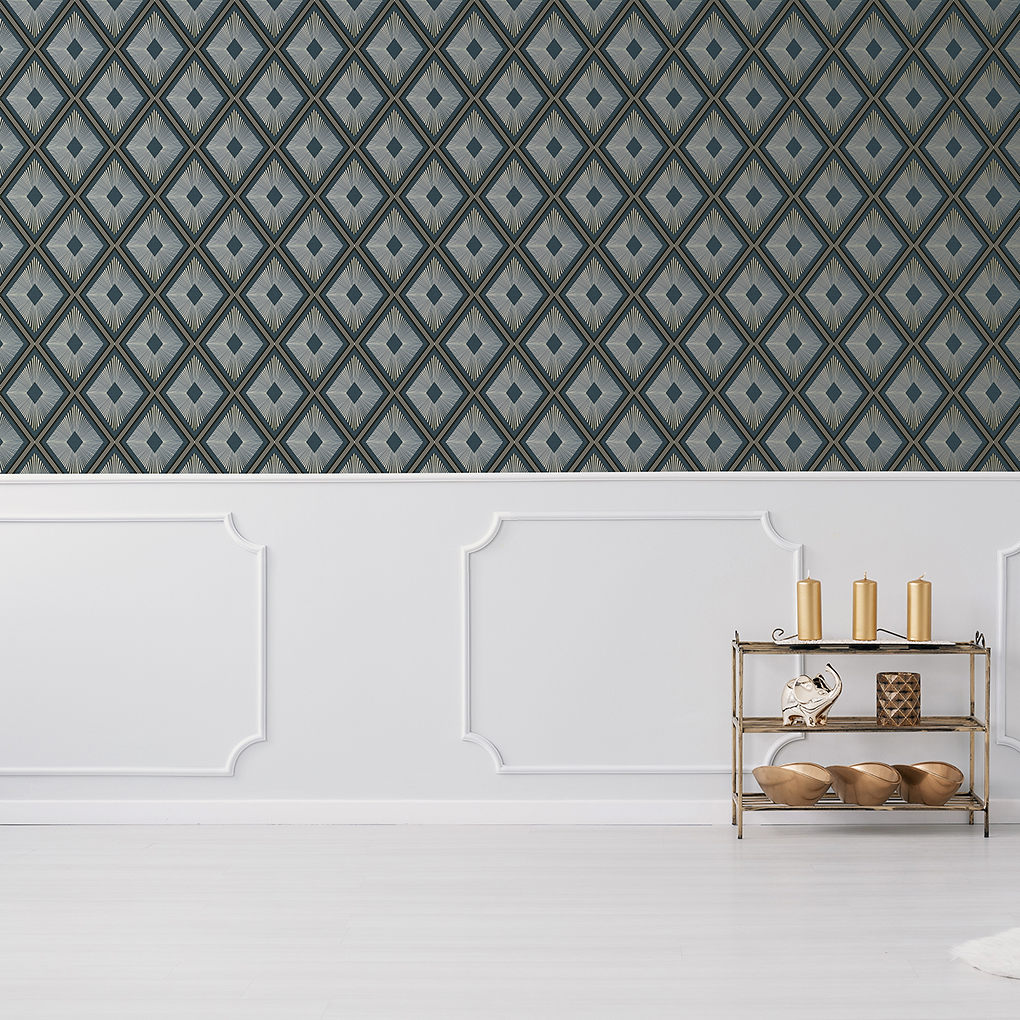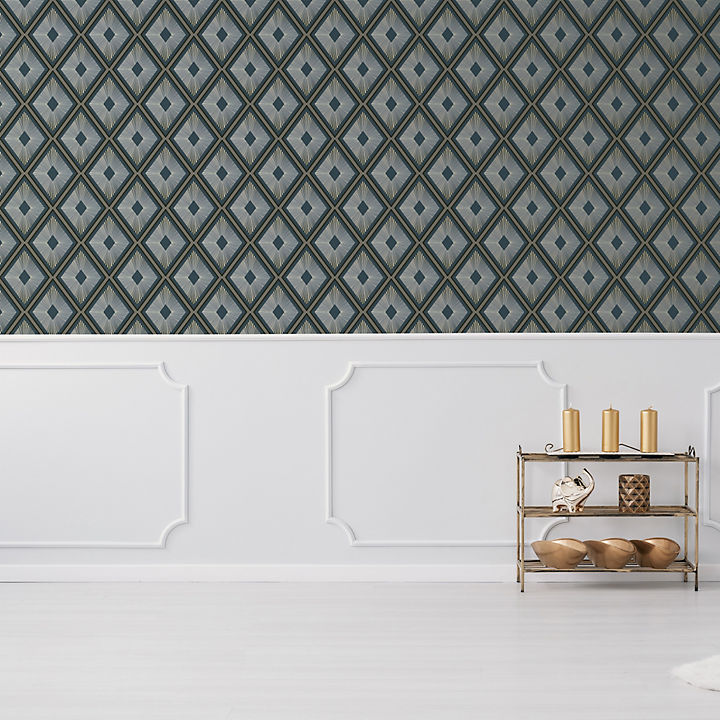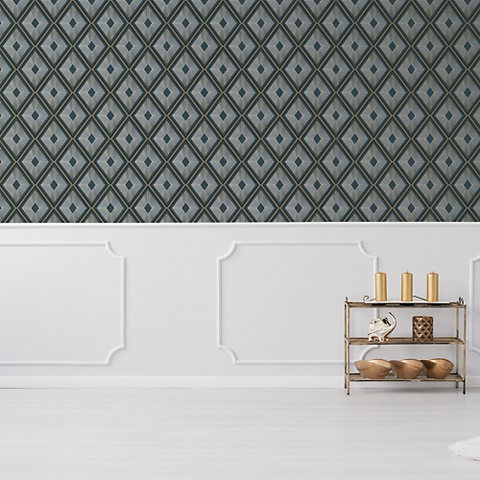 Let's get down to business
Hold off on the pasting table, there's no need to dig it out. Paste the wall technology means the wallpaper doesn't need to be soaked, so you can apply the paste directly to the wall. Papering straight from the roll cuts decorating time almost in half – and saves on space and mess too. Don't paste the entire wall before starting to hang your wallpaper. Just paste one section at a time and work around the room methodically. It's worth considering a bit extra than required if your wallpaper has a large repeat number. Also, make sure the rolls of wallpaper have the same batch number.
Shop our latest range to find the types of wallpapers you dream about. For a full step-by-step guide to hanging wallpaper, you can find all our tips here.