8 interior paint trends for 2022
Get ready to dip into the latest colour palettes and painting ideas
If you're looking to brush up on the latest paint colours and designs, we've got you covered. Our experts have dipped into the top painting trends for the year, giving you the low down on the top 8 paint designs and colour schemes that are sweeping the world of interiors. 
You heard it here first: we're predicting to see softer, delicate palettes in 2022. Think natural, earthy tones alongside calming pastel pops. Interior designers and modern homeowners alike are looking to create soothing spaces that ooze calm and serenity, mimicking that of a spa retreat. 
It doesn't end at the colour you choose for your walls. Wall painting designs, such as colour blocking, have become all the rage due to the depth and texture they add to a space. Want to bring a sense of warmth and cosiness to a cold space? Or perhaps make your room appear bigger? Stick around, as we'll be revealing the latest clever painting design ideas to help you make the most of your space.
Skip to..
1. Soft and calming neutrals
2. Colour blocking ideas
3. Good enough to eat colours
4. Nature-inspired tones
5. Ceiling paint designs
6. Colour drenching ideas
7. Types of paint textures and finishes
8. Paint proud
1. Create calming interiors with soft neutrals
There's nothing better than coming home after a hard day's work to a relaxing space where you can escape and unwind. That's why both interior designers and homeowners are filling their spaces with calming neutrals and pale pastels. Timeliness neutrals such as soft creams help lighten a space, whilst soft aqua tones such as baby blues create calm, spa-like vibes. 
If you still want to incorporate colour in your space, we recommend opting for subtle hints of colour, such as chalky greens, blush pinks and refreshing lavender tones. The delicate hues of these spring colours will bring a comforting, cheerful feel to your space whilst remaining easy on the eye. We're loving the soft peach tones of Farrow & Ball's Estate Pink emulsion paint.
2. Wow with contrasting colour blocking ideas
It's not just about colour when it comes to keeping up with the latest paint trends, it's about what you do with it. Gone are the days of painting a room one colour – it's time to say hello to colour blocking. So, what is colour blocking? Colour blocking is a painting design technique that combines different paint colours to create various shapes on wall. It's become hugely popular recently as can create depth and space in otherwise bland rooms.
Create striking impact and vibrant energy in your space by colour blocking with two shades of blue. If you're new to colour blocking, start by using masking tape to paint a wall two colours. Splitting the colours in the middle of the wall is a clever way to elongate the room and create the illusion of space – perfect for narrow hallways.  Consider yourself a DIY paint expert? Be bold by colour blocking various shapes and sizes like the image below. 
3. Colour schemes good enough to eat
Acting as an extension from the neutral colour trend, 'edible' colour palettes are in. Think soft chocolate browns, milky whites, smooth mushroom greiges, sweet almond creams, and buttery yellows. When you pair these understated tones with pops of pastel, you get a delectable aesthetic that is almost good enough to eat.
As these appetising shades are often smooth and light, they can be used as a timeless base that you can begin to introduce secondary colours to. Our top trend tip: use shades such as Salted Caramel or Buttermilk as a warm, inviting base, then add colour blocks of burnt orange and rich brown for a seriously scrumptious space.
4. Become at one with nature with earthy tones
In 2022, our connection with nature is more apparent than ever. People are discovering a new-found appreciation of the great outdoors – there's nothing more relaxing than going for a woodland walk, listening to the birds, or pottering around the garden. Why not bring the outside in and create a feeling of calm and serenity in your home, too?
We're predicting that nature-inspired tones are going to keep growing in popularity this year, with a rise the likes of forest greens, woody browns, and powdered clay tones in homes. Opt for the GoodHome shade Milltown, alongside a selection of tranquil houseplants, to create the ultimate connection to nature in your space.
5. Make your room pop with ceiling paint designs
Move over white ceilings, colourful ceilings are here to play. Searches for ceiling paint ideas have doubled in the past year, with many opting for a more playful, energetic look on their ceiling. Painted ceilings create a connection to the sky, drawing your eye upwards and opening the space in the room. 
New to DIY painting? Keep it simple and effective by painting your ceiling one block colour, such as a bold blue. Alternatively, you can add a playful twist to your ceiling by adding contrasting colours in a diagonal pattern – the perfect paint design for a children's bedroom. 
6. Dive into tranquillity with colour drenching ideas
So… what is colour drenching? As the name suggests, colour drenching is when a room is drenched in one colour by using various shades of it across different surfaces. This can be on walls, furniture, flooring, and of course, the ceiling! The result is a 'cocooning effect' that is both brilliantly bold and calming at the same time. 
With colour drenched rooms giving off a relaxed, uncluttered feel, it's easy to see why it's becoming an increasingly popular trend this year. We're loving the down-to-earth look and feel of dark green colour drenched rooms. If you're looking for something a little more understated, you can opt for a light to medium shade of paint. 
7. Experiment with paint textures and finishes
You've picked your colour palette and decided on your paint designs – but have you considered textures? Experimenting with textures is a great way to add dimension to a space. You can do this by testing different paint finishes, such as eggshell, satin, and gloss paint. If you're feeling adventurous, try DIY limewashing to add a rustic texture to a wall.
It's easier than you think to play around with textures and finishes with paint. Achieve a velvety smooth, chalky finish on your furniture with a flat matt paint, mixed with a high-shine gloss on areas such as kitchen cabinets for a fabulous finish. Take a look at our article on How to use textures in the home for more inspiration.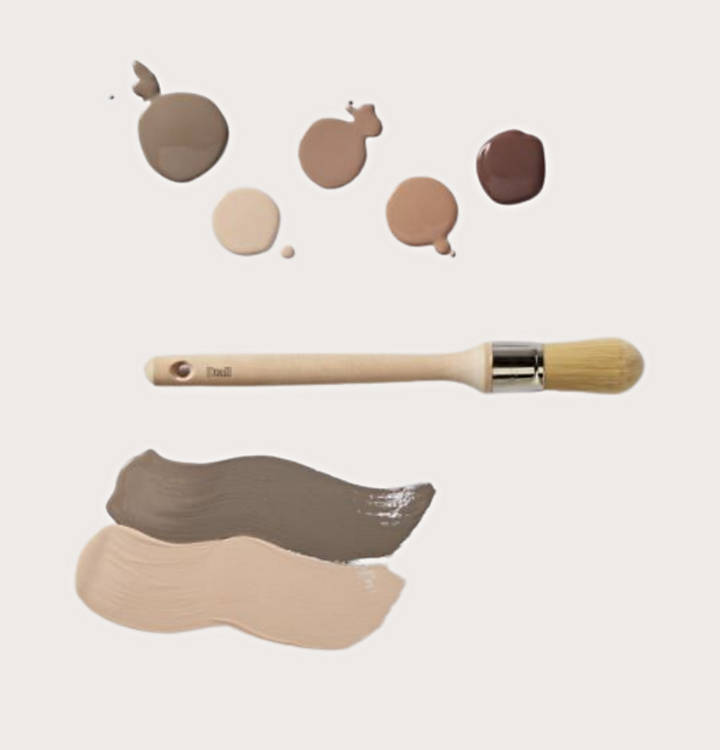 The perfect match
Get a match of the colour you're looking for with our in-store Valspar paint mixing service. Simply bring in a sample and your unique colour match can be mixed into any high-quality paint type. Find out more by reading our Valspar paint mixing article.
Paint proud
Are you paint proud? Tag us on Instagram using the hashtag #BandQit for the chance to be featured (and of course, bragging rights to everyone you know!)