How to plan your laundry room
If there's one thing that every home needs, it's a utility room. It's the quietly confident, unsung hero that keeps our homes clean and clutter free. And it seems more and more of us are embracing them in our homes, with searches for "utility room ideas" up by 20% compared to last year.
Also known as a laundry room or mud room, a utility is an area in the home for storing household items, supplies, and other bits and bots that don't really belong anywhere else. It may not be the most glamorous room in the home, but it's certainly the most functional. And if you're lucky enough to have one, we've put together some utility room inspiration to help you plan your space. Carry on reading for tips and advice on designing a functional and stylish utility room to make home life that little bit easier.
Skip to…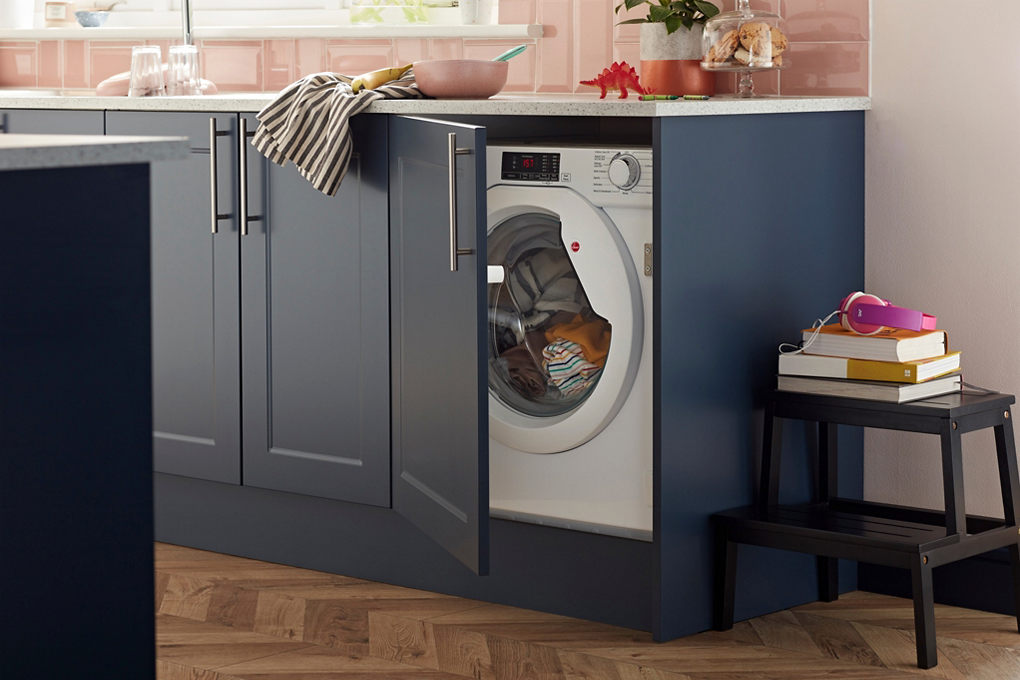 Choose a deep and durable sink
The utility room is normally where you keep all your dirty clothes and shoes, mucky bikes and other bits and bots. You'll need a sink that is versatile and durable. One day you'll be using it to scrub mud off your boots, the next you'll be bathing your cocker spaniel after a walk in the park. A deep sink will let you rinse any cumbersome items without much struggle, and it's great for soaking lots of clothes at one time. Make sure you choose a sink that can withstand heavy use. The best sink material for a utility room is ceramic or composite quartz as they're durable and don't require much maintenance. Have a look at our guide to choosing a sink for tips on what to consider when buying a sink for your utility room.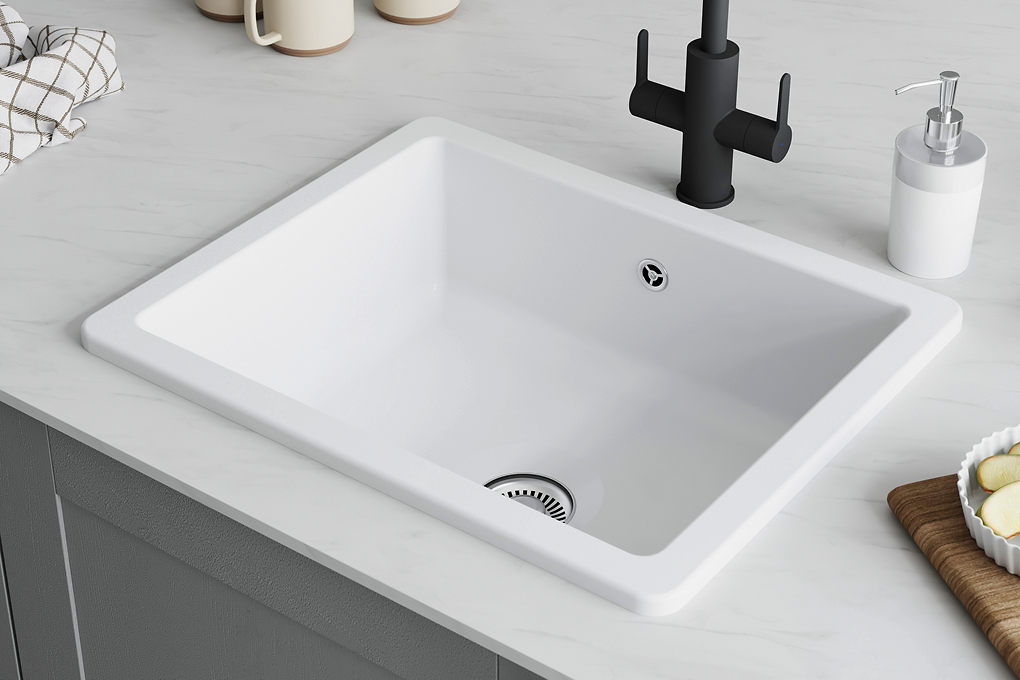 If you've got a large utility room, why not add some seating for a place to catch your breath in between household chores? There are plenty of seating options to choose from. Use a bar stool that you can use to sit up at your worktop or opt for a bench that can double up as storage. If you have a mountain of clean washing that needs folding, it's a much nicer job if you're sat down. Leave a couple books within easy reach too, so if you've got five minutes left on the washing machine, you can just sit and read until it's ready!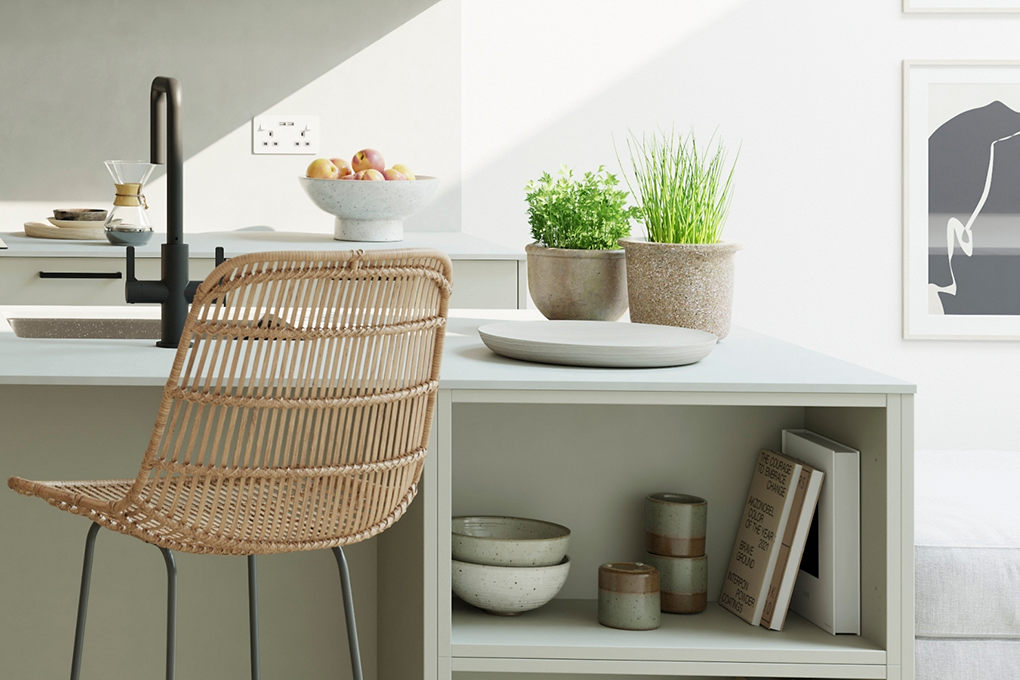 Utility room storage ideas
Need some advice on organising your laundry room? Well, you've come to the right place. Utility rooms are often small, cramped spaces, so it's important that we're as clever as we can be with our storage solutions.
Make use of your vertical space with wall mounted storage. Install wall hooks to hang up bulky coats, or other awkward items, such as your ironing board or vacuum cleaner. If you've got spare wall space, put up some shelves – you can use them to store laundry detergent, washing tablets, or even glassware and crockery that you can't find space for in the kitchen. You could also install a pegboard or magnetic knife rack to keep your tools organised and within easy reach.
A foldable clothes airer will be your best friend – you can open it up as and when you need it, and neatly tuck it away once your clothes are dry. Talking of foldable items, use a folding laundry basket to store dirty clothes, this will help you to save even more valuable floor space when it's not in use. Narrow shoe cabinets with drop down doors are a fantastic way of keeping all your shoes tucked out of the way without taking up loads of space. Explore our range of laundry room accessories.
Utility room paint colours
Have you got a small utility room? We suggest painting your walls a light colour to open your space up and make it appear bigger. Greys, beiges, creams, and pale pinks all look wonderful in a laundry room. Use dark accents such as a black sink or light fixtures to give the room more depth and definition. Or if you prefer deeper shades, navy blue or olive green will certainly bring some drama to your space. Your utility room may be separate from your kitchen, but it still sees its fair share of mucky splashes, so make sure you use a durable, scrubbable paint. And remember, paint isn't the only way of adding colour. You can liven up your utility with stylish splashbacks, kitchen cabinet paint, taps, sinks, and accessories.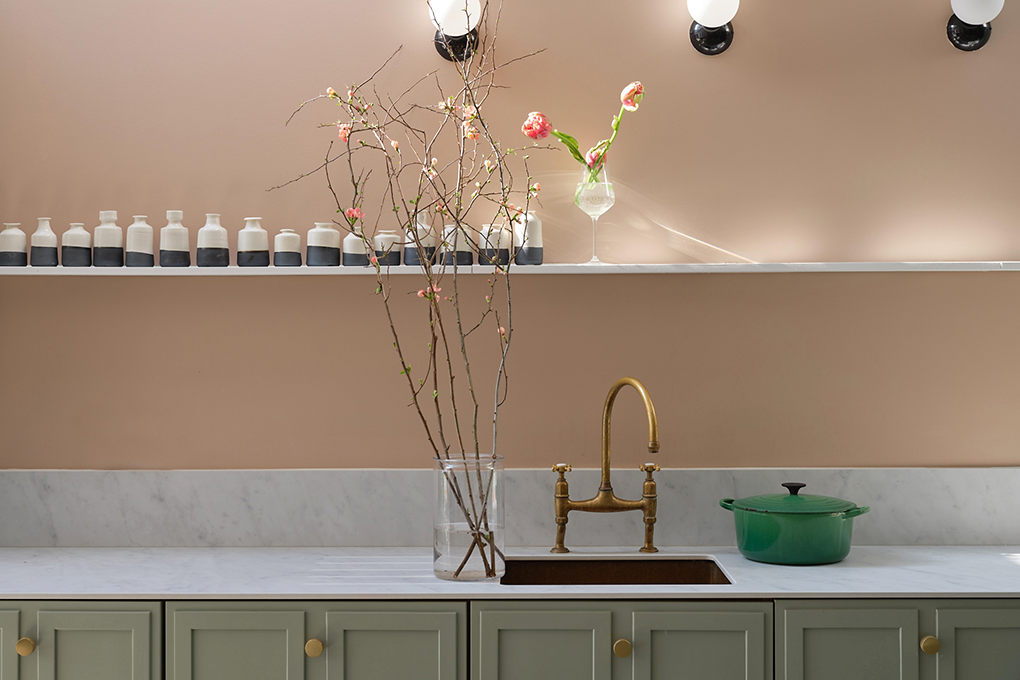 Utility room splashbacks
From turquoise mosaics to grey marble tiles, you'll be spoilt for choice when it comes to picking a splashback for your utility room. Whether you want to go big and bold, or you prefer more of an understated look – we know we've got something that will catch your eye. Browse our range of splashbacks and wall tiles, and check out our swoon worthy splashback ideas for some more inspiration.
Here's a narrow utility room storage idea… if you haven't got enough floor space for your washer and dryer to sit side by side, why not stack one on top of the other? You'll free up more space on the floor for other items such as your laundry basket or ironing board. Want to make your utility feel even more spacious? Consider hiding your appliances behind bespoke cabinetry. Choose sleek cabinets with a gloss finish – they'll make your room appear bigger as the reflective surface will bounce light around the room.
Utility rooms are typically used for laundry and storage; however, they have the potential to become a valuable multipurpose area. Looking for a peaceful area to work on a project? Your laundry room could double up as a home office as and when you need it. Just add a comfortable seat and free up some worktop space, et voila, you've got an area to put your head down and focus. Add some plants and wall art to make the space visually appeasing, this will also help to aid productivity! If you're looking for more home office ideas, check out our article for plenty of inspiration.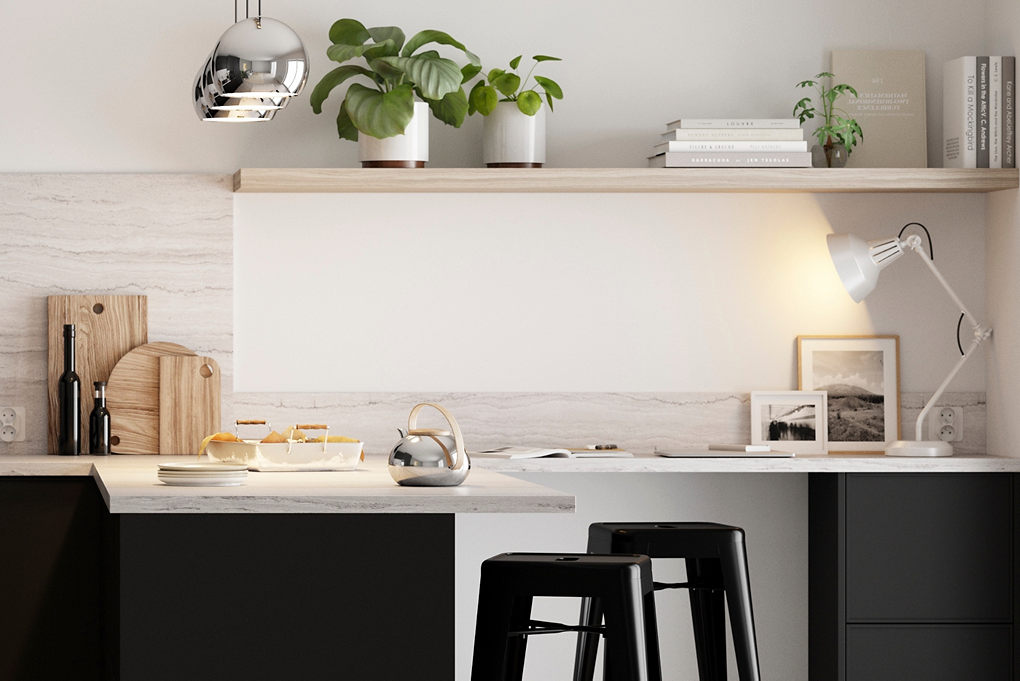 We're sure these clever utility room ideas have sparked your interest! If you're looking for more laundry room ideas, check out our range of laundry and ironing products to help with all your laundry needs.