10 colourful kitchen ideas to inspire your next makeover
Make cooking a joy again with these kitchen colour schemes
Starting to feel uninspired by your kitchen? What you need is a little bit of colour to brighten up your cooking space! From juicy oranges to vivid violets, we've got plenty of kitchen paint colours to help breathe some life back into the heart of the home.
The upsides to a colourful kitchen go beyond aesthetics. Studies have shown that bright colours can boost our mood and increase productivity. That's right, a vibrant kitchen can inspire creativity. Give your kitchen a makeover and you'll be whipping up tasty new dishes like a Michelin star chef.
If you're looking for monochrome kitchen ideas, sorry to break it to you but this isn't where you'll find it. Don't worry, you can check out our white and grey kitchen ideas for some inspiration.
Go on, have a scroll through our favourite kitchen paint ideas. It's time to let your creativity run wild.
Skip to…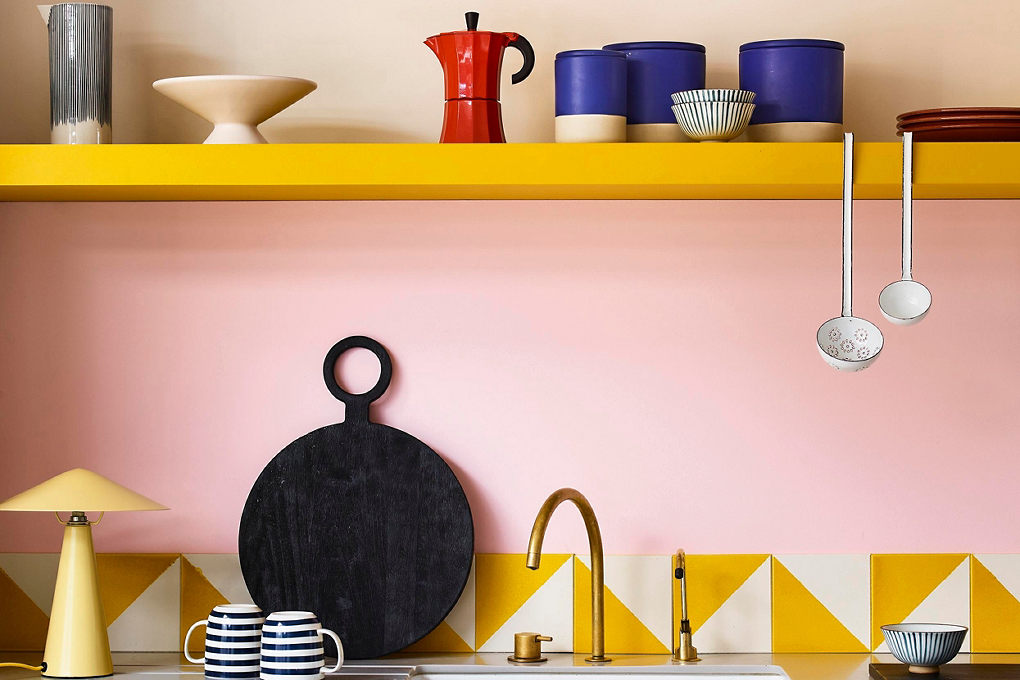 What's the best colour for a kitchen?
The ideal colour for your kitchen depends on your personal preference and how you want the space to make you feel. If you want your kitchen to feel bright, bold, and sunny – then yellow is a good shout. If you want a relaxing kitchen, perhaps something more toned down like blue or green would work for you. Make sure that you consider the whole space, you want your walls, cabinetry, fixtures, flooring, and appliances to all complement each other.
Do you want a kitchen that makes you feel energized? Then yellow is the way to go. This sunny shade is such a positive colour, it's sure to have a positive impact on your mood and energy levels. Just imagine waking up every morning and drinking your cup of coffee in a gorgeous yellow kitchen. From soft, buttery yellows to sunny lemon hues, there are so many happy shades to choose from. Pair yellow kitchen walls with grey or black accents for a stylish, contrasted look. Whether you prefer golden hues or deep ambers, we're sure to have something you'll love. Ready to go yellow? Browse our selection of yellow paint for your kitchen.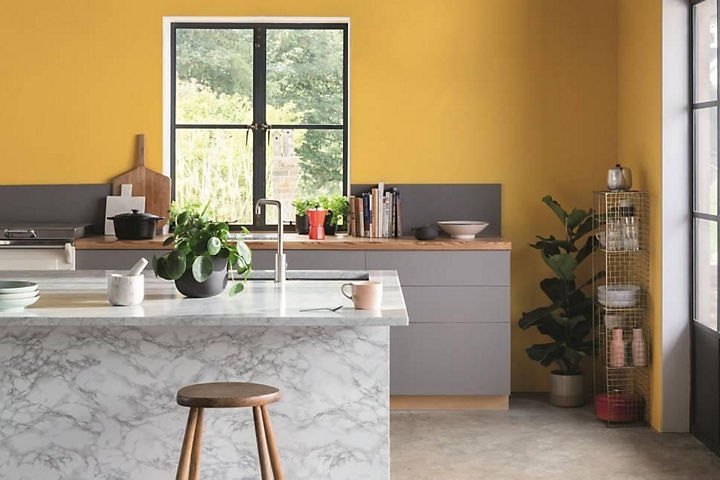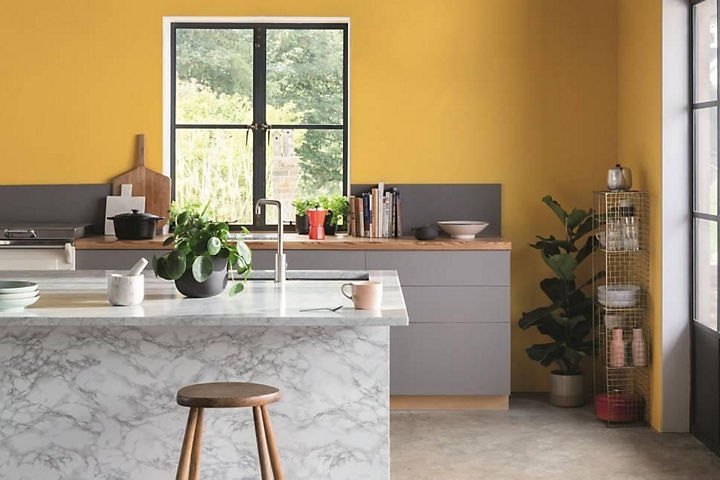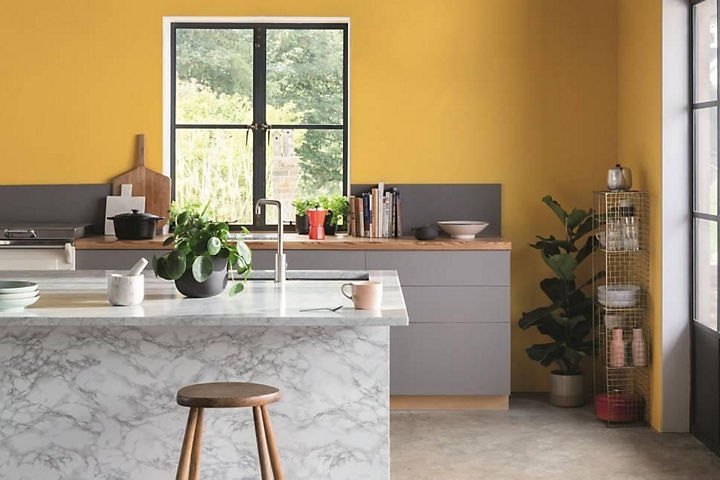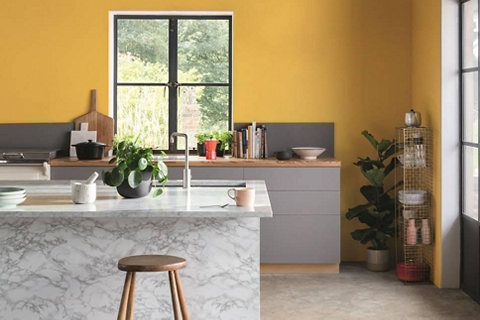 2. Don't be afraid of clashing colours
Whoever said blue and green shouldn't be seen was wrong. Blue and green should always be seen. This gorgeous green and blue kitchen proves that when it comes to kitchen décor, we should throw the rule book out the window – and instead listen to our gut. There are so many colour combinations that we've all shied away from in the past for fear of getting it wrong. Pink and orange, green and pink, yellow and purple, the list goes on. We say have fun with colour, experiment, and let your personality shine. When it comes to choosing your kitchen colours, don't let so-called interior design rules hold you back from creating a kitchen that is truly stylish and unique.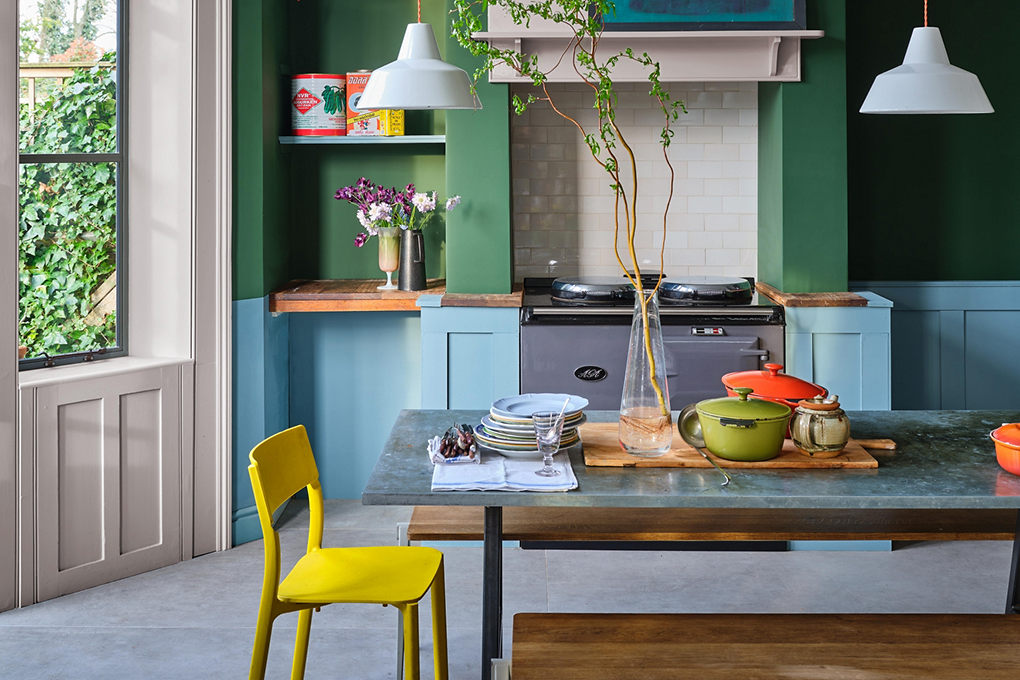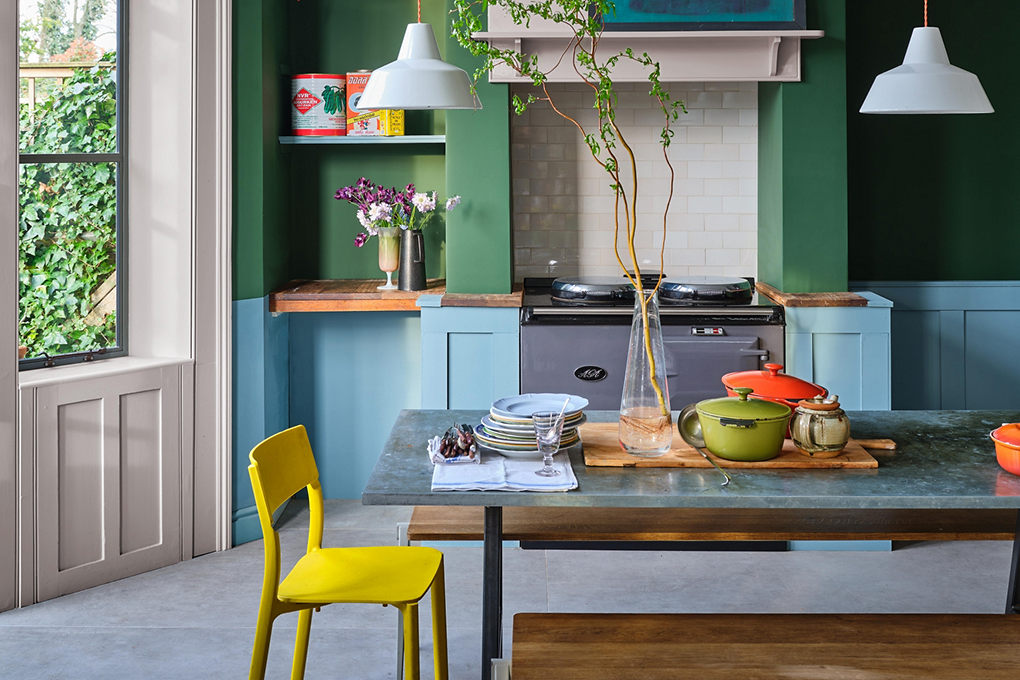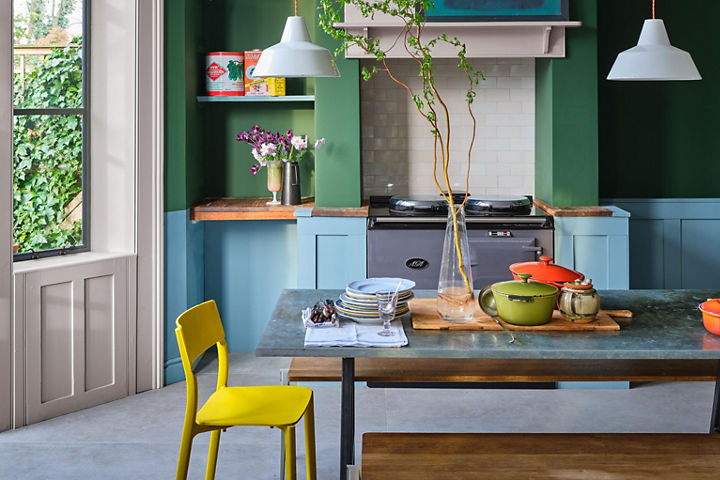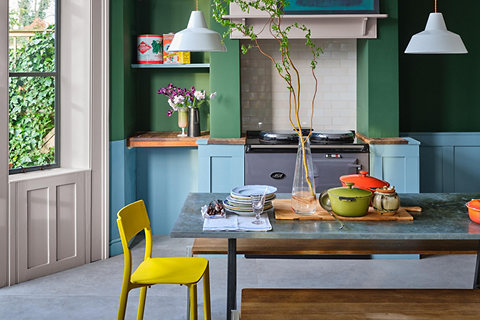 Tired of your plain kitchen table and chairs? Then roll up your sleeves, grab your paint brush, and get creative! With a lick of furniture paint, you can transform the look of your kitchen and dining area in just a couple of hours. For an eclectic look in your kitchen, why don't you paint your dining table and chairs different colours? Another way to add a pop of colour is to use a two-tone technique. Paint the legs of your table one colour and the table top another colour. Or for a shabby chic look, paint the legs white and leave the top as bare wood. From bright purples to subdued blues, we've got a huge selection of furniture paint in every colour you can think of.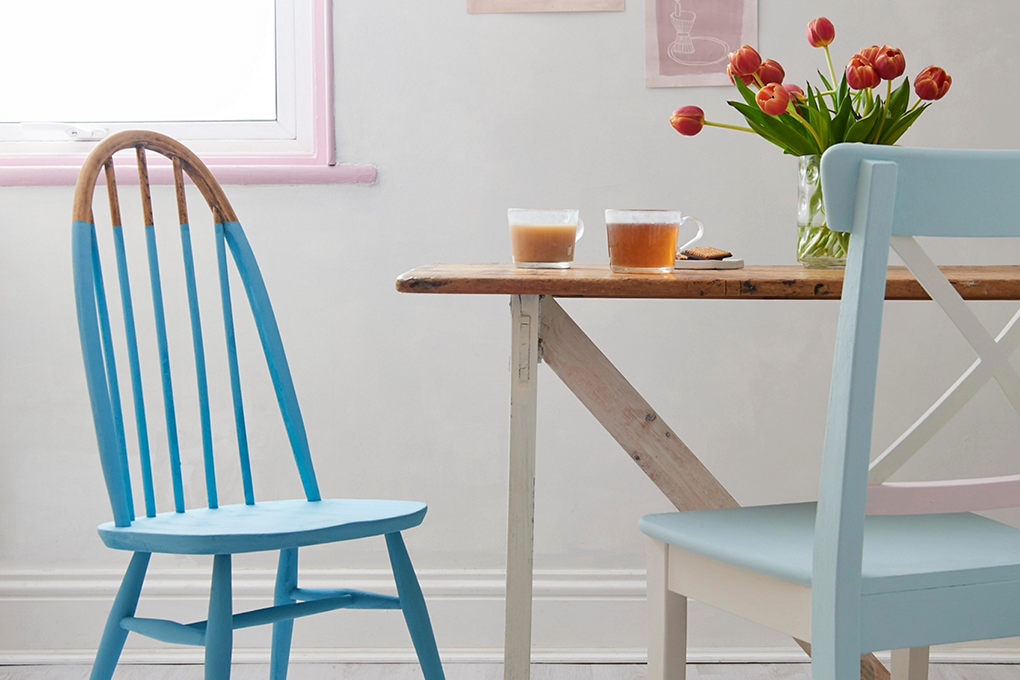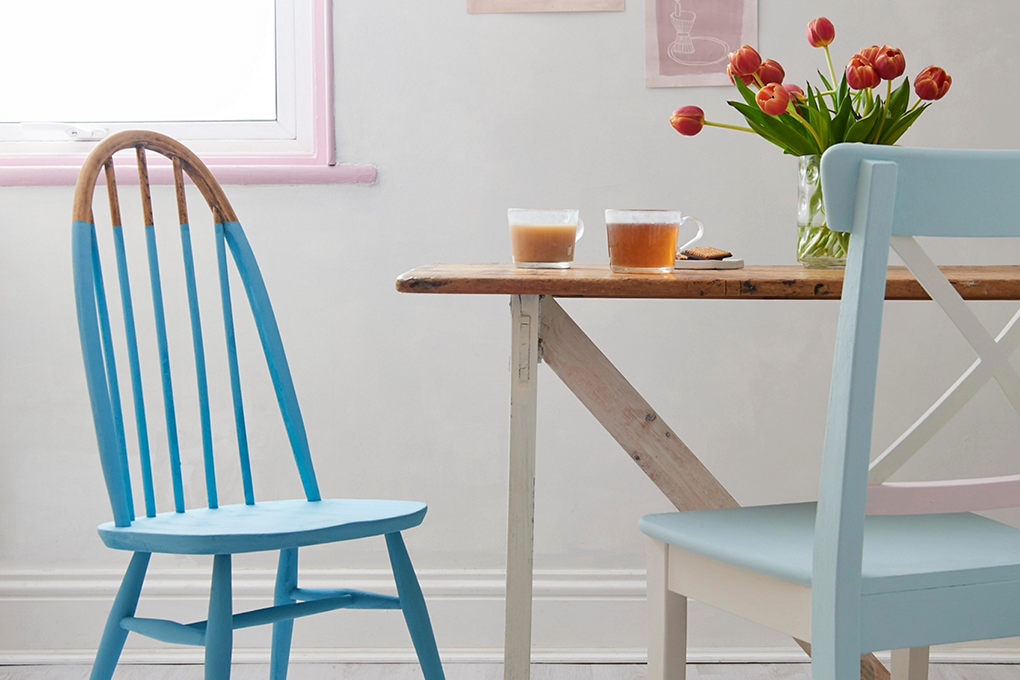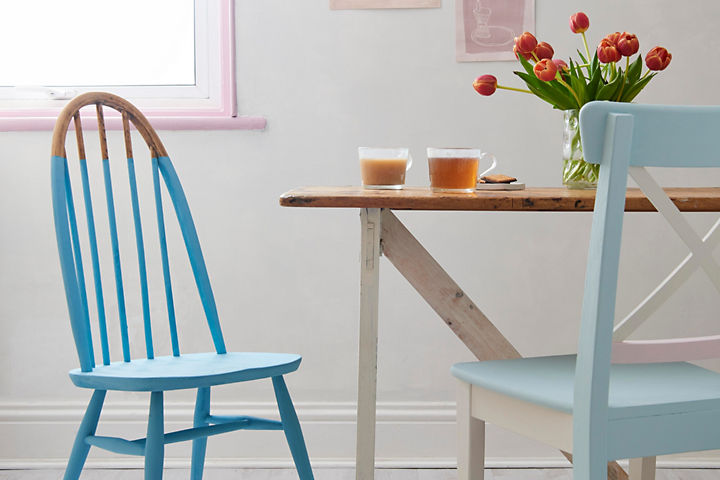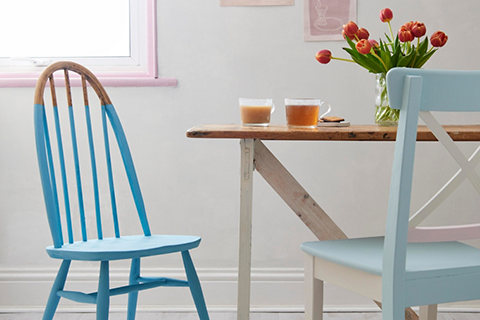 Why stop at the walls and cabinetry? Your kitchen splashback is another opportunity to add colour and personality to your space. You could pair a colourful splashback with other vibrant shades in your kitchen, or you could pair everything else back and make your splashback the focus point. If you're undecided about using colour in your kitchen, then a bold splashback is a good way to ease yourself into the trend. From blue subway tiles to multicoloured mosaics, we've got loads of wall tiles to choose from. And if you want more inspiration, check out article, 10 swoon worthy splashback ideas for your kitchen.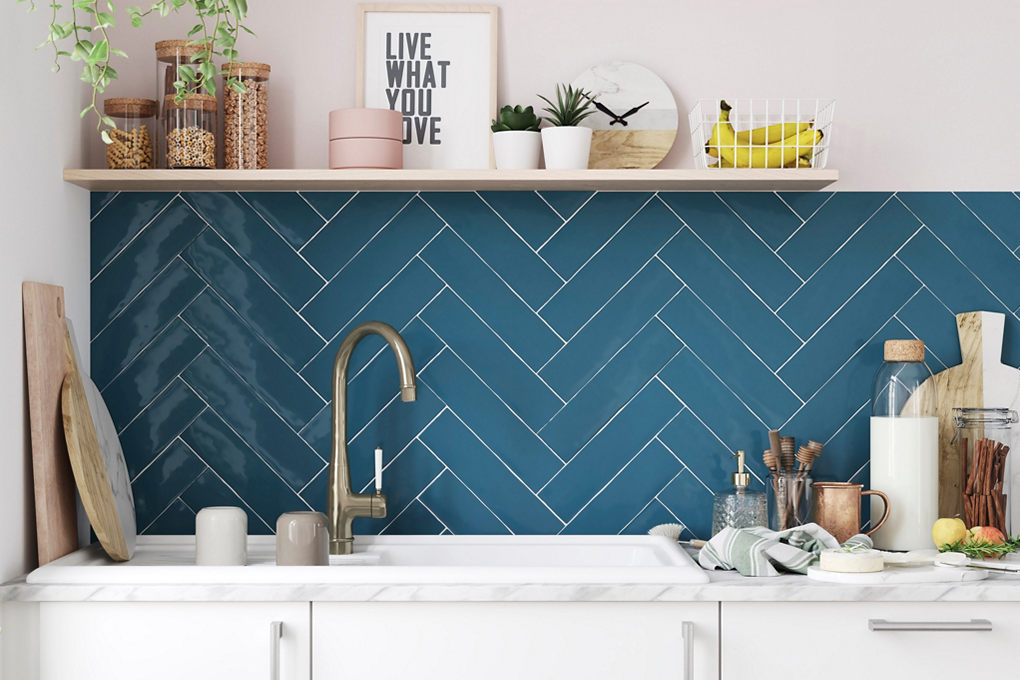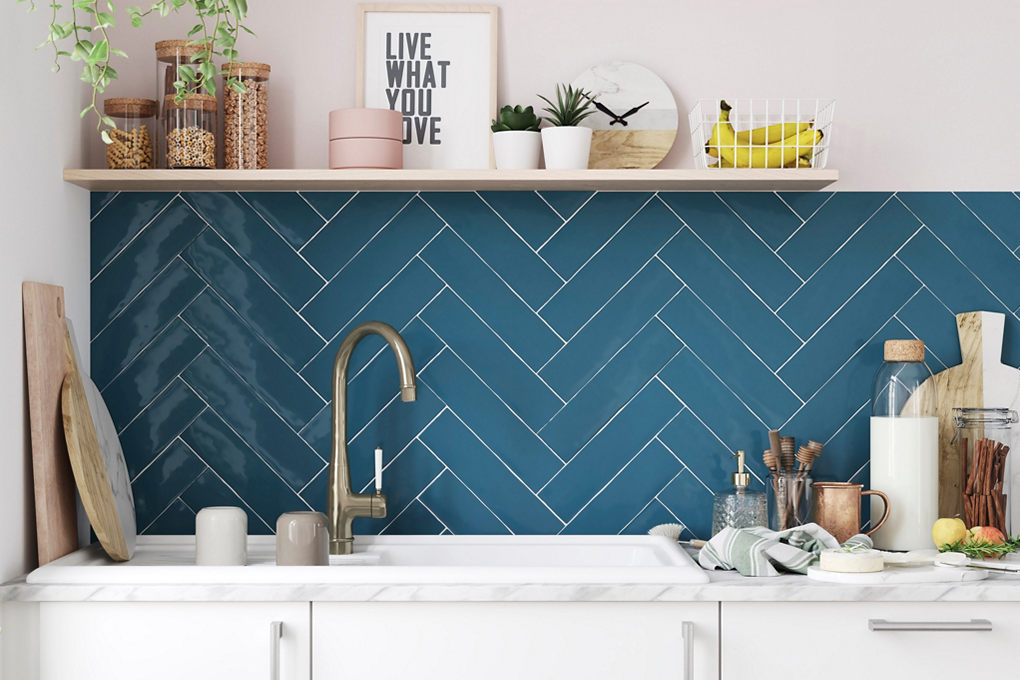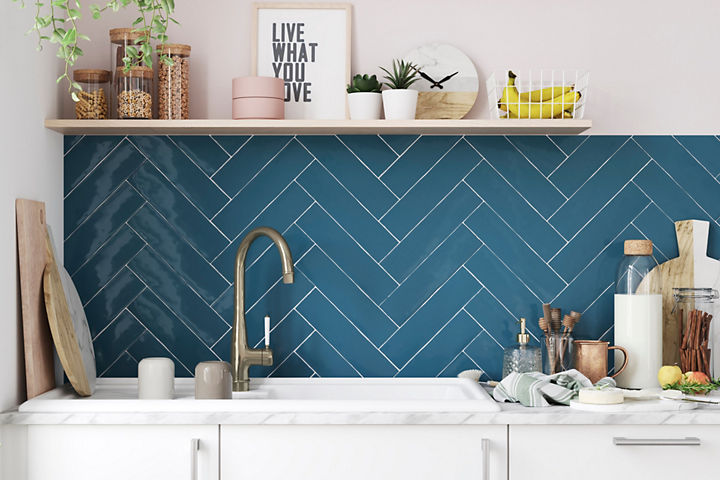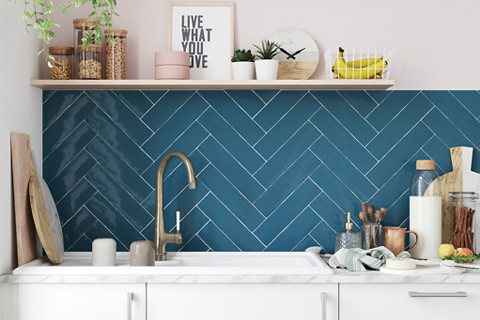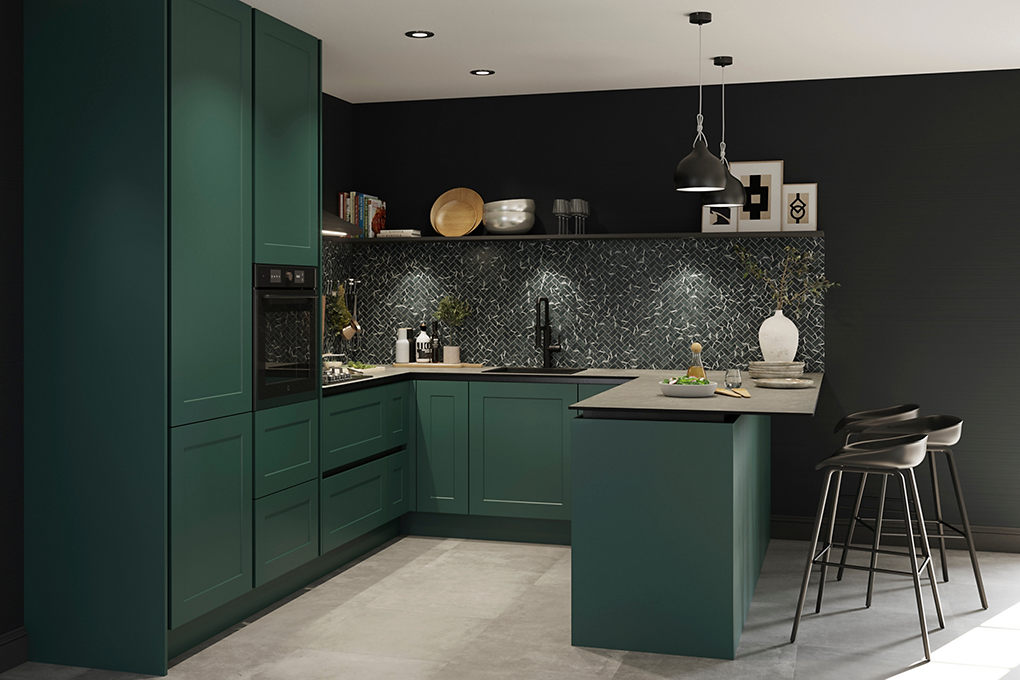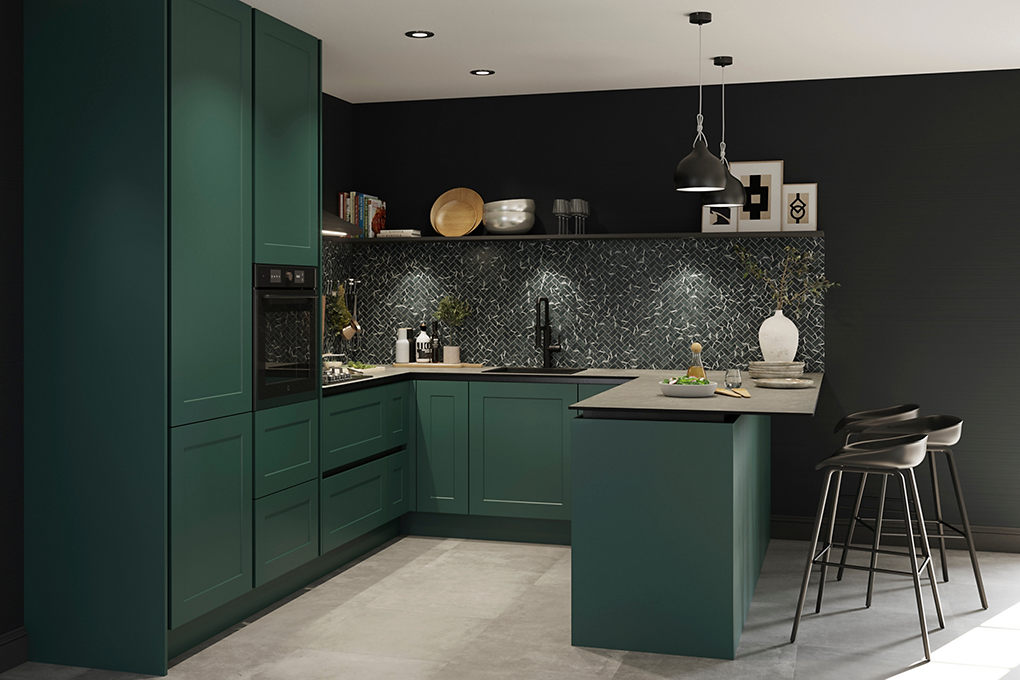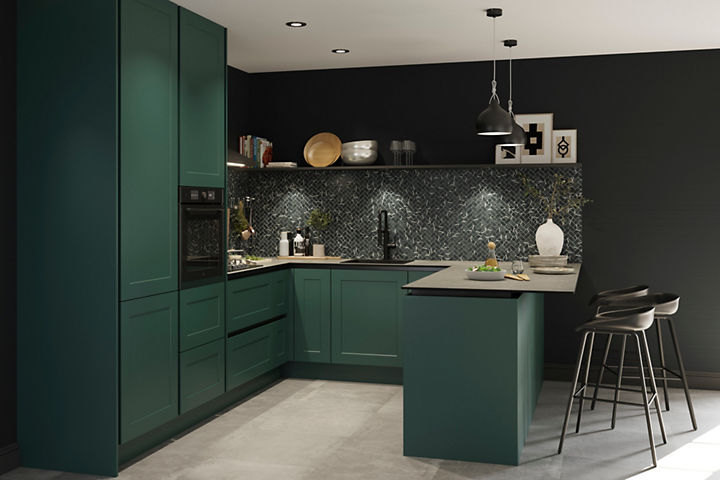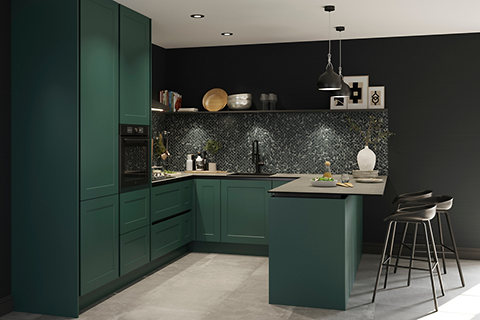 If you want to keep your walls neutral, why not liven up your cooking space by painting your kitchen cupboards? Browse our selection of kitchen cupboard paint colours, from delicious teals to dusky pinks, you might find it hard to whittle it down to just one colour. If that's the case, there's nothing hold you back from picking two or even three shades. You could paint the top cabinets in one colour, and the bottom half in another. Read our article, how to paint kitchen cabinets, for a step-by-step guide on transforming your kitchen cupboards.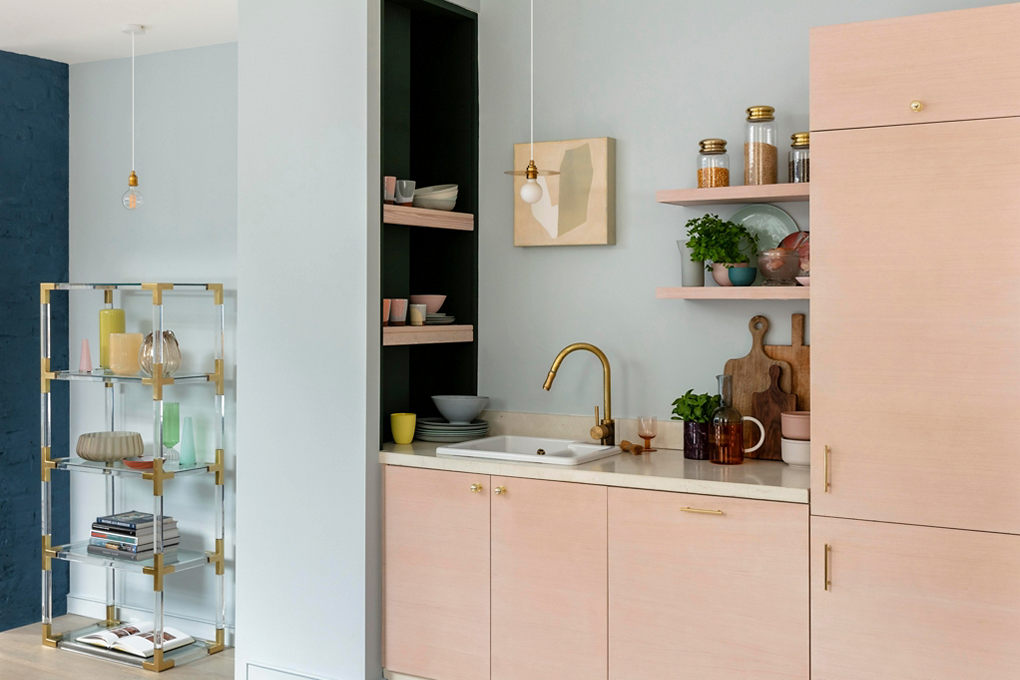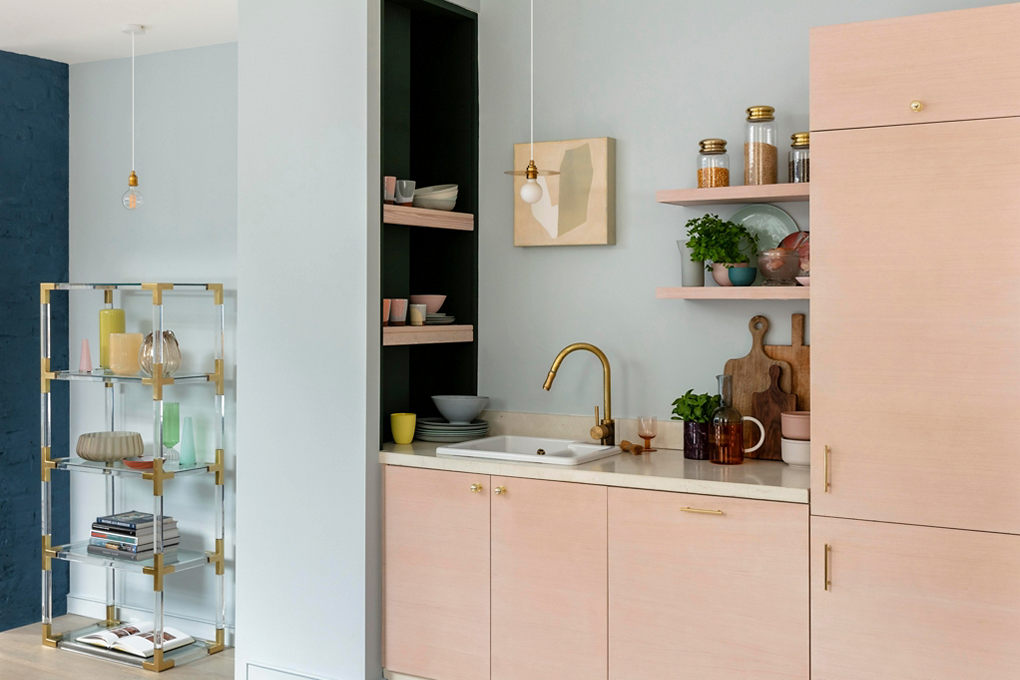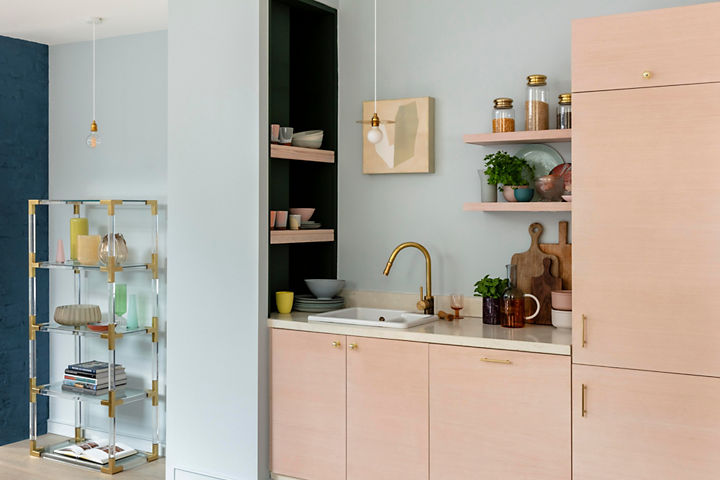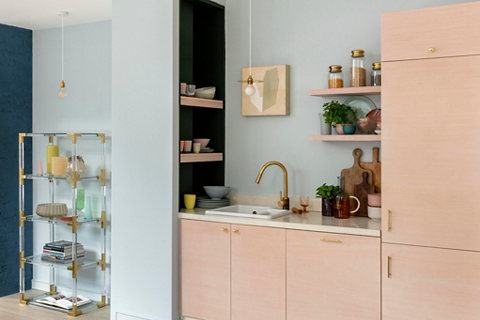 Painting your kitchen walls or cabinets is a big commitment, we get it. If you want to bring some colour to your kitchen but you don't want a huge transformation, then get your hands on some bright and cheerful kitchen appliances. This way you can dip your toe into the colourful kitchen trend without going overboard! From pale blue toasters to sage green kettles, we've got loads of funky small kitchen appliances to choose from. As well as appliances, incorporate bold accessories such as wall art, vases, and storage jars.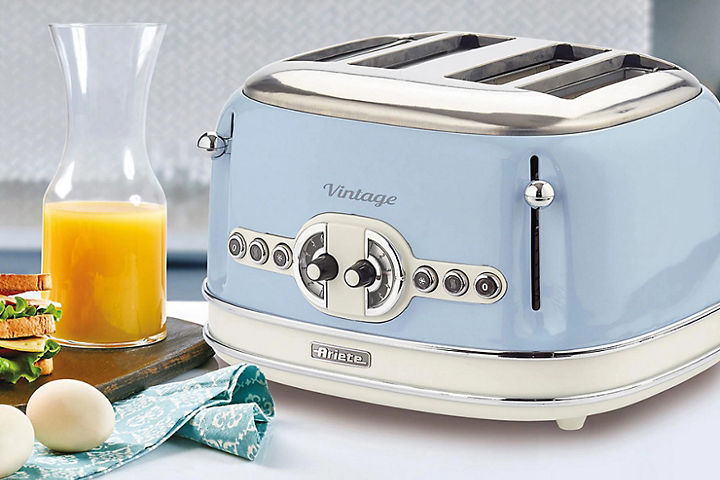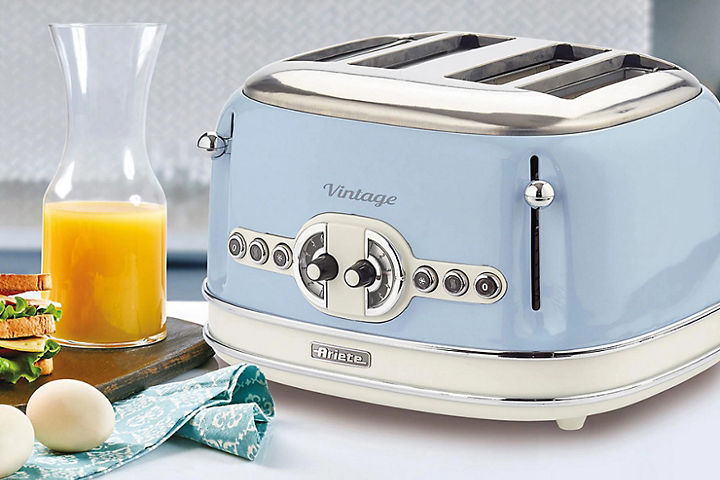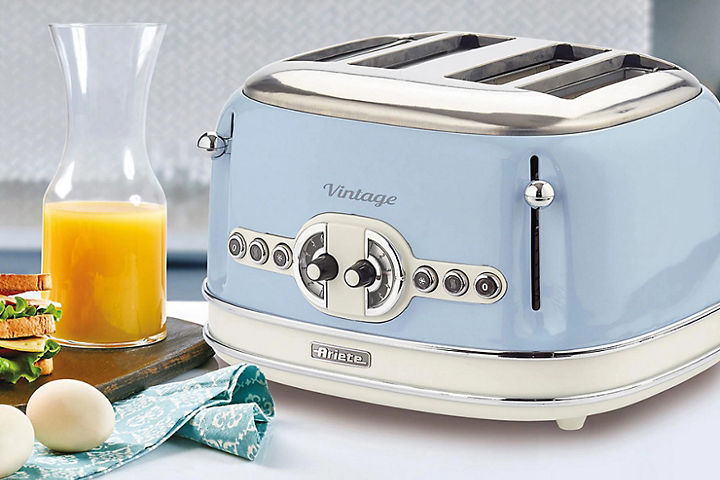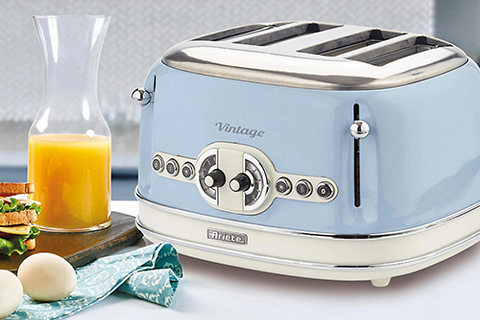 Pink isn't just reserved for little girls bedrooms. This playful shade looks gorgeous in any room in the house. We absolutely love the look of this stunning pink kitchen. Combining pink subway tiles, with our Artemisia matt white fitted kitchen, and a sleek black worktop for a super stylish look. There are loads of ways to use this pretty hue in your kitchen. Whether you decide to use pink furniture paint to revamp your cabinets, or pink kitchen paint to give your walls a playful makeover. From salmon to cerise, there are so many beautiful shades of pink to choose from.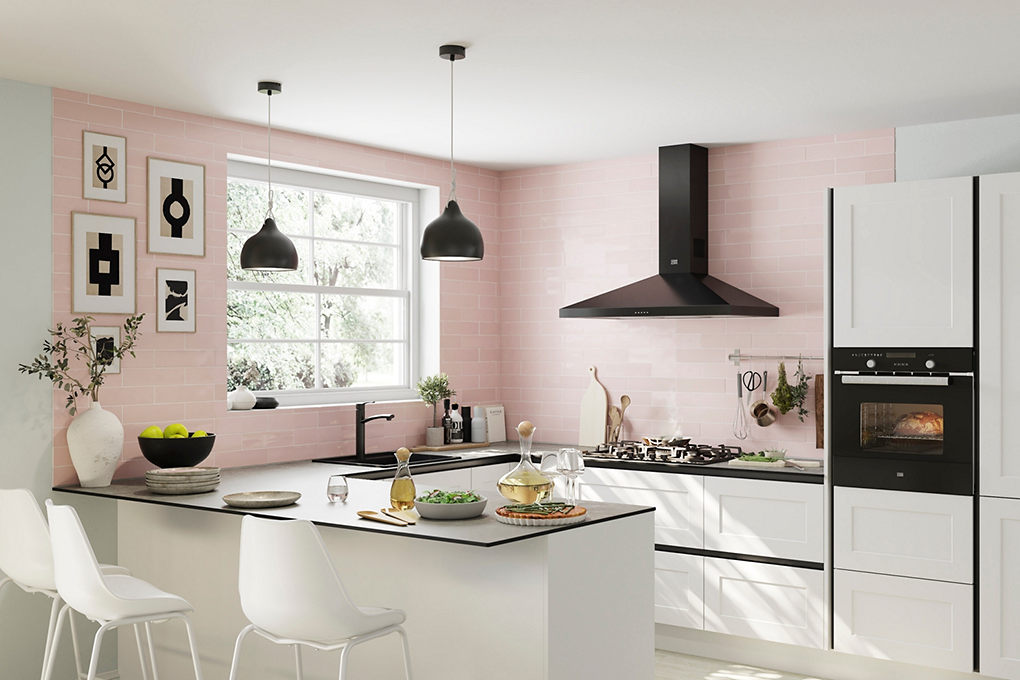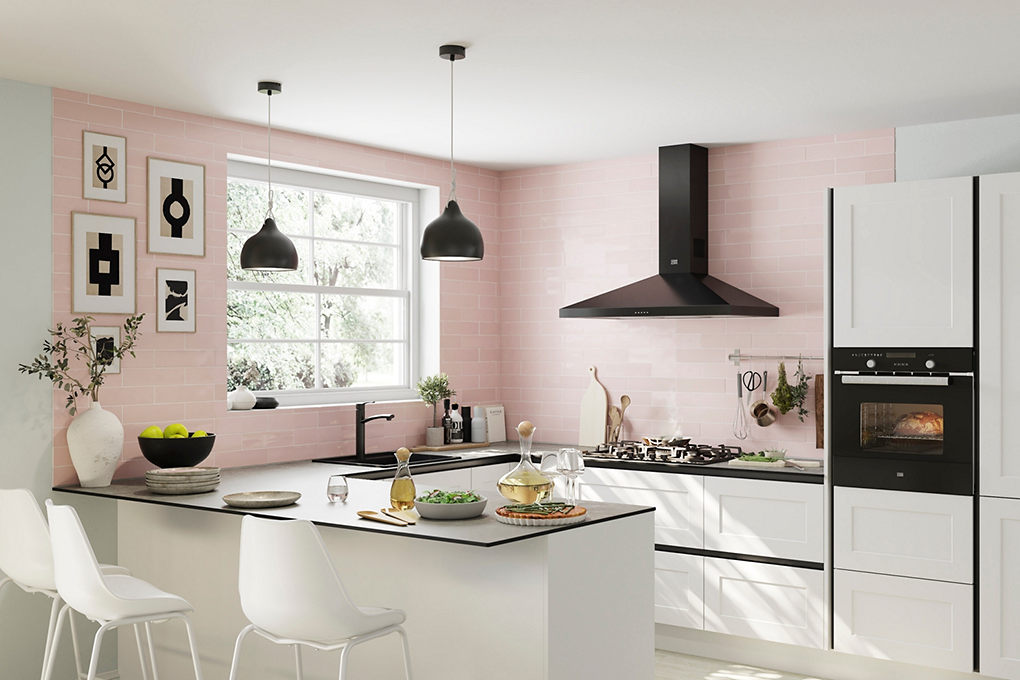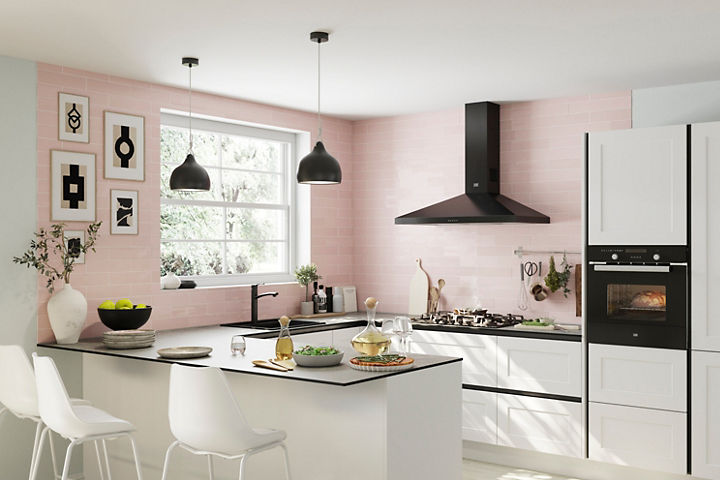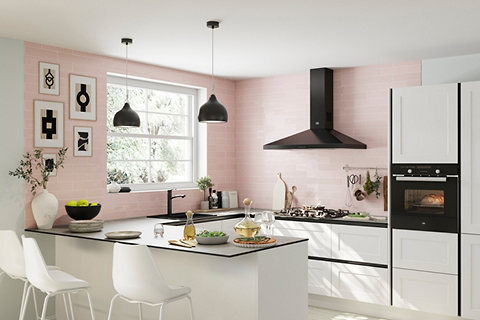 If you want your kitchen and dining area to be a calming atmosphere, blue is the colour you need to use. Paint your walls, cabinets, or use stunning blue kitchen tiles or accessories to bring this serene shade into your home. There are so many hues to choose from, including soft pastels, vibrant indigo, or bright turquoise. No matter how you decide to use blue in your kitchen, it will create a wonderfully relaxed setting to cook, clean, and make memories with family and friends. We've got a whole article dedicated to blue kitchen ideas, so check it out for even more inspiration!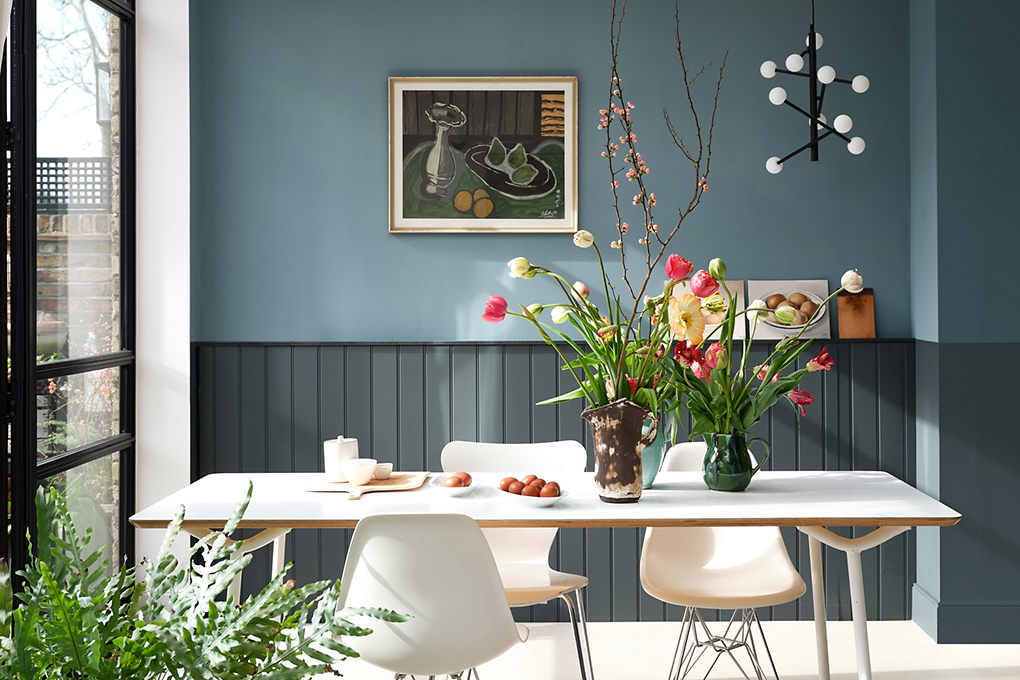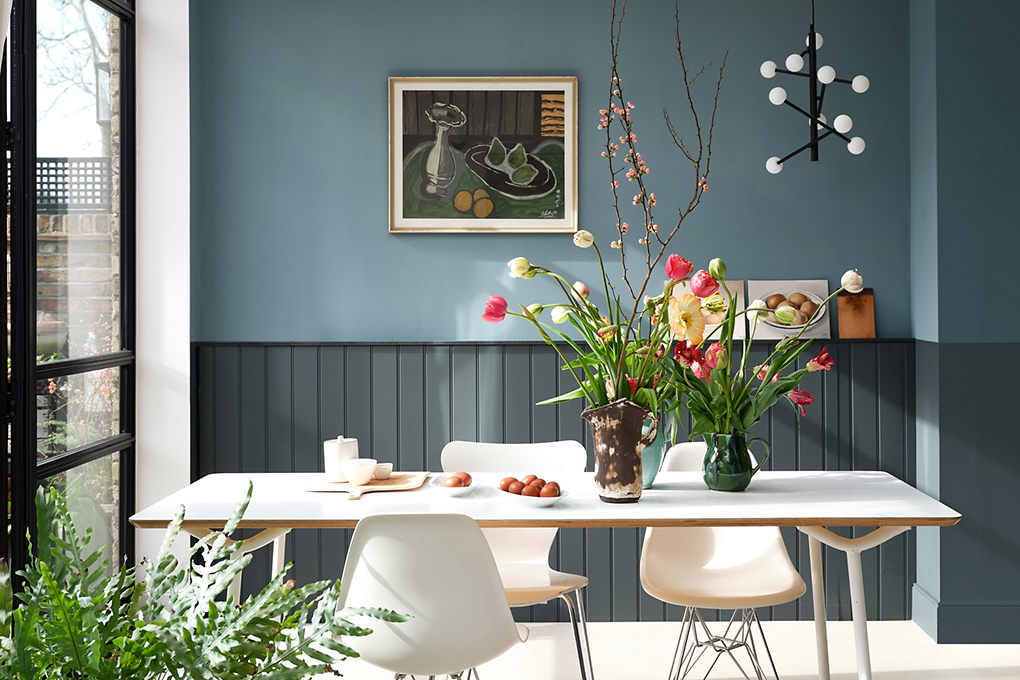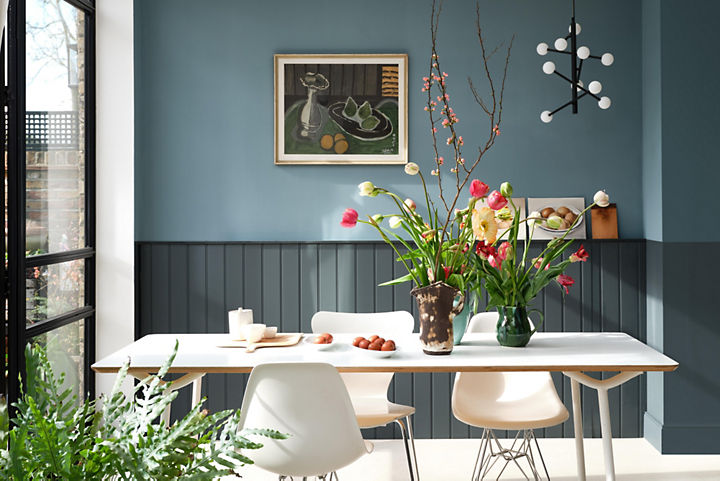 For a cool and quirky kitchen that will get everyone talking, why not experiment with primary colours? Bold blues, striking reds and vibrant yellows will turn your kitchen into a happy space that we're sure will bring a smile to your face. Mix and match primary colours for an eclectic look. For example, you could pair blue kitchen cabinets with yellow shelving and red accessories. You can also use varying shades, for example this gorgeous kitchen has pale pink walls, paired with yellow accents, and red and blue accessories. Bring your inner child out to play with a gorgeous colourful kitchen.