Real Christmas tree buying guide
It all starts with the tree
What's Christmas without the perfect pine, or over-the-top decorations?
Being part of "team real" in the real versus artificial Christmas tree debate is something people feel great pride in. We understand that there's nothing quite like a real Christmas tree. Choosing it with your family, standing in the chilly air debating the benefits of various heights and shapes signals that Christmas has well and truly arrived. And If you can't make it to a B&Q store this year – don't fret, our real trees are available for home delivery too! 
They look stunning, their fresh pine smell is incredible and they're not as difficult to care for as you might have feared. Let us take the guess work out of this most important festive ritual, and help you pick the perfect Christmas tree. We've got something for every space and family.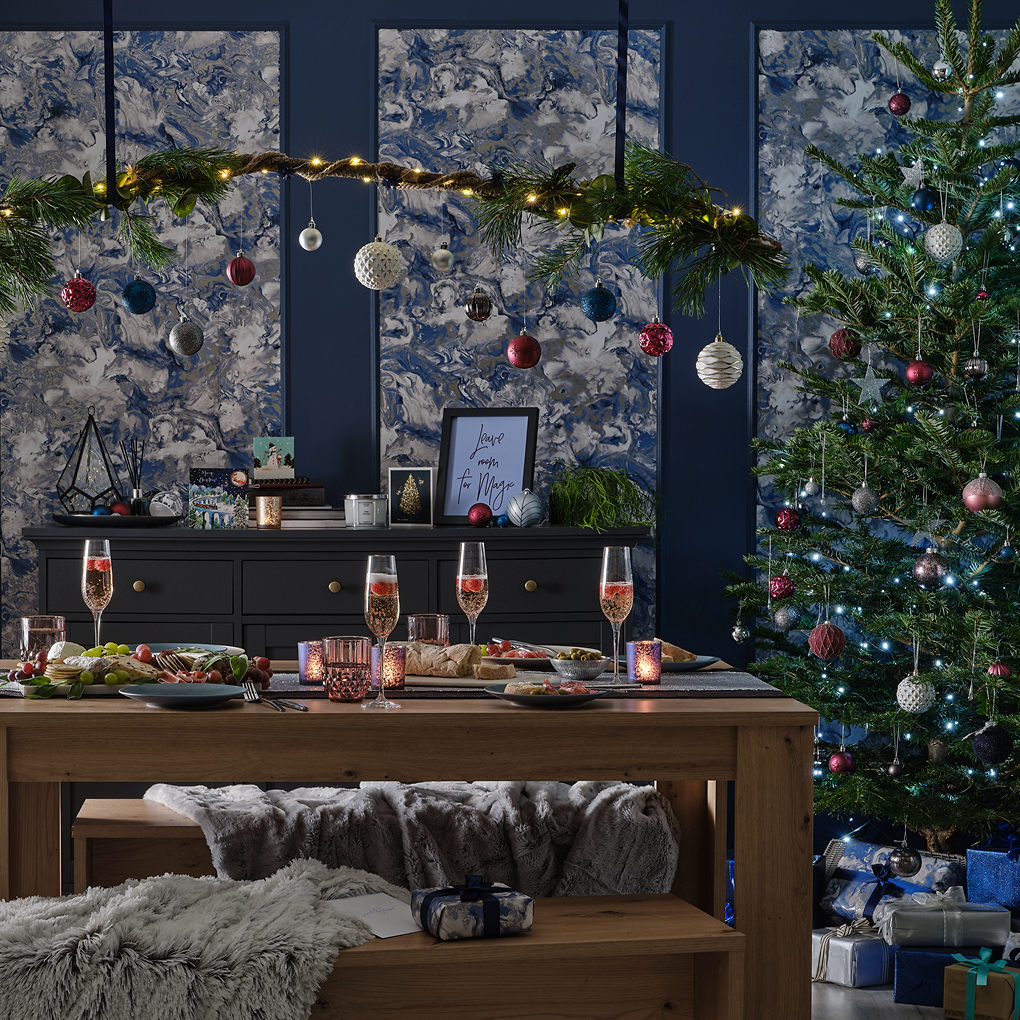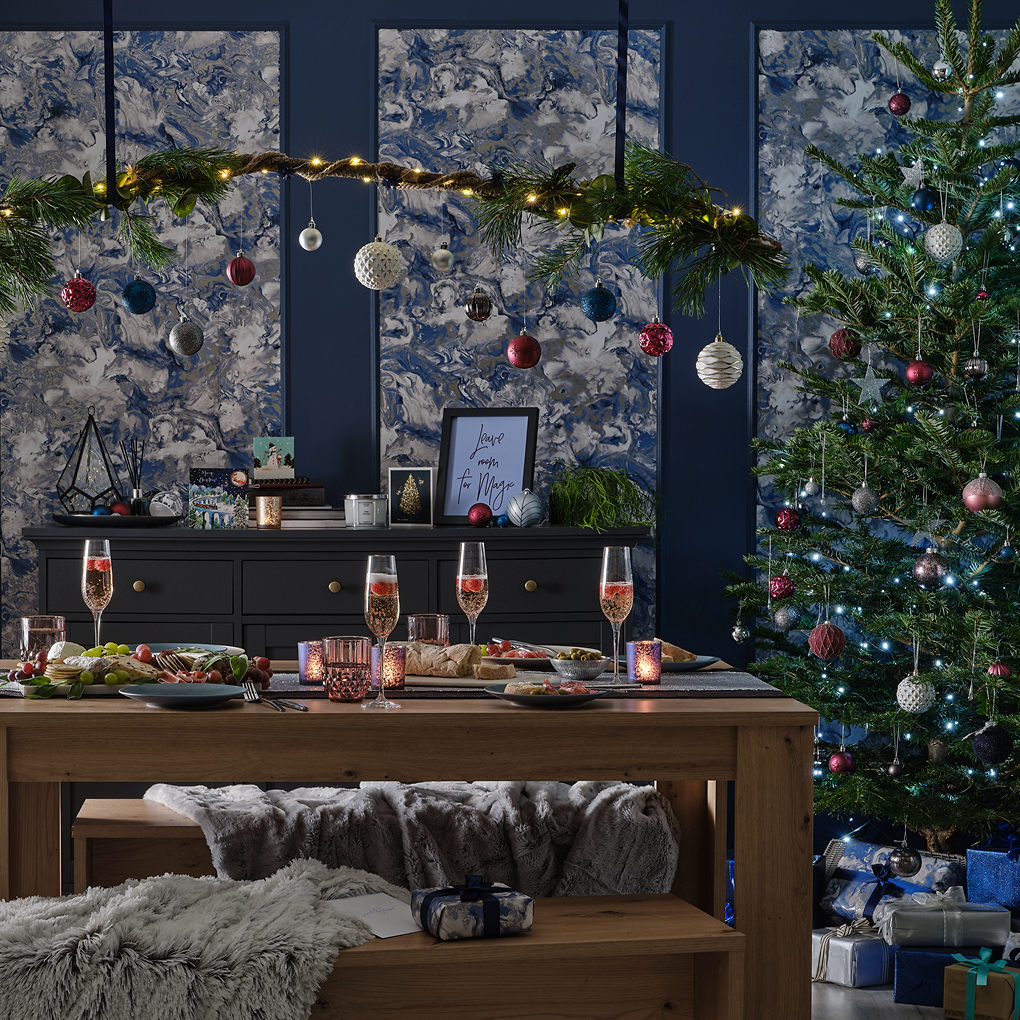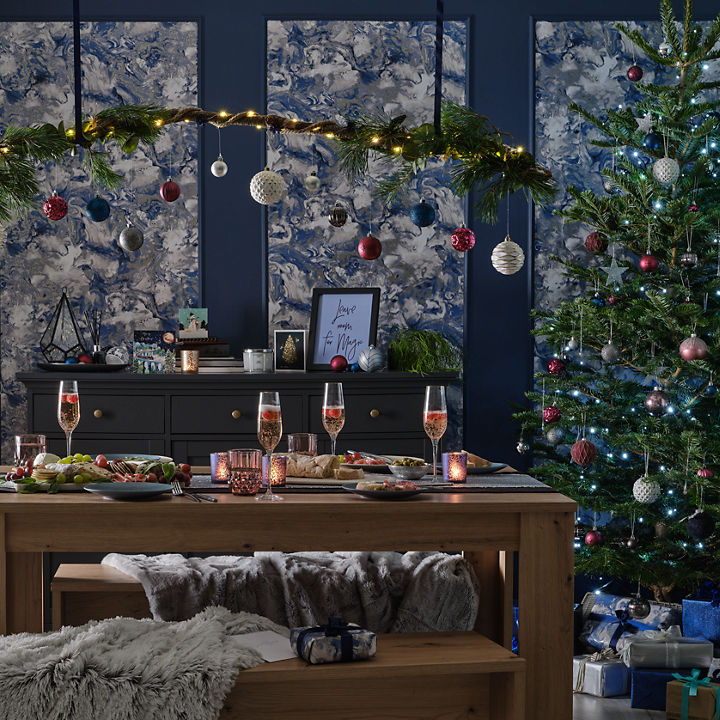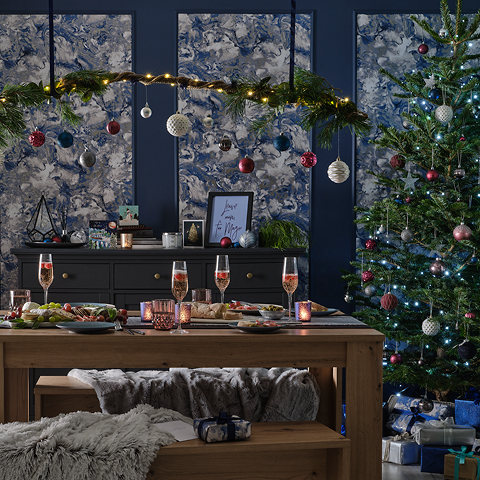 Reasons to choose a real Christmas tree
Real Christmas trees are…
The traditional choice
Rich with a wonderful smell
Available in species with good needle retention – so less mess to clean up
Part of the annual family ritual – choose the 'right one' for you and your family
Available in a variety of sizes to best suit your space
Unique and individual – each one is different
Increasingly easy to dispose of responsibly after the holidays
Eco-friendly, as they're fully biodegradable
Temporary – change your size or style next year for a whole new look
Economical as an individual purchase
Helping to support farmers – Christmas trees provide a profitable harvest on otherwise unproductive land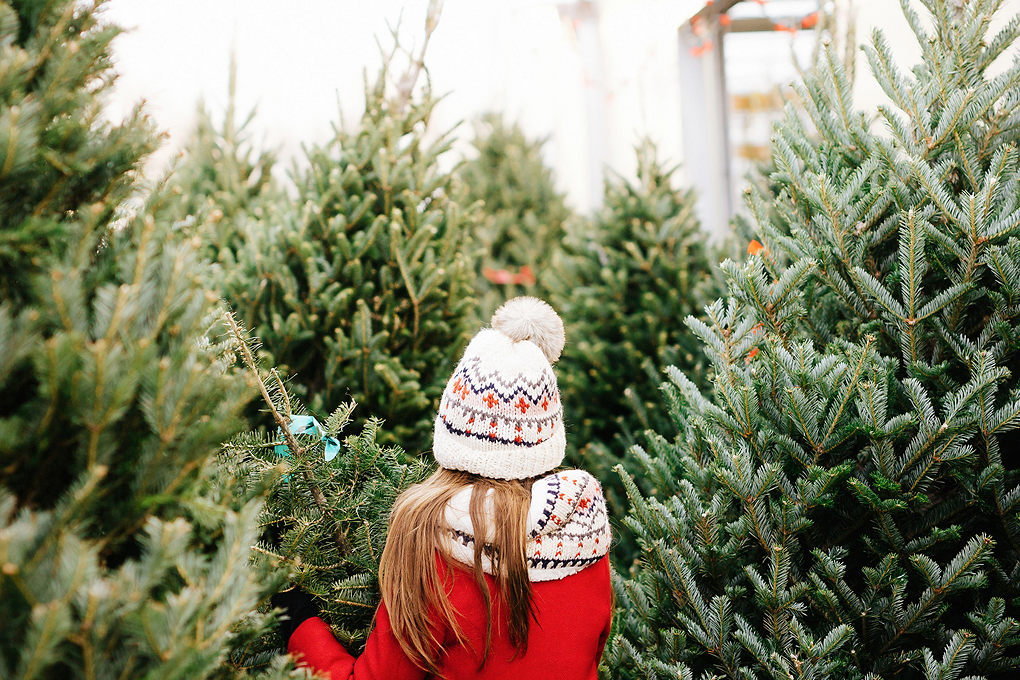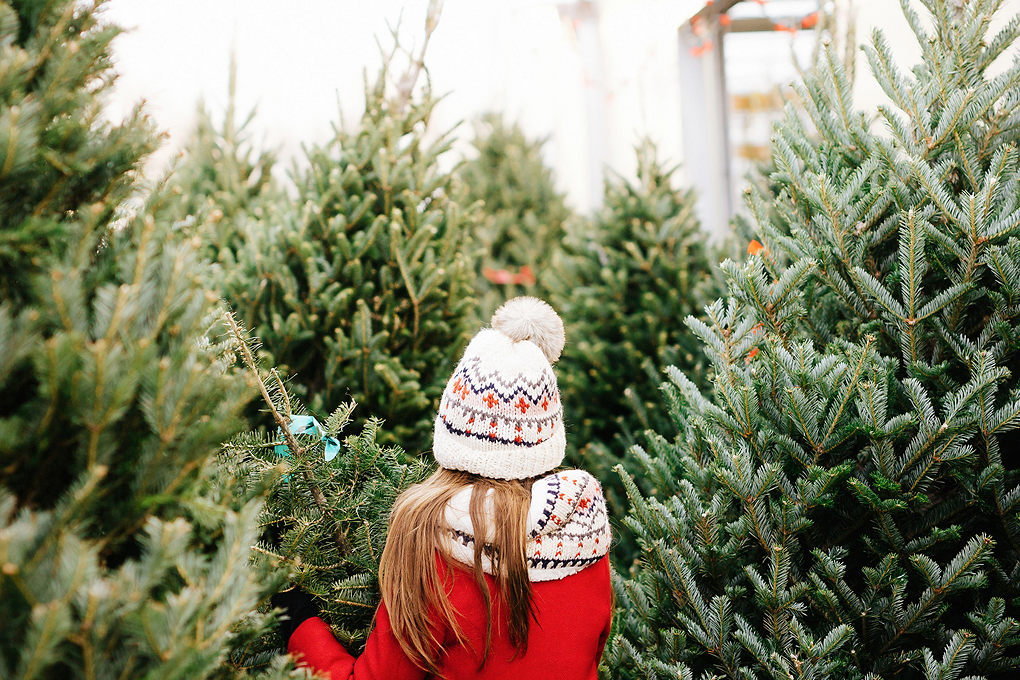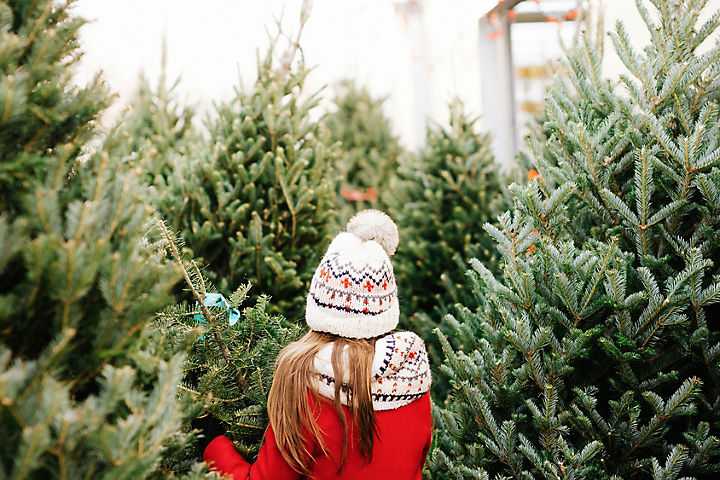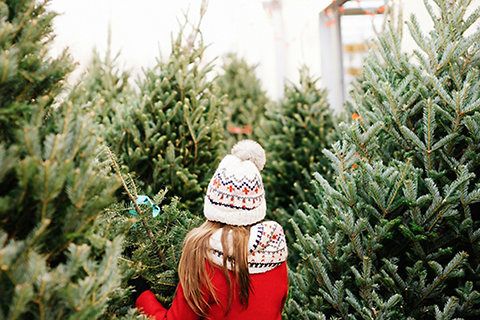 ---
Our Christmas trees begin life as humble seeds, carefully hand-selected from specially managed forests. Then, for the next three to four years, they are meticulously nurtured and tended to in a nursery. When our little trees are strong enough, they're placed in vast outdoor plantations where they're closely cared for and watched for a further three to seven years.
Once they've reached their perfect size, our trees are then cut, cleaned and securely netted, so they have a safe trip to your local B&Q store. And our Christmas trees, whether pot-grown or cut, are responsibly sourced as part of our work with the Forest Stewardship Council (FSC®), Programme for the Endorsement of Forest Certification (PEFC™) and The Forest Trust (TFT).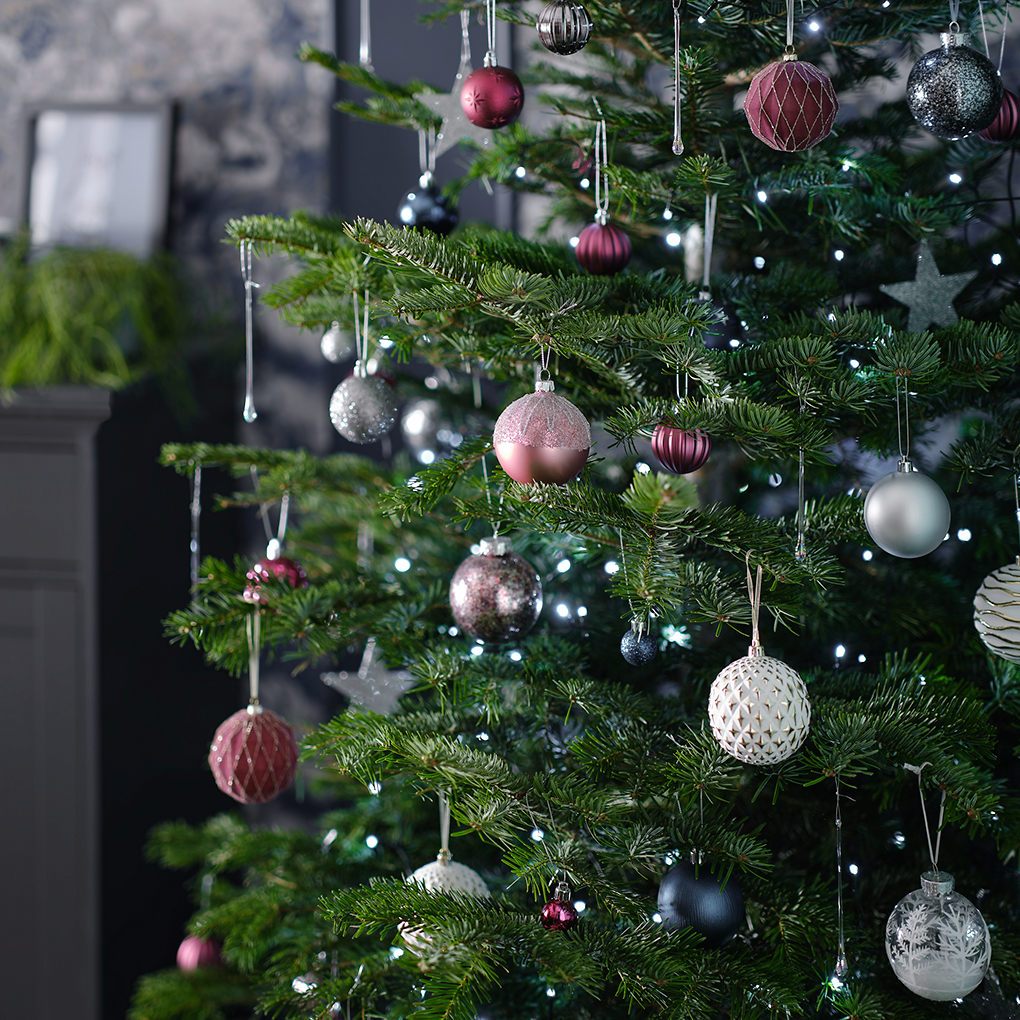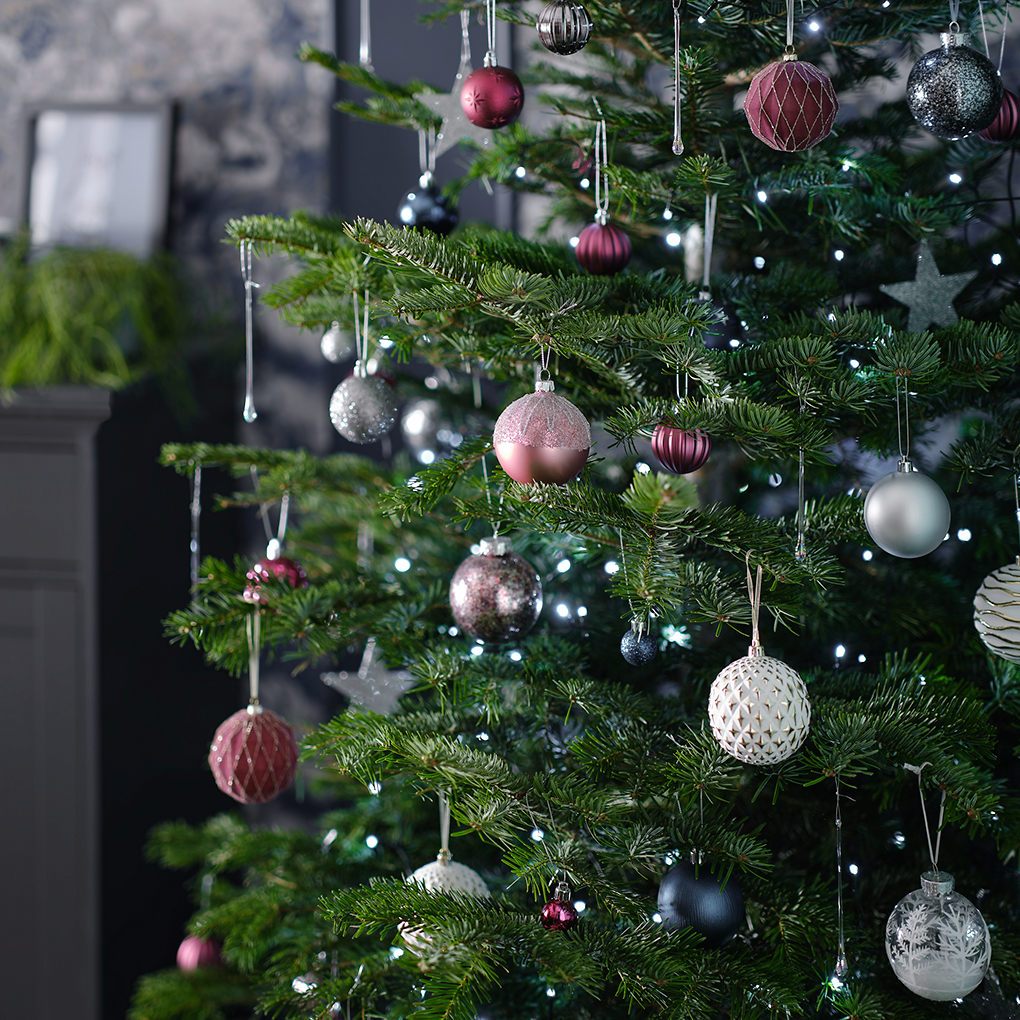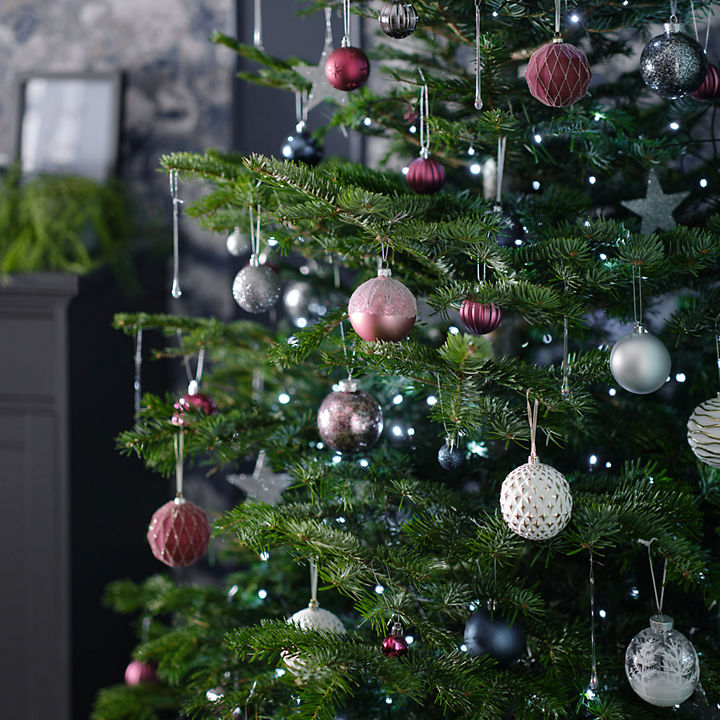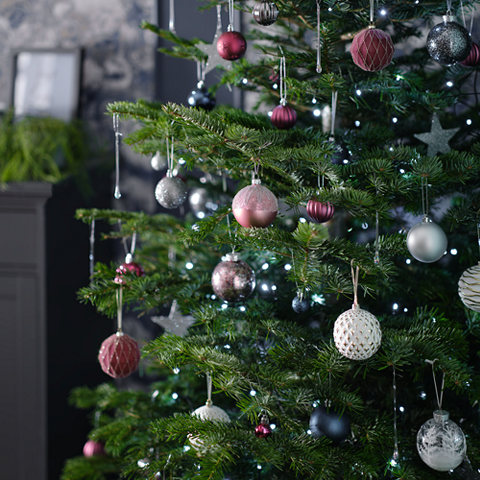 ---
What space is available?
Before buying your new Christmas tree, it's essential to know what space you have available for it. Unlike artificial trees, real trees do offer the chance to trim them once home if they don't quite fit where you'd intended. So, if you have overestimated how much space you have, they can be still be cut back. But, it's best to take off a little at a time – there's no gluing on shorn branches if you've gotten too enthusiastic with the shears.
We recommend getting an approximate sense of the available space before buying your tree. It can be helpful to have exact measurements, but they're not a necessity. And remember all three dimensions are equally important – height, width and depth. Height is easy to get wrong as your tree will probably still need room for a decorative topping (such as a star) and the stand or tub at the base.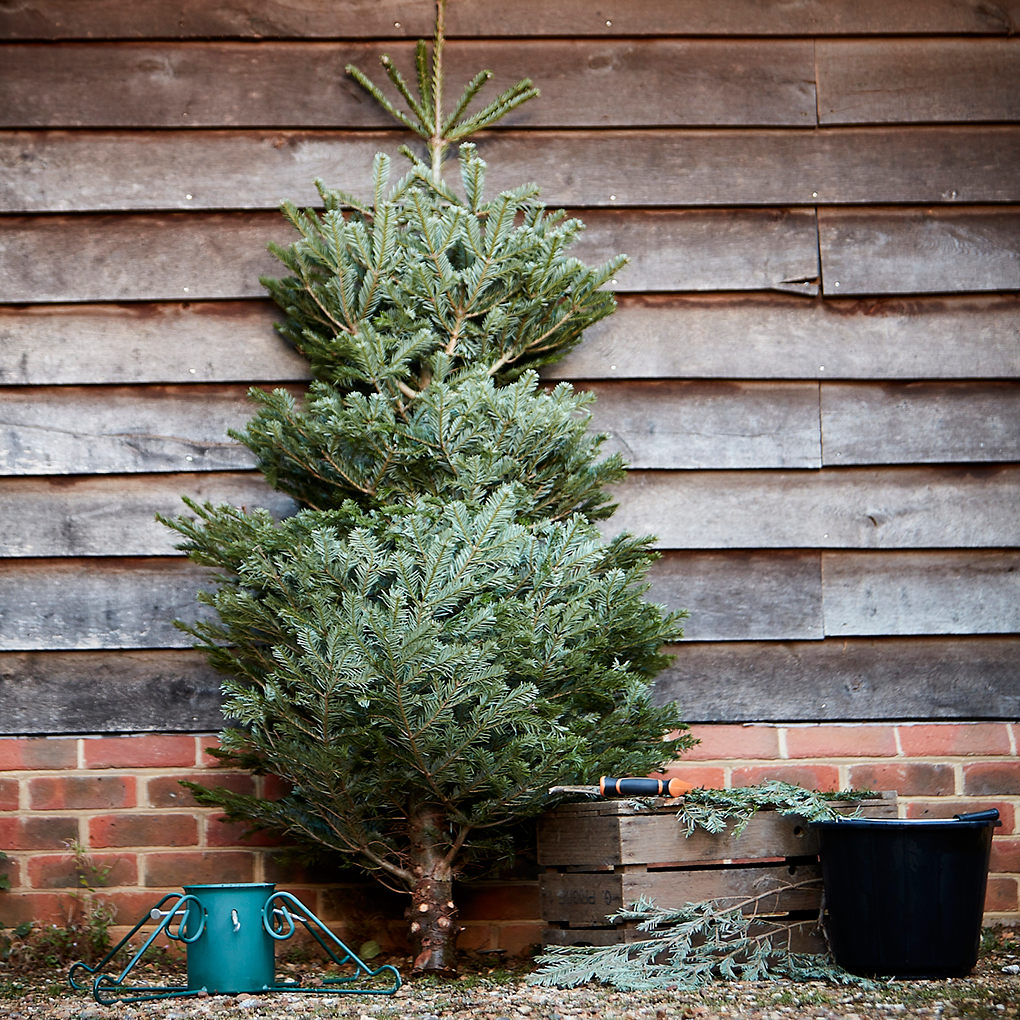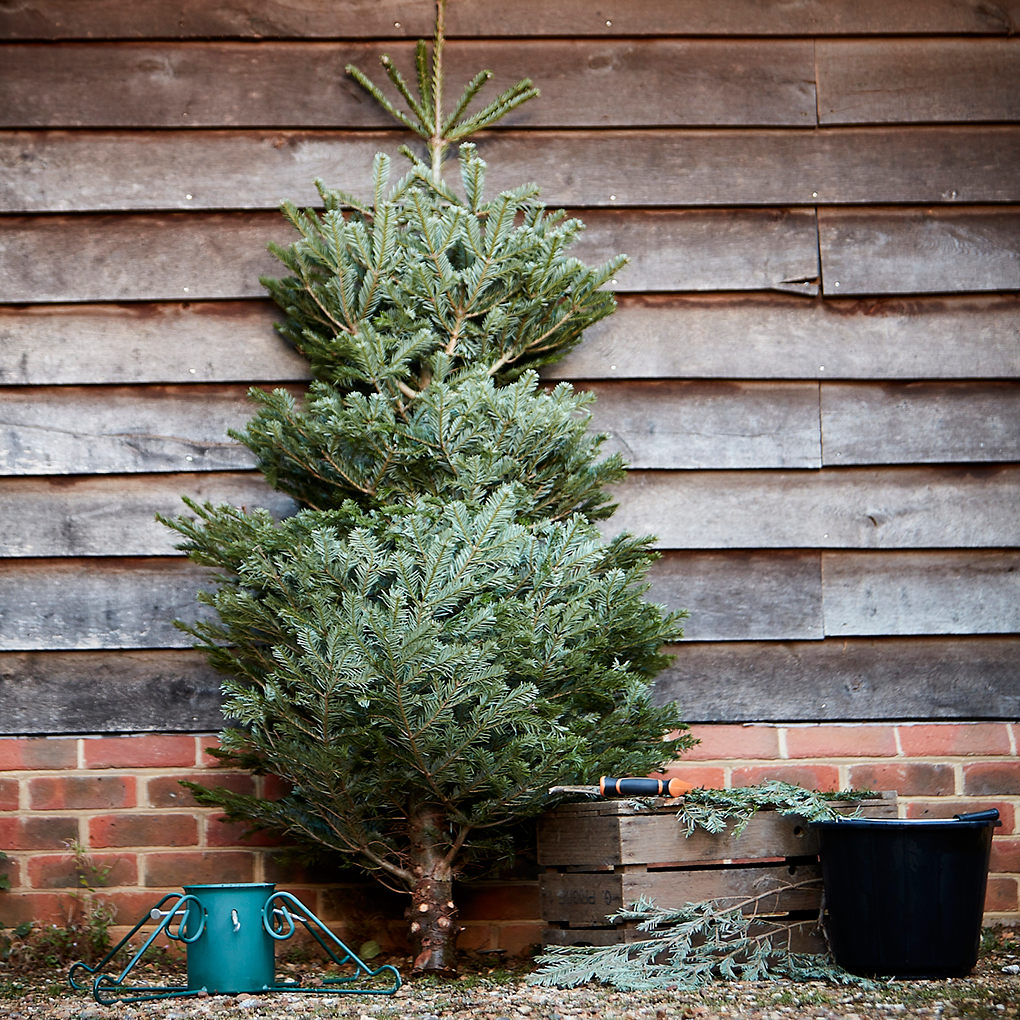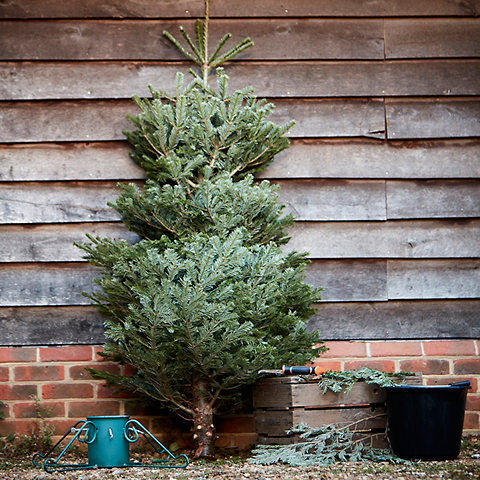 How is the tree being transported?
Sometimes it's not the space in your house that determines what size tree you can accommodate, but the space in your car. Our trees are sold in netting to make them as easy to carry as possible, but getting them home can be tricky, so make sure you know how you're going to transport it safely. If it's going inside your car, put down the back seats before leaving to better judge the space available. And if it's going on top of your car, check you have everything you need to secure the tree safely to your roof.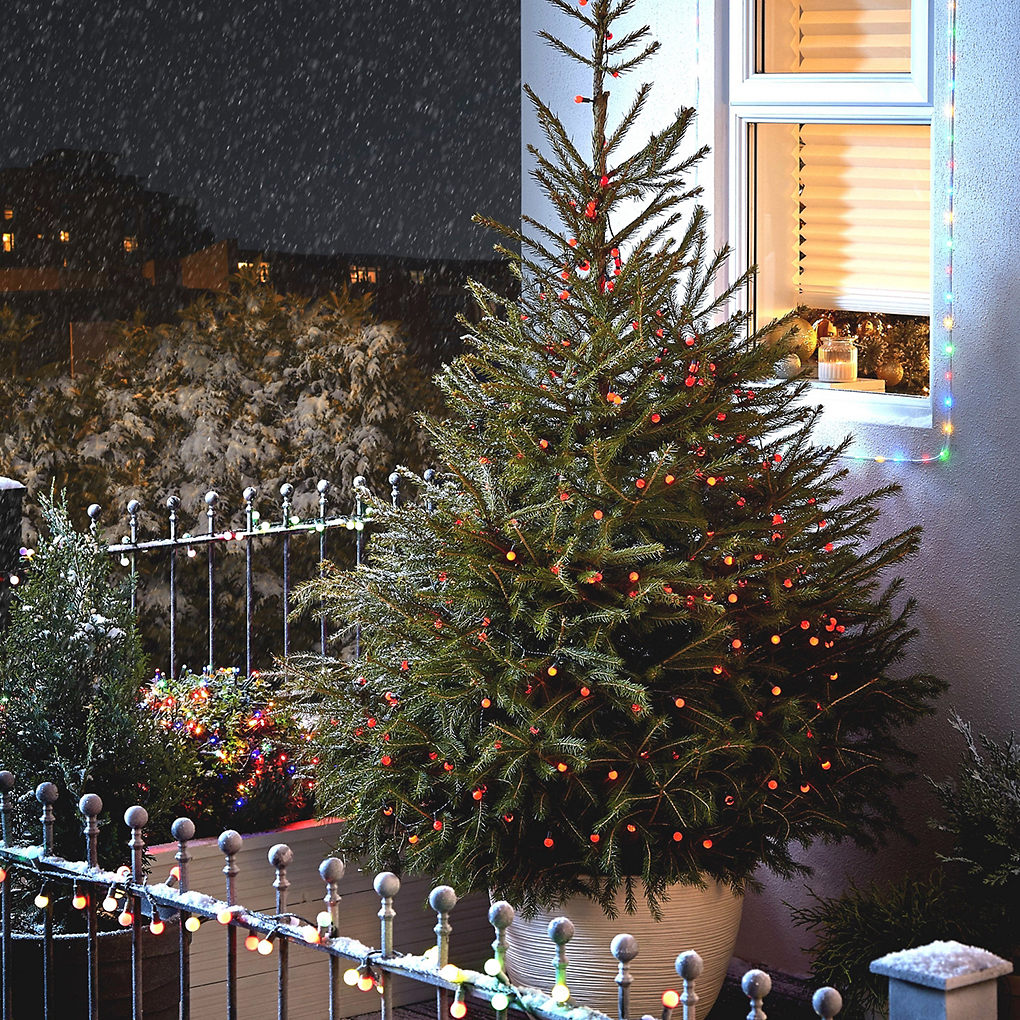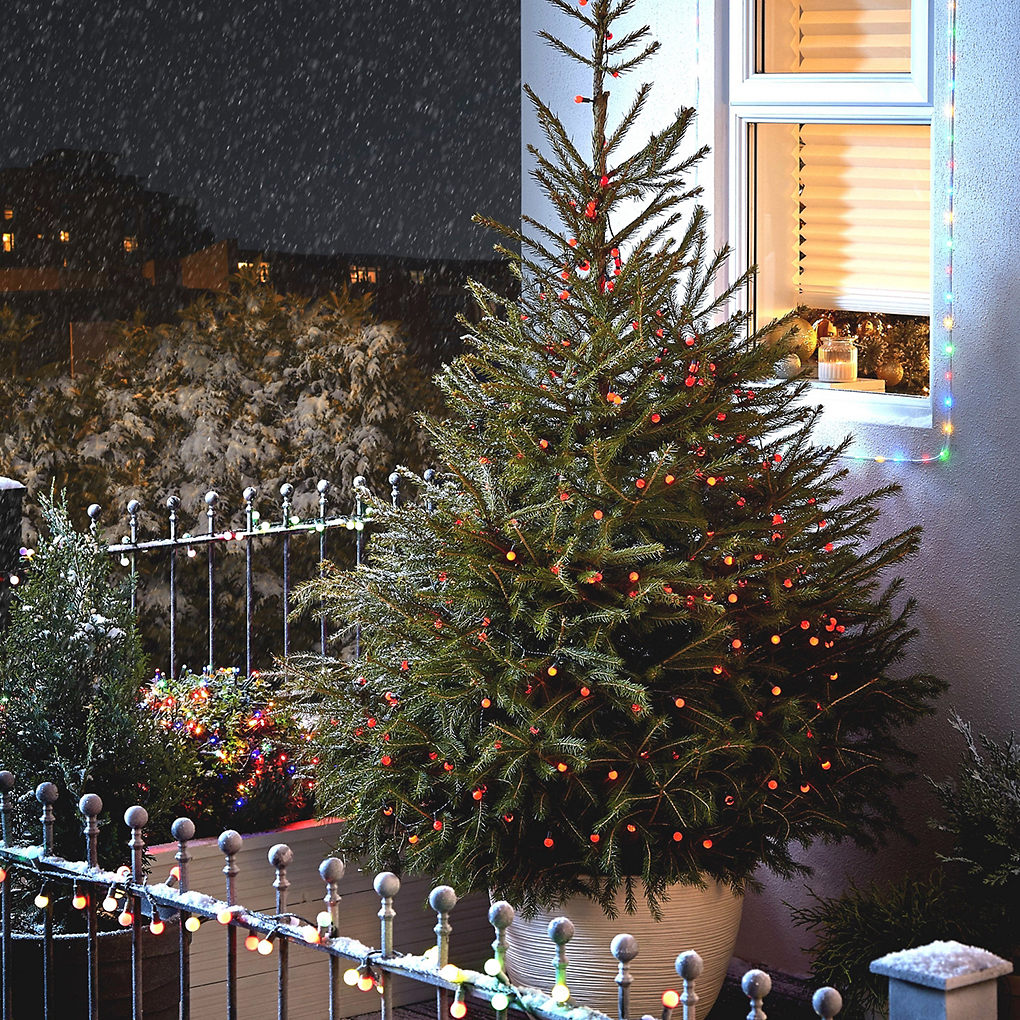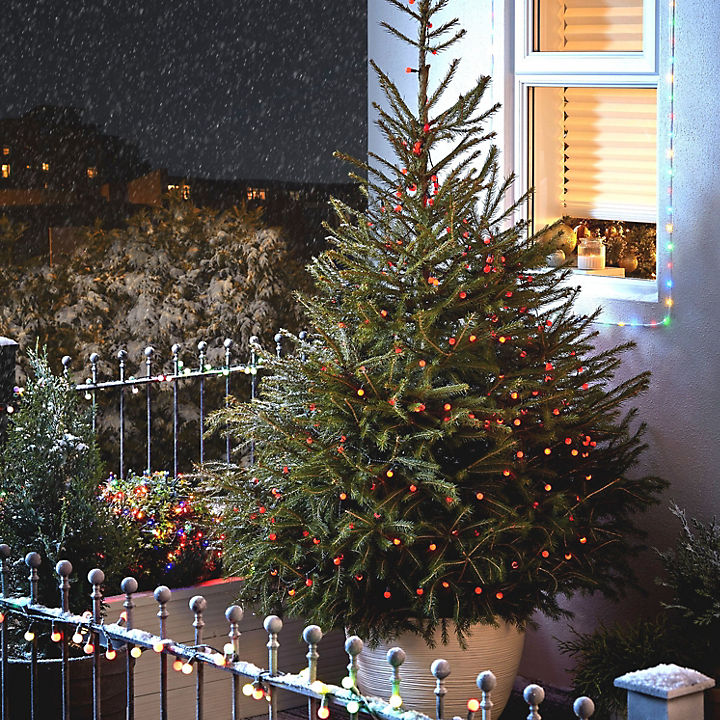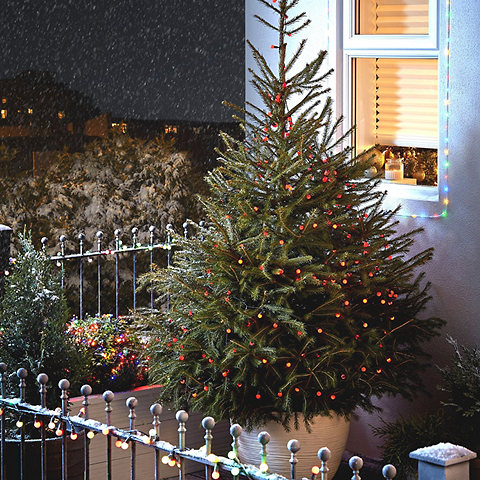 How are you going to dispose of it?
Think about how you're going to dispose of your tree once the holidays are over. For all available options, and tips on how to keep your tree looking fresh and full, check out our guide to caring for your Christmas tree.
---
Nordman Fir
Pot-grown size: Medium is 80-100cm, Large is 100-125cm, Extra Large is 150cm+
Cut size: Small is 120-150cm, Medium is 150-175cm, Large is 180-210cm, XL is 210-240cm, XXL is 240cm+
The original low-drop tree
Good needle retaining properties with wide and flat, soft, dark green needles
Conical shape with dense branches
All Scottish grown
Nordman Fir Slimline Premium
Cut size: Large is 180-210cm, XL is 210-240cm
A tall yet compact tree that is perfect for smaller spaces
Good needle retaining properties with wide and flat, soft, dark green needles
All Scottish grown
Norway Spruce
Pot-grown: Medium is 80-100cm, Large is 120-150cm, XL 150cm+
Cut size: Large is 180-210cm
Classic Christmas tree with traditional shape
Ideal for outside display
Requires regular watering
Fraser Fir
Cut size: Large is 180-210cm
Perfect for any room in your home or outdoors
Soft touch needles that are ideal for family homes with pets or small children
All Scottish grown
Blue Spruce
Pot-grown size: Medium is 80-100cm
Stunning silver-blue foliage with a strong scent
Perfect for any room in your home or outdoors
Good needle retention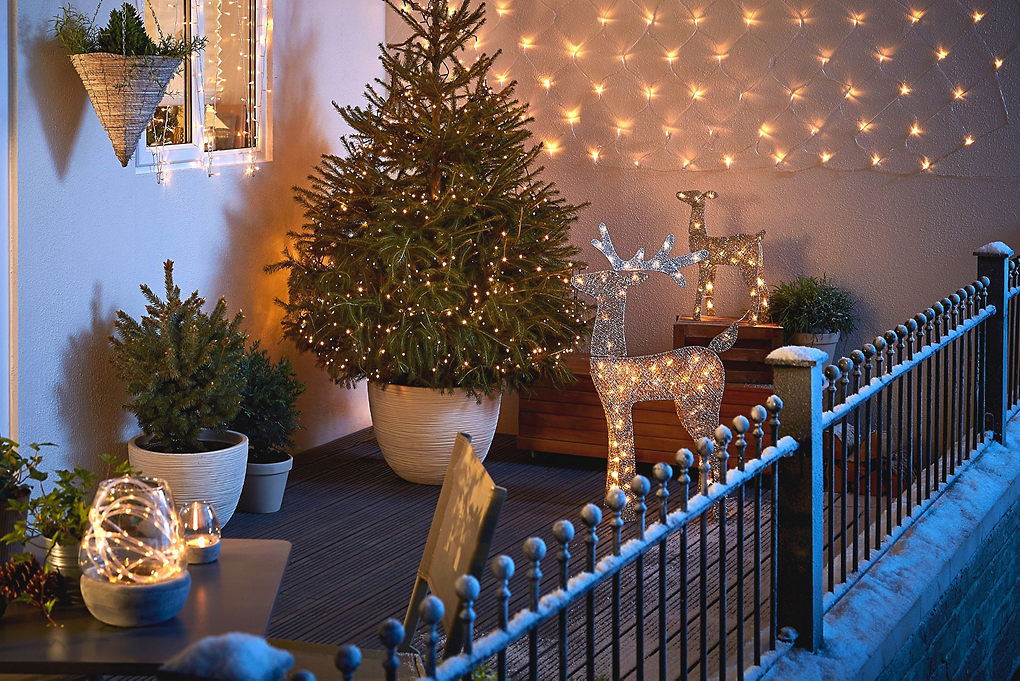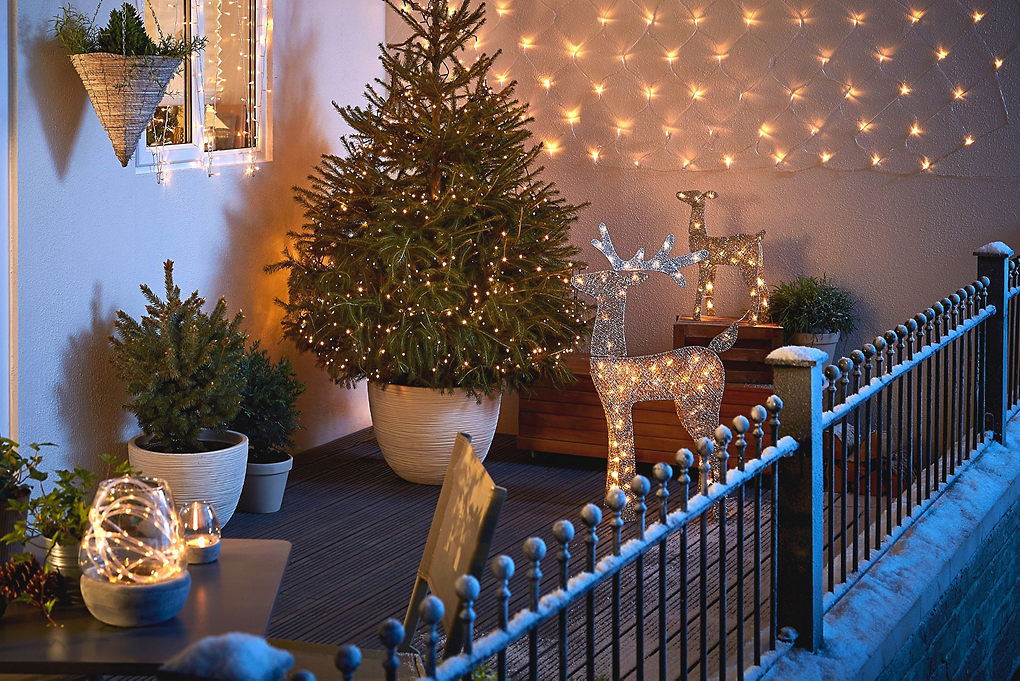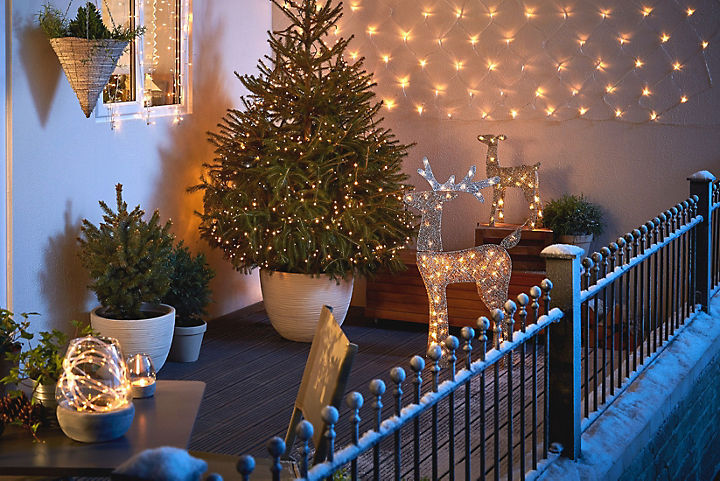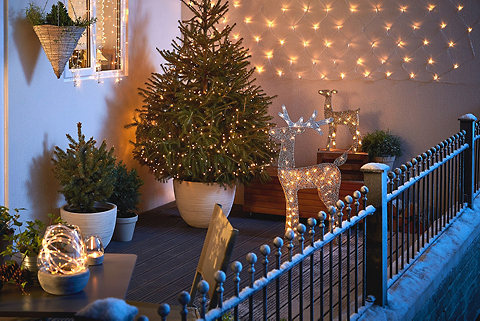 ---