How to personalise a Christmas wreath
Welcome guests with this simple yet stunning decoration
The holidays are coming, so it's time to trim the tree and deck the halls. Festive decorations are an essential ingredient in the Christmas cocktail, and there are endless opportunities to get creative and make your home's seasonal style unique. At B&Q, we think one of the best ways to achieve a truly special festive look is by making your own decorations.
Finding a spare five minutes at Christmas time can be a challenge, but personalising a traditional wreath is a great way to create a decoration for your home that's quick, easy and simple to make. Hang a Christmas wreath on your front door to impress your visitors, or place it centre stage on your dining table with an LED candle in the middle as a statement centrepiece.
Christmas wreaths are a festive favourite and with our step-by-step guide you'll be able to create one that's personal to your Christmas style.
---
---
You might need:
A plain wreath (real or artificial) - we've used the artificial. Check in store for availability of our real wreaths.
String lights - we recommend using battery-operated string lights with a maximum of 30 bulbs as they don't have trailing cables that can pose a trip hazard. If you plan to hang the wreath outside, make sure you use lights that are designed for outdoor use.
An assortment of Christmas decorations such as baubles, beads, and bows.
Garden wire - if necessary. We're using green-coloured wire to blend in with the wreath
Gardening gloves - to protect your hands
Wreath hanger
Ribbon
Fresh plant cuttings (such as holly, ivy or rosemary) - depending on preference
Fruits and spices (such as dried orange pieces and cinnamon sticks) - to perfume the wreath, depending on preference
Safety first
Be careful when using garden wire and scissors. Gardening gloves are ideal for protecting your hands when using sharp objects and foliage.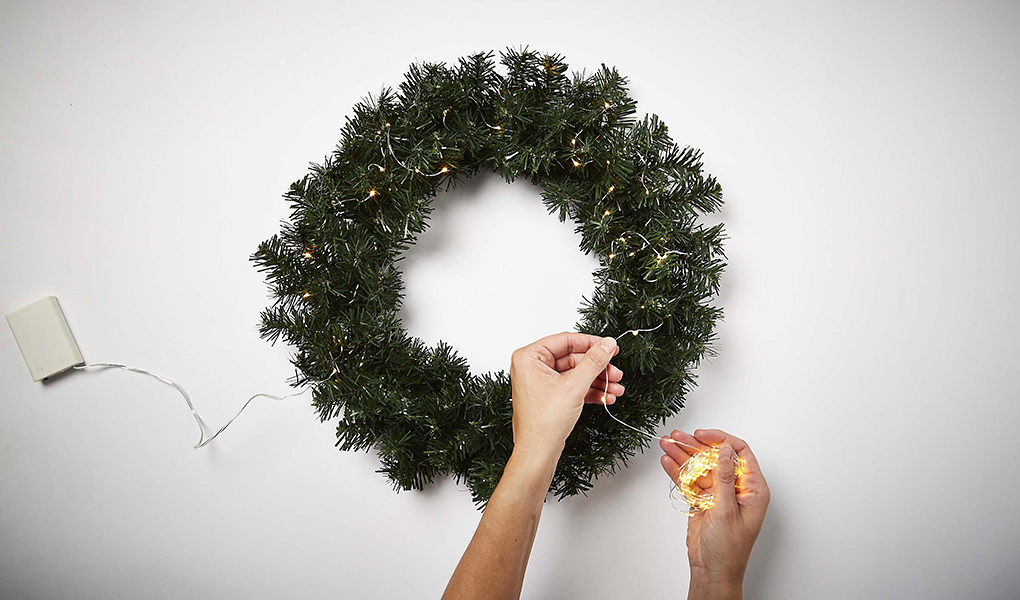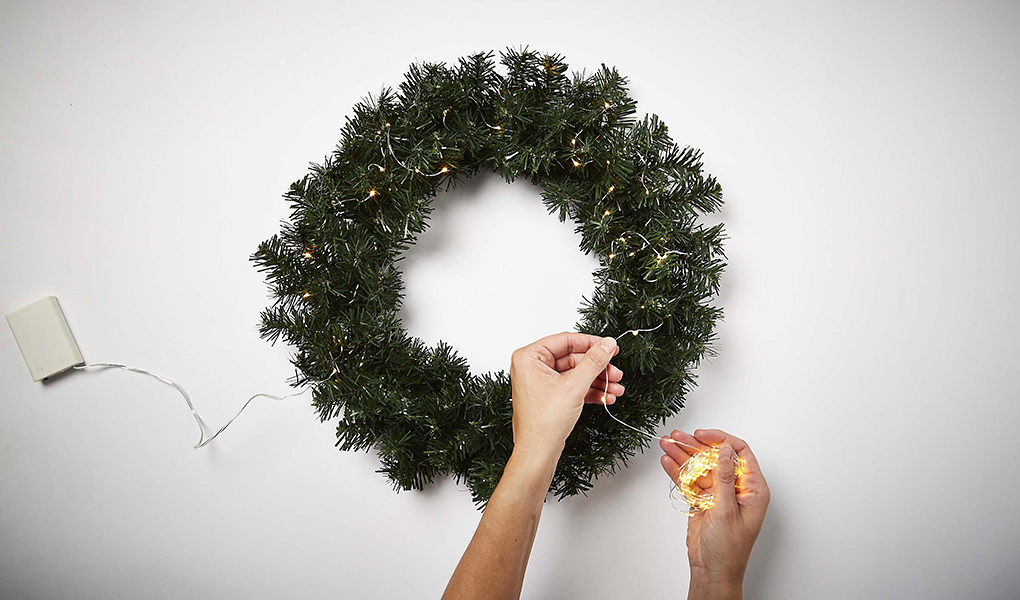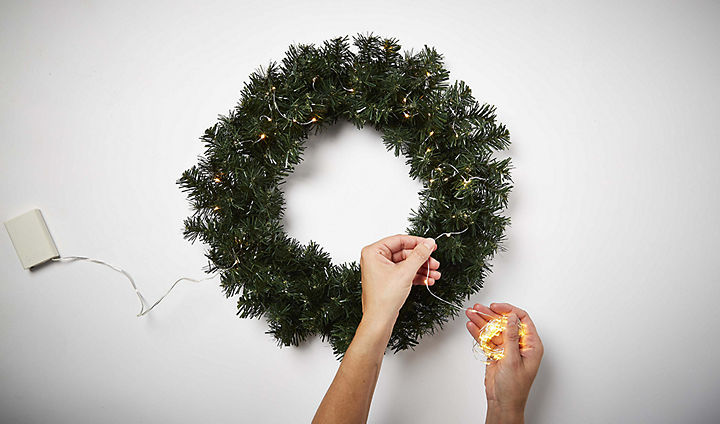 Step 1
Light up your wreath by weaving string lights through the branches. Neatly tuck the battery pack behind the wreath for a streamlined look.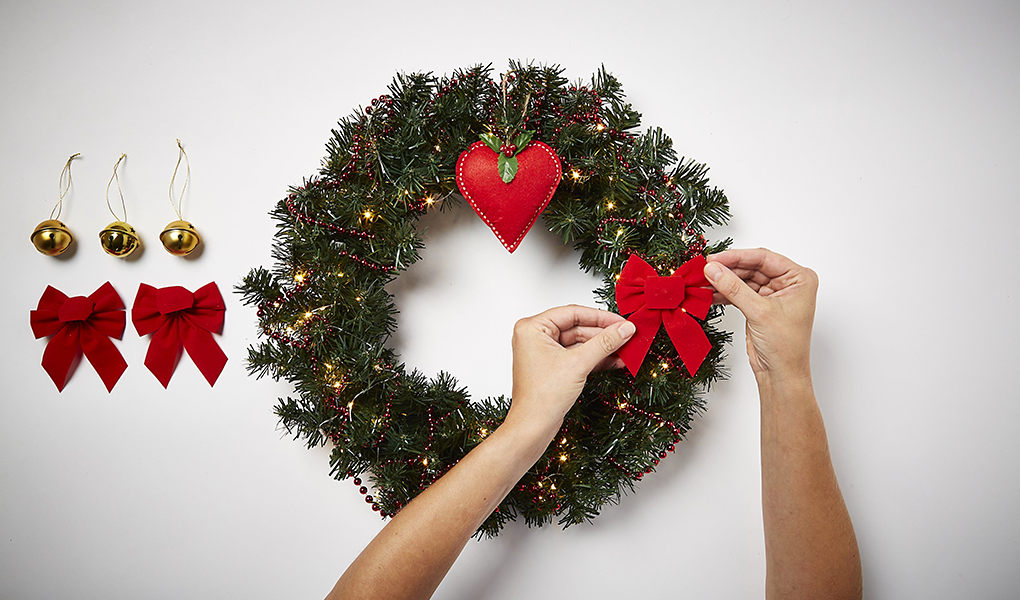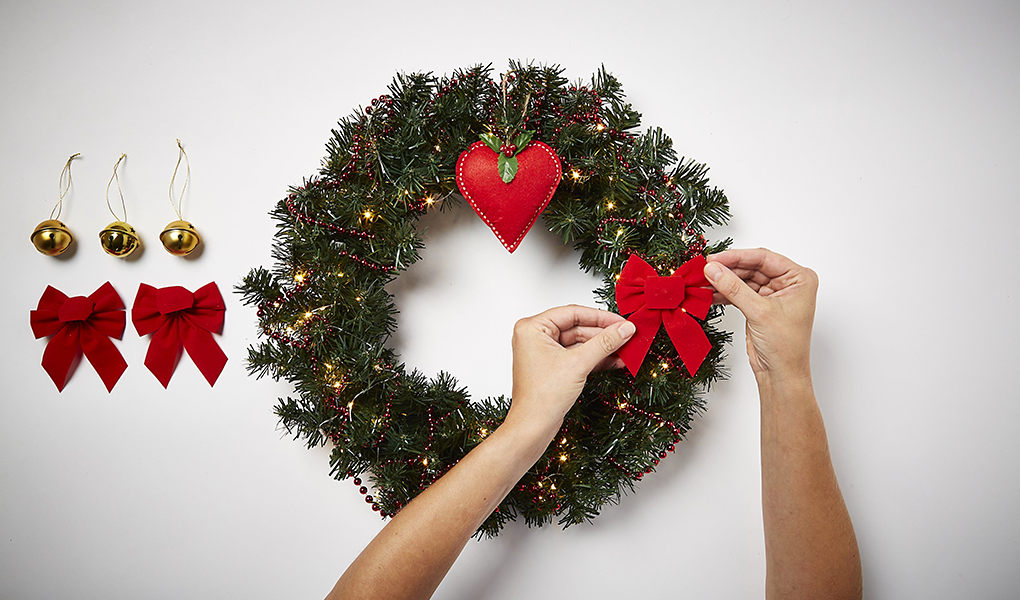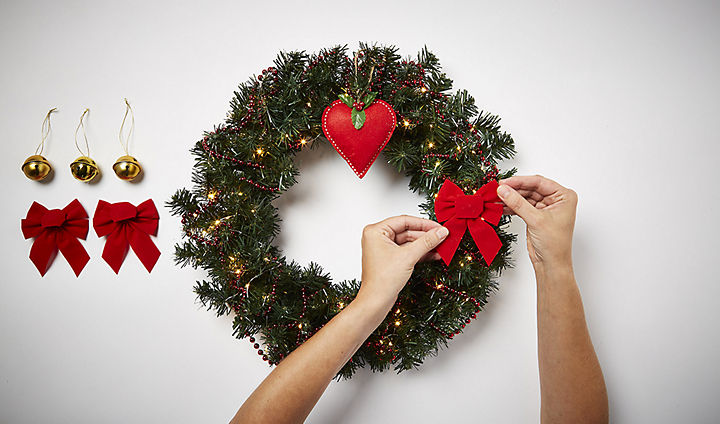 Step 2
Place the decorations you want to use in front of you and then arrange them on top of your wreath. This will help you spot where the gaps are and check that everything looks right before you fix the decorations onto the wreath.
If you're planning to hang your wreath, think about how the decorations will hang and in what direction.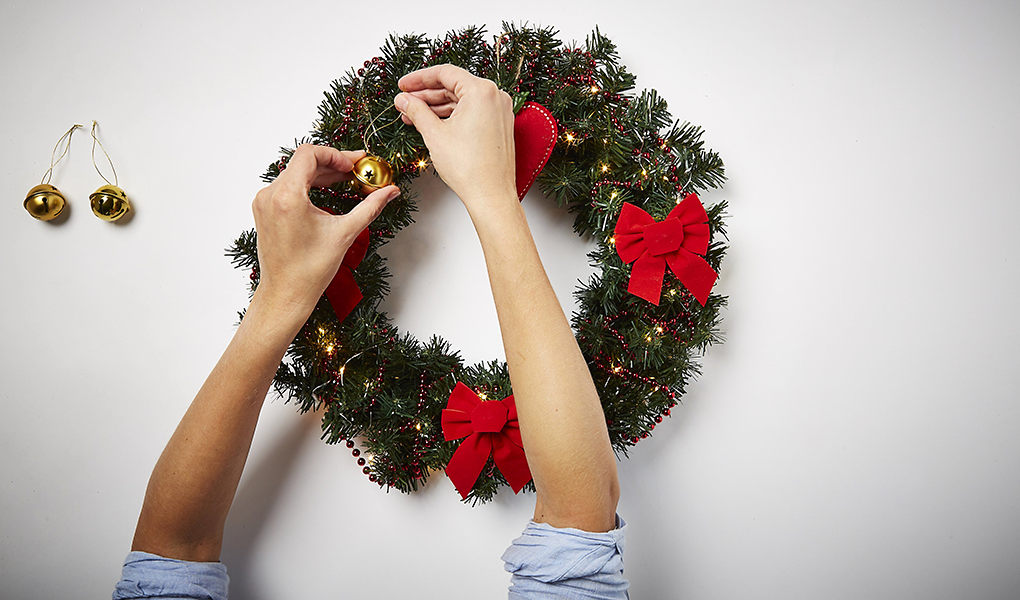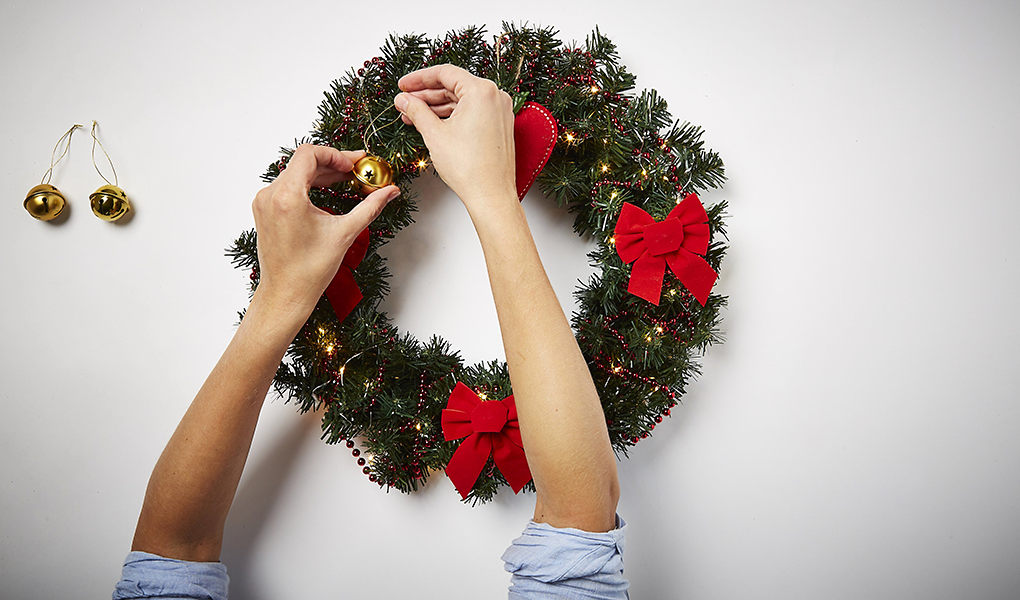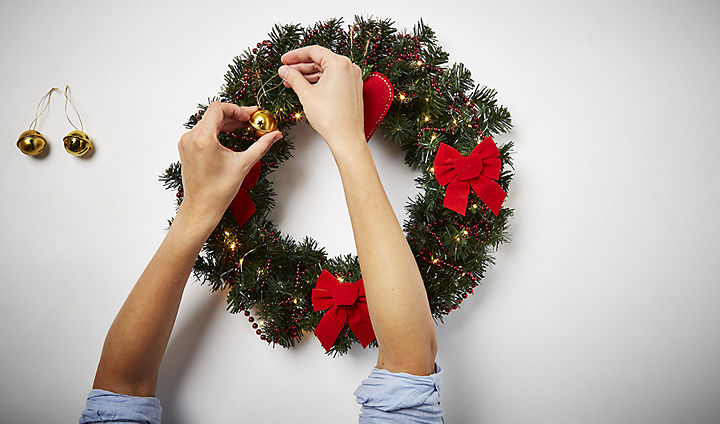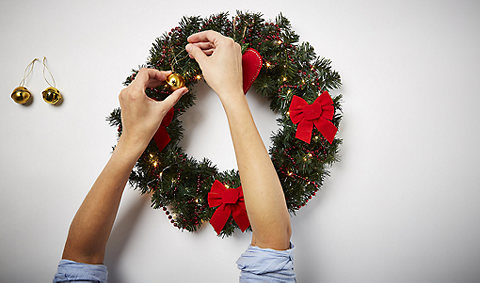 Step 3
Neatly and firmly attach the decorations in place. Garden wire is best for securing sprigs of holly and ivy from your garden, while baubles can be tied to the branches of your wreath with their individual hanging cords, or scraps of colour-coordinating ribbon.
Consider adding cuttings from rosemary bushes, slices of dried orange and cinnamon sticks to create a wreath that both looks and smells incredible.
Top tip
Create your own bows from ribbons or festive fabrics and fix them using safety pins.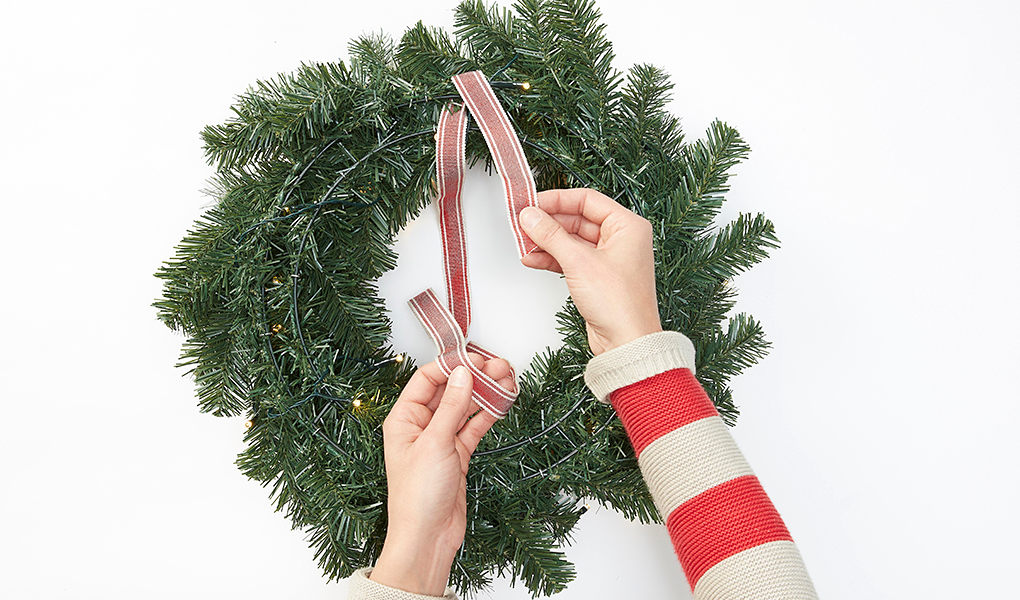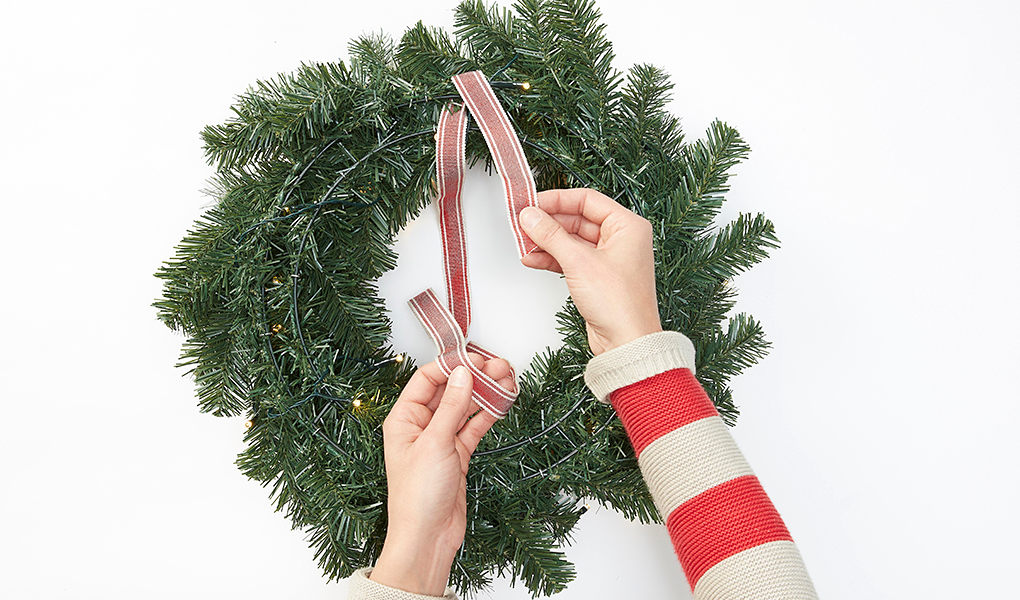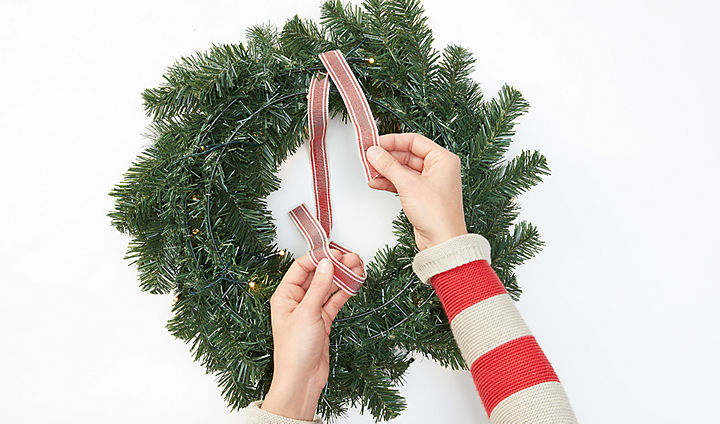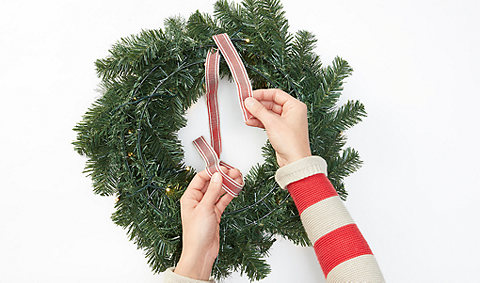 Step 4
Now your wreath is ready to hang alongside your other Christmas decorations. Our example wreath below would work well with our Jolly Festive collection.
If you want to hang your wreath on a door, hook on a wreath hanger and place on your wreath.
For hanging elsewhere, for example on a wall, create a loop with garden wire and securely attach this to the back of the wreath ready for hanging. Alternatively, use a loop of wide ribbon for a decorative look.
---