Fence & railing buying guide
Keep outdoor space private and secure
Fencing is the most popular way to mark a boundary and is a cost-effective and easy-to-install option for your outdoor space – whether you're replacing what you have currently, repairing it, or starting from scratch.
Fences can have many functions and our wide range includes options for all spaces. So if you're enclosing your garden for privacy, securing the safety of your children or pets or creating zones within your garden, we'll have something for you.
At B&Q, we offer four ways to construct fencing:
Wooden fence panels - a ready-made section of timber fencing that's easy to install and available in a variety of designs, shapes and sizes
Wooden fence boards - individual timber boards that create a run of fencing
Metal railings - decorative balustrades that can standalone or be added to walls
Modular fencing - mix and match items in a variety of materials that allow you to easily build your own unique fencing design.
Here we'll talk you through all four of these options to find the best fencing for you.
---
It can be helpful to consider a few things before buying your new fencing.
What is the fence needed for?
To find the right fencing for you, it's important to understand the primary purpose of it. If bordering your property, you might want a tall, solid fence that people cannot see through for privacy and extra security. If creating different zones within your garden, you could consider a short, decorative fence with an open design. With so many types available, focusing on the main use of the fence will help narrow your options.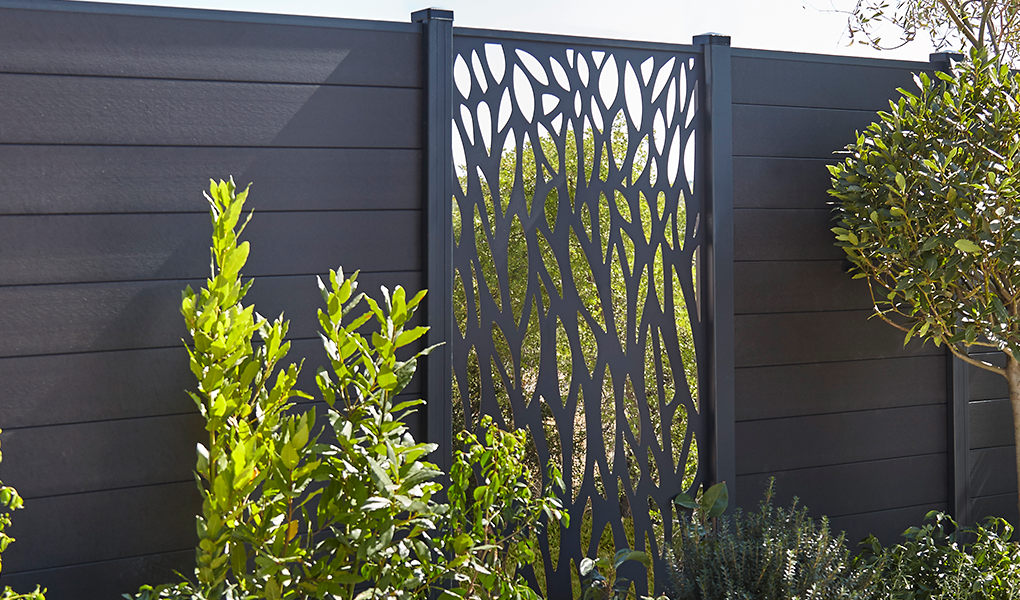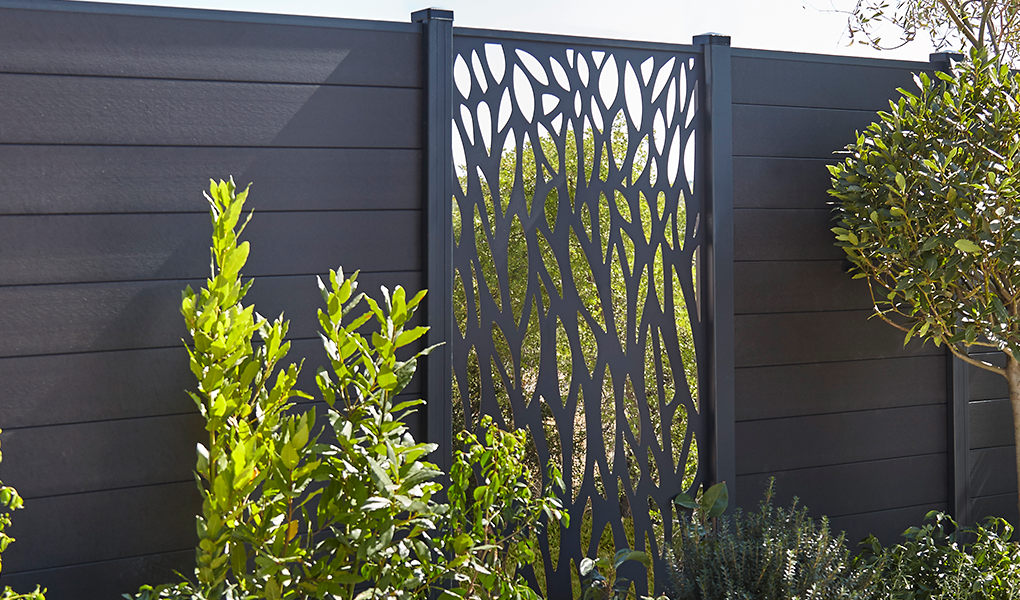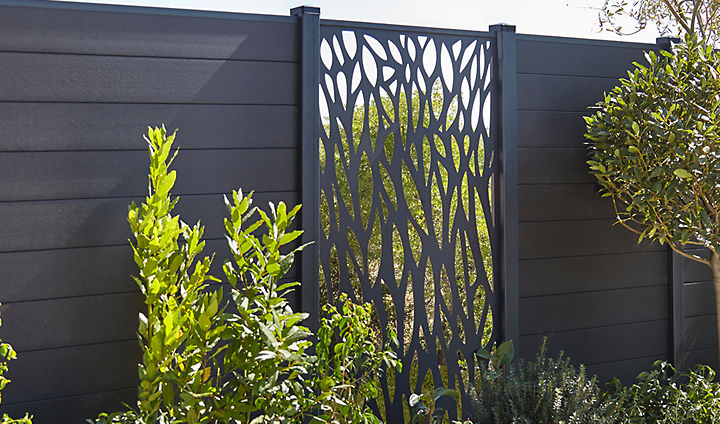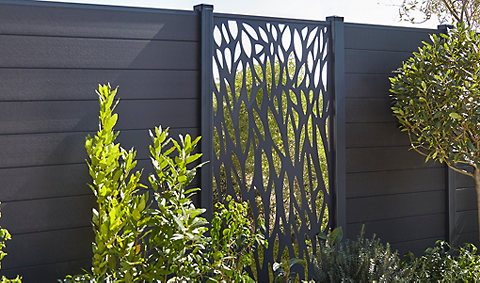 What size of fence and where will it go?
Height is an important factor when deciding on your new fencing. Do you want to be able to see over it or not? And remember that if you can see out, others can see in. If security and privacy are what you're looking for from your fencing, choose a taller fence. Or gain extra height by adding trellis to the top of it complete with sprawling climbing plants to block the view. Fence panels that are shorter than 1.5 metres (m) are ideal if you want to add trellis. And if you're considering adding a gravel board (for more on gravel boards, head to the 'You might need' section) remember to account for the additional height.
Wooden fence panels don't vary much in width with the standard size being approximately 1.8m. If you're replacing an old fence and already have posts in place that you're not looking to move or change, you'll be limited for the width and height of fence panels you can choose. So be sure to take precise measurements to ensure that your new fence panels fit. In contrast, if you're building a new fence and have no existing posts, explore the full range of sizes and styles available.
---
Wooden fences
Wooden fencing is a traditional and ever-popular choice. We offer two ways to construct a wooden fence – wooden fence panels and wooden fence boards. We'll explore the features and benefits of both types, but firstly, let's talk about the quality of all of our fencing timber.
We're proud of the quality of our wooden fence panels and boards. Our whole range is made with responsibly sourced wood that is approved by the Forest Stewardship Council (FSC®). For more information on our timber policy, head to our Responsible Business pages.
We protect the wood against rot, decay and insect infestation in one of two ways:
Dip-treating – the timber is immersed in preservative to provide a protective coating. A water-based treatment will need to be re­applied regularly to keep your fencing looking good.
Pressure-treating – offering a longer-lasting defence, preservative is blasted into the wood at high pressure before its stacked and left to dry. This provides longer-lasting protection than dip-treating alone.
Wooden fence panels
Fence panels offer a ready-made fencing solution - great if replacing a single panel or constructing a completely new fence from scratch. Straightforward to install, wooden fence panels are available in a wide range of styles to suit your garden look. Consider the below features when shopping for them.
Wooden fence panel construction style
Fence panels use timber slats configured into a variety of practical and eye-catching designs. These cladding styles include:
Lap panel fencing (pictured) – horizontal timber boards overlap one another within a wooden framework. Shortened from the full name of overlap fencing, it's a great budget option.
Closeboard panel fencing– vertical boards overlap one another. Often shortened to boarded fencing, this effect can also be achieved using individual timber boards rather than a ready-made panel.
Picket fencing – pointed or rounded pickets in a row with gaps between them. Also known as palisade fencing or paling fencing, it's often available in shorter heights than other types making it better suited to front gardens where a boundary mark is needed, rather than a fence for privacy or security. For a modern twist on picket fencing, explore our Gawsworth range with domed tops.
Wooden fence panel board edges
The edges, or profiles, of your timber boards can add extra detail to the look of your wooden fencing. Options available include:
Feather edge fencing (pictured) – most commonly used to make closeboard fencing, these boards have a fine edge created by tapering. The effect of the overlapping boards evokes the look of bird's feathers.
Waney edge fencing – timber boards with one straight edge and one rough and uneven edge that is cut straight from the tree. Very traditional in style.
Straight edge fencing – offering a simple, unfussy look, timber boards cut in a straight line work well with modern gardens. Also known as square edge.
Wooden fence panel sizes
Our wooden fence panels are available in heights ranging from 0.9m – ideal for dividing a large outdoors space – up to 1.8m for better seclusion and privacy. Widths are generally quite standard at around 1.8m, so pay more attention to the thickness of the fence panel. This can be a better indicator of strength and durability – so look for ones that are thicker such as our 40 and 50 millimetre (mm) options.
Wooden fence panel shapes & finishes
Get a look you'll love with the right shape and finish for your timber panel fence.
Choose from three profiles - straight, curved and domed (pictured). Like the straight board edges, straight profiles are quite understated and classic, while the soft lines of the domed and curved panels would complement a more cottage-style theme.
When it comes to the finish of the wood, planed boards create a smooth, modern look that's less rough to the touch making them a strong choice for gardens with children. Alternatively, opt for a rough sawn finish for more rustic outdoor styles.
Wooden fence boards
Create your own fencing design with our range of timber fence boards. Boards (especially in a closeboard design) are ideal for sloping gardens as they can be built in one continuous run and individual boards can be replaced, rather than an entire panel.
Featheredge fence boards are offered in a range of heights and widths to help create closeboard fencing. Available in multipacks of six, eight or ten.
Metal railings
If you're looking for something more classically decorative, choose metal railings. Great for garden dividers, driveways and front gardens – even install on top of walls or decking for some stately splendour.
Our metal railings are:
Made from steel and zinc and powder-coated in black to prevent rust and corrosion
Finished in decorative top shapes including flat with a swirl, spears and balls
Offered in heights ranging from 0.45 to 0.9m
Available in a standard width of 1.8m.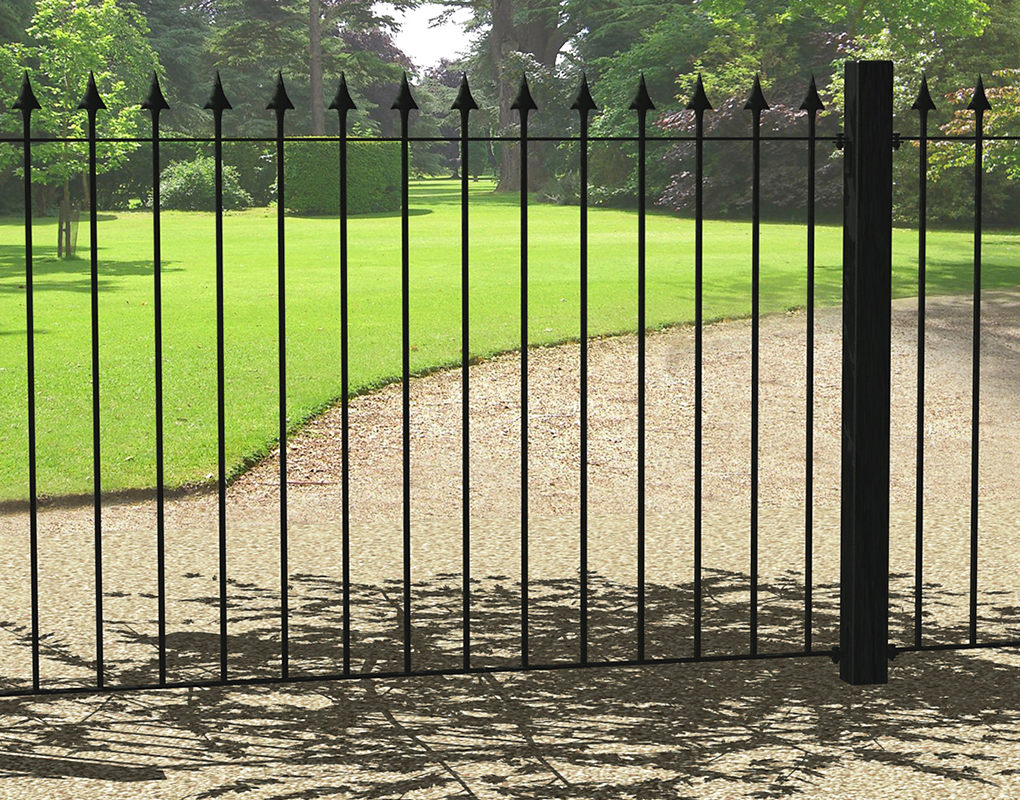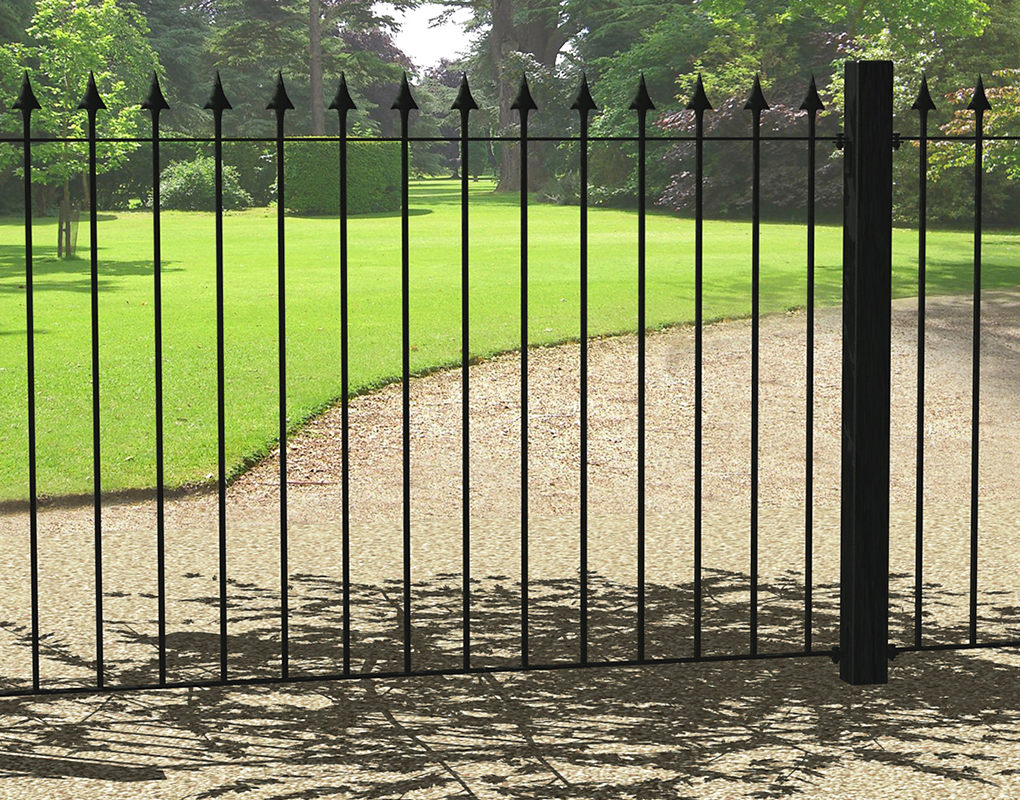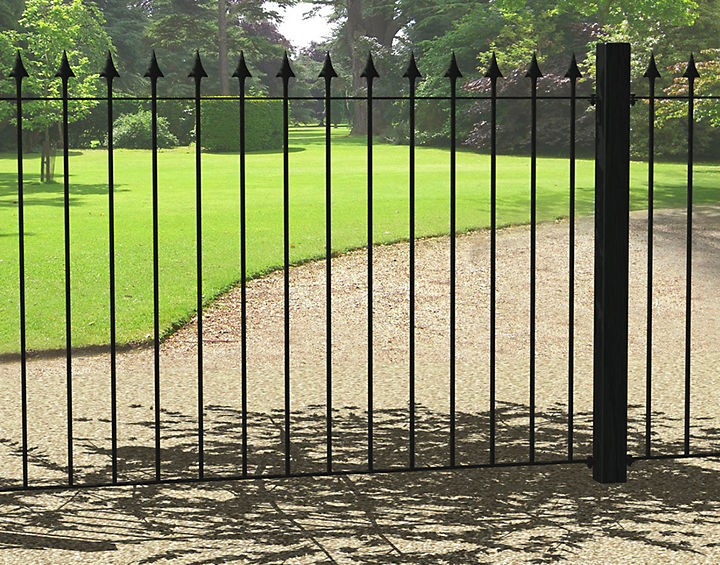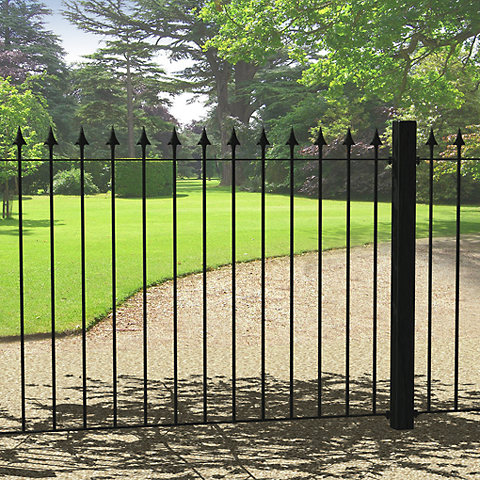 ---
Bring indoor style to your outdoor space with our innovative modular NEVA fencing. This range is completely customisable - work the ready-made, mix and match components into your own design to create an individual, eye-catching look.
The combinations of wood, composite, acrylic and metal materials allow for sophisticated decorative designs using high-quality materials. And it's the strength of these materials that gives great resistance to extreme weather conditions. The convenient grooves and slats make it easy to assemble, and if you fancy changing the look, the NEVA fencing can be quickly dis-assembled for a fresh, new design.
Pick up everything you need to install modular NEVA fencing by following the simple three steps below.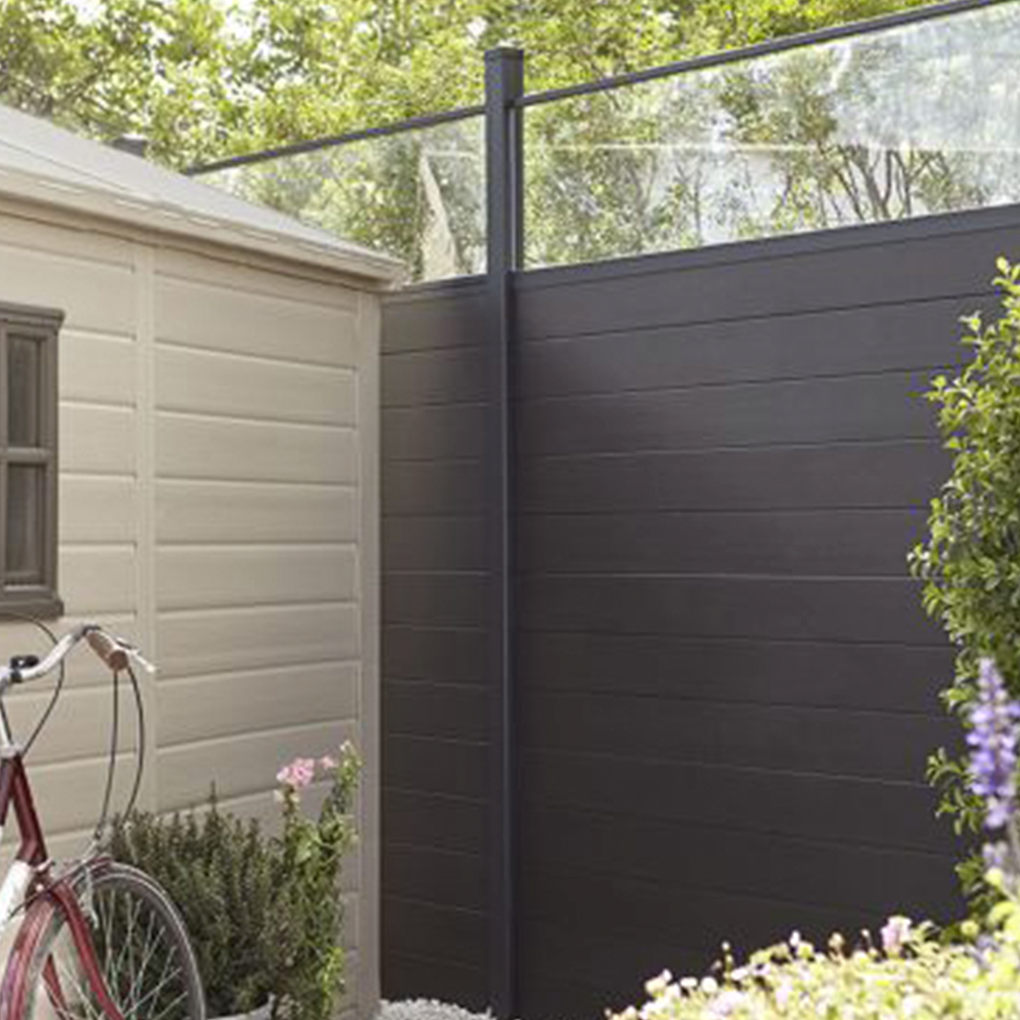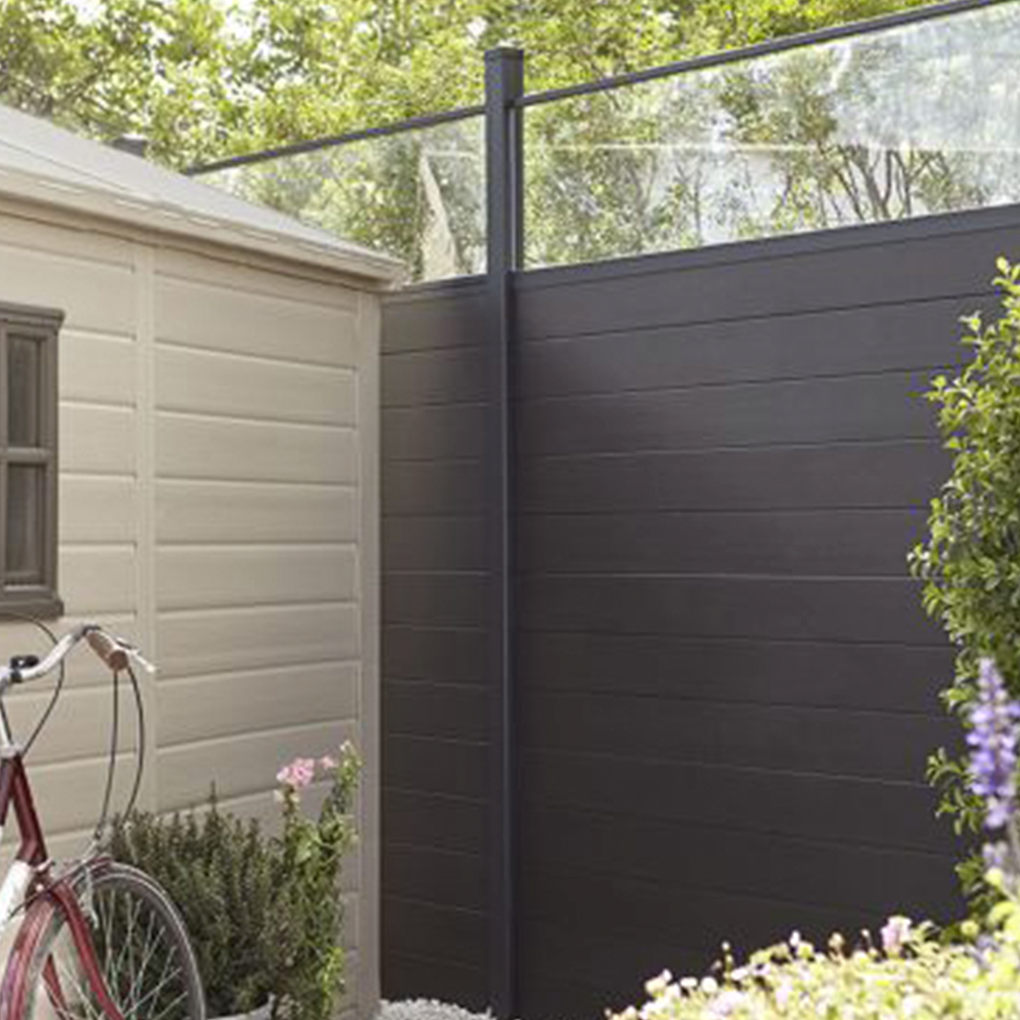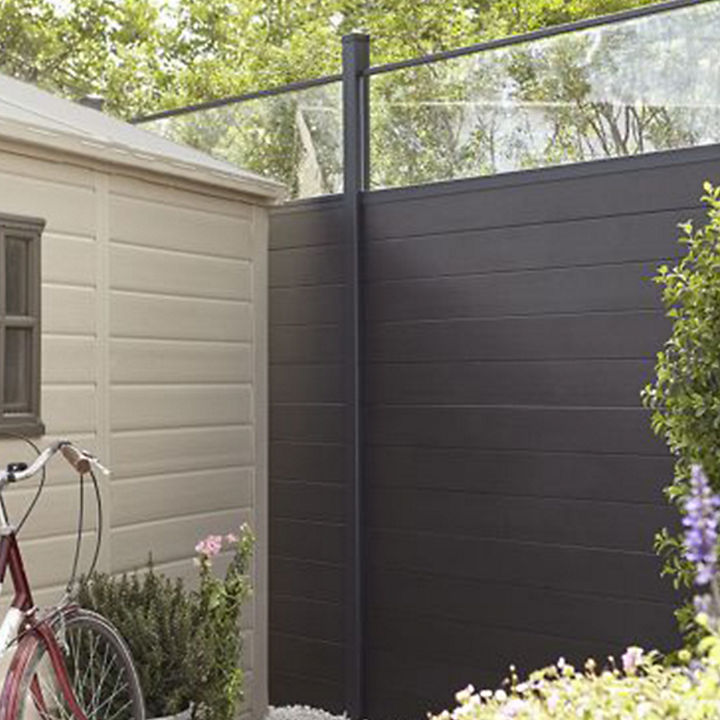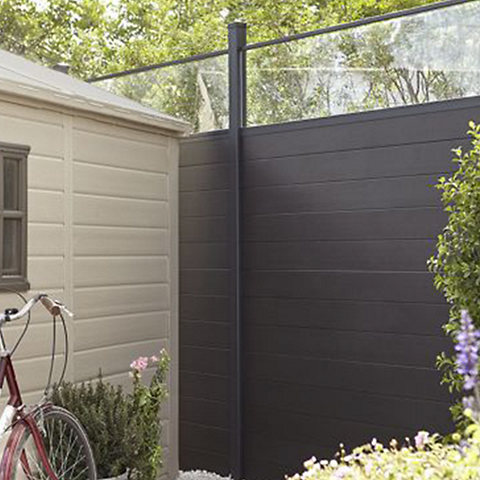 How to create a modular NEVA fence
Step 1. Select the fence posts and accessories
Modular posts are available in three materials and at different heights. Choose between:
| Fence post height (m) | Steel fence post | Aluminium fence post | Wood fence post |
| --- | --- | --- | --- |
| 0.9 | Yes | Yes | No |
| 1.39 | No | Yes | No |
| 1.8 | Yes | Yes | Yes |
| 2.4 | Yes | Yes | Yes |
The posts chosen are then secured with different fixings. Select the right one for your needs.
Step 2. Select the panels and/or slats
Choose just one type of insert or combine to create your unique look. We offer inserts in four hard-wearing materials – composite, acrylic, aluminium and wood.
Composite – offered as horizontal slats (or planks), this durable material boasts an anti-UV treatment that prevents its grey colour from fading in the sun. The slats measure 15 by 180cm and come in a pack of three. One pack creates a height of 450cm and four packs stacks up to 1.8m.
Aluminium – a decorative panel with a leaf-inspired design, these panels add real interest to your fence. Slot in above the composite slats horizontally or use by itself vertically. They're available in two sizes: ¼ panel (44 by 180cm) and ½ panel (88 by 180cm).
Wood – offered in a range of inserts, including horizontal slats, wind breaker and trellis, our wooden modular items bring traditional charm to our contemporary designs. They all meet either PEFC™ (Programme for the Endorsement of Forest Certification) or FSC® standards, assuring you that the timber used has been sourced from forests that have been independently certified as being responsibly managed.
The wooden slats measure 13 by 180cm and are available individually.
The wind breaker features horizontally-slatted timber boards with gaps between. This allows the wind to move freely through the panel, enabling it to stay strong and upright during strong winds and bad weather. The wind breaker measures 180 by 180cm.
The wooden trellis panel looks great by itself or on top of the wooden slats or wind breaker. Measuring 52 by 180cm, it adds rustic decoration and provides a spot for pretty, climbing plants. Can also be used vertically.
Acrylic – a transparent panel surrounded by an aluminium frame, this option is great for letting more light into your garden. It's ideal for zoning outdoor space, front gardens or adding to the top of composite slats. And why not flip it and install vertically to break up the look? Panels come in the same sizes as the aluminium.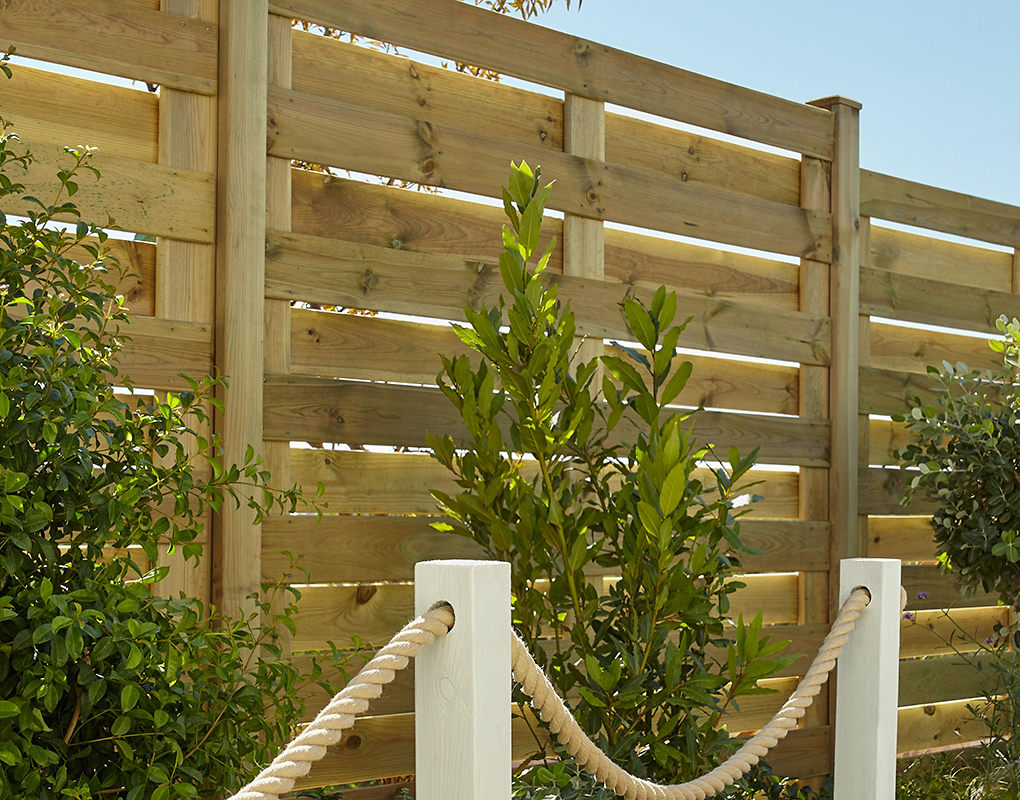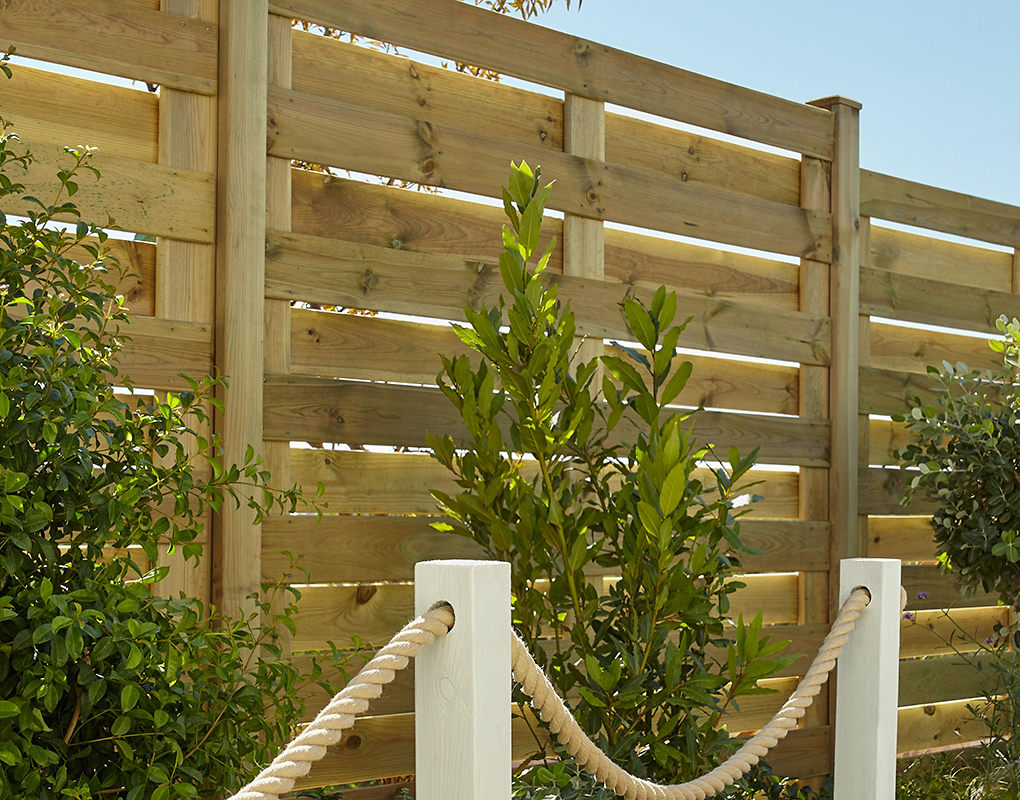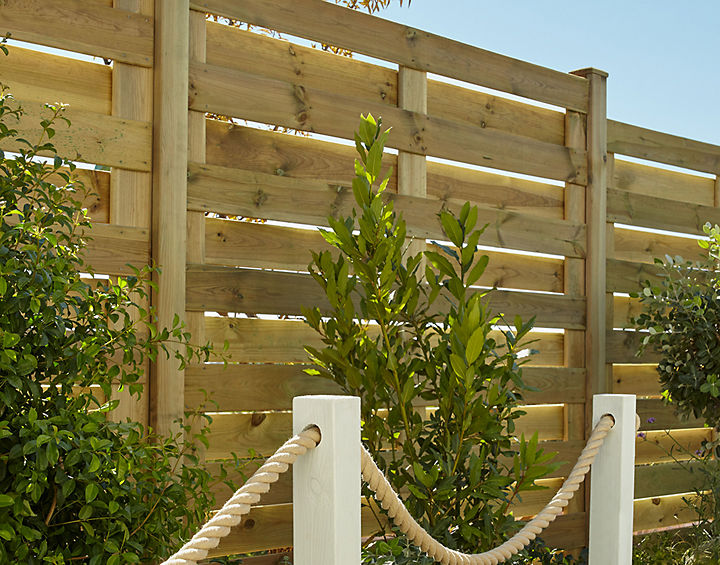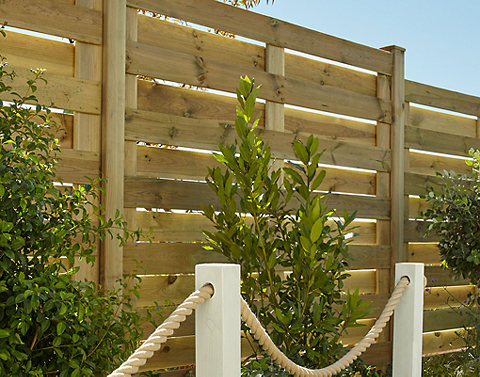 Step 3: Select any finishing accessories
Finish your modular fencing project with the appropriate accessories.
---
Pick up a few final accessories to help complete your fencing project.
Fence posts & fence post caps
Fence panels are held in place by fence posts, and if you're starting your fencing project from scratch, you'll need new ones. Choose from concrete or wooden posts. Timber posts come in square or round shapes and can coordinate with your fencing for a seamless look. Top with fence post caps to both finish the look and prevent rainwater from running into the top of your post which will help it last longer.
The concrete alternative may not be as attractive as timber, but they offer greater strength, durability and won't need any protective treatment.
Fence post supports & fence clips
Secure your fence posts to the ground with a post support. If you're fencing on turf, insert a metal spike version into the ground, or use a concrete in support if your ground is too stony to do this. A bolt ­down post support is best for concrete surfaces and patios, and you can also use this to secure posts to walls.
Attach fence posts to panels with fence clips. These offer a quick way to secure the two items together and make it easy to remove a panel should you need to.
Gravel boards & arris rails
Adding a barrier between your fencing panel and the damp ground, gravel boards help protect from rot and mould. They also add height to your fencing.
Arris rails, and their accompanying brackets, are essential for the building of closeboard fencing – adding strength and support to the structure.
Garden screening & trellis
Screening is ideal for creating shade, privacy, and shelter from wind in your garden, patio, decking or balcony area. With screening, made of various materials, you can find a product that will suit your style and needs.
Introduce plants into the look by attaching some trellis to the top of your fencing and let climbers grow freely. Alternatively leave it bare to show off the striking shapes and enjoy the sunlight shining through it.
Fence protection & paint
Wooden fencing that has been dip-treated will need regular staining to keep it looking as good as new, as well as protect it from mould and rot. Repaint yours with protective treatment six to twelve months after you've bought it and then every couple of years after that – water-­based stains are best.
To create a coordinated colour scheme in your garden, why not paint your structures and fencing in matching or complementary shades? We have a wide range of exterior wooden paint colours to choose from to help you personalise your outdoor space with paint.
If you've chosen metal railings, these won't require as much maintenance. Touch up the odd chip or scratch with metal paint to keep it looking smart as well as prevent rusting.
---