Jargon-busting advice to find the right drill
Drills are a toolbox essential for home improvers and trade professionals alike. The right drill can be used to bore holes, loosen or tighten screws, and even chisel away materials. Combine this with the ability to use on a variety of different surfaces and materials. And you'll easily be able to undertake a variety of DIY tasks and projects.
There is a wide range of drills available. Our handy guide will explain everything you need to know about drills, and help you decide on the best option for you. Before we start, take a moment to consider your future drilling priorities to help narrow down your search.
Corded or cordless?
Corded drills are often lighter than their cordless cousins as there is no heavy battery pack. If you opt for a mains powered, corded drill, you will also need to use an extension lead. A cordless drill will give greater mobility as you can take it anywhere without having to tow an extension cable behind you. However, the most powerful cordless tools are usually more expensive than their corded equivalents.
Cordless drills are now powered by a more efficient, rechargeable Lithium-ion battery. This technology allows the battery to be fully charged quicker (often in less than 60 minutes) and holds more power for longer. What's more, you can use the same battery with other power tools from the same brand. Helping to reduce the cost of buying lots of batteries.
Corded power drills are rated in watts. Typically ranging from 450 watts for basic models to around 1500 watts for the more powerful hammer drills. A higher wattage is better for drilling masonry. While if drilling into plasterboard, a lower wattage will suffice. For most basic home DIY jobs, a 550 watt drill is adequate.
Cordless drill power is measured in volts. The higher the voltage rating is, the more powerful the drill. Battery sizes typically range from 12V to 20V.
What are you going to drill into?
Sooner or later you will almost certainly need to drill into masonry. To do this you will need a drill with hammer action. If you wish to drill large-diameter holes in masonry, select a corded drill with a low speed gear. If you envisage drilling into a variety of materials – such as wood, plastic or metal – you should choose a drill with a multiple-speed feature.
Do you want a screwdriving function?
If so, look for a drill that has variable speed or torque control and is also reversible, so that it will not only drive in but also remove screws.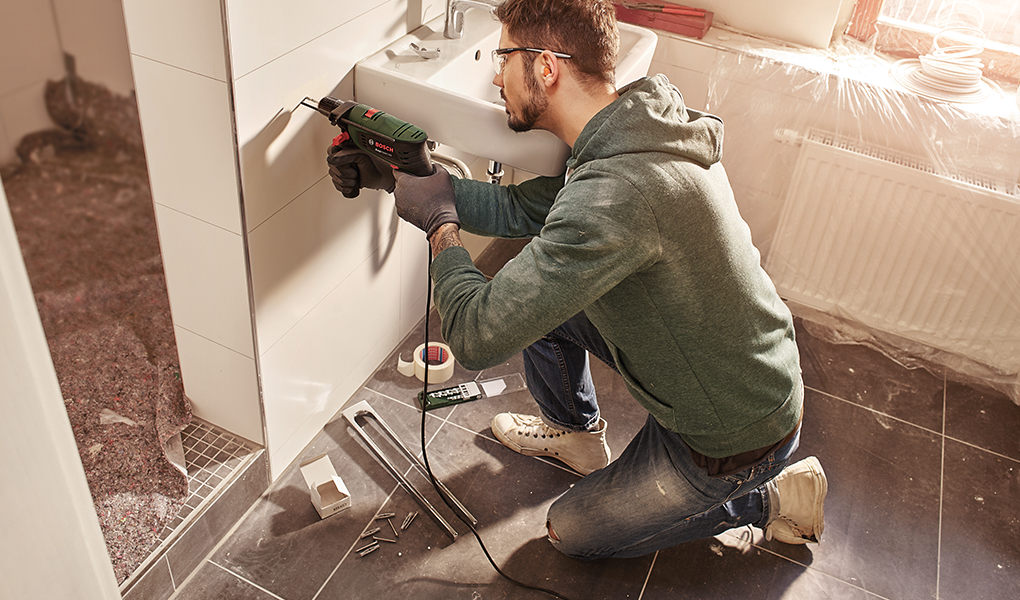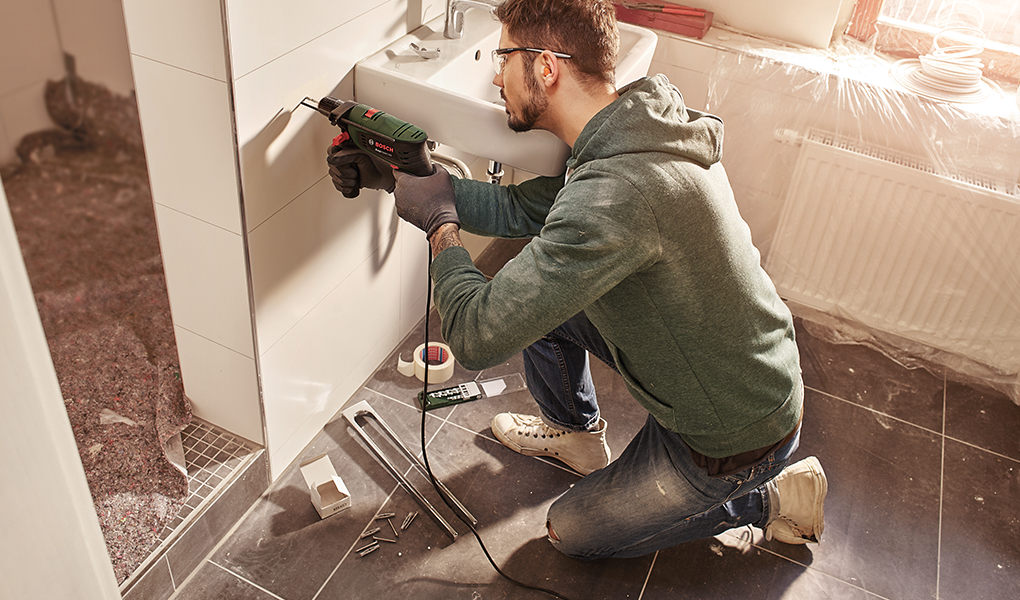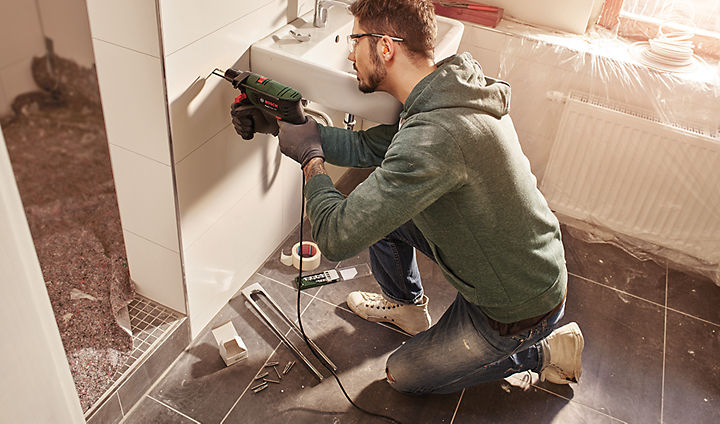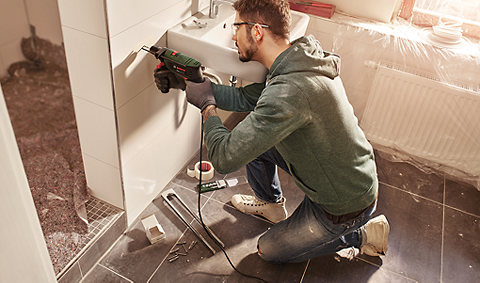 Types of drill
There are several types of drill you can choose from which can make it difficult to pick the right one for the task.
If all you want to do is drill small holes in wood and plasterboard and occasionally masonry, the best choice is a drill with hammer action. Pick one with an 18V battery or at least 550 watts for a corded model. A chuck size of 13mm should be adequate – this means it will take a good range of drill bits up to 13mm in diameter.
If you want a bit more from your drill, you need to know what they can offer. To help, we have outlined the key features of each type of drill and the kind of jobs they are best suited to so that you can identify which option is right for you.
Power screwdrivers
These lightweight cordless screwdrivers are ideal for all those screwdriving jobs around the house. As they are cordless, they're perfect for tightening loose screws in confined spaces and for quickly assembling flat pack furniture. These handy little power tools are more convenient and lighter to use than drill drivers. Forward and reverse settings make these tools easy to use, but they cannot drill holes.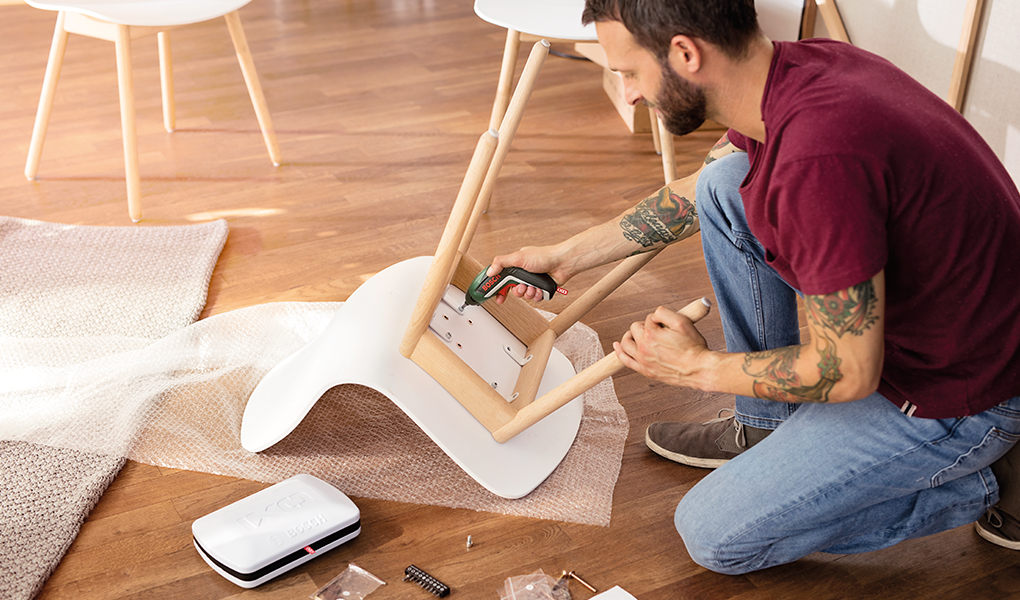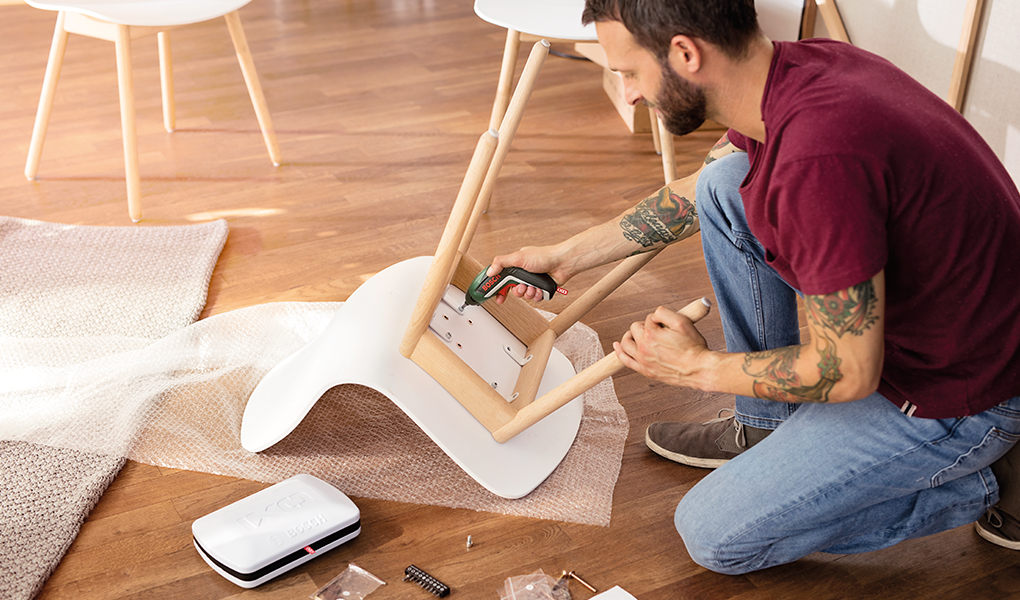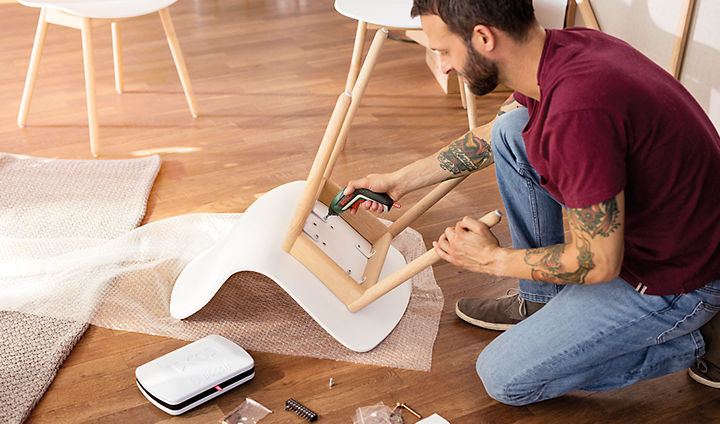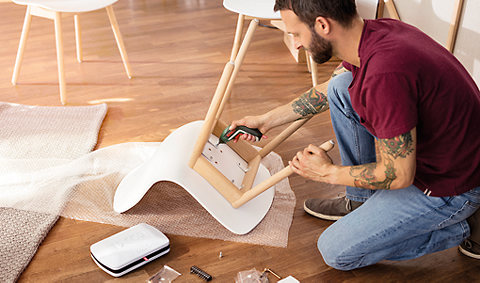 Drill drivers
If you're looking for a versatile option that will cope with those small jobs in your home, explore our range of drill drivers. These drills not only drill holes into wood and metal, they also act as drivers – this means they can loosen and tighten screws using different drill and screwdriver bits. Drill drivers are Ideal for putting up shelves, hanging pictures and assembling flat pack furniture.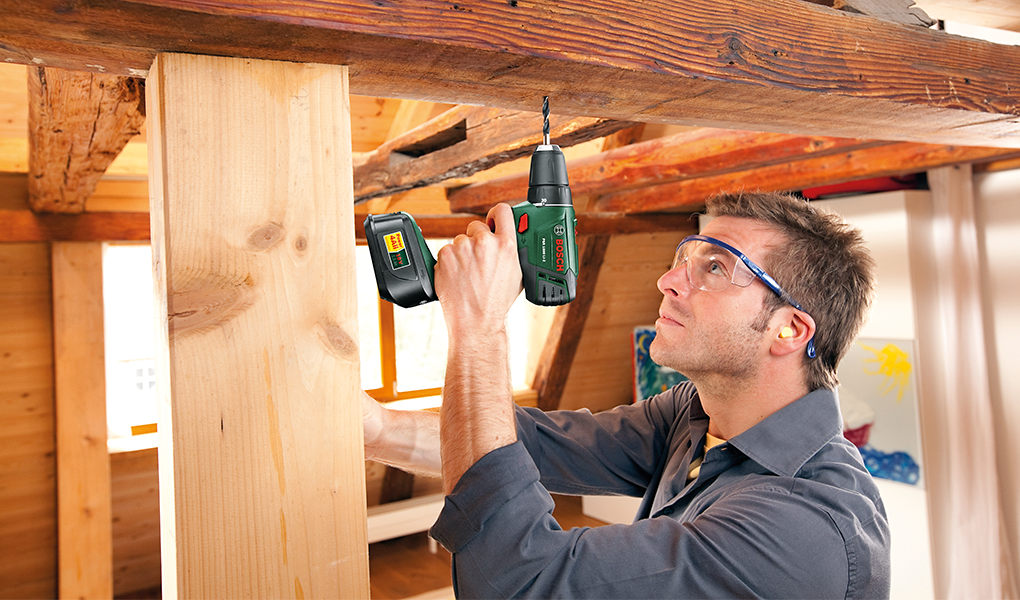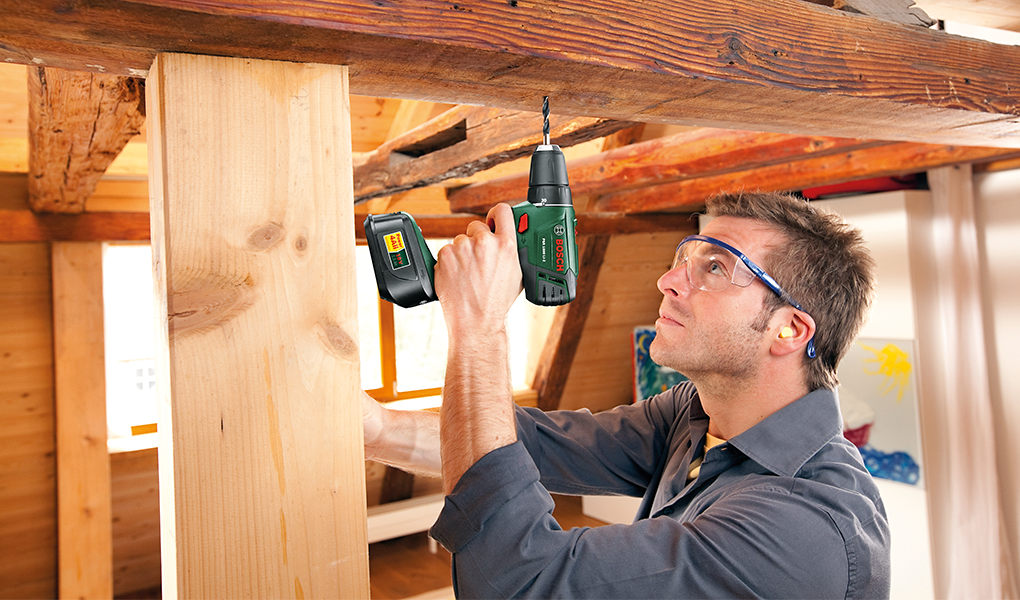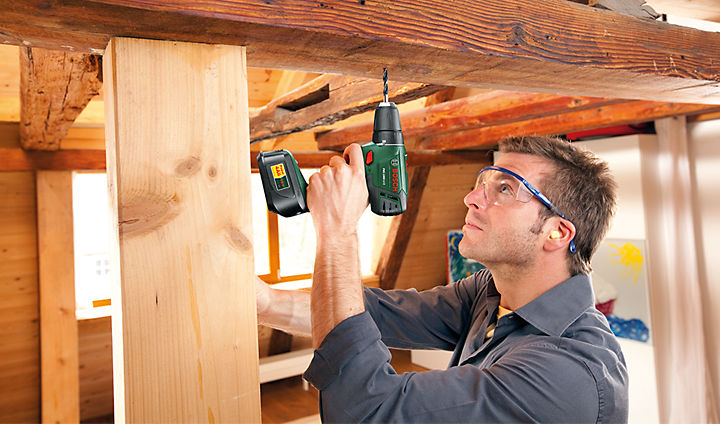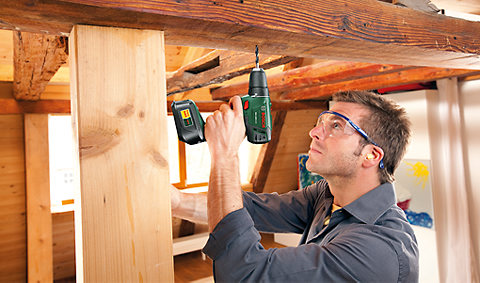 Combi drills
Combi drills offer all the same features as a drill driver, but with the additional hammer-action feature, making it suitable for drilling into masonry and brick too. These 3-in-1 drills make them a great all rounder.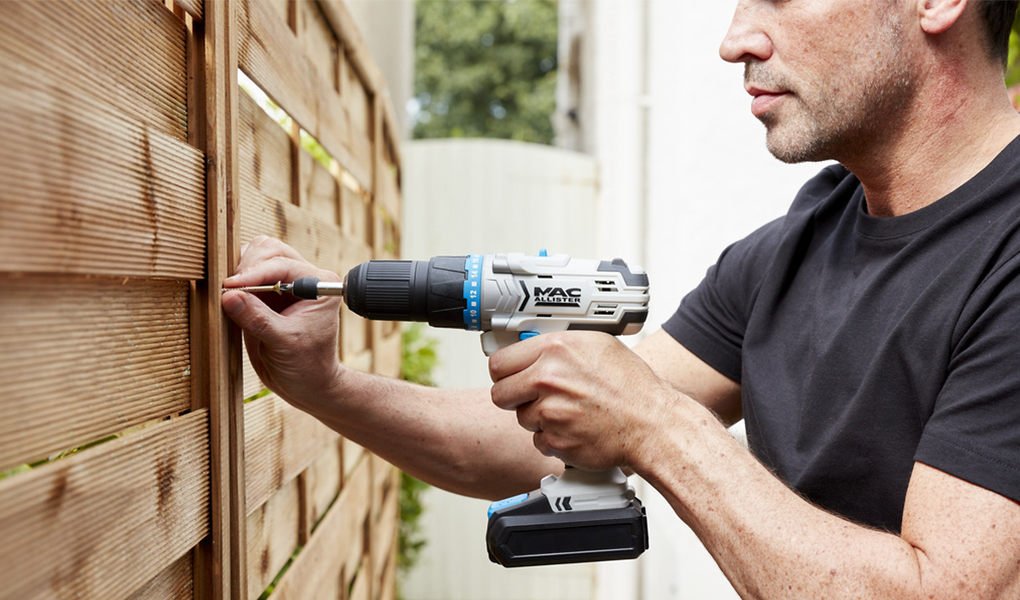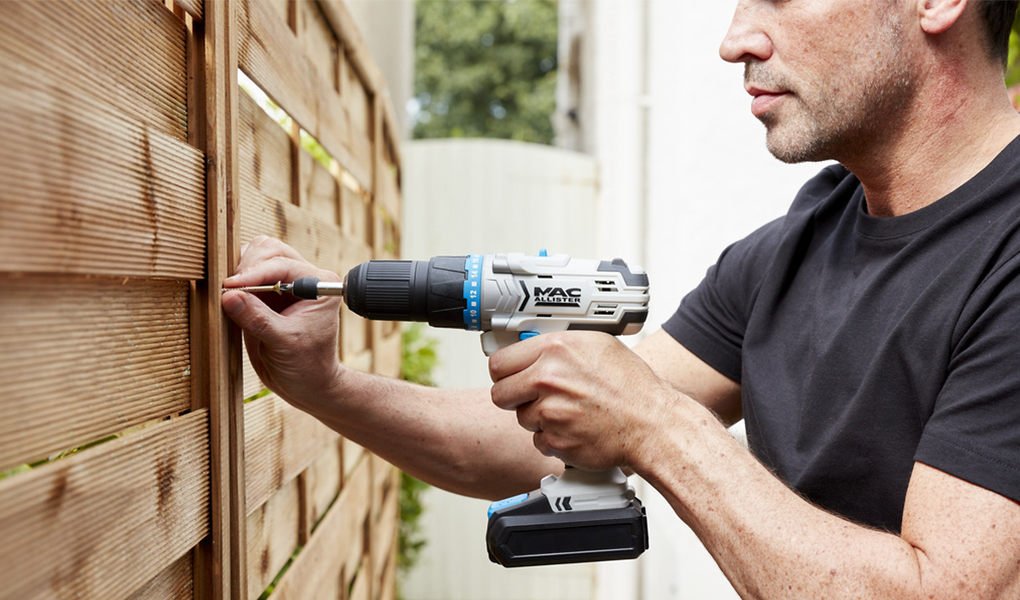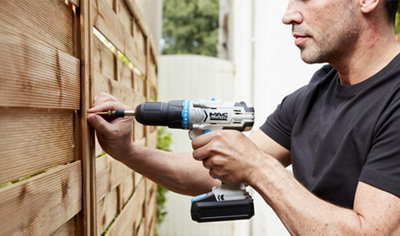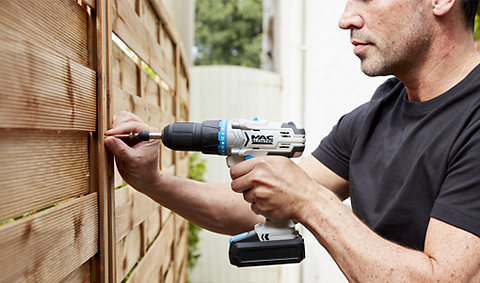 Impact driver
Impact drivers are primarily a heavy-duty screwdriver for repetitive or larger screwdriving projects. It uses an impact mechanism that helps reduce the impact on your wrist by doing more of the hard work for you. They are effective for tightening bolt heads and nuts as well as drilling into metal due to its high torque capacity. Impact drivers are slightly more compact and lightweight compared to a drill driver.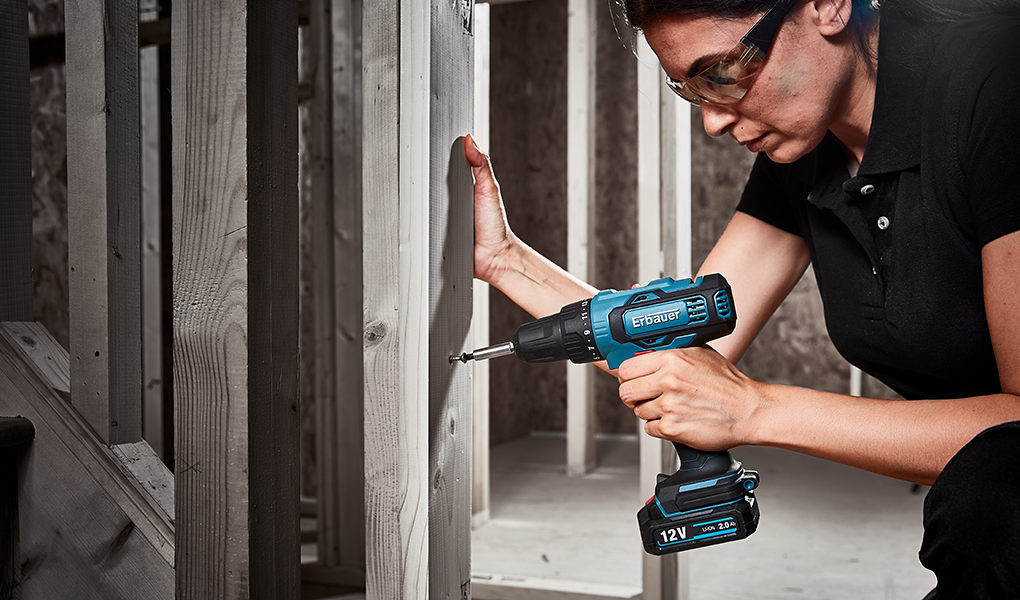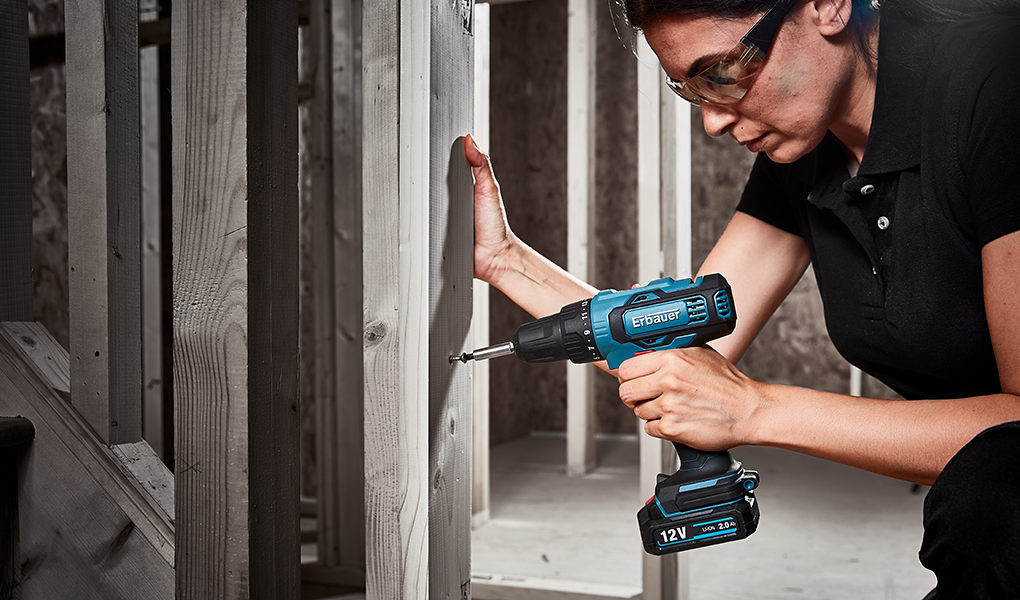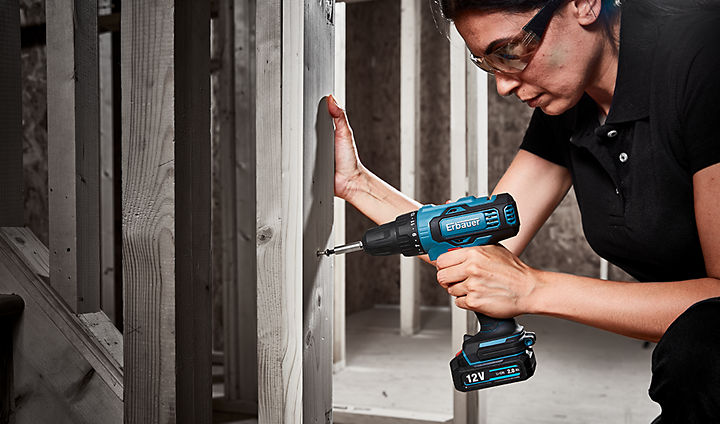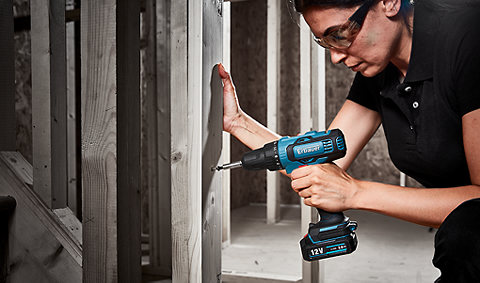 Hammer drill
Hammer drills, also known as impact drills or percussion drills, are a powerful option suitable for drilling hard surfaces like concrete and masonry. A hammer drill is perfect for those more heavy-duty jobs around the home, from putting up shelves to securing gutters in place. Multiple torque settings allow you to adjust the power while keeping the RPM low, so it can power through hard materials whilst limiting damage to the surface area. Hammer drills do not always have a reverse screwdriving function, but impact drills do.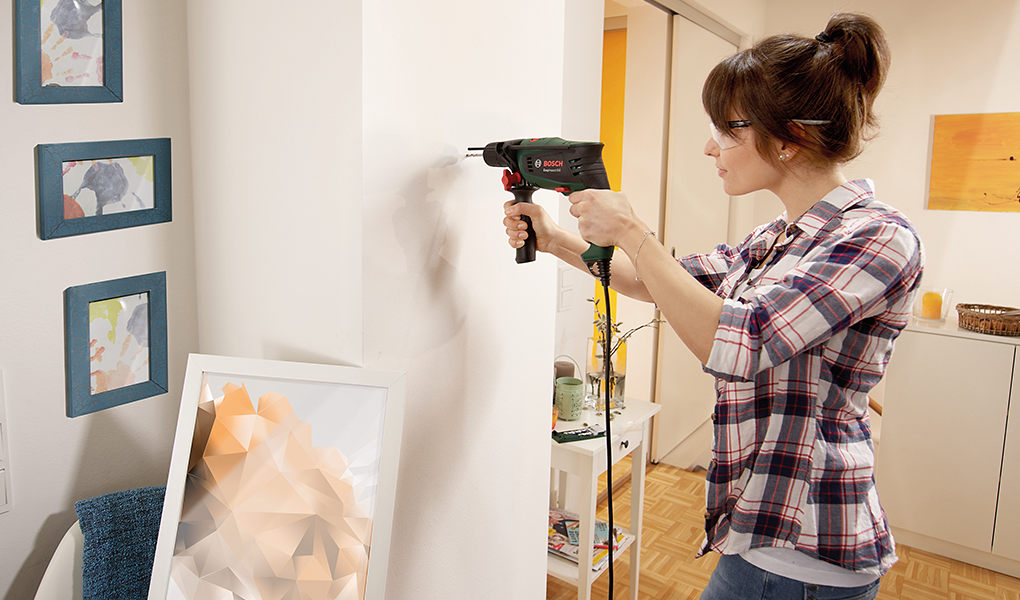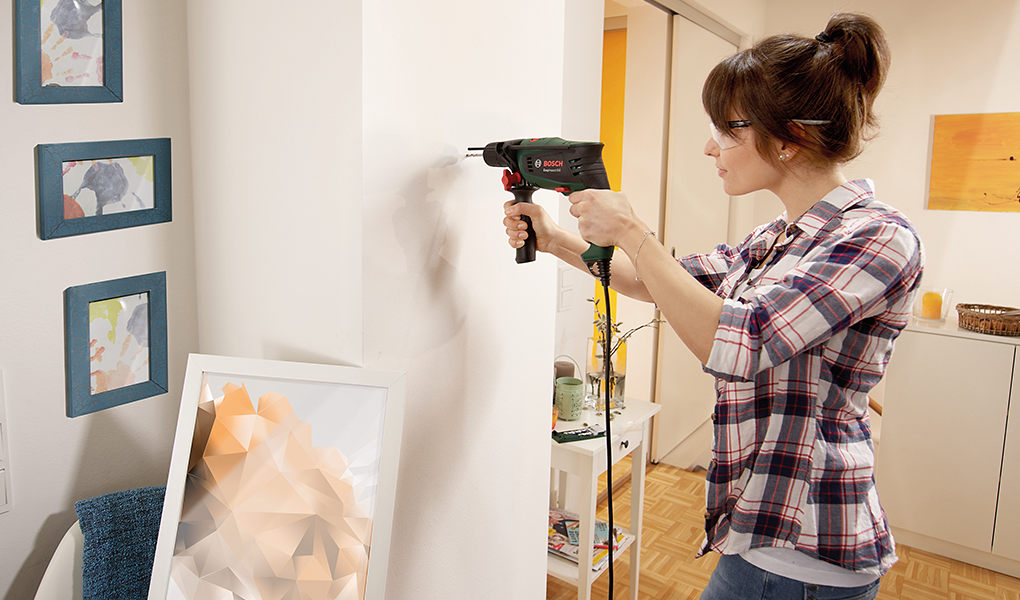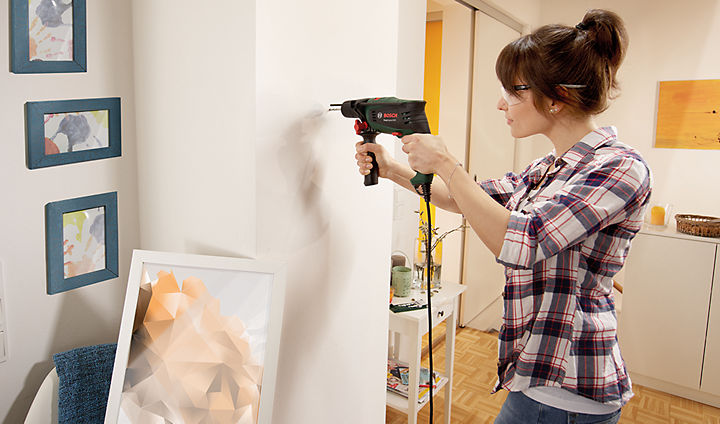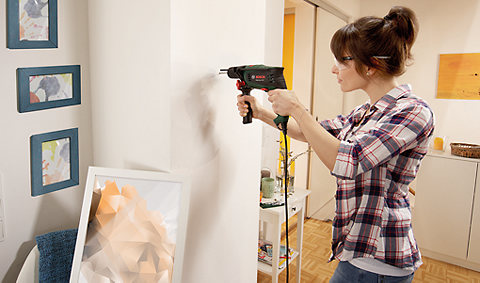 SDS hammer drill
SDS drills have the same features as hammer drills, but the hammer action is improved with an SDS function (commonly referred to as the Slotted Drive System). A piston firing the drill bit forward and pulling it back drives the hammer action on these drills. This reduces friction and increases strength, allowing SDS drills to punch through the toughest materials with ease.
Special SDS drill bits are used to eliminate the bit slipping and also to withstand the powerful force of its hammer action. These drills make light work of chiseling and chasing jobs.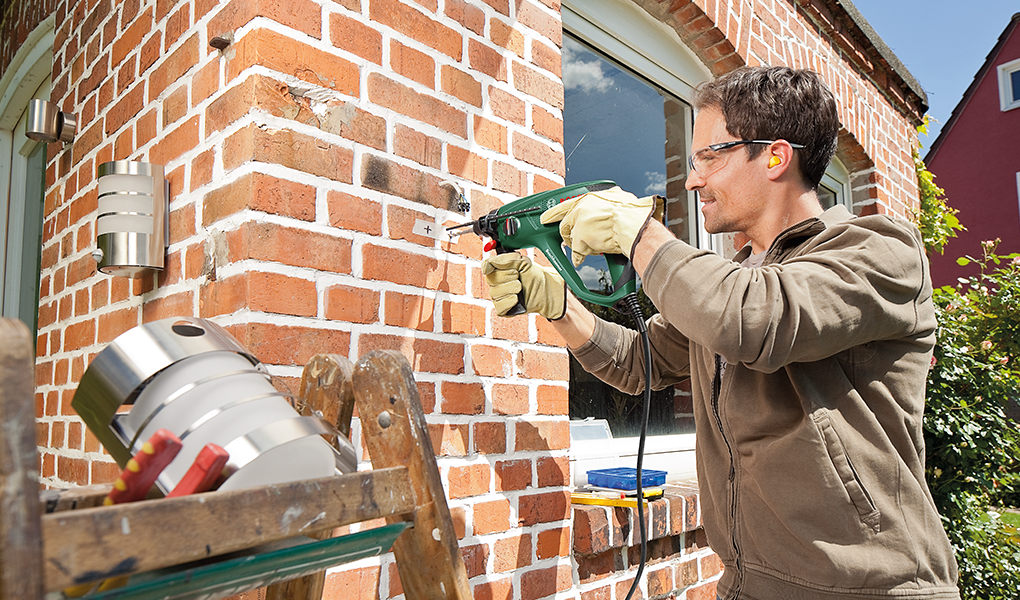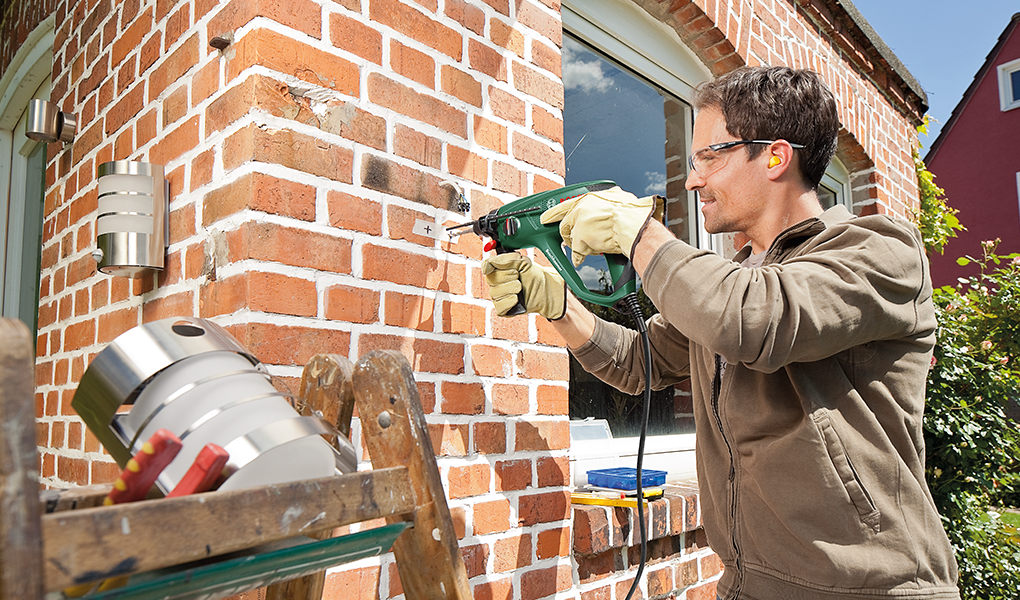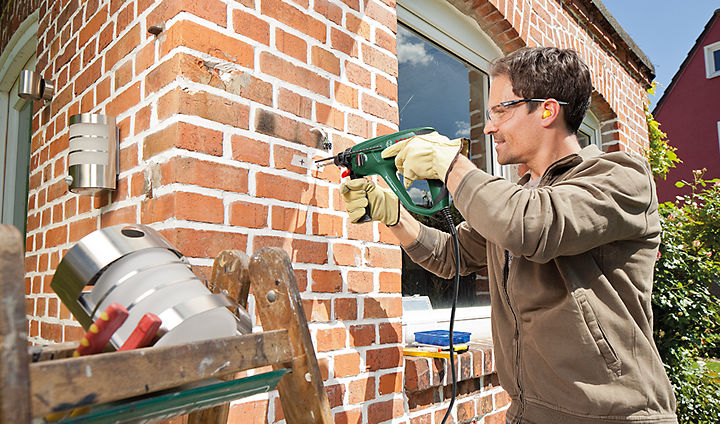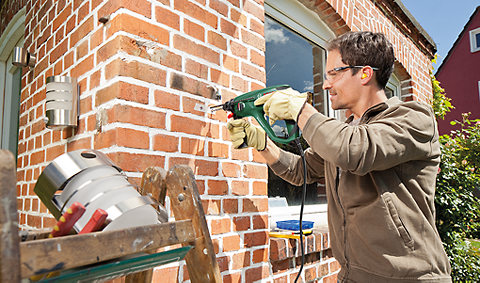 Breakers & demolition drills
Designed to handle breaking up hard materials like concrete, asphalt, bricks and blocks. Breakers and demolition drills deliver more powerful blows to the surface and can also be used to chisel channels in masonry and remove tiles.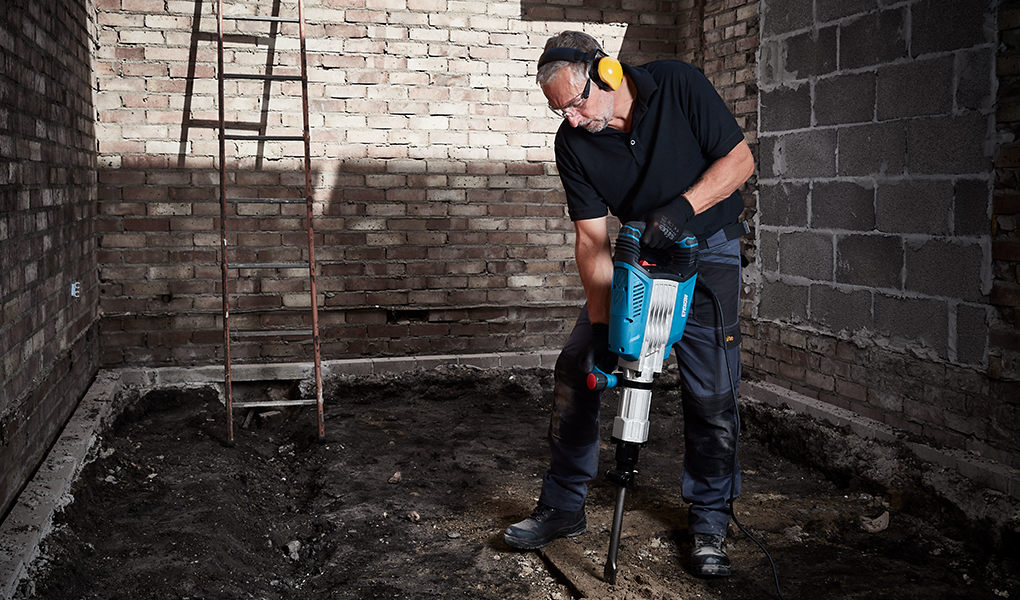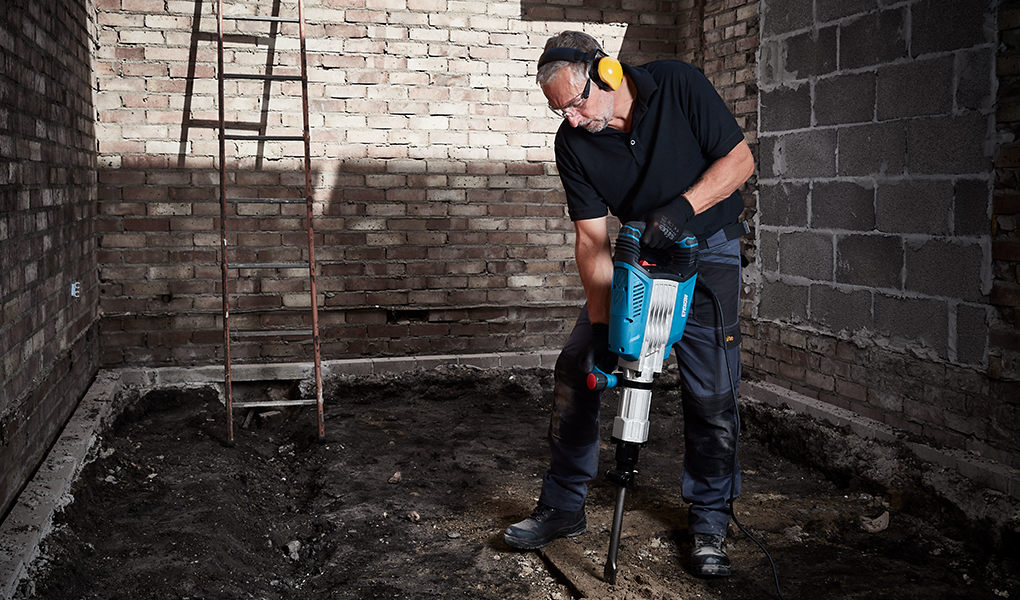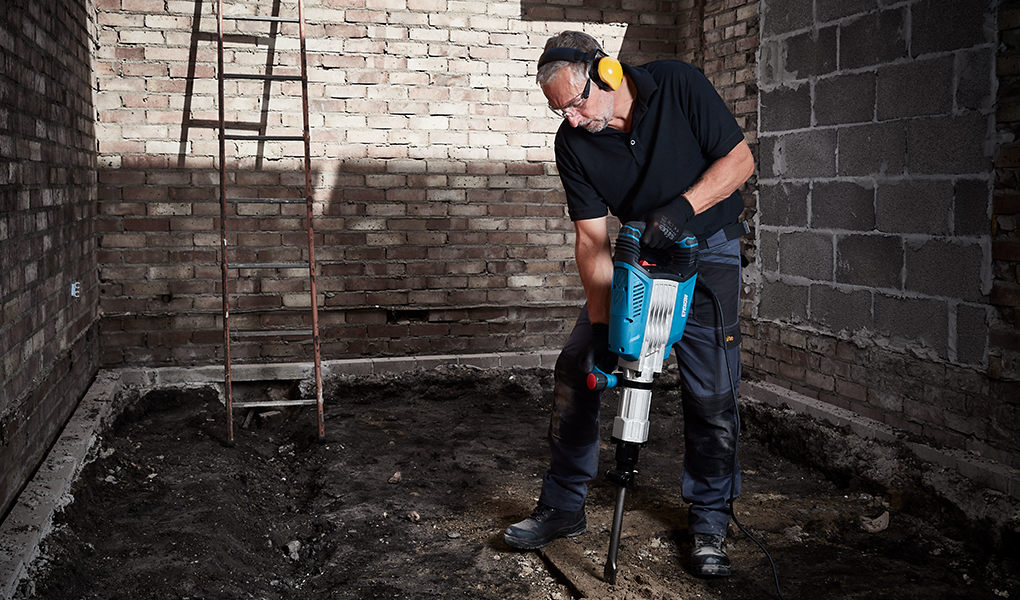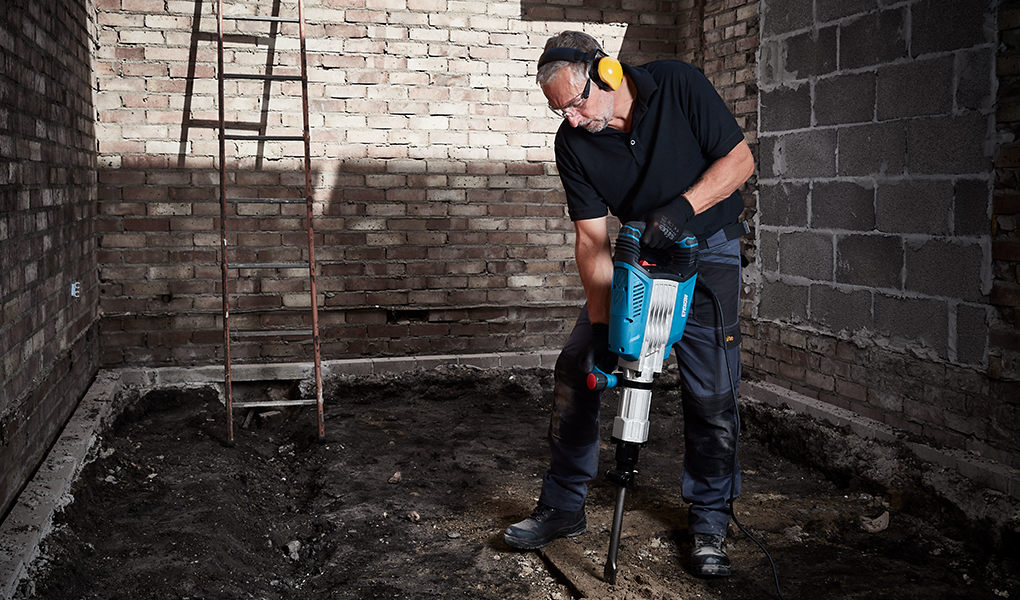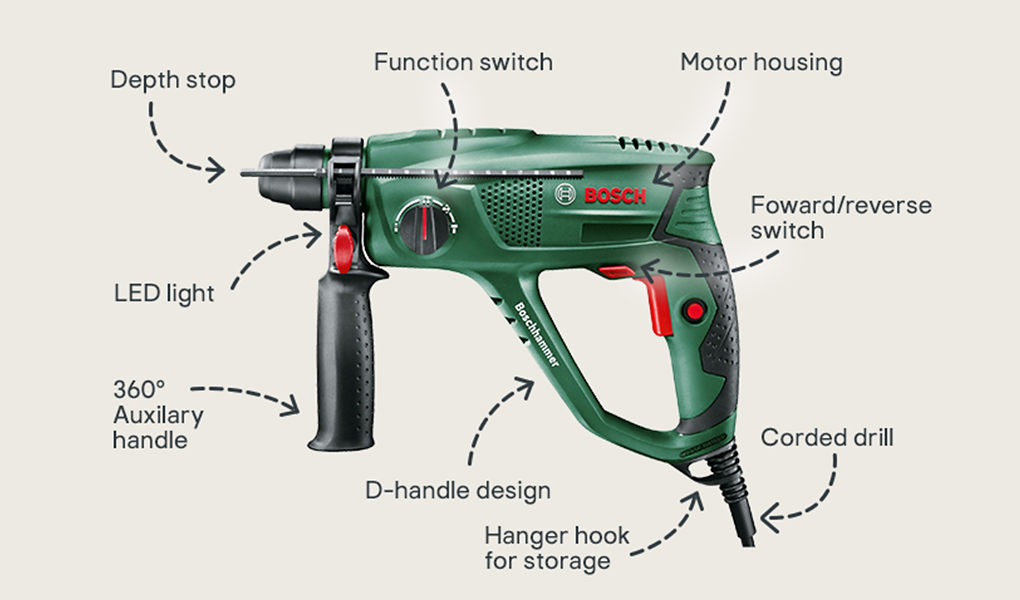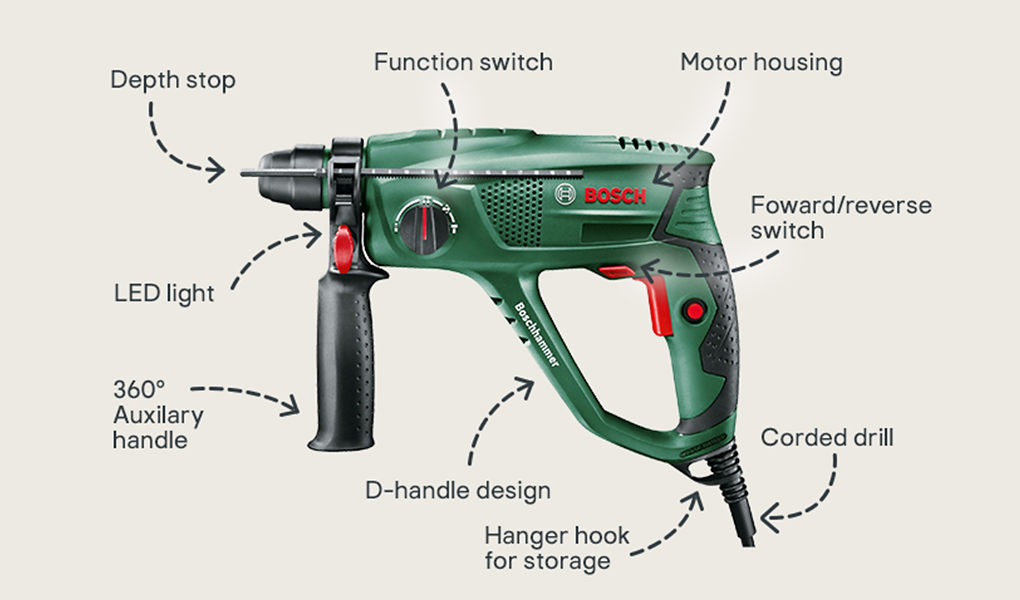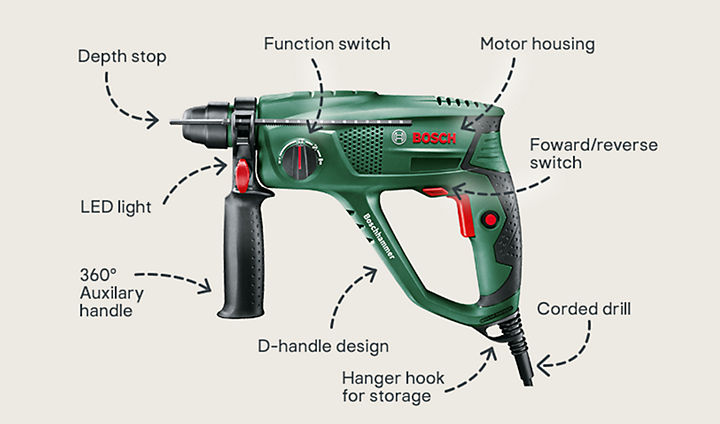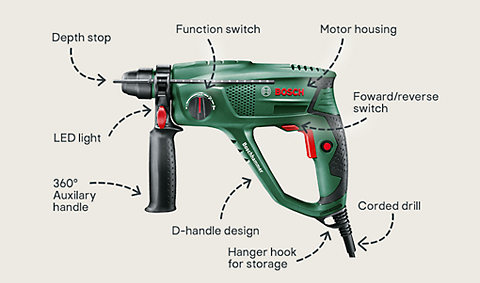 Depth stop: Fitted to the side of the drill, a depth stop can be adjusted to ensure that the hole being drilled does not exceed the desired depth. This feature can also give you a consistent depth when making multiple holes.
Trigger-activated LED: A handy feature to have, especially in dark conditions, is a trigger-activated LED light that automatically lights up when the speed trigger is pulled. The light will automatically switch off a few seconds after the trigger is released.
Auxiliary handle: An auxiliary handle improves both safety and accuracy when drilling. The extra handle can be positioned on either the left or right side of the drill and helps to increase the users force and control compared to just using the pistol grip handle.
Top tip: Consider your comfort 
When selecting your drill, the drill's grip should feel comfortable to hold with an ergonomic design. Also consider the weight of the drill and battery (if you're going cordless); it shouldn't be so heavy that fatigue will be a factor.
Forward and reverse function: Drill drivers have a reverse function, which allows you to turn the drill bit or screwdriver bit forwards, as well as backwards. Simply push the forward/reverse switch on the side of the drill. Reverse mode is also convenient when backing out the drill bit after boring holes.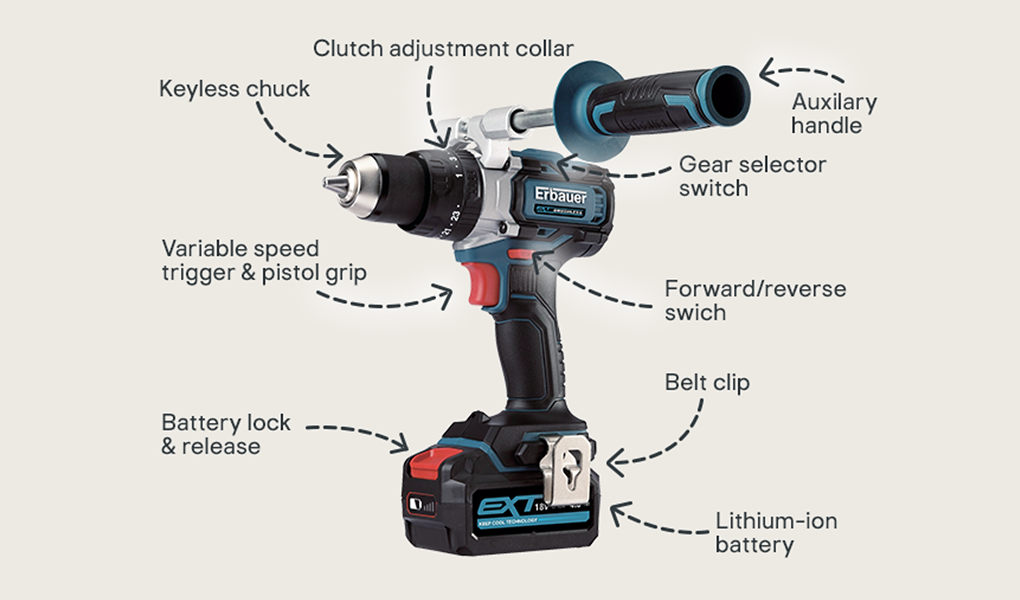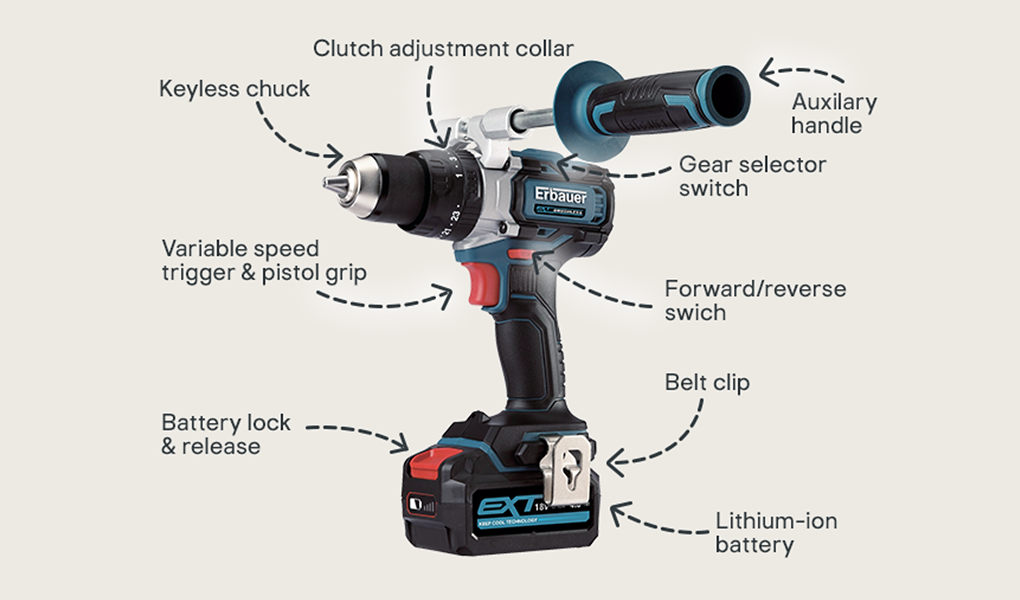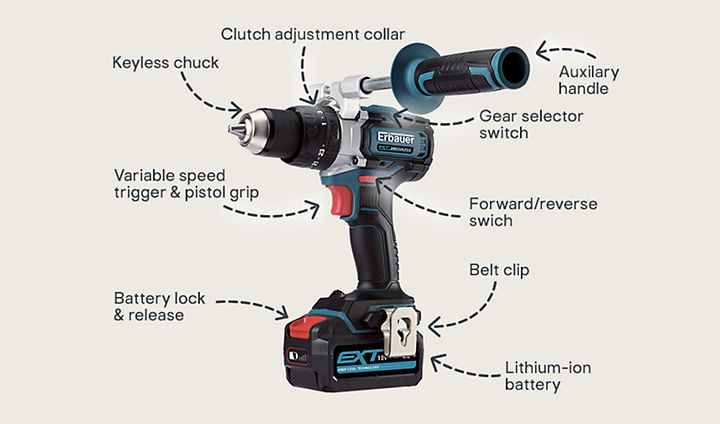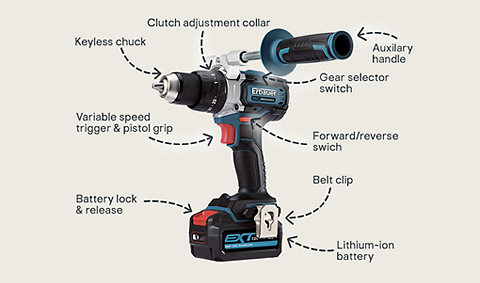 Keyless chuck: The chuck is at the front of the drill and holds the drill bit or screw bit. A keyless chuck means you can change bits quickly and easily, without the need for additional tools.
Torque control / variable clutch setting: The torque selection ring provides the ability to adjust the torque, the twisting force that's required to overcome resistance and screw to the correct depth. If too much torque is chosen, the screw can be driven too deeply. The excess power can also cause a loss of control and accuracy, causing damage to the work surface.
Top tip: Selecting the right torque setting
If the screw has not been fully driven home and the chuck and screwdriver bit have stopped, then that's a sign that a slightly higher level of torque is needed.
Gears: Drills with more than one gear let you select different speed ranges. If the drill is a single gear drill, you can control the speed with the speed control trigger. The gear control switch is usually located on the top of the drill.
Integrated belt clip: Free your hands quickly and easily with an integrated belt clip, attached to the drill.
Speed: Measured in revolutions per minute (RPM). Also known as 'no load speed', this tells you how fast your drill rotates. This number is shown as the maximum speed when the drill is not loaded and drilling. Some drills allow you to change the speed of the tool (aka variable speed) and, as with torque, you should do this depending on the material or task you are doing. A low speed is ideal for driving screws or drilling into softer materials like wood, whereas a higher speed is better for drilling into harder materials like stone.
Technology
From lithium-ion batteries to brushless motors, there are a few options to consider when choosing your drill.
Lithium-ion batteries
Lithium-ion batteries are now used in most cordless drills – as well as being safer for the environment, they are also lightweight and more powerful than older style batteries.
Lithium-ion batteries allow you to charge the battery whenever you want to, no matter how full or empty it is. Plus, they have no self-discharge. This means that if you put away a fully charged tool for a long time in between your DIY jobs - it'll still be ready to use whenever you need it.
If you've chosen a cordless drill, you may want to pick up a spare battery, enabling you to swap a dead battery for one that has been charging during larger projects.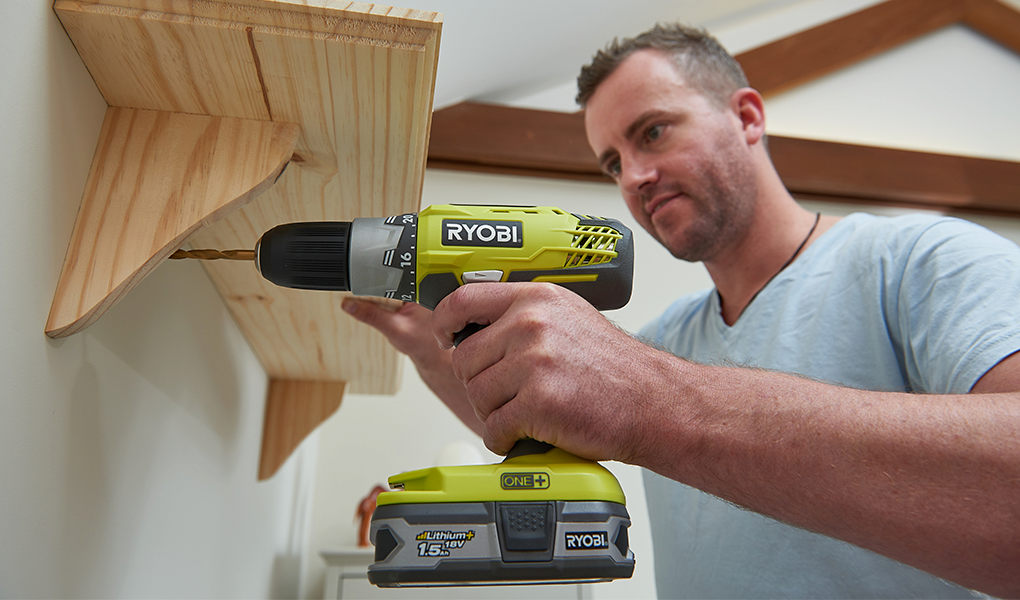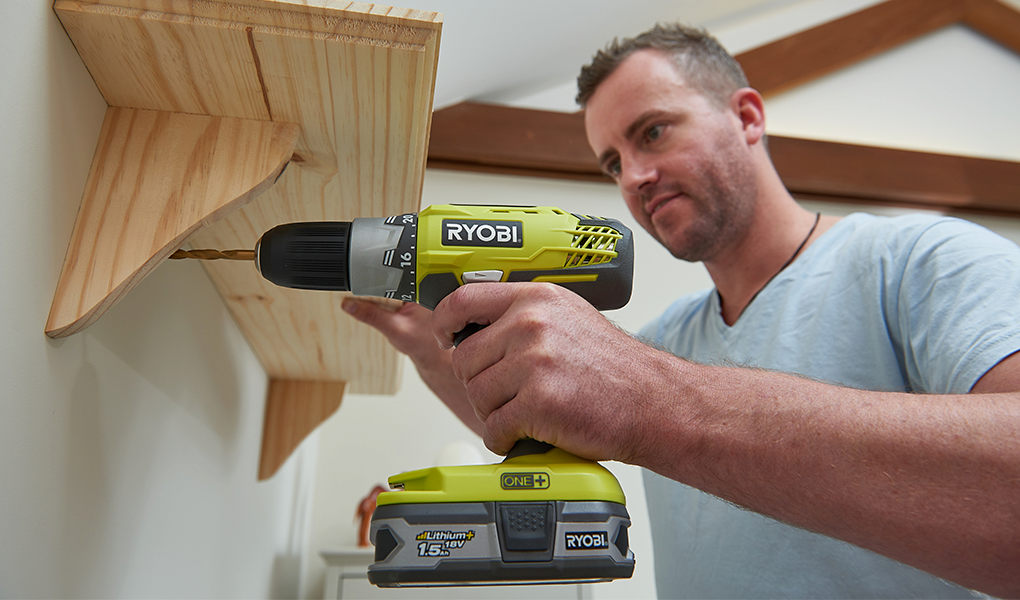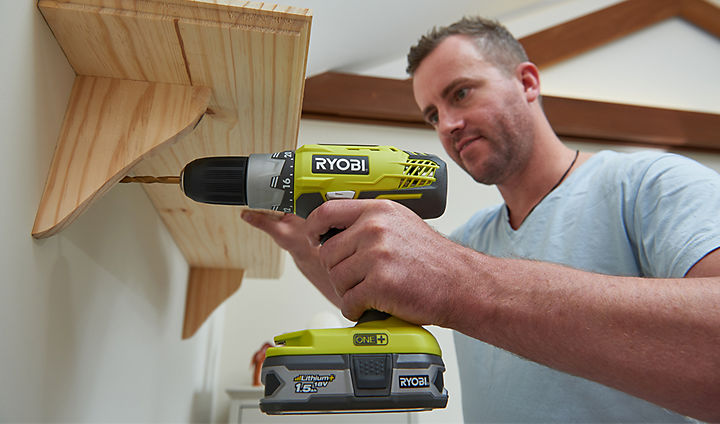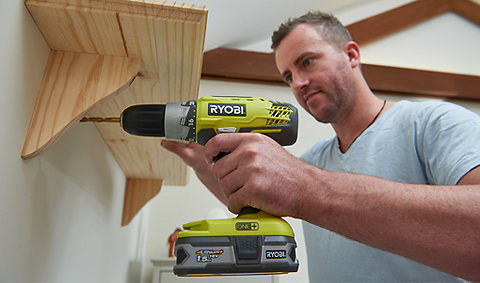 Brushless motors
This means the drill's motor has been constructed in such a way that it reduces friction and heat build-up, resulting in better torque control and faster speeds. Choosing a drill with a brushless motor helps to increase the lifespan of the motor.
'Keep Cool Technology'
The Erbauer range of lithium-ion battery powered tools boasts 'Keep Cool Technology'. It keeps the battery cells cool so they don't overheat and the result is a longer battery run time and increased battery lifetime.
One-battery tools
One+ battery tools powers multiple tools, from the same range. Once you have the battery and charger, you simply buy the tool to extend your own range of power tools. When you see 'bare tool' in the product description, you know it comes without the battery. Having one battery power different tools helps to save money on additional batteries and chargers that you don't need. If you use your power tools frequently, it's worth investing in a spare battery to keep your project moving.