Rug Doctor
Rug Doctor® is the World's No1.brand in carpet care machine rentals - available at B&Q.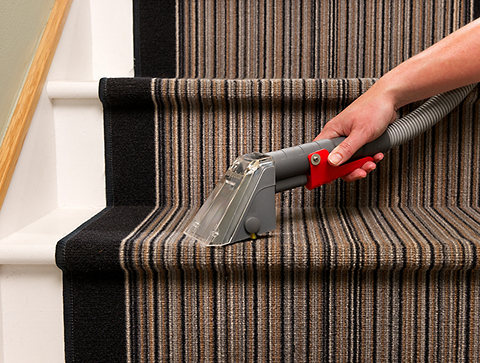 About Rug Doctor
There are just three easy steps to the Rug Doctor cleaning process:
Stage 1 Two needle jets deliver - under pressure - metered amounts of fresh smelling cleaning solution into the carpet pile.
Stage 2 The unique bi-directional brush then oscillates at 3,200 cycles per minute washing the cleaning solution deep into the carpet – effectively cleaning from the bottom of the pile up. This ensures every side of the carpet fibres are thoroughly cleaned.
Stage 3 A powerful vacuum then removes up to 80% of the waste cleaning solution. This means the carpet is almost dry after cleaning. Total drying time is around 2 to 3 hours.
---
What you need to do
If you want to deep clean your carpets all you need to do is decide how many rooms you want to clean – the label on the front of each bottle of Rug Doctor Carpet Detergent shows the coverage that can be achieved using their 1,2 or 4 litre bottles in both number of rooms and m².
How long will it take
This will depend on the amount of cleaning you need to do, but as a rough guide:
• Two average size rooms can be cleaned in a couple of hours.
• An average 3 bedroom house will take approximately a day to clean and dry, including moving furniture.
Particularly dirty carpets may need overnight drying before a second deep clean is attempted, so a 48 hour rental would be recommended in this case.
Which Size Of Machine Do I Need To Rent?
There are two Rug Doctor machines, the Standard size Mighty Pack or the bigger Wide Track machine.
Advantages of using the Wide Track are:
• The machine has a 20% wider cleaning path, a 22% wider brush, but more importantly it carries over 42% more cleaning solution and has a 55% larger recovery tank. This reduces time spent refilling and means that the machine is twice as fast to use overall.
• 15sqm can be covered between refills.
• Convenient for transportation, only 4"/10cm higher than the Mighty Pack.
---
Hiring from B&Q
The Rug Doctor is available from all of our stores for either a 24 or 48 hour period. The machines can be hired via any customer advisor making the process quick and easy.
Clean deposit
A €10 deposit is required for booking a Rug Doctor machine. this is to encourage the return of clean Rug Doctor machines. Your deposit will be refunded on return of the machine, providing the machine is returned in a clean and undamaged condition with the receipt for the transaction.
Price of hire
Standard Machine
• 24 hour €26.95 - 48 hour €32.95
Widetrack Machine
• 24 hour €32.95 - 48 hour €37.85
Each rental can be purchased along side a hand tool which is ideal for cleaning upholstery, staircases, mattresses and even fabric car and caravan interiors. The hand tool is priced at €6.65. To rent a Rug Doctor machine, you will only need a Photo Driving License and a Credit/ Debit card if used to pay for the machine rents. Please note that we still accept a Passport as alternative Photo ID.
To arrange your rental, simply visit your local store. You can also call ahead to check availability. Please note a €10 deposit is required for booking a Rug Doctor machine.